The pandemic led to a major focus on rural and outdoor living, but as the world opens back up, an opposing aesthetic is emerging that romanticizes city life. Dubbed "Metropolis Muse," this trend combines 90s minimalism with relaxed yet refined tailoring. Urban exploration is central, with renewed appreciation for local spots like cafes and bookstores. While the look may start in global hubs, it has international appeal. Over 2023, expect this aesthetic to gain traction through versatile styling focused on longevity and inclusivity rather than specific brands. Read on to break down how the trend is evolving in a city-savvy direction.
Table of Contents
Influences driving the metropolis muse comeback
Minimalist styling and relaxed tailoring
Essential items for the urban explorer
How the aesthetic will evolve
Final thoughts
Influences driving the metropolis muse comeback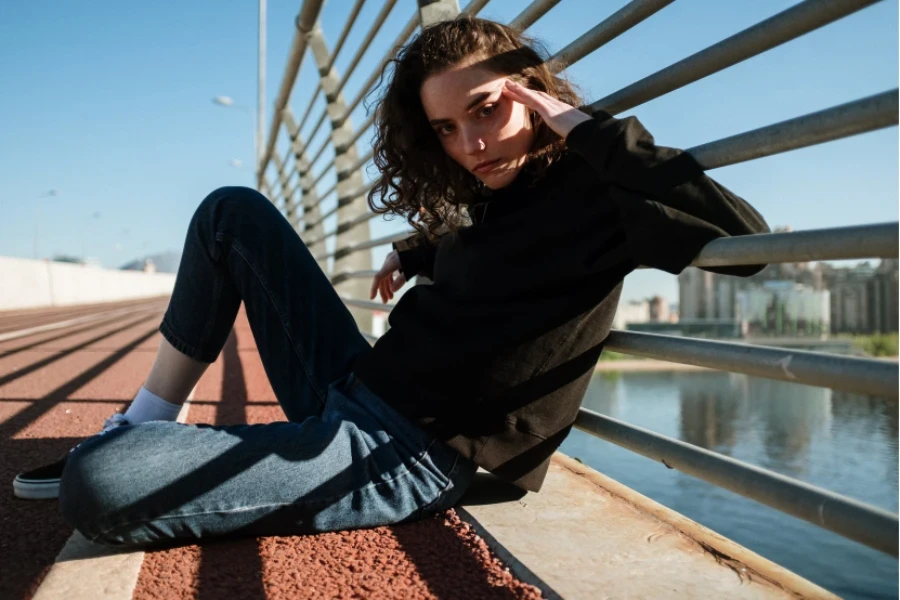 Several cultural forces are reviving interest in city living and minimalist aesthetics. On TikTok, the hashtag #DowntownGirl has over a billion views and revolves around exploring hidden gems in New York City. Activities shown include perusing independent bookstores, people watching in parks, and hunting for vintage records.
The nostalgic imagery is reminiscent of the carefree metropolitan life depicted on Tumblr during the early 2010s. Accessories like oversized headphones and Y2K-inspired jewelry are commonly incorporated for a casual, grunge look.
The romanticization of cities can also be seen on platforms like Service95, founded by musician Dua Lipa. This acts as a cultural concierge service, sharing recommendations for art galleries, restaurants, and shops in global hubs like Tokyo.
Step: Your World offers a similar service, allowing friends to exchange travel tips through digital maps focused on niche city spots. Publications like The New York Times have reported on the trend, with many highlighting a desire for more intimate, local experiences.
Overall, a myriad of influences are driving young consumers to reconnect with urban life in a thoughtful, community-oriented way. Nostalgic minimalism complements this renewed interest in city exploration and living.
Minimalist styling and relaxed tailoring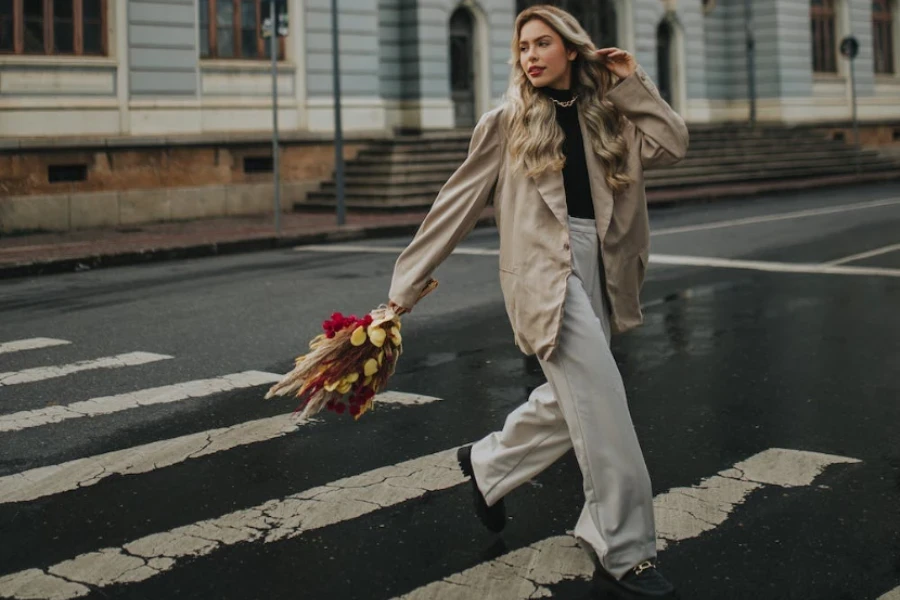 The Metropolis Muse aesthetic takes a refined yet laidback approach to tailoring through oversized silhouettes and fluid fabrics. Oversized blazers in neutral tones are a key component, layered atop relaxed t-shirts and tanks for an effortless look.
Details like dropped shoulder seams, rounded hemlines, and softly draped fabrics provide a minimalist feel. Trousers are wide-legged and low-rise, often with a foldover waistband and cropped length that flatters a range of body types.
This non-restrictive tailoring enables comfortable movement for urban exploration. Pieces can be dressed up or down seamlessly, with vintage leather jackets, scarves, and boots adding styling versatility.
By blending 1990s nostalgia with relaxed garment construction, the trend allows for ease of wear while maintaining a smart, put-together aesthetic. Branding takes a backseat to an understated elegance and adaptability key for the urban wanderer.
Neutral, monochromatic color palettes also allow the relaxed silhouettes to take center stage. However, unexpected pops of color via footwear or handbags provide visual interest when desired.
Overall, the minimalist styling and laidback tailoring of Metropolis Muse cater to youth consumers with an eye for sartorial refinement over fast fashion. Practicality and longevity inform the aesthetic as much as nostalgia.
Essential items for the urban explorer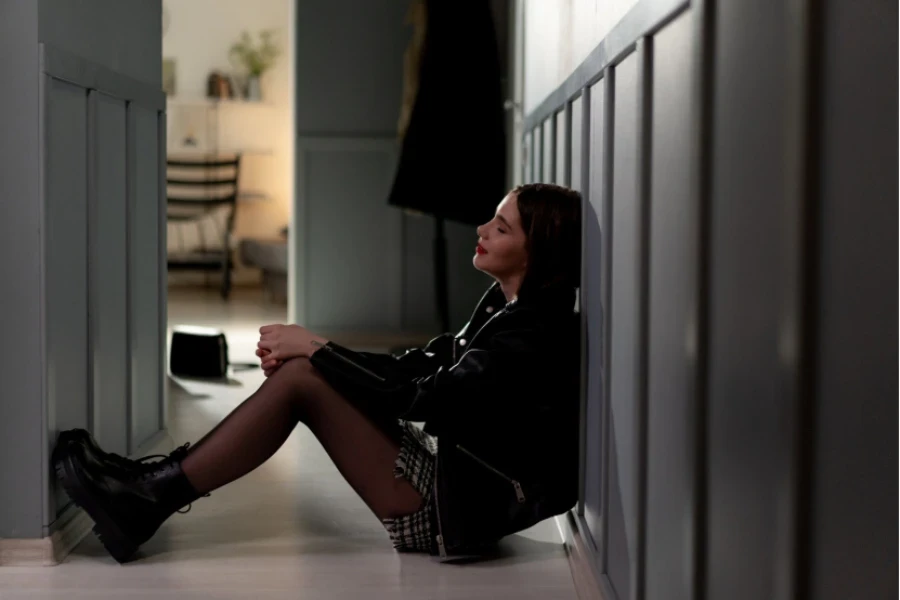 Several signature pieces epitomize the Metropolis Muse aesthetic. Knee-high boots are a versatile staple that work across seasons. Options like leather or suede in neutral hues complement both dresses and pants.
Leather jackets also tap into vintage appeal while offering longevity. Oversized motorcycle silhouettes pair well with relaxed tailoring and feminine dresses alike. Top-handled bags in croc leather or mock croc add a sophisticated touch for both day and night.
Minimalist accessories like skinny scarves, low-profile beanies, and dainty jewelry provide subtle flair. Relaxed button-downs and oversized tees in muted colors round out the urban uniform.
Overall, the key items allow for diverse styling options while retaining a timeless sophistication. Focus is placed on high-quality materials and silhouettes optimized for layering, rather than overt branding.
Consumers looking to curate a versatile travel wardrobe or refresh their workwear selection could be drawn to the Metropolis Muse aesthetic. Neutral colors provide flexibility across occasions and seasons.
By emphasizing longevity over trends, key pieces harmonize rather than compete. The resulting outfits walk the line between laidback and refined.
How the aesthetic will evolve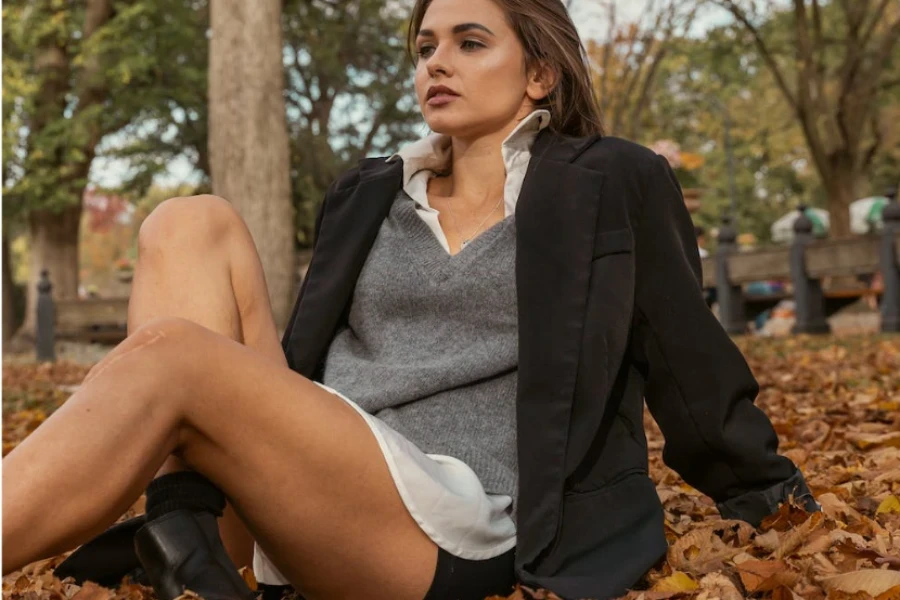 Looking ahead, the Metropolis Muse trend will continue gaining traction globally. As travel rebounds, destinations can capitalize on consumers eager to explore cities authentically. Hotels, restaurants, and events should highlight hidden gems versus well-known sites.
The minimalist styling and relaxed tailoring will also become more inclusive. Non-gendered silhouettes, extended sizing, and modest options ensure universal appeal.
While neutrals and earth tones provide versatility, bright accent colors will emerge for spring and summer. This allows self-expression while retaining a refined aesthetic.
Technological innovations like moisture-wicking, temperature regulating, and odor resistant fabrics will upgrade staple pieces for urban comfort. Garment recycling programs help ensure sustainability and traceability.
Accessories will continue blending 90s nostalgia with modern functionality. For example, crossbody bags allow hands-free carrying while exploring the city. Multi-functional jewelry incorporates features like phone chargers and wifi hotspots.
By responding to such values around inclusivity and adaptability, the Metropolis Muse aesthetic has longevity. The underlying ethos empowers people to curate their own distinctive sense of style rooted in local experiences.
Final thoughts
As the world reopens, the Metropolis Muse trend highlights a shift among youth consumers toward romanticizing city living. Relaxed, minimalist styling caters to exploring local gems while cultivating personal style. Neutral staples enable versatile looks across occasions, focusing on inclusivity and sustainability versus trends. This aesthetic will continue evolving through thoughtful details and vibrant pops of color. The revival of urban life and individuality over rural uniformity offers an exciting countertrend to watch in 2023 and beyond.
Was this article helpful?