Fireplaces are welcome in many homes, especially during the holidays when the biting cold winter peaks. Besides the heat and warmth, fireplaces also beautify and set an ambient mood in the home.
But since there are different fireplace types and designs, it's best to choose the ideal options. This buying guide explores factors to consider when choosing a fireplace, types of fireplaces, and the advantages and disadvantages of each, thus facilitating decision-making.
Before discussing these aspects, here's a peek into thee fireplace business for entrepreneurs.
Table of Contents
The global fireplace market size
Types of fireplaces
How to choose an ideal fireplace
The global fireplace market size
The growth of the global fireplace market including fireplace screens and inserts is projected according to the type of fireplace. For instance, the hearth market is expected to rise from $9.3 billion in 2021 to $14.8 billion in 2027, growing at a compound annual rate (CAGR) of 7.7%.
On the other hand, the global fireplace electric heater market is forecasted to grow at a compound annual growth rate (CAGR) of 3.5%, soaring to $2.77 billion in 2028 from $2.17 billion in 2021.
This growth results from several factors, including:
Better living standards for homeowners who want to improve their indoor ambiance at home.
A high demand for smoke-free and eco-friendly heating systems.
Unpredictable weather patterns that create extremely cold climates in areas that have not experienced these conditions.
Hotel industries want to provide a royal touch to the living environment for their visitors through delightful fireplaces.
Types of fireplaces
Fireplaces are categorized into three main types: electric, gas, and wood-burning. However, gas fireplaces use vented or ventless gas logs, depending on the fireplace setup.
Gas fireplace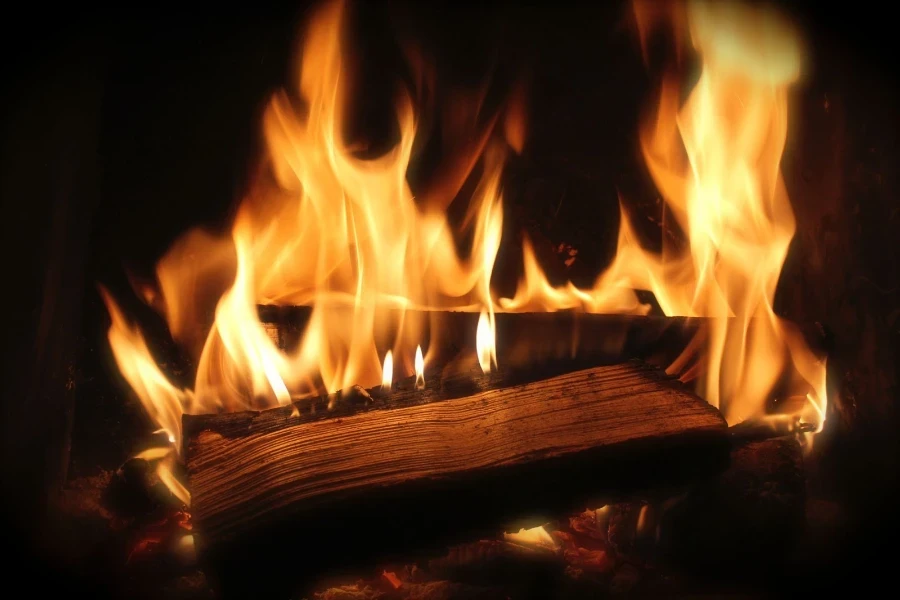 Gas fireplaces give the aesthetic feel and allure of the golden wood-burning fireplace. These variants are popular because they don't leave one with a cleaning hassle, as it doesn't have ash deposits.
Gas fireplaces use gas logs- a burner with artificial wood-like design made from ceramic clay, ceramic fibres, or refractory cement. The logs can be used in a pre-existing fireplace hearth, thus reducing installation costs of old fireplaces.
Most modern gas fireplaces allow for customization, like incorporating decorative glass or pebble options. And since they have a slimmer design, they can easily fit into tight spaces or in an existing firebox.
However, before one settles for this fireplace type, it is essential to know the fuel source and whether they want ventless or vented.
Ventless gas logs: As the name suggests, ventless gas logs don't need a chimney to exhaust fumes. Also, these gas logs don't rely on vents to function, thus they are suitable for an old fireplace without a chimney.
Typically, the ventless gas logs keep heat in the house. And since heat is efficiently utilized, ventless gas logs use less fuel.
Nevertheless, they don't look as appealing as vented logs, which may not be a problem for most people who value efficiency over appearance. Being ventless also means that this fireplace type isn't suitable for bedrooms.
Vented gas logs: Vented gas logs are ideal for anyone needing a realistic-looking fire since they deliver large, yellow flames similar to flames from a wood-burning fireplace.
Similar to wood-burning fireplaces, they create carbon monoxide. Therefore, they need a chimney to exhaust fumes. Also, vented gas logs consume more fuel and are less efficient than ventless ones.
Pros
Less mess and maintenance– gas logs do not need a chimney sweep to keep them clean as they don't leave dust or soot on the hearth.
Safer– Gas logs have controlled flames, making gas fireplaces safer than wood-burning fireplaces.
They are warmer– Gas fireplace logs generate and retain more heat than traditional fireplaces, making them efficient.
Convenient– All one needs to enjoy the fire is to turn on the switch and turn it off when its function is over.
Cleaner air– Since gas fireplaces don't use fuel, less smoke is created, contributing to clean and fresh air.
Cons
Sealed glass– Although this feature is necessary for safety, it can inconvenience households who enjoy the heat.
Less picturesque– This con may be based on personal preference; however, it is a big deal for others. Gas fireplace flame is often blue but may not satisfy your nostalgic experience like a wood fireplace.
Smaller frame– Gas fireplaces are often smaller in size, making them underwhelming to consumers who love big wood-burning or electric fireplaces.
The log position is unchangeable– Some people prefer changing ceramic logs' position in a fireplace. But this act is dangerous, especially for direct vent gas fireplaces.
Electric fireplaces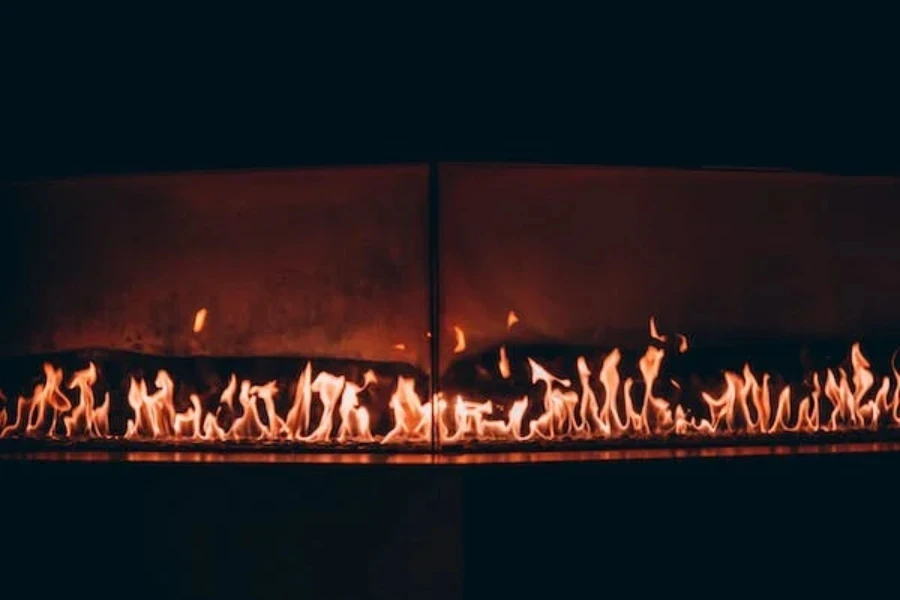 Electric fireplaces act like wood or coal-burning fireplaces. They are the easiest hearth appliances customers can install in their homes.
After all, many homeowners renovating their homes want to replace conventional fireplaces with built-in electric fireplaces.
Electric fireplaces are powered when plugged into an electric source on the wall; therefore, no fumes are released in the house. And because it doesn't burn wood or gas, the modern electric fireplace heater is easy to clean and has low maintenance.
Manufacturers of built-in electric fireplaces design them in various ways, thus making the fire look real. Furthermore, they are simple and safer to use than most fireplace types.
Electric fireplaces are fitted with innovative LED light systems and highly configured mirrors to create a realistic illusion of real fire without the hassle and mess associated with a wood-burning fireplace.
Electric fireplaces also have a unique feature that allows one to choose between enjoying a fire with or without heat. Since the flames from the electric place are simply reflected light, one can turn off the heating component, leaving the fireplace with beautiful dancing orange flames.
However, the electric fireplace heater doesn't provide sufficient heat for big living spaces. In short, these fireplaces offer 4,500 BTUs of heat.
Electric fireplace inserts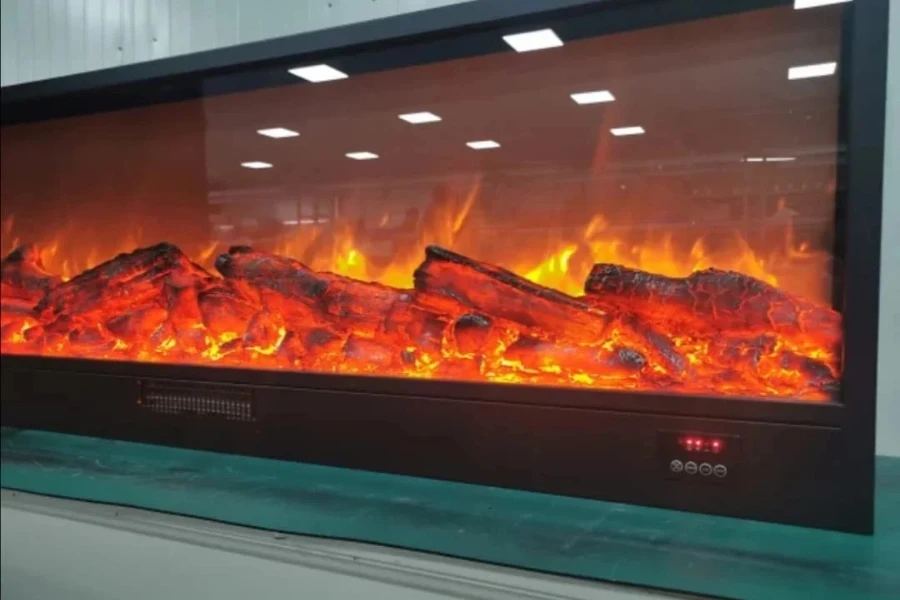 Electric fireplace inserts are similar to gas log sets. They come in steel boxes that slide into an existing wood-burning fireplace.
Homeowners or restrooms with unusable wood-burning hearths can buy electric fireplace inserts and bring their fireplaces to life. These inserts are low-cost and require minimal maintenance since no major structural change is needed on an existing fireplace.
Pros
They are easy to install and use
Less maintenance, and mess
Low installation costs
It looks realistic
 No harmful emissions
It provides flames-only options.
Some models are movable around the house.
Cons
The flames aren't real. So, they provide less heat than wood and gas fireplaces.
It can be noisy since it uses blowers to disperse heat into the room
It must be placed near an electric power source.
Wood-burning fireplace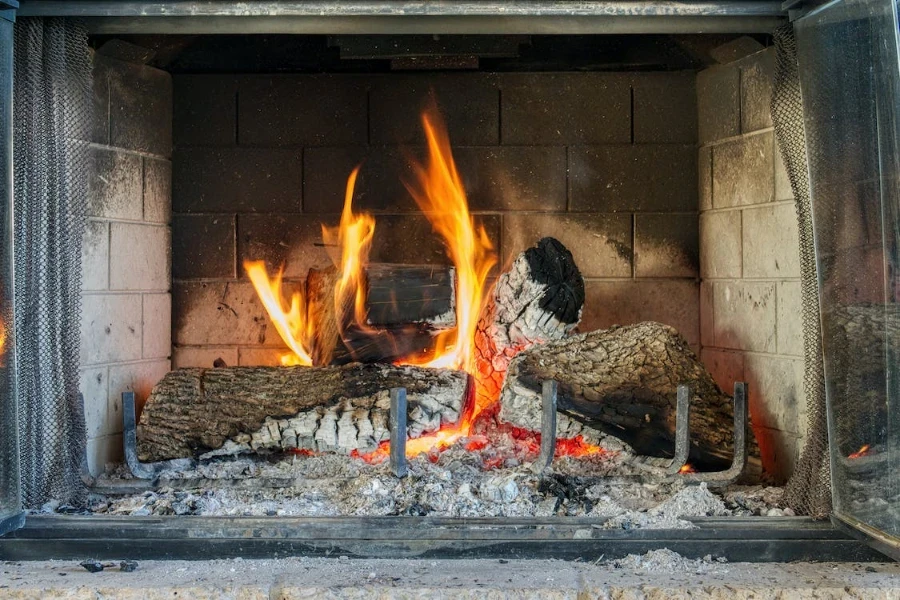 Wood-burning fireplaces have warmed homes for ages. Besides the heat, they provide a nostalgic and cozy ambiance with the typical smell of burning firewood.
Although many people still love them, they have some drawbacks. For instance, burning wood produces carbon monoxide and toxins that could cause health issues. Further, a wood-burning fireplace is less efficient since a lot of heat is lost through the chimney.
Pros
It creates an unbeatable ambiance with a woodsy aroma and cracking logs
Power outages don't affect them.
Offers real flame
 It provides adequate heat for a large room.
Cons
Less efficient because a lot of heat is lost
It is less safe than other fireplace types
It takes much effort since one needs to buy or chop firewood and store it for future use.
The wood-burning fireplace requires annual inspection; otherwise, it could affect a household's insurance protection.
How to choose an ideal fireplace
The industry is full of various types and designs of fireplaces, making it challenging to choose the best fireplace to heat a home. However, here are factors worth considering before buying a fireplace.
Materials
A home's existing décor and finishes determine the material type one chooses when buying and installing a fireplace insert or a new fireplace.
For instance, one can choose glass, stainless steel, ceramic, or cemented fireplaces depending on a room's theme.
A wooden frame fireplace suits a home with classic and rustic décor, while a metal frame fireplace is ideal for modern rooms, giving them an industrial appearance.
British Thermal Units (BTUs)
BTUs are the primary measure of a fireplace's heat output. The amount of BTU needed from a fireplace depends on the room size. For instance, a small room of 200 square feet would need a fireplace that produces 6,000 BTUs, while larger rooms (1000 sq. ft.) may require a fireplace that emits about 30,000 BTUs.
Other factors that affect the number of BTUs needed are the room's insulation mechanism and the nature of the room. So, highly insulated houses will require lower power output.
Fuel type
Before buying a fireplace, one should determine the best fuel type for their home. Those with a steady supply of wood may prefer wood-burning fireplaces, while those with easy access to a natural gas line or propane tank would do well with gas fireplaces.
Wood-burning fireplaces also require spaces with good ventilation options and more clearance for safety.
Additionally, one should consider the number of BTUs needed to heat the space properly. Therefore, consumers who want to heat a large home with high BTUs can opt for gas variants.
Budget
A new fireplace's price varies greatly depending on the type and features. They range from basic fireplaces to premium or luxurious units. The true cost of a fireplace goes beyond the initial purchase and installation price. Other costs include operating and maintenance costs.
Mounting options
Fireplaces have different mounting options depending on the design and functionality. For instance, a wall-mounted fireplace is ideal for a more traditional home with a surrounding mantel since it can sit in a built-in fireplace space.
A free-standing fireplace is good for anyone who does not want to construct a specific place for a fire. It can be fixed to a wall or used as free-standing depending on the buyer's preference and the fuel used.
A built-in fireplace insert can fit any home or room with an unused existing fireplace. It is the easiest way to convert a wood-burning fireplace to an electric or gas fireplace.
Location
The type and size of fireplace consumers buy determines its location. For instance, large fireplaces that emit more BTUs are required for installation at the center of the house. Wood-burning and gas fireplaces can work outdoors since they produce more heat than electric fireplaces.
In closing
Technology has revolutionized fireplaces, but even timeless wood-burning fireplaces still provide heat and aesthetic value. From gas to modern electric fireplaces, households and businesses can choose a design that suits their needs.
However, before choosing an ideal fireplace type, one should evaluate the materials used, fuel type, location, BTUs, mounting options, and budget. Statistics show that fireplace markets will continue to grow, providing business opportunities for entrepreneurs.
Was this article helpful?