Over the five years to 2021, Meta Platforms Inc. (Meta), formerly known as Facebook, was the largest social networking site in the United States, representing 75.9% of total industry revenue. However, in the fourth quarter of 2021, for the first time in the company's 18-year history, the number of active worldwide users declined.
While the fall was only an estimated 500,000 users, investors showed their concerns: Meta's stock fell 26.0%. Furthermore, the company lost an estimated $230.0 billion in market cap, making it the largest recorded market cap decline for any US company.
Why is Facebook not as popular as before? While Meta states that Apple's new privacy changes have affected the company's advertising revenue, the problem can be traced back to increased competition. Over the five years to 2021, while Facebook's US user count grew slowly, apps such as TikTok skyrocketed in popularity.
The Kids are not Entertained
For the most part, Facebook has kept its core audience intact, as users who made accounts in the past are still likely to use them. However, the younger generation that missed out on Facebook's "Golden Era" has no incentive to begin using it. With the plethora of social-media options such as Twitter and TikTok, Facebook is more of an afterthought. In 2021, only 3.2% and 16.3% of Facebook users were in the 13 to 17 and 18 to 24 age groups, respectively. Conversely, the majority of TikTok users fall into the 10 to 19 age group at 24.9%, followed by 20 to 29 at 22.3%.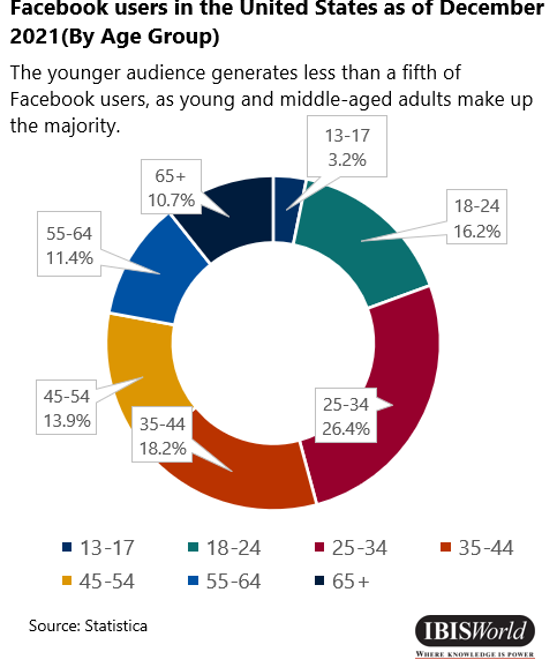 Meta has already attempted to counter TikTok with its "Reels" application via Instagram. Reels, similar to TikTok, enable users to post short video clips that are posted on a media feed. While both platforms seem similar at first, users of both apps give the nod to TikTok for its algorithm, which appears to have a better understanding of what content an individual might be interested in. As of now, Reels seem more like a short-term band-aid than a real solution, with Zuckerberg even lamenting the amount of catch up Meta must play.
Not Finished Yet
While Meta's slowdown has worried investors, Zuckerberg believes the company's future will lie in the digital universe, known as the MetaVerse. Meta has been very explicit about its investments in the metaverse and expects it to come to fruition in an estimated five to 10 years.
Source from Ibisworld
Disclaimer: The information set forth above is provided by Ibisworld independently of Alibaba.com. Alibaba.com makes no representation and warranties as to the quality and reliability of the seller and products.
Was this article helpful?