According to the MSD Manual, the average length of a child increases by 30% in the first five months and over 50% by 12 months. Children are double their birth length at five years, growing at approximately 7.6 cm every year from age 1-10.
As kids grow, mothers are excited to see them transition from their cots to toddler beds and then to kid's beds.
However, parents can easily get overwhelmed in making the right decision with a baby to care for, handling office work, and various kid's beds in the market.
Several factors go into choosing the ideal kid's bed that provides comfortable and sound sleep. This article addresses these factors, and the types of beds parents can choose for their kids.
Table of Contents
Factors to consider when choosing kids' bed
Types of kid's bed
Conclusion
Factors to consider when choosing kids' bed
Selecting kids' beds is no simple task for caring parents. The bed should provide good sleep in a good posture and provide comfort.
Although different parents have unique preferences when buying their kids' beds, there are universal factors they should consider. Here are the major factors buyers should check.
Type of material used
Before settling for kids' beds online, a parent should check the type of materials used to construct the bed. If it is a wooden kids' bed, they should look for high-quality and durable wood.
Kids like playing and jumping on their beds. Hence there's a need for quality material that can withstand harsh treatment. While most beds are made of strong wood, some are made from plastic.
For instance, the car beds for kids are made of ABS plastic, considered strong structurally and resistant to external impact. This material makes this luxury children's bed lightweight and portable enough to move from one room to another during cleaning.
Durability
Durability is closely linked to the type of material used. Children are known to be playful and jumpy, not just in school but even in bed. A parent who wants to buy a kid's bed should evaluate if the bed is strong enough to handle the pressure for a long time.
Fortunately, most modern-day beds are designed with strong and light wood; in some cases, metal plates are used on the joints to enhance durability.
For example, the princess kid's bed is fitted with a high-density rebound sponge that enables kids to play without losing shape. The frame of this luxury children's bed is made of solid hand-carved wood that increases the bed's stability to ensure kids play and sleep safely.
The number of kids
This factor also determines the type of bed a parent can buy. A bunk bed is ideal for two kids since it's comfortable and can accommodate two children. It also saves space, leaving the room for other essential furniture.
However, a family with one child can choose a single bed, like a bed house for kids with a convertible and ample storage space to keep toys or clothes.
Design and finish
Every household has unique rooms, so a parent will likely have to choose a bed that matches their child's room.
Designs like normal kids' beds, bunk beds, and cribs for toddlers are available offline and online shops. Bunk beds are ideal for a family that wants a portable and pleasing design. These beds have multiple finishes, such as honey, walnut, and mahogany.
Space requirement
Available space is one of the most important factors in determining the bed a parent should choose. Planning a room to create space seems like playing Tetris, wrong calculation, and the bed will not fit.
If the kid's room is small or medium, choosing a kid's foldable bed will make more sense. So, it's essential to consider room measurements before buying a kid's bed.
Age of the child
Children outgrows their beds with time. The bed toddlers spend the night on is not the bed they will spend on when they are five years or teenagers. Therefore, age dictates the type of bed the kid sleeps on. Small children may prefer something other than large and high beds because they spend more time playing on the floor.
Conversely, older kids would need spacious beds to lounge and sleep in. Grown-up kids are particular about color and design, so a parent needs to know this or shop for a bed with their grown children.
Budget
Price is essential when making any purchases, including kids' beds.
In the market, there will always be cheap and pricey beds. Costly beds are often more durable and comfortable, giving more value to money spent. On the other hand, cheap beds may not last long enough or handle the rough treatment.
Therefore, buyers would have to strike a balance between quality and prices. However, if they can afford a luxurious bed for their children, it is okay to buy the best.
Types of kid's beds
Many parents are familiar with regular types like bunk and single kids' beds, but there are various types and sub-types to choose from. Consider some of them discussed below.
Bunk beds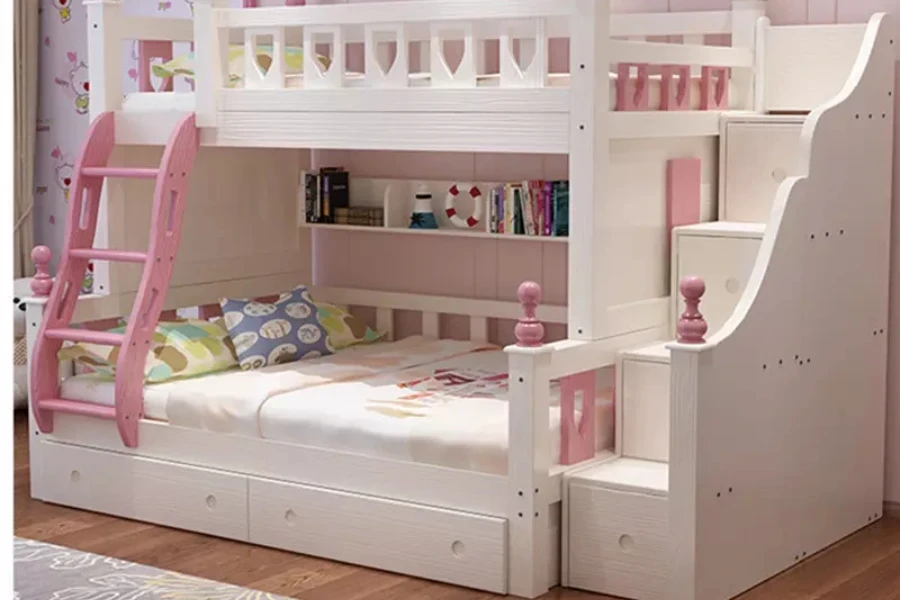 Bunk beds are one of the most popular beds loved by parents and kids. It's a multi-story unit with one bed stacked above the other and connected with a ladder.
Since bunk beds can accommodate two kids, it allows kids to bond at night. They further save space in a room with extra storage space beneath the lower bed and cabins beside it.
Parents and children can choose various bunk bed designs, from super-hero-themed bunk beds to nature and sports-inspired themes. They can also opt for family bunk beds, three-tiered bunks, triple bunk beds, and bunk with storage solutions.
Bunk beds are suitable for older kids with proper coordination to avoid falls. The ladder helps to ensure safety, but older children can easily transverse the bed.
Cabin beds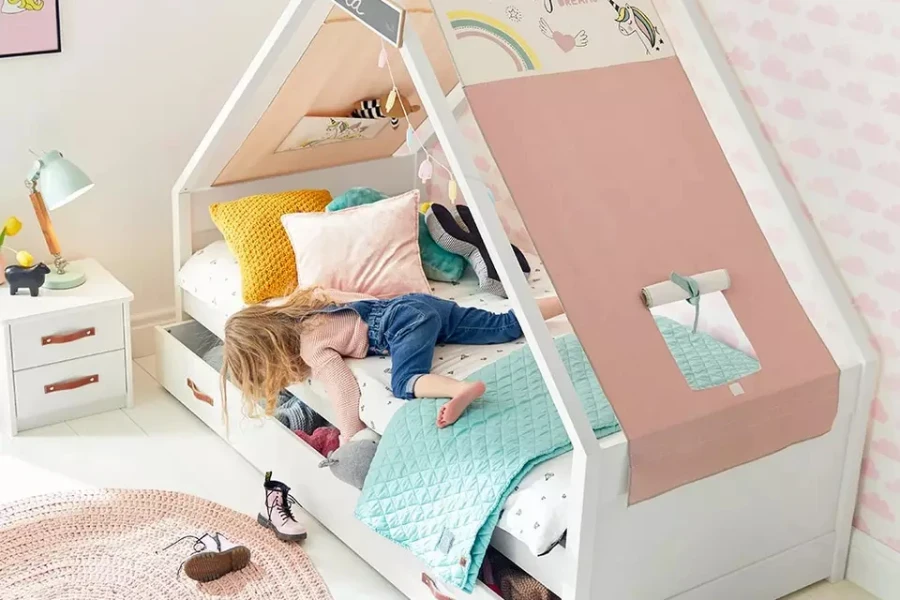 Children and teenagers adore cabin beds. These unique kid's beds comprise an elevated frame lower than a bunk bed and the potential to attach additional accessories. Cabin beds are suitable for a room with limited space. Plus, it has in-built storage.
Also, its height varies, so both small and older children can feel comfortable. Some manufacturers call them mid-sleepers because the height lies between a single bed and a bunk bed. The ladder helps young ones climb onto taller cabins.
Most children love cabin beds with enclosed resting places, making it look like they are sleeping in a separate house. The cabin beds allow kids to read without turning the main switch on or off.
Some cabin beds also have a tiny cupboard, a desk, and a built-in bookcase for school children.
Single beds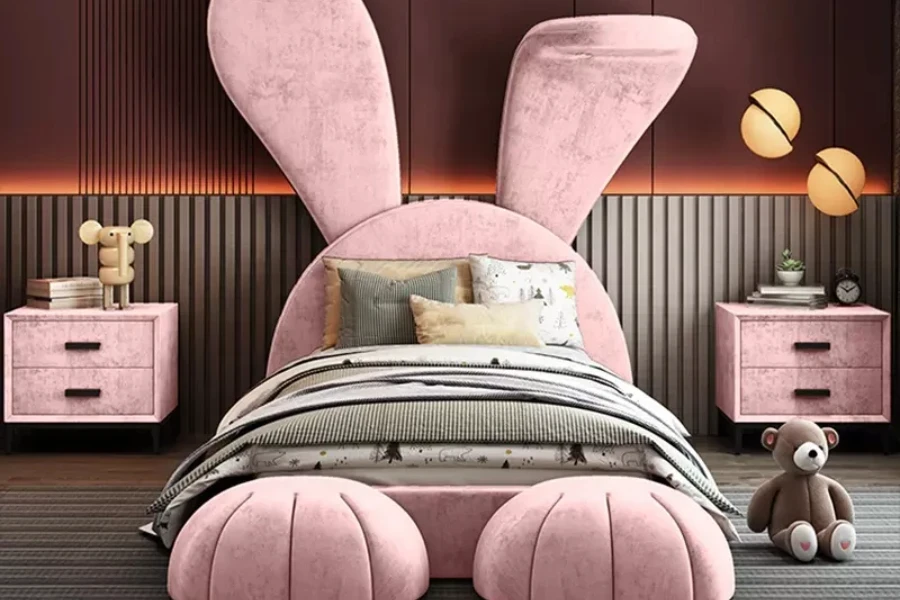 As the name suggests, these beds are the classic individual beds common in many homes and restrooms. This bed style comes in different designs and colors.
Single beds can have a twin or a double bed that slides underneath the main bed, making them perfect for small spaces. They are designed to accommodate one child but are a worthy investment because the child won't outgrow them.
These beds are always in fashion, offering intriguing attractive themes, motifs, and designs. One can choose from castle-themed to spaceship-themed single beds, thus transforming a kid's bedroom interior to another level.
Car bed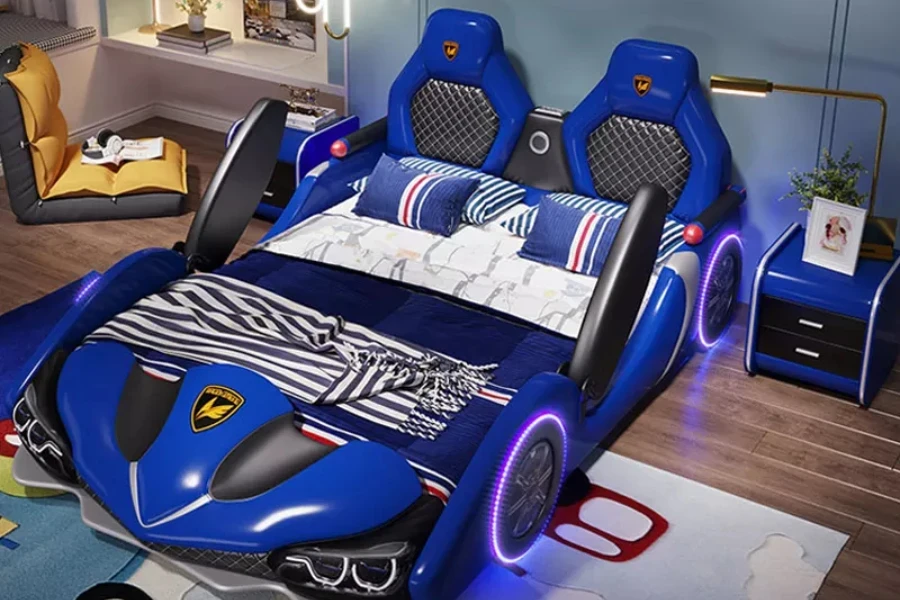 A bed shouldn't be a plain boring unit of furniture, especially for kids. Sleeping should be fun. Hence, the bed should also fan the kids' imaginations, fulfilling their ideal fantasies. Car beds help realize this goal.
These beds look like flashy cars and are available in different designs and types, including racer car beds, sports car beds, and fire truck beds. A child who loves cars can get a surprise birthday present—a bed with the design of their dream car.
The beds come with make-believe tires, speedometers, headlights, and other unique features.
A car bed can be part of a loft, bunk, or single bed. They can accommodate one or two kids depending on the chosen design.
Loft bed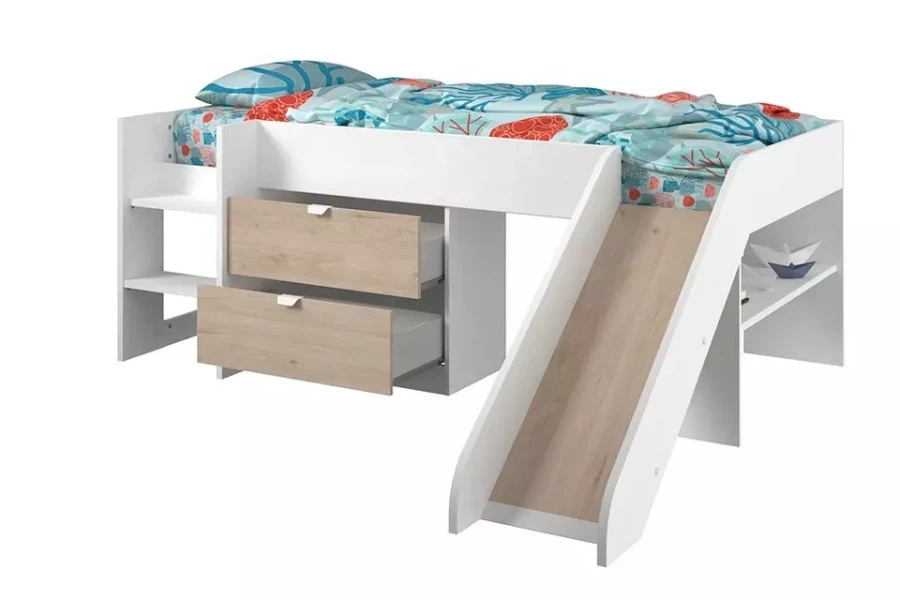 Many people confuse loft beds with bunk beds because of their striking similarities. Loft beds are higher sleeper beds with elevated frames and ample storage space underneath.
They are often used to stretch spaces in kid bedrooms or for college students because they occupy less space than regular beds. Therefore, households with less space can consider loft beds.
These beds come in a wide range of designs since the frame is versatile. However, they aren't suitable for small children because they are high. So, it's advisable for parents to wait until their children are old enough to climb up the bed before investing in it.
Conclusion
Choosing a kid's bed can be challenging; with the right information, users may never go wrong. A kid's bed should accommodate them for years before outgrowing them.
Apart from space requirements, parents should also consider their kids' ages, the type of material used, design, and budget. Fortunately, various the types of kids' beds listed in this blog can meet the needs of various households.
Was this article helpful?