The kitchen is the heart of the home, a bustling space that welcomes family and guests. But maintaining its vibrancy and appeal requires regular updates with fresh tiles, and businesses can attract such consumers looking to breathe new life into their splashbacks and floor spaces.
So if you're wondering which tiles offer the most appeal, this article will highlight five kitchen tile trends worth investing in in 2023.
Table of Contents
How profitable are tiles in 2023?
Five amazing tiles that look outstanding kitchens in 2023
Invest in these tiles
How profitable are tiles in 2023?
Current market size
The global ceramic tiles market reached US$ 227.9 billion in 2022, while experts are anticipating further growth from US$ 358.60 billion in 2023 to US$ 489.70 billion by 2028. They predict the industry will expand at a 6.43% compound annual growth rate (CAGR) over this time period (2023-2028). Infrastructure spending is the market's current primary driver, as analysts predict spending on capital projects and infrastructures will grow significantly over the forecast period.
Other factors like rapid industrialization, increasing disposable income, rising focus on interior designs, and favorable government policies are pushing the construction industry's growth—which also boosts demand for tiles.
Although the global tiles market suffered various setbacks, it showed signs of recovery in the latter half of 2020, and experts expect this trend to continue as governments ease lockdown restrictions and the pandemic subsides. However, the potential for subsequent waves of the virus in ceramic tile-producing countries may limit market growth.
Market segment and regions
With the expanding construction sector driving demand for ceramic tiles, both commercial and residential segments are rapidly expanding in most countries. However, the residential segment accounts for a more significant market share and is recording more sales with replacement, renovation, and new home construction.
Asia Pacific emerged as the fastest-growing market, with experts predicting it will retain dominance throughout the forecast period. No doubt, rapid industrialization, urbanization, and cost benefits are significant factors that boost the regional market's growth.
Five amazing tiles that look outstanding in kitchens in 2023
Porcelain tiles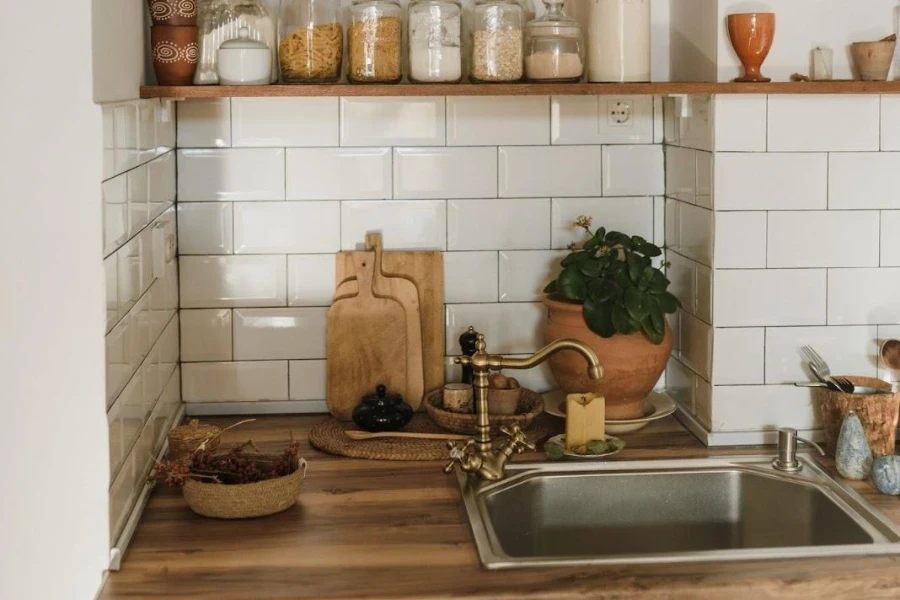 Porcelain tiles have numerous advantages making them an excellent choice for kitchen walls, backsplashes, and floors. These tiles feature dense and durable ceramic materials that manufacturers fire at extremely high temperatures,
Porcelain tiles are highly resistant to moisture, making them ideal for kitchen environments where spills and splashes are common. They also have a low water absorption rate, preventing damage and staining from liquid spills.
In addition to their water resistance, porcelain tiles are incredibly durable. They resist scratches, impacts, and wear, maintaining an attractive appearance and integrity even in high-traffic kitchens.
Furthermore, porcelain tiles are easy to clean and maintain. Their smooth surface makes wiping away spills and stains effortless, and they don't require special cleaning products. In truth, regular sweeping and mopping are sufficient to keep them looking their best.
More importantly, porcelain tiles are heat resistant, making them suitable for kitchen floors and walls near stovetops and ovens. They can withstand high temperatures without warping or cracking, providing a safe and durable surface for kitchens.
Patterned tiles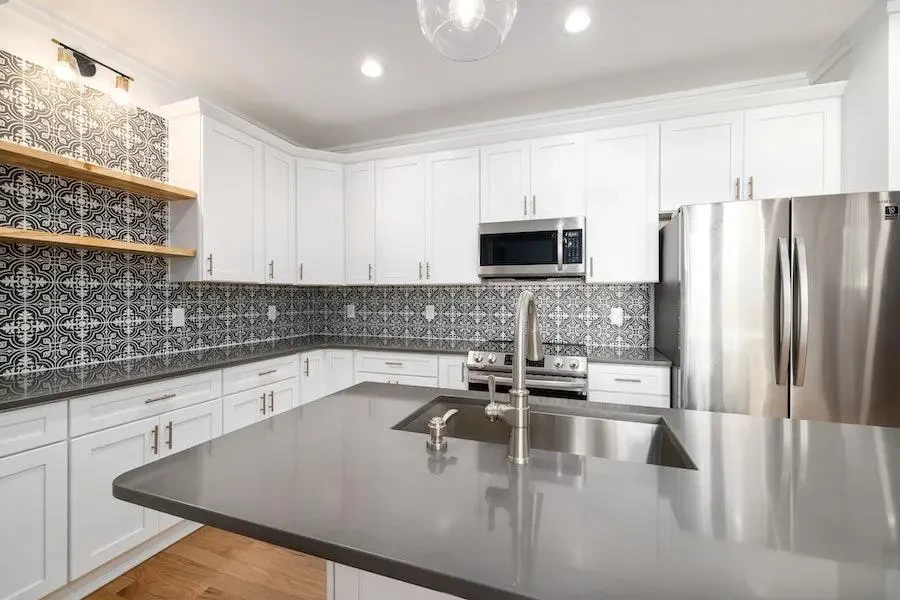 Patterned tiles can add a touch of personality and visual interest to kitchen walls, backsplashes, and floors, making them a fantastic choice for kitchen design. These tiles feature intricate designs, vibrant colors, and unique patterns that can transform a kitchen space into a stylish and visually captivating area.
One of the critical advantages of patterned tiles is their ability to create a focal point in any kitchen. Whether it's a bold geometric pattern, a timeless floral motif, or an intricate mosaic design, patterned tiles draw attention and add character. They serve as statement pieces that elevate the overall aesthetic of the space.
Patterned tiles are also practical for kitchen applications. They often feature durable materials like ceramic or porcelain, ensuring longevity and resistance to wear and tear. Their smooth and easy-to-clean surface makes them suitable for areas prone to spills, splatters, and stains. Also, with proper maintenance, patterned tiles can maintain their beauty and quality for years.
In addition, patterned tiles offer endless design possibilities. Consumers can choose from various options, from intricate Moroccan patterns to colorful Spanish-inspired designs. Mixing and matching different patterns or incorporating accent tiles can create a personalized and unique kitchen space.
Concrete effect tiles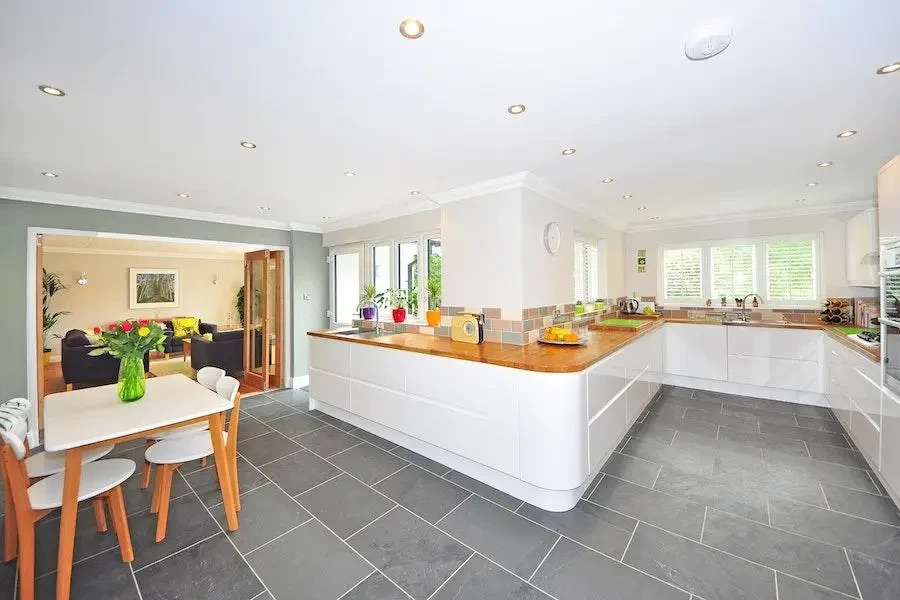 Concrete effect tiles have emerged as a fantastic choice for kitchen walls, backsplashes, and floors, offering a sleek and contemporary aesthetic with many practical benefits. These tiles mimic the appearance of concrete while providing additional advantages that make them famous.
One of the main advantages of concrete effect tiles is their ability to create an industrial-inspired kitchen look. Their raw and minimalist concrete appearance incorporates an urban sophistication and sense of modernity. Whether consumers opt for light or dark shades, their textured finish will add depth and visual interest.
In addition to their stylish appeal, concrete effect tiles offer exceptional durability. They're well-known for their robustness and resistance to wear and tear. Manufacturers often make these tiles from high-quality porcelain, ensuring they can withstand heavy foot traffic, impacts, and scratches. Concrete effect tiles will maintain their integrity over time, providing a long-lasting, low-maintenance surface.
Concrete effect tiles are also practical for kitchen applications. Their non-porous surface makes them resistant to stains and moisture, making them easy to clean and maintain. More importantly, they offer hygienic benefits as concrete effect tiles don't harbor bacteria or mold.
Wood effect tiles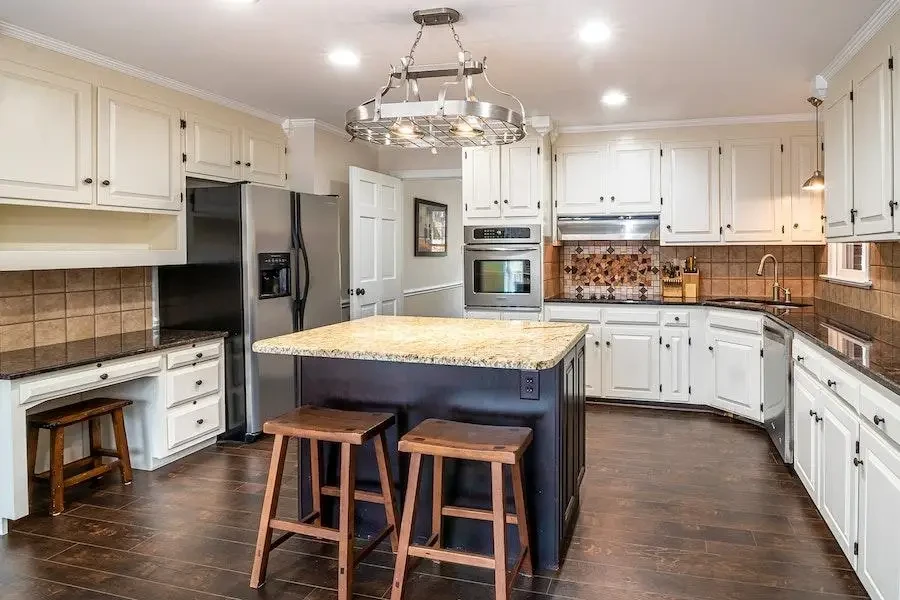 Wood effect tiles offer the timeless beauty of wood with the added benefits of durability and practicality. They provide a warm and inviting ambiance, copying the natural appearance of wood without making them less effective for kitchen designs.
One remarkable detail about these tiles is their ability to create rustic and natural kitchen aesthetics. They effortlessly replicate the wood texture, grain patterns, and color variations, allowing homeowners to achieve the woody charm without drawbacks, like susceptibility to moisture and wear.
Durability is another major wood effect tile key characteristic. Made from high-quality porcelain or ceramic materials; these tiles are highly resistant to scratches, stains, and impacts. Additionally, they don't warp, fade, or require refinishing like natural wood, ensuring a long-lasting and low-maintenance surface for kitchen applications.
In addition, wood effect tiles come in various shades, finishes, and plank sizes, motivating consumers to customize the look and feel of their kitchen. They're also practical enough to maintain their integrity in areas prone to spills and splatters. These tiles are compatible with underfloor heating systems, providing underfoot warmth and comfort.
Consumers who prefer a seamless transition between different kitchen areas will love these tiles. Homeowners can achieve a cohesive and harmonious design by using the same wood effect tiles on the walls, backsplashes, and floors, enhancing their kitchen's overall visual appeal.
Natural stone tiles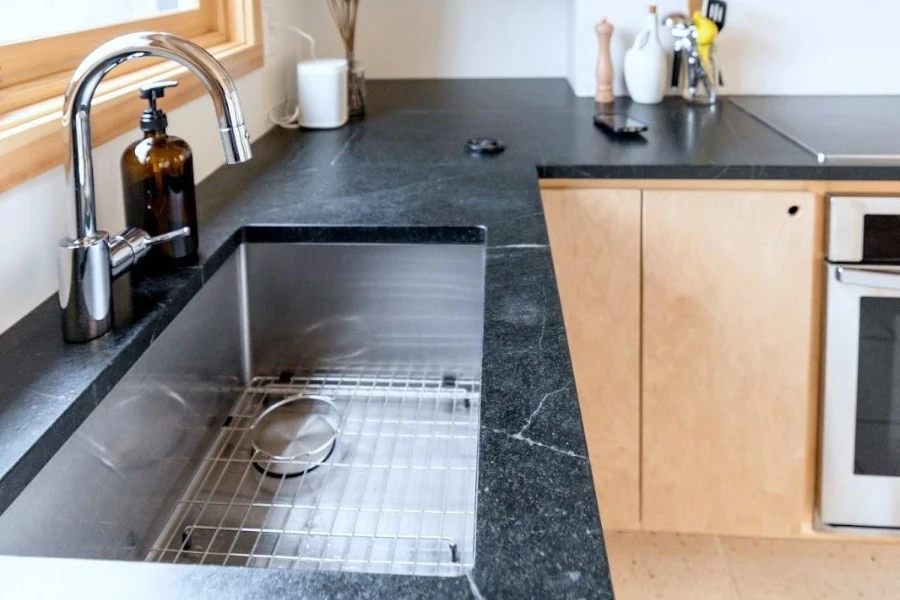 Like their stone effect cousins, natural stone tiles offer a timeless and elegant appeal.
Natural stone tiles can easily create a luxurious and sophisticated kitchen look. Each still possesses distinctive characteristics, like veins, swirls, and color variations, making them unique.
They also tick the boxes for durability. Natural stone tiles are well-known for their strength and resilience, with some stone varieties, like granite and slate, being particularly robust. These tiles can withstand high foot traffic, impacts, and scratches, making them compatible with kitchen floors and walls.
Natural stone tiles need more maintenance. They require proper care to preserve their beauty. Manufacturers recommend sealing to protect tiles from stains and moisture. Regular cleaning using gentle, non-abrasive cleaners is necessary to maintain its appearance and longevity.
Regardless of this drawback, natural stone tiles are incredibly versatile. Businesses can offer various options, including marble, travertine, limestone, and slate, to suit their consumers' preferred aesthetic.
More importantly, they offer incredible heat resistance, ideal for areas near stovetops and ovens.
Invest in these tiles
Offering the perfect tiles for a kitchen involves finding the right balance between aesthetics and practicality. Retailers must consider factors like daily usage, location, and the foot traffic the tiles will endure.
Luckily, the tiles discussed in the article tick the boxes in all aspects, including durability, aesthetics, and practicality. Businesses can invest in porcelain, concrete effect, patterned, wood effect, and natural stone tiles to attract more consumers and enjoy more sales.
Was this article helpful?