As the fashion industry embraces inclusivity and body positivity, plus-size outfits are taking center stage and gaining momentum like never before. No longer limited in options, plus-sized ladies now have many stylish choices to express themselves through fashion.
In this article, we'll dive into five exciting plus-sized outfit trends captivating new buyers in the 23/24 market. But before we delve into these trends, let's look at the global market's overall landscape.
Table of Contents
How profitable is the global plus-sized clothing market?
Five amazing outfit trends for plus-sized women in 23/24
Invest in these outfits
How profitable is the global plus-sized clothing market?
Market size
The global plus-size women's clothing market was valued at USD 288 billion in 2023 and is expected to grow to USD 500 billion by 2033, at a compound annual growth rate (CAGR) of 5.67% from 2023 to 2033.
The demand for plus-size apparel is snowballing as consumers seek fashionable and luxurious options. Hence, more retailers are focusing on launching plus-size clothing lines to cater to this rising demand. In addition, the market is fueled by the increasing prevalence of obesity and overweight issues and the growing body confidence among plus-size women.
Segmentation
The innerwear segment is experiencing rapid growth, especially in plus-size bras, driven by the rising number of overweight women globally. However, offering plus-size innerwear products presents challenges due to the need for proper fabric and design to suit women's bodies.
Region
The Asia Pacific region holds the majority share of the global market and is expected to continue its dominance due to the increasing number of consumers seeking fashionable attire. Europe is also projected to witness significant growth in the plus-size women's clothing market, driven by factors such as the demand from millennials and the rising number of overweight individuals.
Five amazing outfit trends for plus-sized women in 23/24
Floral jumpsuit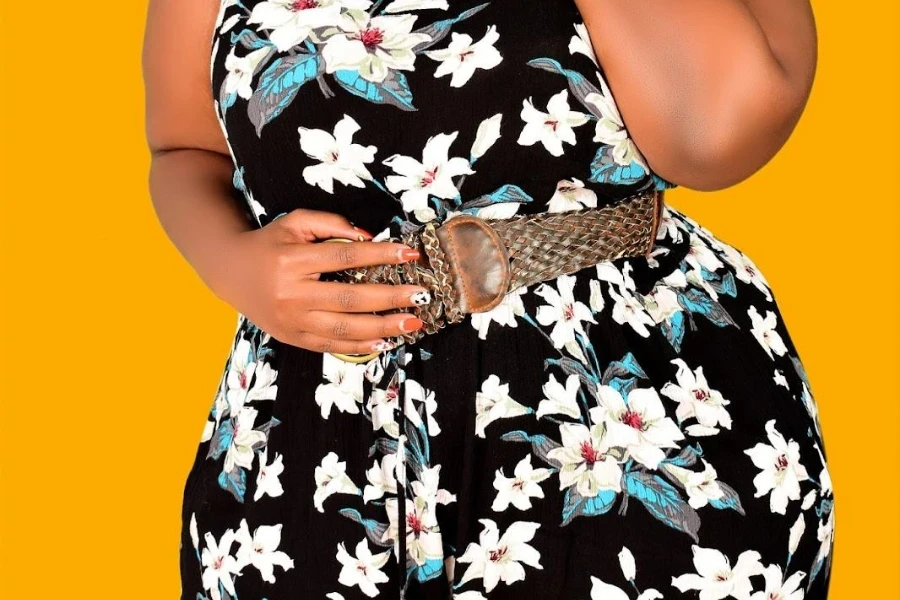 Floral jumpsuits are an absolute style sensation for plus-sized women. They effortlessly fuse fashion and comfort, making them perfect for any casual day or special occasion. This outfit is not just a sight to behold. Floral jumpsuits offer a refreshing departure from conventional plus-sized women's styles.
Gone are the days when these women had limited choices—now, they can embrace various styles and look dashing. The good news is beautiful floral designs also complement body shapes, enhancing curves and creating an alluring silhouette.
The versatility of floral jumpsuits is worth noting. Plus-sized women can easily dress them up or down, depending on their mood or setting. They can rock a flowy, wide-leg floral jumpsuit for a laid-back look. Alternatively, plus-sized women can opt for a more structured, tailored jumpsuit for a chic evening outfit.
Although rocking a floral jumpsuit isn't complex, consumers must choose the right fit. Jumpsuits with defined waistlines or belts are perfect for plus-sized women. It'll help accentuate their curves and make the look feel balanced. Additionally, jumpsuits with a V-neckline are particularly flattering as they elongate the neckline and draw attention to the upper body.
Regarding colors, floral jumpsuits have a lot to offer. From soft pastels to bold and vibrant hues, consumers can find a floral print to suit their tastes. However, those who prefer a more understated look can explore jumpsuits with smaller, subtle floral patterns.
Ombre maxi dress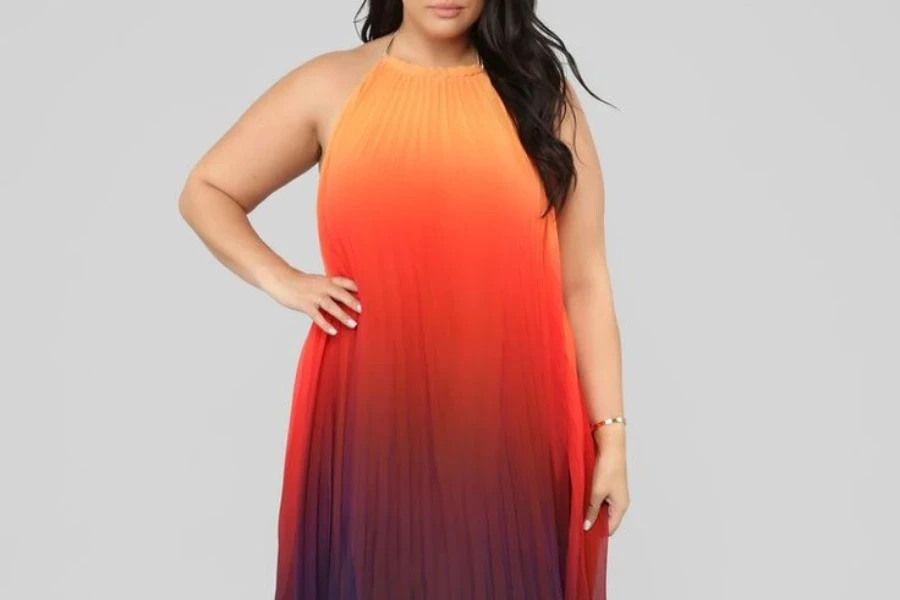 Ombre is a timeless and alluring trend that has overtaken the fashion scene. Combined with a maxi dress's elegance, it creates a match made in style heaven.
This outfit style blends colors beautifully, typically transitioning from light to dark or vice versa. This gradient effect is a fantastic way to add depth and dimension to maxi dresses. For this reason, plus-sized women can genuinely rock the ombre maxi dress with confidence, as it creates a visually striking look.
The color transition is not the only beautiful thing about the ombre maxi dress. Its flattering silhouette makes it one of the best outfits for plus-sized women. Indeed, the maxi dress's elongated design makes any body shape look graceful and sophisticated.
Whether consumers attend a summer wedding, go on a tropical vacation, or simply stroll along the beach, this dress is a go-to option for an effortlessly chic ensemble. More importantly, the ombre effect on the maxi dress draws attention to the outfit's length, creating a slimming and elongating effect.
Also, dresses with cinched waists are perfect for plus-sized ladies looking to emphasize their curves or enjoy a more accentuated figure. Color choices are another major benefit of ombre maxi dresses. Consumers can rock anything from soft, subtle pastels to bold and vibrant hues.
Shorts and tropical print tops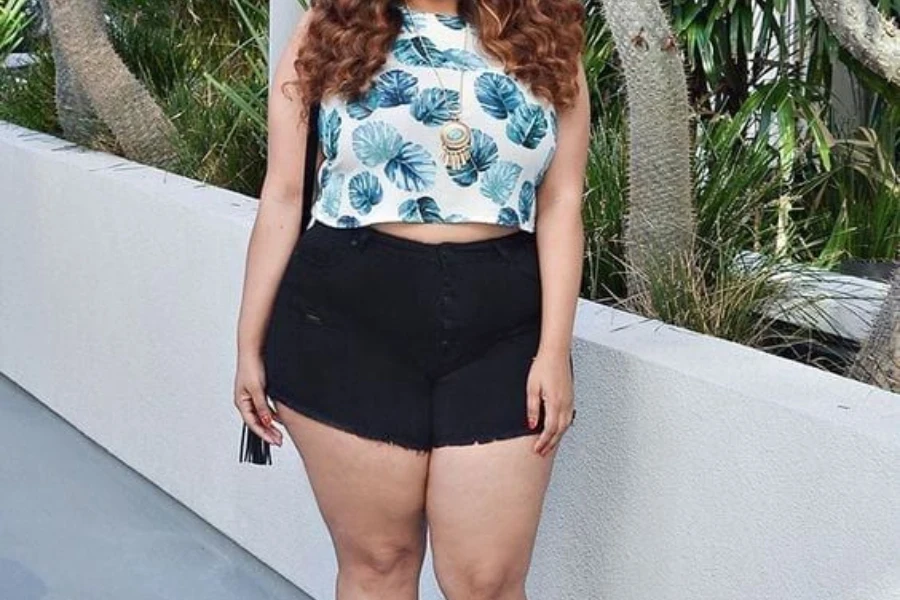 This dynamic duo embraces the carefree summer spirit—while staying stylish and comfortable. Shorts are a summertime essential, and they're perfect for plus-sized women looking to beat the heat in style. While shorts were a thing to avoid for plus-size women, they can now rock various styles confidently, like high-waisted shorts or mid-rise variants.
However, the tropical print is a natural match when pairing shorts with tops. Think of vibrant palm leaves, exotic florals, and lively colors. These tops undoubtedly add fun and playfulness to any plus-size outfit.
Nevertheless, consumers must find the right balance to rock this outfit masterfully. If they opt for a pair of patterned shorts, then a solid-colored tropical top to keep the focus on the bottom. Conversely, plus-size ladies who prefer bold tropical tops can wear neutral or complementary colored shorts to create a harmonious ensemble.
Consumers conscious of their arms will love tropical print tops with flattering sleeves. Various styles can make them feel confident and fabulous, from flowy flutter sleeves to chic kimono styles.
Pleated skirts and basic tees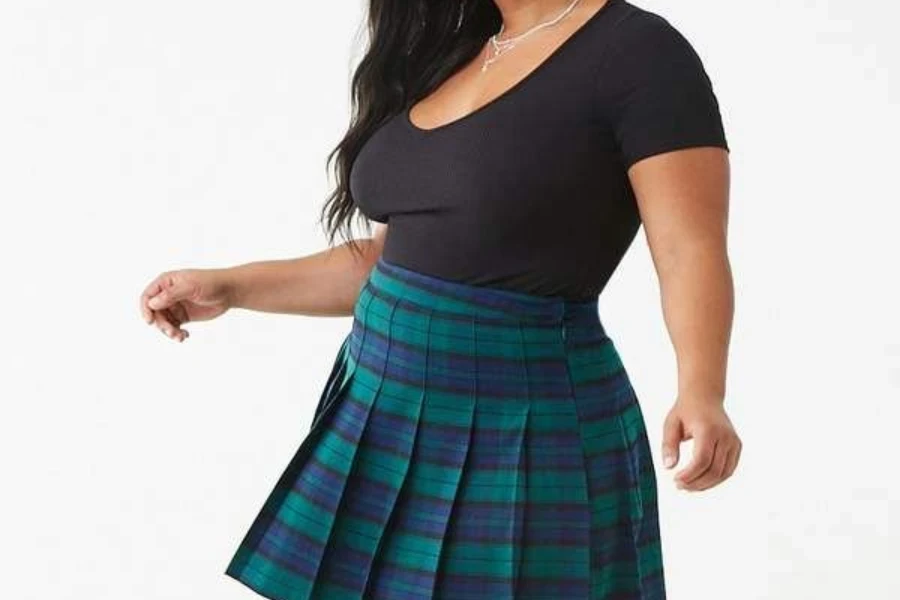 Plus-sized women need the perfect balance between fabulous and comfort–-and what better way to attract them than with this chic outfit trend?
Pleated skirts are a timeless fashion staple that instantly upgrades any outfit. Since pleats are widespread for their flattering drape and flow, plus-sized women can easily embrace them confidently. With this skirt, they'll rock a graceful silhouette that complements their curves beautifully.
Basic tees are a perfect match for the pleated skirt's beauty. Its simplicity, especially well-fitting variants in solid colors, creates a clean canvas for the skirt to shine. But for a more polished and put-together look, consumers can tuck the basic tee into the pleated skirt.
It adds definition to the waist, elevating the outfit's aesthetics. But ladies who prefer a relaxed and carefree ensemble can leave the tee untucked, leaving the outfit breezy and comfortable.
One fantastic benefit of this outfit trend is that it transcends seasons. In warmer months, plus-sized women rock lightweight, flowy fabric for the pleated skirt and the tee, keeping them cool and comfortable. Alternatively, they can layer a stylish cardigan or leather jacket over the outfit for a chic and cozy look in colder conditions.
Tiered skater dress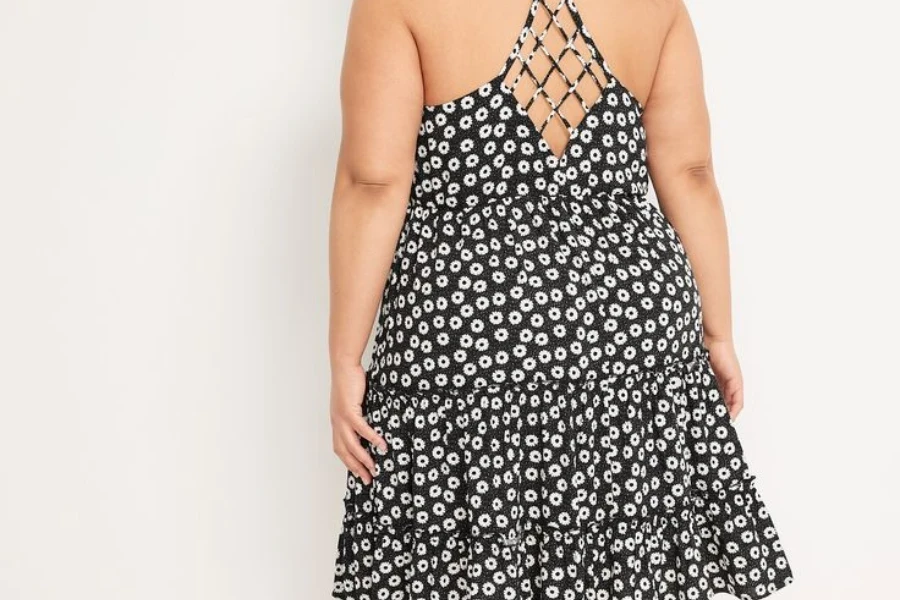 Who says plus-sized women can't enjoy classic combinations? This delightful style combines the best of both worlds—a skater dress's flattering silhouette and tiered layers' playful charm.
This dress features a fitted bodice highlighting the waist and a flared skirt fluttering at the hips, creating a beautiful hourglass shape. Plus, the added tiered layers introduce more depth and movement to the dress, making it a fun and eye-catching outfit.
One of the reasons why plus-sized women love tiered skater dresses is the way they enhance comfort without compromising on style. These dresses also come in various colors, patterns, and fabrics. Some of the best picks include floral prints, solid hues, and color-blocked designs.
Invest in these outfits
The world of plus-sized fashion has come a long way, providing diverse options for women passionate about lifestyle and fashion. As consumers seek flattering and comfortable ensembles, businesses have a unique opportunity to cater to their needs and preferences.
Among the standout trends, floral jumpsuits, ombre maxi dresses, shorts and tropical print tops, pleated skirts paired with basic tees, and tiered skater dresses have taken the spotlight as the top choices for plus-sized women in 2023/24. These fabulous plus-sized outfit trends celebrate individuality and offer versatility and style, making them the perfect investment options for any fashion-conscious entrepreneur.
Was this article helpful?