Suits have evolved from a men-exclusive set to a more inclusive status in recent years. Now, women can enjoy the timeless, sophisticated, and empowering aesthetics of well-tailored coordination and add a feminine flair.
Whether consumers are heading to the office, attending a special occasion, or looking to make a statement, a brilliant suit is always a fantastic choice. In this article, businesses can explore five women's suits and set trends for 2024.
Table of Contents
Women's suits and sets market outlook 2023
Five women's suits and sets to stock up on for 2024
Leverage these trends
Women's suits and sets market outlook 2023
The global women's suits and ensembles market, valued at US$ 7.17 billion in 2023, is expected to grow at a compound annual growth rate (CAGR) of 1.3% from 2023 to 2027. Factors such as an increasing number of working women, rising per capita income, and the growing corporate culture are driving market growth.
Offline channels contribute more than 75% to the market share, including exclusive stores and hypermarkets. Online channels are expected to grow with a CAGR of 6.2% due to increasing internet and smartphone penetration.
Asia Pacific is the fastest-growing region, with China and India driving market demand due to their large populations, increasing disposable incomes, and changing fashion trends. Europe holds the largest market share, with countries like Germany, the U.K., and France contributing significantly to market revenue.
Five women's suits and sets to stock up on for 2024
The timeless three-piece suit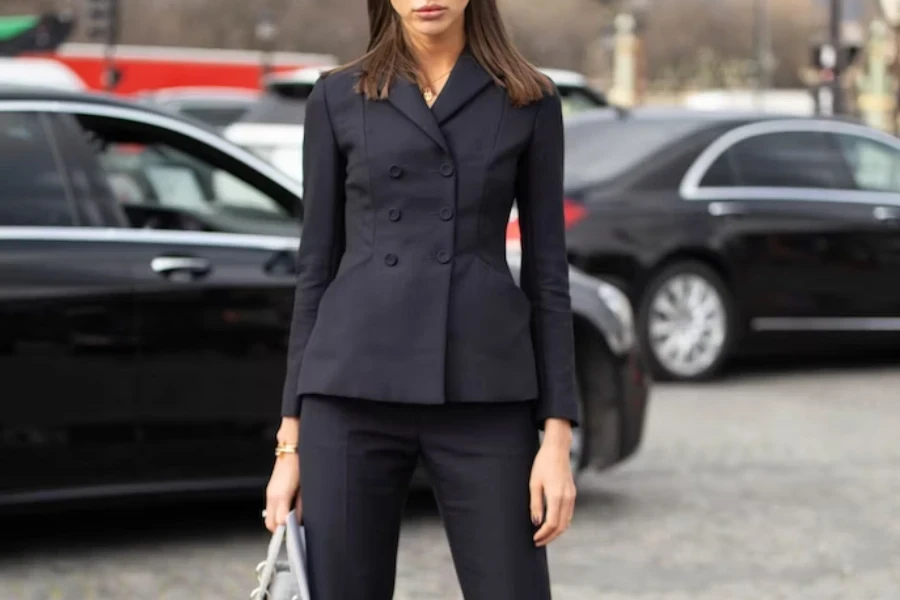 Once exclusively associated with men's fashion, the timeless three-piece suit has become a chic and sophisticated trend for women. This ensemble exudes power, elegance, and professionalism, making it a top choice for any woman's wardrobe.
As the name implies, this set involves three key pieces: a tailored blazer, a matching vest or waistcoat, and coordinating trousers or skirts. Interestingly, the blazer grabs all the attention, while the vest adds a layer of style and flair.
Regarding materials, classic options like wool or tweed offer a more formal and structured appearance. However, lighter fabrics like cotton or line are perfect for spring and summer, offering a more relaxed and breathable feel.
The beauty of the three-piece suit lies in its versatility. Women can wear the entire ensemble for a polished and authoritative office look or mix and match the pieces to create various outfits for different occasions.
For instance, ladies can pair the blazer with tailored trousers and a blouse for a smart business casual outfit. Or, they can wear the vest over a button-down shirt and jeans for a chic and fashionable casual look.
The bold power suit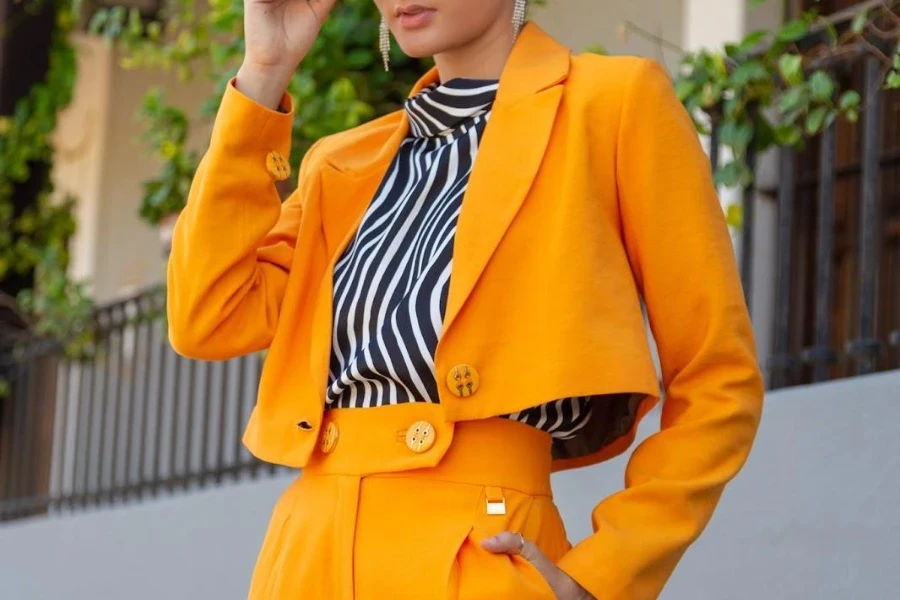 Striking and empowering, the bold power suit is about making a statement with confidence and style. This outspoken suits and sets trend combines a sharply tailored blazer and matching trousers or skirts in vibrant colors or eye-catching patterns.
The bold power suit is perfect for women looking to break away from traditional neutrals and embrace vivid hues. Some popular options include electric blue, fiery red, and neon green. Also, daring prints like checks or animal prints help exude strength and sophistication. The whole point of the bold power suit is to celebrate individuality and powerfully express self-assurance.
The tailored blazer is the focal point of this suit, boasting strong shoulder lines and a structured fit. The trousers or skirt will complement the blazer, offering a cohesive and commanding look.
No doubt, combining this perfectly tailored silhouette with a bold color or pattern creates an impression of fearlessness and determination. It encourages women to embrace their uniqueness and challenge conventional norms.
More importantly, this suit trend is incredibly versatile. Women can rock it professionally, making a bold and authoritative statement at the boardroom or important meetings. Alternatively, they can adapt it for social events or evenings, turning heads and sparking conversations.
Trendy plaid suits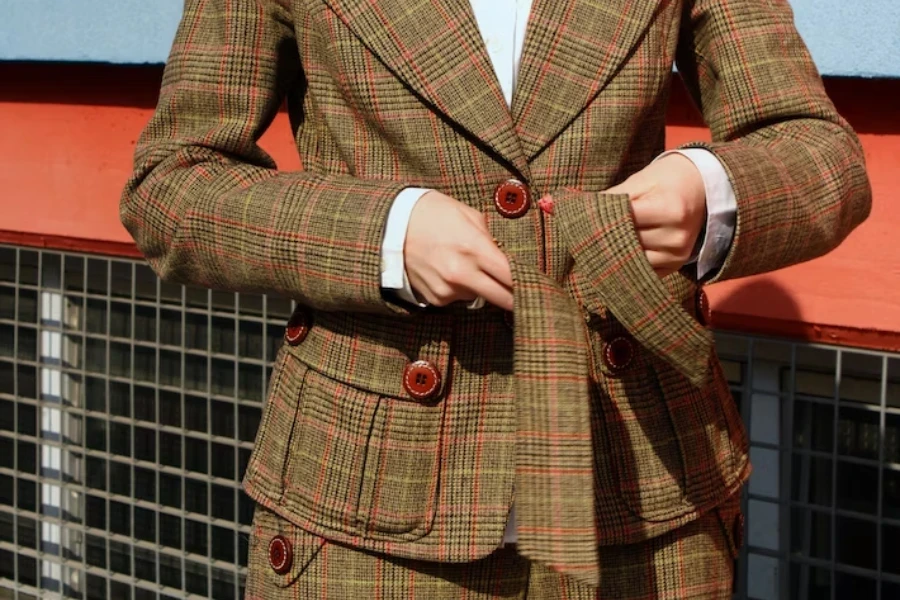 Plaid, with its distinctive pattern of intersecting lines, adds a timeless charm to a suit ensemble, making it a standout choice for professional and fashionable settings. It's iconic for its classic checkered pattern, ranging from traditional houndstooth to bold windowpane or glen plaid designs.
More importantly, the pattern injects a sense of elegance and refinement, elevating the outfit from ordinary to extraordinary. While the blazer acts as the centerpiece of the suit, the coordinating trousers or skirt completes the ensemble with a sense of balance and harmony.
Women can wear the plaid suit as a complete set for a polished and professional look or rock the pieces separately to craft various stylish ensembles.
In addition, the plaid suit offers endless styling possibilities. Ladies can opt for a monochromatic plaid pattern for a classic and timeless look. But if they want to make a bold statement, women can go for plaid suits with vibrant colors or oversized patterns.
To complete the look, women need extras that complement the plaid pattern. A simple blouse or turtleneck can add elegance, while a statement belt can accentuate the waistline.
The statement suit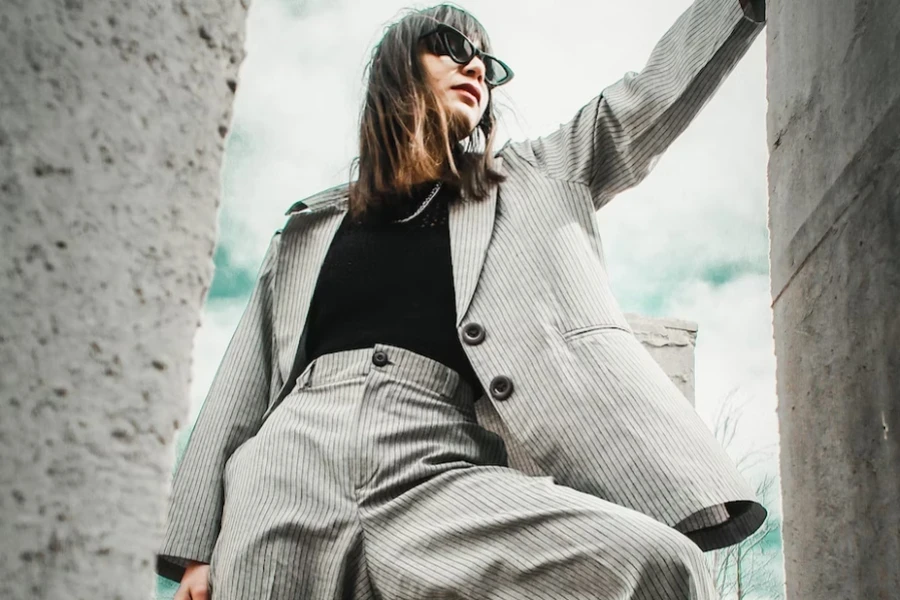 This bold and daring trend allows fashionistas to make a powerful impact with their style. The statement suit is all about embracing individuality and self-expression through fashion fearlessly and uniquely.
Unlike traditional sets, the statement suit takes center stage with its eye-catching designs, vibrant colors, and unconventional patterns. Its style breaks the rules and effortlessly stands out from the crowd. From vibrant floral prints to striking animal patterns or metallic finishes, this suit demands attention.
While it's a show-stopper, ladies can mix and match the pieces to create different outfits. They can pair the blazer with jeans for a cool and edgy street-style look or wear the trousers with a chic blouse for a more elevated and fashion-forward appearance.
Whether ladies want to attend a special event, a fashion-forward party, or make a statement at their workplace, the statement suit is the go-to trend for turning heads and leaving a lasting impression.
Boho wide-leg suits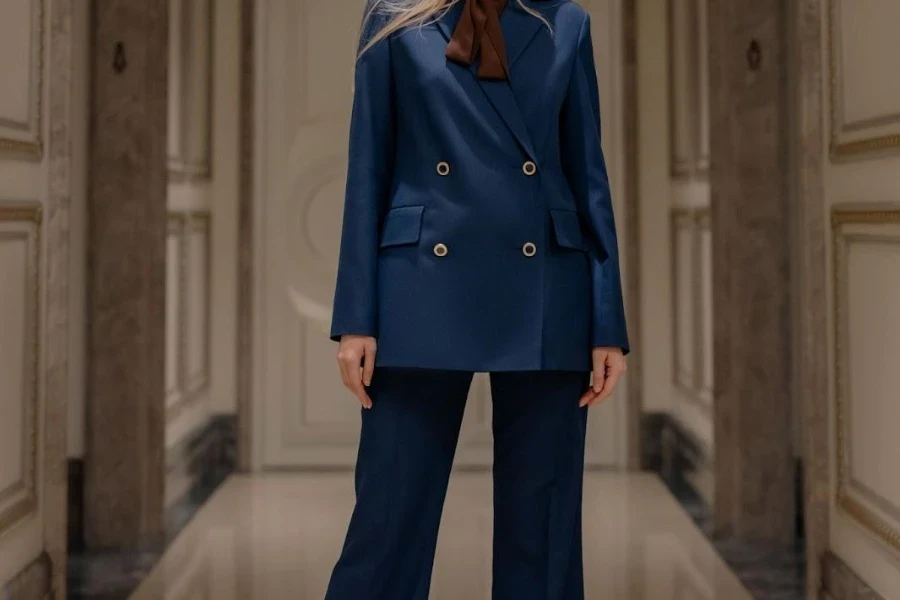 Fashion has evolved to merge two unlikely concepts, resulting in trends like the boho wide-leg suit. This trend combines a boho-chic aesthetic with a professional flair, featuring wide-leg trousers or palazzo pants. Plus, pairing it with a flowing, relaxed blazer or tunic top completes the suit.
The wide-leg silhouette of the boho suit offers a comfortable and airy feel, making ladies feel more relaxed but elegant. Undoubtedly, it's a refreshing departure from the conventional slim-fit styles, giving women more freedom to move around gracefully.
Boho wide-leg suits often feature earthy and natural colors, like warm browns, rich rusts, deep greens, and calming blues. Also, the fabrics used are typically soft and breathable options, like cotton, linen, or lightweight blends.
Although the wide-leg trousers are key to the ensemble's overall look, the relaxed blazer or tunic top is the centerpiece of the bohemian aesthetic. Usually, the blazer or tunic features intricate embroidery, ethnic-inspired patterns, or playful fringes. This artistic touch infuses the ensemble with wanderlust and creativity, perfect for free-spirited souls.
Leverage these trends
Although the classic navy or black suits will always remain a classic piece, there are many more women's suits and set trends to offer. From bold patterns and colors to unexpected combinations, these modern spins make women enjoy a new take on the formal look.
The timeless three-piece, bold power, trendy plaid, statement, and boho wide-leg suits are the trends to leverage for an updated and modern inventory ahead of 2024.
Was this article helpful?