Hair accessories can make or break a look, and hair claws have made a huge comeback in recent years.
They are versatile and functional, allowing people to create an array of styles while keeping their hair in place. This article will discuss the market for hair claws and highlight seven trending hair claws in the European and American markets.
Table of Contents
The market for hair claws
7 trending hair claws
Getting on board with hair claws
The market for hair claws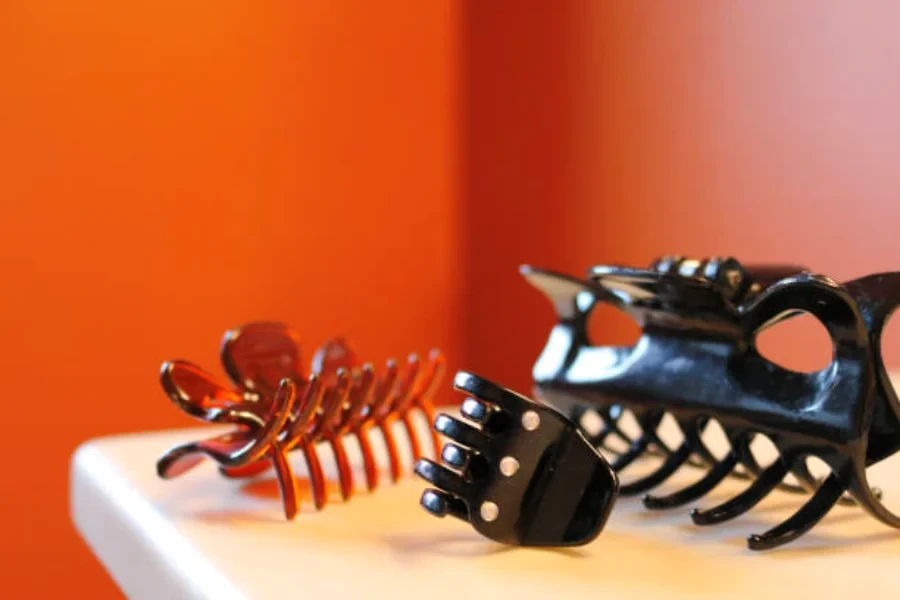 The global hair accessories market is on a growth trajectory, expected to reach $31.6 billion by 2028, with hair claws being a significant driver of this growth.
In the U.S., healthy and well-groomed hair is a priority among consumers, who are experimenting with different haircuts and embracing innovative accessories to enhance their appearance.
The rising preference for grooming products is fueling demand for accessories such as hair claws in the U.S. market.
Meanwhile, the Internet has played a significant role in making consumers more familiar with hair accessories through social media influencers, bloggers, and vloggers.
In Europe, the trend towards easy-to-use products has also been observed, with hair claws being favored for their practicality and style options.
Overall, the hair accessories market is expected to continue to grow, driven by changing consumer preferences and the influence of social media.
7 trending hair claws
1. Acetate hair claw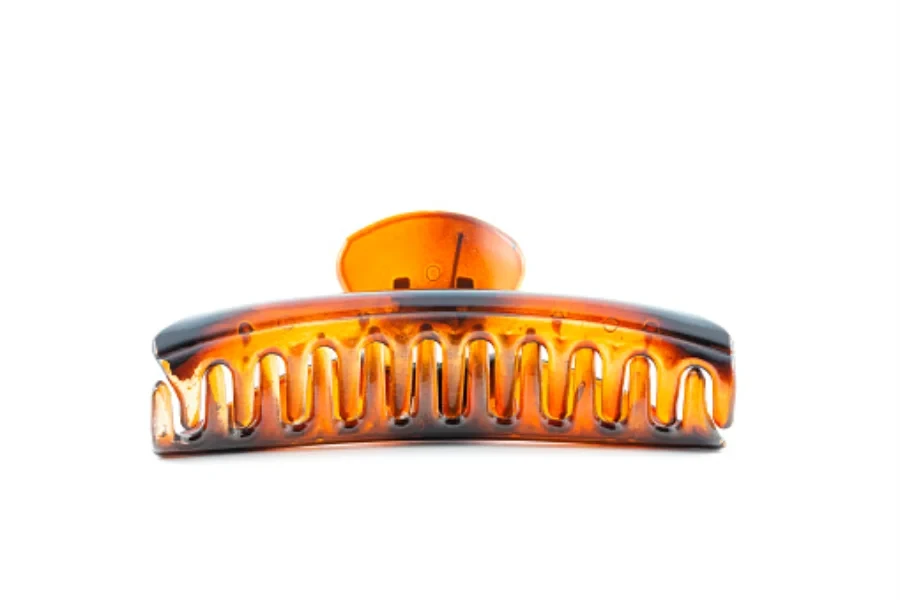 Acetate hair claws have become increasingly popular due to their glossy finish and durability.
They come in various sizes, and some designs have added embellishments such as rhinestones or pearls.
These hair claws are perfect for holding thicker hair types, and their polished look makes them suitable for both casual and formal events.
2. Snake design hair claw
The snake design hair claw has a distinctive and alluring look that catches attention. The serpentine shape of the hair claw has a striking and elegant appearance, making it a favorite choice among fashion-forward individuals.
The intriguing design of the snake hair claw gives an exotic touch to any hairstyle, making it stand out in the crowd. These hair claws come in various finishes, from sleek metal to colorful resin, making them a highly versatile accessory that can suit any occasion or personal style.
The metal finish gives a polished and sophisticated appearance, while the resin finish adds a pop of color and fun.
3. Square hair claw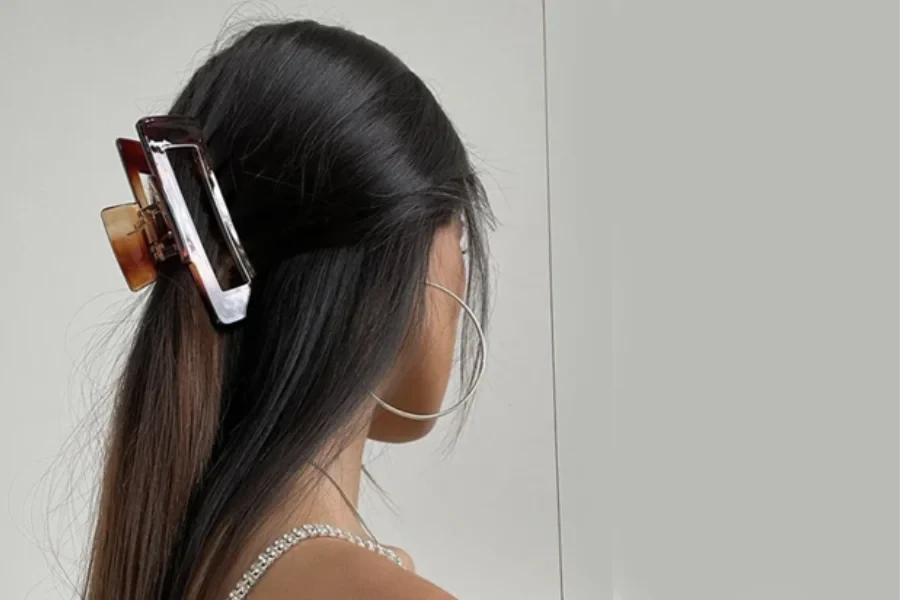 Square hair claws have been popular in the European and American markets for their minimalist and chic look, complementing modern fashion styles.
These hair claws are typically square or rectangular, with clean lines and minimal embellishments, giving them a modern and edgy feel. They are available in a variety of materials such as metal, acrylic, and resin, and can be found in a range of colors and finishes.
The simplicity and versatility of square hair claws make them suitable for different occasions, whether casual outings or formal events. They work well for both everyday wear and more elaborate hairstyles.
For example, a simple metal square hair claw can add a touch of sophistication to a sleek low bun or a half-up half-down hairstyle. On the other hand, a larger, more decorative square hair claw in a bold color can make a statement and add an element of fun to a casual outfit.
The understated design of square hair claws also makes them popular among those who prefer subtle and elegant accessories. They offer a refined and polished look that complements a wide range of fashion styles, from classic to contemporary.
4. Loop hair claws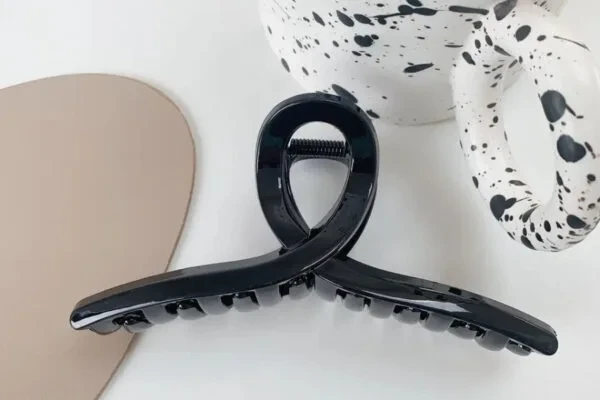 The loop hair claws have a unique design that differentiates them from other hair accessories. The loop creates a visually interesting and dynamic element that adds depth and texture to any hairstyle.
This feature also makes them a great choice for those looking to create a statement look with their hair.
5. Checker hair claw
Checker hair claws are a playful and fun addition to any hair accessory collection. Their checker pattern brings a bold and graphic element to hairstyles that catches the eye.
These hair claws come in a variety of sizes and shapes, from small square clips to larger rectangular ones.
The pattern is available in a wide range of colors, including classic black and white, and bold shades like red and blue. This versatility makes them an excellent choice for many occasions, from casual daytime events to evening gatherings.
Checker hair claws pair well with modern fashion styles and can be used to add a touch of personality to an otherwise plain outfit. They are also suitable for those who prefer a retro-inspired aesthetic, as the pattern has a vintage charm to it.
6. Oversized hair claw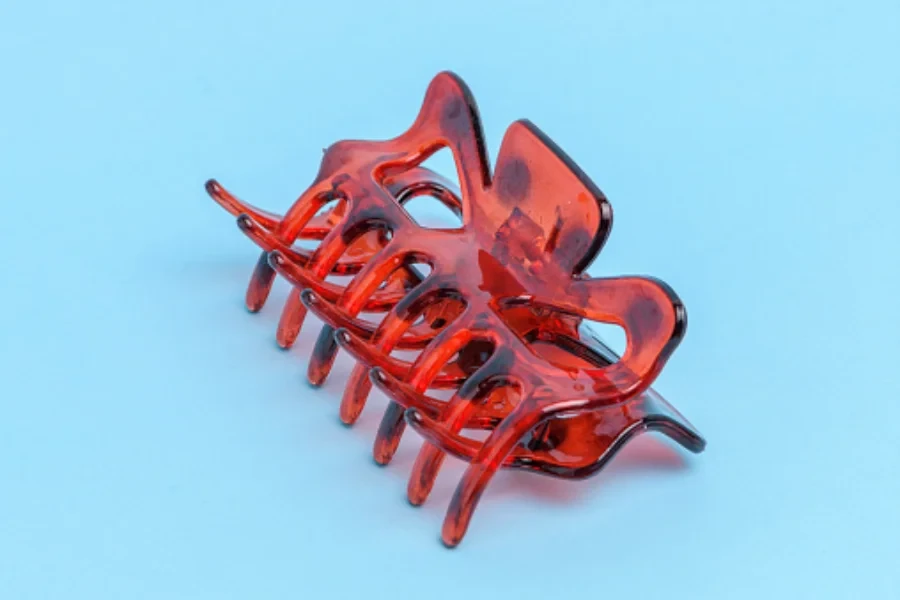 One of the most significant advantages of oversized hair claws is their practicality. These hair accessories can hold a large amount of hair in place, making them ideal for those with thick or long hair.
Additionally, they are easy to use and can create a polished look in seconds. The size of these hair claws makes them a statement piece, and they can be used to add an extra touch of elegance to any outfit.
Their versatility makes them a must-have accessory in any fashionista's collection. Whether it's a sleek bun or a messy updo, oversized hair claws can elevate any hairstyle to the next level.
7. Butterfly hair claw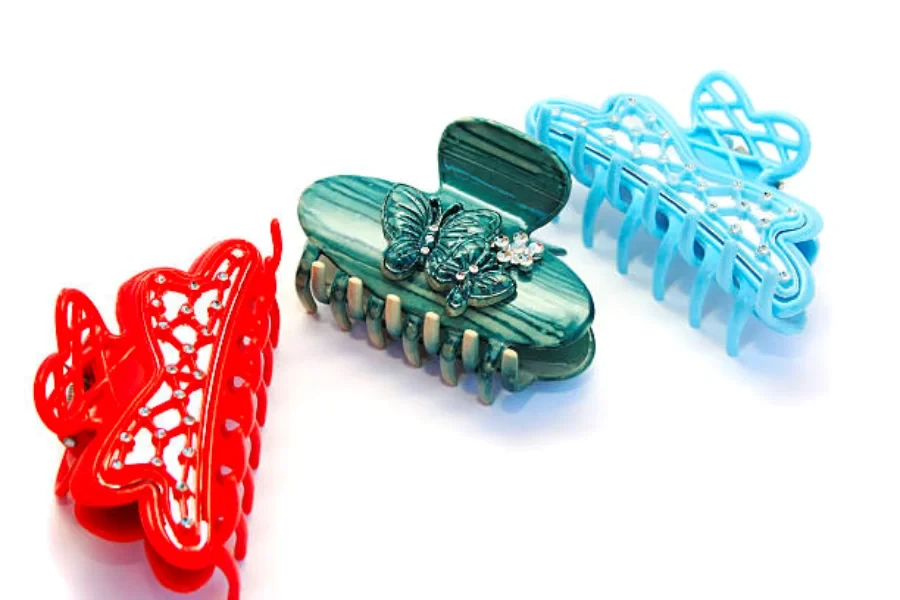 Butterfly hair claws have a whimsical and feminine design perfect for spring and summer. They come in various finishes, from bright colors to pastels, and are often adorned with rhinestones or pearls.
These hair claws are perfect for creating half-up hairstyles and are suitable for both casual and formal events.
Getting on board with hair claws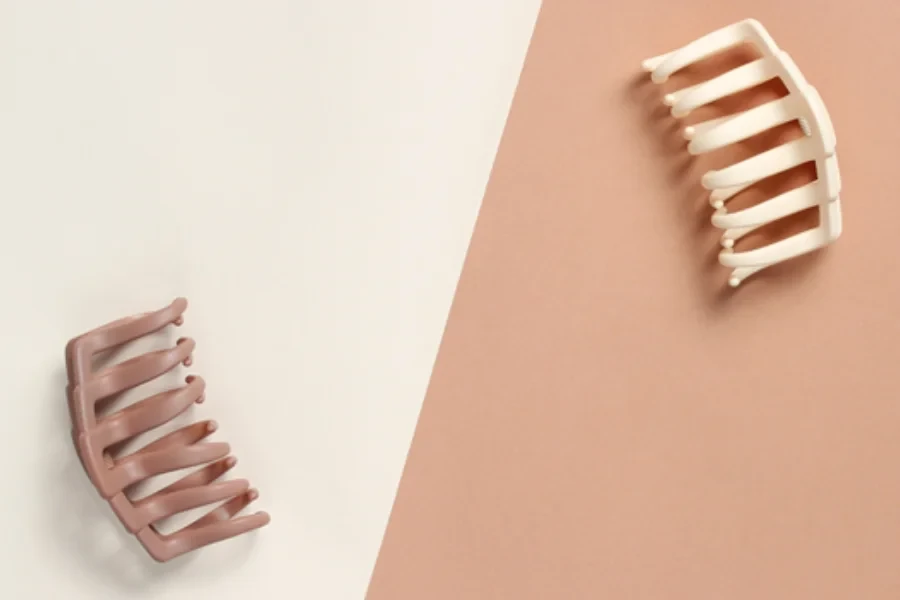 Hair claws are a practical and fashionable accessory that is gaining popularity in the hair accessories market.
With a range of materials, finishes, and designs, there is a hair claw for everyone.
As a business owner, it is essential to stay on top of hair accessories trends to provide customers with what they want. By understanding the popular hair claw styles, businesses can cater to their customer's needs and remain competitive in the market.
Was this article helpful?