Selling on Amazon can be a full-time job, especially when vendors have to protect their brands from unscrupulous sellers. Even sellers reluctant to start a business on Amazon may already have someone tarnishing their reputation with counterfeited products.
As a result, Amazon introduced its brand registry to ensure sellers are able to control their brand image, reputation, and sales completely. This article delves into Amazon's brand registry, exploring everything the average retailer needs to protect their consumer's brand experience on the world's most popular e-commerce site.
Table of Contents
Amazon brand registry: What is it?
What's the purpose of Amazon's brand registry?
Are there any requirements for enrollment?
How to register for the Amazon brand registry
The benefits of using the Amazon brand registry
Did brand registry 2.0 come with important updates?
Wrapping up
Amazon brand registry: What is it?
With the high rate of counterfeit products flooding the market, vendors needed a way to protect themselves from nefarious sellers. Enter Amazon's brand registry, a program that registers brand owners under Amazon, helping to identify who's legit and who's not.
Amazon's brand registry gives businesses the power to secure their product content and intellectual property on the e-commerce site. More importantly, the program offers a round-the-clock team, allowing brand owners to report cases of intellectual property theft, listing issues, policy violations, and other technical issues.
In addition, retailers under Amazon's brand registry will gain access to extra marketing programs, like Amazon storefronts and A+ Content.
What's the purpose of Amazon's brand registry?
Previously, many brands sued Amazon for not doing enough to prevent sales of counterfeit products and other intellectual property (IP) violations. As a result, the e-commerce giant introduced its brand registry to help curb the bulk of infringement and counterfeit issues.
However, the program also shifts some responsibly for policy violations from Amazon to the brand owners themselves. Since the brand registry identifies authorized sellers and legitimate businesses, it makes it easy for Amazon to enforce its brand selling standards.
Are there any requirements for enrollment?
Although the seller's country determines the requirements, enrolling for the brand registry mostly requires a registered country-specific trademark on the product or its packaging, the ability for the seller to verify themselves as the legal owner, and an Amazon account.
In addition, the trademark must be active and text-based or image-based and contain text. Amazon won't accept purely graphical trademarks, like the popular Nike symbol.
How to get a trademark for Amazon's brand registry
Getting a trademark requires brands to have a unique name, logo, or both. They must also ensure that no similar registered trademarks exist by thoroughly searching the official USPTO database.
After verifying that the preferred mark is 100% unique, retailers file their trademark within a specific class. This process is like choosing a product category on Amazon, and it will determine the type of items the trademark can cover.
Note: The price for the trademark depends on the class. You can find them here.
Finally, businesses hire a licensed trademark attorney to help file their application. The business can find a lawyer offering such services online or locally or apply and file for a trademark without employing an attorney, saving them money.
How long does it take?
Usually, it'll take a year for brands to get a response from USPTO. Thankfully, they don't have to wait that long for Amazon to approve their brands.
Interestingly, Amazon provides an IP Accelerator service, helping to connect Amazon brand owners to professional intellectual property attorneys, boosting the speed of the trademark verification process.
As a result, brands working with Amazon's IP specialist will have their products approved for the brand registry before completing the trademark application.
How to register for the Amazon brand registry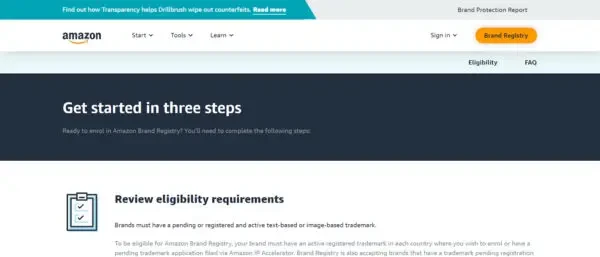 Brands can register for the brand registry by visiting Amazon to initiate enrollment. After clicking the "Enroll" button, Amazon will ask them to choose one of the 12 countries they wish to enroll in before redirecting the seller to a localized website.
Localized Amazon websites include Canada, Brazil, Spain, Japan, Mexico, France, Australia, the US, Germany, India, Turkey, Italy, or Australia.
Sellers must provide their registered trademark, brand logo images, pictures of their products, preferred product category list, and countries where the brand manufactures and distributes its items.
How long does it take for businesses to get approved?
Businesses with active trademarks or retailers who opt for the IP Accelerator program may have to wait two weeks for Amazon's approval. First, however, they must ensure they meet Amazon's requirements and submit everything necessary to avoid delays.
What are the enrollment costs?
Enrolling in Amazon's brand registry is completely free; brands may only have to spend on to get a trademark in the relevant country.
The benefits of using the Amazon brand registry
Brand protection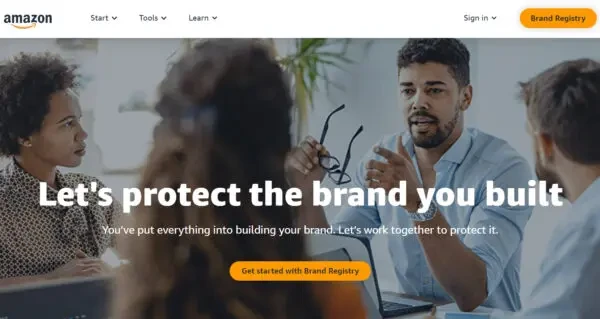 The last thing businesses want is someone leeching off their brand, especially after paying time and money for a registered trademark. Therefore, Amazon brand registry is the best bet for retailers looking to safeguard their products.
What's more, Amazon's dedicated team is on hand to help brands that report marketplace violations, listing issues, retract or submit IP infringement claims, technical issues relating to page loading, and escalating previous reports.
Brands looking for even more protection can opt for the "Transparency" option, offering extra brand security and shielding sellers from counterfeiters.
How does it work? After enrolling their products via the "Transparency" option, retailers can apply related codes. This helps Amazon to scan the items, ensuring they only ship out authentic items. Consumers can then use the transparency code to verify the product's authenticity.
"Project Zero" is another feature brands can leverage to stop counterfeiters in their tracks. This implements automated protections capable of stopping fake sellers from publishing fraudulent listings.
With Project Zero, brands can also eliminate counterfeit listings without contacting Amazon.
A+ Content access
Brands can also access one of the best Amazon's brand registry features: A+ Content Manager. They can find this by navigating to the Advertising tab in Seller Central.
But that's not all. Sellers may also enhance their brand's content by adding more text, infographics, images, and unique modules, giving their product listings an edge over the regular plain-text variants.
Sponsored brand ads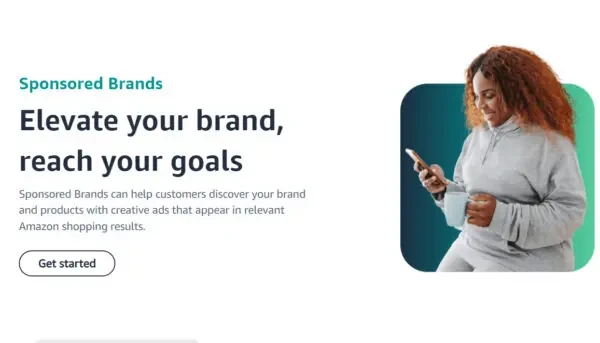 Sellers looking for another way to engage with customers can use sponsored brands. Sponsored brand ads are another brand registry benefit that places sponsored products at the top of the page in related search results.
Sponsored brand ads can help boost brand discovery, utilizing custom messages to showcase a brand's ideals to shoppers. It's an efficient way to draw buyers' attention to products that they're already searching for.
When interested consumers click on the brand's name or logo, it will redirect them to the storefront or the product page. However, sellers will pay per click on all of their sponsored ads.
More customer information
Another benefit sellers can enjoy is brand analytics. These aggregate customer purchase behavior and search data, which can help retailers improve their business operations.
Brands can find this feature by clicking "Brands" in the primary navigation bar. Inside, they'll find a treasure trove of information to leverage, including demographics, catalog performance, etc.
Repeat purchase behavior
Brands can use this data to create better strategies and inspect their marketing campaigns. In addition, it helps sellers to acquire new consumers and drive repeat purchases.
Search query performance
This information lets brands see their performance based on their buyers' search behaviors. For example, they can see metrics like brand share, cart add rate, search query volume, purchase rate, and click-through rate.
Demographics
This section provides information on consumer attributes like age, education level, marital status, household income, and gender. Brands can also select their preferred reporting range dates and export to CSV.
Market basket analysis
Here, retailers can gain insights into what products consumers buy together. As a result, they can draft multiple bundling and cross-selling opportunities or discover new profitable products.
Search catalog performance
Brands can monitor how consumers engage with their stores while shopping on Amazon. For this reason, they can understand their sales funnel better by reviewing critical metrics like impressions, clicks, purchases, and cart adds.
Access to Amazon's live creator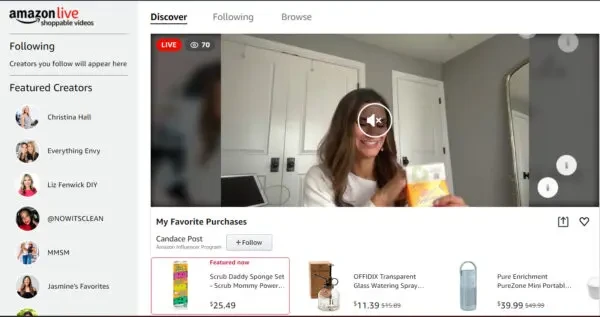 Amazon's live creator takes brand engagement to the next level by allowing brands to add interactive and livestream videos to their strategies.
With this Amazon brand registry feature, sellers can share their brand story to reach more consumers. Alternatively, they can make demonstration videos or interact with consumers through Q&A sessions.
Did brand registry 2.0 come with important updates?
While brand registry 1.0 gave brand owners absolute control over their listings and product UPC exemptions, version 2.0 comes with much more.
In addition to the benefits of its predecessor, brand registry 2.0 provides a dedicated internal team, a feature to grant "agents" access to brand registry tools, brand monitoring, and other marketing/authenticity programs.
Wrapping up
Amazon's brand registry allows sellers to enforce intellectual property rights, control product listings, and benefit from additional marketing tools. Brands that qualify for the program should consider signing up to access all of its tools.
However, brands must avoid abusing the system, only submitting legitimate claims. Otherwise, Amazon may cancel a seller's access to the brand registry benefits or suspend their account.
Was this article helpful?