The golden quarter is crucial to retailers' success. But with consumers reporting a delay in the onset of their Christmas shopping in 2023 compared to last year, the focus for retailers must be on enticing shoppers to spend earlier.
Stock availability, appealing offers and captivating visual merchandising are key focuses this Christmas to inspire and compel shoppers to purchase early.
Financial worries are the main concern for shoppers, with 44.2% of consumers stating this to be a factor affecting purchase timings this year. As such, shoppers intending to wait for discounts is up 3.7ppts in 2022 to 23.4%. This highlights that given the level of discounting often seen in the run-up to Christmas, shoppers expect prices to come down and are willing to risk items going out of stock rather than pay a higher price.
However, key gifting categories such as toys & games are expected to be better protected from consumers waiting for discounts, as parents feel pressured to ensure they get exclusive toy sets, regardless of whether that item will come down in price, to avoid disappointing children on Christmas Day.
With gifting expected to be the highest priority for shoppers this Christmas at 67.1%, versus 49.9% prioritising seasonal food & drink, retailers must ensure prices are enticing and demonstrate clear value for money within Christmas advertising to encourage spending from consumers tightening their belts.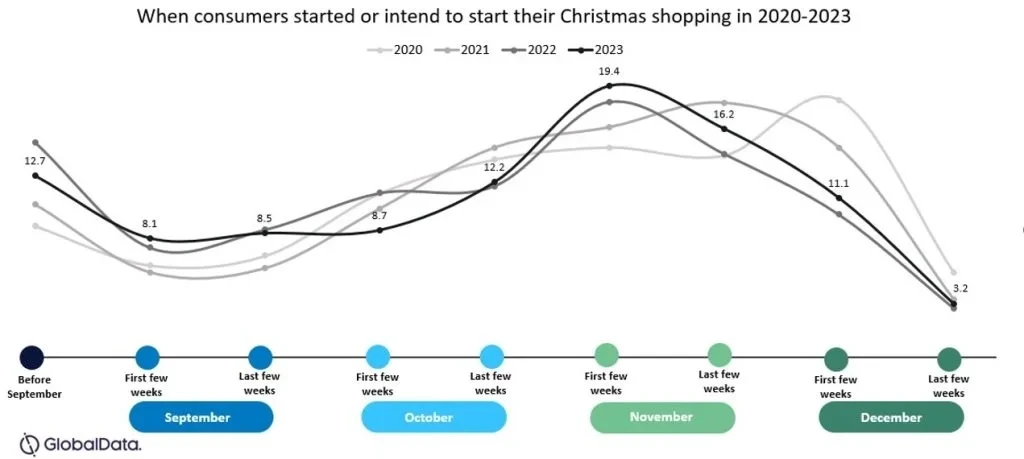 The timing for when consumers intend to start their Christmas shopping is broadly similar to the trend seen in 2022, but there are key differences. Few shoppers stated that they started purchasing before September and there was a notable decline in October, most likely as a result of unseasonal weather strengthening the intention for shoppers to purchase later this year. Of the consumers surveyed, 19.4% stated that they intend to start their Christmas shopping in the first weeks of November, a higher value than last year, indicating that more shoppers expect to start later this year.
With consumers intending to shop into the final few weeks of December, retailers must ensure key gifting products such as toys, health, beauty, clothing and footwear are well stocked during what is expected to be a busier and extended Christmas rush. Retailers must clearly state last purchase and delivery times on websites and in-store to ensure customers do not miss out on last-minute purchases.
Given the similar trend in both 2022 and 2023, we expect 2024 is likely to follow suit. To ensure stock availability is well planned and balanced for 2024's Christmas trading period, limited ranges should be rolled out before November and before ramping up availability in the last two months before Christmas Day. Allocation agility must be a key focus for retailers to provide greater stock depth for last-minute shoppers and minimise the need to discount unsold items in the new year.
Source from Retail-insight-network.com
Disclaimer: The information set forth above is provided by Retail-insight-network.com independently of Alibaba.com. Alibaba.com makes no representation and warranties as to the quality and reliability of the seller and products.
Was this article helpful?