Key Takeaways
Shopping experiences with personalised offers, virtual shopping assistants and augmented reality are just around the corner.
AI is managing a growing number of links in the retail supply chain, using predictive analytics, chatbots and automation.
For all its benefits, ethical considerations, data privacy concerns and other hurdles will slow down the AI revolution – to an extent.
The retail sector is transforming. Rapid developments in artificial intelligence (AI) capabilities are driving retailers into a new era, characterised by the personalised shopping experience, streamlined operations and data-driven decision-making.
AI is revolutionising retail, from understanding consumer preferences and creating personalised product recommendations to enhancing supply chain management with predictive analytics and automation.
AI will become integral to business operations, with retailers harnessing it to optimise inventory management, improve the shopper's experience and unlock growth opportunities.
The excitement surrounding AI is swirling. Claims of a whole new immersive AI-led retail experience are gaining momentum. Does AI hold the key to revitalising the high street, building seamless supply chains and upping customer engagement?
While AI boosts a myriad of benefits, retailers must be wary of ethical considerations, data privacy and its integration to ensure a smooth transition to a more sustainable, customer-focused retail landscape.
Table of Contents
Can AI reinvigorate the high street?
AI can enhance online sales
AI solutions streamline supply chains
Retailers must navigate challenges posed by AI
Can AI reinvigorate the high street?
The demise of the high street has been well documented.
Data from the British Retail Consortium and Sensormatic IQ revealed that total UK retail footfall in March 2023 was 10.2% behind pre-pandemic levels (March 2019).
AI, virtual reality and augmented reality have been propositioned as a way for retailers to reinvigorate their stores.
Smart window displays that adjust their content based on external factors like weather, time of day or nearby events could catch passersby's attention and encourage on-a-whim purchases. Geo-targeted advertising may present an opportunity to attract customers by offering time-sensitive promotions exclusive to that store's location via push notification, SMS or email.
AI-powered kiosks and mobile apps are being rolled out to increase the ease with which shoppers navigate stores. Personalised shopping lists accompanied by real-time store locations are another exciting way the customer experience could improve.
AI can enhance online sales
The shift to online shopping has remained entrenched since gaining momentum during the COVID-19 pandemic.
According to the ONS, in June 2023, 26% of total retail sales were made online – remaining above February 2020's 19.1%.
To mark the shift, e-commerce retailers are investing heavily in ways to enhance the online shopping experience.
AI algorithms can analyse browsing history, purchase behaviour and preferences to tailor products to online shoppers. A visual search is a fast-growing tool that enables customers to upload an image of, say, a pair of trousers to a clothing retailer's website from their smartphone and receive similar products or complementary products.
Retailers also employ data-driven virtual shopping assistants to help customers find the right product. By using customer segmentation and collaborative filtering (i.e. analysis of demographics, purchase history and behavioural patterns), a store can compare its user against its customer database to find similarities and create a profile of what the shopper may like.
AI solutions streamline supply chains
Supply chain management is entering a golden age as data drives more decisions and transportation routes, and robotics start to dominate the warehouse. Retailers are using AI-powered algorithms to analyse historical sales data and market trends to forecast future demand with greater accuracy.
AI can find the sweet spot with inventory levels by determining customer demand, lead times and supplier reliability.
Major supermarket, Morrisons, leveraged an AI planning solution from Blue Yonder to boost its stores' on-shelf availability by 30%. It forecasts daily orders per store by factoring shelf sizes, seasonality, weather and promotions. The automated solution frees managers and other staff to perform value-added tasks that boost profitability.
Smart shelf tags can be updated in real-time, allowing retailers to rapidly adjust prices across all their sales channels, preventing discrepancies, cutting labour costs and ensuring customers are always presented with the correct information. Smart tags can also display promotional campaigns like discounts and provide consumers with nutritional information.
Retailers must navigate challenges posed by AI
As AI becomes integrated into the retail sector, many are concerned about the loss of jobs.
The Guardian reports that by 2030 almost one-third of retail jobs could be lost to technology compared to 2017 levels.
Automated tills, warehouse robotics and AI-based planning tools will impact the retail sector, which is currently the UK's biggest sectoral employer. The most significant AI-related risks facing executives include cybersecurity, data privacy and compliance with regulations, as revealed by a survey by Baker McKenzie.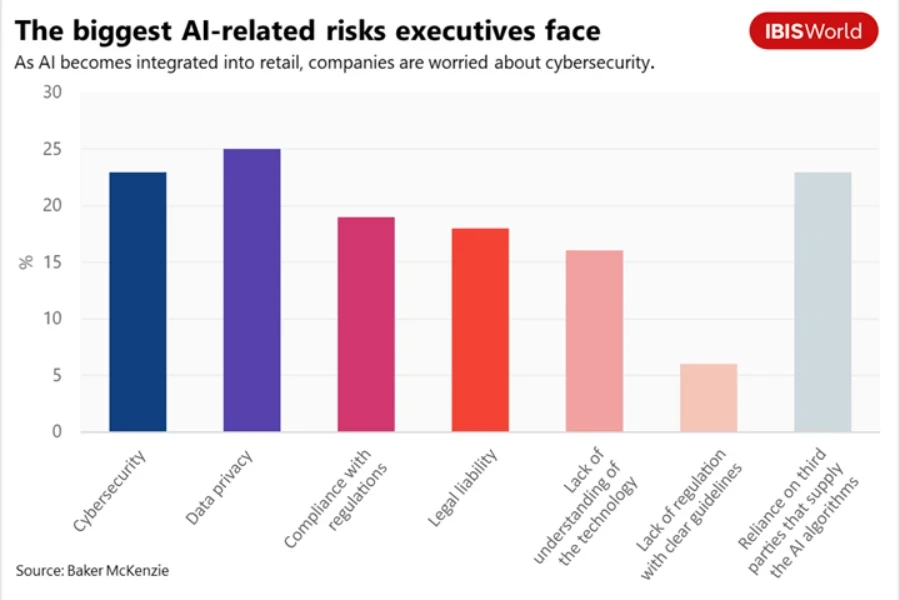 AI appears to be a blessing for retail marketers. Modern AI writing tools like ChatGPT can generate high-quality product descriptions, headlines and advertising slogans, speeding up the brainstorming and deliberation processes and freeing staff to focus on tasks that add value to their business and their clients.
While the retail sector has quickly adopted the latest innovations – self-checkouts, chatbots, social media commerce and automation – some technologies like bio-metric 'Just Walk Out' tech used in Amazon Go convenience stores haven't really taken off. The efficiency gains are clear for all to see, but its integration requires thought and substantial investment.
According to research by MIT Sloan Management Review and Boston Consulting Group, the major factors hampering AI initiatives at companies included a lack of responsible AI expertise and talent, a lack of training or knowledge among staff members and a lack of prioritisation and attention by senior leaders.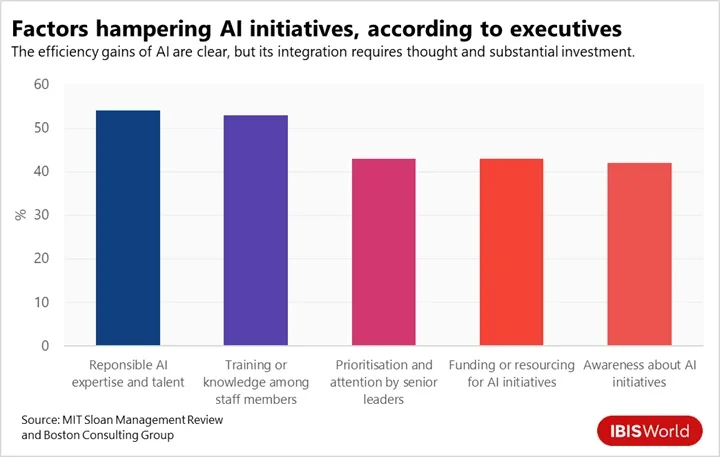 AI is undeniably changing the retail landscape, with the potential to transform every aspect of shopping, from virtual shopping assistants to personalised product offers and individual discounts.
AI is likely to boost customer engagement and satisfaction significantly. Supply chains and logistics will be streamlined and optimised, raising efficiency while cutting costs. By leveraging AI-driven insights to inform decisions and anticipate customer preferences, retailers look set to record high growth.
It is, however, vital to mention that retailers must be agile to navigate ethical considerations effectively, data privacy concerns, how they integrate AI and the sizeable impact it will have on retail staff. Embracing AI will empower retailers, drive growth and foster personable customer relationships.
Source from IBISWorld
Disclaimer: The information set forth above is provided by IBISWorld independently of Alibaba.com. Alibaba.com makes no representation and warranties as to the quality and reliability of the seller and products.
Was this article helpful?