The increased adoption of zero liquid discharge systems is creating high demands for industrial evaporators, causing a continuous increase in its end-user industry.
The market is slated to grow from USD 18.7 billion to USD 23.7 billion at a compound annual growth rate (CAGR) of 4.8% within this forecast period (2022 to 2027).
This article explores the different types of evaporator designs, their features, prices, pros, and cons. It also reveals insights into critical operational and product characteristics behind evaporator selection.
So read on to learn how to approach the evaporator selection process, and how they can be applied to give one's business an advantage.
Table of Contents
Definition and usefulness of evaporators
Types of evaporators
Things to consider when choosing an evaporator
Conclusion
Definition and usefulness of evaporators
Evaporators are generally considered high-energy vaporization systems. They create a concentrated solution that has a certain percentage of viscosity, with some portion of the outcome vaporized. The process is achieved through the concentration of nonvolatile solvents and volatile solvents (like water). During the process, the water (solvent) recovered is further recycled via another section of the system to minimize waste.
Evaporators change items from liquids to gasses and have greatly enhanced production processes in industries like food and beverages, pharmaceuticals, chemicals, and more. Their applications are vast, which is why they are in high demand. Manufacturing companies use them for humidity control in food and beverage processing, as well as in the concentration of caustic soda solutions. With the increment in the global demand for food, beverages, pharmaceutical, etc, more evaporators will continue to get purchased by manufacturing companies, which will, in turn, boost the global industry evaporators market size.
Types of evaporators
Falling-film evaporators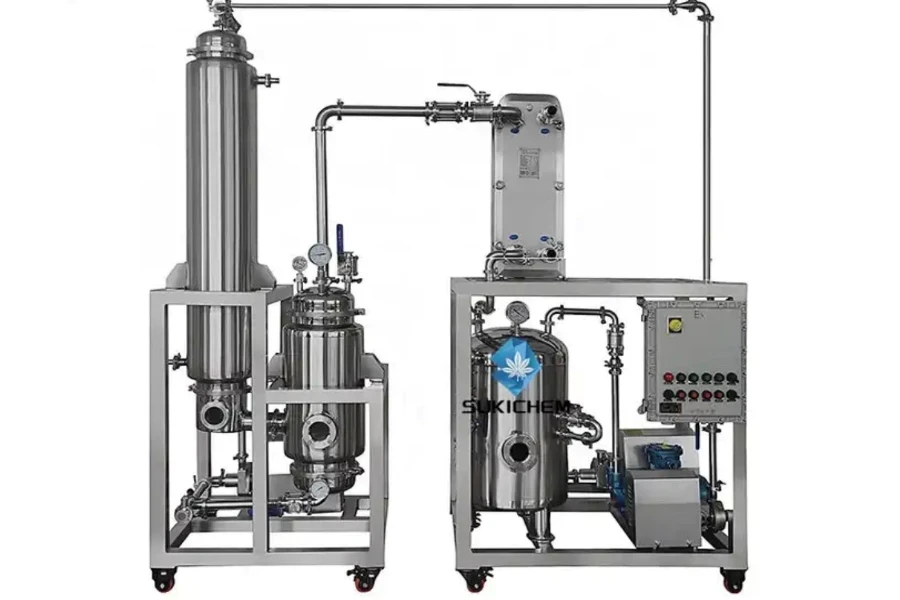 Falling film evaporators are industrial devices used to concentrate solutions. In this process the evaporator liquid feed is made to flow from the top to down through the steam-heated tubes, in the form of a film, before exiting from the bottom. The system is designed with heat-sensitive components, and its application includes concentrating sugar solution, maltose, vitamin C, glucose, chemicals, urea, cream, and pharmaceuticals.
This system is equally harnessed in waste liquid treatment for alcohol industries, fish meals, monosodium glutamate, and some other fields.
Features
A control cabinet
Condenser plate
Discharge circulating pump
Vacuum pump
Separator chamber
Condenser water tank
Charging pump
Condensate pump
Heater
Pricing: US$ 21,953.85 – US$ 27,442.32
Pros
Has vast application
Useful for waste liquid treatment
Designed with heat sensitivity components
Large heating surface in one body
Possess an energy-saving capacity
Good heat-transfer coefficients at great temperature differences
Cons
Inability to operate in a high-temperature conditions
Requires recirculation
High headroom requirements
Not suited for salting or scaling materials
Gasketed plate evaporators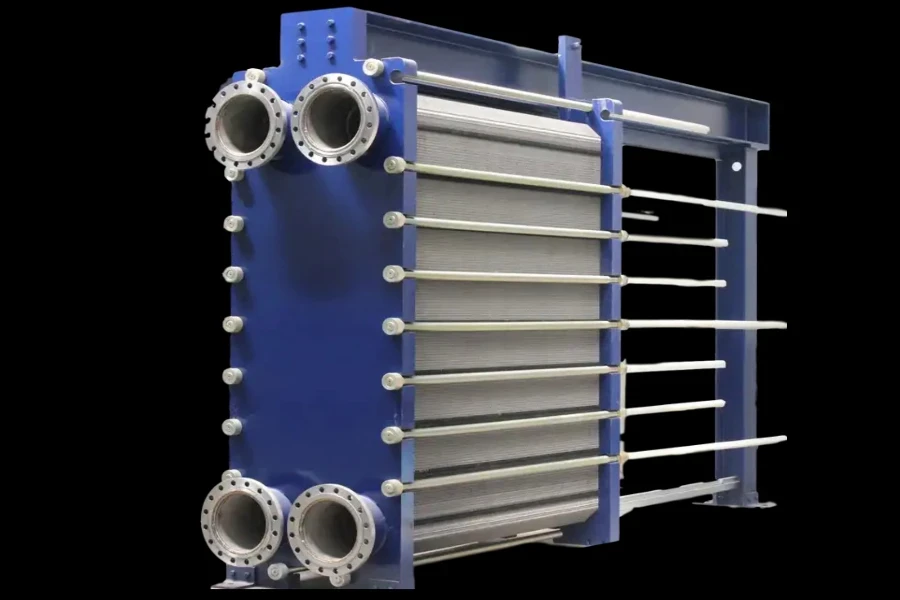 The gasketed plate evaporator is arranged by mounting a couple of embossed plates (having openings in their corners) at a peak (with a high bar and low guide bar). The plates are gasketed and set to form small flow passages when a batch of plates is clamped together in the frame.
The gaskets trap the liquids and protect them from disappearing into the atmosphere, while the heating medium is enabled to flow between each of the other plates. This item is mainly harnessed for stripping applications like removing monomers from polymers.
Features
High heat transfer coefficient
Easy to repair and clean
Compact structure
Lightweight
Easy to change heat transfer surface or plate arrangement
Small end temperature difference
Pricing: US$ 498.95 – US$ 898.11
Pros
Has the capacity to evaporate heat-sensitive, viscous, and foamy materials
Compact with low headroom required
Easy to clean
Can be modified easily
Cons
Has a large gasketed area that might lead to leakages
Short-path evaporators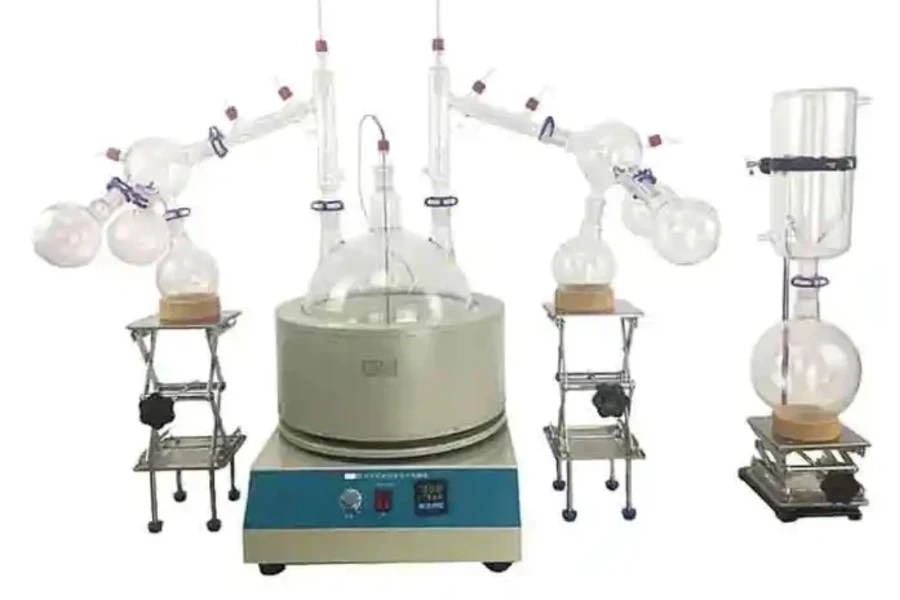 Short-path evaporators operate through the principle of molecular distillation. This is a new kind of liquid-to-liquid separation technology that orchestrates a scenario where there is a short distance between the heating surface and the cooling surface, which is accompanied by little resistance. This short path distillation of the operation vacuum can reach up to 1Pa, unlike other evaporation and distillation equipment. This implies that short-path distillation equipment is ideal for high boiling points (under normal pressure). This modern liquid-to-liquid separation technology has a vast application, and well harnessed in several industries. They are used for fragrance creation,the production of edible oils, in fuel making, and polyurethane distillation.
Features
Thermometer adaptor
Cork ring stand for flask
Distillation cow receiver
Lab support stand
Magnetic stirrer heating mantle
Boiling flask
Cryogenic coolant circulating pump
Pricing: US$ 2993.71 – US$ 3,492.66
Pros
The separation operation is capable of achieving the temperature of the boiling point of the material in use.
Low head-space required
Ideal for liquids with moderate scaling tendency
Not so expensive to manufacture
The operation vacuum can reach 1Pa, unlike  other evaporation and distillation equipment
Cons
Heat transfer relies on temperature and viscosity effect
Not suitable for temperature-sensitive materials
Not compatible with crystalline products (except if agitation is arranged)
Rotary evaporators
This rotary evaporator is utilized in labs for the effective removal of solvents from flasks through evaporation. It can achieve the goal of removing solvents from samples without heating the flask to its boiling temperature in one atmosphere. It is considered a quicker and more reliable means of getting rid of solvents with less potential of causing thermal decomposition to the sample.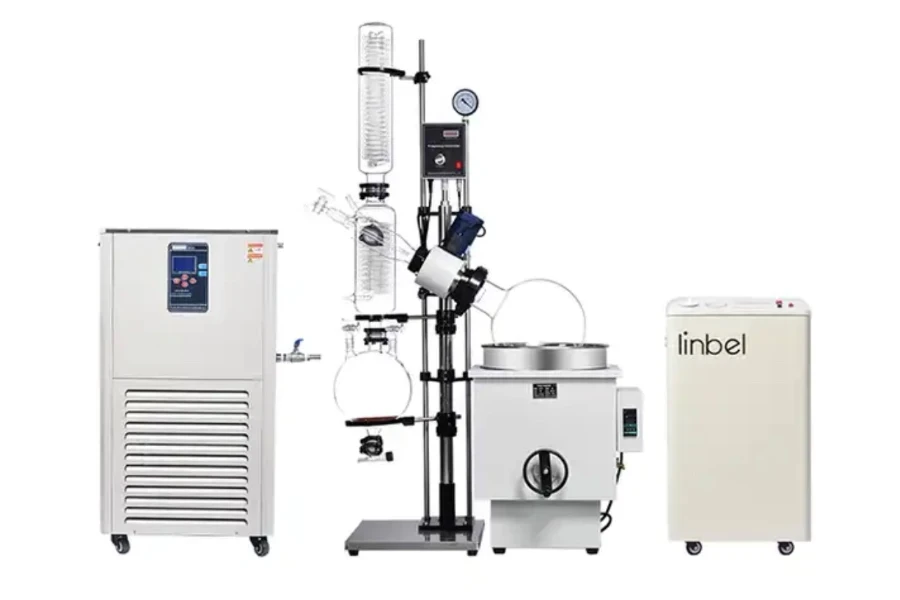 Features 
High light transmission
AC induction motor
Speed controller
Rotary steaming bottle
Pricing: US$ 1,895.02 – US$ 2,393.97
Pros
Less likely to cause thermal decomposition
Efficiently and effectively removes solvents from a flask without reaching solvents boiling temperature
Cons
Not suitable for aqueous solvent removal
Has a great potential for abrupt boiling or bumping without warning
Has a high boiling point
Forced-circulation tubular evaporators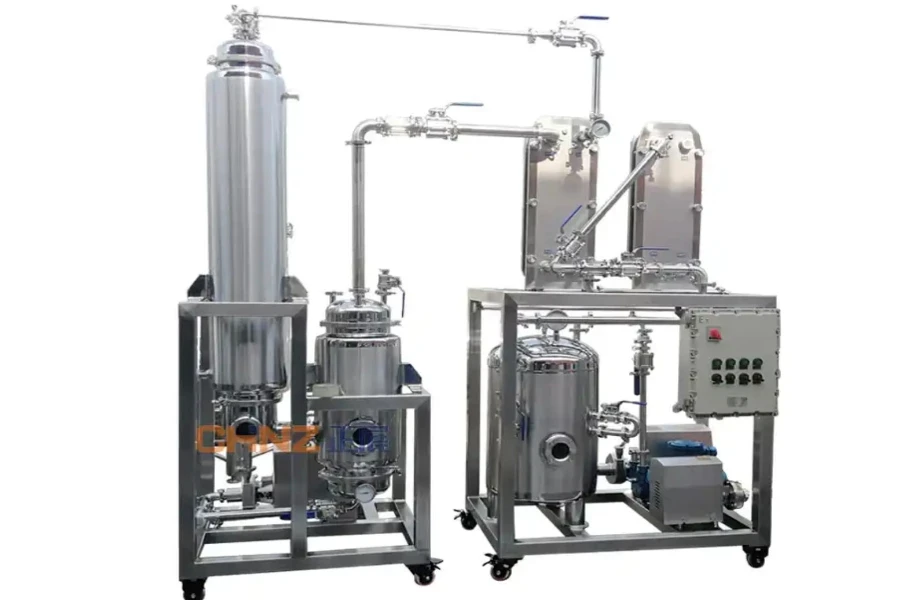 This equipment functions through a process of imputing the material liquid into the falling film evaporator from the upper tube box of the heating chamber and distributing it evenly into the heat exchange tubes using the liquid distribution and film-forming device.
The liquid naturally flows from top to bottom, and as it flows, it is heated and vaporized by the heating medium on the shell side. The steam and liquid produced are rechanneled to the separation chamber of the evaporator, where they are completely separated—the steam goes to the condenser and gets condensed via a single-effect operation or is taken to the evaporator to be heated via a multi-effect operation.
Features
High evaporation rate
Stainless steel structure
Explosion-proof electric cabinet
Pricing : US$ 11,974.83 – US$4 9,895.12
Pros
High heat transfer efficiency
High-temperature resistance
Good corrosion resistance
High durability advantage
The explosion-proof equipment protects the control operating system
Cons
High power consumption (for the circulating pump)
High purchasing cost
Long holdup of the product within the heating zone
Thermal evaporators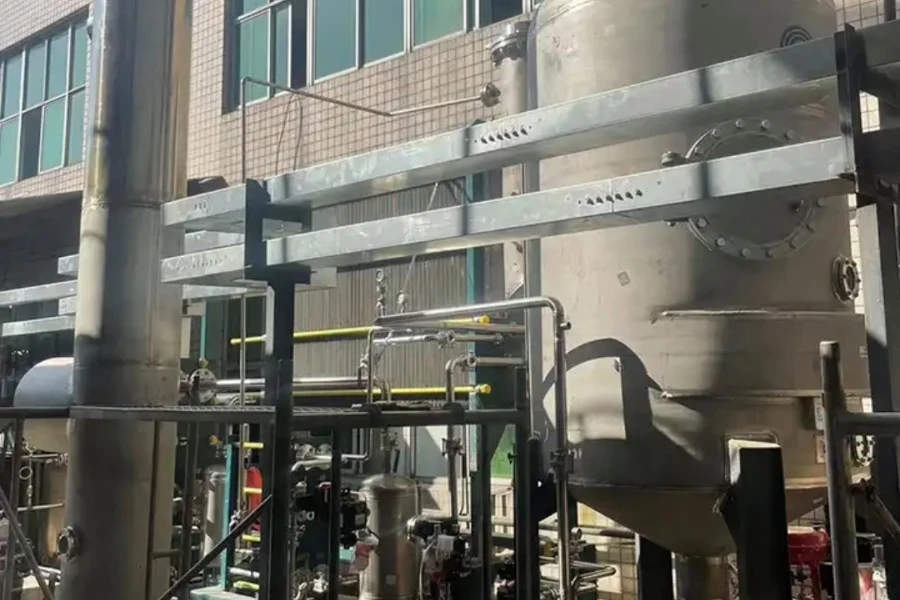 Thermal evaporators depend on wastewater heating/boiling under atmospheric pressure. They offer a  multi-effect evaporation design, yet adopt different evaporator types (based on material conditions), including lifting film, rising film, falling film form, etc. The equipment is uniquely designed with optimal performance, ease of maintenance, efficiency, and safety in mind.
The feed preheating system adopts a three-stage design: preheater A (end-effect waste steam preheating) → preheater B (mixed condensate preheating) → preheater C (fresh steam preheating).
Thermal evaporators utilize power sources like electricity, natural gas, steam, or propane, and are considered the most dependable and consistent of them all.
Features
Feed preheating sophisticated system
Multi-effect evaporation process
Semi-welded imported plate evaporator plate type
Good heating/boiling effect
Pricing: US$ 8,981.12
Pros
Corrosion control
Vacuum system offers easy maintenance
Offers a compact design process
The system's energy saving effect is more significant than other contemporary products
Cons
Complexity due to its multi-effect evaporation process
Has a very large single-plate area and is prone to leakages
Possible high operating cost
Agitated thin-film evaporators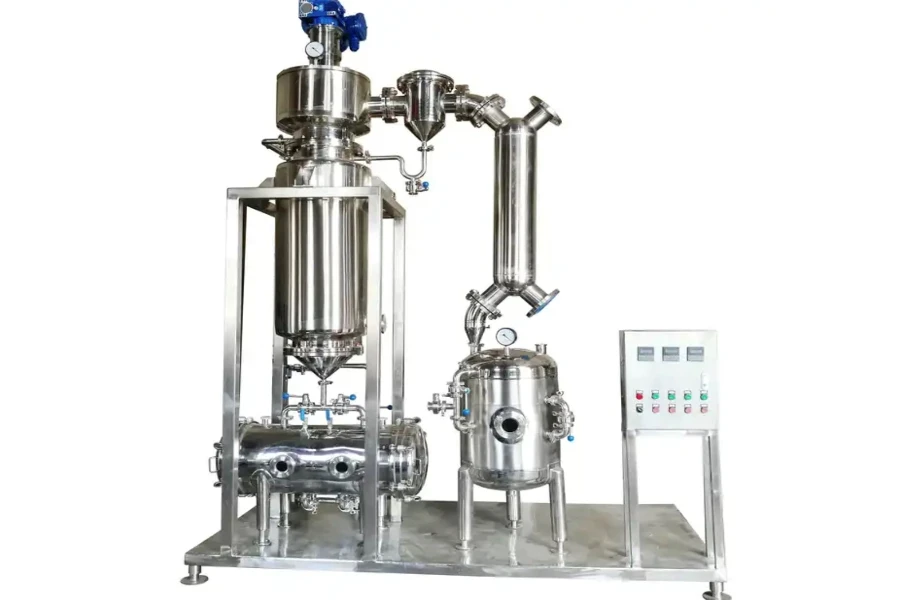 This agitated thin film evaporator is built with a high-speed rotary agitator that allows for the effective separation of liquid. Its method separates the volatile from the less volatile using mechanical agitation from the flowing product or a non-direct heat under a balanced temperature condition. The equipment is highly invested in sensitive industries such as food, pharmaceuticals, petroleum, chemical, environmental protection, etc.
It offers easy operation and easy maintenance. Known for operating with materials of high concentration, high viscosity, and heat sensitivity.
Features
Up to 200kg/m2hr evaporation strength
Centrifugal sliding groove rotary
Utilizes high-speed rotary agitator
Compatible with heat-sensitive materials
Offers vast applications (pharmaceuticals, food, petroleum, chemical, environmental protection, etc).
Pricing: US$ 8881.33 – US$ 19,958.05
Pros
Suitable for diverse kinds of materials, including high viscosity material of about 100,000cp
High heat exchange coefficient
Ideal for heat-sensitive material
Maintains product quality without any form of material decomposition
The evaporator body adopts mirror polishing
Very easy to maintain and clean
Does not require a large space
Cons
Short period heating
Only suitable for materials requiring low heat
Higher purchasing cost compared to standard evaporation machines
Things to consider when choosing an evaporator
There are certain features and qualities a perfectly designed evaporator must possess. Business buyers need to consider the factors below when making decisions on which evaporation systems to buy.
Heat sensitivity
A properly designed evaporator must have the ability to detect heat-sensitive materials, and then lower the pressure level, fluid inflow and heating duration, to avoid decomposition or damage.
Evaporators used in industries like foods, pharmaceuticals, chemicals, and resins must be heat or temperature-sensitive. The machine must be set to detect materials types and readjust its heat exposure time so as to achieve the best outcome.
Foaming
It is impossible to avoid foaming during an evaporation process, however, the equipment design should operate a technique that reduces the rate at which broken unstable foams form in the evaporator system. An excessive case of foaming in production can lead to a carryover. This is why measures should be taken to avoid foaming.
There are ways of preventing the effect of foaming during production. They include decreasing the boiling intensity of the fluid at the heat transfer surface, increasing vapor velocity in the tubes to shear the foam, or setting the machine to operate at a high temperature and low pressure, while integrating an anti-foaming substance can also help curb foaming effect. Antifoaming is a swift way of defeating the challenges of foaming provided that the product purity requirement allows it.
Fouling
Fouling occurs when solid objects begin to form at the heat transfer surfaces. This solid buildup is very dangerous and can shut down the entire system. The machine may not function again till it is properly cleaned and maintained.
It's important to select an evaporator that is less prone to such kinds of system shutdowns.  The common places where these solids develop are the feeds, concentrate, and some parts of the heat transfer regions. 
Construction material
When selecting an evaporator consider the required construction materials of the heat exchanger, as they influence the whole materials' expenses and thermal conductivity. Production companies always opt for a less expensive way of achieving successful production without affecting quality. Certain construction materials hype the cost of production, and would still deliver the same result as other evaporators. Construction materials also influence the heat-exchanger coefficient and surface area. Be sure to select an evaporator with suitable construction material.
Heat transfer medium
When choosing evaporators, note that liquid or steam-friendly evaporators do not require a high heat transfer area because of their high hot side heat transfer coefficient, but hot-oil-heated evaporators do. Hot-oil heated evaporators have lower hot-side Heat Transfer Coefficients, and this often requires a high heat transfer area.
So heating oil becomes an ideal option if the material to be evaporated isn't heat-sensitive, because oil temperatures are higher than steam temperatures. This will also reduce the size of heat transfer area needed for the process.
Viscosity
As liquid viscosity increases,  the heat transfer coefficient experiences a major decline. This situation is very peculiar to most evaporation systems. Selecting an evaporation system with a good viscosity configuration can enhance performance and reduce the impact of high-viscosity fluids.
Vapor velocity
A properly designed evaporator needs enough velocity to achieve a high amount of heat exchanger coefficient without going beyond pressure drop, entrainment limits, or erosion. To successfully achieve that expected amount of heat transfer coefficient, the evaporator tubes and heating jackets (shell side of a tubular unit) must rise above vapor at precise velocities, which will help in the removal of non-condensable gas (air), and bring about good vapor shear.
While deciding which evaporators to choose for your business be sure to carefully consider the separation efficiency and pressure drop potentials.
Solids content
Solid content variation can result in plug tubes which leads to fouling and diminishing of the heat transfer surface. When the heat surface area reduces, the heat transfer rate decreases including the equipment's evaporator capacity. This can ultimately shut down the entire system and ceases its functionality until it undergoes a process of cleaning and maintenance.
Distillate to concentrate ratio
This distillate-to-concentrate ratio is particularly important and must be checked because it tells whether or not there is enough fluid to circulate and lubricate the interior of the evaporator. The fluid is meant to travel at very high velocities, to minimize the risk of fouling and salting of solids on the heat transfer surfaces.
Conclusion
With so many factors to consider, choosing an evaporator system may seem difficult at first. However, the above tips should guide you to draw an accurate comparison between the options available in the market.
Selecting a properly designed evaporator system, with great energy-efficiency and heat sensitivity can help ensure value and reliability.
Navigate to the Alibaba.com website to check out a list of well-designed, high quality evaporator equipment that can fit the applications of target buyers.
Was this article helpful?