Babies need 12-15 hours of sleep daily during their first 3-6 months. It's a period of tremendously speedy body growth, such that their brains and muscles need all the "sleep fuel" attainable to keep up. Scientists have also discovered that it takes deep sleep (A.K.A non-REM sleep) to unleash 80% of a baby's growth hormones and prevent stunted growth.
This is why parents go above and beyond to make sure their infants get adequate, quality rest (not to mention the rest it brings them too!). For most, this requires securing their bundles of joy in cozy bassinets, an arm's reach away from where they lay so that they can keep a close watch. They're also an incredibly mobile and convenient way to carry babies during day trips out of the house.
If you happen to be in the market for such cribs, this article will help guide you as to which varieties you should add to your store.
Table of Contents
Baby crib market analysis and forecasts
How to choose quality and profitable bassinets and bedside sleepers
Conclusion
Baby crib market analysis and forecasts
The bassinet industry has maintained impressive growth in terms of market share and innovation, grossing US $315.69 million in 2022 and forecasted to be worth US $587.05 million come 2032. This is due in part to the continuous enforcement of baby safety standards and regulations by government bodies around the world, with most bassinets that connect to beds now adhering to such standards.
But it's not just the necessity for companies to abide by regulations that compels parents to splurge on bedside bassinet sleepers; many parents now realize safe, convenient, and feature-laden bassinets and bedside sleepers can help their children to thrive. Such advancements now include a bedside sleeper with in-built baby monitoring sensor technology, keeping mom aware of their baby's movement while they're knee-deep in baby-related chores, or think 2, 3, or 4-in-1 bedside bassinets with added storage space and baby bouncers. 
With continuous technological advancements and increasing affordability, demand for bassinets will only continue to grow.
How to choose quality and profitable bassinets and bedside sleepers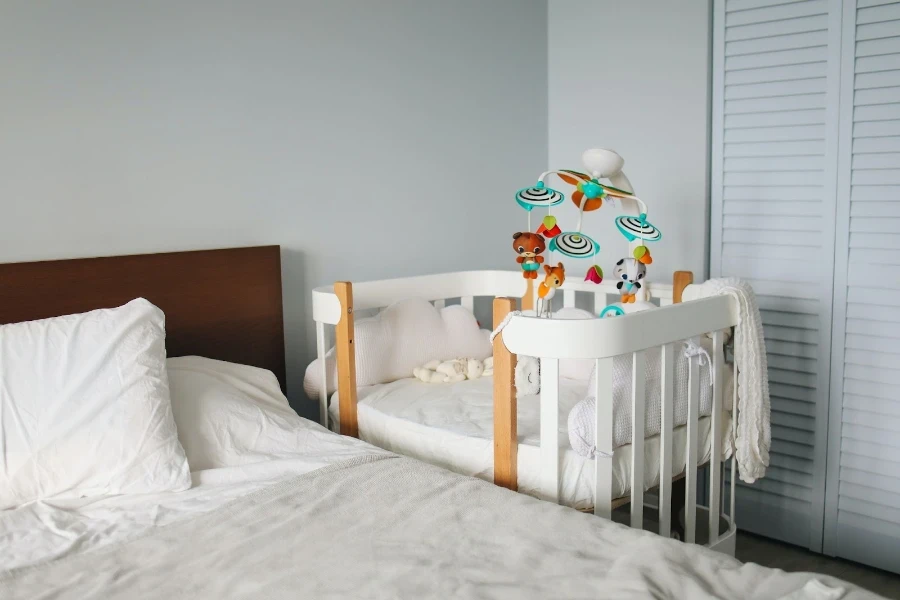 Safety
You should strive to add ONLY the safest bedside bassinet to your store. The first step to doing so is confirming that they abide by all safety standards enforced by government agencies, such as the CPSC (Consumer Product Safety Commission). Second, you should check that there is no broken, improperly installed, or missing hardware for the crib. This is especially important for a travel bedside bassinet. Also, the safest bassinet bedside sleepers should offer proper ventilation. Similarly, the materials used should be both sturdy and non-toxic. If you're unsure of a crib's features, read the product description on the package. You can also check for safety certifications such as the CPC (Children's Product Certificate) and the Greenguard Gold Certification.
Size
Knowing which size of crib to stick can get tricky. First, you must define the age group that you want to stock for: 1-3 months? 3-6 months? Once you've chosen an age range, you should check the average body size of babies within that age group. For example, 1-3 month-old toddlers in the US average between 21.5 inches and 24.2 inches. The next step is to compare the average body size of the babies with the bassinet size. Since the standard size of a bassinet mattress is 16×32 inches (32 inches in length), it may not provide adequate room for a 30-inch baby. In this case, a crib with 18×36 inches of mattress space would be ideal. The idea is to have an extra 4-5 inches of space for movement inside the crib. Another aspect of size will depend on whether the customer is looking to buy a twin bedside bassinet, a tall bedside bassinet, or a portable bedside bassinet.
Weight limits
The bed must also offer adequate support forto the weight for the baby. This is why poorly-designed and cheap bedside bassinet should be avoided at all costs.
Mattress comfort
Comfort is paramount to healthy sleep. Parents also know this, and are, therefore, usually out to get the comfiest co-sleeper bed for their infants. To meet their demands you should think in terms of firmness, thickness, and noise. A bassinet mattress that's too thin can cause discomfort, while an overly thick one can pose a risk of suffocation and distress. Ideally, a 1 ½-inch thick mattress offers the utmost comfort to infants. The surface also has to be firm, but not so hard that it becomes difficult for a baby to sleep on. On the flipside, if a baby's head easily leaves an indentation on the mattress, then it's too soft and unsafe. It's also recommended that you opt for designs with hypoallergenic cushioning materials. Such materials include cotton, soy, memory foam, polyester, and gel. Finally, some mattresses may make noise when the baby moves, causing a rude awakening and sleeplessness, so smooth and friction-free parts are preferable. 
Durability and maintenance
Stocking products that are built to last helps build trust and lasting relationships with customers. Stay away from bassinets with mattresses that show signs of deterioration. Quality mattresses and covers are usually waterproof to prevent mildew and mold growth. The ideal mattress pad will also feature a breathable fabric lining that is machine-washable, easy to clean, and dries quickly.
Usability and extra features
Busy work-from-home or single parents may prefer a bedside bassinet with wheels, making them easy to move around the house and keep babies close while they go about their day-to-day activities. Also, a foldable bedside bassinet is space-savvy and can bring profitable holiday sales from vacationing parents. The point is to sell products that align with your target buyers' primary needs. Finally, extra features such as baby music players and extra storage space can also add profitability to a bassinet sleeper. 
Conclusion
Remember that comfort, size, weight capacity, safety, durability, usability, and the maintenance demand of bassinets and cribs are aspects you should be on the look out for when in the market for new models. Customer ratings and reviews from previous buyers can also provide much-needed insights as to preferred varieties. So, take your time to research each brand before adding it to your store.
Was this article helpful?