Kitchen bar stools are a great way for customers to create a comfortable atmosphere in their kitchen for socializing. A casual seating area in the kitchen can transform a cooking space into a multi-purpose hub of activity. Here is a roundup of the hot and trending kitchen bar stools worth writing down right now.
Table of Contents
Learn about the kitchen furniture market
The hottest kitchen bar stool trends
Steadily growing demand for bar stools
Learn about the kitchen furniture market
The kitchen furniture market specializes in various types of furniture designed for use in kitchens, including cabinets, islands, countertops, tables, chairs, and other furnishings. Kitchen bar stools are often used at an island, peninsula, or counter to provide extra seating in the kitchen.
Globally, the kitchen furniture market was valued at USD 26.98 billion in 2023. With a compound annual growth rate (CAGR) of 9.22%, the market is expected to expand to a value of USD 38.39 billion by 2027.
One of the key factors driving market growth is the construction and renovation industry because most homeowners update their kitchens as part of a larger home improvement project. The increasing demand for eco-friendly and sustainable materials in kitchen furniture is influencing the latest trends in the market. There is also an interest in furniture that is multi-functional, adaptable, and suitable for open-plan kitchen designs that encourage social interaction and ergonomic flow within the space.
The hottest kitchen bar stool trends
Woven kitchen bar stools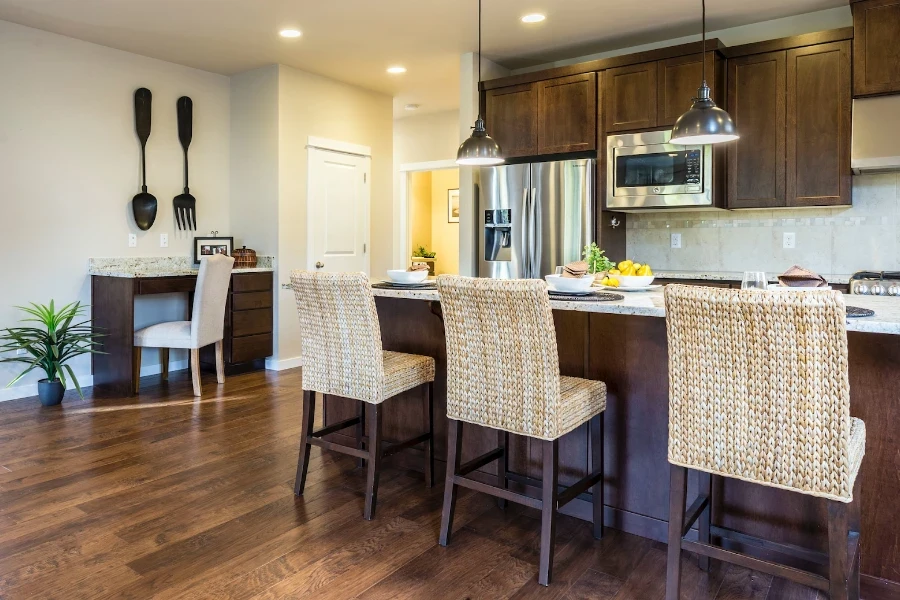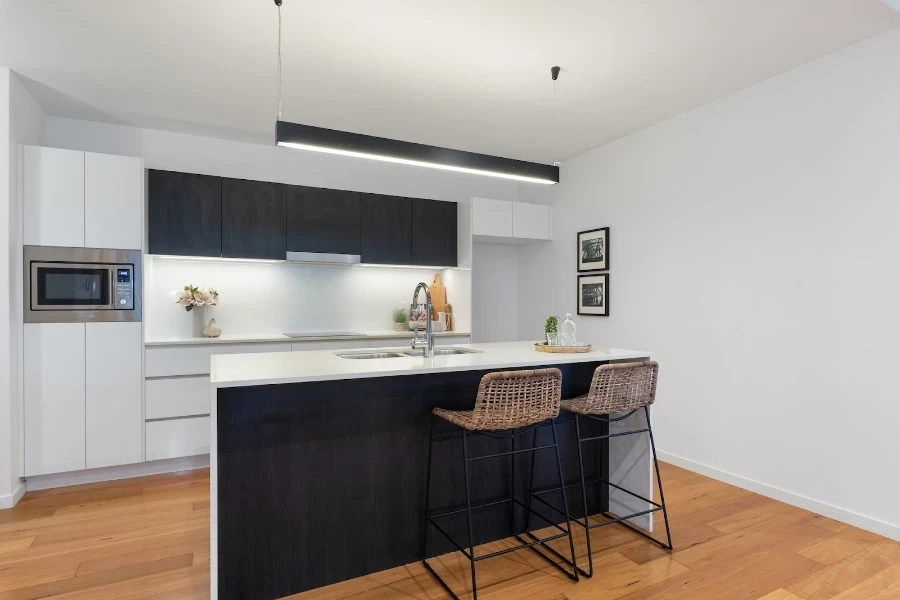 As customers seek out ways to make their kitchens more sustainable, natural materials have increased in popularity. Woven bar stools frequently incorporate natural materials as part of their design and are a staple of the coastal kitchen aesthetic. 
Wicker or rattan are commonly used for woven kitchen bar stools because of their casual texture and versatile neutral hues. According to Google Ads, the search volume for "rattan bar stools" was 27,100 in September and 18,100 in January, which represents an almost 50% increase. For additional flexibility and multi-purpose usage, woven counter stools crafted from a low maintenance, wicker-like resin substitute are durable enough to be used outdoors on the patio.
Woven rope counter stools are ideal for light and airy kitchens, while seagrass or paper cord bar stools give a warm yet sophisticated touch to any modern kitchen. Riviera bar stools paired with wood, bamboo, or metal frames are also a hit for coastal, nautical, or beachy kitchens. 
Wooden counter stools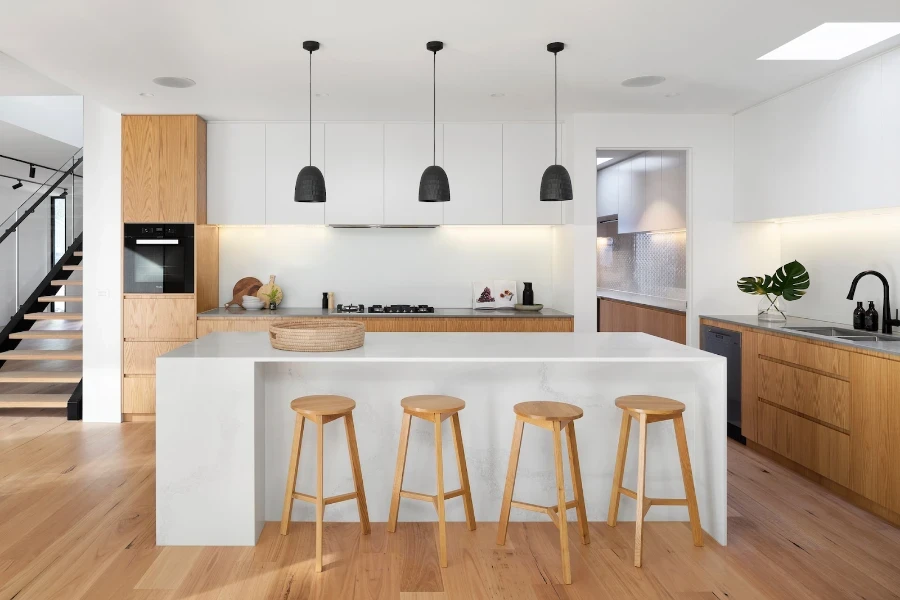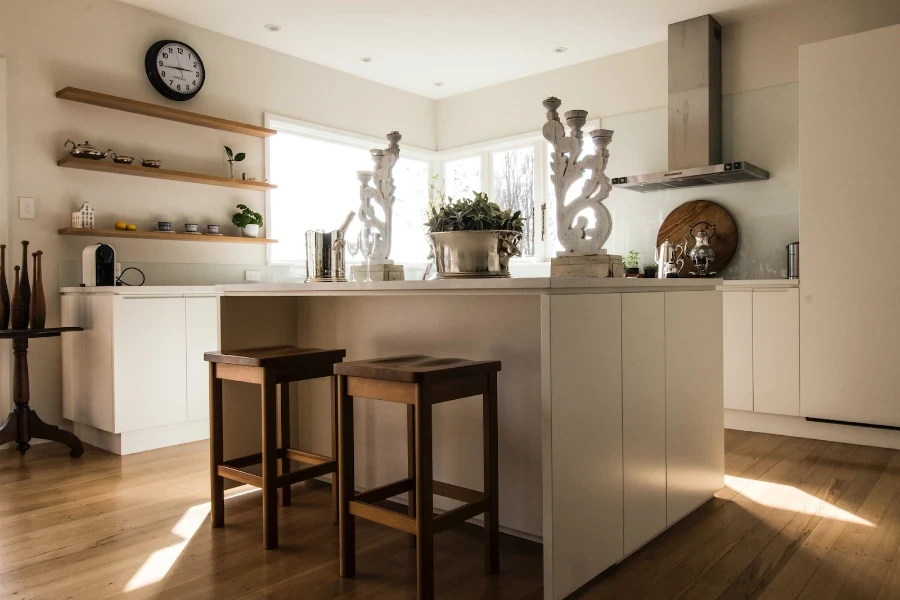 As part of a trend toward cooking spaces that look less like a traditional kitchen, wood is making a return as a sought-after material. Antique or vintage wooden counter stools add warmth to a chic all-white kitchen and have been a long-time staple of the farmhouse kitchen design style. Wood kitchen stools can also be combined with a metal frame for an interesting modern industrial look.
A wooden bar stool gains much of its appeal from the type of wood, which can be manufactured to a stained, painted, or rustic finish in light or dark shades. Wood made from solid FSC teak, meaning the wood meets strict environmental standards, is even durable enough to withstand outdoor elements. 
The backrest design is also a key detail for wooden kitchen stools, as indicated by the 8,100 average monthly Google searches for "wooden bar stools with backs." Backrest options for wood kitchen bar chairs include bentwood, wishbone, X back, spindle, or ladderback. 
Upholstered bar stools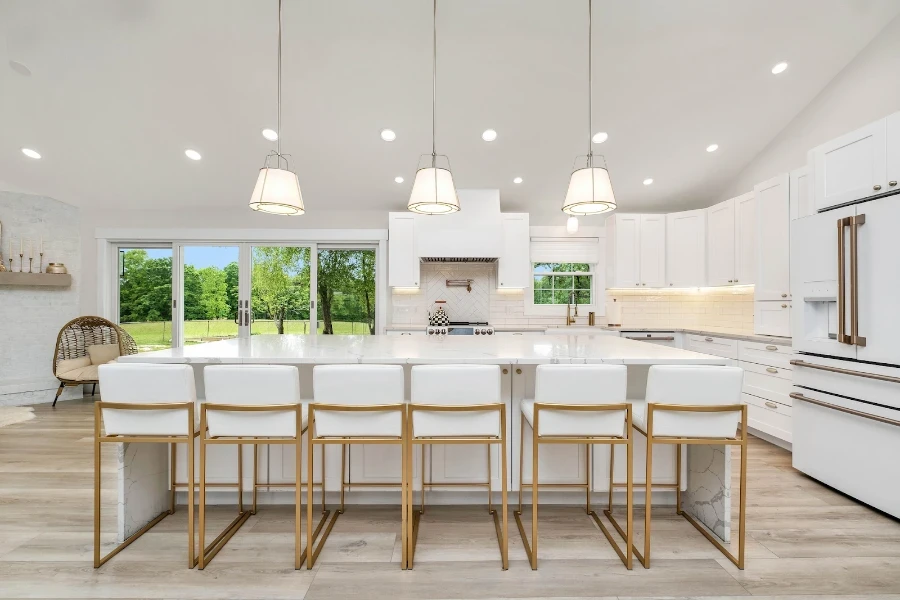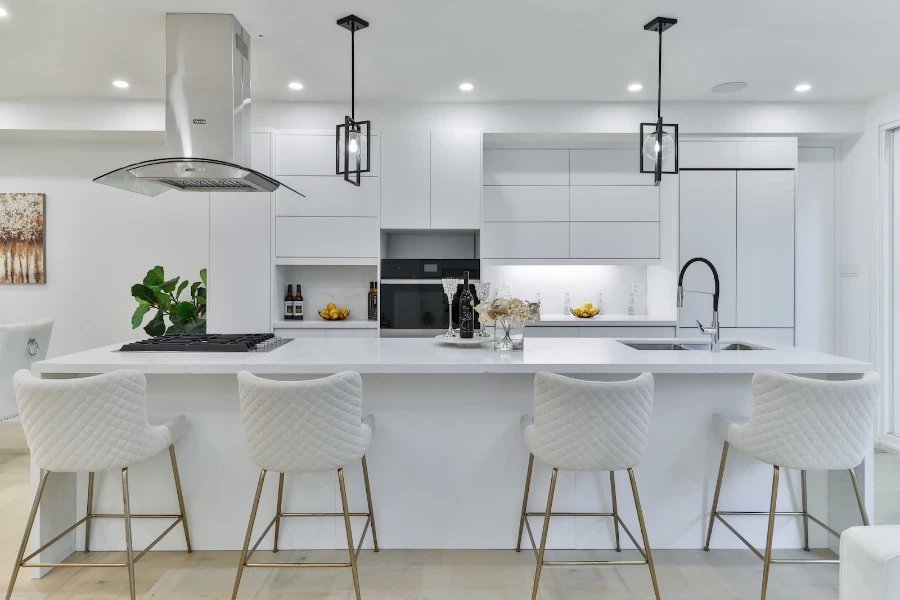 The latest kitchen design mixes materials and textures to create a harmonious space to cook and eat in. Upholstered bar stools are an easy way for customers to soften the hard surfaces of the countertops, cabinets, and appliances installed in the rest of the kitchen. 
Whether made from casual linen, smooth leather, or textured boucle, upholstered counter stools offer cushioned comfort during long meals. When it comes to upholstered kitchen stools, a fabric or leather seat is often paired with a wood or metal frame.
More and more outdoor-safe fabrics that are stain-, odor-, and moisture-resistant and bleachable are also being brought indoors. These family-friendly fabrics are ideal for high-use areas that are prone to accidental spills and stains.
Metal kitchen bar stools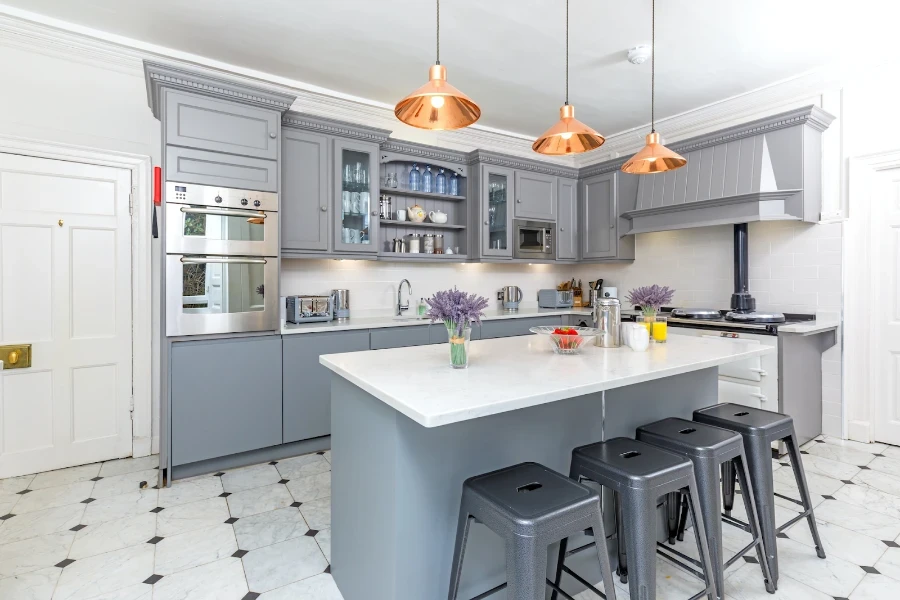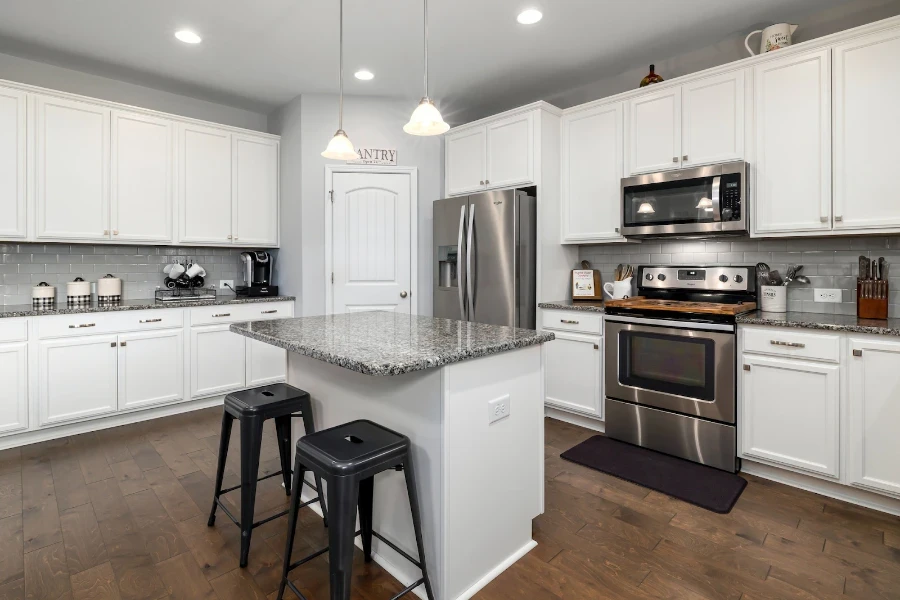 There is a growing interest in unusual metal surfaces that make a strong statement in the kitchen. Metal kitchen bar stools can come in a wide variety of finishes, including brushed nickel, shiny brass, or a brightly painted color. 
Metal breakfast chairs with an all-white or metallic copper finish will give any neutral kitchen a high-end look, while black metal bases help anchor the space around the island. Pairing the metal bar stool with wood or upholstered accents can also soften the colder appearance of the chair.
For the minimalist kitchen, metal counter chairs with angular open frames prevent the breakfast bar from appearing too bulky. Backless metal breakfast stools featuring a simple industrial design are another option for creating seating space in the kitchen without adding unnecessary details. 
Minimalist breakfast bar stools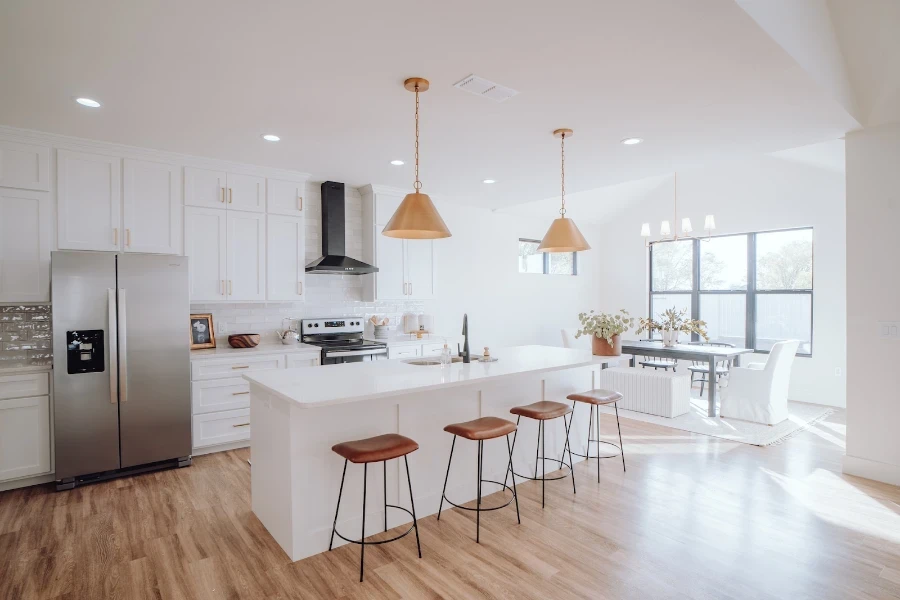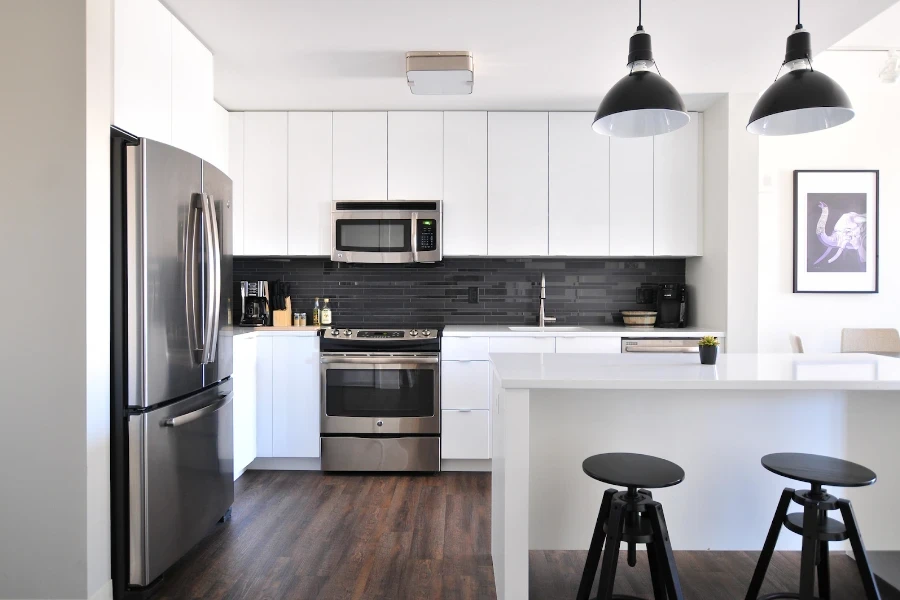 In addition to a shift towards minimalist design and monochromatic aesthetic, there has been a growing trend for open-concept kitchen layouts. The open-plan kitchen often incorporates breakfast nooks and bar tables to create a family-friendly hub for eating, living, and socializing. 
As a result, there is a demand for compact, minimalist bar stools that can offer a place to eat or entertain and be easily tucked away when not in use. These minimalist bar chairs can also come in a smaller set of two to accommodate smaller apartments or nooks within the kitchen.
Key features of a minimalist breakfast bar stool include a backless design, swivel ability, and an understated footrest to transform every counter and nook into flexible and usable space. In fact, the number of average monthly Google searches for "swivel bar stools" stands at a significant volume of 33,100, which indicates its popularity over other types of bar stools.
Steadily growing demand for bar stools
The trendiest kitchen bar stools include a variety of materials to suit the aesthetic and needs of the customer. Whether made from metal, upholstery, wood, or a combination of materials, there are many kitchen counter stools for customers to choose from. Additional details like woven textures add coastal vibes to a chic kitchen, while minimalist designs with swivel or backless features are the ideal fit for the modern open plan kitchen.
Thanks to increasing urbanization, rising disposable incomes, and changing lifestyles, the kitchen furniture market is expanding steadily. With a positive outlook on future market growth, businesses are advised to learn about the latest trends in the industry to improve their profits in the coming year.
Was this article helpful?