GlobalData's patent analytics suggests AI-related patents almost tripled between 2016 and 2023.
In 2021 AI patents in retail hit 5,154 up from 3,810 in 2020.
"After a hard-hit year of Covid-19, many retailers felt the need to invest in AI and automate supply chains to future-proof their businesses, which likely explains the increase of AI patents in 2022," explains Globaldata's Artificial Intelligence in Retail and Apparel report.
AI-related patents triple between 2016 and Q2 2023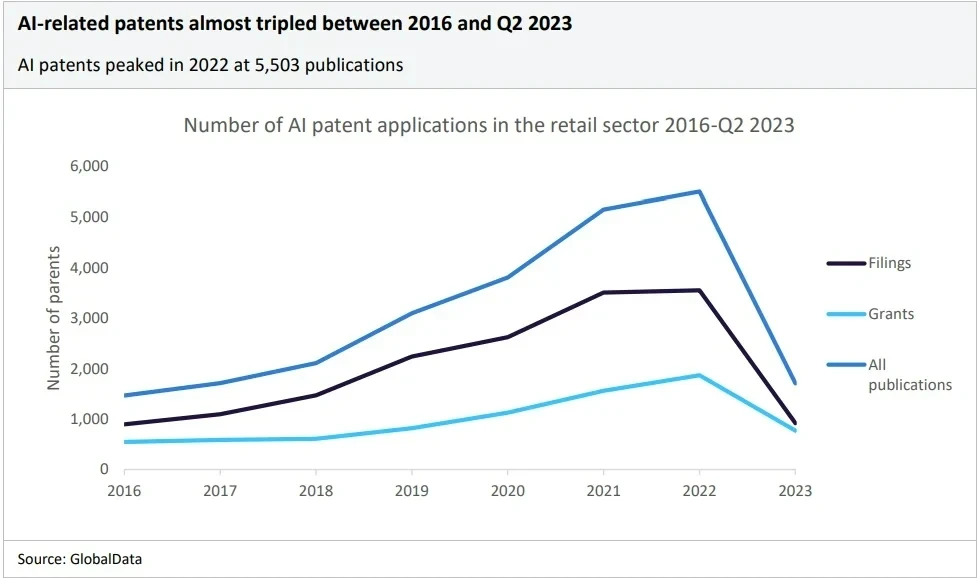 In the first half of 2023 investments in AI have slowed, which is thought to be due to inflationary pressures,. This is likely to continue to decline as companies move to manage budget restraints and focus less on innovation.
Fewer AI development patents are likely to be filed by retailers during these times so partnering with existing AI providers could become more favourable.
The biggest AI moves in the last decade have come from digital native eBay. In 2019, eBay's vice president of applied research stated that AI investments were increasing sales by $1bn per quarter.
Top five assignees of AI-related patents in retail, 2016-Q2 2023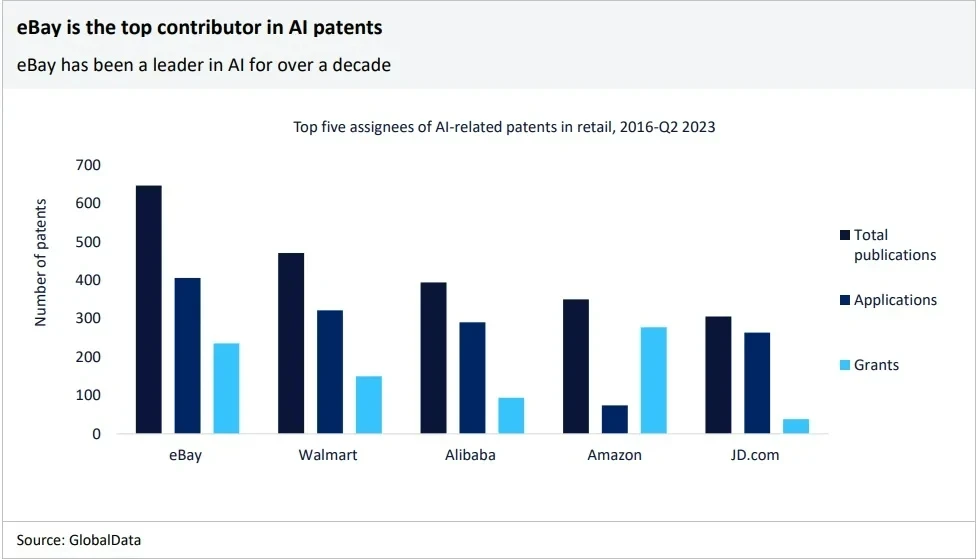 In recent years more apparel and footwear brands have jumped on the AI train and as GlobalData projections reveal AI is set to be worth $908.7bn by 2030, more are likely to follow suit.
The fashion brands harnessing the power of AI
US sport brand NIKE launched the Nike Fit app which allows customers to scan their feet with a smartphone camera for accurate sizing. The AR technology uses a 13-point measuring system to map each foot's dimensions. The more people that use the app, the more data is collected, and the more accurate the app becomes. This will mean that customers receive the right fit for them and help lower returns, boosting the brand's profit margins.
UK online retailer Pretty Little Thing allows shoppers to leverage both the text and visual search tools to find an item. This boosts customer experiences, as the increased convenience increases the usability of online channels.
Swedish fashion retailer H&M has been using generative AI to trial designs for its Conscious Exclusive collection to understand which existing designs are most appealing to its customers. It then uses this data via a generative adversarial network (GAN) which proposes new designs to meet customer needs and current trends.
French luxury fashion company Kering has a personal shopping assistant called Madeline, which uses ChatGPT to improve user experience on its KNXT marketplace (an e-shop using NFTs). Consumers can give a prompt to Madeline, providing an idea of what item they are looking for or a price range they are shopping in, and the chatbot will provide them with a recommendation.
UK retailer Marks & Spencer (M&S) uses large computer vision models and CAD data to automate the design and documentation process for products such as furniture, homewares, and clothes. This involves automating tasks such as writing product descriptions and editing photos of products saving time and boosting efficiencies.
UK retailer Next uses generative AI to write responses to thousands of customer queries. This saves time and labour and ensures consistent customer service.
German online retailer Zalando uses ChatGPT to create a tool to help customers find products for their specific needs. The tool will be launched in Germany, the UK and Ireland. Customers can ask questions, and it will respond with relevant suggestions based on the criteria given by the customer.
Source from Just-style.com
Disclaimer: The information set forth above is provided by Just-style.com independently of Alibaba.com. Alibaba.com makes no representation and warranties as to the quality and reliability of the seller and products.
Was this article helpful?