"Avant-garde" is a French term used to describe something highly unusual, experimental, and distinctive. In fashion, the avant-garde couture movement is all about boundary-breaking designs and audacious creativity. It involves making seemingly odd ensembles strike out in beauty and elegance.
Moreover, modern fashion is all about reinventing personal style, sometimes in an unconventional way. Hence, these five couture trends are set to inspire consumers to dress outside the box, offering businesses a chance to key into the fashion realm and make huge sales from these cutting-edge trends.
Table of Contents
The market for avant-garde fashion
Five avant-garde couture trends to glean in 2023/24
Final words
The market for avant-garde fashion
Avant-garde fashion is typically experimental and not easy to wear, making it less popular in mainstream fashion. However, businesses can find profitability by tailoring avant-garde offers to consumers looking for unique and statement-making pieces. Additionally, some designers have created innovative and wearable avant-garde trends that cater to the mainstream market's growing demand for distinctive fashion.
More importantly, avant-garde's popularity is linked to the global customized apparel market, which experts say will rise by US$ 1790.48 million from 2023 to 2027.
Five avant-garde couture trends to glean in 2023/24
Monochromatic hues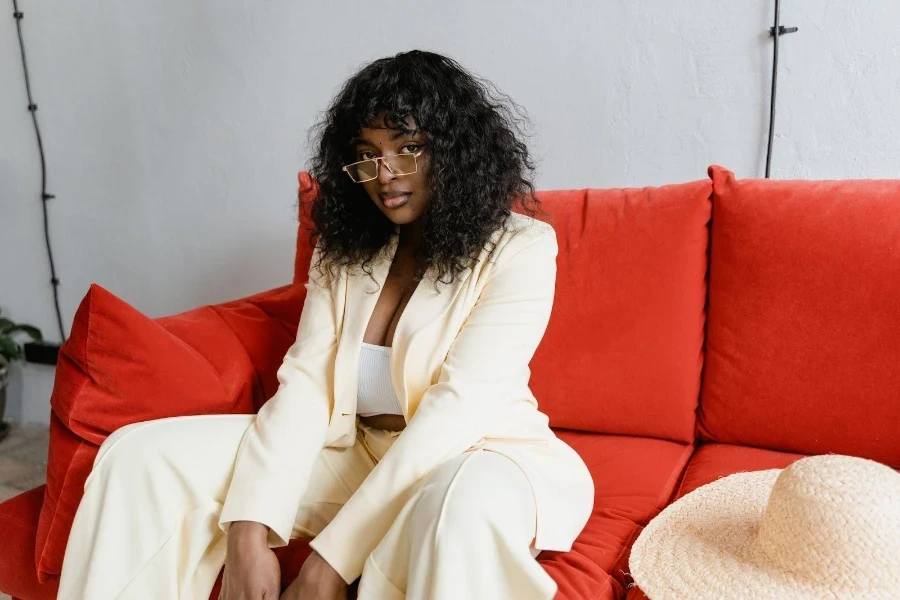 Once a runway look, avant-garde monochromatic looks have spread to the streets. Simply put, this trend entails using different shades of the same color to create a cohesive look, resulting in an elegant and sophisticated appearance.
One attractive aspect of the monochromatic look is its adaptability to any occasion. Consumers can dress in a single color for various formal and informal events. For instance, a light pastel top with a darker shade skirt or trousers or a brown suit with a lightweight brown tank top underneath can work.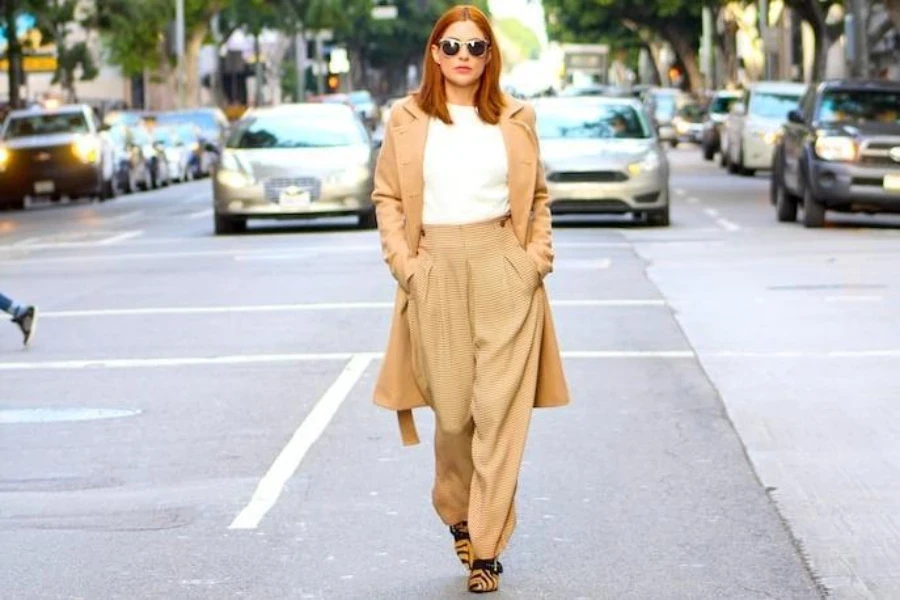 Experimenting with layers, patterns, and textures is the key to perfecting this trend. For this, brands can sell silk, leather, velvet, and even denim pieces. Regarding colors, businesses must consider different skin tones of their customers when shopping.
Earthy hues like warm browns and olive green complement darker complexions, while pastels and softer colors may be a good choice for fairer skin. One can also sell pieces in bold and vibrant colors like red and blue that exude confidence.
Voluminous designs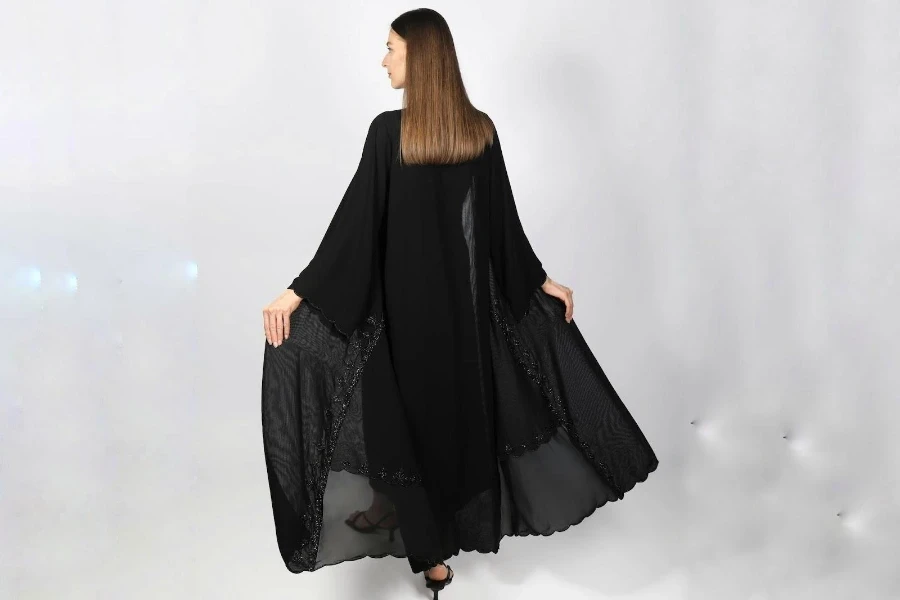 Known as the epitome of flair in the fashion world, these voluminous design trends consist of picture billowing sleeves, extravagant ruffles, and oversized silhouettes that attract stares. These bold pieces celebrate the art of exaggeration by adding dynamic elements to any outfit. From swirly dresses to tops with dramatic sleeves, these items can make consumers feel like fashion mavens.
Voluminous designs are a great way to play with different fabric textures. As such, businesses can offer billowy fabrics like chiffon, organza, and tulle or stiffer ones like brocade and neoprene. Pieces like maxi dresses, bold-shouldered tops, flowy skirts, and oversized dress shirts fit well under this trend.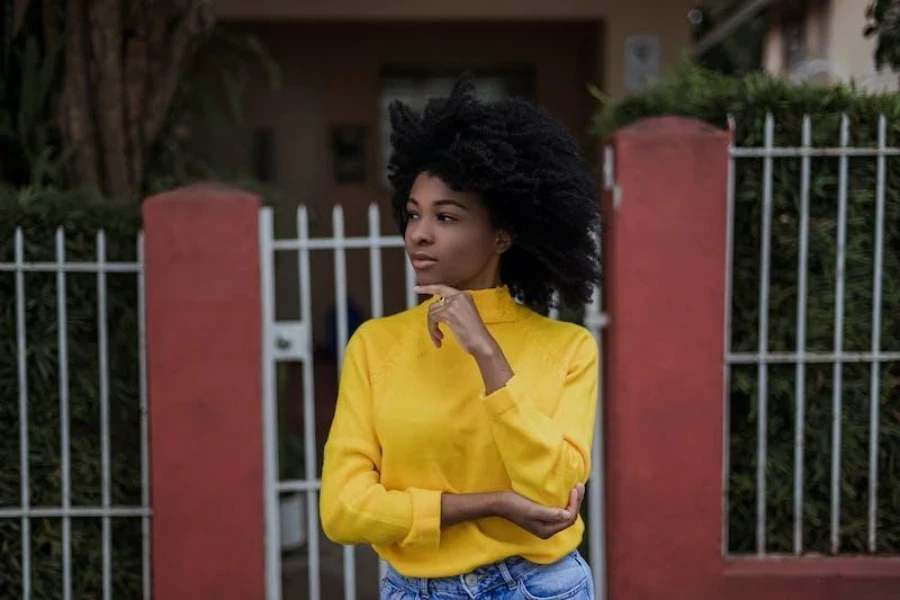 Remember to balance a voluminous ensemble with the right proportions to avoid overwhelming designs. For instance, consumers can combine voluminous tops with more fitted bottoms and vice versa. This ensures that perfect harmony is maintained and the voluminous pieces themselves stand out. Whether it's a special night out or a gala event, every look has a voluminous design.
Asymmetrical shapes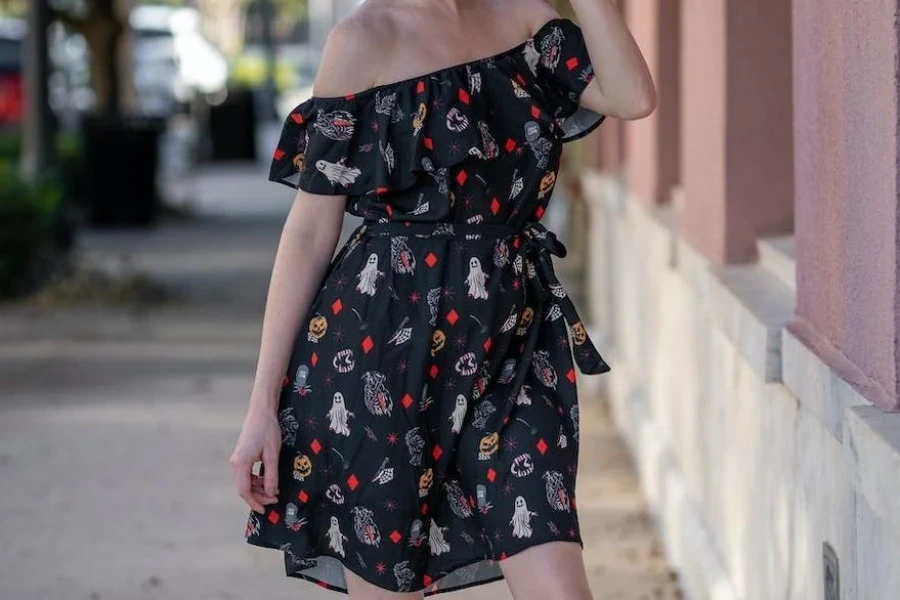 Asymmetrical shapes in fashion create a captivating sense of imbalance and add a touch of edginess and modernity to any outfit. These designs break traditional symmetry rules by playing with lines and proportions.
The beauty of asymmetrical shapes is that they add an unexpected twist to classic styles. Think of clothing pieces with uneven hems, varying sleeve lengths, or diagonal cuts—this instantly grabs attention by adding an element of surprise to a look.
One of the cool features of this trend is that it flatters different body types. One can create a balanced silhouette by elongating or emphasizing a body part via experimenting with lines. For example, a consumer with a pear shape can pair a one-shoulder or off-shoulder top with high-waisted, high-low hemline skirts to highlight both their shoulders and waist.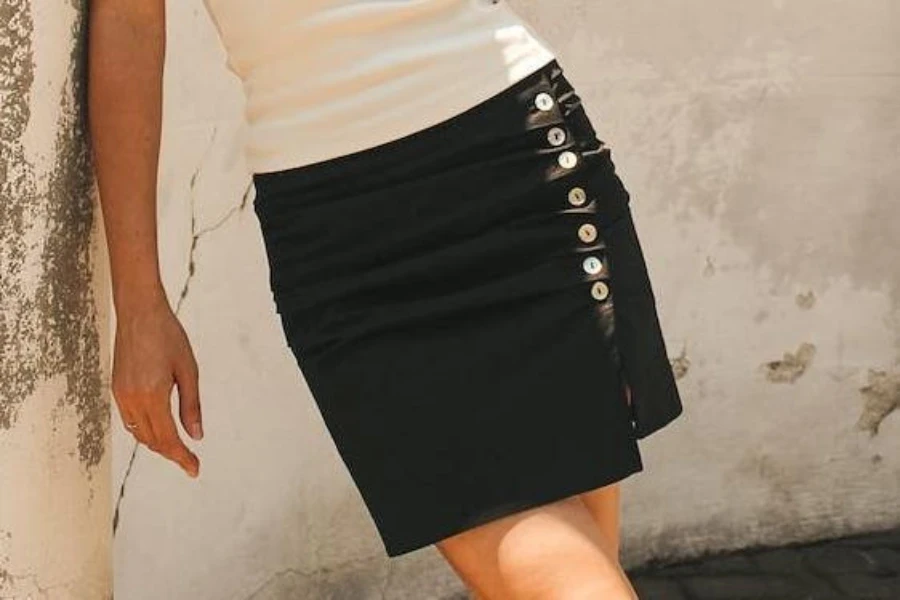 Shoppers can also create striking looks by layering asymmetrical pieces over regular outfits, like an asymmetrical vest over a fitted dress or long kimono over leggings, to add depth and dimension to their outfit.
Businesses can profit from accentuating pieces like one-shoulder tops, gowns, off-center slot gowns or skirts, pants with diagonal zippers, asymmetrical ruffle skirts, and high-low hemlines.
Unusual textures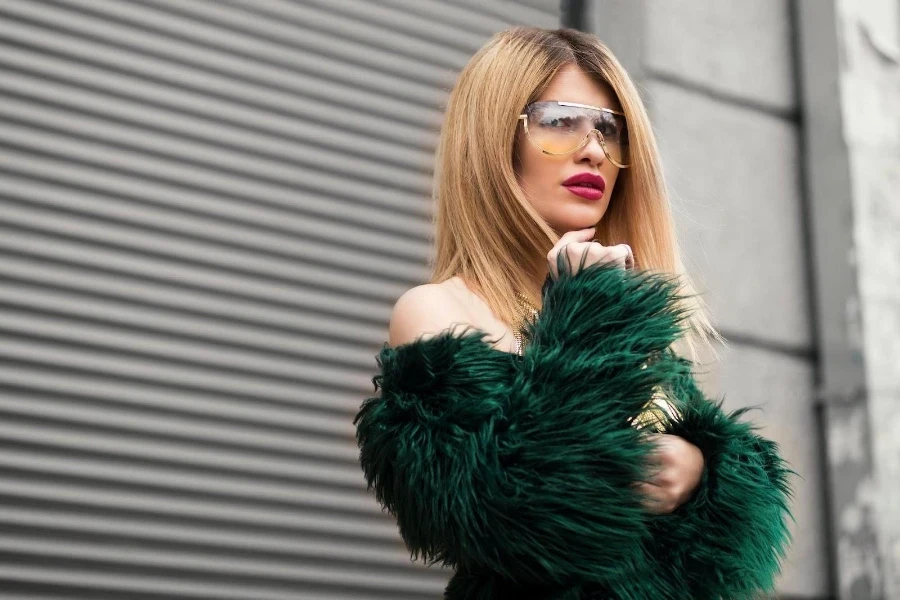 Unusual textures add depth and artistic edge to fabrics, creating intriguing fashion options for a buyer's wardrobe. A distinctive feature of this trend is its ability to make an outfit appear luxurious by adding an unusual texture. Take velvet, for example: its plush and soft feel makes an outfit feel lavish and classy.
Fringe is another fabulous texture that adds drama to an outfit. Consider a fringe-trimmed skirt or fringe-adorned jacket over a simple white top or bottom. The fringe stands out, so there's no need to overdo it with the rest of the outfit.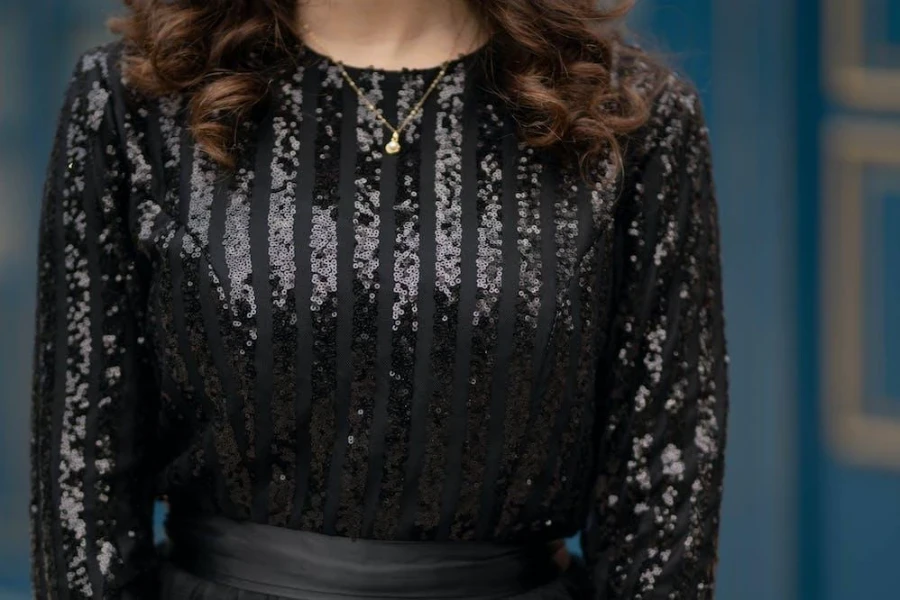 Similarly, sequins are perfect for adding glamor and sparkle to a look. These shiny pieces can reflect light, giving it a lustrous look that never wears out. They are also best worn with minimal pairs as the fabric is striking. A good outfit would be a sequin top with black trousers or a sequin dress with minimal accessories.
Daring ruffles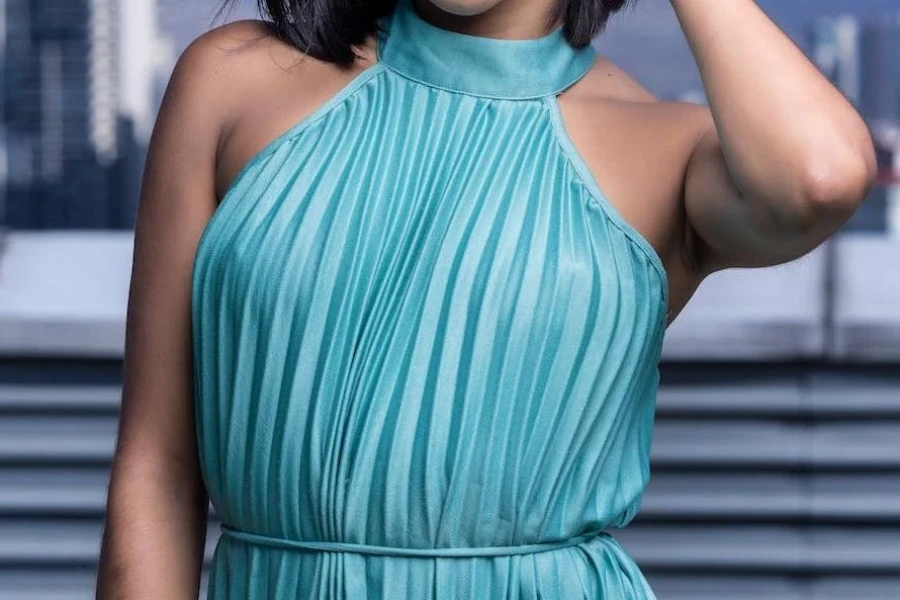 Ruffles are cascading waves of fabrics that create eye-catching textures, adding a dance flair to an outfit. From dresses and blouses to skirts and even trousers, ruffles can transform the simplest ensembles into something runway-worthy.
Consumers may choose subtle or bold ruffles, depending on their style. As with voluminous pieces, fringes, and sequins, the key to appropriately rocking this trend is to keep the remaining outfit relatively simple and let the ruffle be the center of attraction.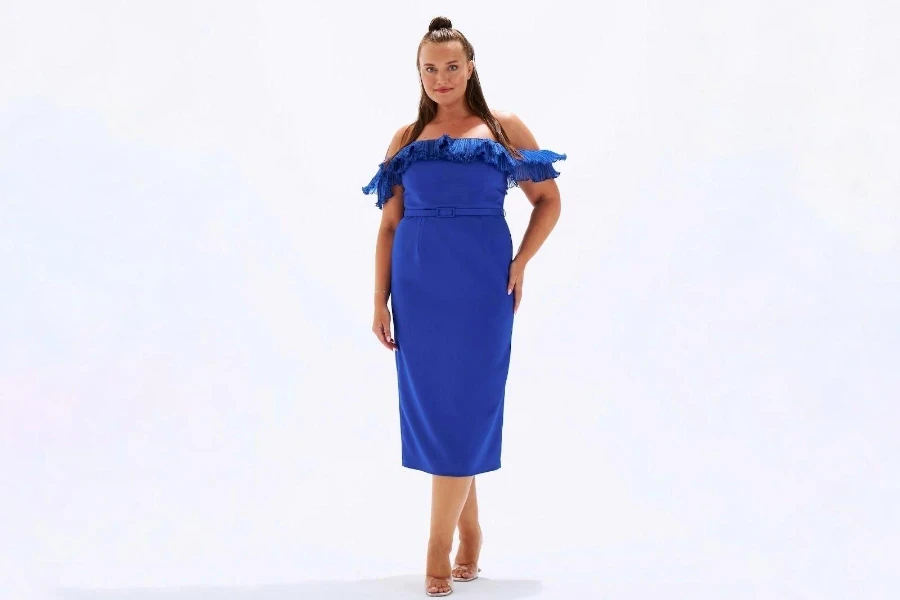 Just like the previous trends, ruffles are stylish and versatile. A ruffled maxi dress exudes grace and elegance, while a ruffled dress shirt adds fun to any outfit. Another good example would be a ruffled blouse with classic trousers or a ruffled skirt with a sleek top to balance the silhouette. Consumers may layer these pieces using a structured blazer or a leather jacket.
Consumers that prefer subtle ruffles can opt for garments with ruffled accents, such as hems, sleeves, or necklines, which add a feminine touch without being overwhelming.
Final words
Fashion is a tool for self-expression and creativity, and consumers are always looking for fresh trends that will help them achieve their wardrobe dreams. It's up to businesses to be alert and ready to satisfy their demands. Brands must be constantly updated with the latest fashion info and be exposed to trends early enough to be pioneers of a fashion revolution.
As this era of bold, innovative, and daring creativity unleashes, brands can offer these tantalizing options to their loyal fan base to boost sales and attract new customers. By leveraging these five trends, sellers can make gains and establish themselves at the forefront of the fashion industry.
Was this article helpful?