Across the globe, 2023 proved that people are eager to explore new styles with the emergence of various daring fashion themes. And in this fashion-forward landscape, the cyberpunk trend is set to take center stage.
Expect to see various high-tech elements, cargo pockets, and rugged outerwear as cyberpunk makes a bold statement in fashion this year. This article will explore five cyber clothing trends to look out for in 2023/24.
Table of Contents
The market for cyberpunk fashion
Five cyberpunk clothing trends for 2023/24
The bottom line
The market for cyberpunk fashion
Cyberpunk fashion is a defiant response to societal conservatism, seamlessly blending punk rock elements with the ongoing metaverse trends in the gaming universe.
This trend is characterized by post-pandemic hedonism and the exhilarating rush of adrenaline and speed, drawing inspiration from activities like motorbiking and skateboarding. Cyberpunk fashion has also influenced mainstream style by fostering a greater acceptance of bold and experimental designs.
The cyberpunk aesthetic has firmly established itself in the luxury fashion market, valued at US$ 103.07 billion in 2022. Projections indicate that it is poised for significant growth, with an anticipated compound annual growth rate (CAGR) of 6.16%, potentially reaching a value exceeding US$ 147.537 billion by 2027.
Five cyberpunk clothing trends for 2023/24
Cyberpunk techwear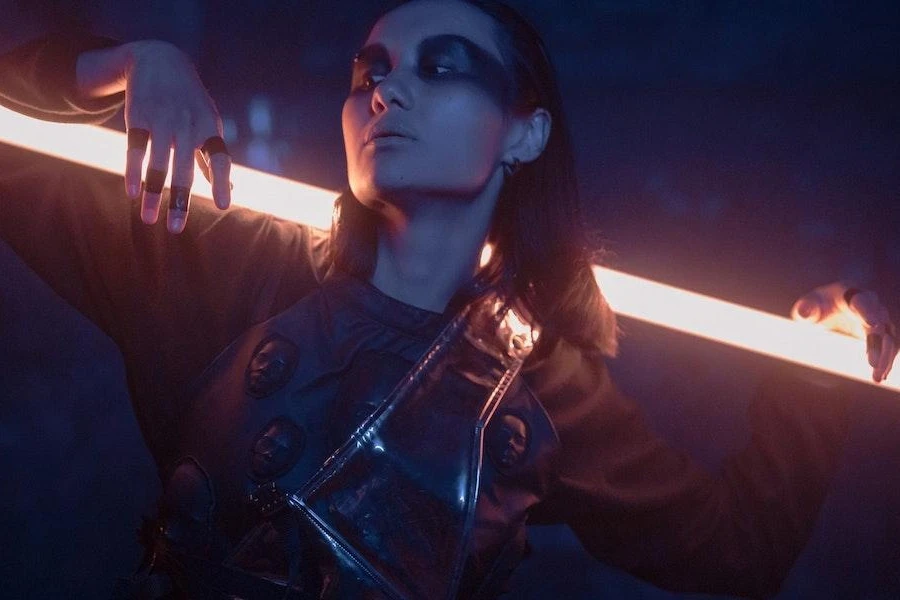 Techwear represents the most significant and pertinent fashion style closely associated with cyberpunk aesthetics. It is a futuristic and edgy fashion trend inspired by the dystopian aesthetics of cyberpunk literature and movies. 
Techwear seamlessly blends state-of-the-art technology, practical design, and a rebellious spirit to forge a visually striking and highly functional style. In cyberpunk fashion, techwear frequently integrates innovative materials such as waterproof and breathable fabrics, reflective surfaces, and even textiles embedded with LEDs.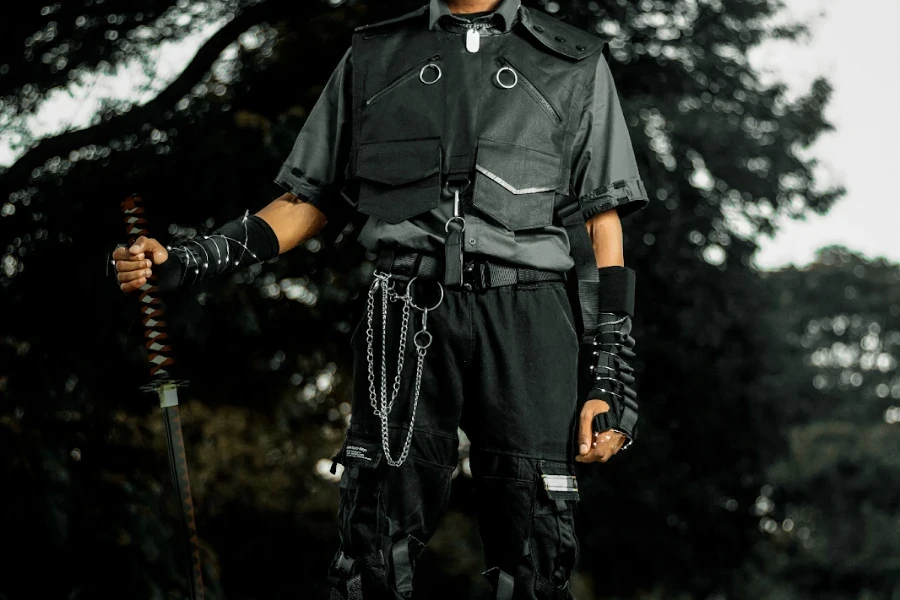 Within this theme, cyberpunk streetwear emerges as a stylish and trendy variant. It seamlessly fuses traditional streetwear components like hoodies and joggers with tech-inspired elements like reflective piping, LED embellishments, and augmented reality (AR) compatibility.
Consumers who gravitate towards a more understated style can explore minimalist cyberpunk techwear, prioritizing clean lines, a monochromatic color scheme, and metallic accents. Straightforward yet high-tech accessories like smartwatches and futuristic glasses complement this look.
Goth Ninja is a strain of cyberpunk techwear that draws inspiration from Japanese street fashion and the ninja aesthetic. It frequently features a palette dominated by black clothing, complemented by leather components and metallic accents.
Military-inspired garments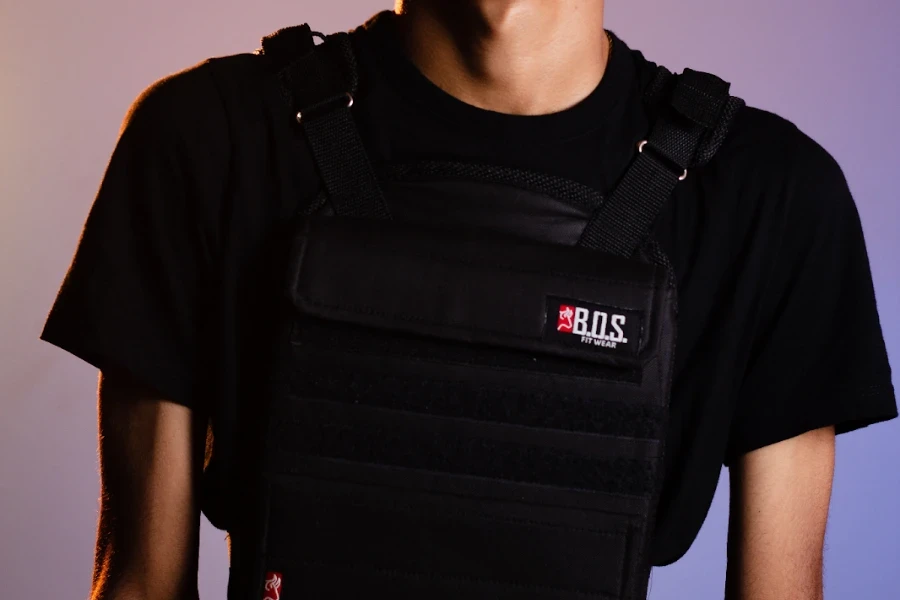 Military-inspired garments have long been a staple theme within the cyberpunk fashion trend, adding a practical and futuristic edge to the style. These garments draw influence from military uniforms and tactical gear, featuring functional design elements, camouflage patterns, and a sense of urban warfare readiness.
Tactical vests, often equipped with numerous pockets and webbing, are a staple in cyberpunk military-inspired fashion. They add a futuristic and practical aspect to the theme, making it even more popular (up to 49,500 monthly searches according to Google Ads).
Consumers can pair tactical vests with denim or layer it over sleek, monochromatic bodysuits for a cyberpunk chic outfit. These versatile tactical vests complement casual outfits exceptionally well, adding flair over basic tees and shorts.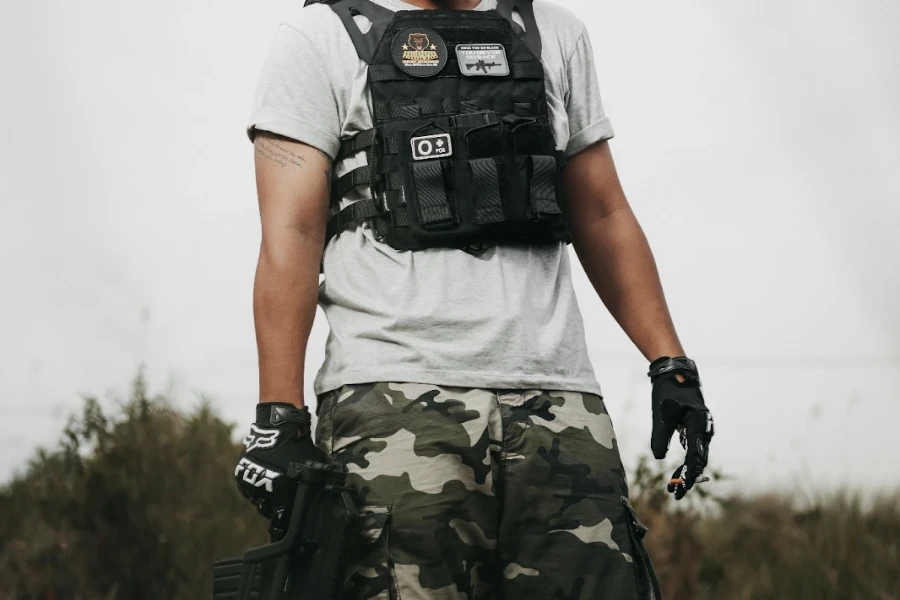 Camouflage patterns, whether traditional military camo or urban variants are frequently used in cyberpunk fashion. These patterns can appear on clothing items such as pants, jackets, and accessories. Data from Google Ads proves camouflage's popularity as over 450,000 consumers searched for them in 2023.
Cargo pants are a key element of military-inspired cyberpunk attire. They offer ample storage space and a rugged look, making them perfect for urban exploration. Among military-inspired garments, cargo pants reign supreme as the most sought-after trend, amassing a staggering 1.5 million monthly searches.
Oversized jackets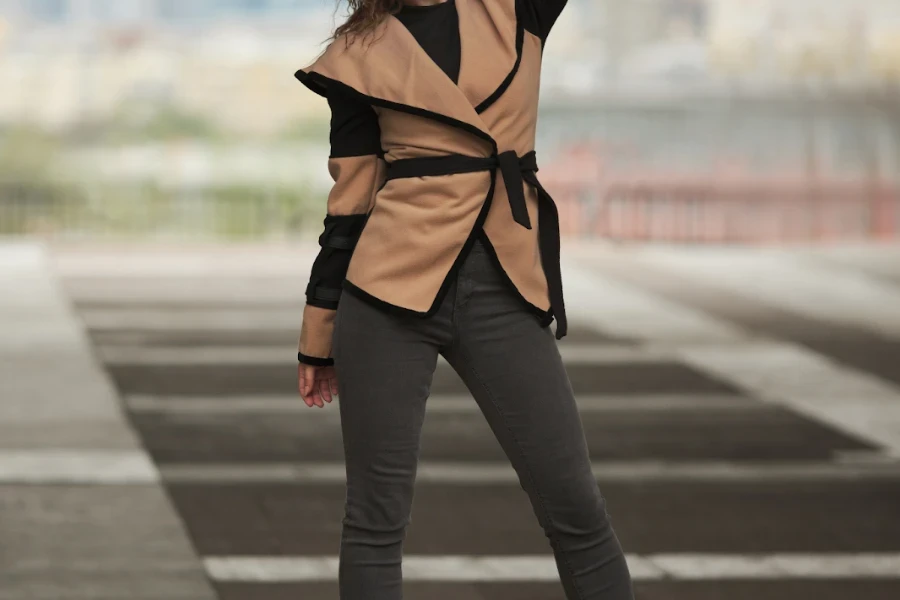 Oversized jackets are a prominent and stylish element in the cyberpunk apparel trend, contributing to the futuristic and edgy aesthetic while offering comfort and versatility. These jackets, known for their exaggerated proportions and unique designs, are vital in creating a cyberpunk look.
Cargo jackets, adorned with multiple pockets and utility straps, have gained popularity within cyberpunk fashion. These oversized jackets exude a utilitarian aesthetic that aligns with the genre's style. The fact that they draw an impressive average of 14,800 monthly searches highlights their high demand.
Bomber jackets have also been popular this season, blending streetwear elements with military-inspired style. These jackets sport robust silhouettes, ribbed cuffs/collars, and distinctive patchwork or detailing.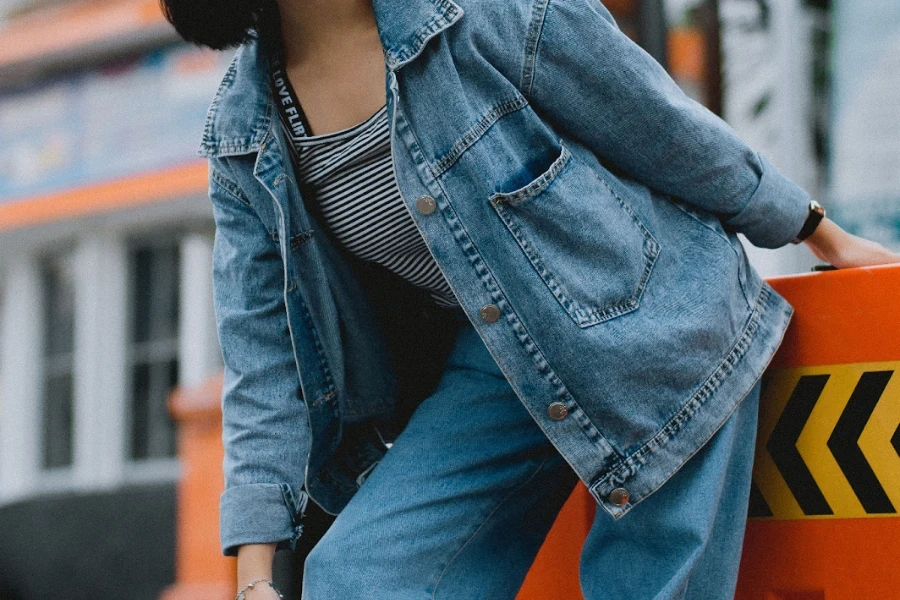 More importantly, they command a staggering 673,000 monthly searches among consumers, surpassing the popularity of cargo jackets.
Puffer jackets featuring exaggerated quilting and ample insulation have taken center stage this season, crafting a futuristic and urban aesthetic. These jackets exude a high-tech allure, making them an ideal choice for cyberpunk fashion. 
Notably, Google Ads data reveals that puffer jackets receive an impressive 550,000 average monthly searches, underlining their substantial popularity as a trendy product.
Undoubtedly, trench coats are the most prominent oversized jacket trend, commanding a remarkable 823,000 monthly searches on Google Ads. Their appeal lies in their length and dramatic collars, elevating cyberpunk styles to a more refined and sophisticated level.
Baggy pants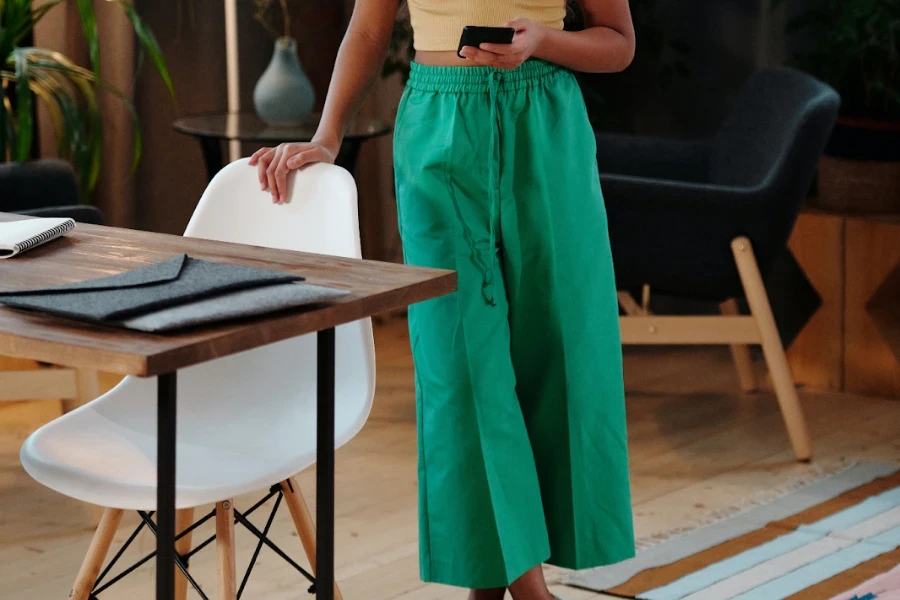 Baggy pants are pivotal in cyberpunk fashion, contributing to the genre's futuristic and rebellious aesthetic. Renowned for their loose and oversized fit, these pants offer a unique blend of comfort and versatility, allowing wearers to make a bold and distinctive style statement.
Harem pants are renowned for their loose fit, drop crotch, and tapered legs. Within the cyberpunk genre, harem pants can blend fabrics like leather or high-tech materials to craft a distinctive and innovative aesthetic.
The exciting news is that harem pants are at the forefront of fashion trends. With an average of 110,000 monthly searches, it's evident that there's a substantial potential audience for businesses to cater to with their products.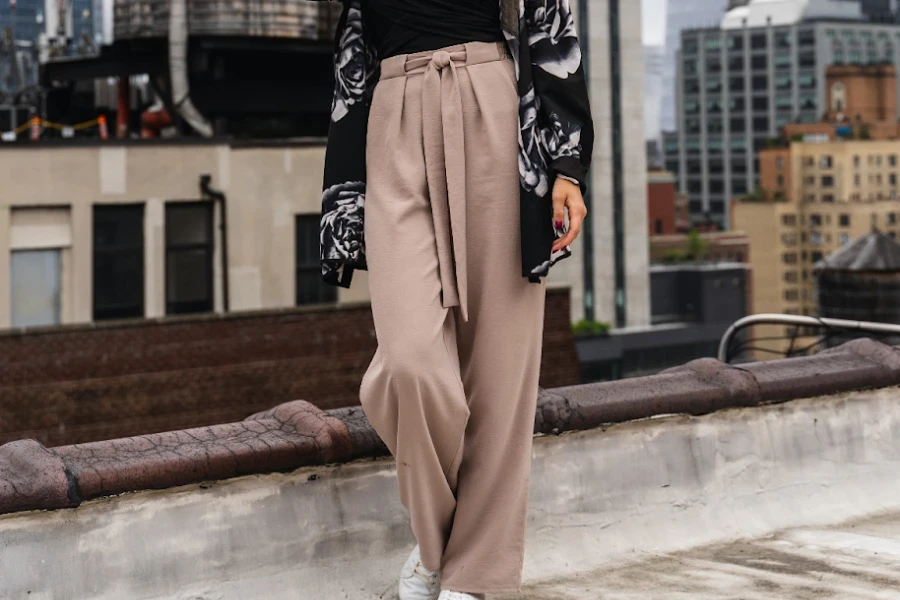 Joggers outshine their harem counterparts in popularity, amassing an impressive average of 550,000 monthly searches. What makes them so sought after? Baggy jogger pants balance comfort and style, seamlessly incorporating cyberpunk-inspired elements like oversized pockets, distinctive textures, and high-tech details. 
Wide-leg pants, renowned for their exaggerated silhouette, are gaining momentum with up to 40,500 monthly searches, amplifying the dramatic appeal of cyberpunk ensembles. Typically, these pants showcase intricate stitching, paneling, or unconventional closures, adding a layer of visual intrigue to the overall look. 
Shawl jackets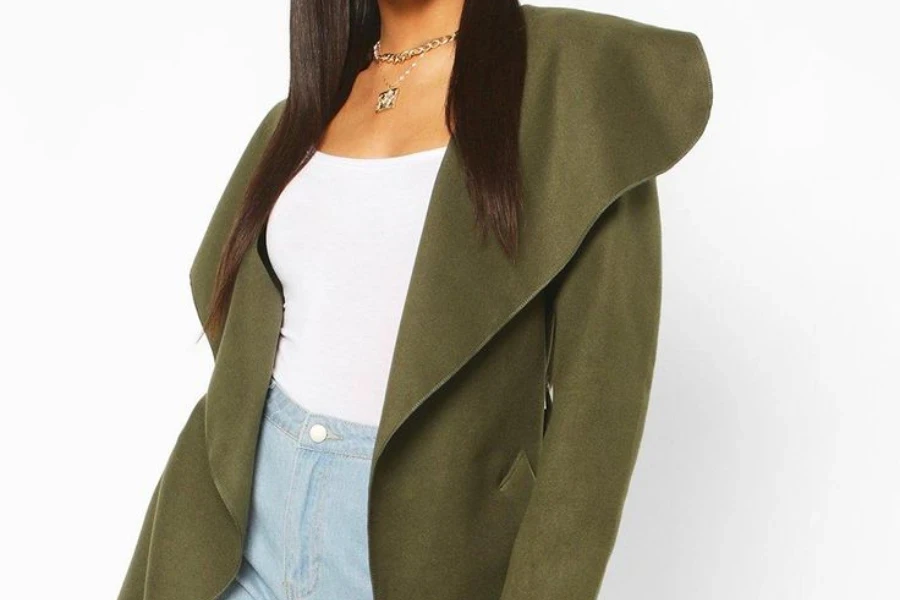 Shawl jackets are a distinctive and stylish component of cyberpunk fashion, enhancing the genre's futuristic and edgy aesthetic. These jackets are celebrated for their distinct shawl collars and draped silhouettes. They offer a remarkable blend of comfort and versatility, allowing wearers to make bold and impactful style statements.
Taking inspiration from traditional Japanese attire, kimono-style shawl jackets have surged in popularity due to their vast, flowing sleeves and shawl collar. In August 2023 alone, they drew in 40,500 searches, and they've continued to captivate with 33,100 searches so far in September.
When rocking an outfit with this piece, consumers must let the kimono-style shawl jacket grab all the attention. They can opt for a monochromatic base, like form-fitting black jumpsuits or metallic leggings, to achieve this.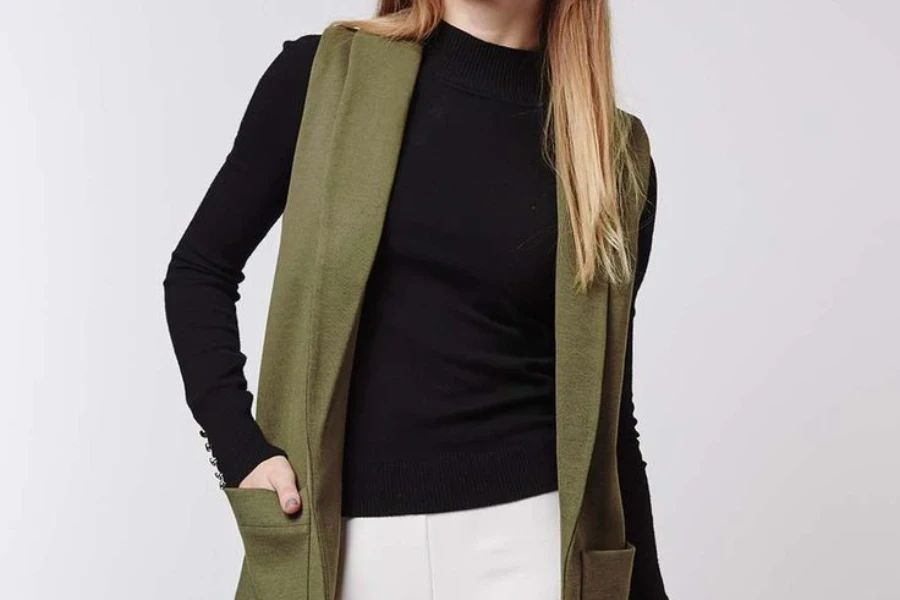 Futuristic blazer-style shawl jackets present another trendy choice. While they may not garner as many searches as kimonos, blazer shawl jackets maintain an average of 880 monthly searches, indicating a dedicated audience intrigued by this trend.
When styling a blazer-style shawl jacket, begin with a sleek and minimalist foundation. Opt for tailored slim-fit trousers or a pencil skirt in a monochromatic hue to be the perfect canvas for showcasing the jacket's elegance.
The bottom line
The cyberpunk trend is at the forefront of boundary-pushing, challenging conventional norms in fashion. It encompasses everything from tech wear to military-inspired garments and baggy pants.
These diverse elements grant the cyberpunk trend a remarkable degree of creative freedom, enabling individuals to craft distinctive, attention-grabbing styles that boldly depart from traditional fashion conventions.
In 2023, cyberpunk stands out as the trend to watch out for, poised to become one of the most favored choices, particularly among the younger generation.
Was this article helpful?