Trousers have always been an essential component of every customer's wardrobe—but this season may see joggers taking over. The sheer volume of jogger trends popping up makes them hard to ignore.
With comfort taking higher positions on the consumer preference scale, joggers are set to become the new normal. So, how can businesses leverage this potential? This article will highlight six jogger trends for men and women retailers can glean in 2023/24.
Table of Contents
How big is the global joggers market?
Six eye-catching men's and women's jogger trends for 2023/24
Stock up on these trends
How big is the global joggers market?
Size of market
The joggers segment is part of the athleisure market and is experiencing significant growth worldwide. According to research, the global joggers market hit US$ 284.73 billion in 2020, and experts project it to grow at an 8.6% compound annual growth rate (CAGR) from 2021 to 2027.
Market drivers
The market's key drivers include increased sports participation, a flourishing demand for sports apparel, and strategic investments by leading industry players. However, high costs and customer preference for lower-quality clothing may hinder market expansion.
Regardless of the market's drawbacks, leggings, tights, and joggers constitute the largest segment of the athleisure market. Plus, the women's segment dominates the market, with the growing number of women participating in sports and fitness activities fueling its growth.
Market regions
North America leads the regional market, with a growing interest in athletic events and fitness consciousness securing its dominance. Europe follows closely behind, driven by increasing consumer awareness of health and active lifestyles.
Experts also expect the Asia-Pacific market to grow rapidly due to rising urbanization and higher disposable incomes among millennials.
Six eye-catching men's and women's jogger trends for 2023/24
Classic joggers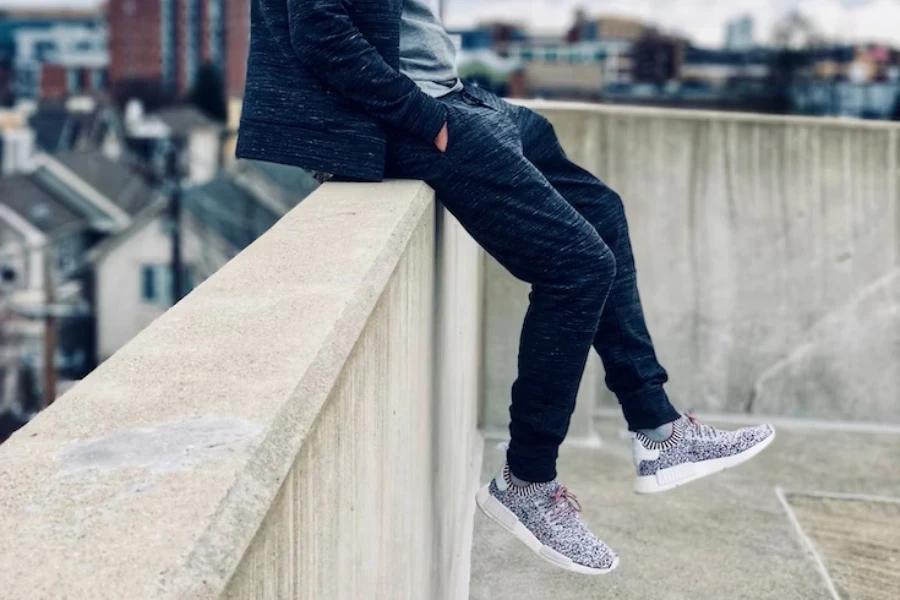 Classic joggers are a staple in many men's wardrobes, and for a good reason. They are comfortable, versatile, and incredibly stylish. In truth, these pants feature soft, breathable fabrics, making them perfect for lounging around the house or running errands.
That's not all. Typically, classic joggers have relaxed fits with drawstring waists, making them adjustable. Most variants also feature elastic cuffs at the ankles, adding more to its style and functionality. It's worth noting that the classic joggers have gone through several variations. However, some of the most trendy variants resemble chinos or slacks.
Some newer trends see classic joggers adapting modular designs for a more utilitarian vibe. Consumers can also find recent joggers with zippers and multiple pockets, offering something different from plain designs.
No doubt, men can dress in classic joggers up or down, depending on the occasion. They can pair these classic pants with a basic t-shirt or sweatshirt for a relaxed look.
On top of this, consumers can rock a dressier outfit by matching classic joggers with a crisp button-down shirt. They also pair well with hoodies or bomber jackets for a cool, urban look.
No matter how consumers wear these comfortable pants, they're a fantastic way to make everyday outfits look more stylish and comfortable. Plus, they're great for men looking for extreme comfort while traveling.
Tech joggers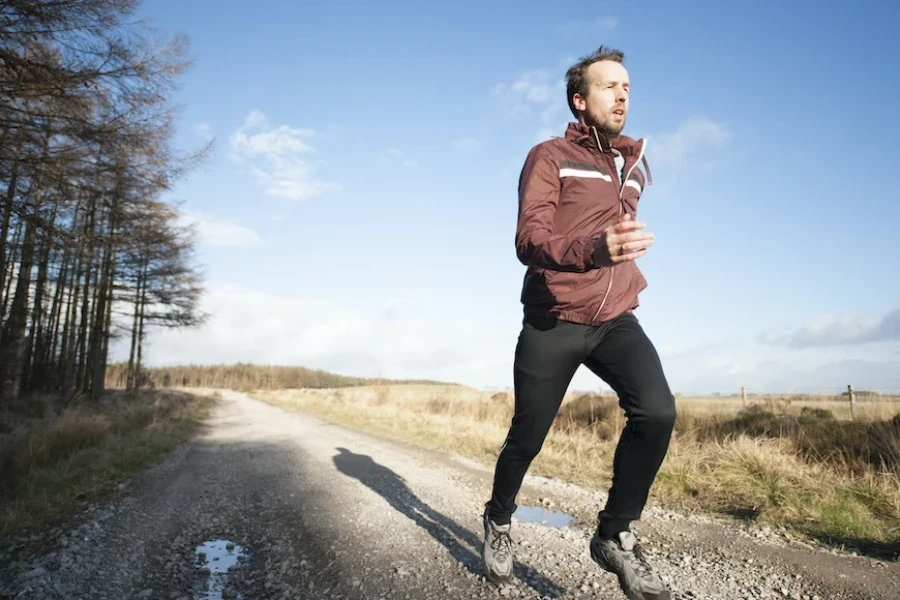 Tech joggers are the peak of contemporary and innovative aesthetics. They blend the comfort of classic joggers with advanced performance materials and modern design elements. With these cutting-edge pants, men can easily keep up with an active lifestyle while maintaining a sleek, stylish appearance.
Indeed, the use of performance fabrics is what makes tech joggers unique. Such fabrics (e.g. nylon or polyester blends) give them sought-after qualities, like moisture-wicking and quick-drying materials. Hence, tech joggers will keep wearers cool and dry during daily activities or workouts.
Another visually appealing attribute of these pants is their slim or tapered fit—-which gives them a more tailored and modern look compared to classic joggers. However, some styles may include zippered pockets for added functionality and security.
But that's not all that's making these bad boys trend. Tech joggers can match various styles and seamlessly transition from active to casual. Men looking to rock a sporty athleisure look can pair them with a moisture-wicking performance t-shirt and layer a lightweight hoodie or track jacket over the ensemble.
Male consumers can enjoy a street-style look by combining tech joggers with a graphic t-shirt and bomber jacket. They can also rock them in a more relaxed office environment. But, pulling off a stylish work outfit with tech joggers requires pairing them with a tailored blazer and a crisp dress shirt—a perfect blend of comfort and professionalism.
Track joggers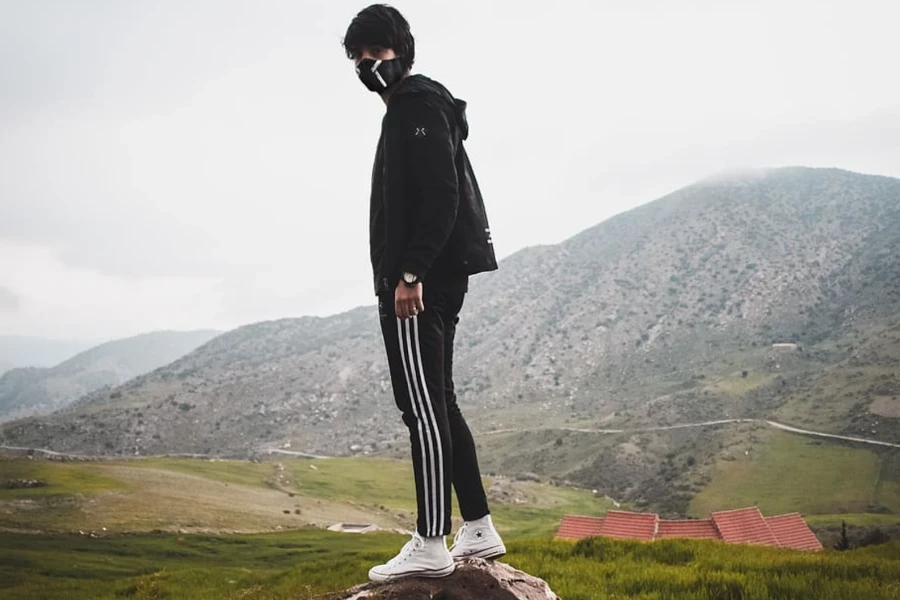 This trend draws inspiration from traditional track pants and blends them with the joggers' comfortable style. They're versatile and athletic, making them a great addition to any modern man's wardrobe.
The defining feature of track joggers is the sporty stripe detail running along the sides of the pants. This stripe undoubtedly gives them a distinctive and athletic appearance, reminiscent of classic track pants worn for sports activities.
Men can enjoy various outfit combinations with track joggers. One fantastic style that reigns supreme is athleisure. Male consumers can embrace this style by pairing track joggers with a fitted t-shirt or a sporty sweatshirt.
Another style men can try with the track joggers is casual urban. It combines a simple and urban look by pairing track joggers with a graphic tee or stylish hoodie. These are only some of the endless styling possibilities.
High-waisted joggers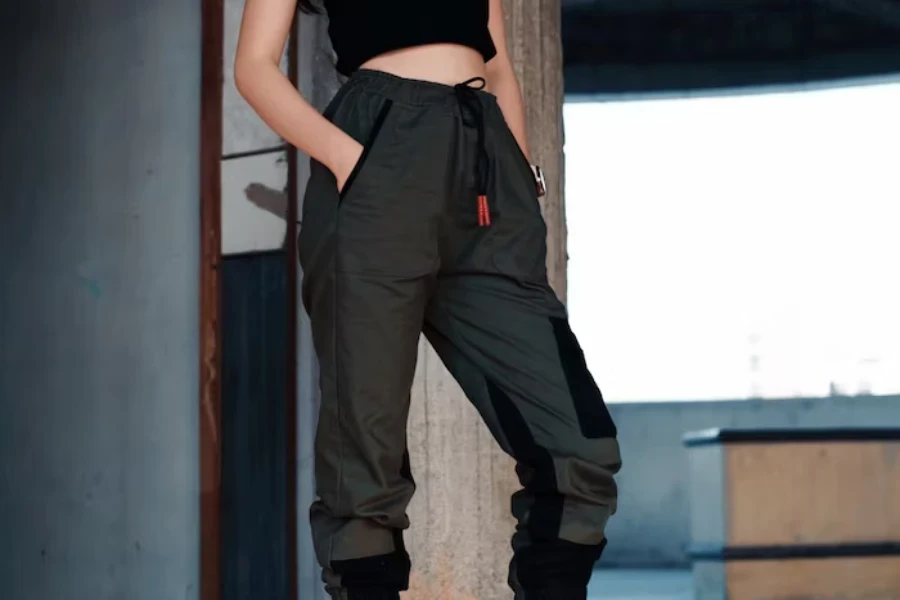 Trendy and flattering, high-waisted joggers are the perfect bottoms for women. These pants apply a modern twist to conventional joggers' traditional aesthetics and comfort, increasing their appeal significantly.
High-waisted joggers stand out because they sit at the natural waistline, providing a more defined and elongated silhouette with a more secure fit. They also offer elasticized waistbands, allowing women to adjust them with a drawstring. This unique design accentuates the waist and provides a smooth, seamless look around the hips and tummy area.
The possibilities are endless when it comes to styling high-waisted joggers. Women can opt for an athleisure chic aesthetic by pairing high-waisted joggers with a cropped tank top or a fitted sports bra. They can add a lightweight jacket or an oversized hoodie to flex a sporty yet fashionable vibe.
Casual elegance is another style possible with high-waisted joggers. Women can rock this elevated casual style by combining high-waisted joggers with a loose-fitting blouse or a flowy tunic. But they'll have to tuck the top into the waistband to emphasize the waistline.
Jeggings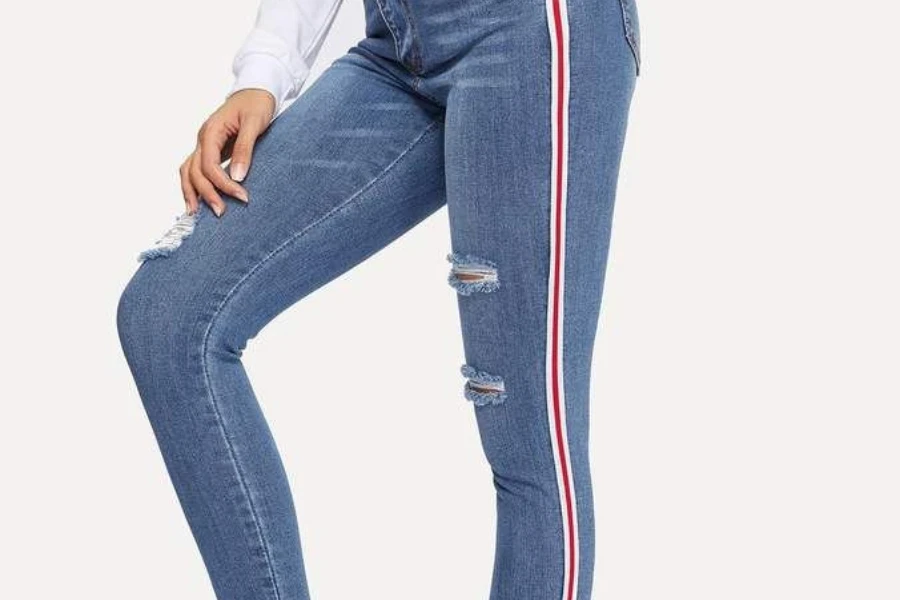 Jeans? Or Joggers? Why not have both? Jeggings prove that women can have the best of both worlds by combining the classic comfort of leggings with the appealing look of jeans. They are designed to fit like a glove, providing a sleek and streamlined appearance.
It doesn't end there. Despite having a tight fit, jeggings offer incredible flexibility and ease of movement. Plus, they use a stretchy and form-fitting fabric, usually made from a denim and spandex blend.
Jeggings are also stylish and can match various outfits. For example, ladies can take on a casual chic look by pairing jeggings with a flowy tunic or loose-fitting sweater. This combination also creates a balanced silhouette, with the fitted jeggings countering the top's volume.
Women can also take a more sophisticated route by dressing the jeggings up with a tailored blazer or a structured jacket. Add a crisp button-down shirt or a silk blouse for extra elegance. Additionally, consumers can embrace a laid-back weekend look by merging leggings with a cozy oversized sweater or a graphic sweatshirt.
Bootcut joggers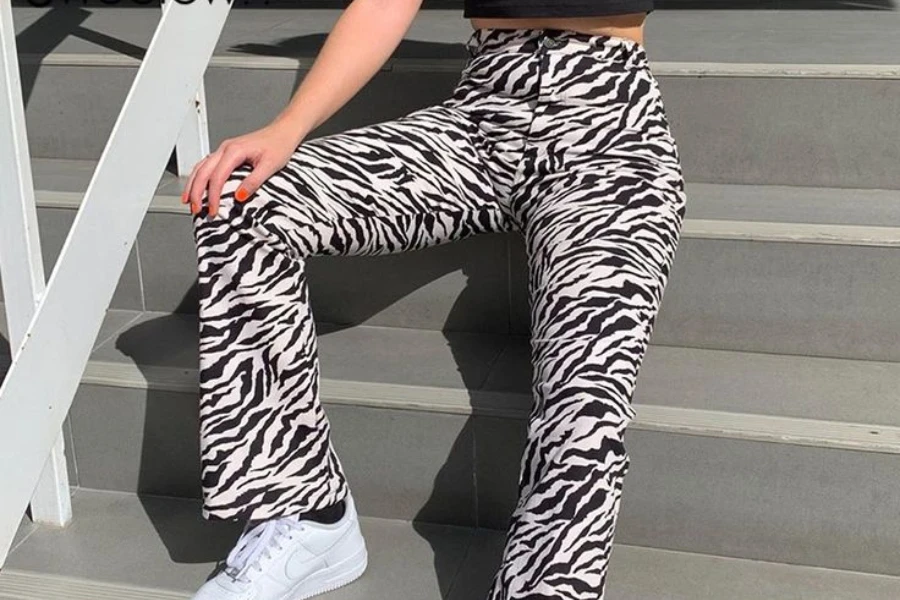 Since the classic joggers hit the fashion scene over 100 years ago, several iterations have come and gone, with many becoming staples. One that remains a wardrobe essential after its debut is bootcut joggers.
Bootcut joggers add the classic flare of bootcut pants to the jogger's relaxed fit, offering a flattering and versatile silhouette that can easily transition from casual to dressy. This unlikely combination is also the piece's standout feature.
Their unique design adds a touch of sophistication and elongates the legs, making bootcut joggers an excellent option for women of all heights. Bootcut joggers also feature comfortable and stretchy fabrics like cotton or material blends, ensuring easy movement and all-day comfort.
Like their inspiration, bootcut joggers can double down as sophisticated office wear. Women can pull off this style by matching the flared bottoms with a flowy blouse or crisp button-down shirt.
Bootcut joggers can also look glam for a date night or special occasion. However, this outfit requires a pair in luxe fabrics (like satin or silk). Then, ladies can combine them with a stylish camisole or a sequined top for a knockout look.
Stock up on these trends
From wide-leg joggers and track pants to a newfound appreciation for jeggings, jogger trends have continued to increase in popularity. Businesses only need to scroll through social media to see their impact on the fashion scene.
From sports only to iconic, joggers have come a long way and are here to stay. Hence, businesses can stock up on classic, tech, high-waisted jeggings, bootcut, and track joggers to attract new consumers and avoid missing out on 2023/24 sales.
Was this article helpful?