The fusion of high fashion and street culture continues to blur the lines between beauty and comfort, creating an array of styles that appeals to the modern man. As the new year approaches, consumers embrace individuality and push boundaries with their fashion sense with each new trend that pops into the fashion sphere. Men are not excluded from the thrill, as more men are slowly easing into the hustle and glamor of streetwear fashion.
Businesses have a ton of work to do in matching these latest trends in the competitive landscape. Hence, this article will uncover the top five men's streetwear fashion trends set to dominate the street and win the attention of style-conscious customers. From technical outwear to varsity jackets, brands can elevate their fashion game with the latest streetwear sensibilities that resonate with the 21st-century man.
Table of Contents
A review of the men's streetwear market
Five men's streetwear trends to leverage in 2024
Final words
A review of the streetwear market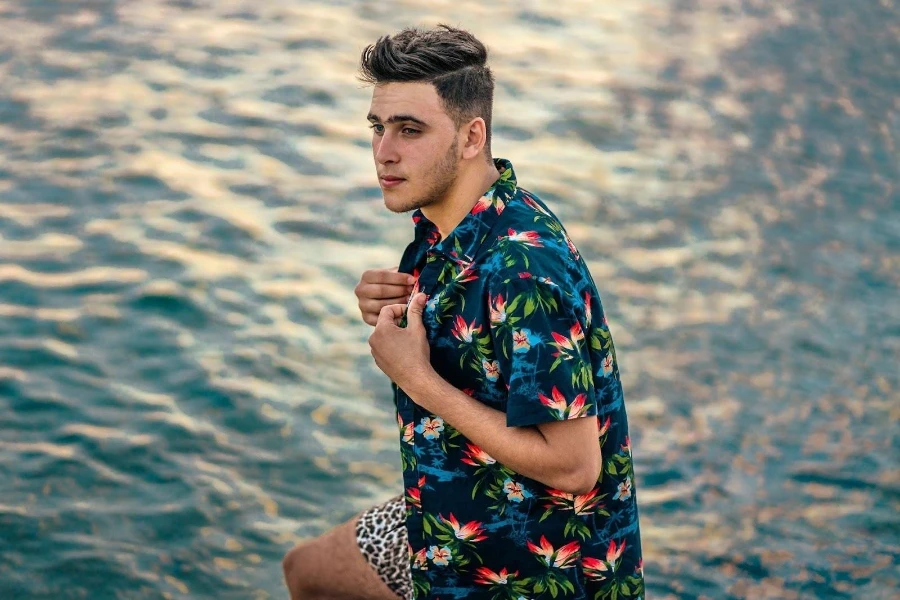 Based on research, the global streetwear market had an estimated worth of USD 187 billion in 2023 and is anticipated to attain USD 230 billion by 2028, witnessing a compound annual growth rate of 3.52%. Streetwear is a fashion style that grew from hip-hop and became popular in the 1990s. Typically, it focuses on casual, comfortable outfits incorporating graphic tees, cargo pants, hoodies and track pants, denim, sneakers, etc.
The market expansion is thanks to social media influence, especially the rise of celebrities and influencers promoting streetwear outfits and the growing influence of hip-hop and street culture on conventional fashion. Also, more streetwear brands partnering with luxury labels and the increased demand for unique and limited edition pieces propels the market growth. North America dominates the market regionally, fueled by its vibrant hip-hop culture and many streetwear brands. Europe leads after, with cities like Berlin, Paris, and London becoming prominent streetwear hubs.
Five men's streetwear trends to leverage in 2024
Technical outerwear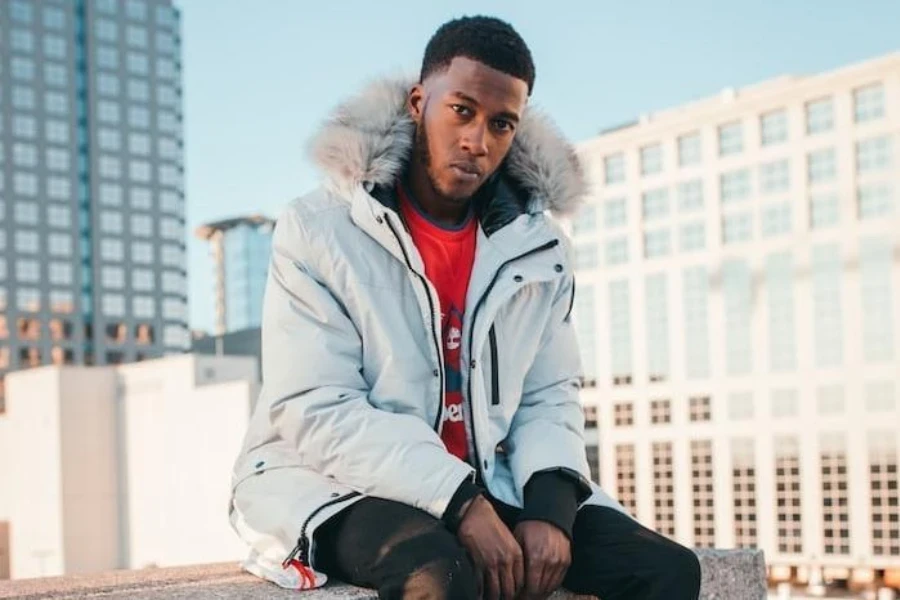 The technical outerwear trend combines style and performance to meet modern men's needs. Think about high-tech, waterproof, and windproof materials that keep customers warm and comfortable even in harsh weather.
A key aspect of this trend is the seamless blend of style and functionality in everyday outfits. These pieces are perfect for both outdoor adventurers and urban explorers, as consumers can mix and match the same pieces differently based on the occasion.
For instance, consumers can pair a sleek parka with tailored trousers and leather boots for a refined urban outfit. Or, they can pair the same piece with denim and sneakers for a more casual and laid-back vibe.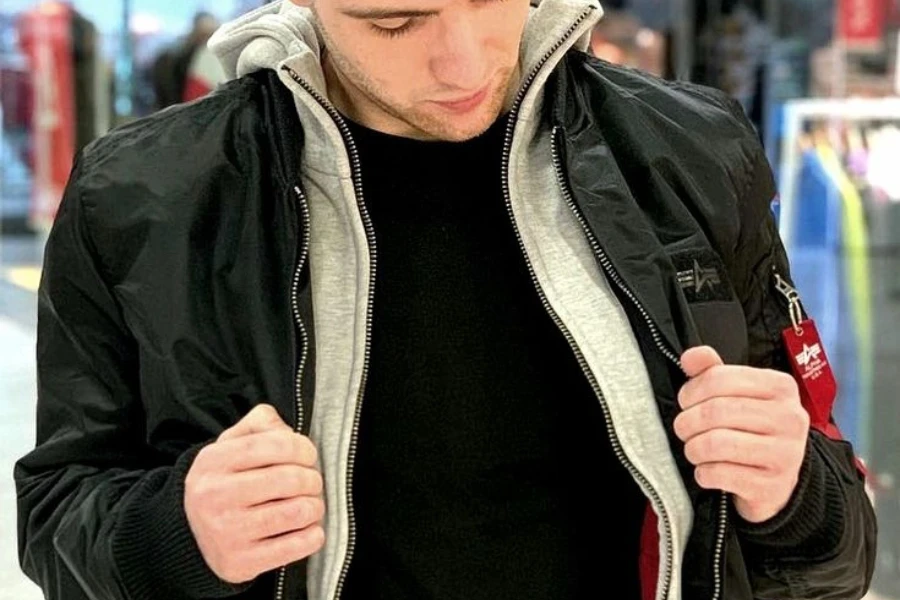 Another staple piece is the weatherproof bomber jacket. Customers can wear a relaxed look with slim-fitting trousers and a graphic tee. They may opt for a lightweight and packable shell jacket for more adventurous looks as an added layer over sweaters and hoodies.
Businesses can maximize profit by displaying the smooth transition of these pieces to their buyers, attracting the mass of style-conscious men looking for staples and versatility to glean their wardrobes.
Men's cargo pants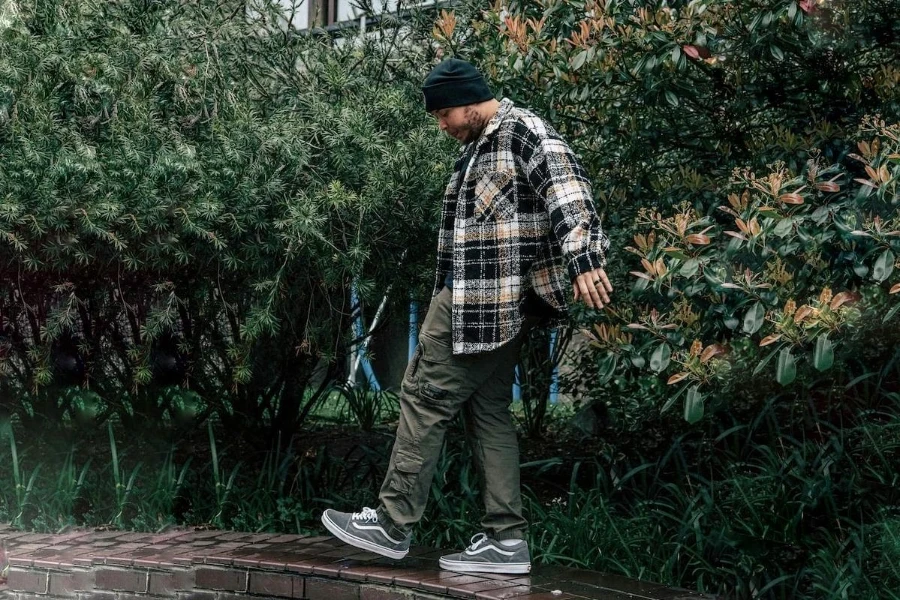 The resurgence of men's cargo pants is something businesses can most look forward to. The beauty of these pieces lies in their perfect combination of convenience and versatility. Designed with multiple pockets and zippers, these pants are space-saving and good-looking, offering style, comfort, and functionality.
Customers can rock these pants with casual tees and sneakers for the everyday streetwear look, or if they want something less austere, pairing them with a fresh button-down shirt and some nice shoes is a go-to. Also, great cargo options like khakis pair nicely with almost any top, making them a key fashionable item for businesses to add to their product listings.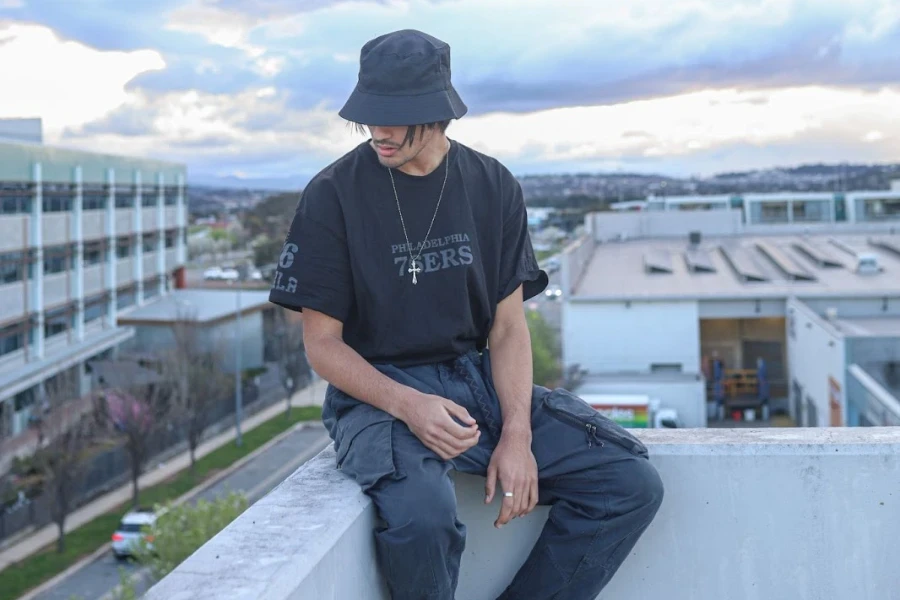 Brands should stock cargo pants in different colors, from classic earth tones like khaki and olive green to bold shades like red, navy blue, or camo prints. Also, consider other fabrics like cotton and twill for different weather conditions.
Layered looks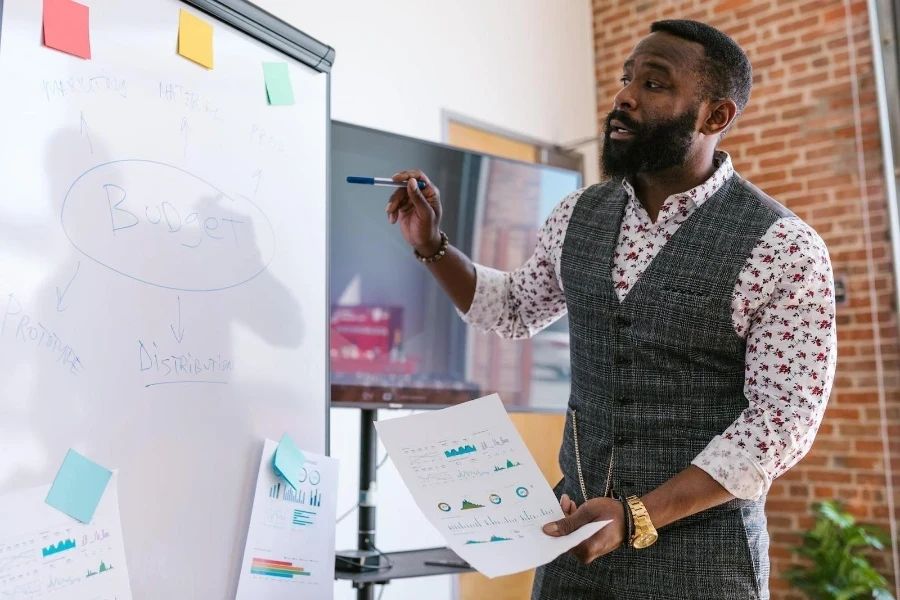 With unstable weather conditions, consumers need a flexible ensemble to adapt quickly to the change in temperature throughout the day. Think comfort in any weather without compromising on style.
The artful layering of clothing allows buyers to express their individuality in the unique pieces they purchase. Men can rock essential items like lightweight jackets, knit vests, and cozy sweaters layered on main outfits wherever and whenever, making them great customer choices.
For instance, shoppers can elevate a simple outfit by adding a trendy cardigan or blazer. Contrastingly, men can adapt a white button-down shirt to a more casual look by layering a knit vest.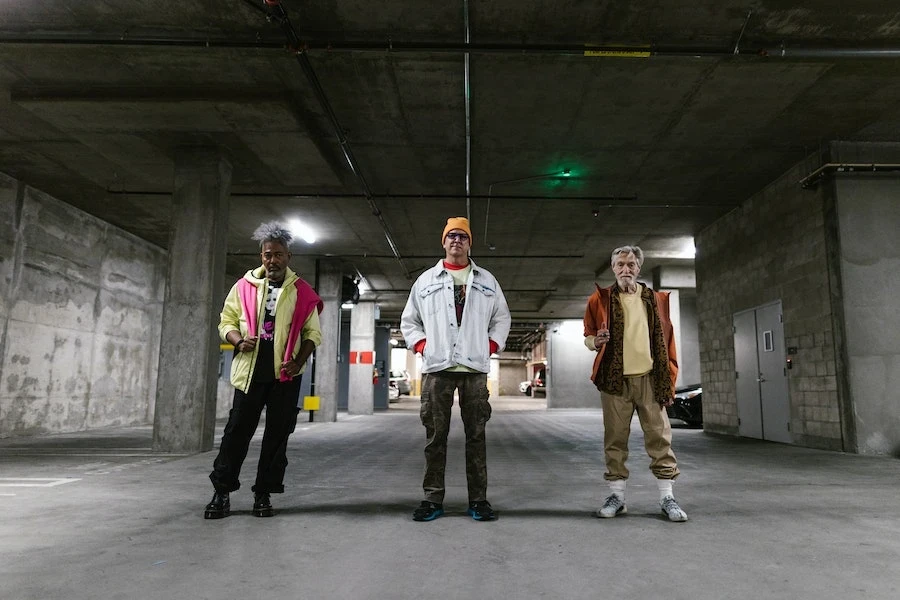 Businesses can add these items in various textures, patterns, and colors, catering to different tastes and occasions. Leverage staples such as denim jackets, pullovers, and lightweight hoodies and showcase their layering potential through creative outfit displays and styling tips.
Statement graphics and bold prints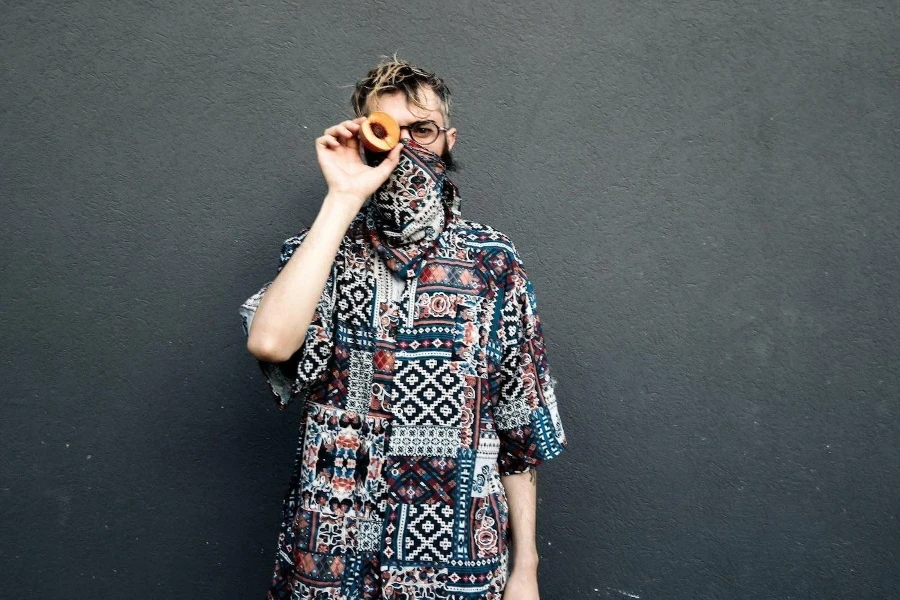 Print shirts have come to stay, and there are no limits to self-expression with this trend. These shirts range from anything with vibrant graphics, abstract patterns, daring motifs, retro graphics, and striking prints to nature-inspired designs like floral and parsley.
By experimenting with these pieces, consumers can feel bolder and more daring. They can pair a striking graphic t-shirt with jeans for the traditional hip-hop style or a printed button-down shirt with tailored trousers for a more formal ensemble.
However, jeans and tailored trousers are not the only things men can wear these shirts with; other bottoms like cargo pants and neutral shorts work well, especially since they are relatively simple, making the shirt's striking pattern more prominent.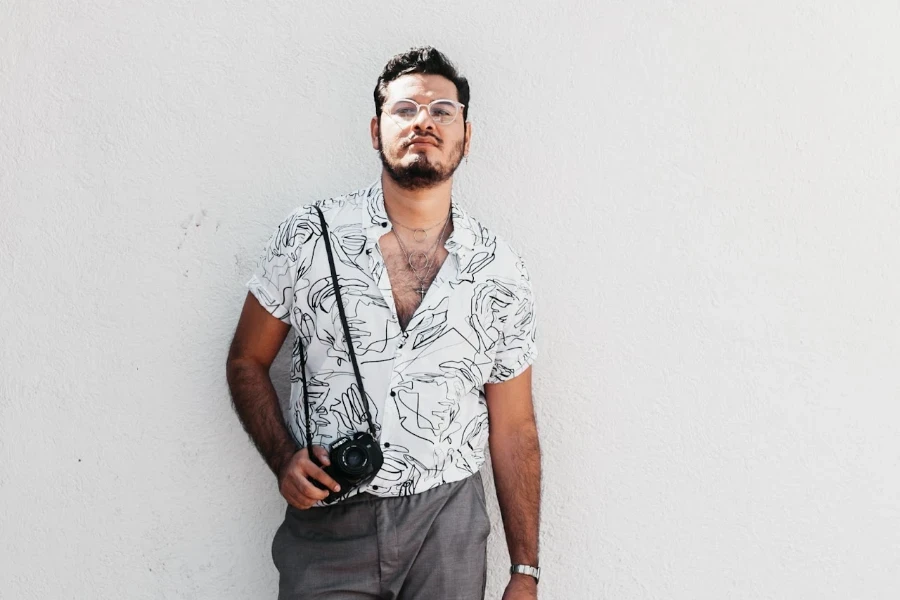 Businesses can collaborate with artists to create exclusive and original print designs that entice customers. They can also attract environmentally conscious consumers by embracing sustainable practices in their catalogs, especially with nature-inspired prints and motifs.
Varsity jacket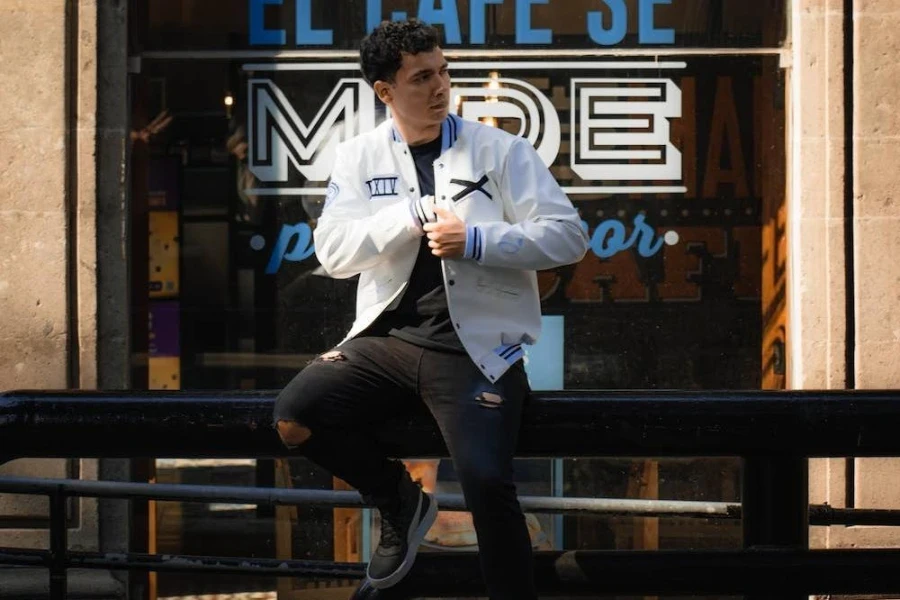 Sporty vibes and sophistication meet in the varsity jacket. Associated initially with American college sports teams, varsity jackets have become an ever-charming and timeless piece, effortlessly blending comfort and versatility into one stylish selection of apparel.
Thanks to its classic silhouette and contrasting sleeves, this jacket exudes a sense of nostalgia and youthful energy that appeals to men of all ages.
Consumers can rock these pieces to suit various occasions. A graphic tee and jeans are good options for a relaxed and casual look, while chinos or tailored trousers with nice button-down shirts are well-suited for formal occasions.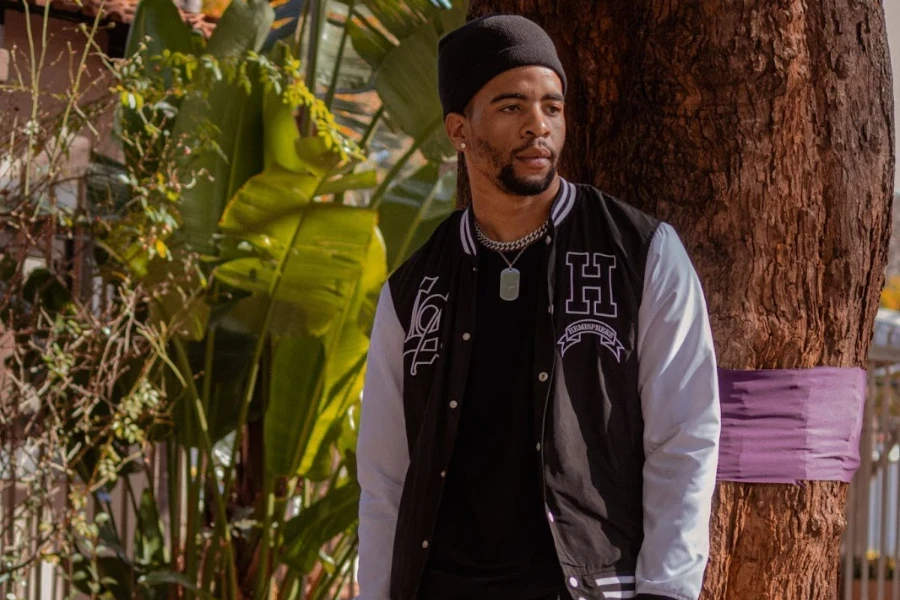 Sellers should offer these trendy pieces in multiple colors and styles, from white and black neutrals, classy navy, and bold hues, to unique patterns and contemporary interpretations. Also, experimenting with different materials, such as nylon or wool-blend, creates more options for customers, thereby increasing the chances for profits.
Final words
Streetwear fashion is vast and versatile, with no limits on styling and functionality. As consumers work to keep their wardrobes updated with the best items in the market, businesses must also stay ahead of the curve by curating thoughtfully crafted collections.
Whether brands stock up on technical outwears, cargo pants, layering pieces, bold prints, or varsity jackets, the key is to capture the essence of streetwear fashion by offering their potential loyal customers comfort, style, and versatility.
Was this article helpful?