Cybergoth slides into 2023/24 with a captivating fusion where style and rebellion intertwine. From the convergence of cyberpunk and gothic cultures, cybergoth presents an alluring and unconventional amalgamation for its niche market.
With its fearless and avant-garde aesthetic, the trend weaves a visual masterpiece that demands recognition in the fashion world. Its market is also thriving, presenting opportunities for businesses to make more sales.
This article will cover five trendy cyber goth outfits making statements at raves, festivals, and other electronic music events around the world.
Table of Contents
How profitable is the cybergoth market?
Top cybergoth trends for 2023/24
Final words
How profitable is the cybergoth market?
The cybergoth market is a growing market primarily driven by the rising popularity of the subculture, the increasing number of consumers attending raves/electronic music festivals, and the growing availability of cybergoth clothing and accessories online.
Clothing makes up the largest segment of the market. The most popular categories include PVC, leather, and latex clothing. Experts predict the PVC market will reach US$ 7 billion by 2031 while expecting the latex category to rise at a 5.5% compound annual growth rate (CAGR) from 2022 to 2030 (with the textile and clothing sector accounting for the largest share).
Leather also boosts the market's growth, reaching a US$ 420 billion value in 2022. Experts expect it to reach US$ 735 billion by 2032, at 5.76% CAGR.
Top cybergoth trends for 2023/24
Street style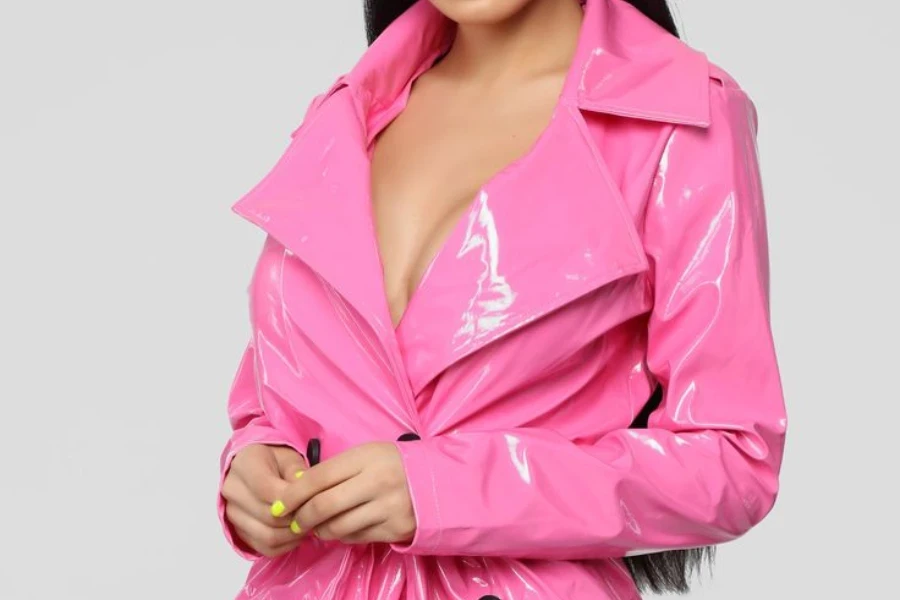 Futurism meets streetwear this season as the cybergoth street style gains incredible momentum. This distinct style creates a striking combination of industrial elements, bright synthetic colors, and a rebellious attitude. The results? A unique and attention-grabbing look that stands out in urban environments.
The cybergoth street style steers away from traditional urban ensembles. Businesses won't find jeans or cotton tops in this trend. Instead, leather, PVC, and latex are the dominant materials. The style often adorns them with metallic hardware, studs, and chains, increasing their industrial edge.
Cybergoths love to layer up, and oversized outerwear is a great way to do it. Retailers can offer coats, trench coats, and parkas in dark colors and cybergoth materials. They should also have plenty of zippers and buckles to keep the cybergoth vibe.
Mesh and PVC are other combinations making rounds in cybergoth wardrobes. Although both lightweight and breathable, they also exude a futuristic vibe, allowing them to feel natural under this trend. Consumers can match mesh tank tops with PVC pants or rock latex shirts with mesh skirts under a PVC jacket.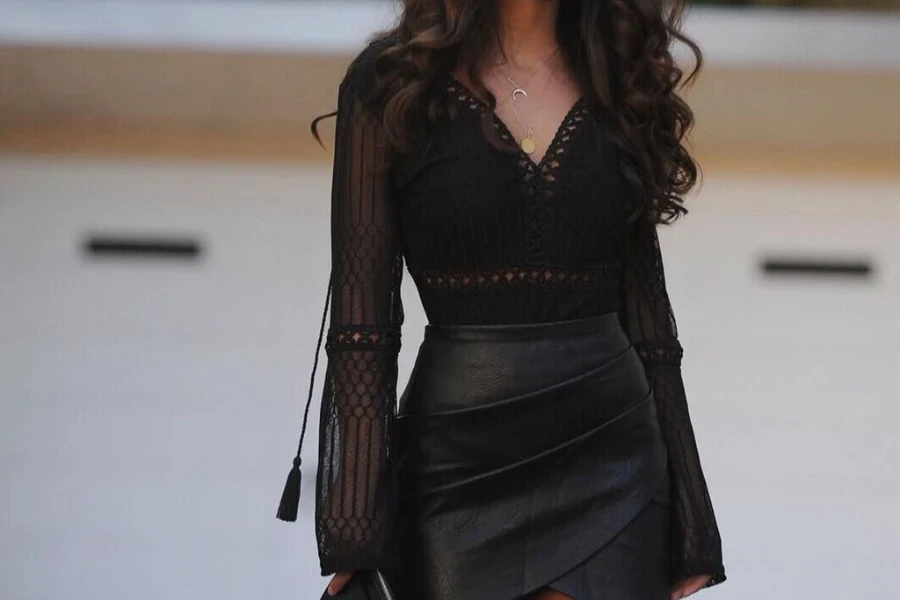 In addition, cybergoths aren't afraid to use color, allowing businesses to offer outfits in bright hues. One stunning cybergoth outfit involves wearing a neon pink dress with a black leather jacket. Consumers may also rock a neon blue latex shirt with a black skirt featuring metallic details.
Rave outfit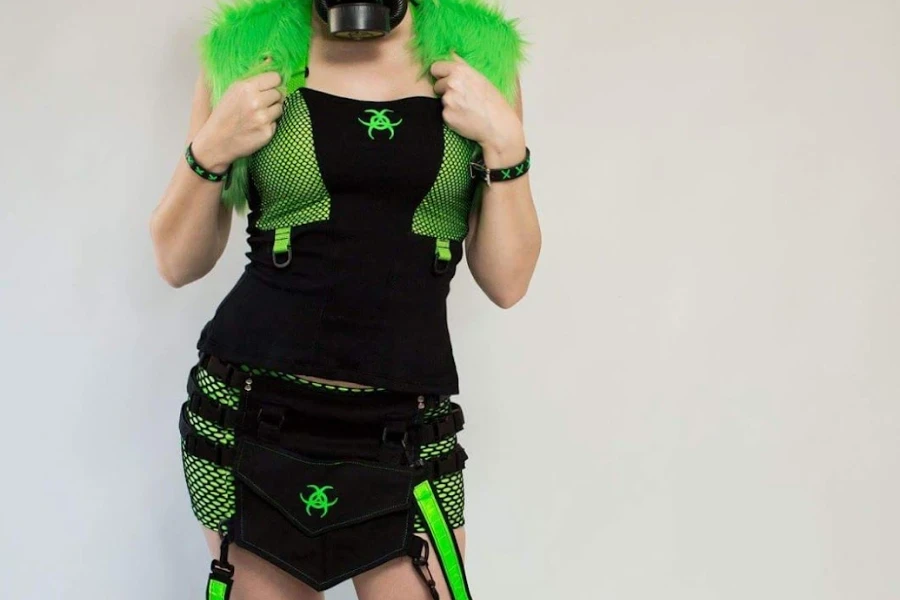 Electrifying and edgy, rave outfits come with everything cybergoths need to shine under neon lights or in club settings. This style combines futuristic elements and bold colors to create attention-grabbing ensembles perfect for dancing the night away.
Holographic clothing is one of the top rave outfit trends – a great way to stand out. Its design reflects light, making consumers look shiny, perfect for the dark, rave environment. One popular option is holographic bodysuits. They're an excellent way for consumers to show off their figures while making a statement.
Alternatively, they can opt for holographic skirts as a fun and flirty option for raves and parties. Holographic pants are also perfect for this trend as they add some edge to the rave outfit. They can pair them with holographic tops to sparkle their entire ensemble or a simple leather top or blouse.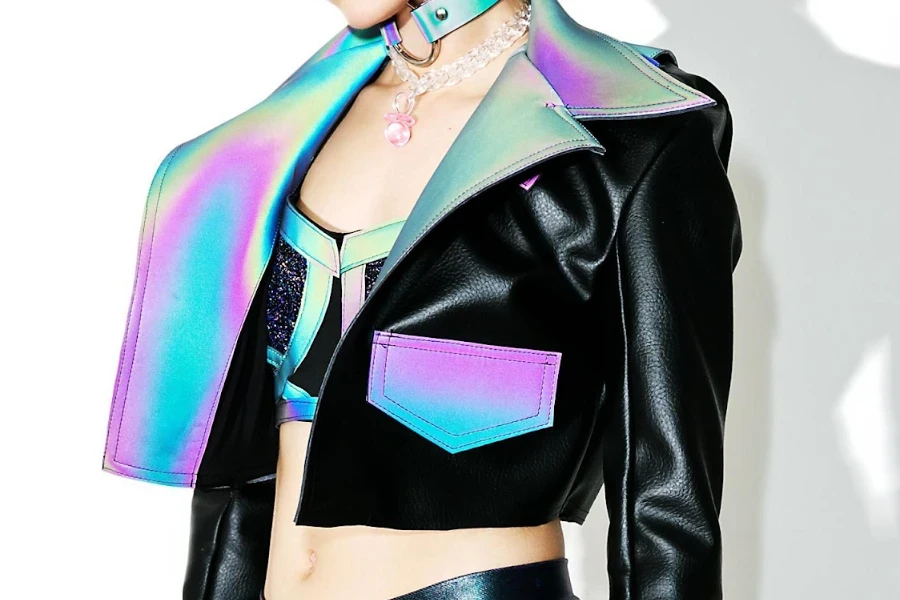 Speaking of glowing, rave outfits often use neon-colored accents to create a captivating and dynamic effect. However, most designs enhance this effect by integrating reflective strips, LED panels, and fiber optics, offering a unique update for traditional rave attires.
Mesh and PVC are also relevant in this cybergoth trend – but with a shiny twist. Consumers can find mesh tops and skirts lined with LED lights or PVC pants featuring a holographic finish in this trend.
Cyber warrior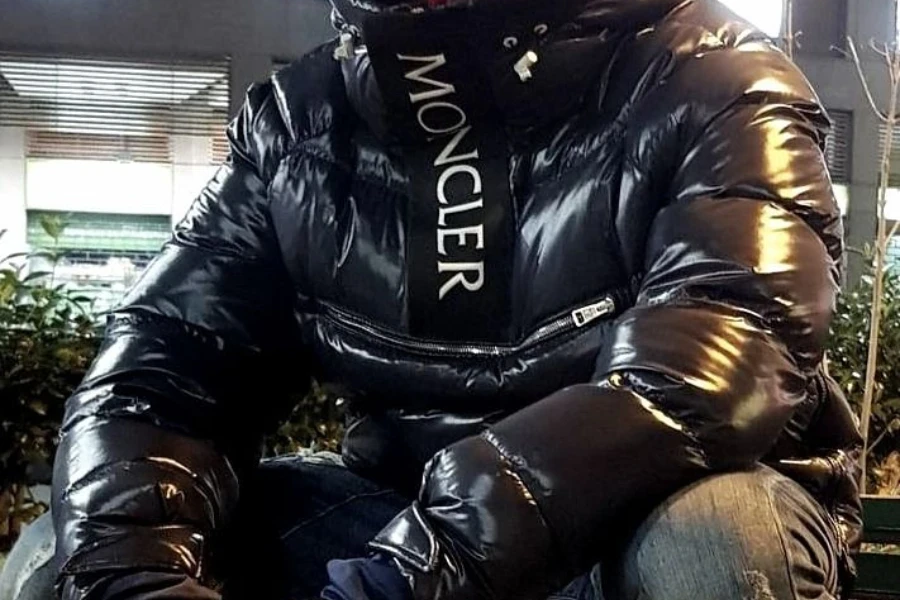 This avant-garde evolution of the cybergoth subculture takes inspiration from the digital age, futuristic technology, and a sense of empowerment. The cyber warrior trend is ready to make bold statements that convey a cyberpunk and powerful persona.
The cyber warrior look often incorporates armor-inspired fashion elements. Usually, it includes faux leather or PVC jackets with angular, metallic shoulder pads and textured paneling. In addition to creating a sense of protection, these garments feature dark colors blended with neon accents, maintaining the signature cybergoth palette.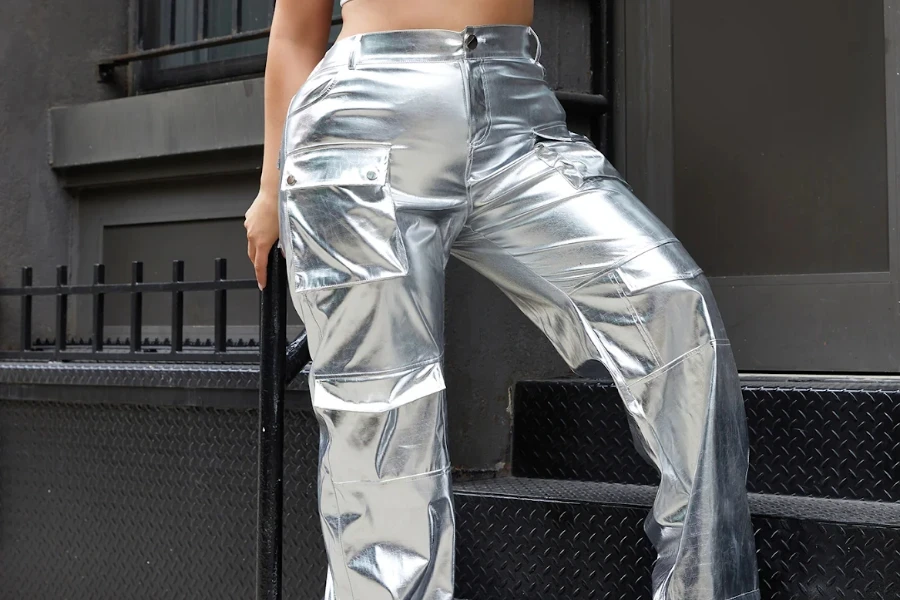 Consumers looking for sleekness and functionality can go the techno ninja outfit route. It requires a form-fitting bodysuit featuring intricate circuit board patterns serving as the base. Over this, they can wear a hooded cloak or trench coat with cybernetic detail drapes.
Cyberpunk mercenary is another fantastic outfit for cyberwarrior enthusiasts. It blends tactical gear with cybergoth aesthetics, allowing consumers to wear vests over mesh long-sleeve shirts. Cargo pants with metallic accents and glow-in-the-dark trims complete the outfit's edgy vibe.
Cyberpunk costume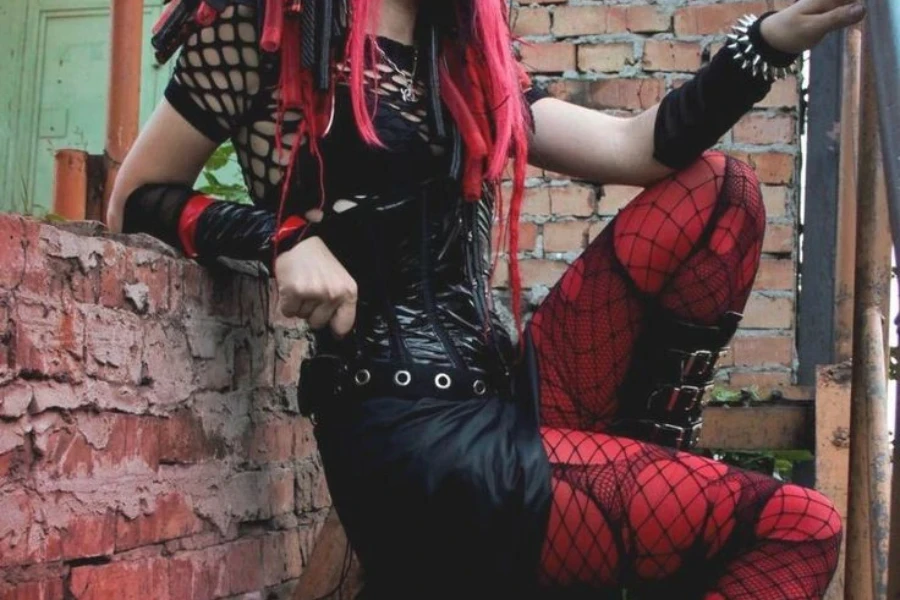 With a mix of high-tech elements, dark aesthetics, and neon vibrancy, cyberpunk costumes enter the spotlight to dominate the cybergoth subculture. This trend is all about rebellious narratives and edgy elegance.
Cyberpunk costumes often incorporate practical pieces to evoke a sense of futuristic utilitarianism. Its lineup often includes asymmetrical jackets with angular lines, metallic buckles, and zipper details. More importantly, the style focuses on creating a fashionable look that can effortlessly navigate a dystopian or cybernetic universe.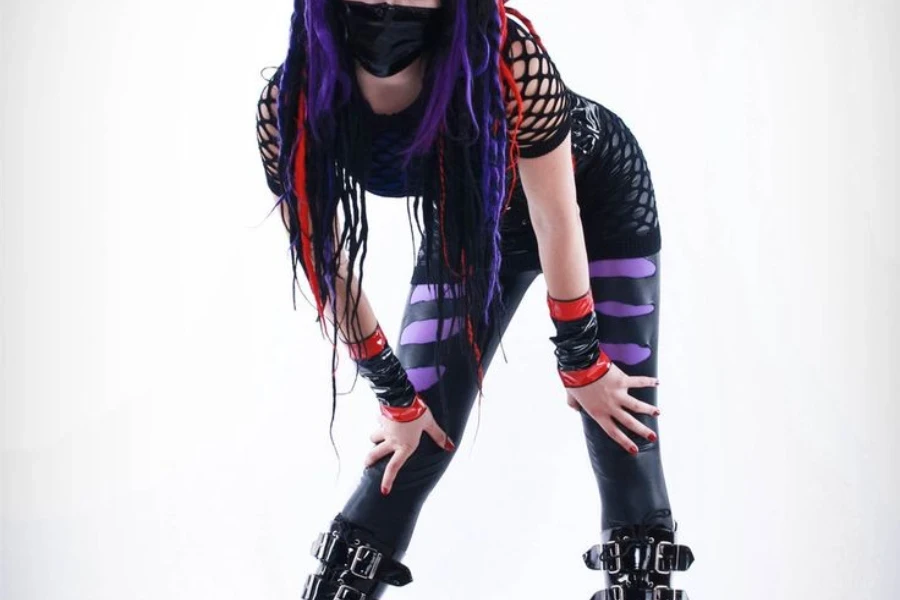 Urban nomad runner is one cyberpunk costume consumers will love this year. It emulates the gritty urban landscape with distressed cargo pants, a weathered leather jacket, and a faded graphic tee. Consumers can add LED accents or accessories to give it a futuristic touch while maintaining a streetwise look.
Channeling the cyberpunk warrior, the neon street samurai outfit pairs a cybernetically patterned kimono-style jacket with metallic leggings. In addition, the tech-industrial engineer outfit incorporates industrial fashion with utility twists. As a result, consumers can rock a utility jumpsuit with metallic accents and neon piping.
Festival attire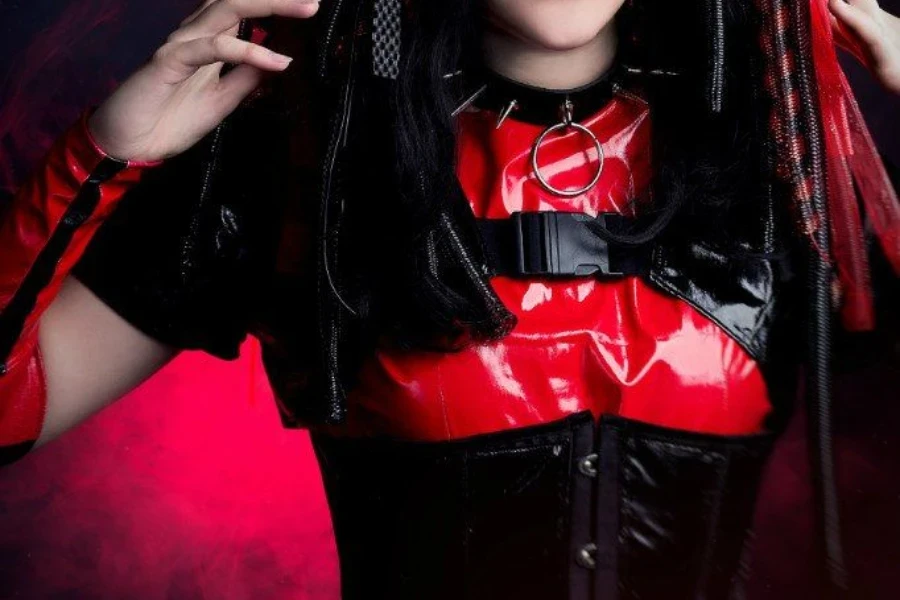 Cybergoths also need outfits to match the vibrant and energetic atmosphere of music festivals and other large-scale events – and this trend is the perfect way to accomplish it. The festival attire creates ensembles that command attention and celebrate individuality in such gatherings.
Following the cybergoth styles, festival attire often utilizes unconventional fabrics and materials to create that futuristic and edgy look. As a result, shiny PVC, metallic fabrics, and reflective materials dominate in this trend, helping outfits to stand out against the festival backdrop.
Layering and asymmetry are also prominent features in cybergoth festival attire. As such, consumers can use asymmetric skirts, dresses, and tops to create an unconventional silhouette. Fishnet stockings, ripped tights, and layered mesh fabrics enhance the style's edgy and textured appearance.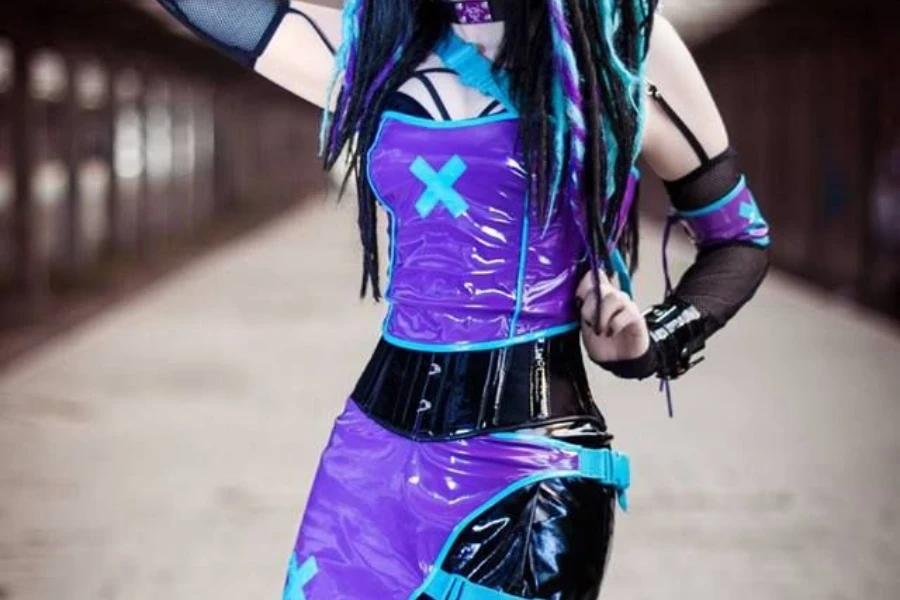 Consumers searching for the perfect festival attire can look no further than the neon cyber raver outfit. It features a neon-colored crop top or mesh bodysuit paired with high-waisted metallic shorts. Wearers can also laver a holographic trench coat or cape to make the ensemble more dramatic.
A futuristic punk rocker look is an ideal option for a rebellious twist. The outfit combines ripped fishnet stockings, a distressed mini skirt, and a band tee featuring cyberpunk-inspired designs. A studded leather jacket adds an edgy vibe to the look, while neon harnesses or body chains will create dimension.
Final words
The cybergoth style boldly defies convention, offering a vibrant and audacious alternative to traditional gothic fashion. Adopting the cybergoth inventory may look daunting with its hardcore and busy appearance.
However, retailers can quickly master this trend by focusing on street style, rave outfits, cyber warrior, cyberpunk costumes, and festival attire cybergoth outfits. Offer these trends in 2023/24 to allow lovers of this subculture to stand out and express their individuality.
Was this article helpful?