Let's face it, the cold never prevents women from dressing their best. Although wearing anything other than comfy joggers and sweatshirts may seem bad for chilly climates, new fashion trends would gladly say otherwise.
Various trends are storming the market, prepping women to look more flattering than the traditional winter wardrobe essentials typically allow. Read on to dive into five outstanding women's winter outfits that are to die for in 2023/24.
Table of Contents
How profitable is the winter apparel industry?
Five amazing outfits women can't resist for A/W 2023/24
Final words
How profitable is the winter apparel industry?
The global winter wear market is set to reach US$ 330 billion this year, while experts predict it to grow to US$ 490 billion by 2033 at a compound annual growth rate (CAGR) of 4%.
The market growth is driven by the merging of style and functionality in winter wear, the rise in urbanization, and increased demand for comfortable and trendy winter outfits. In addition, the surging winter tourism industry significantly contributes to the winter wear market's growth.
More brands acknowledge inclusivity and tailor their products to more diverse body types, fuelling market growth and boosting sales.
Five amazing outfits women can't resist for A/W 2023/24
Oversized coats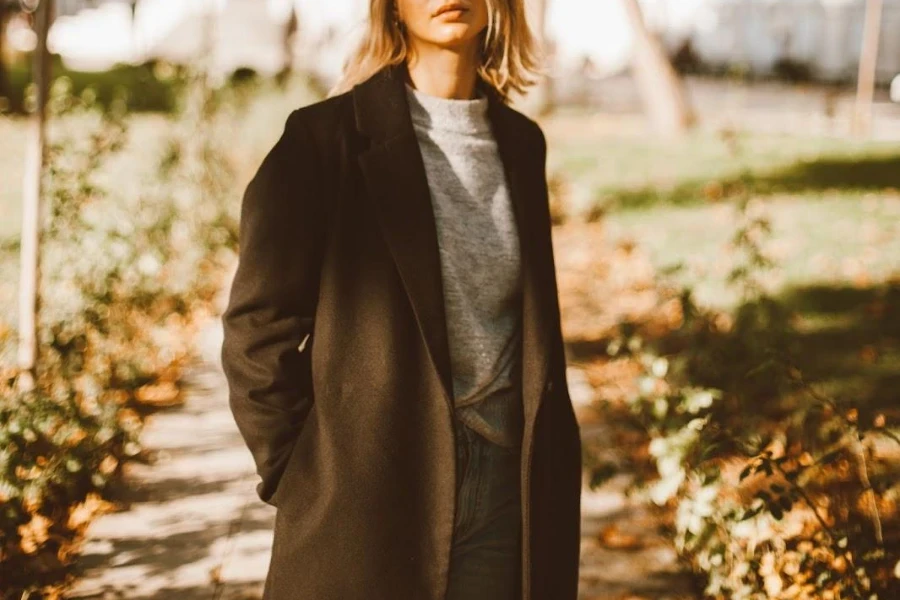 Oversized coats are an absolute winter wardrobe must-have! These beauties are not only stylish but also oh-so-comfortable. Picture consumers wrapped up in a big, cozy cocoon of warmth while still looking effortlessly chic. The oversized coat trend has taken the fashion world by storm, and it's not hard to see why!
One of the best oversized coat trends storming the market now is the trench coat. This unique style packs functionality, style, and comfort into one garment, making it a must-have this season. Plus, women can pull off a sophisticated look by pairing a trench coat with a turtleneck sweater and skinny jeans–a trendy outfit perfect for the office or a casual day out.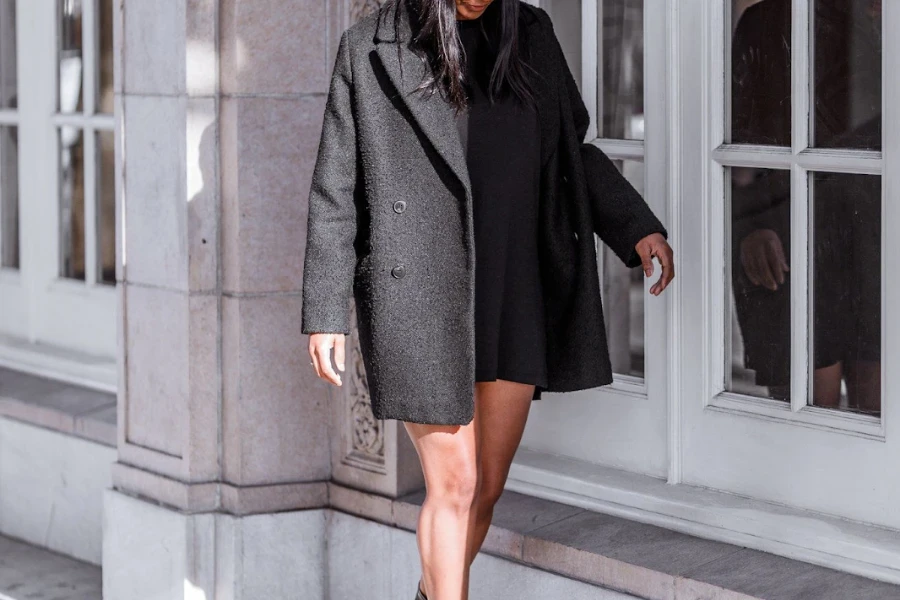 Another trend turning heads this season is the oversized wool coat. Its touch of edgy elegance makes the coat an eye-grabber for any event. Ladies only need to match it with stylish pieces, like a tulle skirt and ankle boots.
The oversized pea coat is another excellent option for a preppy and polished appearance. Women can combine it with a crisp white shirt, tailored pants, and loafers for a refined, confident, and classy outfit.
Consumers in the mood for extra coziness can embrace the charm of the teddy bear coat. And, the season adds statement collars (like Peter Pan collars and oversized lapels) to these soft and plushy oversized coats. Teddy bear coats look fabulous with dresses, skirts, jeans, and leggings.
Oversized coats also move away from traditional colors like beige or black, paving the way for brighter colors to dominate the catwalks. Unusual details, like asymmetrical hems, cutouts, or patchwork, also redefine women's oversized coats in 2023/24.
Faux fur outerwear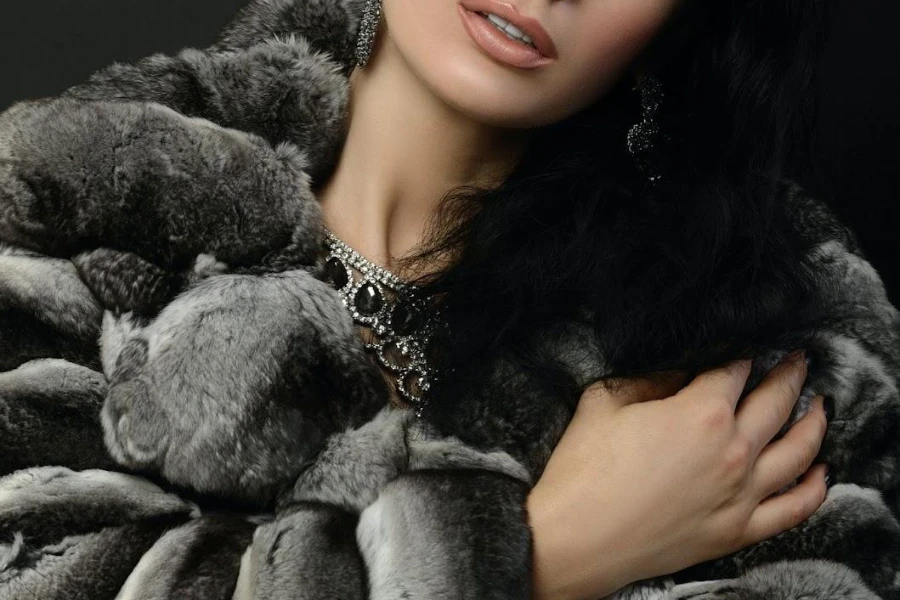 Consumers don't have to sacrifice their love for animals to rock this luxe trend. Faux fur coats and jackets have entered the fashion world with a bang, and they're here to stay, adding a touch of luxury to any winter outfit.
The beauty of faux fur lies in its cruelty-free nature and a wide array of textures and colors. From sleek and silky to shaggy and wild, a fur style suits every taste and preference. Plus, ladies can indulge in the plushness and warmth of fur without any guilt, making it a win-win for both fashion and ethics.
Long, floor-length maxi faux fur coats are this season's major winter trend. They are a great way for women to add a touch of luxury and warmth to their winter wardrobe. Plus, the styling options are endless. They can dress it up with a cocktail dress for a night out or special occasion or dress down with jeans and t-shirts for a more casual look.
Alternatively, women can layer maxi faux fur coats with other pieces to create a more stylish look. For example, the coat perfectly pairs with a turtleneck and jeans outfit.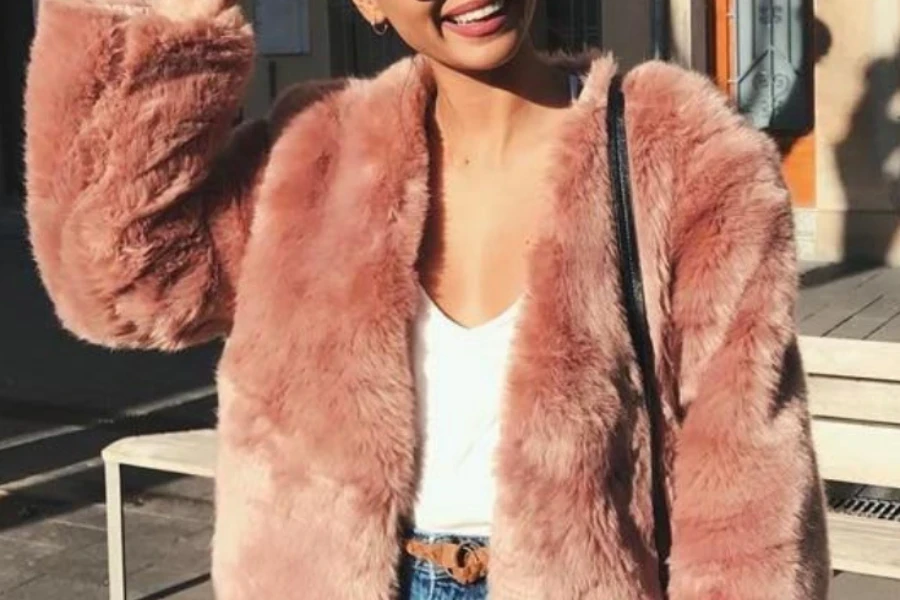 Statement faux fur coats are also popular this season, as they showcase bold colors and patterns to make women stand out. Since these coats are overwhelming, women can pair them with neutral pieces to balance out the look. For example, they can wear a pink and white coat with a simple black turtleneck.
Knitwear and denim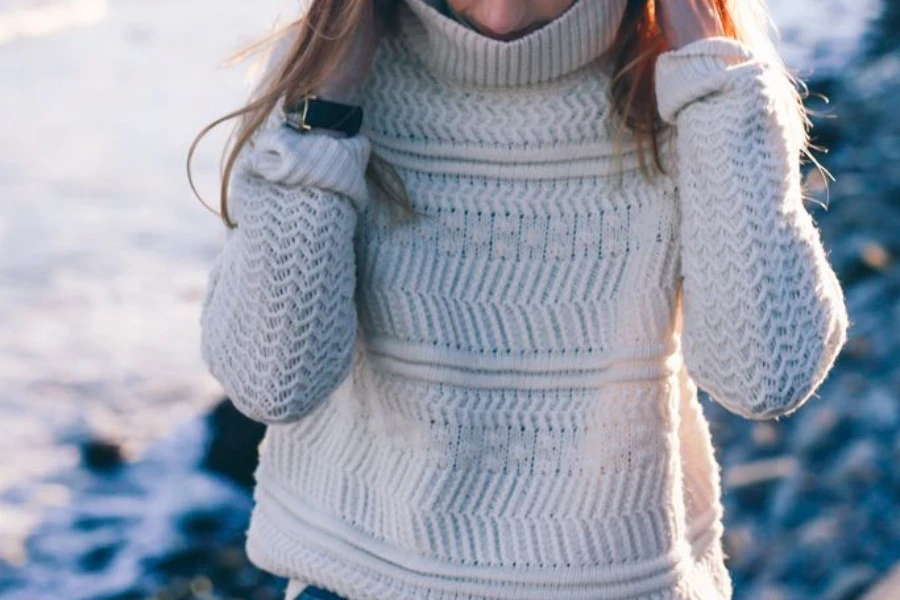 Who says women can't be comfy and stylish at the same time? The knitwear and denim combo is the perfect marriage of cozy and relaxed, and it's the go-to winter outfit for those days when ladies want to look effortlessly put together without too much fuss.
Women have a lot of options when it comes to knitwear. For instance, those who prefer a loose-fitting and relaxed silhouette can opt for chunky sweaters. While they have a comfortable and stylish look, these oversized sweaters are also perfect for layering.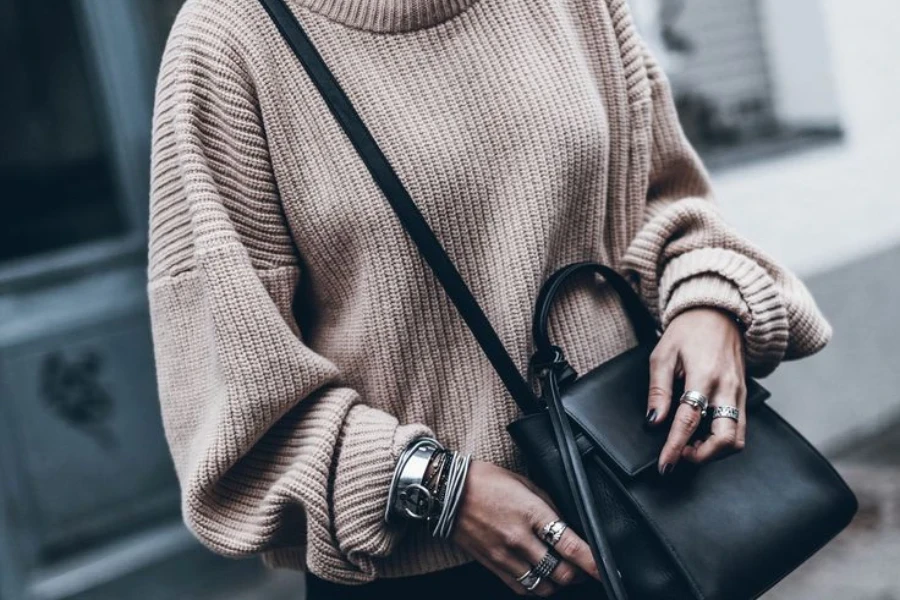 Alternatively, ladies can choose crochet knitwear for its unique texture. They often come in bright and bold colors, making it a great way to add some personality to any outfit. Women can also enjoy them in neutral colors.
Denim also offers endless options to craft eye-catching winter outfits with knitwear tops. For starters, high-waisted jeans are a classic trend that never goes out of style as winter essentials. They're flattering on most body types and can match various knitwear.
Puddle-hem jeans are also popular this winter. Their extra-long, wide hems that pool around the angles are a great way to add some drama and interest to classic knitwear. Cargo jeans are also making a comeback, as they're a great way to make knitwear feel more practical and edgy.
Cargo pants and chunky sweaters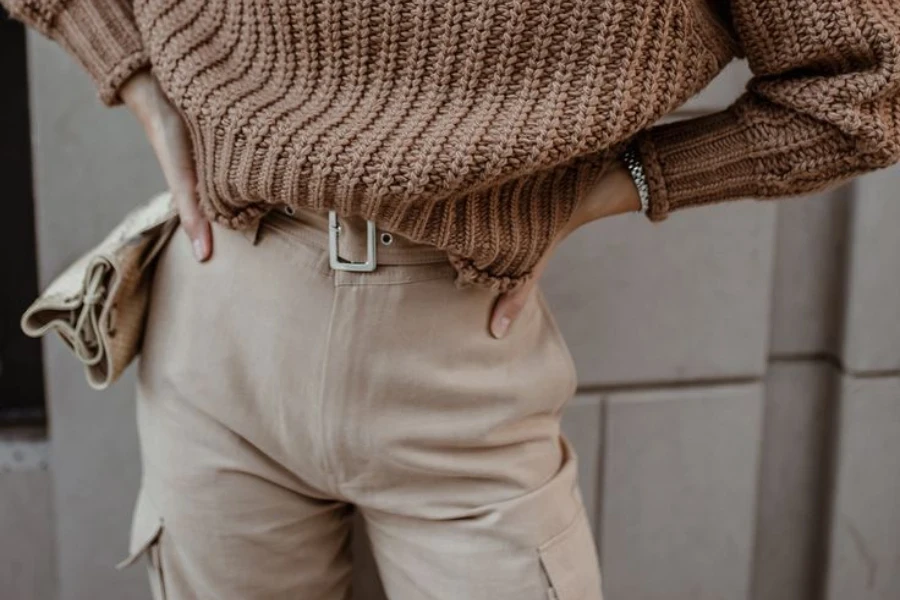 Winter is the perfect season to embrace a utilitarian vibe— and the cargo pants and chunky sweater combo are here to leverage that chance. This outfit is practical with all the pockets and proportions and brings an edgy and urban touch to your outfit.
Cargo pants come in various styles, allowing women to rock a stylish, utilitarian wardrobe. One of the top trends perfect for winter is the relaxed and comfortable baggy cargo pants. They're also an excellent way for women to add some edge to their winter look.
Plaid cargo pants also come in with a unique spin on this utilitarian bottom. They shy away from the serious and edgy design and incorporate a fun and playful aesthetic. As such, it's the perfect cargo pant trend for women looking to add some personality to their outfits.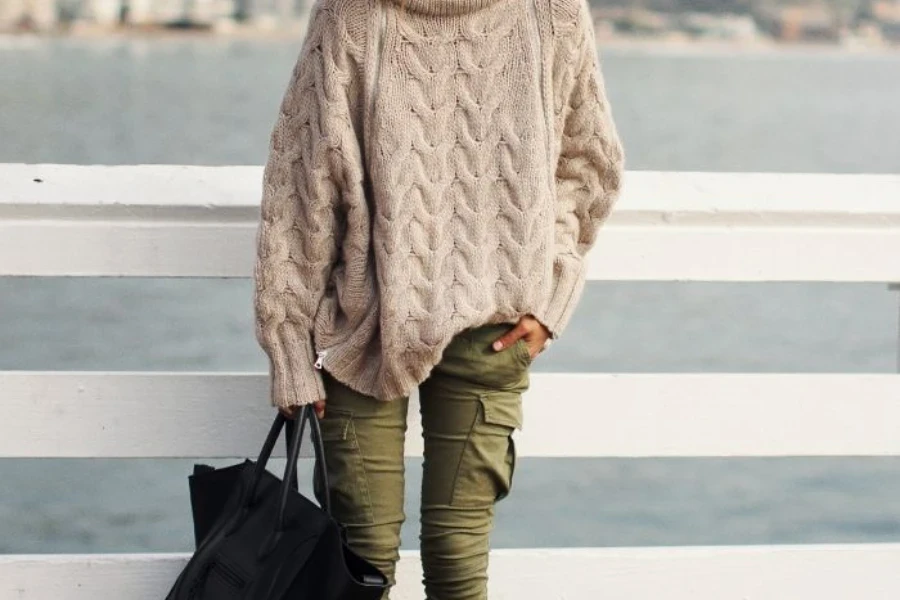 Cargo joggers are another top trend ladies can rock this winter. It balances comfort and style, making it perfect for rocking on chilly evenings.
Although many pieces can match the cargo pant's aesthetics, one that particularly stands out for winter is chunky sweaters. These beauties are all about oversized fits – the bigger, the better! Chunky sweaters can also feature bold colors, patterns, or textures, making these winter outfits feel more vibrant and fun.
Maxi skirts and comfy cardigans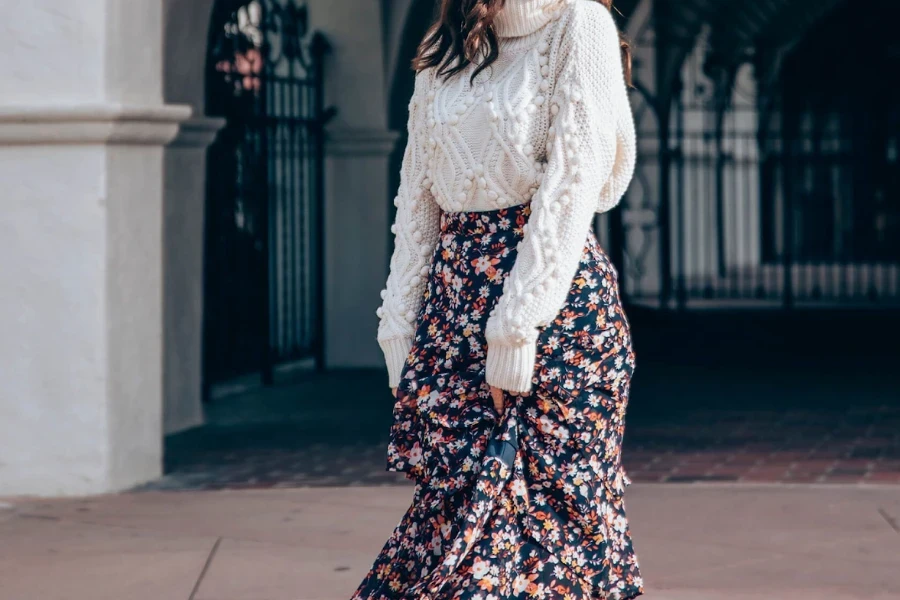 Forget the idea that skirts are only for warmer months. Maxi skirts and comfy cardigans make for a stylish and cozy winter combination that's hard to resist. This trend effortlessly transitions summer maxi skirts into winter staples, keeping women warm and fashionable during the chilly months.
Maxi skirts are versatile to any wardrobe, adding elegance and movement to your winter ensembles. One trend women can wear this season is the pleated maxi skirt. It's a versatile and classic trend that checks all boxes for a chic winter outfit.
Satin maxi skirts also rush in with glamorous designs to make winter outfits perfect for special occasions. Another fabulous option is the tartan maxi skirt. It features a traditional pattern that hosts two or more colors, making it a playful way to spruce up any outfit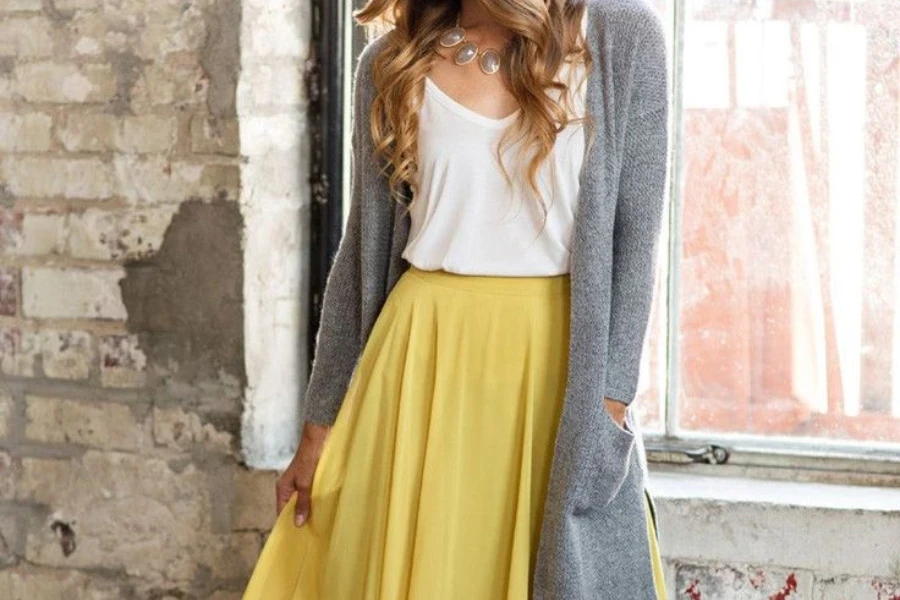 Women can layer up a maxi skirt with a comfy cardigan to keep the chill at bay. For example, they can marry a soft cashmere cardigan with a floral maxi skirt to rock a bohemian vibe. Or, they can throw an open cardigan over a tartan maxi skirt for a harmonious balance between comfort and sophistication.
Final words
With winter fast approaching, the fashion industry is shifting focus to coziness and large statement pieces. As a result, the latest winter outfit trends will prioritize extravagant designs, sticking to the season's overall spirit of fun and glam.
Oversized coats and faux fur outerwear redefine warmth and comfort, while knitwear/denim combos bring chic styles to women's wardrobes. Cargo pants/chunky sweaters deliver a utilitarian and casual blend, and maxi skirts/comfy cardigans show skirts are also perfect for winter.
These are the top five trends to watch for autumn/winter 2023/24 sales.
Was this article helpful?