Despite their small size, mini PCs are surprisingly powerful computers that often match the performance of top-tier laptops and desktops. They are perfect for small home offices, bedrooms, or on-the-go use.
While consumers might need to make some performance trade-offs, the best mini PCs can still include high-quality components to handle all tasks effectively. So, without further ado, this article will offer five mini PC trends to watch in 2023.
Table of Contents
Market outlook for mini PCs in 2023
Five mini PC trends to stock up in 2023
Invest now
Market outlook for mini PCs in 2023
According to the latest report, the global mini PC market is projected to grow by US$ 19.83 billion at a 5.04% annual rate. 
Asia-Pacific (APAC), with China, Japan, and India as key markets, will contribute 38% of this growth. While APAC's market expansion will be slower than Europe's, the IT industry's growth in the region will drive the mini PC market's expansion during the forecast period.
Five mini PC trends to stock up in 2023
Gaming mini PCs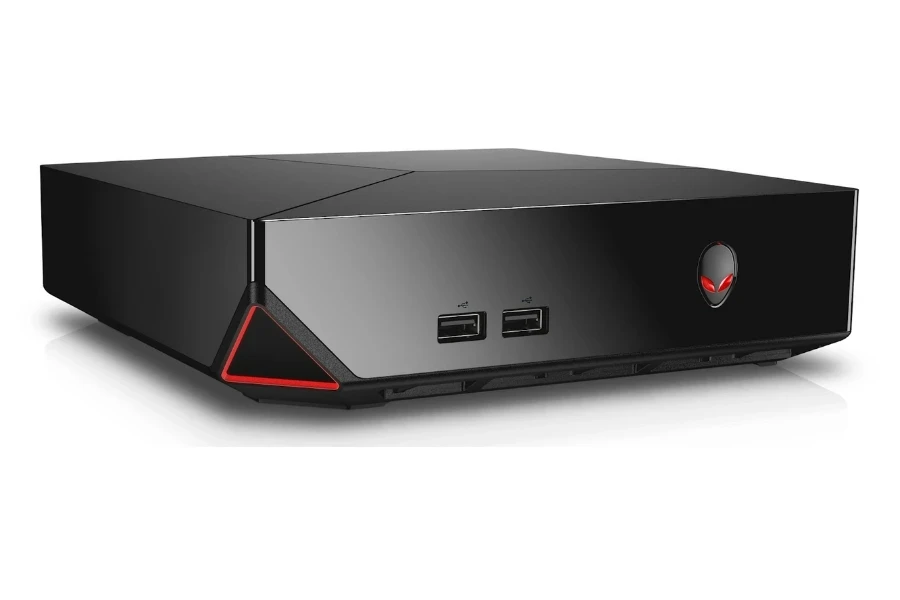 Bigger used to be better in the gaming landscape, but the industry has since moved away from that idea, allowing smaller devices to pack a punch. Now, gamers short on space can still enjoy high performance by opting for gaming mini PCs.
Mini PCs excel in various gaming setups, offering similar qualities as other gaming machines but with enhanced features and looks. They're highly versatile, feature numerous ports, and can run countless gaming titles. 
Their portability is also a significant advantage, especially when compared to bulky desktop towers. Mini PCs can be effortlessly relocated and used in various settings, making them perfect for gamers who share spaces or don't have a fixed gaming spot.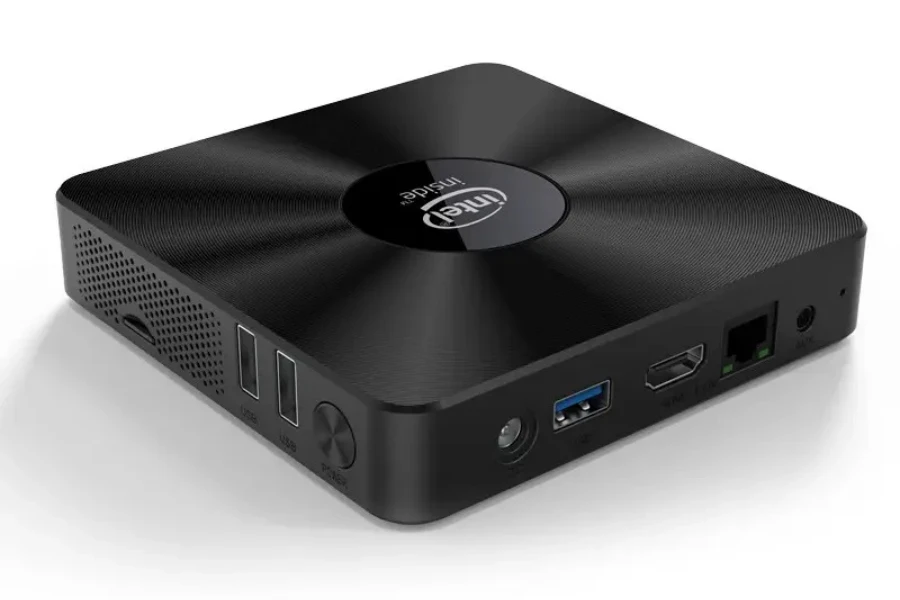 One of the main benefits of gaming on mini PCs is their flexibility for upgrades and customization. They often come with additional PCIe/M.2 slots and roomy cases to make future upgrades easier. 
Plus, gaming mini PCs feature customizable RGB lighting and cool logo options for that extra flair gamers love. According to Google Ads data, this mini PC trend has three high-performing keywords proving their popularity.
"Gaming mini PCs" receives around 8,100 average monthly searches, while "best mini PC for gaming" is even more popular with 14,800 searches. Additionally, "small gaming PC" garners around 8,100 monthly searches, showing the substantial demand for this trend.
Office-oriented mini PCs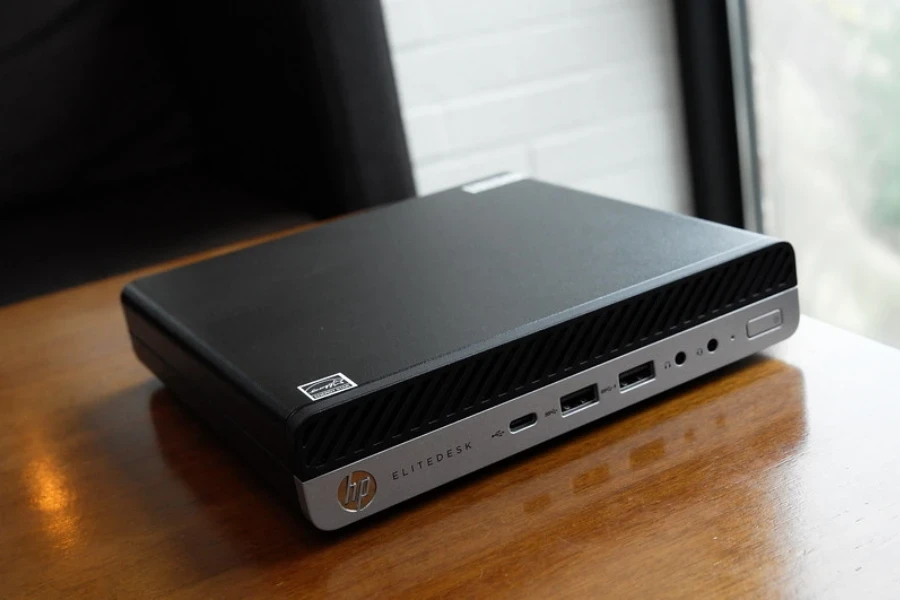 Not every consumer is an avid gamer. Some of them need mini PCs for tasks around the office—allowing office-oriented mini PCs to dominate this space. While they're not as popular as their gaming cousins, office-oriented mini PCs still attract some interest with three keywords.
"Mini PC office" had an average of 260 monthly searches, but it increased by 2% this month to reach 320 searches. On the other hand, "office mini PC" is more popular, attracting 720 monthly searches. "Best mini PC for office" lags with only 140 searches.
Office-oriented mini PCs are usually fanless and use solid-state drives, allowing them to run almost silently. Since they don't perform graphic-intensive tasks, these mini PCs won't overheat despite their low ventilation.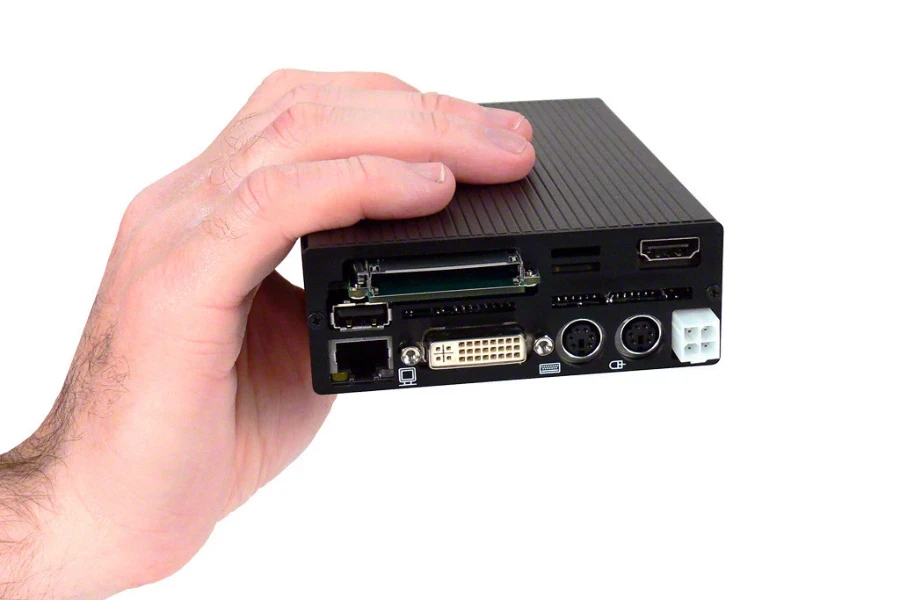 Digital signage is a great communication channel for employees and customers in office settings—and office-oriented mini PCs are the perfect way to power them. They're small enough to fit behind a digital screen, offering fantastic wireless control over the signage content.
Additionally, office-oriented mini PCs offer the computing power offices need to streamline their tasks. They outperform tablets, offering impressive AMD and Intel core chips to handle processor-hungry apps that once required desktop power. 
They also have ample connectivity options, featuring numerous USB, ethernet, and HDMI ports—-making them the perfect ready-to-go business machines.
Stick mini PCs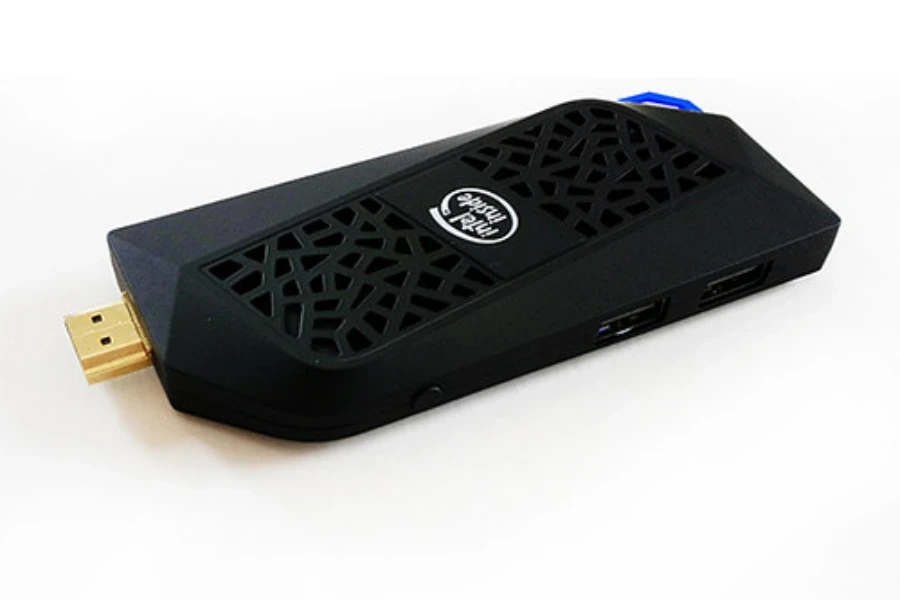 Stick mini PCs take compactness to the extreme, shrinking everything to a size as small as a USB flash drive. These ultra-portable PCs eliminate bulkiness in favor of the sleekest design possible.
Although stick mini PCs closely resemble storage dongles, they use HDMI connectors instead of USBs. Interestingly, stick PCs can still deliver impressive performance (though less remarkable than traditional mini PCs) despite their smaller sizes. However, they can quickly overheat if consumers stress them too much.
Stick PCs can easily fit into tighter spaces since they are smaller than regular mini PCs. Plus, they lack fans, meaning they'll make minimal noise under heavy loads. Most stick PCs use Windows 10 as their OS, but a few exceptions exist.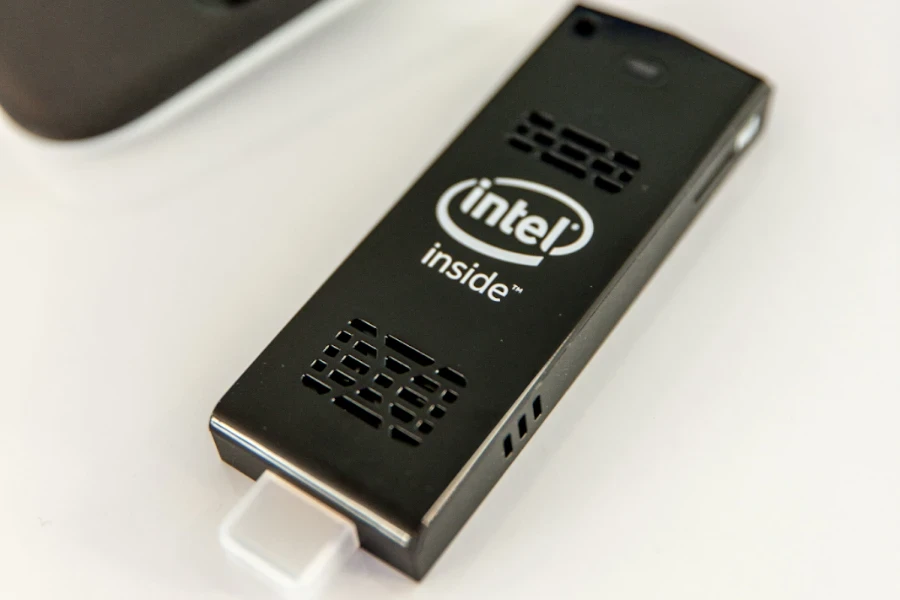 Stick PCs are appealing for their portability, but being so small has drawbacks. Although consumers can plug them into any display with an HDMI port and take them anywhere, fixing any damage could be tricky or costly if something goes wrong inside the tiny device (which has many components).
According to Google Ads data, "stick PCs" receive 8,100 searches, indicating they are more popular than office-focused mini PCs. Another strong keyword is "mini PC stick," with an average of 6,600 searches.
General-use mini PCs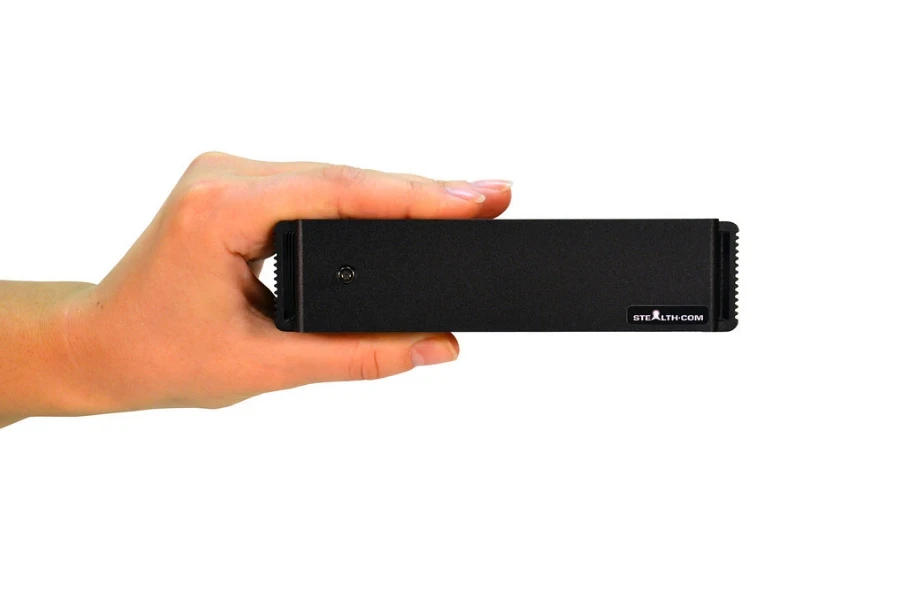 These are what come to mind when people think of mini PCs. These mini PCs are ideal for those who seek better performance than a laptop but desire a smaller footprint than a typical desktop computer.
As the name implies, general-use mini PCs can do a bit of everything. They're a great fit for home theaters—but consumers must set up the operating system and media software before connecting the mini PC to their TVs via an HDMI cable.
General-use mini PCs also have the power to handle business tasks like word processing, presentations, and web browsing. Plus, their compact size makes transforming any room into a workspace simple.
And let's not forget about gaming. While less powerful than dedicated gaming mini PCs, general-use mini PCs can still handle low to mid-tier games.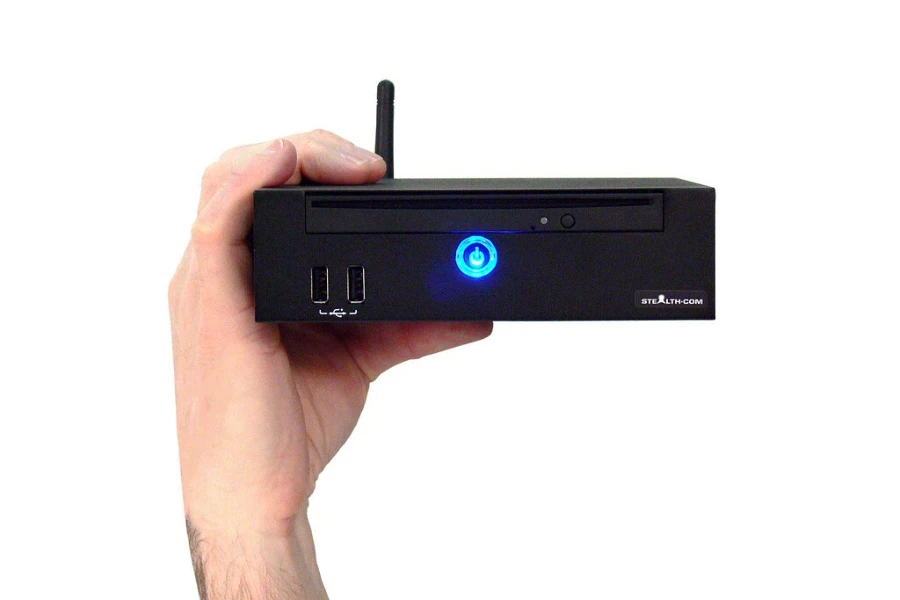 Home automation is becoming easier as more devices get connected to the internet. And with a general-use mini PC, consumers can control various aspects of their home from one device. 
For instance, consumers can remotely control their lights, adjust brightness, or schedule the coffee maker to brew at a set time. They can also link home security cameras and use them as baby monitors—so endless possibilities abound.
Undoubtedly, general-use mini PCs are the most popular—and they're currently trending. At the time of writing, they command a whopping 823,000 monthly searches. 
Budget mini PCs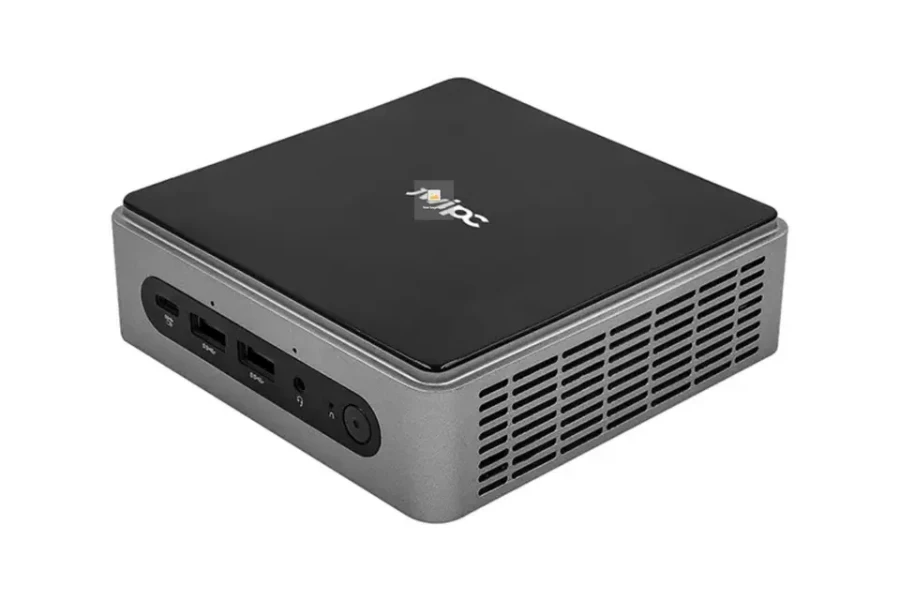 Budget mini PCs are only slightly larger than a stick PC, making them compact enough to fit in tight spaces easily. They often feature the bare minimum for a smooth mini PC experience, like a 12th-gen quad-core Intel N95, 8GB RAM, and 256 GB SSD. 
While they may not be as powerful as an Intel Core or AMD Ryzen CPU, they easily handle tasks like video playback, web browsing, and email management.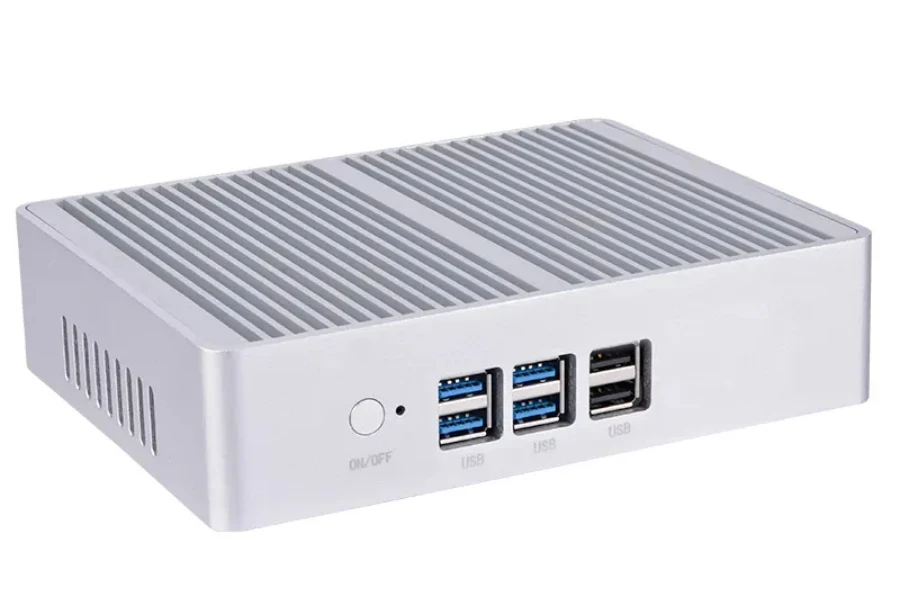 Despite their small size, they offer an impressive array of ports, including USB 3.2 Gen2 (10 Gbps) Type-A ports for fast data transfers, HDMI outputs, a headphone jack, and a gigabit ethernet port. Most variants also have 802.11ac Wi-Fi 5 and Bluetooth 4.2 wireless connectivity. 
Budget mini PCs are gaining notable attention monthly, with over 4,400 monthly searches. The interest rose by 2% this month, peaking at 5,400 searches. 
Invest now
When packing a lot of power into a mini-computer, manufacturers must make inevitable trade-offs. Most mini PCs can handle basic tasks well but struggle with demanding applications that need a fast processor.
Although recent improvements now allow mini processors to host powerful processors, strong graphics, and sufficient RAM/storage, they'll come at a higher price and slightly bigger frames.
Regardless, mini PCs are gaining popularity as alternatives to desktop PCs, and businesses can ride the wave with gaming, office-oriented, stick, general-use, and budget mini PCs.
Was this article helpful?