The world of home décor is constantly evolving, shaped by shifting consumer preferences and ever-changing trends.
In recent years, one style that has captured the hearts of many is boho home décor. This style is common among people with a penchant for vibrant, hippie-inspired design that includes natural fabrics and a splash of subdued color and cream. In short, bohemian décor is popular among those free-spirited individuals who want their home to be their canvas.
According to Research and Markets, the global décor was worth US $715.4 billion in 2022 and is expected to reach US $937 billion by 2028, with a CAGR of 4.6%. 
This is attributed to growing rural-urban migration, increased construction, new homeowners, and simply a growing interest in decorative products like the ones found in boho-style home décor.
It is imperative that small businesses and retailers understand the allure of bohemian décor and how to select the best products to navigate this competitive market.
Here, we'll explain everything you need to know as a business to select the right boho home décor for your customers. 
Table of Contents
The essence of boho style
Factors to consider when selecting boho home décor
Examples of boho décor products
Conclusion
The essence of boho style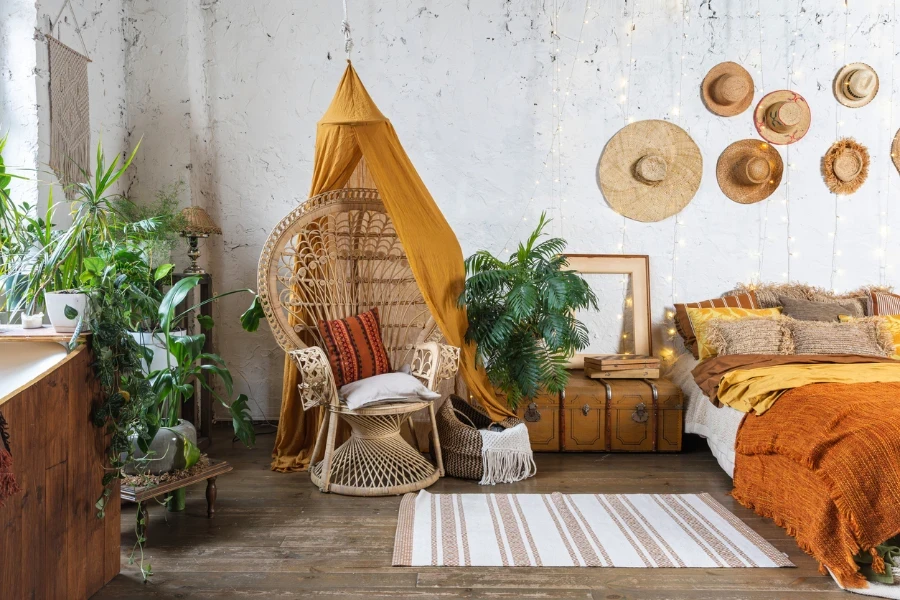 Boho, short for bohemian, is a style that encapsulates the spirit of the unconventional, artistic, and free-spirited. Boho home décor is about creating a relaxed, welcoming space that's full of character. 
Some key characteristics that define boho style include:
Layered textures and patterns: Boho style embraces a mix of textures and patterns, creating a visually rich and dynamic environment. Boho design enthusiasts often use textiles like rugs, cushions, and throws to add depth and coziness to a room.
Natural and sustainable materials: Boho-style home decor often integrates natural materials such as wood, rattan, jute, and organic fabrics. Sustainability is an essential aspect of bohemian fashion, emphasizing the use of environmentally friendly and ethically sourced materials. 
Earthy color palettes with vibrant accents: Earthy tones like terracotta, olive green, and warm browns serve as the backdrop for boho interiors. In addition, vibrant accents in the form of colorful textiles, artwork, and accessories bring a lively and spirited energy to the space.
Embracing imperfections and handmade elements: Boho décor celebrates imperfections, whether in furniture, pottery, or art pieces. Handmade items and unique cultural finds add a personal touch and a sense of authenticity.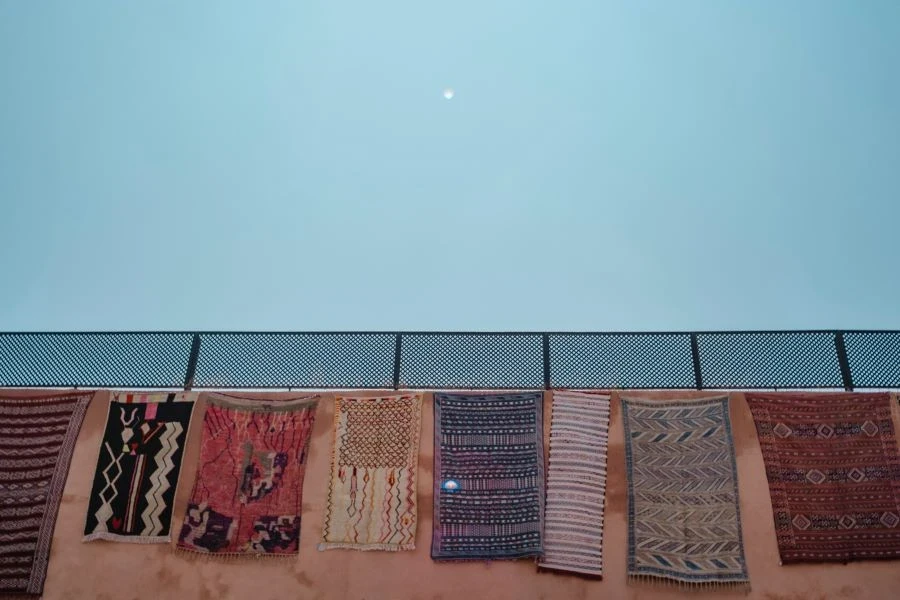 Global and cultural influences: Boho style draws inspiration from around the world, incorporating elements from diverse cultures and traditions. It's a global fusion that tells a story of wanderlust and adventure.
Factors to consider when selecting boho home décor
Small businesses and retailers are advised to consider several factors before stocking boho home décor, including:
Trends
As a small business, you must stay up to date on the latest bohemian décor trends. While the core elements of boho style are fixed, certain aspects, such as color palettes and patterns, may evolve. For example, modern boho décorfeatures calm rather than bold colors, while boho chic tends toward neutral colors and calm patterns.
Which items to stock
Some of the must-haves for a boho home décor business are:
Rattan furniture
Rattan, raffia, and wicker are classic materials for boho-style furniture. 
Carved wood furniture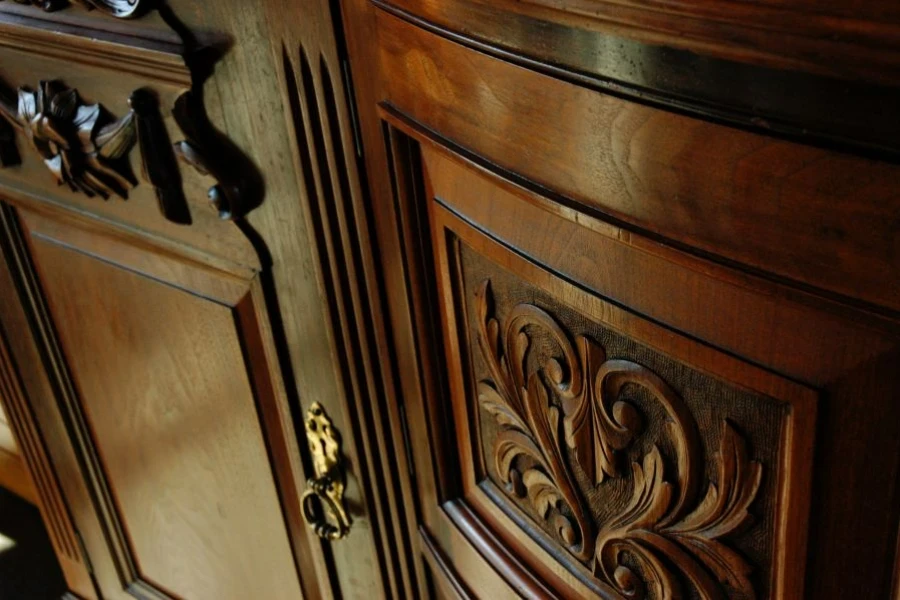 Bohemian décor is all about natural material. As such, carved wood furniture with intricate details perfectly complement the boho style. 
Bohemian rugs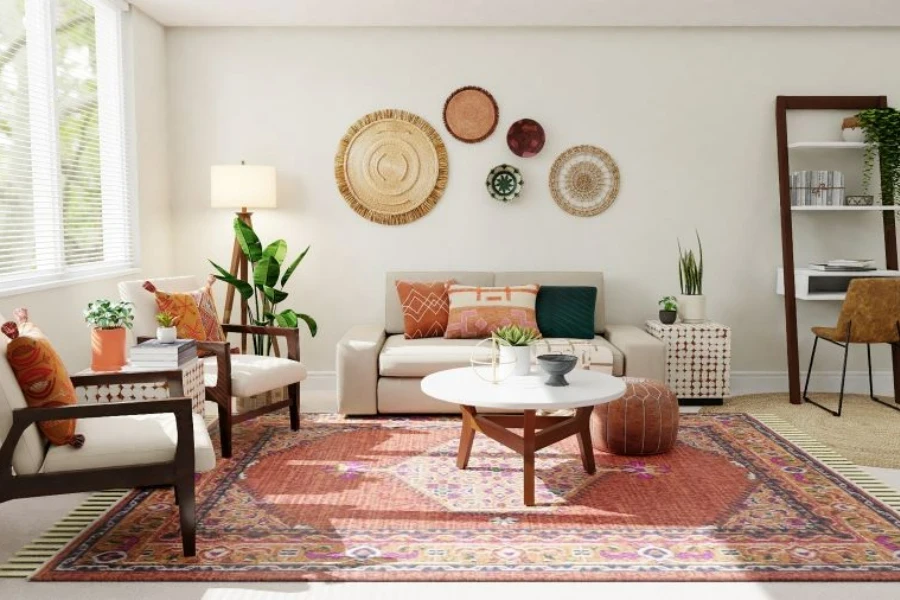 A retailer should also stock a range of bohemian rugs so as to provide your cutomers with enough choices to play around with depending on their tastes and preferences. Some customers prefer colorful rugs while others like neutral rugs using natural textures like jute.
Botanical motifs
Boho décor is greatly inspired by nature. Keeping this in mind, it helps to have different botanical motifs that reflect this more naturalistic style. In addition, by giving consumers different accents to choose from, they will be better equipped to give their space character.
Macramé wall decorations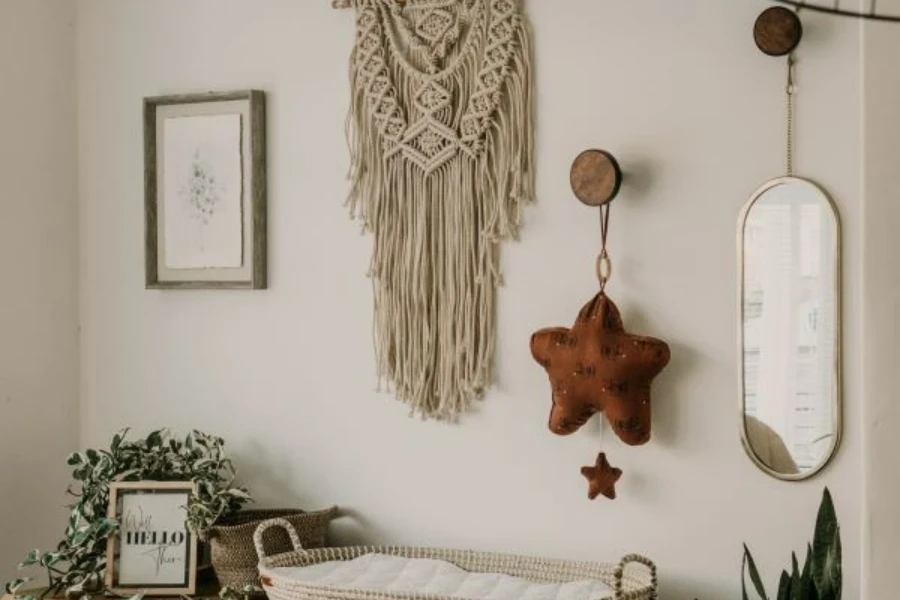 Macramé is a knotting technique for creating textiles. It is popular for beautiful wall decorations thanks to its simple but effective woven aesthetic.
Colorful throw pillows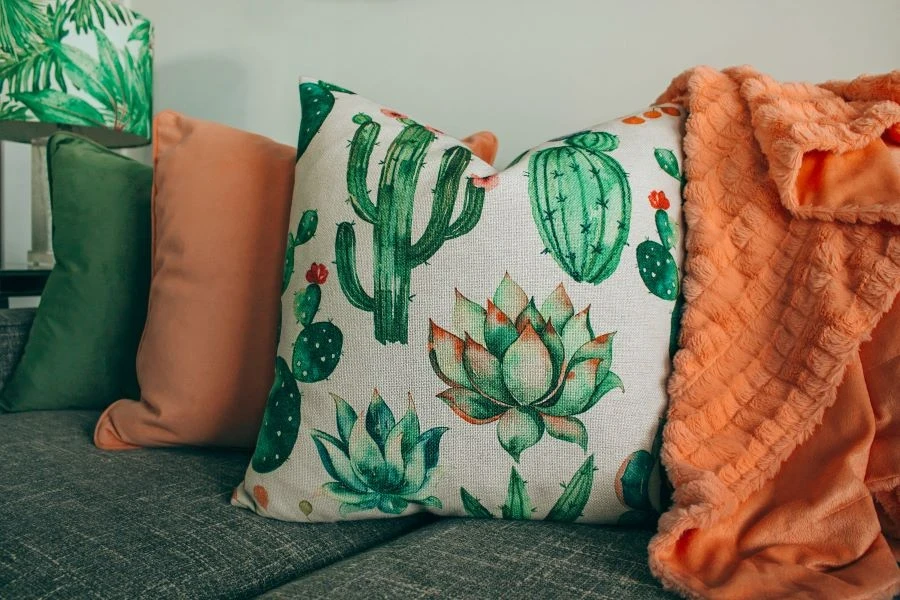 Bohemian chic décor also tends to include a lot of throw pillows. Whether woven or fringed, it's best to have as many colors and styles as possible to give your customers a choice that matches their aesthetic. 
Price
Boho home décor can range from affordable to high-end, so understanding your customers' budget is crucial. For instance, people who are into boho-style home décor are likely to be younger and therefore looking for cheaper options that won't break the bank. Nevertheless, it's wise to select items with a range of prices so as to capture a bigger market size.
Consumer preferences
If you're unsure of your customers' preferences, you may want to conduct a small survey. Some customers looking for boho-style home décor may prefer a more minimalistic style while others lean towards a maximalist approach. Once you know what they want, simply tailor your products to meet their varying tastes and preferences.
Examples of boho décor products
If you are new to the home décor business, we've compiled a few examples that you may want to consider to kickstart your business.
Water hyacinth rugs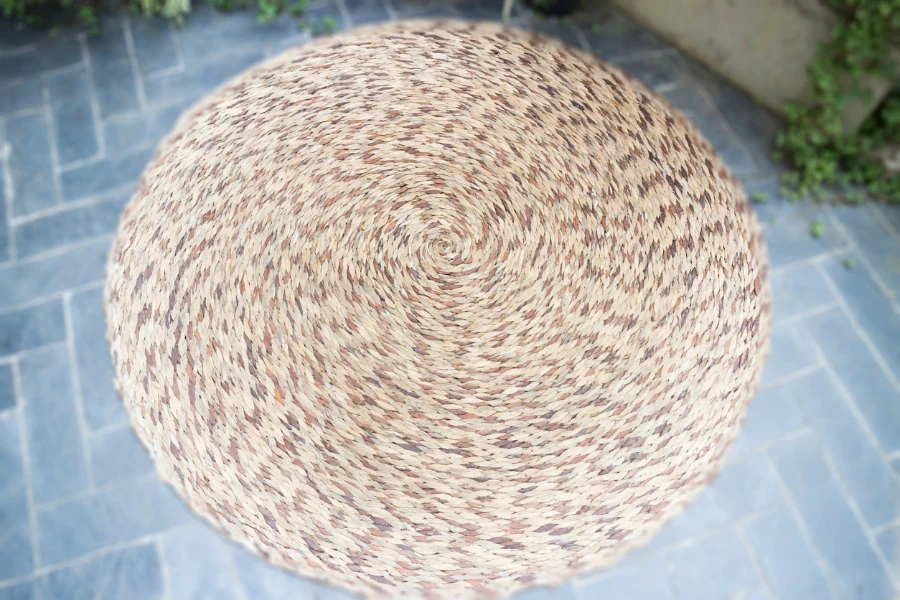 Water hyacinth rugs are great boho-style décor; they are handwoven, natural, have earthy color palettes, and are eco-friendly, giving any room an authentic rustic feel. They are suitable for bedrooms, living rooms, and even hotels. Moreover, they come in customizable sizes, with a minimum order of 50 rugs. 
Vintage bohemian rugs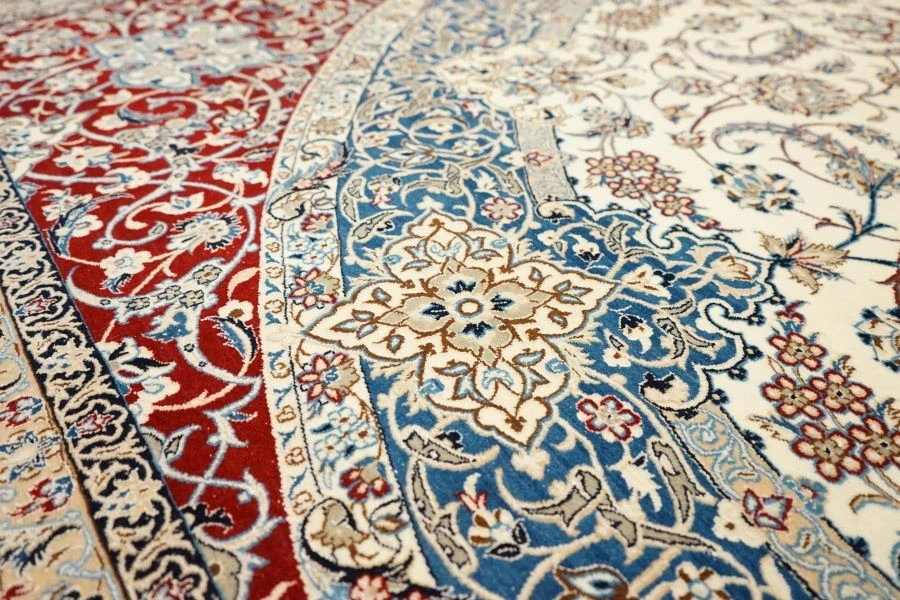 Vintage bohemian rugs are great for customers who want to give their homes an antique feel. For instance, these Turkish bohemian Turkish kilim carpets are suitable for most rooms in the house. Moreover, they're washable, stain-resistant, and pet-friendly, making them a favorite among customers looking for no-fuss furniture items. 
Woolen blankets with tassels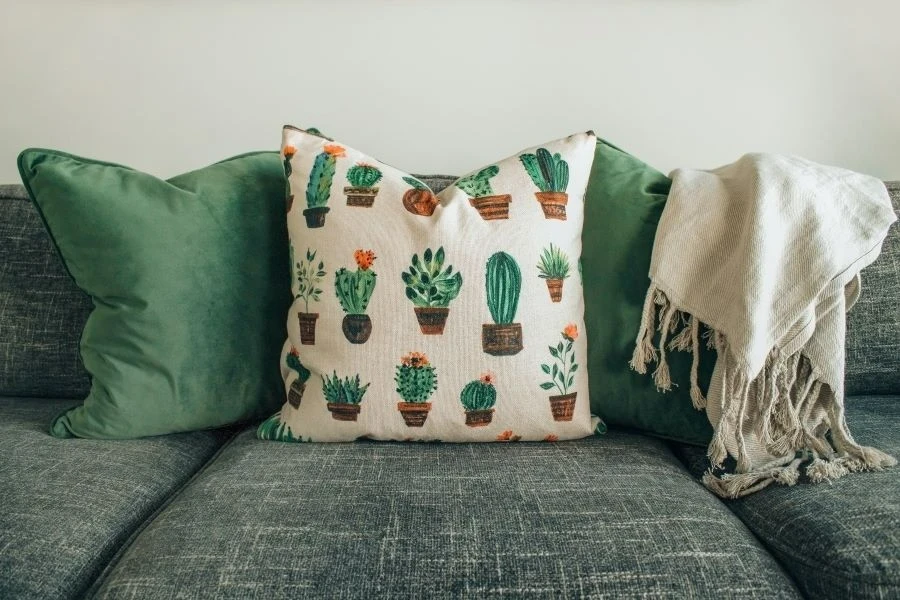 Boho-style home décor is big on tassels. It's no wonder then that blankets with tassels, like this bohemian woolen blanket, remain a popular choice, giving spaces a cozy and homely feeling. These blankets come in many styles, including Mediterranean, Japanese, American, European, or retro. They also come in woven, knitted, or non-woven styles, giving customers a wide range to select from. 
Conclusion
Boho home décor offers an appealing stylistic mix of old-agey traditions, nature, and personal expression. Small businesses and retailers can embrace this popular trend to open up exciting product opportunities and cater to a growing audience seeking unique and vibrant interior design.
Considering market trends, pricing strategies, and consumer preferences can help retailers curate a collection of boho home décor products that resonate with their target customers and help them create truly one-of-a-kind spaces.
So, dive into the world of boho on Alibaba.com, and let your business fly with its free-spirited charm.
Was this article helpful?