If you're planning to start an online business, the first thing you'll need is a tailored ecommerce platform.
The best ecommerce platforms make it easy to sell products and accept payments through your website while streamlining various aspects of a typical ecommerce workflow.
Different ecommerce tools are made for different types of businesses. With so many choices, you'll need to pay attention to features before picking what's best for you.
To make your decision easier, we'll look at ten of the most popular ecommerce solutions available in 2023.
In this post:
How to choose an ecommerce platform
Ecommerce platform comparison
Best ecommerce platforms
Shopify
BigCommerce
WooCommerce
Wix
Adobe Commerce (Magento)
Squarespace
Weebly
PrestaShop
Ecwid by Lightspeed
Volusion
Ecommerce platforms: FAQs
Ecommerce platforms: Wrap up
How to choose an ecommerce platform
Maybe you run your business exclusively online, or own a physical store and need an online outlet. Whatever your situation is, here are some items to consider before choosing a suitable ecommerce platform.
Budget: You can get simple ecommerce platforms ranging from $10 to complex ones that cost over $500/month, depending on your budget.
Scalability: You'll need to choose an ecommerce platform that grows with your business and meets your business needs at each level.
Hosting: Depending on your business structure, you can choose a cloud-hosted or a self-hosted ecommerce platform.
Cloud hosting can be managed or unmanaged. The technology is the same, but unmanaged plans are tricky to set up and run. Most people prefer managed cloud services because starting a new project with them is quicker and easier. Some VPS comparisons show detailed info on both types of hosting.
Customization: Websites with customizable features give you more control over what your ecommerce platform looks like and how it functions.
Customer support: Choose an ecommerce platform with a proactive and responsive customer support team.
Robust product catalog: Having more items in your product catalog lets you provide more details about your products, helping customers make a quick purchase decision.
Functionality and ease of use: Choose an ecommerce platform that gives your customers the best shopping experience.
You'll need to consider all these factors before choosing a suitable ecommerce platform for your business.
In the next section, you'll find a quick comparison of the best ecommerce platforms on critical parameters. These include hosting, source code editing, and integrations with third-party applications:
Get practical tips from successful online stores:
Ecommerce platform comparison
Quick ecommerce platform comparison
Let's take a quick look at how each of these ecommerce platforms compare.
This next section outlines what each platform is best for.
More comparisons:
Best ecommerce platforms
Shopify — Best for ecommerce beginners
BigCommerce — Best for big online businesses
WooCommerce — Best for businesses using WordPress
Wix — Best for individual sellers or smaller stores
Adobe Commerce (Magento) — Best for businesses with technical resources
Squarespace — Best for templates and themes
Weebly — Best and easiest to use for micro businesses
PrestaShop — Best for platform customization
Ecwid by Lightspeed — Best for existing sites
Volusion — Best for stores looking to expand
Now let's walk through some of the pros and cons of Shopify, one of the most commonly used ecommerce platforms in 2022.
Best for ecommerce beginners
Rating: 4.4 out of 5
Ease of use: 5
Top industries that use Shopify: Retail, apparel & fashion, manufacturing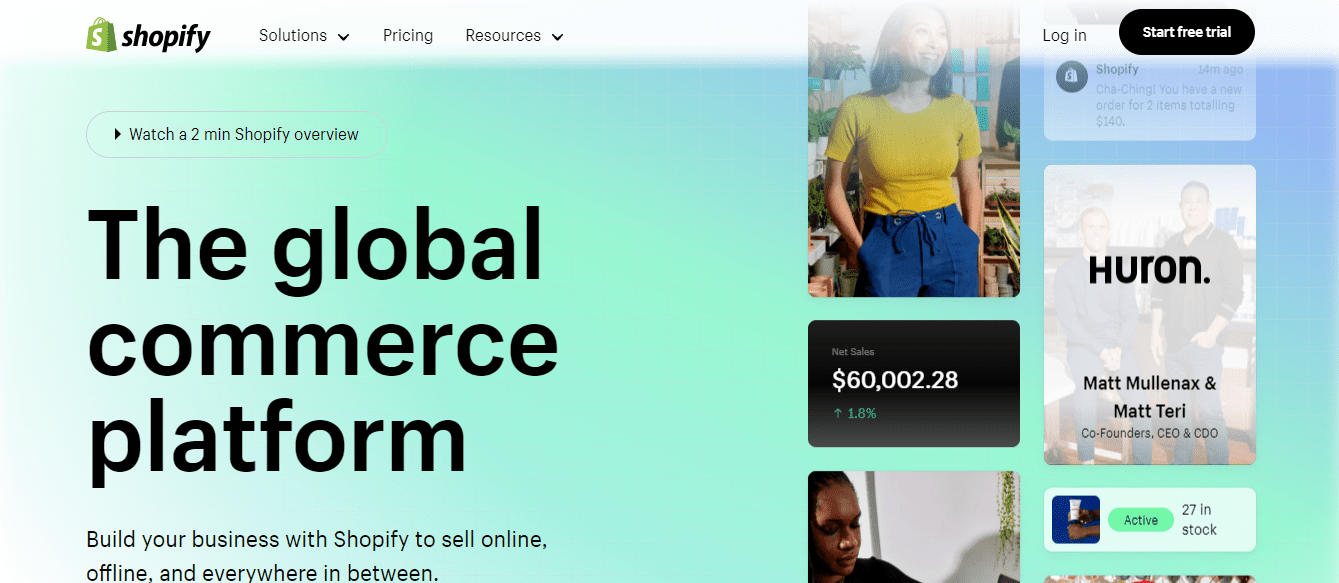 If you're interested in ecommerce, you're probably already familiar with the Shopify ecommerce platform. With millions of businesses in 175 countries around the world, Shopify is one of the most prominent ecommerce solutions in the world.
The tool comes with everything you need to launch your store including hosting, CMS, database configuration, and SSL certificates. You also get a wide range of mobile-optimized ecommerce themes to choose from.
As with all of the best ecommerce solutions, these themes are ready to be used out of the box, and can easily be customized to match your brand's colors and styles.
Shopify also provides basic marketing tools for ecommerce beginners, and you can find more robust options in the Shopify Marketplace. The marketplace contains free and paid apps for optimizing store merchandise and sending abandoned cart recovery emails.
While Shopify isn't the cheapest option, it comes with a comprehensive ecommerce package. It's an ideal choice for non-technical users who value simplicity and ease of use.
Pros
Multiple integrations with third-party applications like QuickBooks
A user-friendly interface
Option to accept recurring payments for subscriptions
A mobile app for both iOS and Android
Cons
The higher tier plans are expensive
There's a limited number of free customizable themes
Pricing
The three major plans are Basic ($39/month), Shopify ($105/month), and Advanced ($399/month). Alternative solutions include:
Starter ($1 per month) for vendors who want to sell products through social media messaging apps.
Shopify Plus ($2,000/month) for high-volume sellers
Commerce Components (modular pricing) for large-scale businesses
Note: You may also have to pay transaction fees depending on your payment gateway.
Customer support
Phone support, email support, live chat, the Shopify Help Center, social media, and community forums.
Best for big online businesses
Rating: 4.2 out of 5
Ease of use: 4
Top industries that use BigCommerce: Retail, manufacturing, and food & beverages.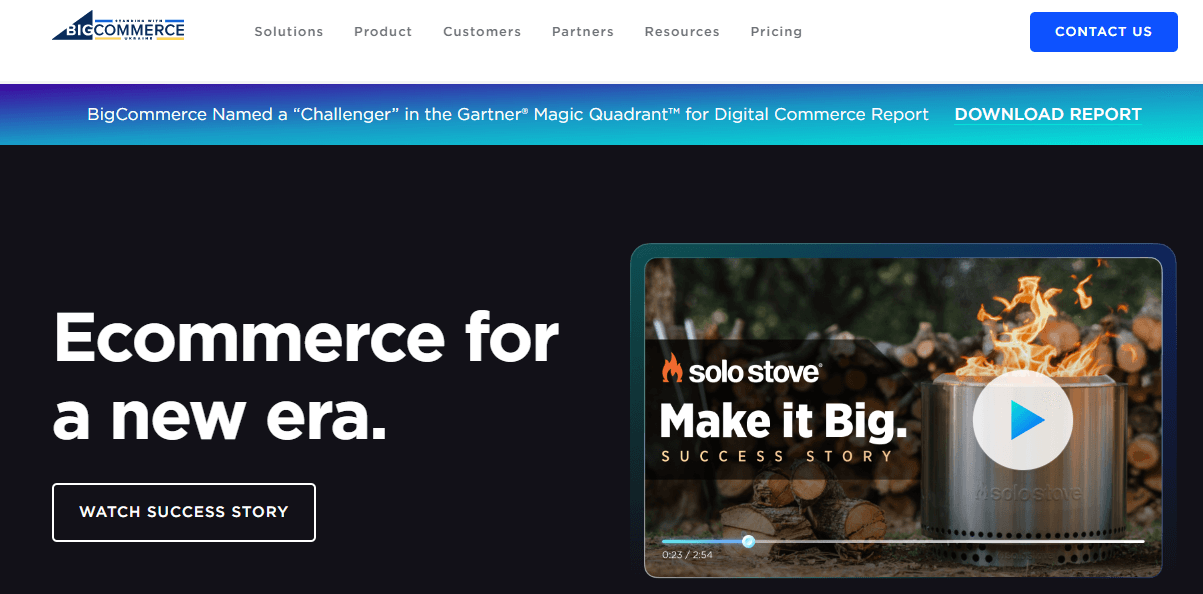 BigCommerce is a sophisticated ecommerce website builder and sales platform that's ideal for both growing businesses and established enterprises. This makes it suitable for scaling businesses.
The platform is a little more complex to use and understand, compared to Shopify.
However, if you have some technical experience then you shouldn't have trouble using this ecommerce platform. Also, its robust set of features makes up for the complexity.
Like other ecommerce platforms, there are more than 100 BigCommerce themes for merchants, some of which are free. These themes are easy to customize giving you control over backgrounds, font colors, logos, checkout, and more.
Like Shopify, you can complement BigCommerce with third-party extensions for an even wider range of functions. These include email and SMS marketing.
Pros
It's easy to accept payments in multiple currencies
There's a good reporting tool included in all plans
It comes with an easy-to-use drag-and-drop page builder
You can try the tool for free for the first 15 days
Cons
Abandoned cart functionality is not available on its basic plan
There's a limit on online annual sales for each plan, and exceeding means you'd have to upgrade
Free themes are too similar to each other
Pricing
Standard ($29/month), Plus ($79/month), Pro ($299/month), and enterprise (custom).
Customer support
Phone support, live chat, support tickets, Help Center, and support forums.
Best for businesses using WordPress
Rating: 4.4 out of 5
Ease of use: 3
Top industries that use WooCommerce: Retail, food and beverages, and construction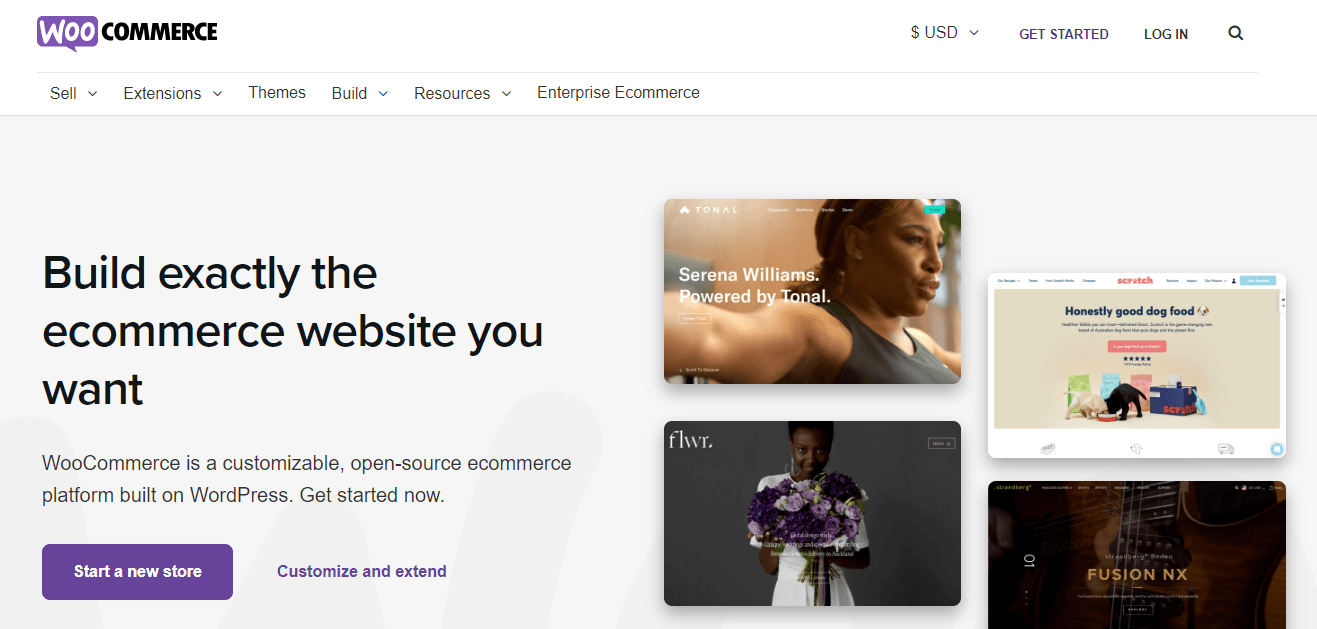 Statistics show that WooCommerce is the most popular ecommerce solution in the world with a 26% market share. Let's see how it stacks up to the competition.
WooCommerce is one of the best ecommerce platforms for people with a self-hosted WordPress website. It's a plugin that enables you to turn your WordPress website into an ecommerce store.
Unlike Shopify, which offers a quick straightforward setup, setting up WooCommerce requires some technical expertise. For starters, you'll need to learn to set up WordPress and have a domain, SSL certificates, and a web hosting solution.
The upside to learning all this is that WooCommerce is highly customizable.
You'll have multiple add-ons, like email and SMS marketing plugins, WooCommerce themes, payment solutions, etc, to customize your online store. Some of these add-ons you can use for free.
The downside to this is that novices may have more trouble optimizing their site than they would with a more straightforward ecommerce solution like Shopify or Wix.
WooCommerce is based on WordPress, so it's a great choice for vendors who want to leverage blogging and content marketing for SEO.
Check out our guide to the best WooCommerce software to find out how to get even more out of this ecommerce software platform.
Pros
It's free to use if you have a WordPress website
Many payment gateways are available
Multiple add-ons are available
Great customization options
Cons
You'll need a domain, web hosting, and SSL certificate
You'll need prior knowledge of using WordPress
Pricing
Free plugin.
Customer support
Live chat support, self-service guide, FAQ page, support ticket.
Best for individual sellers or small stores
Rating: 4.2 out of 5
Ease of use: 4
Top industries that use Wix: Business services, hospitality, manufacturing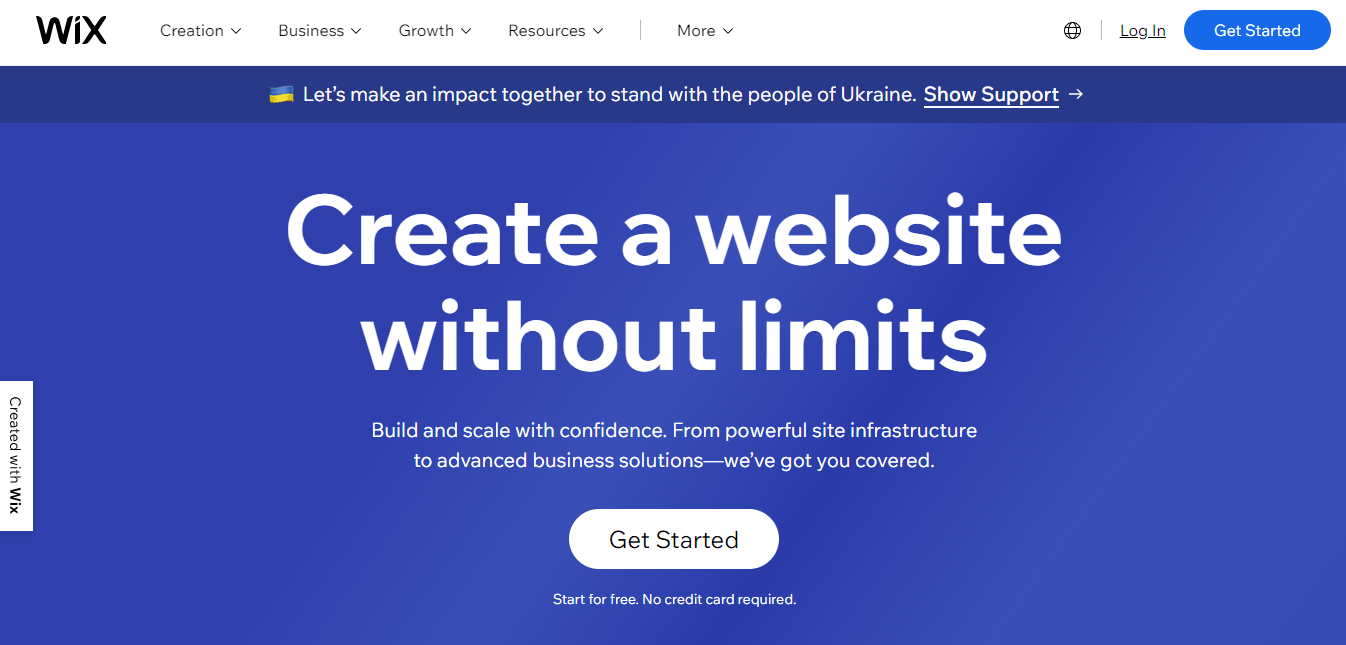 Wix is a hosted ecommerce website builder with separate plans for websites, ecommerce stores, and enterprise-level solutions.
Along with an intuitive and beginner-friendly drag-and-drop editor, Wix also offers infrastructure, SSL certificates, and a free domain for one year with all paid subscriptions.
Unlike other ecommerce platforms, Wix offers lots of high-quality store templates for users. Its plans have robust features including abandoned cart recovery, recurring payments, and the ability to sell unlimited products.
Unlike other ecommerce platforms, Wix is more of a website builder with some ecommerce features than a dedicated ecommerce solution. As such, you may miss out on some of the features that come with other Wix alternatives.
Fortunately, the Wix App Market gives site owners access to a wide range of additional Wix apps.
Another item that sets Wix apart from other ecommerce platforms is its gorgeous website design templates. The tool provides over 85 customizable ecommerce templates for free.
While you can still build a Wix website from scratch, you would be missing out on one of the best collections of email templates and other Wix email marketing solutions.
Wix has an email marketing and customer management solution, Wix Ascend, to help with your marketing campaigns. The tool however has a different pricing guide from Wix plans.
Pros
It's an all-inclusive hosting solution with domain and SSL certificates
Has over 85 free templates
You can sell unlimited products
It's beginner-friendly
Cons
The basic plan has limited storage of only 50 GB
There are only a few dropshipping integrations
Pricing
Ecommerce website plans
Connect Domain: $4.50/month
Combo:$8.50/month
Unlimited: $12.50/month
VIP: $24.50/month
Business and ecommerce plans
Business Basic: $17/month
Business Unlimited: $25/month
Business VIP: $35/month
Enterprise plans
Customer Support
Phone support, live chat, Wix Help Center, and priority support for VIP users.
Related:
Best for businesses with technical and programming resources
Rating: 4.0 out of 5
Ease of use: 1
Top industries that use Magento: Retail, information technology and services, manufacturing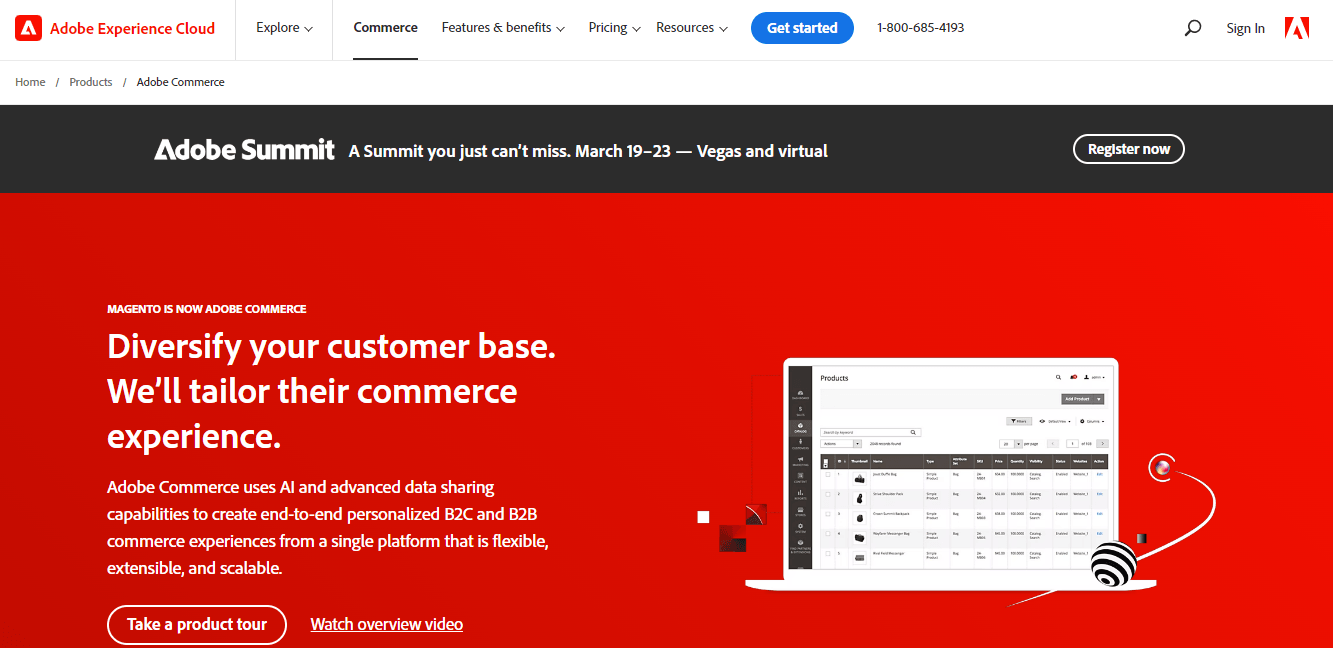 Formerly Magento, Adobe Commerce is an independent ecommerce solution, and one of the best ecommerce platforms in the market. Unlike the ecommerce platforms discussed above, this service was primarily designed for larger organizations.
The setup is difficult and you'll need experienced developers to configure hosting, security certificates, your domain name, and other elements.
The Adobe Commerce solution also provides additional tools such as an intuitive Page Builder, advanced marketing features, and customer loyalty programs.
The Adobe Commerce marketplace offers extensions for everything from customer service to payment processing and order management. While the base platform is robust on its own, you can add a wide range of extra functions through both free and paid extensions.
The sky's the limit with Magento.
Adobe Commerce might be your best option if you have a mid-to-large-sized business and a team of skilled developers to handle the technical side of the platform.
For your ecommerce marketing needs, you can use Omnisend's plugin source code to build reliable, flexible integrations with Adobe Commerce.
Pros
The tool provides unlimited personalization capabilities
It integrates with other products on the Adobe suite
It has advanced analysis features
Cons
It's not suitable for small businesses
Requires technical knowledge
Pricing
The Adobe Commerce platform is available for a custom price depending on your selling volume—contact Adobe directly to get a quote for your business.
Customer Support
Customer support options: Customer success manager, Magento Help Center, customer support forums.
Related:
Best for templates and themes
Rating: 4.4 out of 5
Ease of use: 5
Top industries that use Squarespace: Business services, hospitality, and manufacturing.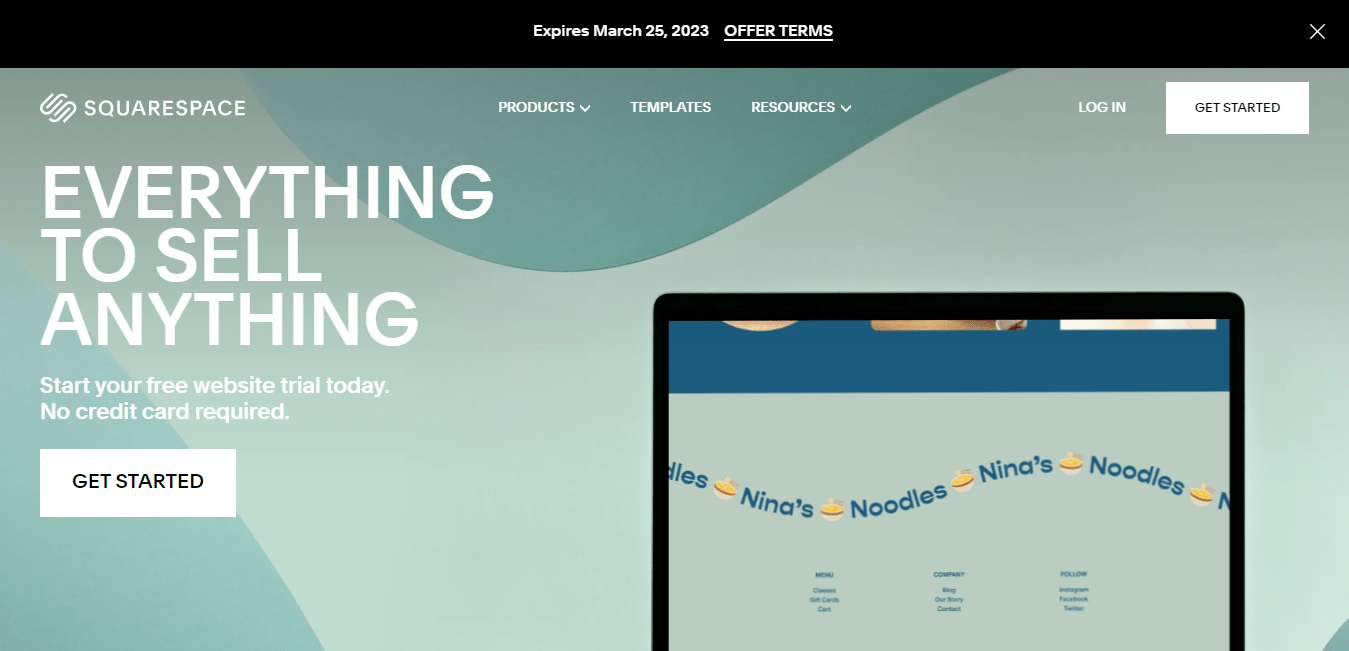 Squarespace is a well-known ecommerce platform that allows you to create not only online stores but also any other type of website you'd like.
One of its main advantages is its wide range of beautiful templates and themes, many of which users get for free. A lot of Squarespace's themes are not only focused on selling, but also on looking good while doing so.
Squarespace includes a free custom domain (for one year), SSL for all of its plans, storage, hosting, and more. It's relatively easy to use and set up, with a drag-and-drop builder that helps you create your website fast.
The ecommerce platform also has great uptime reliability compared to other website builders. That means that you can be sure your store will be online for your visitors to access at all times.
Since Squarespace isn't built exclusively for ecommerce, its marketing offerings are not as extensive as other ecommerce platforms like Shopify and BigCommerce.
If you are looking to extend Squarespace's capabilities, you can utilize their Extensions marketplace.
Pros
It has affordable plans even for small businesses
No technical experience is required
Free quality ecommerce templates
Cons
Abandoned cart recovery is not a standard feature
There is no free plan
Pricing
Starts at $16/month (Personal), $23/month (Business), $27/month (Commerce Basic), and $49/month (Commerce Advanced.
Customer support
Email support, help center, webinars, and forums
7. Weebly (Now part of Square)
Best (and easiest to use) for small businesses
Rating: 4.2 out of 5
Ease of use: 5
Top industries that use Weebly: Business services, retail, organizations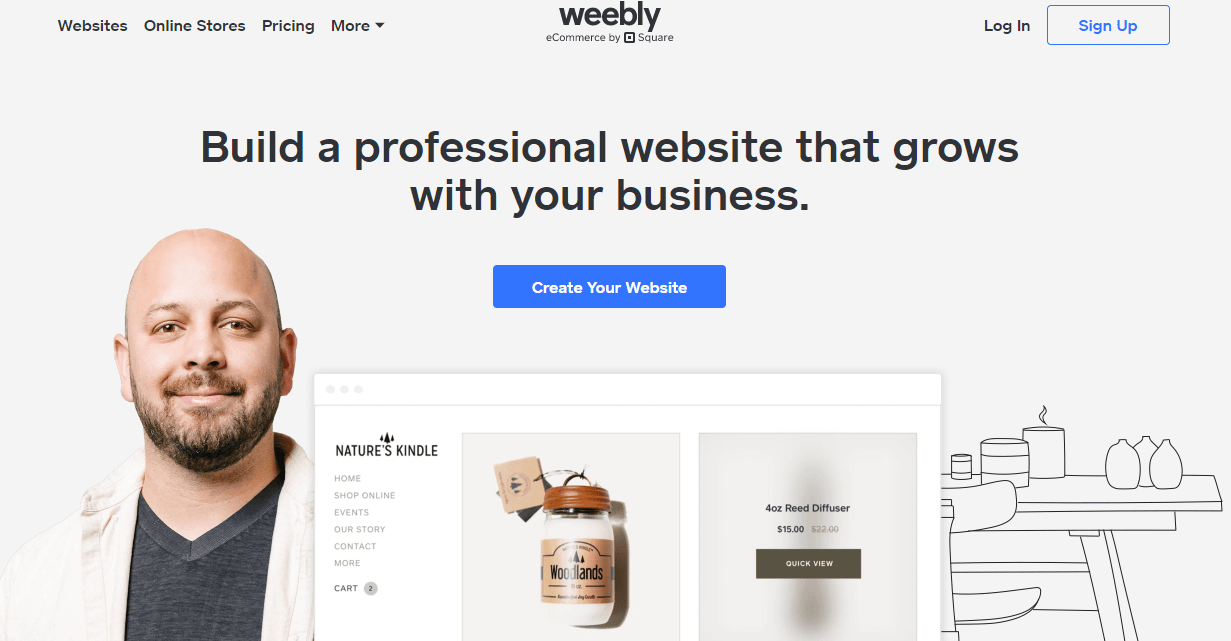 Weebly (now a part of Square suite of tools) is one of the easiest website builders to use, allowing you to get your ecommerce store up and running in no time. Weebly isn't exclusively for ecommerce, so some of its plans will not work for selling products in your online stores.
Because it's one of the easiest-to-use ecommerce platforms, getting started with Weebly is pretty easy. For online stores, merchants get a free domain and Google Ads credits with every plan.
The tool offers a free plan that lets you get your website up and enjoy some features without any financial investment.
Weebly has a good variety of unique layouts for its page designs. These designs range from basic styles to sophisticated ones, depending on your needs and budget. You can edit these templates to customize them to your store's needs.
In terms of SEO, Weebly allows you the basic capabilities to customize ALT texts, metadata, titles, tags, URLs, and so on.
For marketing, you can use Weebly's App Center, which has interesting apps for your marketing campaigns. Unfortunately, it's incomparable to Shopify's App Store and only suited for beginners.
Pros
Has a free plan
Suitable for small businesses
Affordable pricing
Offers a free domain and SSL certificate
Cons
Some design templates are too simple
Can't connect a custom domain on the free plan
Pricing
Free ($0/month), Personal ($10/month), Professional ($12/month), and Performance ($26/month).
Customer support
Phone support, chat and email support, and community forum
Best ecommerce platform for customization
Rating: 4.3 out of 5
Ease of use: 2
Top industries that use PrestaShop: Retail, information technology and services, and computer software.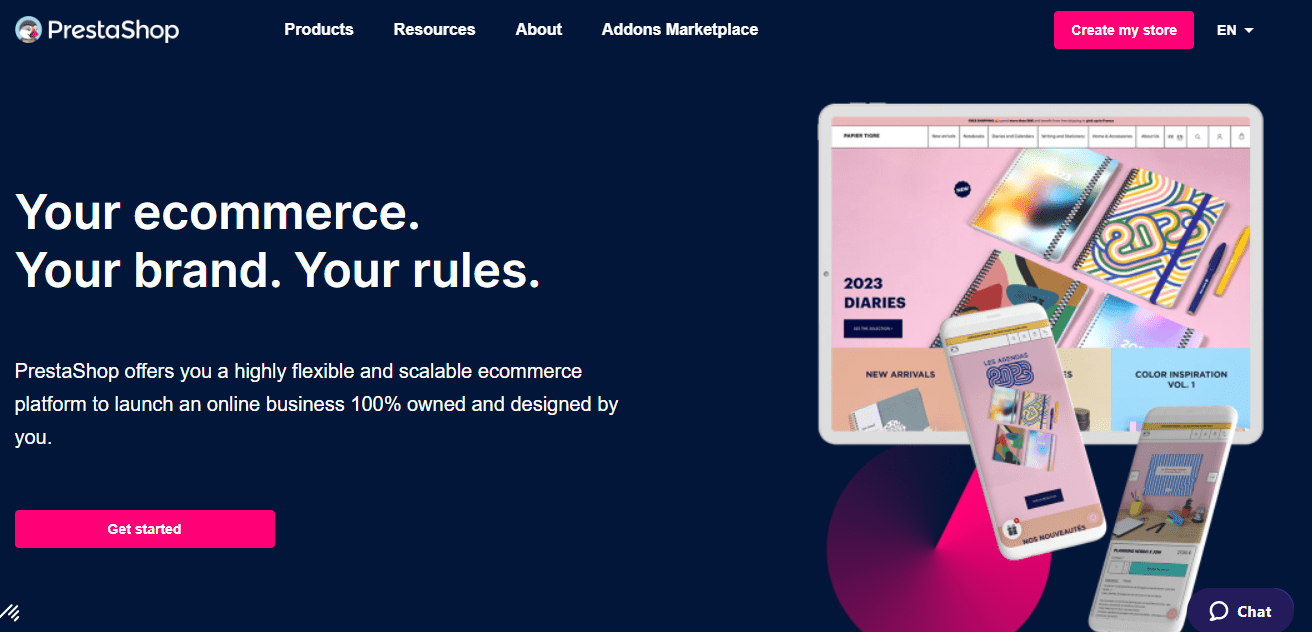 PrestaShop is another one of the many comprehensive ecommerce platforms for businesses of all sizes. The tool offers professional themes, order management, social media marketing, support for multiple languages and currencies, and other critical features.
PrestaShop doesn't offer hosting, domain names, or other basic tools, so you'll need to install it on an existing server. This makes comprehensive solutions like Wix better for those who don't want to deal with things like hosting or domain names.
However, it's easy to get used to PrestaShop's functionality over time once you get past the initial setup.
PrestaShop comes with a deep collection of customizable themes for virtually any industry you can think of. Most of these themes are costly, (between roughly $100 and $200), so you should be confident in a template before committing to it.
After setting up a theme, you can quickly customize nearly every aspect of the design including checkout and product pages.
Vendors can also accept a wide range of payment methods, maximizing their potential audience and making payment as convenient as possible for each unique buyer.
The tool has marketing add-ons like PrestaShop Facebook for social media integration, PrestaShop Marketing, etc.
Pros
It's a free tool to download and use, even without extensions
It's an opensource platform that lets you customize anything
The store offers unlimited listings
Cons
You need some coding knowledge to customize your store
Takes a long time to set up
The integrations are costly
Pricing
Free
Customer support
Help Center and customer support forums.
Best free ecommerce solution
Rating: 4.7 out of 5
Ease of use: 5
Top industries that use Ecwid: Construction, retail, and consumer services.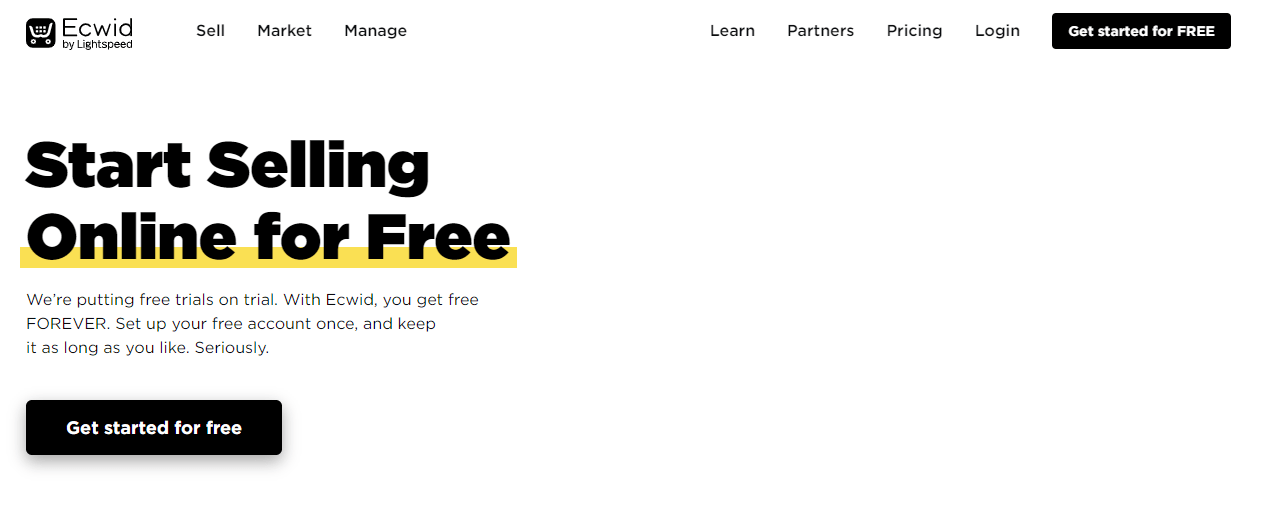 Ecwid is a great ecommerce platform, owing to its ease of use and free ecommerce solution. The tool lets you set up an online store on an existing website.
You can, however, opt for their standalone site, but it's more of a widget than a complete website. It's only a one-pager, which may be suitable if you're selling one product. But if you're selling multiple products, it's easier to have Ecwid as part of another website.
This tool easily integrates with other websites including Wix, WordPress, and Weebly. It provides you with over 70 themes to choose from for your ecommerce section.
The Ecwid App Market provides more integrations and extensions for more functionality. These include tools to help with your design, marketing, dropshipping, product catalogs, shipping, order management, accounting, reporting, and much more.
This tool offers a free plan, which sets it apart from ecommerce platforms like Shopify.
Ecwid limits the number of products you can sell on your online store depending on your payment plan. The higher-priced plan you choose, the more products you can sell on the platform.
For instance, on their free plan, you can only sell up to 5 products. While this may be limiting to some businesses, it's still a sufficient offering for beginners considering they get to sell at no cost.
Pros
Offers a free plan
You can add it to an existing website
It's beginner-friendly
Cons
Its standalone site option only has one page
You cannot edit orders on the free or first paid plan.
Pricing
Free, Venture ($14.08/month), Business $29.08/month), Unlimited ($82.50/month)
Best for ecommerce stores that want to expand
Rating: 3.2 out of 5
Ease of use: 2
Top industries that use Volusion: Retail, manufacturing, apparel, and fashion.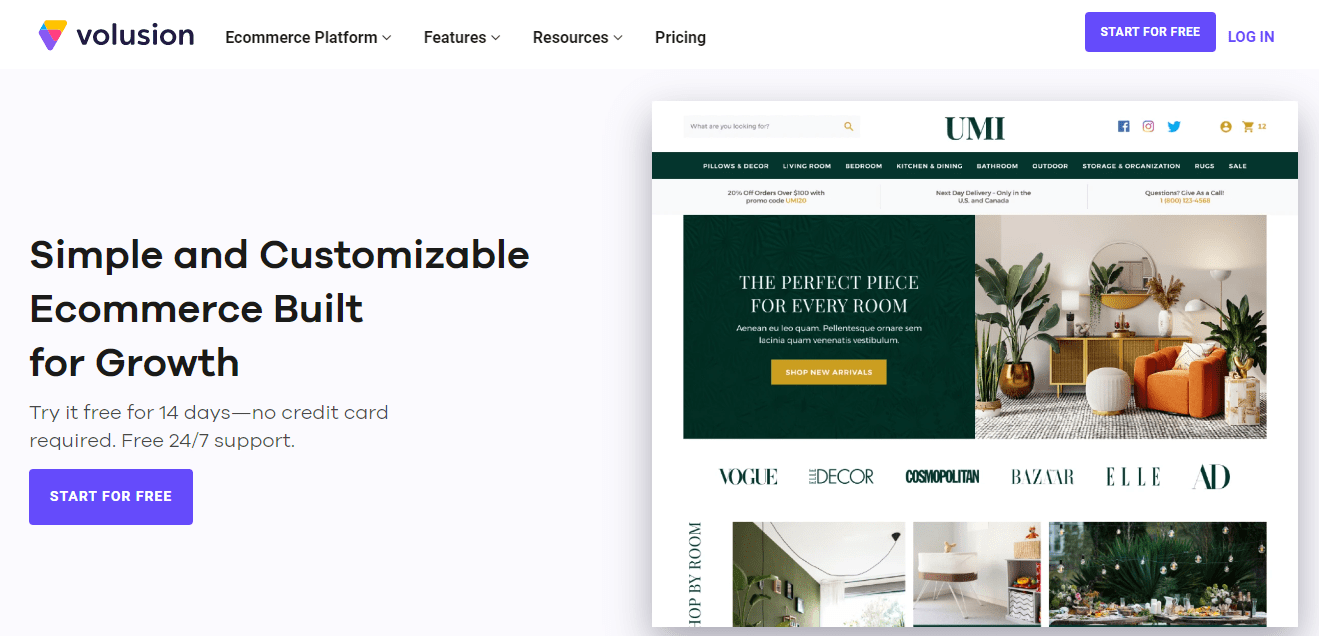 Last but not least on the list of ecommerce platforms is Volusion. Like Wix, this website builder is designed to help vendors set up their shops quickly. You get to avoid any of the coding or other technical challenges typically associated with web development.
Volusion's no-coding setup process makes it approachable for all vendors regardless of their technical experience. However, if you'd prefer a heavily personalized online store, you can work with Volusion's in-house design agency to craft something more to your liking.
The tool also provides a checkout solution that helps with reducing cart abandonment. For a better customer experience, Volusion provides product video options for better visuals on product pages.
You can also use their suggested products feature to optimize sales on your product page. Unlike other ecommerce platforms like Shopify, you will not need a third-party integration for this function.
One major downside to this tool is that you cannot sell digital products like ebooks, digital art, or music. This limits the types of businesses that can use this platform.
Volusion offers a Premium Theme Plus package that includes a premium theme, professional installation, Google Analytics installation/migration, and straightforward customization within the parameters of the theme you selected.
Users can also integrate their stores with other ecommerce tools like Google Analytics to access Google's powerful reporting capabilities etc.
Pros
Multiple payment gateways available
Has great reporting and analytics
Has a mobile application
Cons
The plans are a bit pricey compared to competitor ecommerce platforms
No blogging feature
Pricing
Personal ($35/month), Professional ($79/month), Business ($299/month), Prime(custom pricing).
Customer support
Live chat, phone support, Volusion Help Center, and Certified Agency Partners.
FAQs
1. What is an ecommerce platform?
An ecommerce platform is a content management system that is used to keep track of purchases and product catalogs and maintain user relationships with online retailers. It's the commerce engine that enables businesses to offer products and services to their customers remotely through online stores.
2. What is a self-hosted ecommerce platform?
A self-hosted ecommerce platform is where you host your ecommerce website on your servers. This gives you full control over your website design, outlook, and functionality. However, with a self-hosted platform, you'll also be responsible for all your software updates, server management, and website security.
3. Which is the best ecommerce platform for complete beginners?
Besides being a popular ecommerce platform, Shopify is also the best one for beginners. It offers an intuitive interface that allows users to easily manage their online store even without any technical expertise. It also provides resources like guides, tutorials, and webinars to help users learn their way around faster.
4. Which ecommerce platform has the best free plan?
Ecwid by Lightspeed has the best free plan of the ecommerce platforms listed above. The plan lets you add up to 5 products, set up payments, ship, and configure your ecommerce store. You'll also be able to view your store's front end in action and measure your business performance.
5. What is the best enterprise ecommerce platform?
Adobe Commerce is the best ecommerce platform for enterprises with technical resources. This is because most enterprises require heavy personalization and this tool offers just that. With a team of skilled developers and coders, you can create a robust ecommerce platform that suits your business needs with Adobe Commerce.
6. Which ecommerce platform is best for SEO optimization?
The two ecommerce platforms that offer the best SEO optimization capabilities are Shopify and BigCommerce. You can edit URLs and metadata on both platforms and optimize the content on your blog sections. The tools also provide integrations with tools like Google Console and Google Analytics for SEO.
How we chose these ecommerce platforms
The top picks for the best ecommerce platforms are based on our personal experience with most ecommerce platforms. We compared these tools and read through other users' experiences on G2 reviews. This coupled with top industry data from Enlyft helped us narrow it down to these 10 tools.
Ecommerce platforms: Wrap up
While each of these 10 best ecommerce platforms is among the industry leaders, the right solution for you depends on several factors including your team, your sales volume, and your goals for the site.
Wix and Shopify, for example, are all about making the web design process more approachable for new vendors and smaller businesses. You can use these platforms to quickly set up an online store and start focusing on sales and marketing.
Platforms like WooCommerce and BigCommerce are more complicated to use. Of course, you can always customize your ecommerce solution to your business needs by working with an agency or adding third-party extensions to your site.
No matter which ecommerce platform you end up using, keep in mind that Omnisend offers deep integration with most of these services. You can also set up custom integrations through the Omnisend API.
Source from Omnisend
Disclaimer: The information set forth above is provided by Omnisend independently of Alibaba.com. Alibaba.com makes no representation and warranties as to the quality and reliability of the seller and products.
Was this article helpful?