Bedroom benches are a great way for customers to create a comfortable extra seating spot in their bedroom for casual conversations or getting dressed in the morning. A bed bench can also add dimension and create harmony to the foot of the bed. This article will lay out the hottest trends right now in bedroom bench seating.
Table of Contents
Explore the bedroom furniture market
The biggest bedroom bench trends
Staying competitive in the bedroom bench market
Explore the bedroom furniture market
The bedroom furniture market consists of products designed to make the bedroom more functional, comfortable, and aesthetically pleasing. A bedroom bench is used at the foot of a bed to sit on when getting dressed, as a stylish storage unit, or as a decorative element in the room.
Globally, the bedroom furniture market was valued at USD 129.60 billion in 2023 with an expected compound annual growth rate (CAGR) of 4.73% between 2023 and 2028.
There is shifting consumer interest in high-end furniture products with functional features. There is also a trend towards a minimalist aesthetic to create a calm and serene sleeping environment. The market is boosted by plenty of real estate investment and a wave of millennials buying homes, particularly older homes, which require more refurbishment. With the expanding population in urban centres, houses and rooms are getting smaller, resulting in a rising need for easily movable and compact furniture that can make the most of available space.
The biggest bedroom bench trends
Leather bedroom benches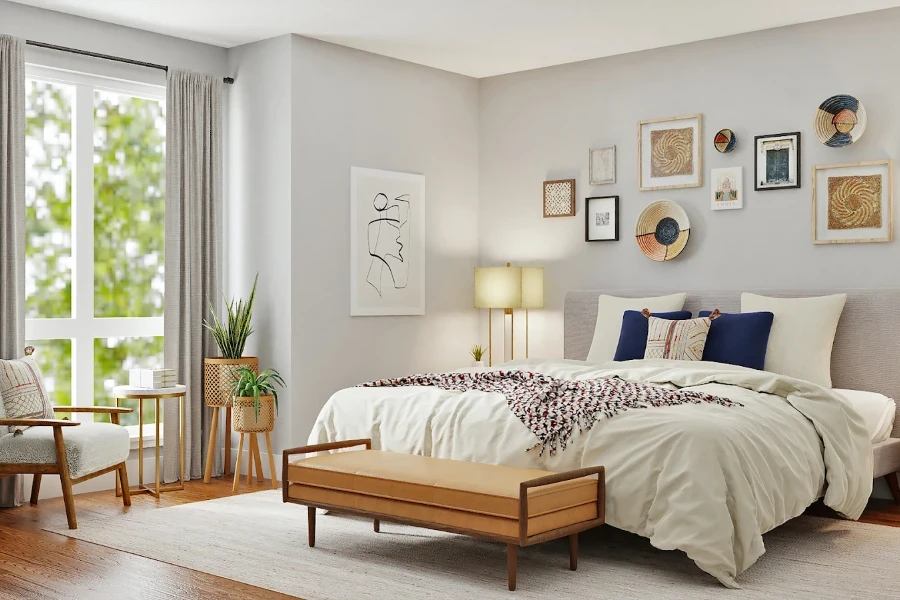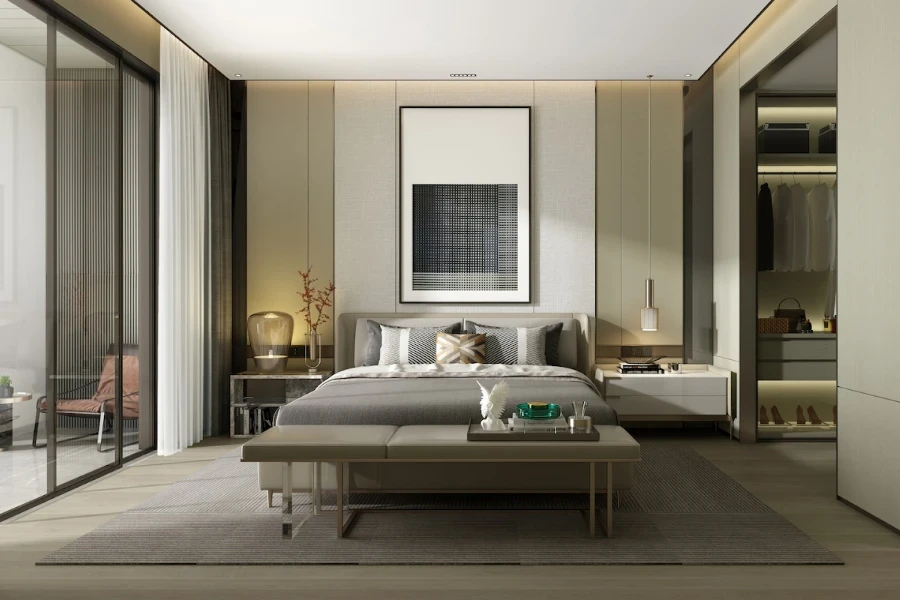 Leather is known as a high-end material that can give a bedroom an instant sense of luxury. Whether real or faux, a leather bedroom bench is a stylish option for any bedroom. The material is also suitable for the wear and tear of daily life due to its natural durability and water-resistant properties.
Leather end of bed benches often feature a real or vegan leather seat with wood or metal legs. The seat can be made of smooth, grained, or pebbled leather in a variety of colors and finishes. An upholstered leather seat with button tufting is a comfortable choice, while benches with a flat woven leather seat can double as a table in small bedrooms that would benefit from multi-functional furniture.
Curved end of bed benches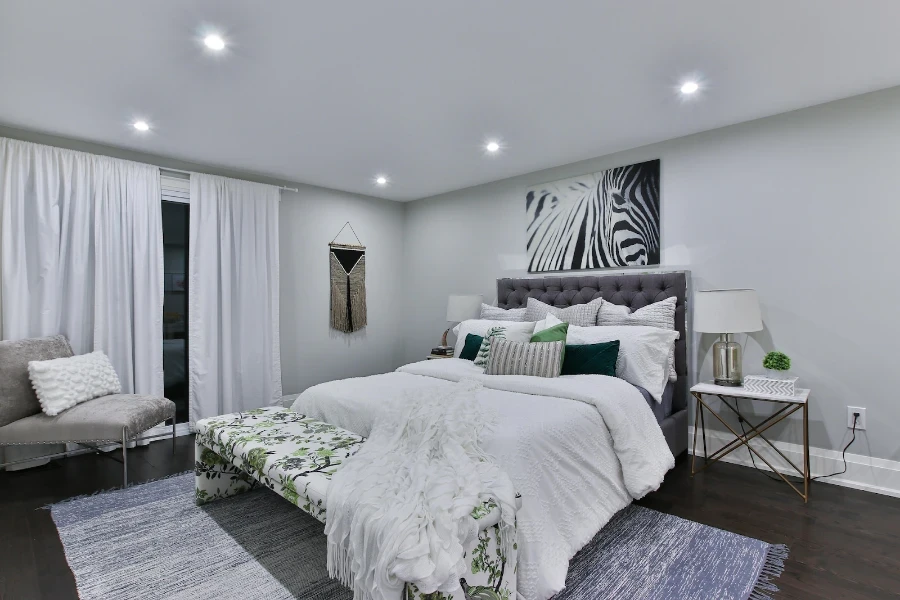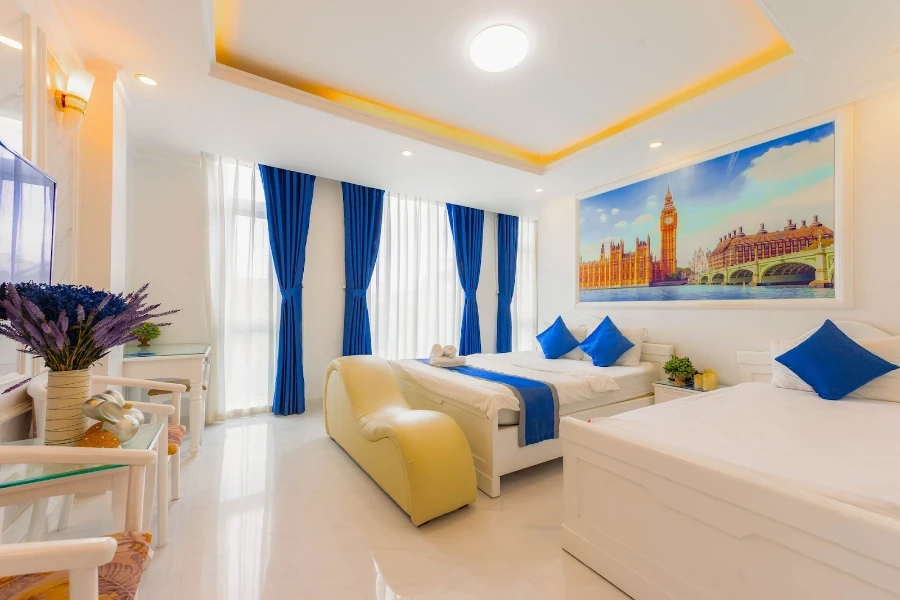 Curved furniture is making a big return this year. The trend is inspired by the nostalgic embrace of soft and sculptural interior design. When it comes to bedroom furniture, curved end of bed benches are having their moment as unique pieces that can double as works of art.
A half-moon or oval-shaped bedroom bench offers an unexpected take on the traditional rectangular shape, while wavy backrests, circular bases, round cushion armrests, or cloud-shaped seats are suitable for contemporary homes.
As part of the trend toward a retro aesthetic, customers may be interested in an arched bedroom bench featuring a cute waterfall design, chunky and round 1980s-inspired cylindrical legs, or a cozy appearance using a range of plush upholstery like velvet or boucle.
Upholstered foot of bed benches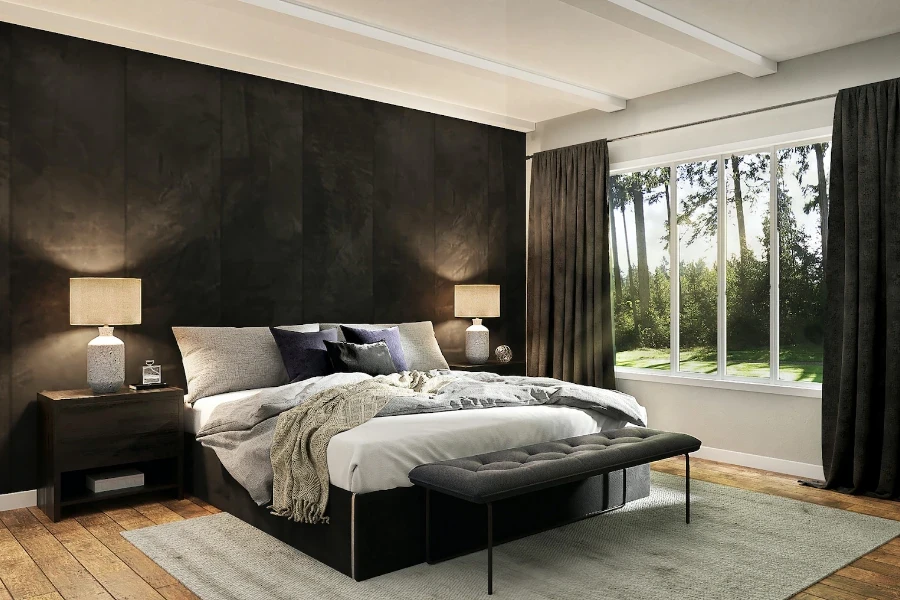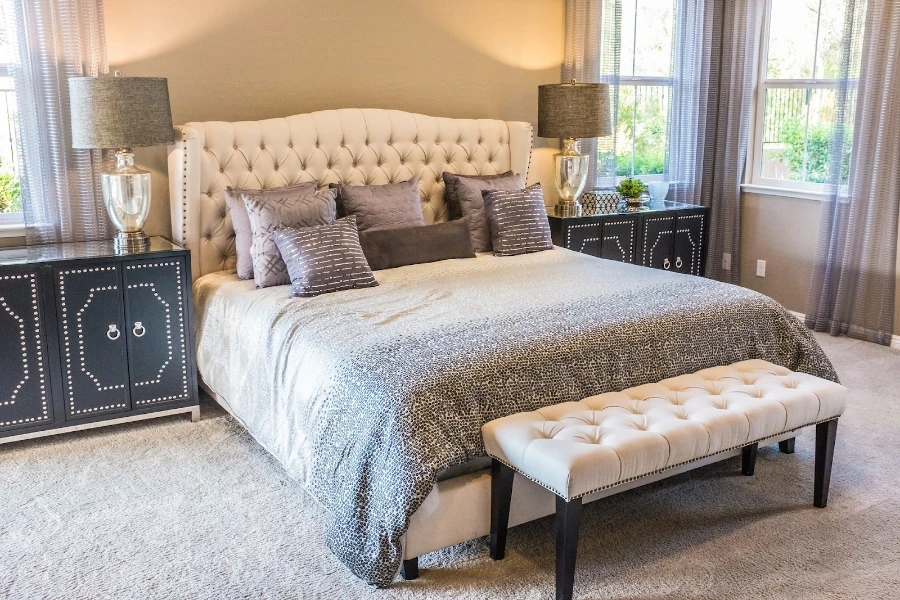 When it comes to bedroom benches, there is consideration put into how a bench complements the design of the bed. For metal beds, an upholstered foot of bed bench offers a nice contrast against the cold lines of the bed frame. According to Google Ads, the term "upholstered bench for bedroom" attracted 1,300 searches in September and 1,000 searches in July, which equates to a 30% increase over the past 2 months.
There are a wide variety of upholstery materials available, including wool, acrylic, silk, velvet, boucle, polyester, and cotton. Customers may be interested in the ability to customize the perfect bench for their bedroom by choosing from a large selection of upholstery fabrics and colors.
Upholstered bedroom benches can be paired with wood or metal legs or come with an upholstered base for a seamless look. They may also feature a backrest for a traditional appearance next to a master bed or a sleek backless design for the modern bedroom.
Bedroom benches with storage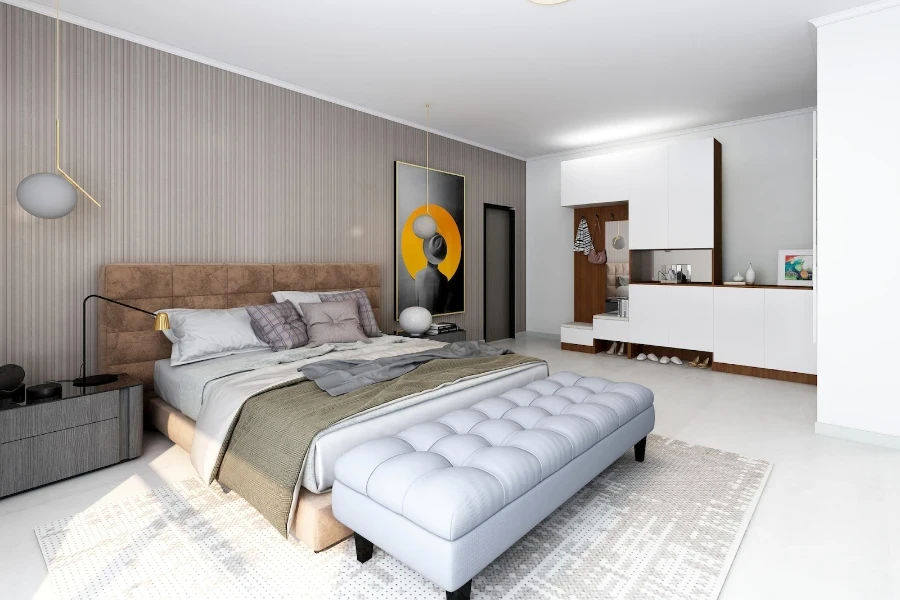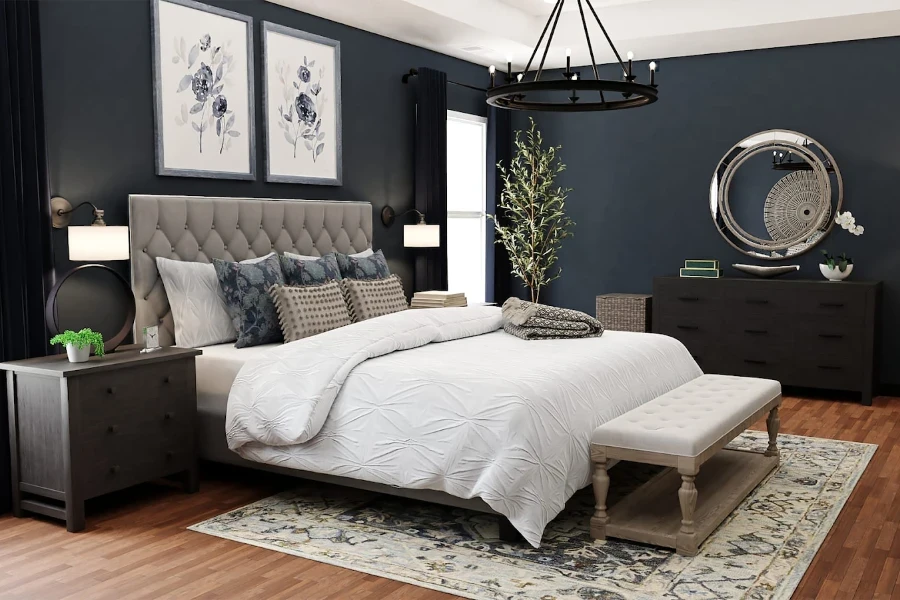 A major trend this year is bedroom benches that can fulfill more than their intended purpose. As consumers are increasingly seeking ways to organize their living areas to maintain clutter-free spaces, most modern furniture products come with additional storage spaces.
Foot of bed benches with storage are ideal for organizing household items. The term "storage bench for bedroom" boasts a significant average monthly Google search volume of 27,100, which indicates the popularity of bedroom storage benches over other types of bedroom benches.
Although a seat featuring an interior storage bin with a hinged lid is the most standard style of storage compartment, a drawer, cabinet, or shelf built underneath the seat can just as easily be a place for items like blankets, pillows, slippers, shoes, off-season clothing or accessories, and bed trays. A set of armrests attached to either side of the seat can also help make bedroom benches appear less like a storage unit.
Wood end of bed seating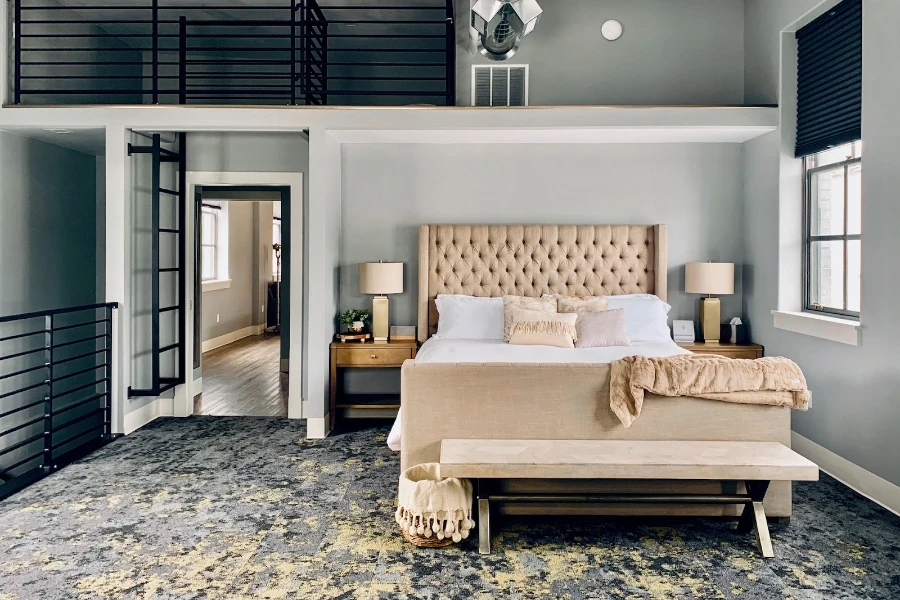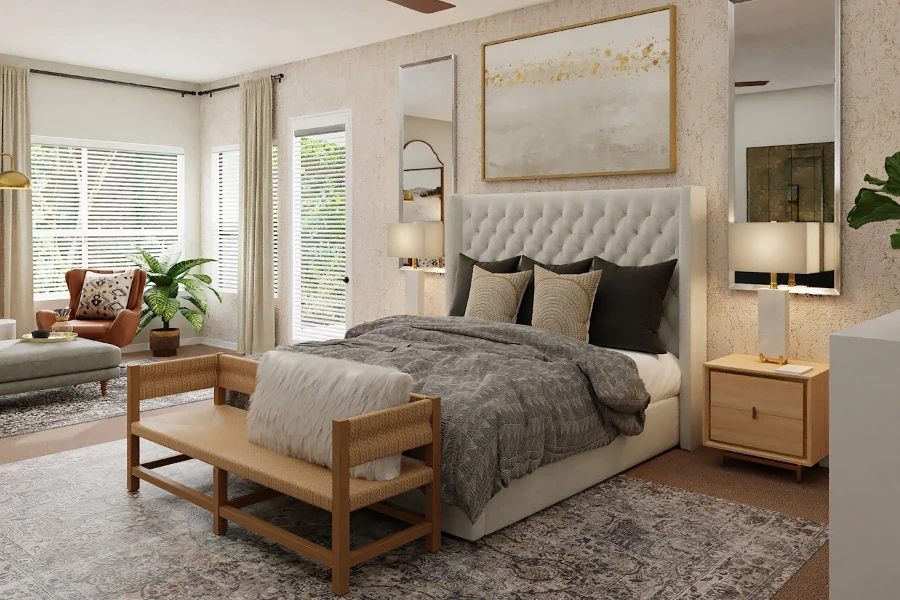 The latest trend in bedroom furniture involves a growing emphasis on the use of sustainable and eco-friendly materials. A bedroom bench made from wood is an environmentally friendly option that can also bring the beauty of nature indoors. From the perspective of Google searches, the term "wooden bedroom bench" experienced a 20% increase over the past 2 months to arrive at a search volume of 2,900 in September.
Inspired by Scandinavian or Japanese aesthetics, wooden end of bed seating with clean lines and natural light wood tones like oak or ash blend timeless functionality with simple style. In line with the current nostalgia for vintage designs, the mid-century modern era has a strong influence with metal accents, tapered legs, and high-quality solid wood as core elements of the trend.
A wood bench for the end of bed can come in a rectangular or oval shape with a natural, painted, or stained finish. For a striking take on the trend, a live edge wood bed bench makes a more deliberate reference to the environment.
Staying competitive in the bedroom bench market
There are many top trends in bedroom benches to capitalize on. An end of bed storage bench helps maximize limited space by offering customers a space-saving and multi-purpose option. Wood, leather, and upholstery remain key materials for end of bed seating, while curved elements give any bedroom foot bench the trendy design it needs.
The bedroom furniture market is characterized by intense competition. Major players in the industry are focused on expanding their product lines and adopting innovative technologies to meet the consumer need for custom furniture products. To stay afloat in the bedroom furniture market, businesses are advised to carry diverse products and styles to reach as many customers as possible.
Was this article helpful?