With global retail ecommerce sales estimated to reach $6.3 Trillion in 2023, companies around the world are making digital platforms a key aspect of their sales strategies.
If you want to stand out in such a competitive field, you'll need a carefully crafted ecommerce marketing plan that responds to your unique target audience. To help new ecommerce brands reach their full potential, we put together this beginner-friendly guide to the most powerful ecommerce marketing strategies for 2023 and beyond.
In this post, you'll learn:
What is ecommerce marketing?
Ecommerce marketing is the process of motivating consumers to buy products or services that are sold online. That includes the entire customer journey, from simply making people aware of the brand all the way to earning their trust and making the sale.
The tactics employed include those that work on your ecommerce site like search engine optimization (SEO) and those outside of it like social media marketing, email marketing, paid advertising, affiliate marketing, and more.
These ecommerce marketing examples will give you a better idea of what ecommerce marketing involves.
Ecommerce marketing examples
Here are some common ecommerce marketing examples.
Brand introduction video
This type of video is used to create brand awareness and establish a connection with prospects like Mindray has done in this example.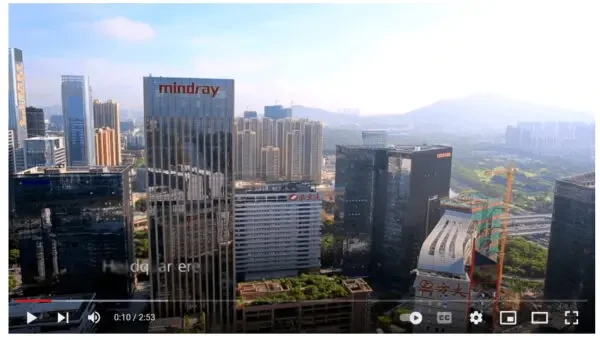 Customer referral program
This ecommerce marketing strategy involves incentivizing existing customers to bring in new ones. In this example, MiaoMiao has offered a 6% commission as an incentive.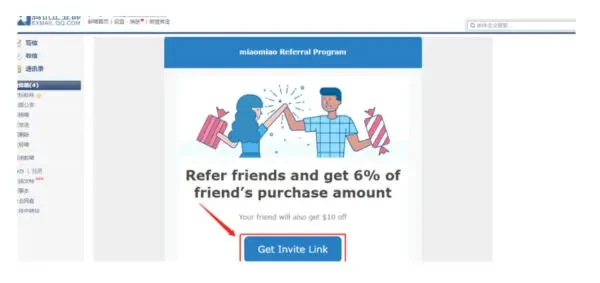 Email with a product bundle discount
Sending emails is a cost-effective ecommerce marketing strategy that allows brands to offer product bundles.

Online businesses also use emails to share different promotional messages.
Like below, Crown & Caliber announced the final hours of a sale in an email.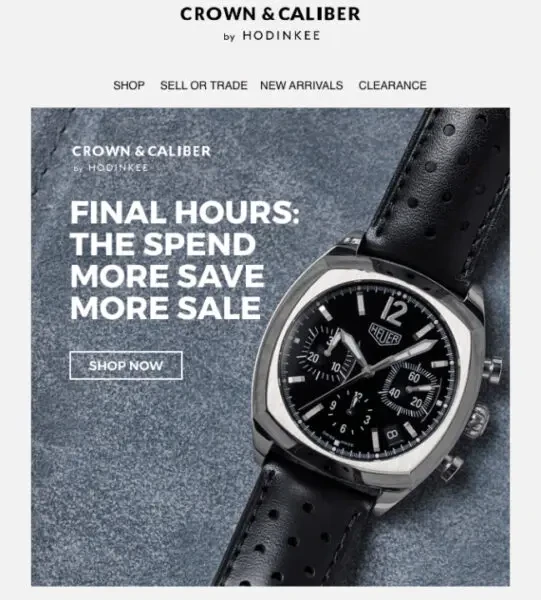 Blog articles explaining how to use products
In this ecommerce marketing example, Beardbrand talks about the ways to use its utility oil.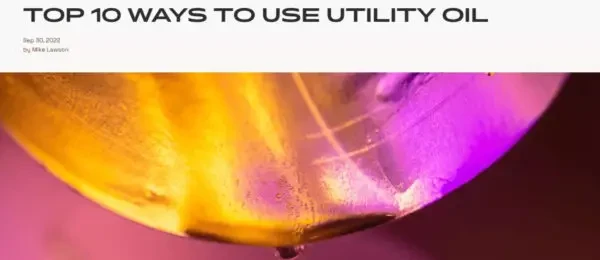 Social media posts with videos featuring influencers
Videos put up by influencers like these help boost visibility and generate sales.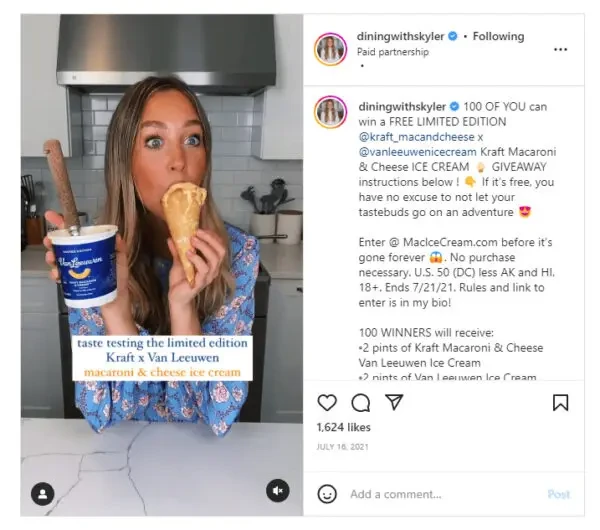 Types of ecommerce marketing
Ecommerce marketers leverage a number of different channels in order to reach out to new users while staying engaged with existing contacts.
While you may not need to be active on every single one of these platforms, our research indicates that marketers generate a 287% higher purchase rate when they start using at least three different channels.
Email marketing
Email marketing is the practice of sending promotional emails in order to connect with leads. It continues to be one of the most effective tools for ecommerce. In fact, the average dollar spent on email marketing leads to an incredible return of $40 in sales.
Marketers send different promotional emails depending on the specific context. Here are some of the most common types of email marketing for ecommerce:
1. Sale announcement
Here's a great example of a sales email. Note that it contains the words "Last Chance" in bold font, giving readers a clear sense of urgency as soon as they open the email.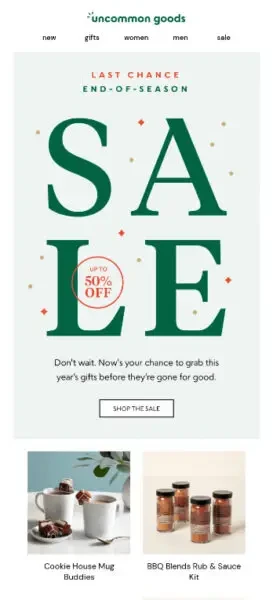 2. Welcome email
This welcome email sets the tone by highlighting the benefits of choosing GoDaddy. In addition to a welcome discount and coupon code, the email guides new users by offering useful tips and contact details.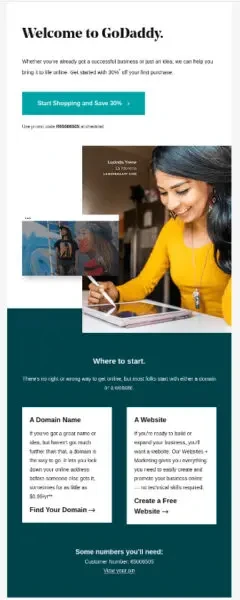 3. Exclusive offers
By offering exclusive offers to your email subscribers, you can make them feel valued and appreciated, while also driving more sales. You can track the number of clicks and conversions to further refine your email marketing strategy.

4. Birthday celebration
Adding a personal touch when wishing your customers on their birthday can make them feel special and appreciated. This email from Drizly adds a sprinkle of humor by wishing subscribers on their half-birthday!

5. Order confirmation
Shipping and order confirmation emails are transactional in nature and focus on giving all the important information related to an order. Here's an example.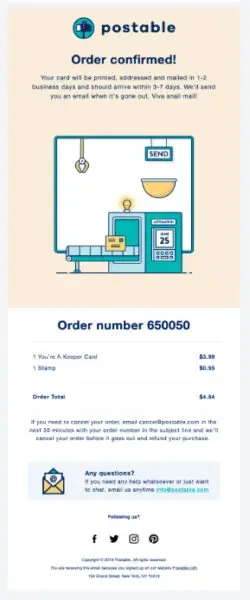 6. Product launch
These emails are great for building excitement around upcoming products and informing your past customers about new products they may be interested in. Keep your intent clear with a compelling CTA and use visuals to engage prospects into buying.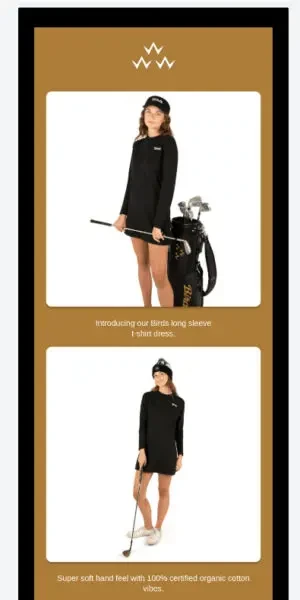 7. Product updates
Product update emails, such as this one from Zapier, help to build trust and loyalty by showing customers that the company is actively working to improve its products and services. This email clearly highlights the new features and their benefits in a concise way.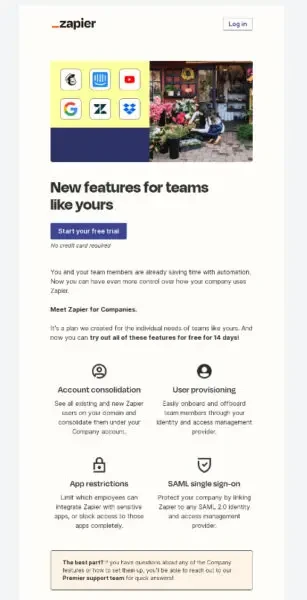 8. Seasonal campaigns
This seasonal email campaign uses holiday-themed visuals and GIFs to grab the attention of subscribers and increase click-through rates. When designing seasonal campaigns, tailor both the visuals and messaging to the season or the specific holiday.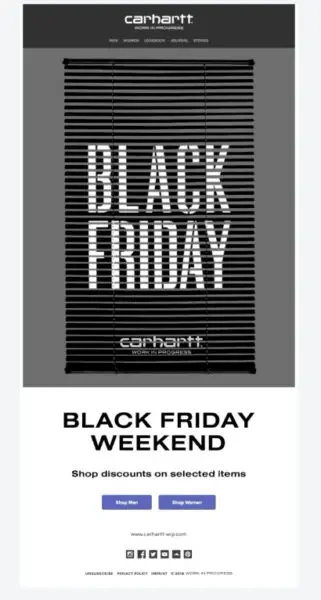 9. Cart abandonment
This email from Look Fabulous Forever has all the elements that make it a great cart abandonment email including a personalized heading, a sense of urgency, and incentives to encourage the shopper to complete their purchase.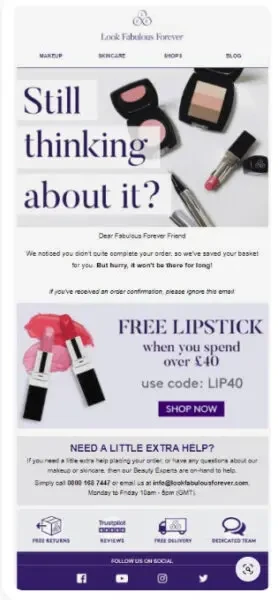 10. Email newsletters
Newsletters are a great way to stay in touch with your subscribers and send them updates about your latest products, offers, and more. This email newsletter ticks the right boxes with clear branding, compelling visuals, engaging content, and clear CTAs.

Given the complexity of a typical email marketing campaign, you'll need a robust email automation platform that makes it easy to create captivating content, set up automated messages based on a wide range of triggers, and thoroughly analyze the results of past campaigns.
SMS marketing
SMS marketing involves businesses sending SMS messages to existing customers and prospects.
Ecommerce sites typically use SMS marketing for:
Sales promotions and special offers
Upselling and cross-selling
Abandoned cart recovery
Customer support
This helps online stores boost customer engagement, increase brand awareness, and generate more sales.
When it comes to ecommerce, SMS marketing is particularly effective: In 2021, automated SMS campaigns sent by Omnisend customers resulted in a 106% increase in orders compared to 2020.
As you can see in this image below, merchants sent more automated SMS in 2021 while conversion rates jumped to 0.62% registering a 20% YoY increase.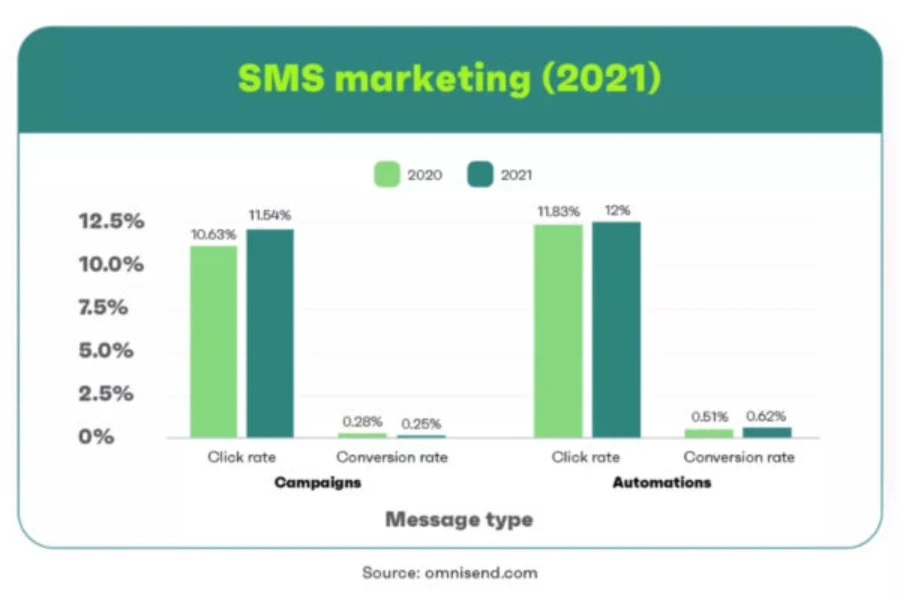 To put these statistics into context, online wig retailer Divatress is a great example of a successful text message marketing strategy in ecommerce. By partnering with Omnisend to automate their marketing, this company of 15 now gets an average of $15,000 in sales per month just from SMS campaigns.
PPC advertising
Pay-per-click (PPC) campaigns involve paying a platform like Google or Facebook to bring traffic to your website. As the name implies, you'll pay a certain fee every time a user clicks on your ad.
When running a PPC campaign, you'll be able to enter a bid for different types of traffic—for example, you might segment your bids based on the user's location or the device they're using. You can also run PPC campaigns to retarget users based on specific actions such as visiting your site or abandoning a shopping cart.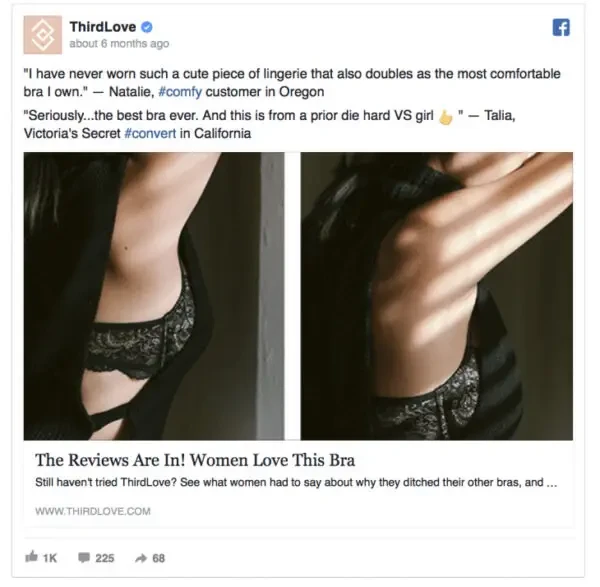 While Google's PPC results are listed as ads in the search results, they still give site owners unparalleled access to highly targeted leads.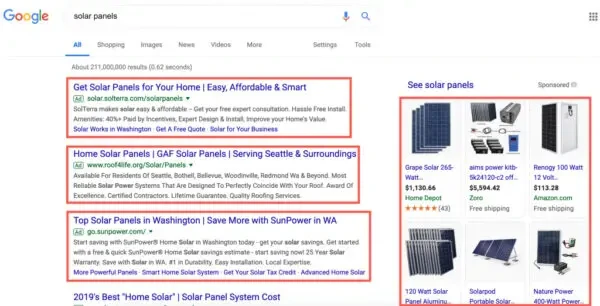 Unlike organic search traffic, PPC marketing campaigns can also start and stop at a moment's notice. That makes them ideal for site launches, product announcements, holiday promotions, and other time-sensitive content.
Search engine optimization
Search engine optimization (SEO) is the process of making a website, blog, or online store more visible in results from Google and other popular search engines. The ability to attract organic search traffic can make or break a new ecommerce brand.
Unlike PPC marketing campaigns, this doesn't involve any paid traffic. Instead, the goal of SEO is to make your site one of the top results when someone inputs a search that's relevant to your brand or products.
Here are some of the key elements of a successful SEO strategy.
On-page SEO
Content
Keyword optimization
Meta tags
Headers and page titles
Link building
URLs
Image optimization
Off-page SEO
Backlinks
Content marketing
Social media marketing
Guest posting
Podcasting
Influencer outreach
Local business listings
Technical SEO  
Site/page load time
Site architecture
Crawlability
Indexation
XML sitemaps
SSL certification
Mobile-friendliness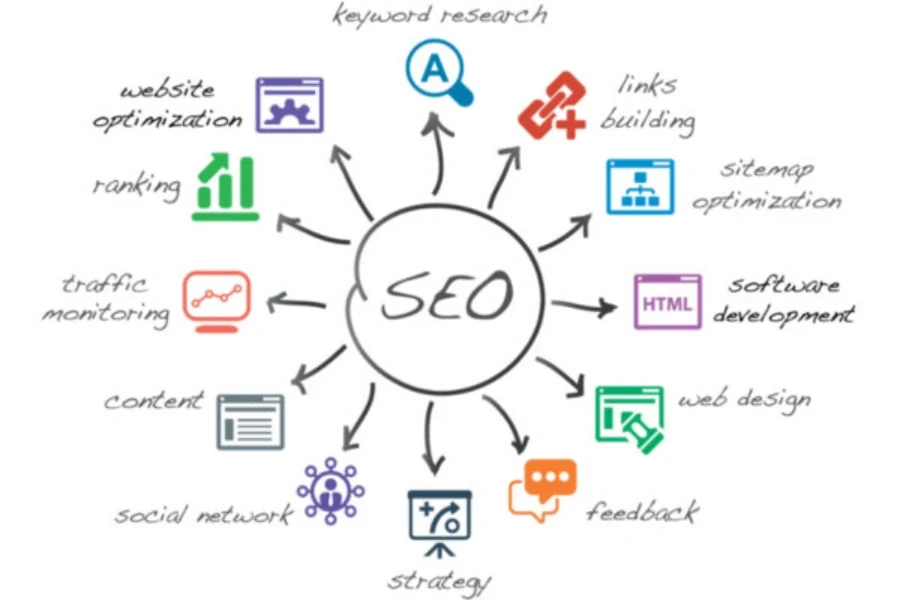 Product pages are one of the most important areas of your site when it comes to SEO. Check out this guide for more ideas: 9 tips on product listing optimization
Content marketing
Content marketing is all about producing things like blog posts, guides, and videos that interest your visitors.
Here are some tips to create engaging and effective content that helps you rank:
Set specific goals: Your goals should be time-bound, measurable, and achievable.
Use a content mix based on your target audience: List the types of content to create, such as blog posts, social media posts, videos, infographics, case studies, etc.
Research and pick the right topics. This could be trending topics, seasonal, and other types of content. Ensure it's relevant to your target audience.
Create and promote your content: Create relevant, readable, and useful content. Boost exposure through email marketing, social media, and other channels.
Measure the performance: Make adjustments as required based on the results.
You should also think of having a content marketing calendar to streamline your content marketing efforts.
This blog post on cleaning your phone screen comes from Pela Case, a company that provides accessories for mobile devices. Once they bring customers to their site to read the post, they'll have an opportunity to make a purchase, or at least get the Pela brand in their head so that it comes to mind the next time they're looking for a phone case.

Affiliate marketing
Ecommerce affiliate marketing involves using other businesses or individuals in order to promote your products or services on their websites. When a visitor referred by an affiliate makes a purchase, these affiliates get paid a commission.
Affiliates often use content marketing, paid advertising, affiliate email marketing, and other methods to drive traffic to their own landing pages about your product. Affiliate marketing can be a great way to expand your ecommerce marketing strategy, with 16%  of ecommerce sales coming from affiliates.
For ecommerce stores, the best way to benefit from this type of marketing tactic and boost online sales is by becoming a vendor with a competitive affiliate program.
Here's an example of an affiliate marketing program from Skillshare explaining the benefits, the terms, and the steps to become an affiliate.

Social media marketing
With social media playing such an important role in our daily lives, it's no surprise that it's now a crucial marketing platform for all kinds of businesses. Brands promote their products on social media through many different types of campaigns such as:
Influencer campaigns: Collaboration with social media influencers to promote a brand or product.
Sponsored posts: Paid content on social media platforms that promotes a product or service.
Competitions and giveaways: Promotions where customers can enter to win prizes or receive free products.
Product launch: Announcing the launch of a new service or product.
Brand introductions: Leveraging social media to introduce a brand and create brand awareness.
Sale announcements: Offering discounts and special offers to boost sales.
Polls and surveys: Interactive content used to collect feedback and insights from customers.
Hashtag campaigns: Using branded or other types of hashtags to promote posts.
User-generated content (UGC) campaigns: A promotion that encourages customers to share their experiences with a product or brand on social media.
Here's an example of a social media marketing campaign in the form of a contest by SunRype: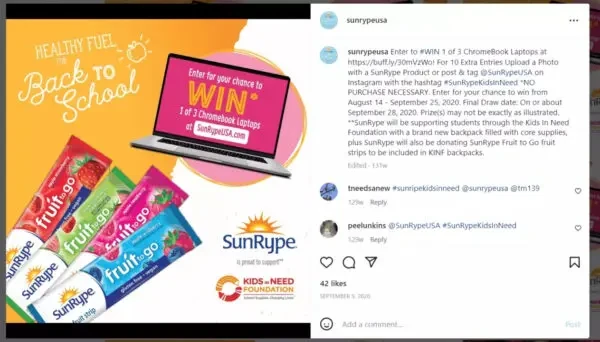 Influencer marketing
Engaging new leads and building your credibility is a major challenge as an ecommerce vendor. Influencer advertising is a type of social media marketing in which brands pay for endorsements from influencers who can connect them to a new audience.
When you work with an influencer that aligns with your brand image and style, you'll be able to generate more traffic while you continue to focus on your own campaigns on email, SMS, social media, and other channels. Influencers usually charge based on performance rather than impressions, so you won't waste money on campaigns that don't generate the results you're looking for.
This post is an excellent example of the power of influencer marketing. Jesse Driftwood knows how to communicate with his unique audience, and Audible gives him the chance to earn money while promoting a product that many of his followers will be genuinely interested in.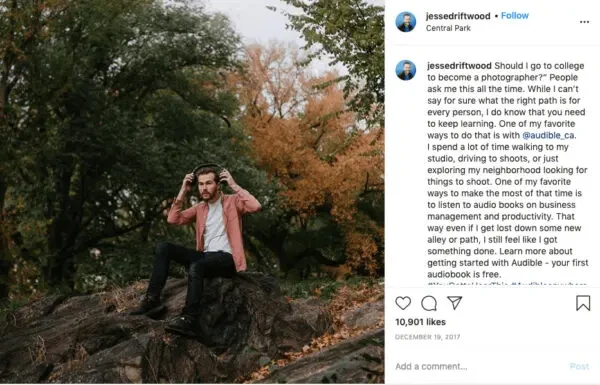 Ecommerce marketing strategies
Build your email list
Send engaging emails
Use SMS marketing
Cross-sell and upsell
Set up cart recovery campaigns
Encourage customer loyalty with rewards
Support your customers with live chat
Write helpful blog content
Personalize customer communication
Host product giveaways
Give bonuses for referrals
Look at what your competition is doing
1. Build your email list
Building your contact list will allow you to stay in contact with a growing collection of highly engaged leads.
Of course, convincing people to give you their contact information and to receive your newsletter is easier said than done. Successfully building an email list requires two main elements—unique, valuable content and strong email capture practices.
Here are some of the tools you need to build your email lists:
Landing pages/squeeze pages
Lead magnets
Popups
Signup forms
Back-stock notifications
Spin wheels
Discounts and coupons
In this example, Jiggy offers users a streamlined signup process along with a tempting 10% discount on their first order. Adding this kind of email capture form to your website will help you turn more visitors into subscribers and eventually into loyal customers.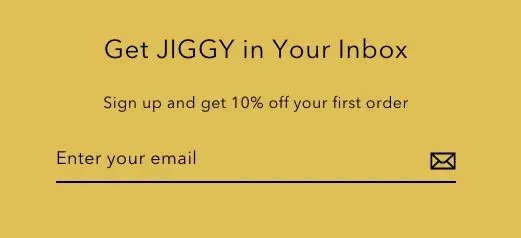 2. Send engaging emails
Sending engaging emails to your subscribers is the key to building relationships, increasing brand awareness, and driving sales.
Let's look at some of the components of engaging emails that lead to opens and clicks:
Segment your email list: This will help you send targeted messages to specific groups of subscribers based on their interests or behavior.
Personalize your emails: Address recipients by name and tailor the email content to their interests and preferences.
Use eye-catching visuals: You can add images and graphics to make your emails visually appealing and engaging.
Create compelling subject lines: These should be relevant to the content of your emails, short, and attention grabbing.
Keep your copy short and to the point. Add humor or an element of surprise to your copy to grab attention.
Provide value: Offer exclusive promotions, share educational content, or provide useful tips and advice.
Include a clear CTA: Add a prominent call-to-action button or link in your emails.
Here's an engaging email from Sunday that gets all these elements right.
Email subject line: You Thinking What We're Thinking?

3. Use SMS marketing
Integrating SMS marketing with other ecommerce marketing strategies is a great way to drive traffic and sales. In fact, our research on SMS marketing shows SMS opt-in rates registered a 12% YoY growth in 2022.
Here are some SMS marketing best practices to follow:
Obtain consent: Build your SMS list by taking the consent of your email subscribers or by using popups/signup forms.
The Children's Place, for instance, builds its SMS list by offering incentives for SMS subscribers.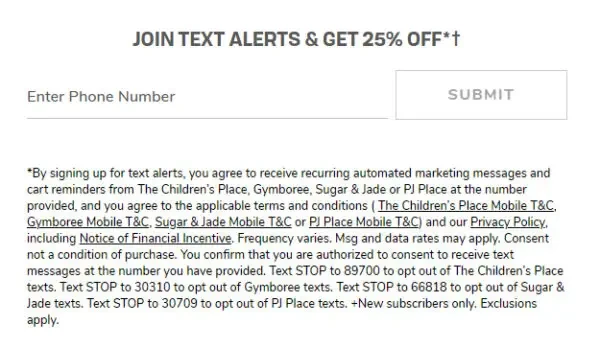 Send targeted messages: Tailor messages based on subscribers' interests, behaviors, or other factors.
Use simple language: Avoid jargon or confusing abbreviations.
Time it right: Send the messages at the right time with an SMS automation tool.
In this video, ecommerce expert Greg Zakowicz offers more insights on SMS marketing:
4. Cross-sell and upsell your products
Upselling is when you recommend add-ons or a more expensive product line after a lead expresses interest in a particular item. If you walk into an Apple Store and ask for an iPhone 13, for example, their team will probably try to convince you to spend even more money on an iPhone 13 Pro.
Cross-selling, on the other hand, involves recommending related or similar products that a user might also be interested in. When you open an Amazon product page, you'll see a list of additional product recommendations based on the item you're looking at.

Both upselling and cross-selling can tempt customers to add more items to their cart, increasing the average value of your orders. The "Shop the Look" section below gives users the opportunity to check out other items that the model is wearing and that might fit well in the same outfit.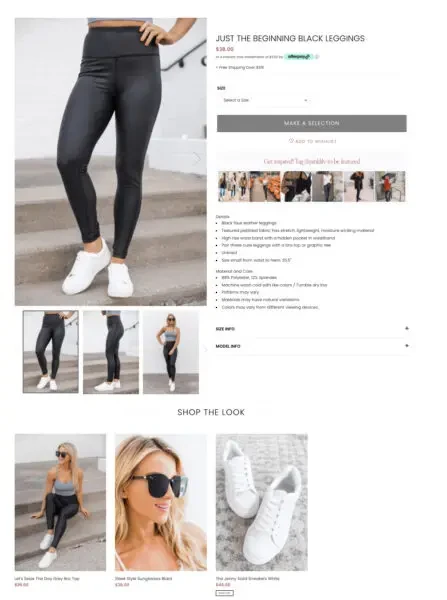 5. Set up cart recovery campaigns
Adding a product to the cart is a key step toward conversion, but roughly 70% of all online shopping carts are abandoned before the purchase. Bringing back even a small percentage of abandoned carts could help you generate significantly more sales.
A typical cart abandonment sequence includes two or three reminders designed to make the recipient reconsider their decision to leave your site.
Here are some tactics to use for your cart recovery campaigns:
Send abandoned cart emails: Start with a reminder email that encourages the customer to complete their purchase and follow up with additional emails that provide incentives.
Leverage automated SMS reminders: Set up an automated SMS flow that starts with a reminder message and follows up with incentives and additional reminders.
Use exit-intent pop-ups: Display a popup message that offers a discount code or free shipping if the customer completes their purchase.
Here's a great abandoned cart email example from Basic Piece. After a quick introduction, it shows users the products from their cart and invites them to come back to the online store. We also noticed that Basic Piece includes contact information for users who want to get in touch with their support team.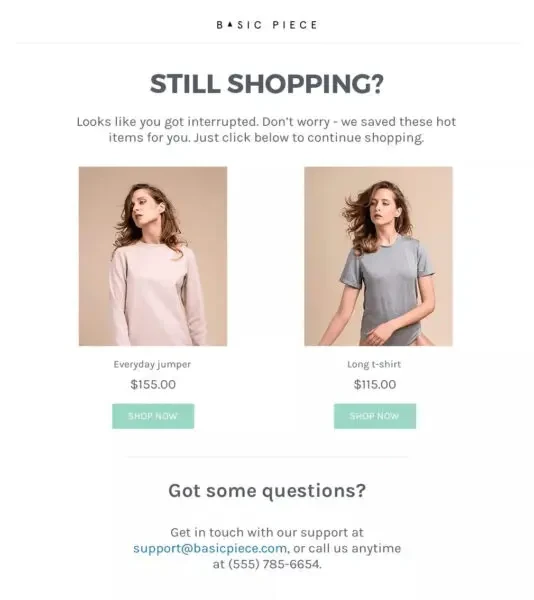 $9,000 in revenues in three months.
That's how much Silver Street Jewelers made with cart recovery emails. Get the details here.
6. Encourage customer loyalty with rewards
Customer loyalty programs are an easy way to keep first-time buyers interested and give them an additional reason to keep coming back for more orders.
Additionally, loyalty programs show customers that you care about their experience, leading to a more intimate relationship with your brand. Some brands are also giving customers more control over the rewards they receive in order to add more flexibility and personalization to their loyalty programs.
Body Shop loyalty members gain access to three different benefits: exclusive events, a $10 birthday reward, and reward points for every dollar they spend on Body Shop products. All three perks encourage users to sign up for the program and stay engaged with the Body Shop.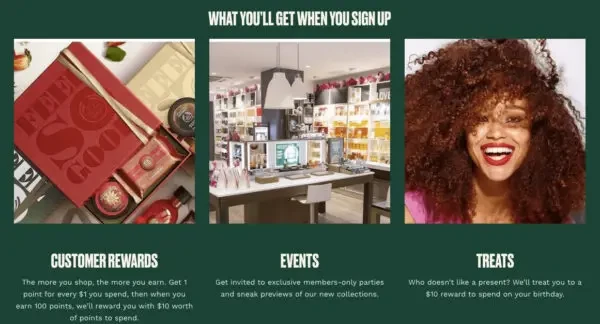 7. Support your customers with live chat
The secret to winning over customers is to offer fast and efficient customer support. And, live chat is one of the best ways to do that. A 2023 survey shows 72.3% of customers are satisfied with the support they receive through live chat.
Furthermore, contemporary live chat platforms also give you the opportunity to send proactive messages to your visitors. For example, you could set up a message on product pages inviting users to join your email list and get a discount on the item they're looking at.
This live chat interface from Allbirds gives visitors the option to select a common question, manually enter a custom query, or chat directly with a human support agent. Ecommerce vendors in every niche are starting to approach live chat as a tool for lead generation as well as traditional customer service.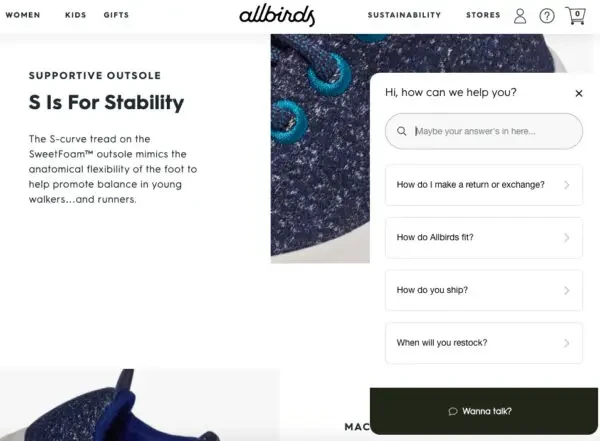 8. Write helpful blog content
Blogs are a powerful way to bring traffic to your site and give yourself more credibility. When customers find valuable, interesting content on your blog, they'll start to trust your brand and become more likely to click through and make a purchase on your online store.
Baking Steel gives us a perfect example of the connection between content marketing and sales. This blog post connects directly to what they sell, and it also contains a link to the product for readers who want to buy it immediately.
Their content team also pulled a great image that shows visitors what they're missing out on if they don't have Baking Steel cookware.
Along with blog content, Baking Steel also drives sales through email marketing.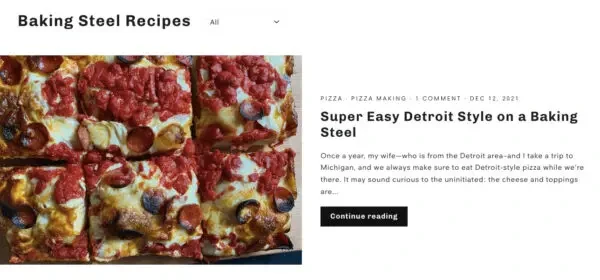 9. Personalize customer communication
No matter what kind of campaign you're working on, you'll be able to generate better results when you make an effort to personalize your messaging. The most straightforward method of personalizing content is simply adding the recipient's name.
Effective personalization also requires a careful approach to audience segmentation. For example, you might want to create a retargeting campaign for users who have recently visited your website.
In the example below, an Omnisend user created an audience segment for leads who have purchased at least once in the last three days.

Speaking of email list segmentation, here's how to do that.
10. Host product giveaways
Hosting product giveaways is a great way to generate excitement and interest in your ecommerce brand, while also encouraging user engagement and social media shares.
Here's how to host a successful product giveaway:
Select a product: The product should generate interest from your target audience.
Decide on the requirements for your giveaway. This could involve asking participants to subscribe to your email newsletter, follow your social media accounts, share a post, or complete a survey.
Promote your giveaway: Use emails and social media channels to generate interest and encourage participation.
Follow up: Send follow-up emails to thank them for entering and provide additional information about your brand and products.
This is a great example of a giveaway from WP Standard that encourage prospects to sign up for their newsletter.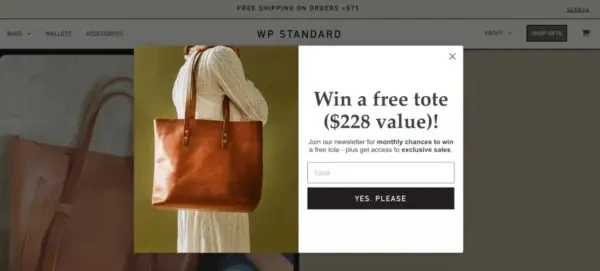 11. Give bonuses for referrals
Offering bonuses for customer referrals is a popular ecommerce marketing strategy that can incentivize your existing customers to refer new customers to your ecommerce store.
Here are some tips for implementing this strategy effectively:
Offer a compelling bonus: It should be lucrative for both the referrer and the referred customer. This could be an incentive like a discount, free product, or store credit.
Ensure clarity: Make sure the offer is clear and easy to understand.
Make it shareable: Make it easy to share your product/website on social media, email, or messaging platforms.
Promote the program: Leverage email newsletters, social media, and other marketing channels.
Here's an example of a referral bonus from Outdoor Voices that clearly highlights the benefits of sharing referral links.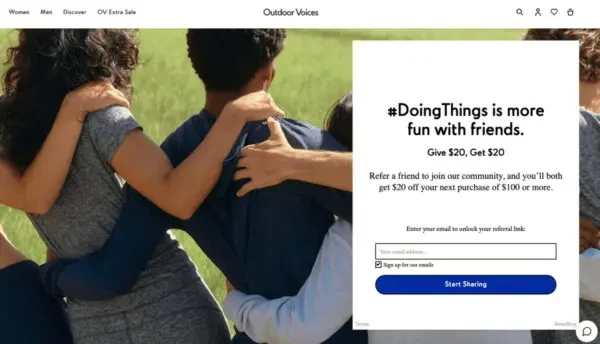 12. Look at what your competition is doing
Your strategies will always be your own, but that doesn't mean you can't pick up ideas from other competitors in your niche. Thoroughly researching their practices will give you crucial insights into your own strengths and weaknesses and help you put yourself in a position to pull visitors from their sites.
Here's what you can check:
Types of sales and promotions
Email capture tools they're using on their website
Website design and page load time
Checkout process
Ad campaigns
Social media profile and frequency of posts
SEO strategy including keywords, backlinks, and top-performing content
Automated competitor price tracking, for example, makes it easy to monitor how your prices compare to what customers pay other vendors. The more information you have about the practices of your competitors, the easier it will become to outmaneuver them and pull visitors to your site.
How to make an ecommerce marketing plan
A robust ecommerce marketing plan is a must if you want to attract and retain high-value customers and grow sales in a sustainable way.
Remember, though, that your ecommerce marketing plan should evolve over time based on changes in your business, industry trends, and customer feedback.
But, here are the steps that can help you fast-track your ecommerce marketing plan:
Identify your target customers: Determine the target customers by analyzing their demographics, interests, and purchasing behaviors.
Pick the right ecommerce marketing strategies: This should be based on your marketing goals and target audience.
Identify the marketing channels: Find the channels that are most effective for reaching your target audience.
Create campaigns and goals: Set goals for each campaign, such as increasing website traffic, boosting sales, or increasing repeat purchases.
Create compelling content: Your content can include product descriptions, blog posts, social media content, and advertising copy.
Track results: Monitor campaigns' performance with analytics tools.
Adjust your strategy: Test and improve according to performance.
Ecommerce marketing: Wrap up
Ecommerce becomes a more lucrative field every year, but that trend also pushes new sellers to join the market and continue crowding the ecommerce marketing landscape. Without the strategies listed above, you'll likely have trouble using your market budget efficiently and building the digital presence you're aiming for.
While we can't tell you how to develop your brand, we can say that these ecommerce marketing tips and tactics have contributed to incredibly successful campaigns for merchants in many different fields. Start implementing some of these ideas today to start moving your brand in the right direction and fully optimizing your digital marketing practices.
Source from Omnisend
Disclaimer: The information set forth above is provided by Omnisend independently of Alibaba.com. Alibaba.com makes no representation and warranties as to the quality and reliability of the seller and products.
Was this article helpful?