One of the most common myths about ecommerce funnels is that they need to be lengthy to be effective.
Juxtaposed with this myth is the fact that having too many steps in your sales funnel can lead to poor performance.
The secret is to keep everything simple but significant.
This post takes you through the four most important ecommerce sales funnel stages and shares some practical sales funnel ecommerce strategies you can use at each stage.
Let's get into it.
Table of Contents
What is an ecommerce sales funnel?
Four stages of the ecommerce sales funnel
Ecommerce sales funnel example
Ecommerce sales funnel optimization strategies
Summary
What is an ecommerce sales funnel?
An ecommerce sales funnel refers to a series of marketing practices that you take to get your audiences from not knowing your brand to becoming loyal customers. These include marketing strategies like building landing pages, creating blog content, email marketing, paid ads, etc.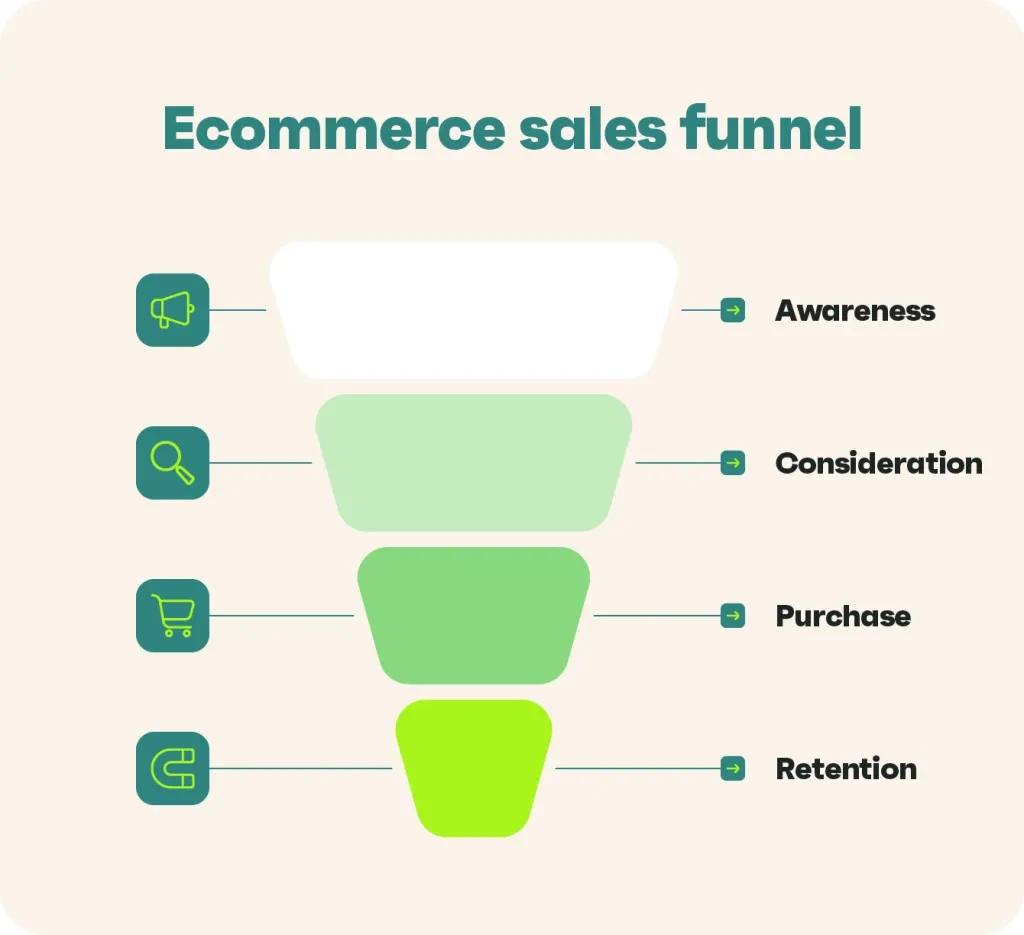 The reason why it's called a funnel is because it involves several stages, with each one bringing you closer to a customer making a purchase.
Now, you can develop a tailored ecommerce sales funnel for your business. But, generally, a standard ecommerce sales funnel consists of four stages:
Awareness
Consideration
Purchase
Retention
Let's briefly understand the four stages of a customer's journey.
Four stages of the ecommerce sales funnel
Although each online sales funnel varies depending on the model of your ecommerce business, this section shares four universal stages for every ecommerce business:
Awareness
This is the top of the funnel and is where you make your first contact with your prospects. At this point, they are aware of their problem and your brand has popped up as a possible solution
Customers can get to know your product in many ways including:
By chance
Through social media
Through referrals
Organic search
Your aim for this stage is to ensure you get as many people as possible interested in your products. While doing so, you don't want to sound too promotional.
Some strategies you can use include:
Content creation e.g. social media, podcasts, and blog posts, for free relevant traffic
Make your outreach more targeted by using paid advertising methods like Facebook Ads
Promote your content but avoid sounding salesy
Consideration
At this stage of your sales funnel for ecommerce, your audience knows you exist.
You've promoted your brand and garnered relevant traffic whether through organic or paid marketing channels. And as the name suggests, they're beginning to consider your product as a potential solution to their problem.
What you want to do now is nudge them in the right direction—your ecommerce product pages. Your marketing efforts here need to be compelling so they're convinced you're the answer they're looking for.
Some sales funnel ecommerce strategies here include:
Promote products through email marketing
Use social proof such as reviews and testimonials
Optimize your product pages
Purchase
At this point, your audience is convinced that they want to use your products and they want to make a purchase. Your goal here is to make sure they do so uninterrupted.
To achieve this, you'll need to optimize your on-site marketing strategy.
Here are some actions you could take.
Send personalized emails based on audience behavior
Optimize your checkout page by making it as user-friendly as possible
Send cart abandonment reminders to remind them to complete their purchase
Include compelling CTAs, discounts, and free shipping.
Retention
At this stage, you've managed to turn your audience into customers and they're now at the bottom of your sales funnel. Now you want to turn them into loyal customers.
According to data collected by Smile.io in 2023, after one purchase a customer is 27% likely to return to your store. Further, they're 49% and 62% likely to return after the second and third purchase respectively.
That's how crucial this stage is. Here's how to make your customers come back to your store:
Use loyalty programs to reward return customers
Send thank you messages through email marketing
Keep your audience engaged through email marketing
Ecommerce sales funnel example
Let's describe a typical way online stores drive traffic and sell: through paid ads.
Let's say you're running an online clothing store and you dedicate 70% of your company's marketing budget to paid ads. You'll use your most effective social media platform, which in this example is Facebook Ads, to introduce your brand and drive traffic to a landing page with a 20% sale.
On the landing page, you show a popup with an extra 10% discount for first-time customers to motivate them to buy. If they buy, great—you nurture them with emails and sms.
If they abandon the cart or simply leave, you'll send abandoned cart email reminders or retarget them through social media. You can then lead them to a promotional landing page and down your ecommerce funnel.
Here's an image illustrating what that process would look like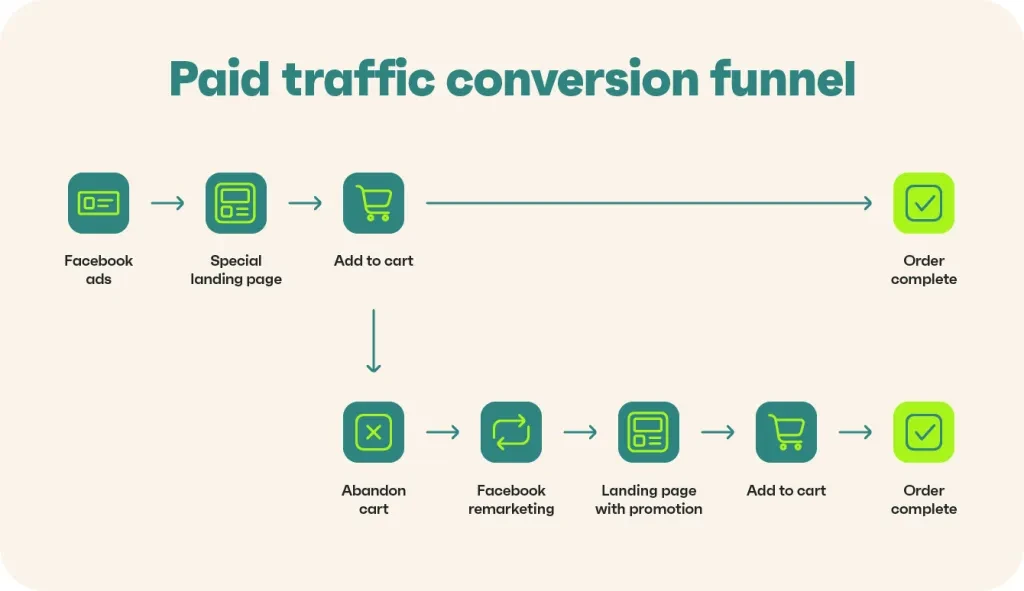 Ecommerce sales funnel optimization strategies
In this section, we'll discuss some compelling ecommerce sales funnel strategies you can use to target customers at each stage of their buying journey.
Invest in paid ads
Stage: Awareness
Paid ads are a faster way to get the word out about your brand and attract targeted traffic. This goes for both pay-per-click ads and social media ads.
Statistics show that spending in the global social media market is projected to reach $207.1b in 2023. Of all the social media platforms, Facebook has the highest number of monthly users (2.9 billion), making Facebook Ads one of your best bets.
If you're opting for PPCs, you can explore Google Shopping Ads for your ecommerce purchase funnel. These are more effective compared to text ads as they allow you to display your product images and prices from your shopping feed, like so:

If you're new to paid ads, it helps to pick one channel and master it first, then move on to other forms of paid advertising.
Create blog content
Stage: Awareness
Don't have an advertising budget? Don't worry. Creating blog content is an effective way to attract organic traffic to your website without spending much. All you need to do is share the information you already know about your product with your audience.
Make sure that your blog content highlights your unique brand personality. Here are a few tips on how to create and promote your blog content effectively.
Make your blog posts are relevant and useful for your funnel ecommerce audience
Include images and illustrative videos to make your content more engaging
Use interesting language and be sure to make your blogs explicit, e.g., provide illustrations whenever necessary of how your product solves your audience's problems, such as this example from To'ak Chocolate: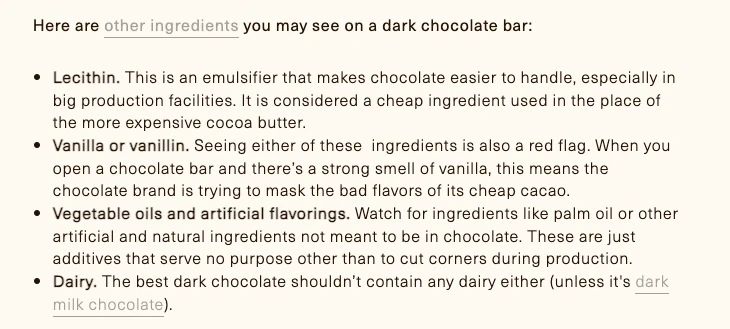 Include subtle mentions of your product in the blog content. Be sure not to sound too promotional, so there's a natural transition into the consideration phase of the sale funnel.
Optimize your product pages
Stage: Consideration
Your product listings are the best way to convince customers at the consideration stage to make a purchase.
Here are a few tips for how you can promote your product pages
Create better product descriptions: Here, you'll need to highlight the problem you're trying to solve for your prospects and explain how your product solves that problem. Here's an example from Baking Steel.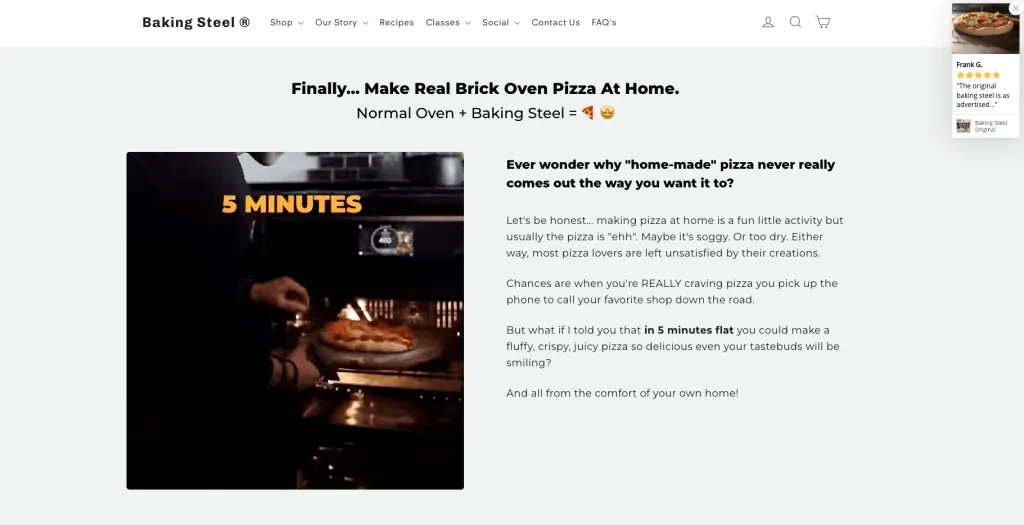 Create better CTAs: Make sure your call-to-action buttons go beyond your usual "Buy Now" and "Sign Up" prompts. Instead, make them more persuasive and interesting, for instance "I'm in" or "Discover More Goodies", etc.
On-site reviews: You can show product reviews on your website to impress your audience and urge them to make a purchase: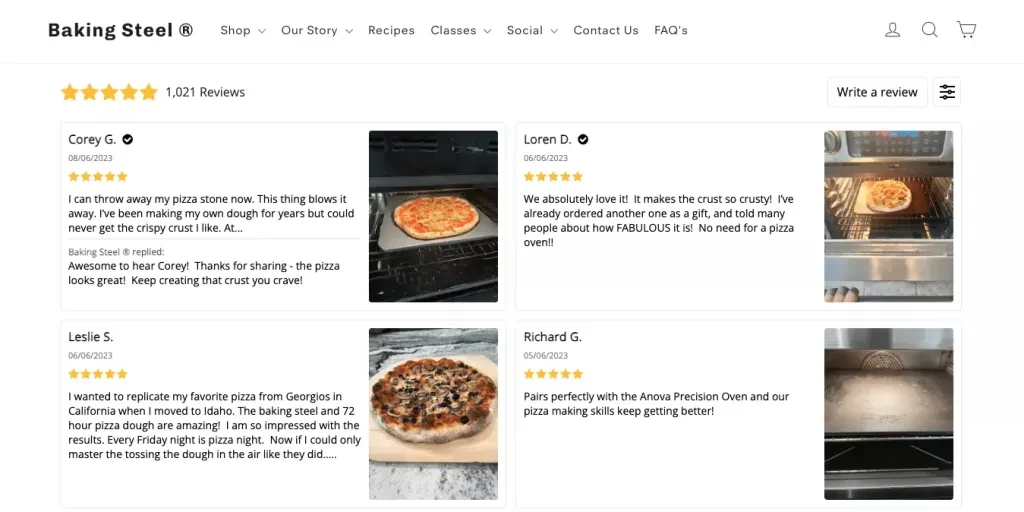 Exit-intent popups: Timing these popups right can help your visitors spend more time on your website and is also an effective way to offer discounts to your first-time visitors.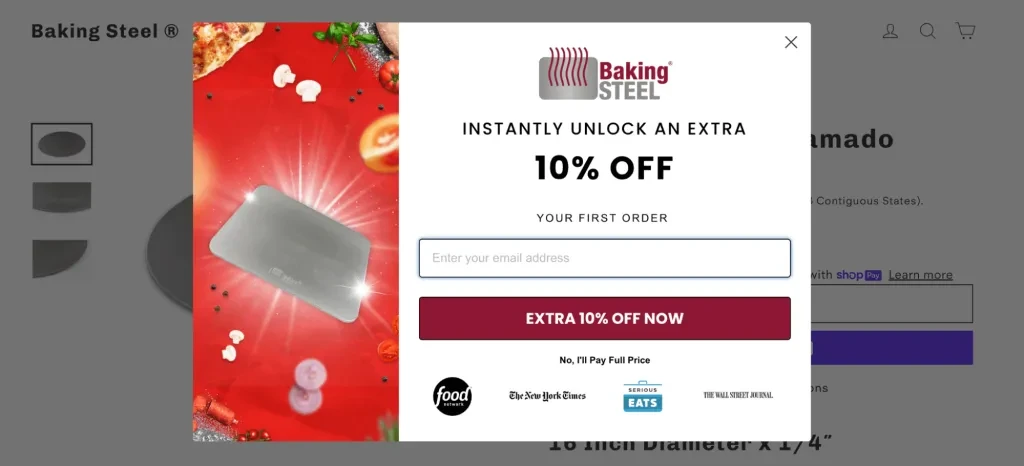 Add reviews to marketing emails
Through email marketing, you can stay in touch with your audience and keep your products at the top of their minds. It's also a great way to get social proof in front of your customers on a more personal level.
This helps move customers from the consideration stage to the next stage of the ecommerce marketing funnel.
Here's how To'ak effectively shares its customer reviews with its audiences through email marketing: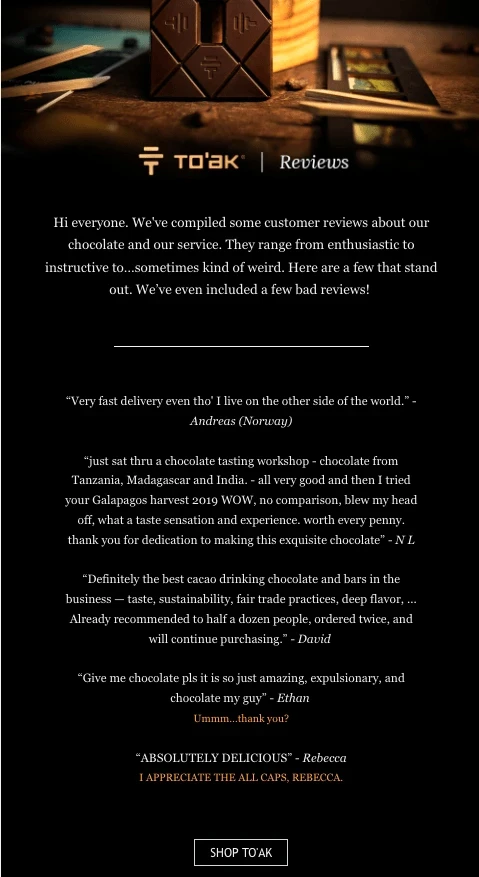 When sharing social proof through your emails, a helpful tip would be to include reviews as part of your subject lines to make them catchy. For instance, you can have your header be a direct quote from a customer.
Use website visitor engagement tactics
Stage: Purchase
Once your visitors get to the purchase stage of your ecommerce conversion funnel, it doesn't always mean that they will become customers. So you'll need strategies to keep them browsing your store long enough to make a purchase.
Some tactics you can use to engage them more include:
Use popups: These help you convert your customers by either offering discounts or asking them to signup for your newsletter.
Suggest related items: Keep your customers engaged by displaying items related to the products they're browsing.
Offer free shipping: Offering free shipping for your customers is a great incentive for them to buy from you. It also helps customers place higher value orders, as you'd be taking one expense off their plate.

Use chatbot messages: By providing live chat for customers on your site, they can easily make inquiries about your products as they come up.
Send "abandonment" emails
Stage: Purchase
Customers can easily get distracted and leave or "abandon" your site at any point when browsing. This is where abandonment emails come in.
You can send browse abandonment and abandoned cart emails to remind your customers to continue shopping or proceed to checkout respectively. This way, you'll avoid losing potential revenue.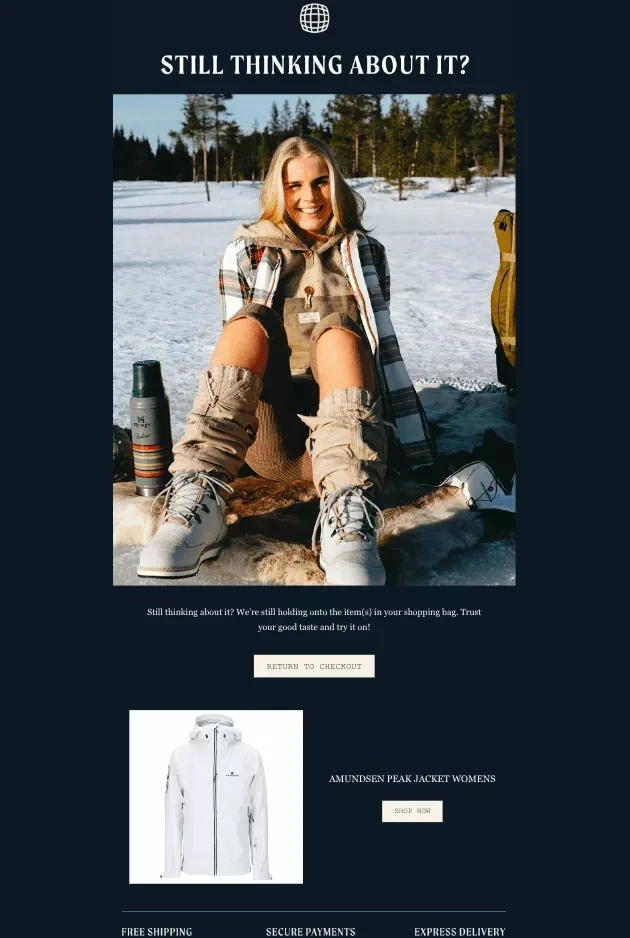 Through email marketing tools like Omnisend, you can personalize these emails based on your customer behavior. This includes:
Sending personalized marketing offers along with your reminders.
Offering time-restricted incentives to create a sense of urgency
Suggesting related items to cross-sell and upsell to customers.
Engage customers with relevant marketing emails
Stage: Retention
As mentioned, email marketing is a great channel to build customer loyalty. However, to make it effective, you'll need to employ some email marketing best practices that effectively nurture and engage your email list.
Here are a few tips:
Make sure your emails are relevant to your audience
Conduct email A/B tests to monitor performance
Use compelling CTAs
Send personalized emails based on customer details and browsing behavior
Time your emails to improve your open rates
Send mobile-friendly emails

Some post-purchase email ideas include:
"Thank you" messages to make your customers feel appreciated
Business milestone emails to increase engagement
Limited edition promotions for specific loyal customers
"Happy Birthday" emails
Make and promote a loyalty program
Stage: Retention
Loyalty programs are an effective way to engage customers while also rewarding them for sticking with your brand. Loyalty program rewards can be anything from redeemable points, discounts and coupons, to speedy shipping.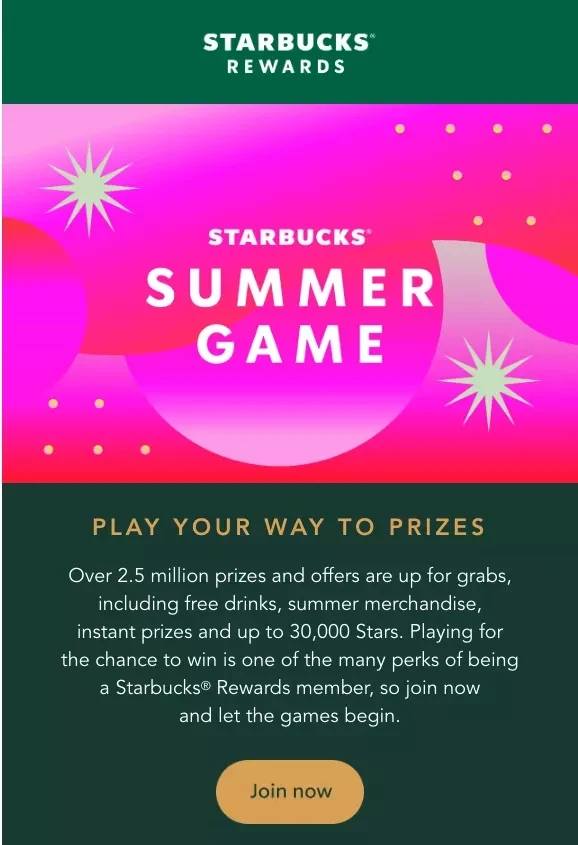 Once you've identified the perfect reward for your loyal customers, you can then choose how to promote this program. Here are some tips:
Use post-purchase email marketing messages to announce your program
Post about it on your website to attract your customers' attention
Create a thank you page and use it to announce your program
Post your loyalty program on social media
Summary
Tracking how your customers move down your ecommerce sales funnel helps you create a more targeted marketing strategy.
Some prospects will get to the bottom of the funnel quickly, while others will need a little nudging. The key is to distinguish how you market to each one.
Email marketing is one of the most effective channels you can use to get customers to the bottom of the sales funnel and keep them there. All you need is a powerful email automation tool.
Source from Omnisend
Disclaimer: The information set forth above is provided by Omnisend independently of Alibaba.com. Alibaba.com makes no representation and warranties as to the quality and reliability of the seller and products.
Was this article helpful?