The EU+ truck market has been performing strongly in 2023, but leading indicators point to a slowdown in underlying demand drivers: EU industrial production declined by 2.4% in July and by 4.4% in August; meanwhile, PMIs and survey data are at levels that have historically been consistent with recession.
Nonetheless, the European truck market appeared to defy deteriorating macro conditions this summer as selling rates rose sharply. This was not solely, or even primarily, a matter of pent-up demand becoming unleashed as supply constraints continued to ease. The recent spike in selling rates coincided with the EU Smart Tachograph 2.0 mandate (an element of the EU Mobility Package raft of legislation), which came into effect in August. The impetus resulting from the mandate affected not only core intra-EU markets, but the entire region, including Norway, Switzerland, and the UK.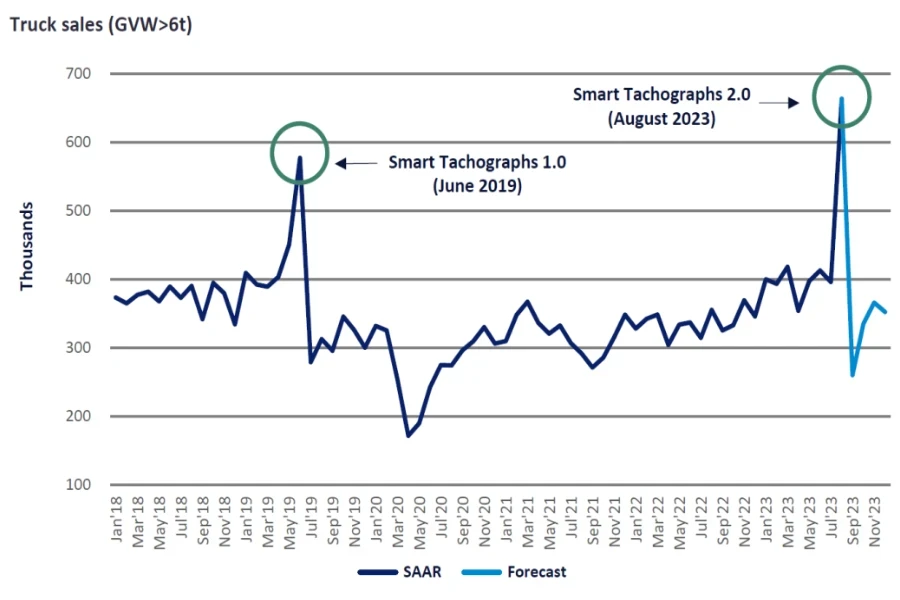 Smart Tachographs 2.0 are equipped with GNSS technology to monitor location, time, and working hours; they also have the ability to communicate with other vehicles and roadside infrastructure. This is a significant upgrade in surveillance capability (for example, monitoring border crossings) from Version 1.0 of the technology, which became mandatory in the EU and the UK in June 2019.
Newly registered trucks and buses with GVW>3.5 t need to be equipped with Version 2.0 as of August 2023. Older vehicles involved in international road transport need to be retrofitted with the devices, with implementation staggered depending on current equipment. Vehicles equipped with older digital tachographs must be retrofitted by December 2024, whilst vehicles equipped with Version 1.0 must be retrofitted by August 2025.
The nature of the mandate meant that truck operators not involved in international haulage, as well as international hauliers not yet in possession of Version 1.0 Smart Tachographs, had a considerable incentive to avoid implementation of the new technology (for cost or other reasons) for as long as possible, which explains the rush to acquire vehicles equipped with Version 1.0 of the technology while they could still be legally registered. The phenomenon is reminiscent of the introduction of Smart Tachographs 1.0 (June 2019), as well as digital tachographs (2006), which sparked similar prebuy in many markets.
The size of the pull-forward has largely depleted the reservoir of pent-up demand that had built up as a result of supply-side shortages over the last couple of years and which had, for a long time, acted as a buffer between deteriorating demand drivers and actual market performance. As this reservoir dwindles, support from this source will wane over the coming year. GlobalData's European truck market and production forecasts reflect the gloomier outlook, with sales and build now forecast to decline in 2024.
Regulatory changes are all but certain to bring about further market distortions in future. The increased costs associated with meeting Euro VII emissions requirements (2027) and EU CO2 reduction targets (2030) are expected to drive significant prebuys over the coming decade. Current events serve as a preview of the kind of prebuy/payback cycles we can expect to see.
Zita Zigan, Director, Global Commercial Vehicle Forecasts, GlobalData
This article was first published on GlobalData's dedicated research platform, the Automotive Intelligence Center
Source from Just-auto.com
Disclaimer: The information set forth above is provided by Just-auto.com independently of Alibaba.com. Alibaba.com makes no representation and warranties as to the quality and reliability of the seller and products.
Was this article helpful?