Sourcing camcorders can be a daunting task. With many models in the market, they differ significantly in their value, features, and size, leaving many newbie buyers asking, "Where do I start?".
Thankfully, understanding such features is straightforward with a little explanation. Here, we'll break down the crucial elements you must look for when buying a mini camcorder. From entry-level pocket cams to high-end UHD models, here are the factors you'll need to consider when choosing which mini camcorders to sell. Let's dive in!
Table of Contents
The camcorder market size
How camcorders differ from video cameras
Types of camcorders
Features to consider when buying camcorders
Conclusion
The camcorder market size
The digital camcorder market size is vast. According to market analysts, by 2025, the market size will reach a valuation of approximately US $3.6 billion, growing at a CAGR of 10.4% during the 2020 to 2025 forecast period.
North America dominates the market thanks to its early adoption of advanced technology, followed by Europe and Asia Pacific. Brands like Canon, Sony, Samsung, Nikon, JVC, and Panasonic are key players that dominate much of the camcorder market.
Their significant sales is in part down to the ever-growing demand for these devices by electronic media channels to provide remote news coverage. Filmmakers on tight budgets shoot movies and television shows using camcorders to cut their expenses, thus driving up sales. Examples of popular digital films recorded on camcorders include 28 Days Later, April Fools, and Paranormal Activity.
The education sector has also been at the forefront of boosting the camcorder market size. With the revolution of digital education, lecturers and tutors use camcorders to record their classes and then upload them video-sharing platforms such as YouTube. Equally, students can use these video-recording devices to conduct research, experiments, and interviews. Camcorders help to preserve the evidence of their research and proper presentation of their observations and conclusions.
In addition, people around the world continue use camcorders for more traditional means, capturing significant life events such as birthdays, weddings, and anniversaries. The accessibility of user-friendly products, cost-effective pricing, and simple storage options means that more people than ever can document these day-to-day experiences and share them with their fans on social media websites like TikTok, Instagram, and Facebook. Consequently, such trends are set to further boost the expanding camcorder market.
How camcorders differ from video cameras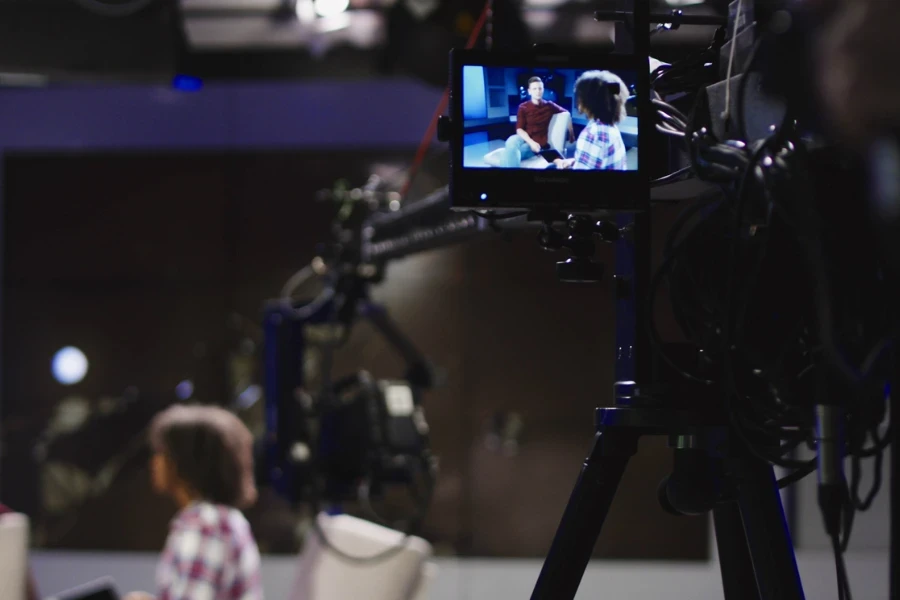 Video cameras work by capturing motion and transforming the visuals into electronic signals. Today, compact camera options save this data on an array of formats, including video cassettes, hard drives, memory cards, and DVDs. These devices can also accommodate still photography.
Camcorders, meanwhile, are synonymous with quality video and sound recording capabilities, capturing both at a level that is beyond compare.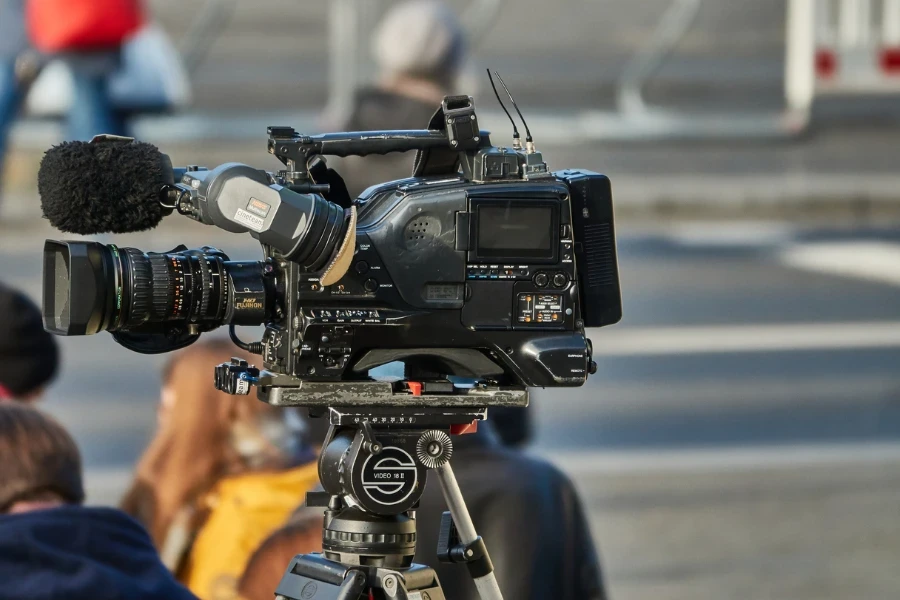 Like video recorders, camcorderss leverage analogous storage media, reserving a portion of camera space for recording purposes.
While video cameras translate optical signals into electronic equivalents, camcorders excel at signal storage. Moreover, camcorders have greater mobility compared to video cameras.
For photographers who occasionally dabble in videography, a video camera would suffice. Conversely, camcorders, courtesy of their superior quality and enhanced user-friendliness, are suitable for individuals who engage in extended motion picture recording.
Types of camcorders
Full-sized camcorders
In contrast to the analog camcorders of yesteryears, digital models offer an array of possibilities beyond mere TV playback. They allow users to edit and enhance videos with music, graphics, and text via a computer and video-editing software, as well as the option to play their creations back via DVD or Blu-ray.
Furthermore, such camcorders facilitate sharing via digital mediums such as email or video-sharing platforms such as YouTube.
Most full-sized camcorders boast a minimum 10x optical zoom, with some even going up to 50x. However, when fully zoomed in, many of these camcorders may exhibit shaky video due to shaky hands or other influencing factors. To address this issue, most models feature image stabilizing technology.
Many full-sized HD camcorders also feature an HDMI output, which allows consumers to connect their device to a TV via an HDMI cable.
Action cams
Consumers that want a smaller-sized camcorder may want to explore buying an action cam. One example includes the GoPro Hero line of camcorders. These alternatives boast minuscule dimensions and featherweight butrobust and durable designs.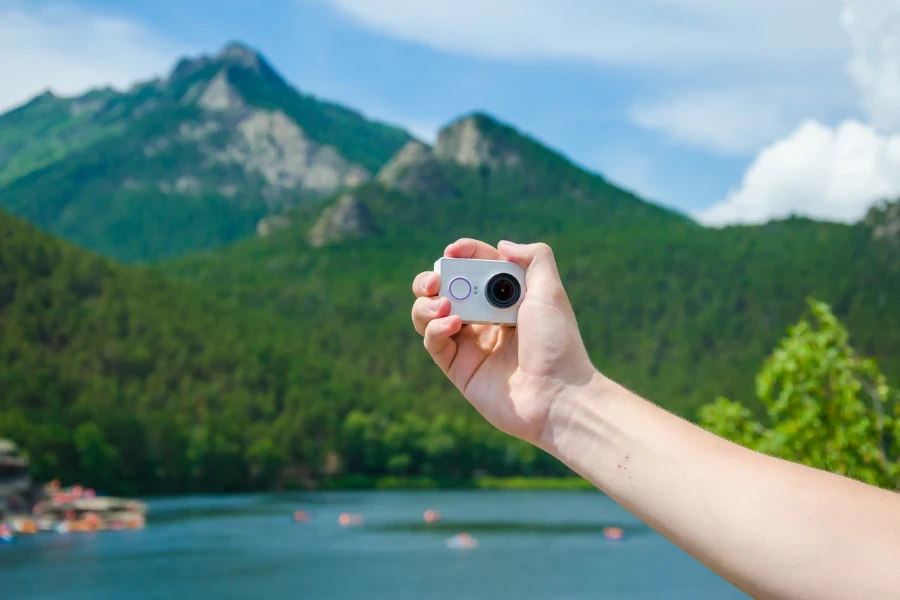 Action cams cater to those that desire hands-free video capturing capabilities. They are designed primarily for individuals involved in outdoor sports and activities, including biking, surfing, and snowboarding. However, the compact nature of these cams means that many lack features such as viewfinders or LCD screens.
While some models sport a waterproof exterior, most feature resilient and waterproof housing, accompanied by removable cases and mounting brackets for secure attachment to helmets or other objects.
Features to consider when buying a camcorder
Video quality
Considering the video quality is essential when shopping for camcorders. Universally, camcorders shoot full-HD (1920×1080 pixels) and ultra-HD (3840×2160 pixels) video quality, and most manufacturers provide these models in their product lineup. Camcorders with ultra-HD resolution boast a shooting quality of four times that of a full-HD cam.
Buyers looking for a model that captures finer details and sharper images should opt for an ultra-HD camcorder. The high number of pixels (approx. 8.3 million) creates a more realistic and deep visual experience compared with an HD camcorder with only 2 million pixels. However, users require a 4K TV to view such detail.
Audio quality
Buyers should consider the quality of a camera's built-in microphone when choosing the right camcorder for them, helping to reduce unwanted noise or hiss. Sony and Panasonic models are often lauded for their audio-capturing capabilities. For example, the HC-V785K from Panasonic and the FDRAX43A/B from Sony are full-size camcorder models that capture decent audio.
It should be noted that, in most cases, action cams have poor audio quality. Sellers can provide models that include an audio jack for consumers who want to supplement their videos with improved audio via an external microphone.
Image stabilization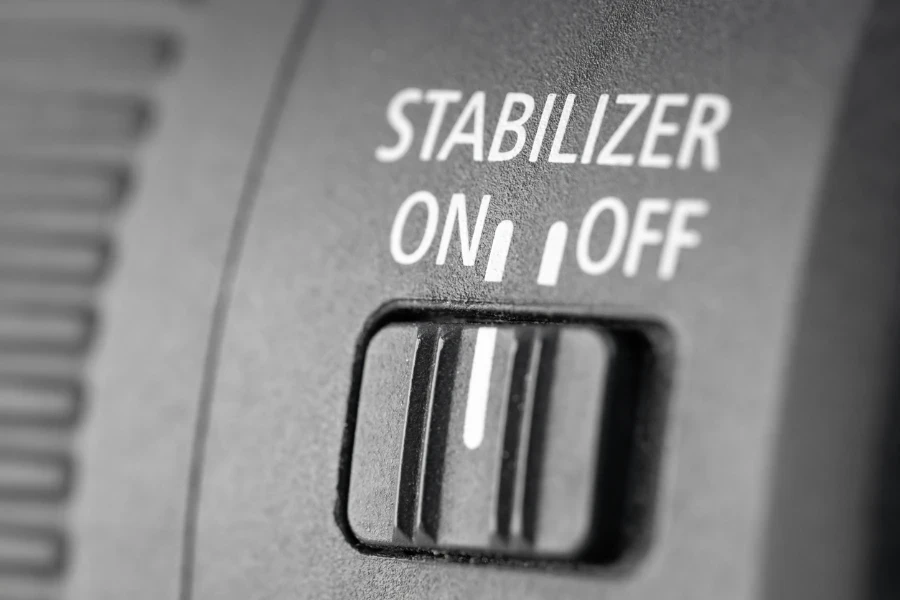 Image stabilization is equally crucial when sourcing a decent camcorder. This feature automatically reduces most of the unwanted shaking that can occur when holding a camcorder. Most camcorders use electronic or optical means to do this, although some models have both (hybrid).
Optical image stabilization (OIS) technology uses sensors and microprocessors to detect and correct camera movement, resulting in sharper, more stable images. Electrical image stabilization, meanwhile, aims to replicate the effects of OIS but solely using software. It detects movements using a gyroscope and then adjusts the video's frames accordingly.
While both types can be effective, users can also mount their camcorder to a tripod for even steadier images. Camcorders with favorable stabilization performance include the Panasonic HC-VX870K, Sony Handycam AX-53, Vivitar DVR5K-BLK-STK-4, and the Canon XA60. Action cam enthusiasts may look to the GoPro HERO 5 CHDHX-501 for their image stabilization needs.
Low-light performance
Most camcorders work best in bright light conditions. However, such conditions are not always forthcoming, so it is best to choose a model that can also operate in low light.
Different models vary in their low-light performance, with models such as the Sony HDR-CX405, Panasonic HC-V180K, and Canon VIXIA HF R800 noted for their exceptional video quality in low-light conditions.
Zoom range
Zoom is another significant consideration for those in the market for a camcorder. Zoom, or the ability to manipulate how close an object appears to be to the camera, is achieved through adjustments within the lens or digital enlargement of the image.
This is primarily achieved via either optical or digital zoom. Optical zoom involves physical adjustments to the internal lens configuration, resulting in changes to the focal length. This manipulation creates the effect of objects appearing larger or smaller, with some camcorders offering up to a 60x zoom range.
On the other hand, digital zoom operates by magnifying the image captured by the camera's sensor, without adjusting the lens' focal length. However, the higher the digital zoom, the more image quality is compromised.
Battery life
A camcorder's battery life will also influence which model a consumer chooses. A camcorder's battery capacity is measured in milliampere-hours (mAh), with higher-capacity batteries generally providing longer operating times.
Buyers will want a camcorder with higher-capacity batteries if they plan on recording for longer periods without recharging. The Sony HDRCX405, Panasonic HC-WXF991K, and GoPro Hero 9 camcorders offer filming times of between 4 to 8 hours.
Storage options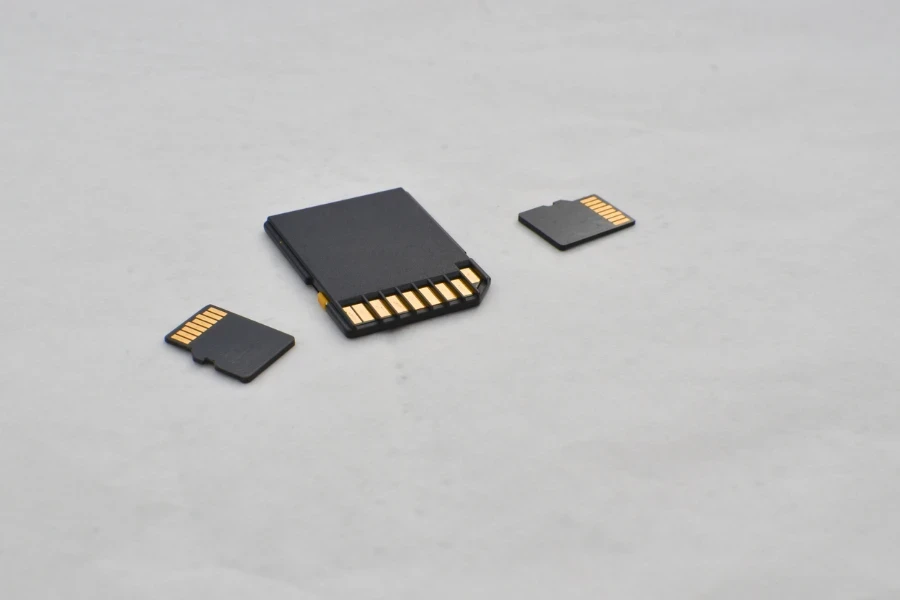 Buyers should also consider storage when choosing a camcorder. Many camcorders use both flash internal memory and memory cards to store videos. Types of camera memory cards include SD and microSD.
Storage choice will also affect capacity, with formats ranging from 4GB to 1TB. 
Connectivity and sharing
Buyers will also want to research a camcorder's connectivity and sharing options. Bluetooth and Wi-Fi connectivity allows users to connect the device to a smartphone, tablet, and other devices wirelessly, enabling easy sharing and remote control using phone-based apps.
The camcorder should also provide various wired connection choices like HDMI and USB to connect with a TV or computer. Users can check which HDMI or USB connections the camcorder supports to assist them in solving any compatibility issues that may arise.
Other file-sharing options include social media integration, cloud sharing, and near-field communication (NFCs).
Additional features
Some camcorder models may incorporate unique features to enhance overall user experience. For instance, GoPro have a robust shell and water resistance, helping them to withstand harsh recording conditions.
Other models, like those manufactured by Sony, may have a projector implanted on the screen to project images. Other supplementary features include shortcut buttons, 3D capabilities, and LCD size. Sellers will want to stock different camcorders to meet specific users' needs.
Conclusion
In summary, this guide provides everything there is to know about choosing the right camcorder. By considering these tips, businesses can select suitable models for their clients to help satisfy their needs. Browse thousands of top-of-the-line camcorders on Alibaba.com.
Was this article helpful?