Germany's latest ground mounted solar auction receives good response with significant oversubscription
As against 1.95 GW offered, bids came in for 2.869 GW; Bundesnetzagentur awarded 1.952 GW
Maximum capacity was awarded to projects in Bavaria, followed by Brandenburg and Rhineland-Palatinate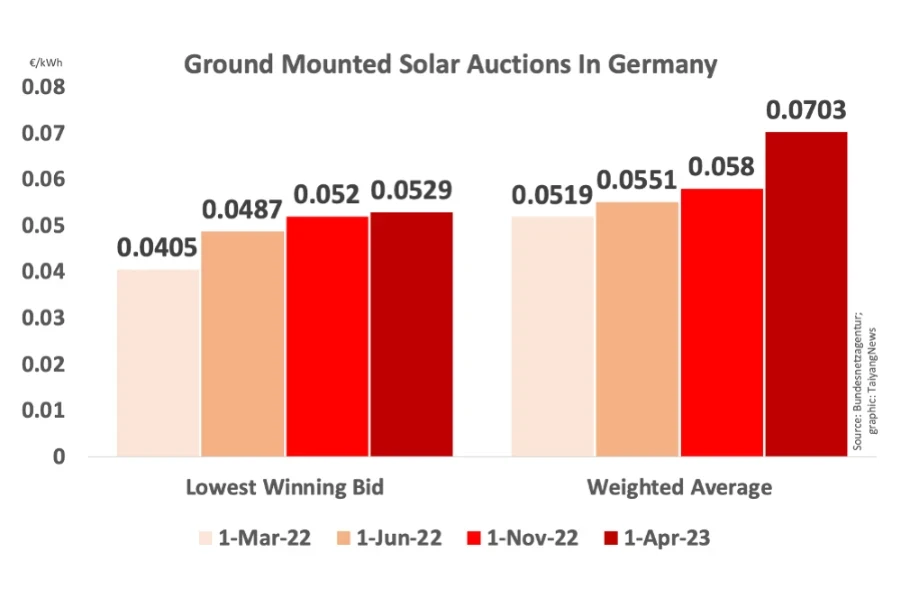 Germany's March 1, 2023 ground mounted solar PV auction round with 1.95 GW capacity offered attracted 2.869 GW in response which national regulator Bundesnetzagentur (Federal Network Agency) says is the 1st oversubscription for any of its auctions since June 2022.
"Never before have so many bids been submitted in such a tender by the Federal Network Agency. Now it is important to maintain this high level of bids in order to push ahead with the necessary expansion over the long term," said President of the Federal Network Agency, Klaus Müller.
Of the total 347 incoming bids, the agency selected 245 representing a volume of 1.952 GW. Maximum capacity of 845 MW as 119 bids was awarded for projects in Bavaria, followed by 223 MW as 17 bids in Brandenburg and 163 MW in 18 bids for Rhineland-Palatinate.
A large amount of projects with 851 MW capacity will be located on arable or grassland, while the remaining 755 MW will be spread along motorways or railways, according to the agency.
Its decision to raise the maximum tariff for ground mounted facilities to €0.0737/kWh seems to have worked to increase investor response.
Winning tariffs ranged between €0.0529/kWh as lowest and €0.0730/kWh as highest with an average weighted of €0.0703/kWh. In the previous round held on November 1, 2022, tariffs were determined as €0.0520/kWh, €0.0590/kWh and €0.0580/kWh respectively, which means the lowest bids remained at basically the same level, while the maximum is much higher now.
Details of the tender awards are available on the agency's website.
Bundesnetzagentur will launch the next round of tenders for ground mounted solar systems on July 1, 2023.
Source from Taiyang News
The information set forth above is provided by Taiyang News independently of Alibaba.com. Alibaba.com makes no representation and warranties as to the quality and reliability of the seller and products.
Was this article helpful?