Camping can be an enjoyable and fascinating experience with the right tent. However, selecting the perfect tent can be a daunting task. The market is full of different types of tents, such as cabin tents and pop-up tents, all of which are designed for specific uses and environments.
This article is going to explore the various types of camping tents available and offer insights into how to select the perfect camping tent.
Table of Contents
Overview of the camping tents market
Types of camping tents
How to select the perfect camping tents
Conclusion
Overview of the camping tents market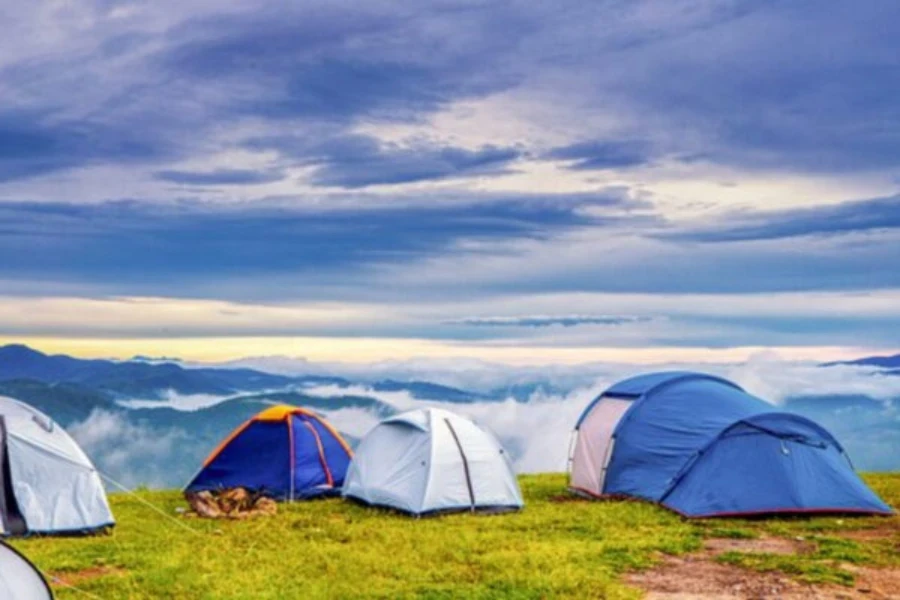 The global demand for camping tents is rapidly growing; many people know the benefits of outdoor activities, including psychological and physical benefits. These activities rely on camping tents as they provide temporary storage and shelter. According to Fact.MR, as of 2022, the camping tents market was valued at US$ 2.43 billion, and the compound annual growth rate (CAGR) is expected to be 5.7%, meaning that by 2032 the market will have grown to about US$ 4.24 billion.
According to The Business, the glamping industry has also experienced a notable expansion as its global market size increased from US$ 2.54 billion in 2022 to US$ 2.89 billion in 2023. This represents a compound annual growth rate (CAGR) of 13.6%, indicating a significant surge in demand for luxury camping accommodations worldwide. It is anticipated that the glamping market will expand to US$ 4.62 billion by 2027, with a compound annual growth rate (CAGR) of 12.5%.
An element that has boosted the demand for camping tents is people's awareness of the various types of tents available in the market, including water-resistant and inflatable tents. The distribution of camping tents has been made easy, and many consumers can order them online. The delivery is also efficient through various travel companies.
Additionally, the growth of travel companies has impacted the demand for camping tents. These companies provide standard services to customers, including outdoor activities. The development of sports and hiking activities is also a big booster.
Types of camping tents
The market is full of different types of camping tents with unique features and designs that match individual preferences. Below are some of the popular camping tents.
1. Cabin tents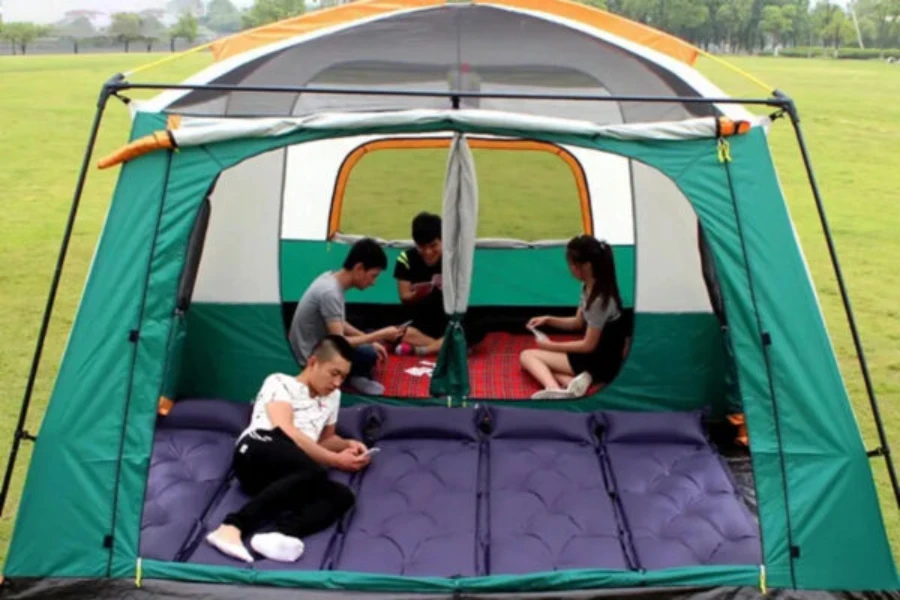 Cabin tents are large and spacious, mainly suited for family camping, and can host a larger group of people. Their vertical nature allows movement without any obstacles, and one can stand upright. Also, they are easy to set up and take down, making them best for car camping. Additionally, they have multiple rooms, windows, and doors which give a feeling of home rather than a tent.
2. Pop-up tents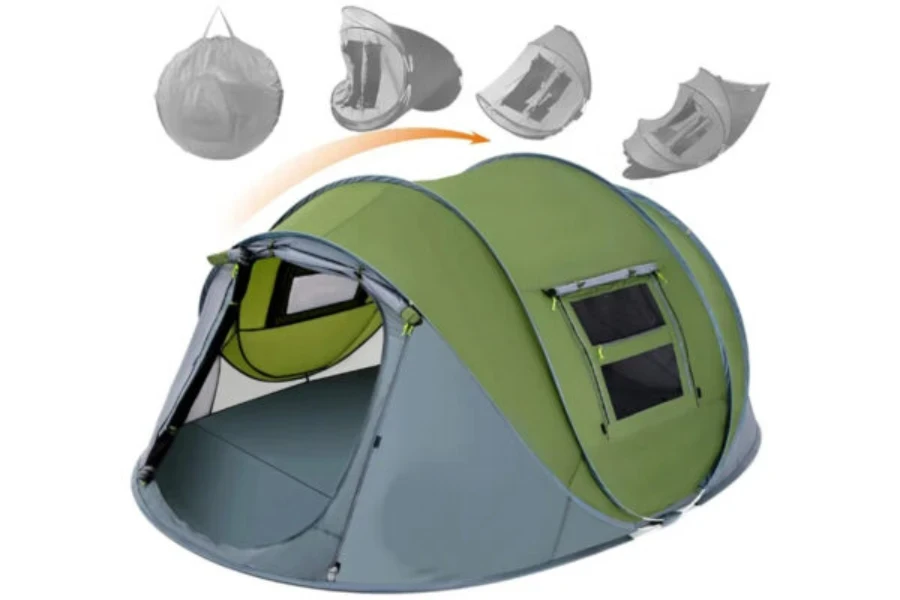 Pop-up tents are one of the most straightforward tents to set up and take down. They are very light and compact, and they are best for hiking. Pop-up tents are best suited for unplanned camping because they only require a little energy to pack and install. They come in various sizes, from single to family-sized tents.
3. Dome tents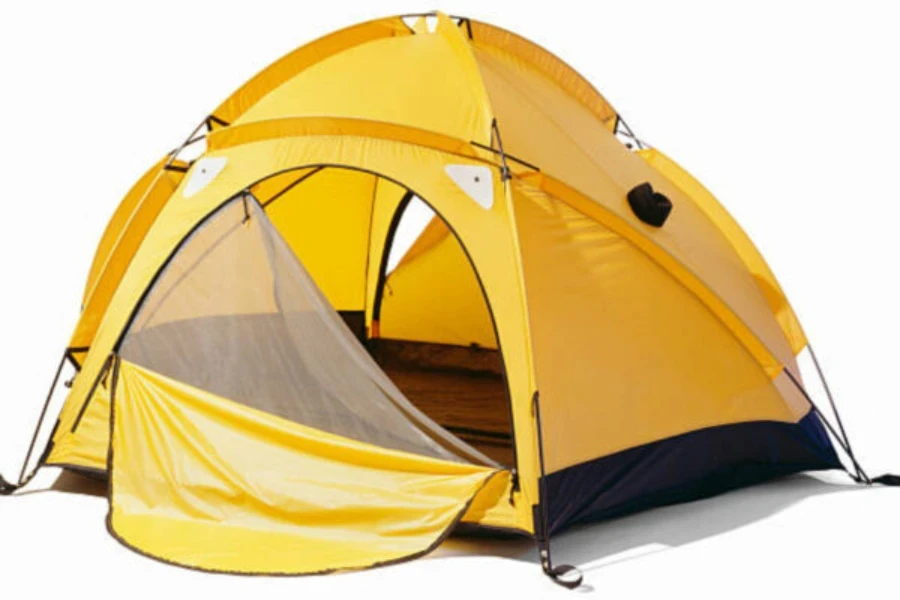 Dome tents are among the most popular tents for camping because they are strong and durable. As the name suggests, they are curved in nature, allowing them to withstand high winds and heavy rains. These tents are easy to set and take down. Dome tents are also lightweight and portable, making them the best for backpacking and mountain hiking.
4. Teepee tents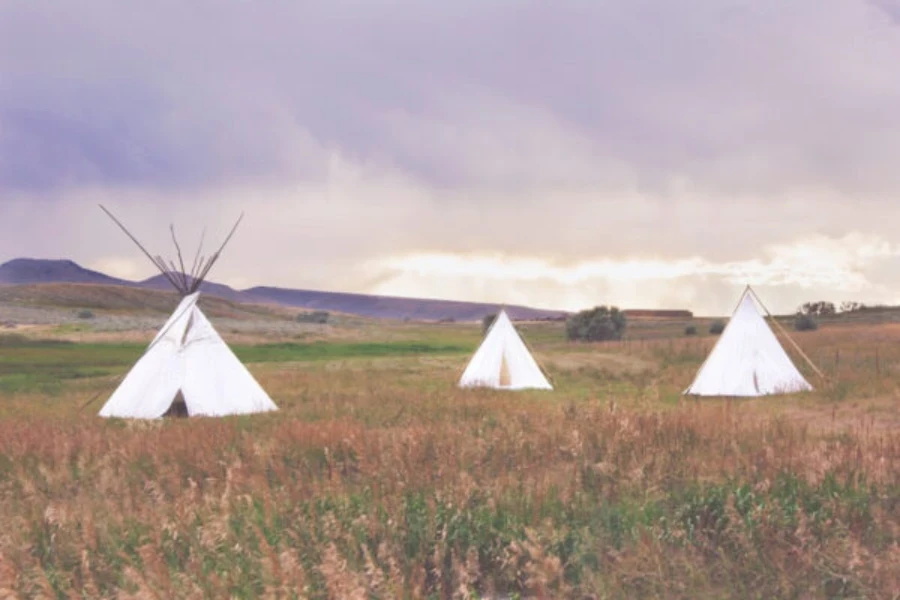 Teepee tents are unique and shaped like traditional native American teepees. The setup of the teepee tent includes a center pole that supports it with slides secured with stakes. These tents can have a large interior space and can host many people.
5. Backpacking tents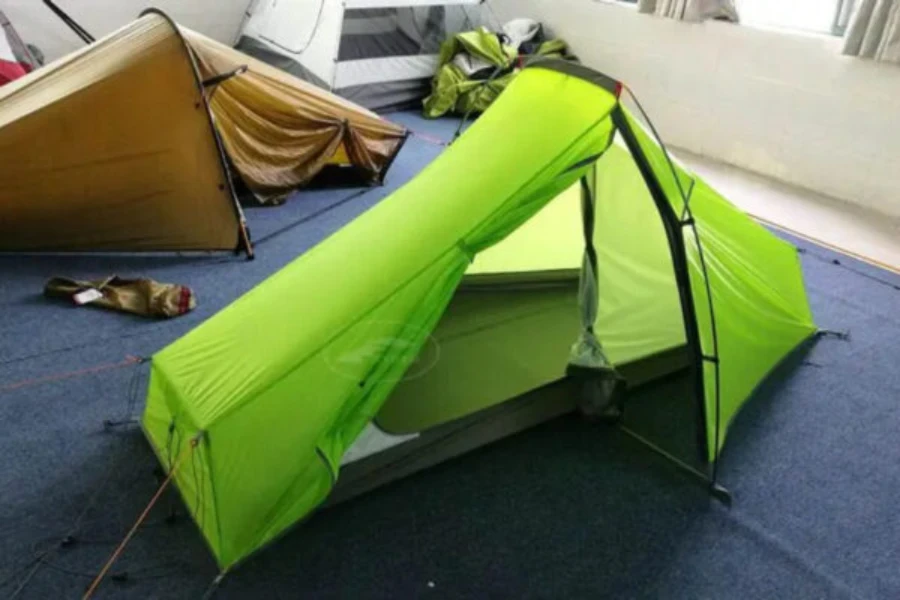 Backpacking tents are designed to suit individuals who like hiking; they can accommodate up to four people. These tents are lightweight, firm, and easy to carry and install, making them ideal for long hikes. Backpacking tents are also designed to withstand harsh climatic conditions, hence famous for outdoor activities or adventures.
How to select the perfect camping tents
Below are some of the factors to consider when choosing the perfect tent:
1. Cost
The prices for camping tents vary depending on their size, materials, and characteristics. On average, camping tents cost between USD $25.37 – USD $35.89. When buying camping tents, consider the budget you have.
2. Capacity and size
Capacity and size is another vital factor to consider when purchasing a tent. The tent should be able to accommodate the desired number of people. A bigger tent provides more space for everyone using it and adds comfort. Small tents will need more space for people and other camping gear.
3. Durability
Another factor to remember when selecting the perfect camping tent is durability. A durable tent is made of high-quality material that can withstand weather conditions like strong winds and heavy rains. The durability of camping tents is different; some can last up to 7 years and others 17 years. Look for tents made with sturdy fabrics, strong poles, and reinforced seams to ensure maximum durability
4. Design
The tent's design can also affect its stability during strong winds; for example, dome tents are generally designed to withstand harsh climate conditions. A well designed tent should be easy to set up and take down, as well as offering good ventilation.
5. Tent type
There are several types of tents, including backpacking tents, family tents, and car camping tents. Consider those tents that can be easily set up and taken down to suit the camping preference. The tents should also accommodate a large number of people and provide storage space.
6. Seasonality
Different tents are designed for different seasons and weather conditions, and it's essential to consider this when choosing the perfect camping tent. Summer tents are usually lightweight to provide air circulation during warm weather, while winter tents are heavy. It is important to research camping locations to ascertain which tent suits the environment.
7. Ventilation
Proper tent ventilation is crucial as it prevents condensation, reduces the risk of mildew, and improves air circulation. Consider tents with mesh windows that can be opened to allow air circulation. Some tents have these features and can be adjusted to suit your needs.
Conclusion
The market is full of different types of tents, and the chances of selecting the wrong tent are very high. By considering the factors discussed above, such as cost, ventilation, design, and seasonality, it will be easy to find the ideal tent.  For high-quality and durable camping tents, visit Alibaba.com.
Was this article helpful?