Many marketers believe that MMS marketing is outdated and ineffective in the age of social media and instant messaging.
But in reality, MMS marketing continues to be a powerful and impactful tool in digital marketing.
The messaging tool allows businesses to send rich media content like images, videos, and audio alongside text messages directly to their customers' mobile devices.
In fact, MMS has evolved, adapting to changing consumer preferences and technological advancements. This makes it an indispensable part of a comprehensive marketing strategy.
What's more interesting?
MMS opens up new avenues for personalization, allowing businesses to tailor their messages. The targeted approach enhances the overall customer experience, fostering a sense of connection and relevance.
If you'd love to improve your marketing campaigns with MMS marketing, this article is a must-read.
Not only will it define MMS marketing, but it will also share examples and best practices to get you in the right direction.
Let's get started.
Table of contents
What is MMS marketing?
How MMS Marketing Works
How to use MMS for marketing
MMS marketing examples
MMS marketing best practices
Wrap up
What is MMS marketing?
MMS or Multimedia Messaging Service marketing is a mobile marketing strategy that uses multimedia content like images, videos, and audio to communicate with target audiences. MMS marketing aims to increase brand awareness, customer engagement, and conversions by delivering visually captivating content.
MMS marketing enables marketers to surpass the constraints of traditional SMS by providing visually engaging multimedia content. This allows for more interactive and detailed brand storytelling targeting a wider mobile device audience. Its compatibility with almost all mobile devices ensures broader reach and increased campaign effectiveness.
How MMS marketing works
MMS marketing operates as an extension of SMS marketing, utilizing multimedia elements to deliver more captivating and interactive messages.
First, you'll need a reliable mobile marketing platform and explicit consent from recipients to receive MMS messages.
Creating messages involves combining text, images, videos, and other rich media using the platform's user-friendly interface. Always ensure the content aligns with your brand and offers value to recipients.
Once ready, the MMS messages are sent directly to the mobile numbers of opted-in customers. The messages appear in the recipients' messaging app, offering a seamless and engaging experience.
What's the best part?
MMS marketing tools allow you to track campaign performance by measuring open rates, click-through rates, and conversions. This helps you refine your strategy and improve future campaigns.
Through the dynamic blend of multimedia and personalization, MMS marketing establishes meaningful connections with customers. This fosters higher engagement and yields impressive results for your marketing efforts.
Here's a typical example of MMS marketing: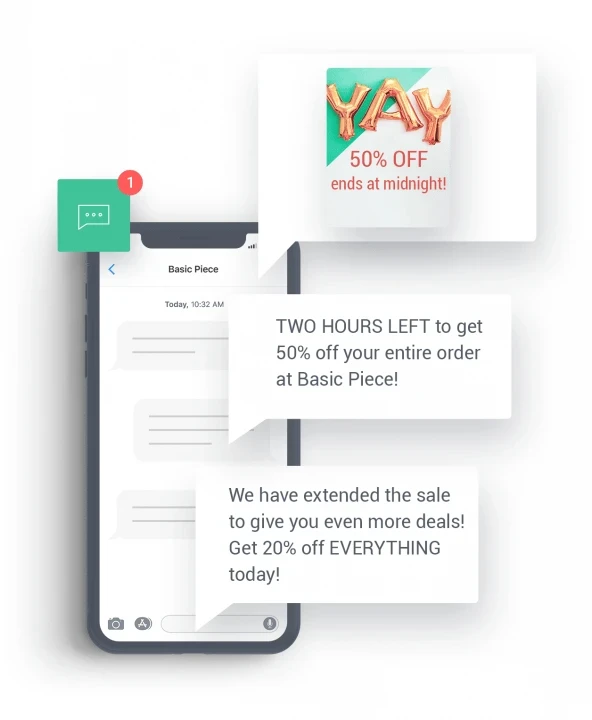 How to use MMS for marketing
The best use cases for an MMS in marketing are:
New sale announcements
New collection/product introduction
Welcome messages
Cart/Browse abandonment messages
Birthday or anniversary messages
Back-in-stock messages
Invitation to a competition or loyalty program intro
MMS marketing examples
In this section, we'll illustrate the use cases mentioned in the previous section by providing a few examples of promotional and automated messaging campaigns. They examples include:
1. Haute Jewels: New collection announcement
2. Indigo Boutique: New collection + discount
3. Halo Life: New mask design
4. Indigo Boutique: Online-only sale
5. Bulldog nutrition: An early access/limited edition MMS
6. Crust club: Free cookie for every order
7. Basic piece: Abandonment cart MMS
8. Basic piece: Birthday MMS
9. Block of gear: Lapsed – purchase MMS
1. Haute Jewels: New collection announcement
Haute Jewels is introducing a new collection and immediately offers 20% off for a weekend. As you can see, the image doesn't have too many details. That helps the MMS recipients keep the focus on the new products.
Also, the MMS provides the link to the online store. This makes it easy for customers to purchase the product.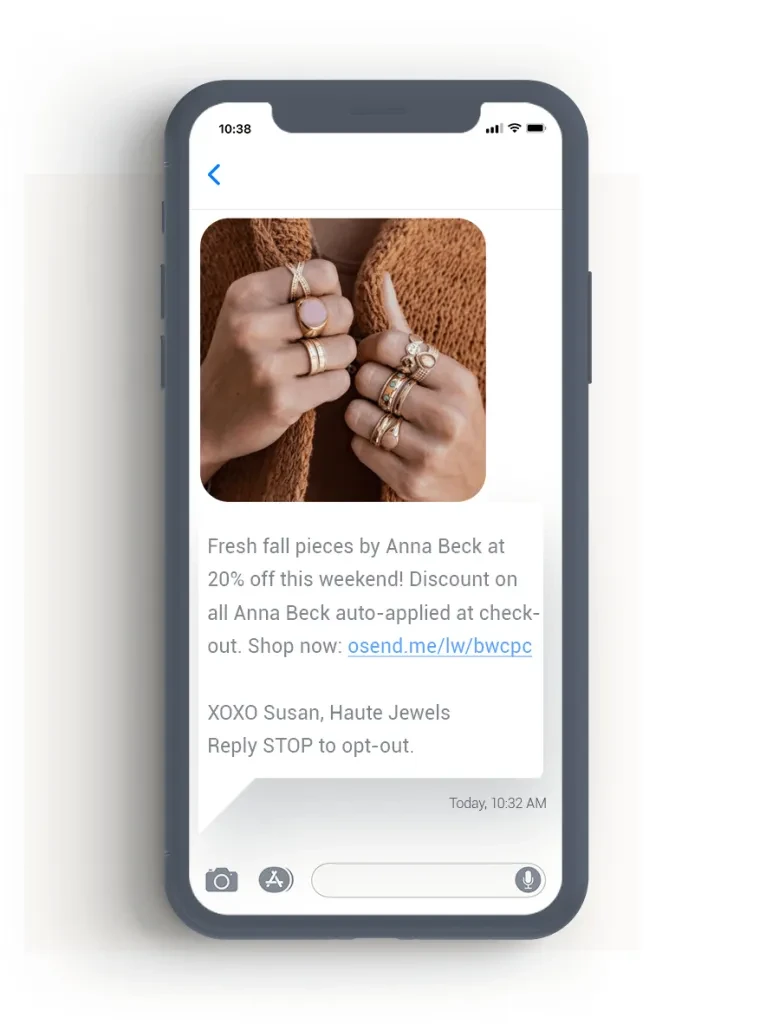 Using popups is an effective way to collect numbers for MMS marketing. Check out this article on ways to use smart popups for better conversions.
2. Indigo Boutique: New collection + discount
Indigo Boutique is introducing a new fall collection with 15% off if you use the code Thankyou. The images showcase appealing collections available in the fall collection. This makes it easy it convince the recipient to place an order.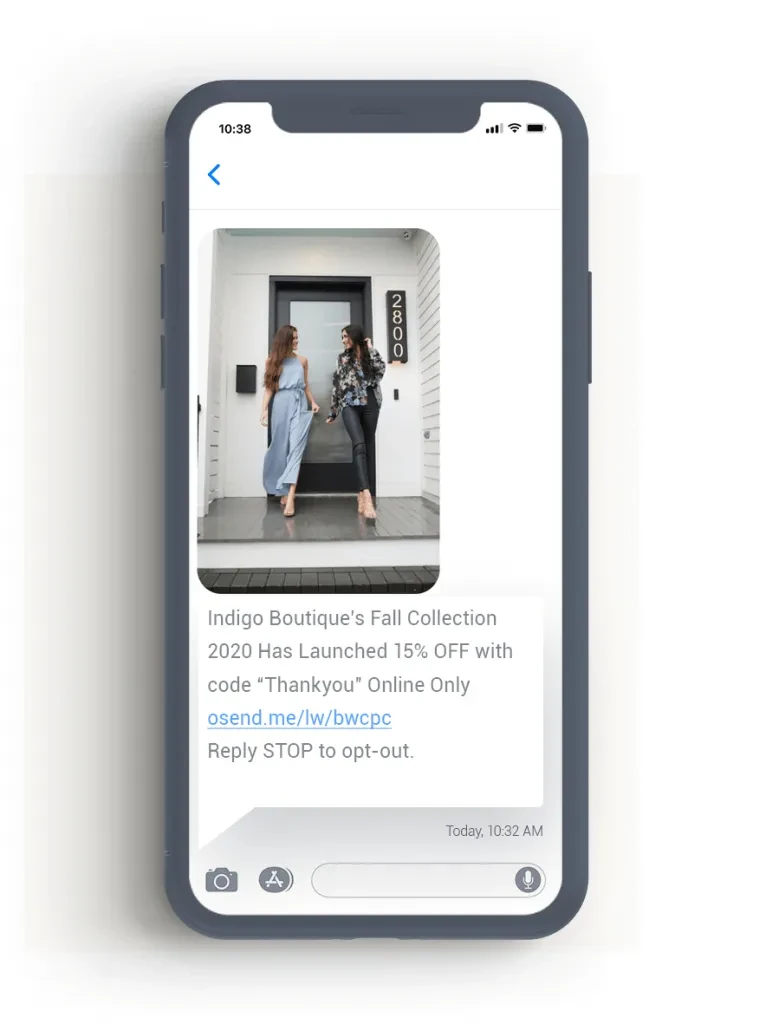 3. Halo Life: New mask design
Halo Life is introducing a new mask design. It displays a large, high-resolution image placed at a perfect angle that allows you to appreciate every detail of the mask.
As you can see, the image features a sleek, modern mask with an art-inspired pattern, showcasing various color options for individual styles.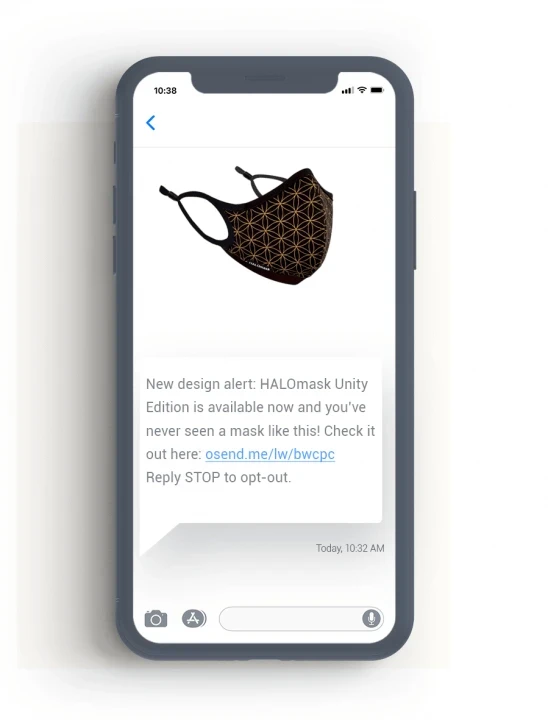 4. Indigo Boutique: online-only sale
Indigo Boutique's is giving an exclusive online-only sale discount of 15% on the elegant dress when you use the code "thankyou" at checkout. It displays an image with a clean and minimalistic design.
The attention-grabbing image highlights the dress's timeless beauty, making it a must-have for any occasion.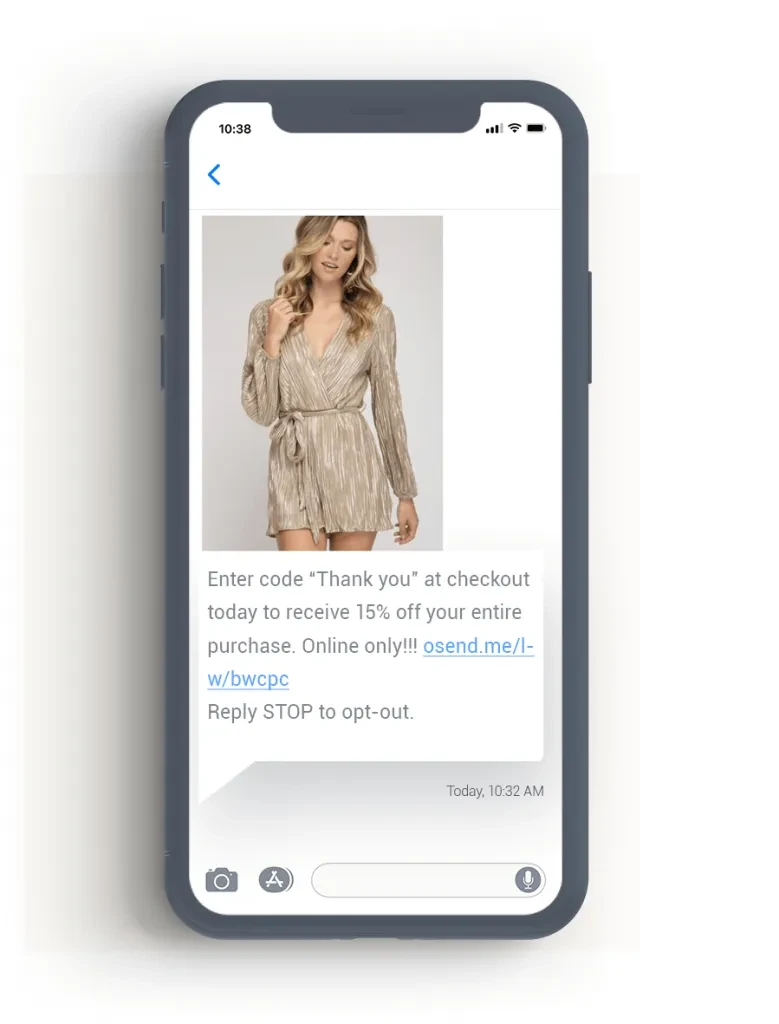 5. Bulldog nutrition: An early-access/limited-edition MMS
Bulldog Nutrition offers an exciting early access/limited edition MMS, creating added value for loyal customers.
The message features Alanu Nu pre-workout in the refreshing Breeze Berry flavor, with a clear image highlighting its limited availability.
This provides your customers an exclusive opportunity to grab their favorite flavor before it's gone.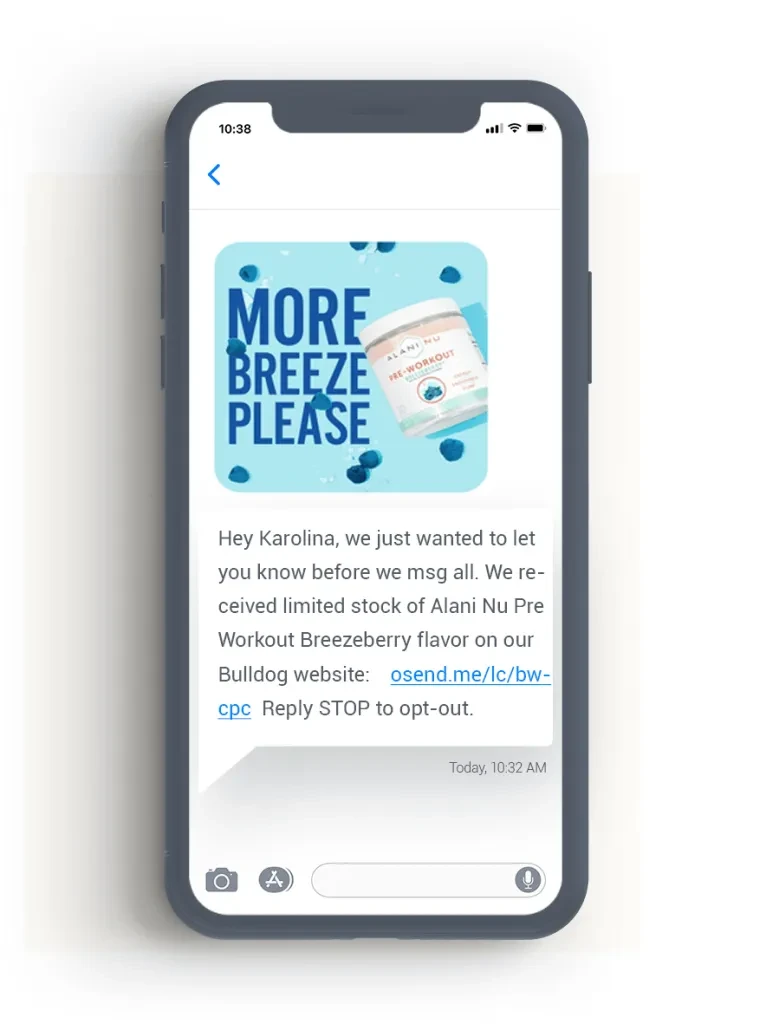 6. Crust Club: Free cookie for every order
Crust Club is offering its customers with an irresistible offer— a free cookie for every order. The image showcases mouthwatering mini cookies, adorned with a captivating banner that reads "FREE." This enticing visual will tempt taste buds and trigger an irresistible click.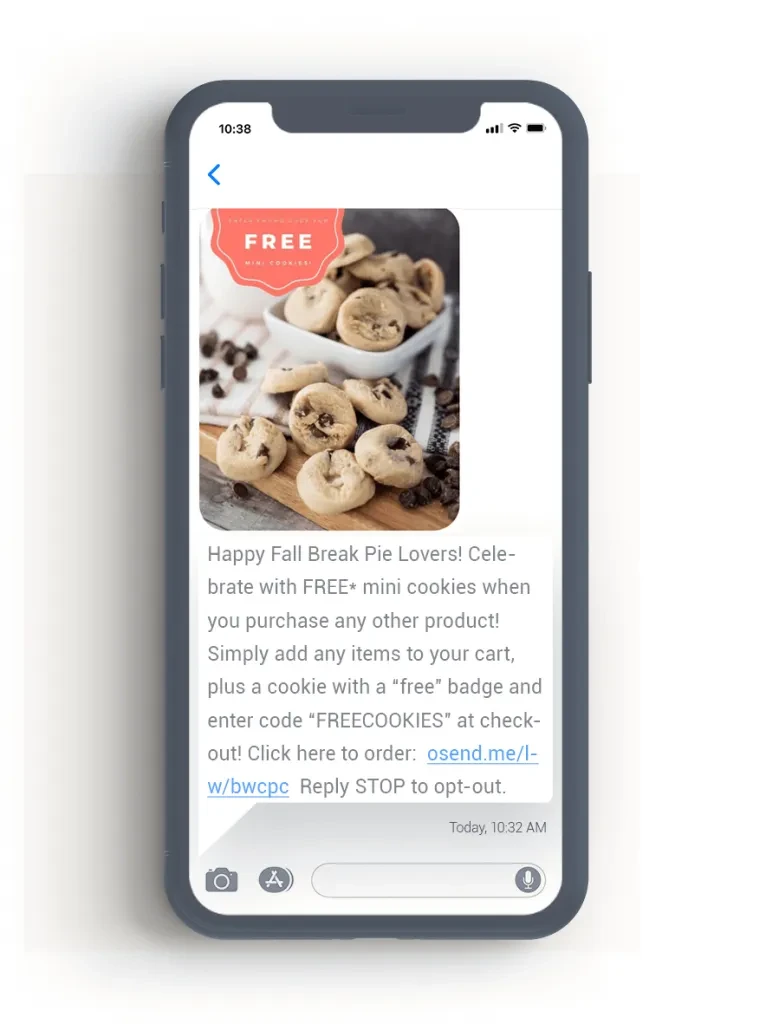 7. Basic Piece: Abandoned cart MMS
Basic Piece entices customers with a 5% discount on their abandoned cart when they use the code "50FF." The eye-catching GIF image beckons them to return to the site and complete their purchase, ensuring they don't miss out on this exclusive offer.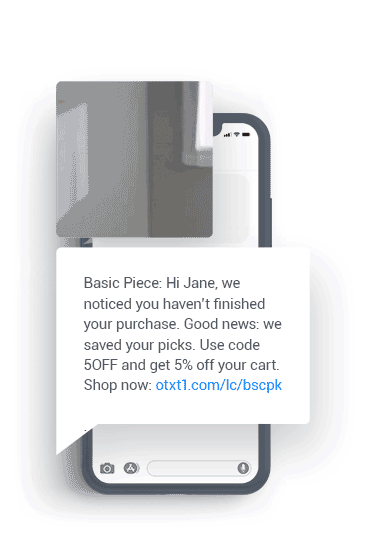 8. Basic Piece: Birthday MMS
Basic Piece sends warm birthday wishes to one of their valued customers. The image is adorned with a clear and cheerful "Happy Birthday" message, surrounded by vibrant confetti and party elements. The design exudes joy and celebration, making the recipient feel special on their special day.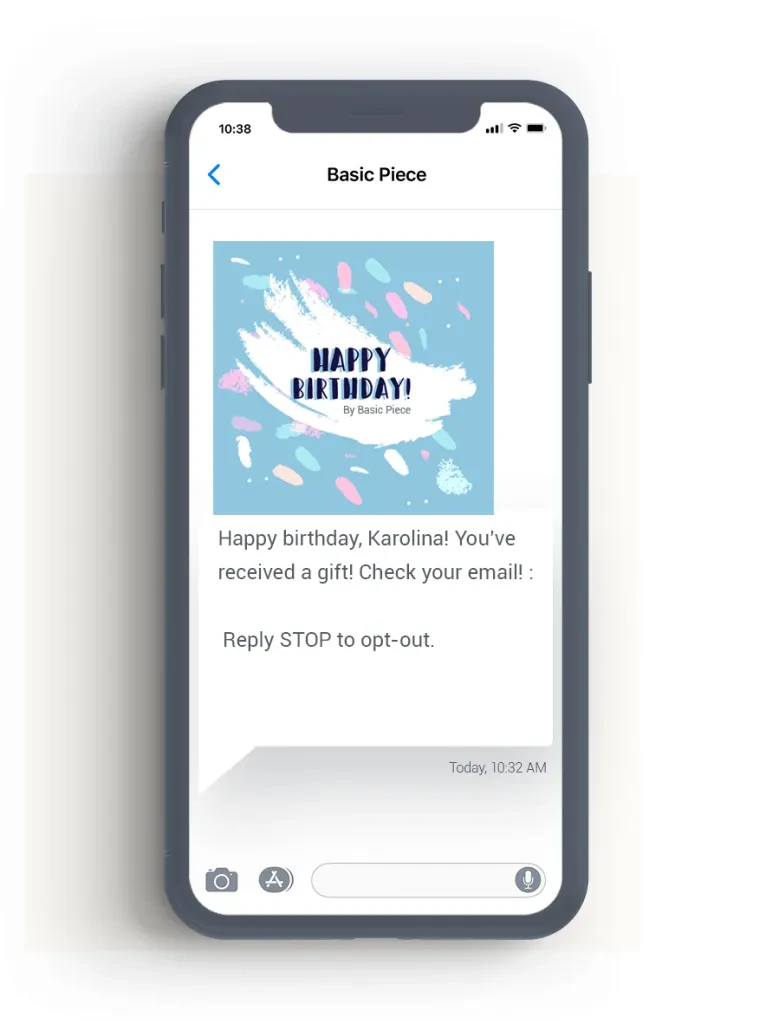 9. Block of Gear: Lapsed-purchase MMS
Block of Gear offers dormant customers an exclusive 25% discount when they use the code "COMEBACK" for any purchase made within a lapsed period. The image features a love icon, symbolizing a genuine desire to reconnect.
Check out this article on how to run a lapsed-urchaser series.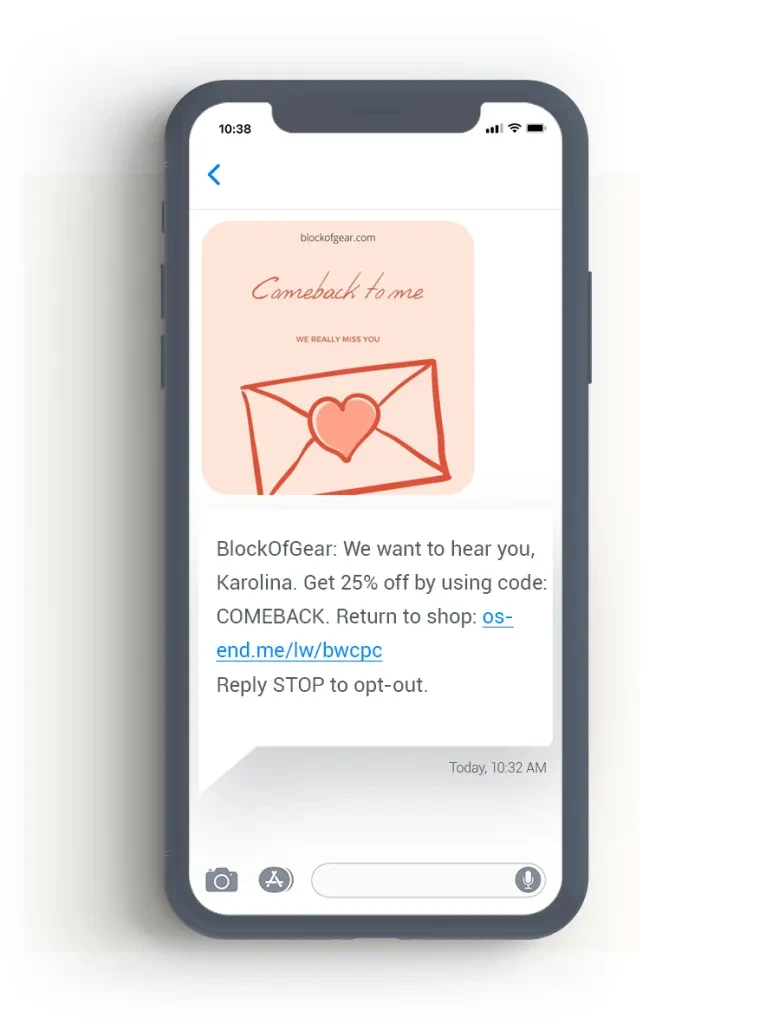 MMS marketing best practices
You may have learned some best practices for MMS marketing in the examples section. But, we are going to summarize them again to give you a quick checklist of MMS message creation.
Here are our recommended best practices when creating your first MMS marketing campaign.
Use personalization. Even if you send a bulk MMS campaign to all your subscribers, include the first name in the text part of the message. The SMS/MMS channel is one of the most personal that retailers can reach their customers with, so be personal with your messages.
Keep the visuals clean and minimal. Using overly complex and colorful images can make it difficult for viewers to comprehend the information. Also, be mindful that due to different phone models complex images can look cramped.
Keep your MMS visuals below 500kb: While MMS has few technical restrictions, it's best to ensure that images or GIFs stay within this file size limit to guarantee smooth delivery and avoid potential issues.
Opt for 3-4 frames/second for animated GIFs: To balance creativity and file size, limit the animation speed to 3-4 frames per second. This will maintain the visual appeal while preventing excessively large files that might hinder delivery.
Include essential text components in your MMS: Don't overlook the importance of adding main text elements to your MMS. The clear and concise text complements the visuals, enhancing the message's effectiveness and overall impact.
Wrap up
It's never been easier to get in touch with your customers and drive sales than it is now, and SMS and MMS allow you to send attractive and compelling messages directly to their phones!
Take advantage of this rising marketing channel and increase engagement with your customers. Ecommerce businesses using Omnisend's SMS features are seeing great results and we're confident you will too.
Source from Omnisend
Disclaimer: The information set forth above is provided by Omnisend independently of Alibaba.com. Alibaba.com makes no representation and warranties as to the quality and reliability of the seller and products.
Was this article helpful?