Expecting delivery: Boost in online shopping makes November the top sales month
The Online Shopping industry has become a prominent part of the retail experience, with its revenue increasing at an annualised 19.0% over the five years through 2021-22, to $47.9 billion. Consumers' transition to online shopping has been accelerated by the pandemic, which has also fuelled bargain-hunting behaviour. Despite lockdowns no longer being enforced, consumers have become accustomed to online shopping and still often make decisions based on price.
The effects of the pandemic have made many people redundant or lose their income, contributing to the national unemployment rate peaking at 6.23% in 2020-21. Retail spending is often considered discretionary, and is usually one of the first things to be cut down on during periods of uncertainty or financial stress. While unemployment is expected to decline to 4.75% in the current year, the consumer sentiment index is anticipated to decline by 0.3% to 104.1 index points during the same period. While still remaining positive, this fall suggests consumers may continue putting in the extra effort to find the lowest price available as the economic future remains uncertain.
Black Friday sales
An expanding online market allows consumers to search for the best deal on a particular product. Finding the lowest price is typically easier to do online than in store, due to the efficiency of search engines. While online shopping has helped stabilise revenue for retail operators, it has also placed downwards pressure on profit margins as consumers have been searching for the best deal. This has contributed to large sales events becoming more essential and important for retail operators.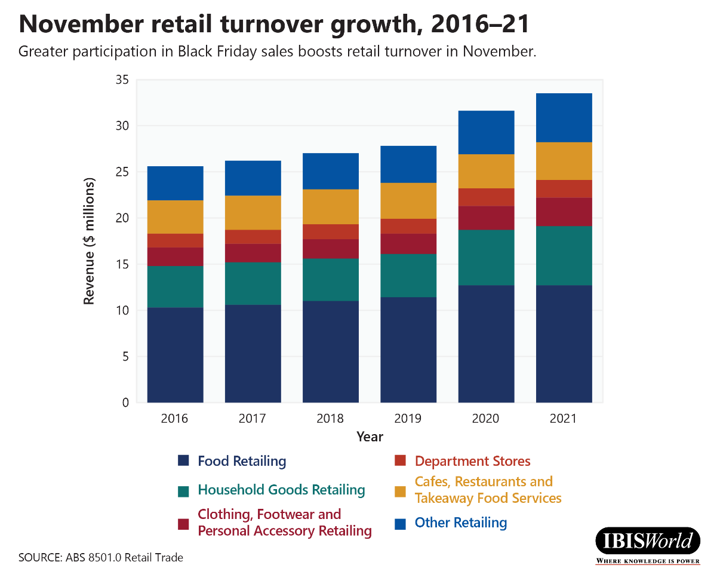 Traditionally, Black Friday has been an American event, occurring in November, the day after Thanksgiving. However, increasing bargain-hunting behaviour among Australian consumers has supported revenue growth for retail businesses participating in Black Friday sales. Consumer retail turnover increased 5.3% year on year in November 2021, to $33.4 billion. The growing popularity of Black Friday sales has been encouraging more consumers and businesses to participated in these events each year.
Downstream effects
The rising retail turnover in November 2021 can be partially attributed to more consumers shopping online. Consumers' changing shopping attitudes and improving tech savviness have boosted the use of online shopping alternatives. Food retailing typically makes up the highest proportion of retail turnover. However, homewares and domestic appliances is the largest product segment for the Online Shopping industry. Clothing, footwear and personal accessories is also a major product segment, commonly purchased through online shops by younger, tech savvy consumers.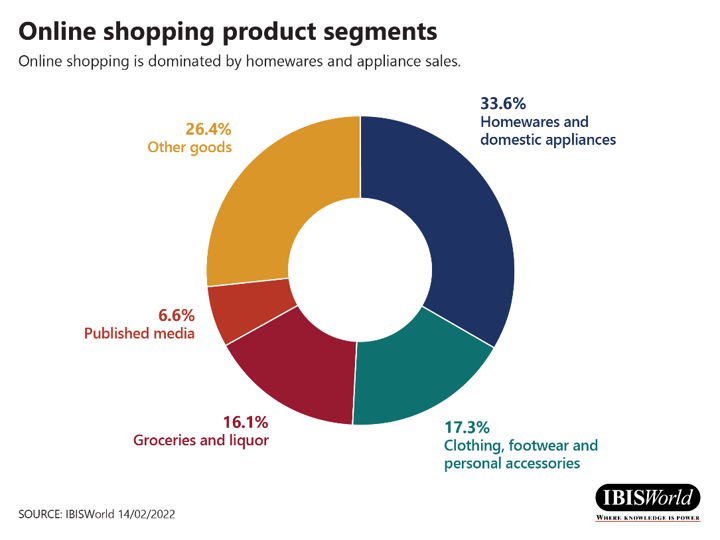 Despite revenue growth, profit margins for the Online Shopping industry are expected to decline over the five years through 2021-22, to 4.2% of industry revenue. A major selling point of online stores is that they typically have cheaper products compared with traditional retail stores, which keeps profitability low.
Intense competition among a growing number of online operators has weighed on industry profitability over the past five years. To secure consumer purchases, it is now more important than ever to offer the lowest price. The expansion of online shopping has also supported revenue growth for the Postal Services industry. Revenue is expected to increase at an annualised 1.1% over the five years through 2021-22, to $9.2 billion. The rapid growth in online shopping during the COVID-19 outbreak has boosted demand for parcel delivery services. Australia Post's recent infrastructure development has complimented this boom, further increasing industry revenue.
December sales volumes
December has traditionally been the slightly higher month in terms of consumer retail spending compared with the rest of the year. Christmas and Boxing Day sales usually have higher spending volumes compared with November. However, more consumers have been purchasing Christmas gifts and finding deals in November to save money. Between 2015 and 2018, December's total retail turnover increased by 0.1%. In contrast, between 2019 and 2021, December sales declined at an average of 2.8%. The largest drop was in December 2021, with retail turnover falling by 4.4% to $31.9 billion, compared to $33.4 billion in November. However, November retail trade has been inflated over the past two years, as a result of the easing of COVID-19 restrictions and lockdowns across major states such as Victoria. This trend may have contributed to higher than usual declines in December 2021.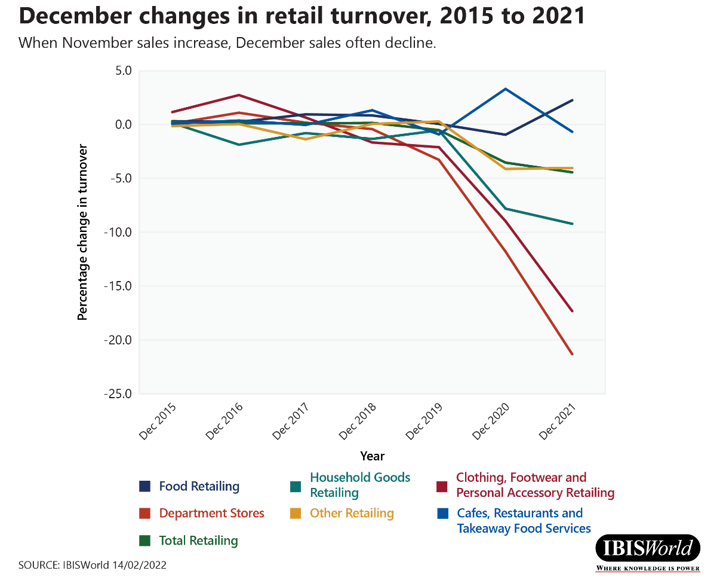 Future of retail
Consumers' use of online shopping is projected to remain prominent following the pandemic. Lockdowns and forced closures of retail stores over the past three years have accelerated the transition to online markets, with traditional retail trade unlikely to return to pre-pandemic levels. Revenue for the Online Shopping industry is forecast to grow at a slower pace over the five years through 2026-27 compared with the past five-year period, increasing at an annualised 6.1%, to $64.4 billion.
IBISWorld reports used to develop this release:
Source from IBISWorld
Disclaimer: The information set forth above is provided by IBISWorld independently of Alibaba.com. Alibaba.com makes no representation and warranties as to the quality and reliability of the seller and products.
Was this article helpful?