Steampunk fashion embodies a captivating mixture of Victorian elegance and futuristic innovation. Inspired by 19th-century steam-powered machinery and the British Victorian style, this subculture thrives on creativity and individuality.
Although it hails from the past, steampunk remains a relevant fashion trend. Its outfits often weave modern and futuristic elements with nods to the past, featuring corsets, military jackets, and waistcoats.
In this article, businesses can explore six fascinating steampunk trends for men and women that are set to be in high demand in 2023/24.
Table of Contents
Steampunk trends for men and women in 2023/24
Leverage these trends
Steampunk trends for men and women in 2023/24
Distressed clothing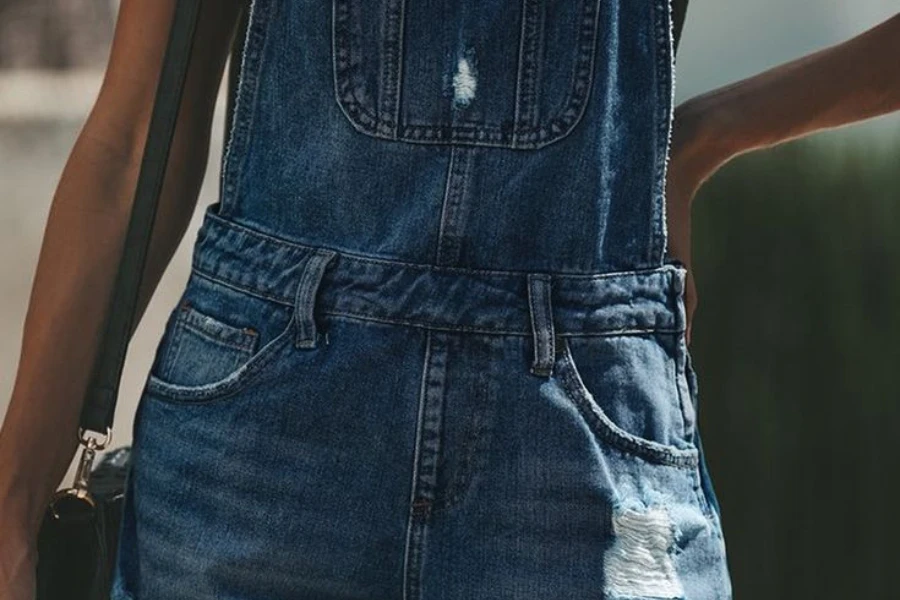 Women can embrace the allure of steampunk fashion through an artful incorporation of distressed clothing. While steampunk ensembles may not always demand a weathered appearance, there's an undeniable beauty in garments that showcase the marks of time and adventure.
Distressed clothing engages in a texture interplay, creating a harmonious balance between frayed edges, torn patches, and rugged surfaces. Consumers can also rock a mechanical engineer's attire under this trend.
The outfit requires distressed denim overalls or jumpsuits with patches, exposed zippers, and industrial embellishments. A faded graphic tee with vintage mechanical illustrations layered below the overalls and a frayed scarf around the neck is the perfect way to finish the ensemble.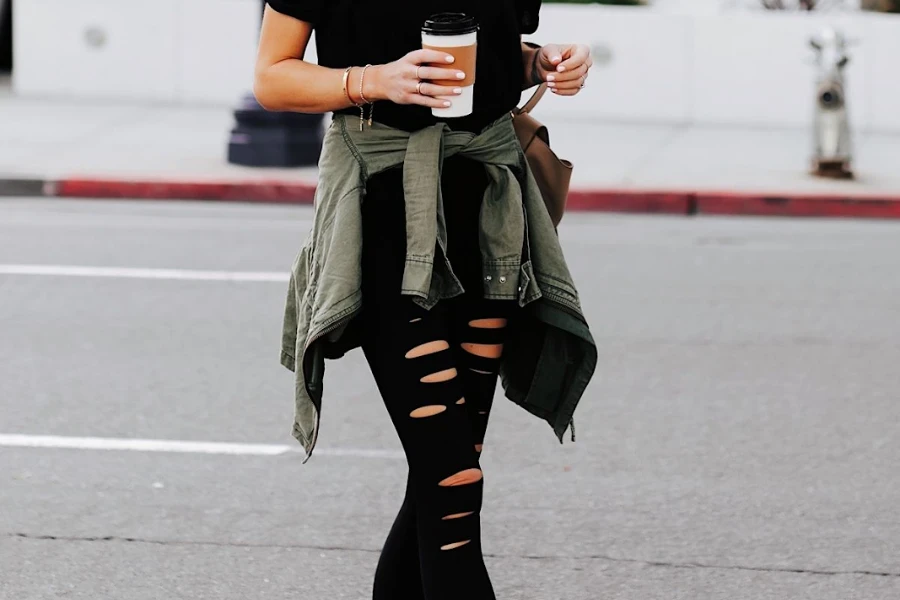 Alternatively, women can opt for a classic time traveler's outfit. They can grab a distressed, floor-length Victorian-style dress in muted tones for an old-fashioned charm. Add a pair of textured, distressed leggings for extra intrigue.
Military-inspired garments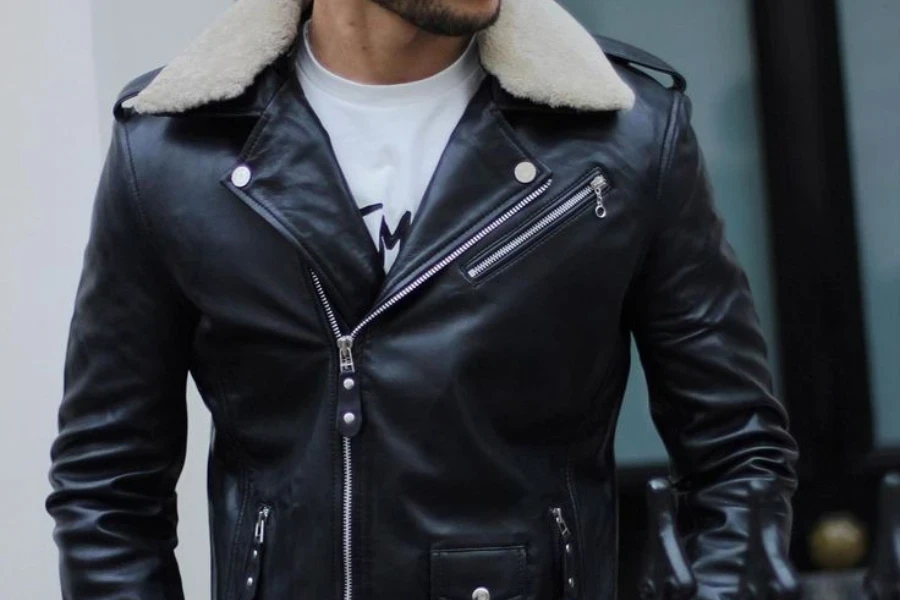 Men's steampunk fashion offers various intriguing and appealing outfits – but one particularly eye-catching ensemble is military-inspired garments. It draws cues from historical military aesthetics, blending them with imaginative steampunk flair to create distinctive and innovative styles.
This trend focuses on military-infused elements that generate a sense of rugged determination and mechanical prowess. Items like buckled jackets exude a commanding presence, showcasing a blend of strength and sophistication popular with steampunk's aesthetics.
However, this trend's beauty is not only in its military elements. How designers match them with non-military pieces is where the magic happens. For instance, men can rock a steamed hoodie coat, which adds these military elements to an otherwise casual piece.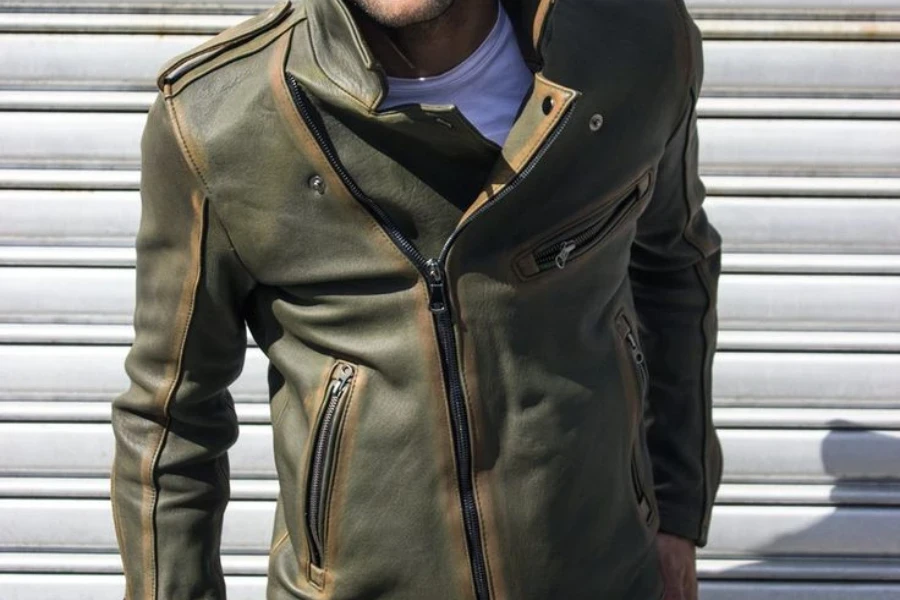 Men looking to ease into this theme can start with the inventor's workshop ensemble. The outfit starts with a distressed leather duster with military-inspired design elements like straps. They can layer it over a tailored vest and pinstripe shirt combo for refinement. Crank the utility vibes up a notch by opting for cargo pants.
On the other hand, men fully immersed in this steampunk theme can pair a buckled military-style jacket with a crisp white shirt reminiscent of Victorian fashion. Complete the outfit with fitted ottoman pants for a perfect steampunk flair.
Abstract shapes and structures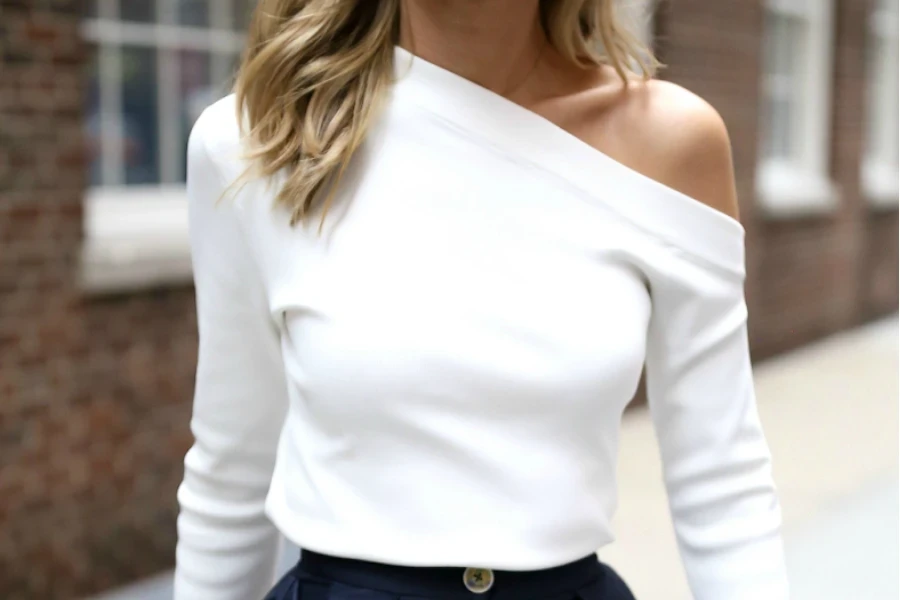 Some women like to use unusual shapes and designs to give their steampunk style a modern touch – and that's what this trend is all about. They'll experiment with structured pieces, like the metal jacket, shaping it into interesting high or broad collars.
Abstract shapes and structures also involve wearing asymmetrical clothes, like a top with diagonal straps. Combining a flowing asymmetrical with a bold piece like the metal jacket creates a calm and one-of-a-kind look.
Another outfit ladies wear is a top featuring off-chamber straps matched with asymmetrically-cut pants. It's a dynamic outfit that creates a striking but unconventional silhouette.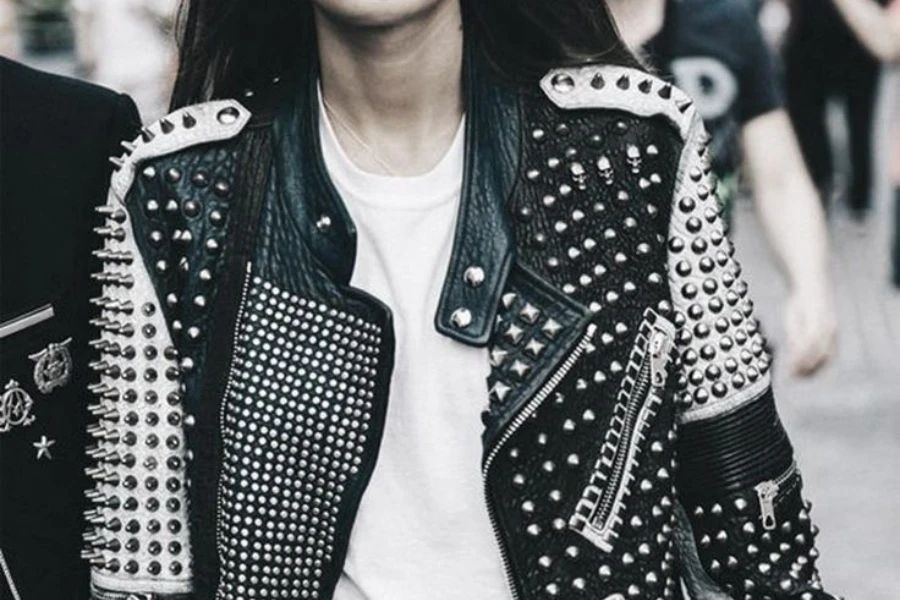 Additionally, consumers can choose a sleek, asymmetrical dress with strategically placed edgy cutouts. Alternatively, a more dramatic ensemble is a structured bodice paired with an asymmetrical skirt. However, the bodice must feature bold geometric shapes.
Lastly, women can layer a tailored jacket over a classy dress. While the dress features structural elements like creases, folds, or drapes, the coat should boast unique collars or lapels.
Hooded coats and jackets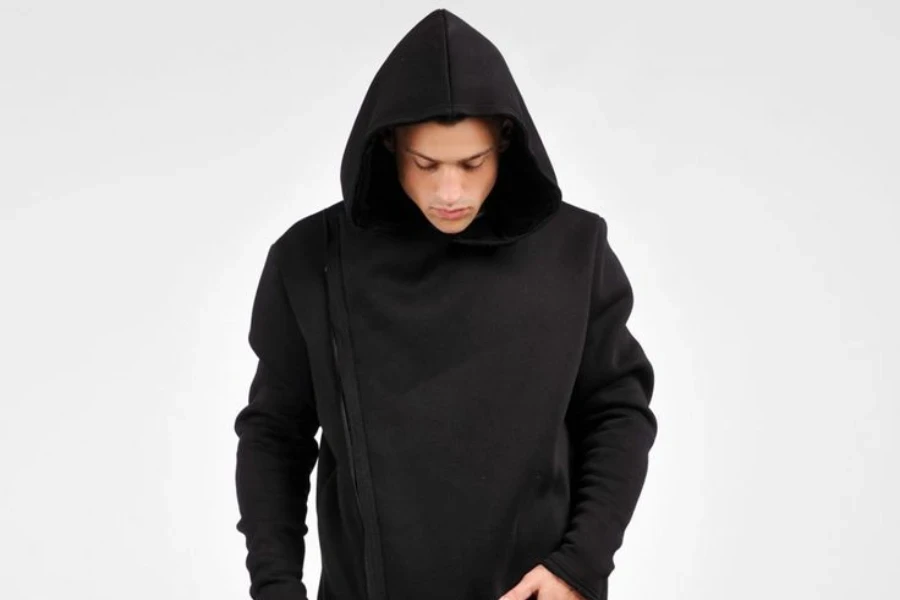 Hooded clothing is a significant part of men's steampunk fashion. It brings unique designs to traditional items like hoodies, coats, and vests. Hoods protect from bad weather conditions and add structure to steampunk looks that don't include a hat.
Steampunk hooded coats and jackets are often big and shaped in a futuristic way, jutting outward from the face – similar to those worn by historical assassins. Interestingly, these hoods are common at events like Burning Man and Wave Gothic Treffen, as they keep the wearer warm during temperature drops.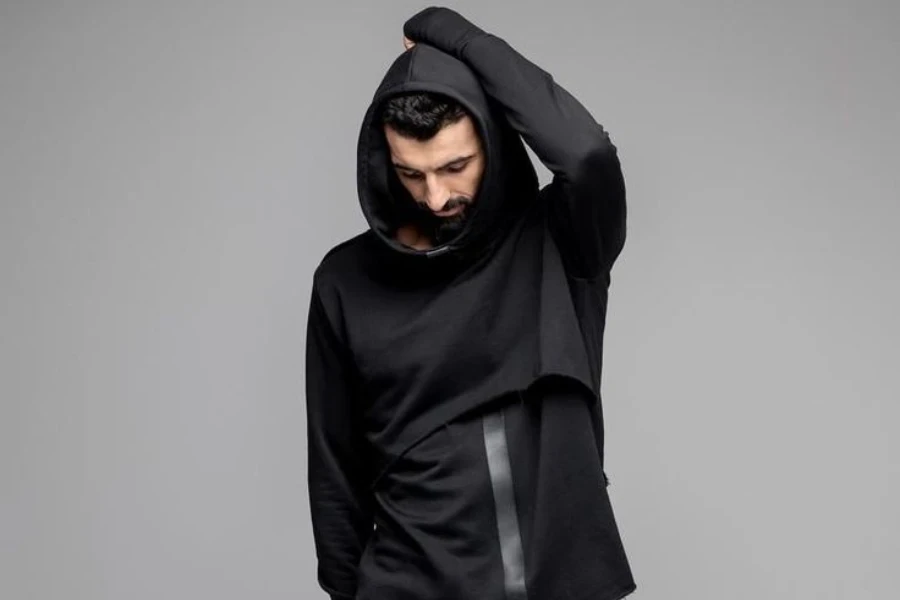 Men can rock a modern twist on this trend with an oversized-hooded coat. Underneath, they can layer a turtleneck sweater to add warmth and complete the outfit with asymmetrical-designed pants.
Consumers can also create a versatile look by pairing a hooded steampunk coat with rugged denim jeans. They can layer a button-up shirt underneath the coat for a casual yet refined touch. Lastly, men may introduce a steampunk flair through a wide leather belt and suspenders for a utilitarian aesthetic.
Victorian features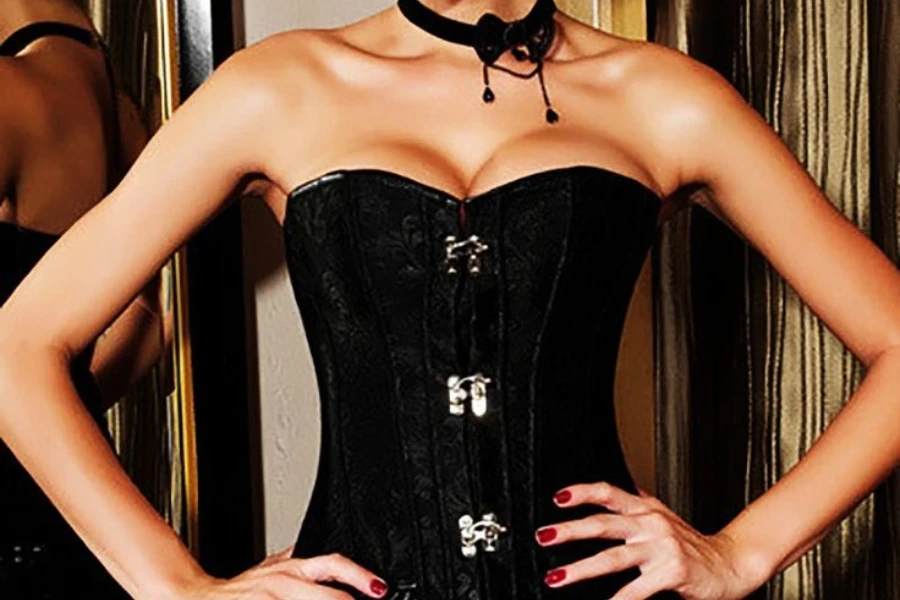 Steampunk fashion draws inspiration from the refined styles of the Victorian era. In this women's trend, businesses will find features like corsets, bustles, dresses, gowns, and parasols serving practical functions while adding charming historical touches to outfits.
One of the ways these Victorian-inspired features work in steampunk fashion is by emphasizing and enhancing the female body's natural curves. Corsets, in particular, create the classic hourglass silhouette often associated with the style.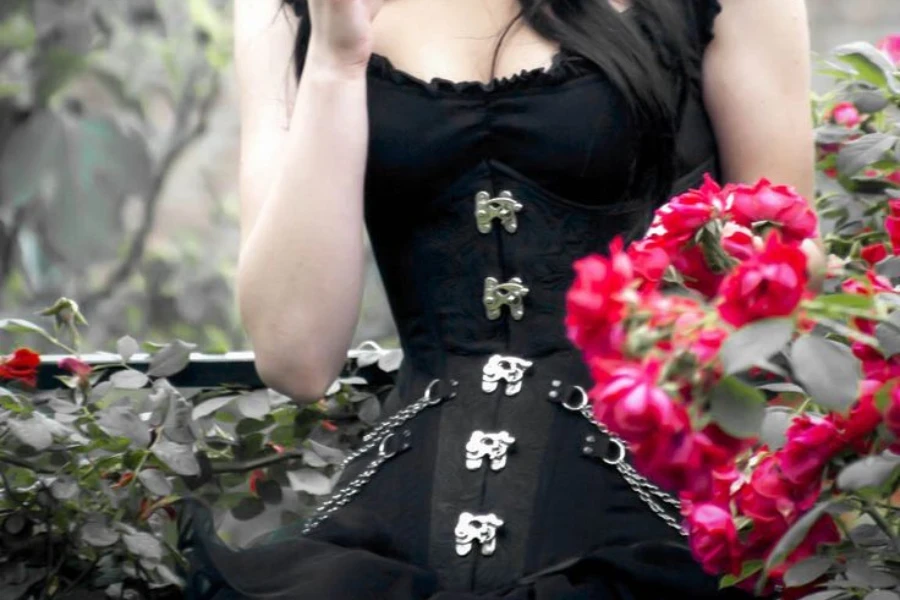 Moreover, the corset's versatility in steampunk fashion shines through their pairing options. They effortlessly complement trousers and skirts, allowing women to craft more diverse ensembles.
Beyond their standalone appeal, corsets can be incorporated into bustles, introducing volume and captivating depth to skirts. Alternatively, corsets can seamlessly merge with dress designs, forming integral components that pay homage to the era.
Leather elements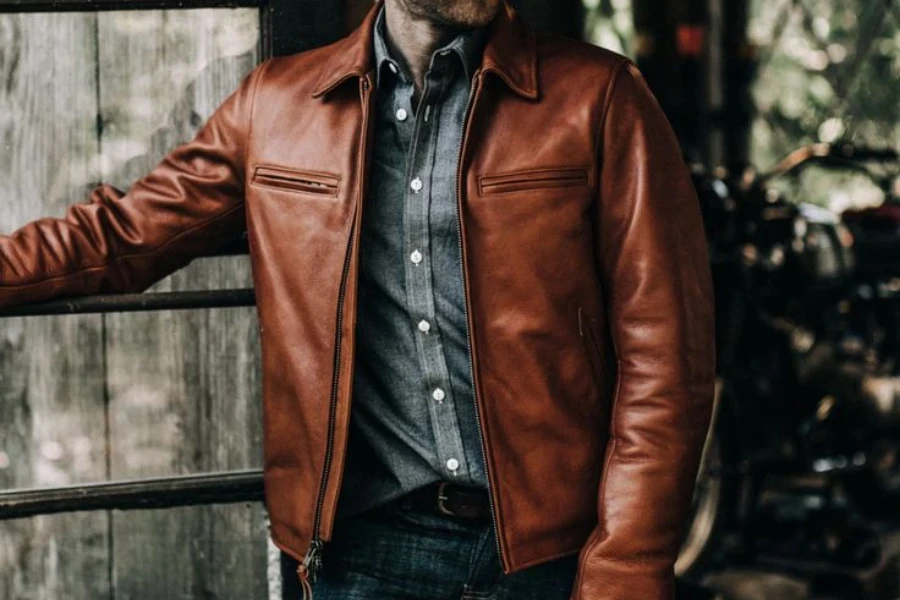 Leather is preferred in men's and women's steampunk attires, appreciated for its rugged aged appearance. It adds an authentic touch and sense of history to steampunk outfits, aligning well with the vintage-inspired style.
Beyond its aesthetic appeal, leather is also famous for its robustness and long-lasting nature. As a result, leather elements are an ideal choice for steampunk festival wear, where durability is essential amidst festivities.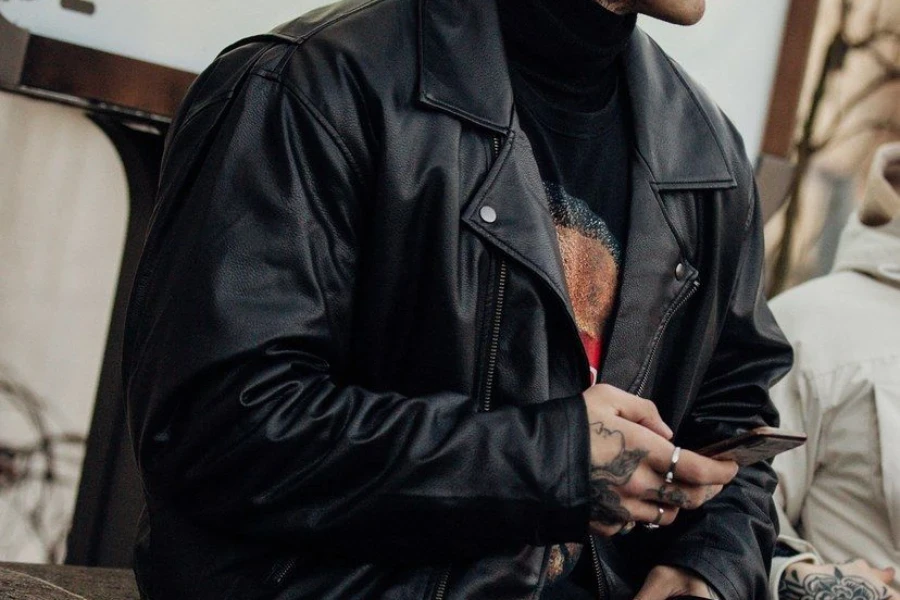 Consumers can infuse their outfits with style and rugged elegance by integrating leather elements. For instance, ladies can layer a high-necked blouse under a leather jacket for classic steampunk attire. They can complete the get-up with tailored trousers or a flowing skirt.
On the other hand, men may layer a leather waistcoat over a crisp white shirt. The final part of the outfit requires leather trousers with subtle design elements like panels or pockets.
Leverage these trends
Steampunk fashion is gaining popularity and has spread worldwide to various runways and catwalks. While online platforms make this trend accessible to people globally, its heart remains in cozy boutiques, often found in fashion subculture hubs.
Whether consumers shop online or in these unique boutiques, these are the top trends to focus on in 2023/24. Leverage distressed clothing, military-inspired garments, abstract shapes/structures, hooded coats/jackets, victorian features, and leather elements to offer styles that combine historical elegance with a futuristic twist.
Was this article helpful?