Swimming rings have evolved a great deal in the past decade. Traditionally, they were used for practical purposes to help with buoyancy, but today swimming rings for adults offer so much more.
The unique shapes and vibrant designs of swimming rings help create a sense of fun whether that be in the swimming pool or in the open waters. Adults that may have been hesitant to use swimming rings in the past are now rapidly reaching out for the latest popular design to stand out and show off their own personality.
Keep reading to find out more about the swimming rings for adults that guarantee a day of fun by the pool. 
Table of Contents
Global market value of swimming rings
Fun types of swimming rings for adults
Conclusion
Global market value of swimming rings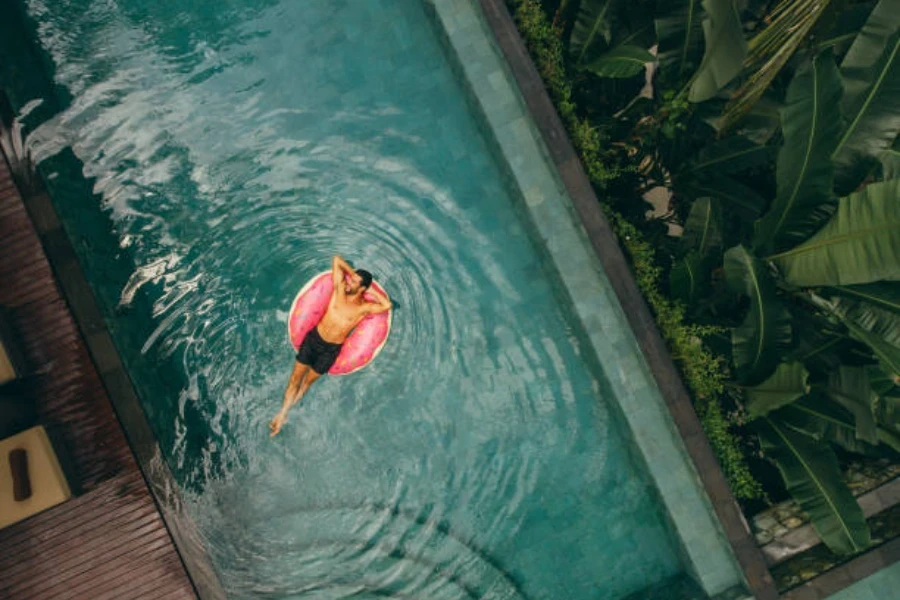 The increase in consumers spending time outdoors in recent years has led to a rise in demand for pool accessories – including swimming rings. These swimming rings are used for practical reasons such as to keep the user afloat or to teach them how to swim if they are a beginner, but they are also heavily used as a fun water accessory or a way to relax in the pool or open waters. Swimming rings now come in all shapes and sizes as well which is helping this accessory to appeal to a wider range of consumers.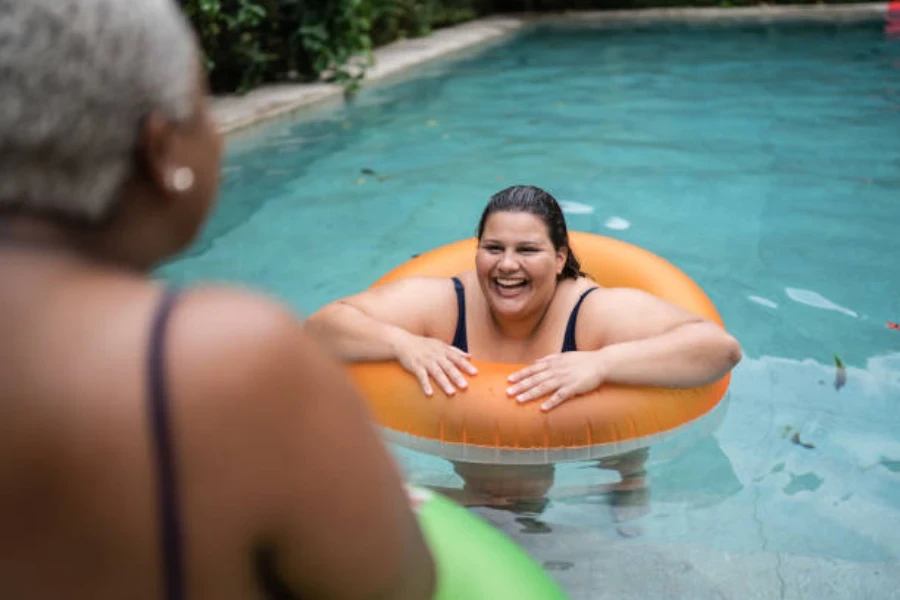 The pool floatation market grew at a compound annual growth rate (CAGR) of 2.9% between 2017 and 2021 and between 2022 and 2032 the CAGR is set to rise by at least 6.6%. This means that by the end of 2032 the market size will have grown to approximately USD 1.67 billion which is up significantly from the USD 878.9 million evaluation in 2022. The popularity of swimming rings for adults is heavily helping to drive this surge and there are new additions hitting the market on a consistent basis.
Fun types of swimming rings for adults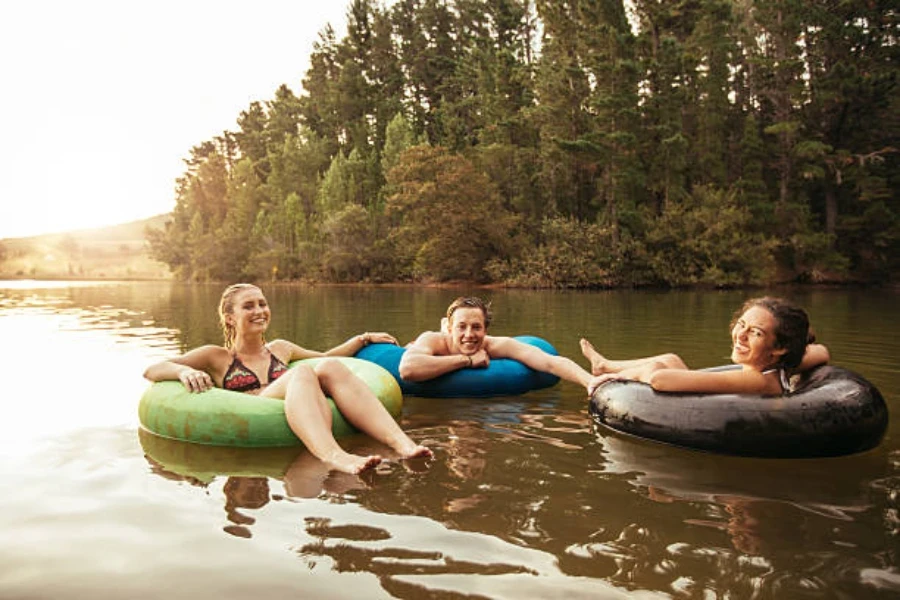 Swimming rings are a popular accessory when teaching children or adults to swim but they have rapidly emerged as so much more than that. Whether at the pool or the beach it's now very common to see consumers enjoying the water while floating in a uniquely shaped or colored swimming ring that not only makes them stand out among the crowds but also adds a sense of fun and in some cases humor to their trip.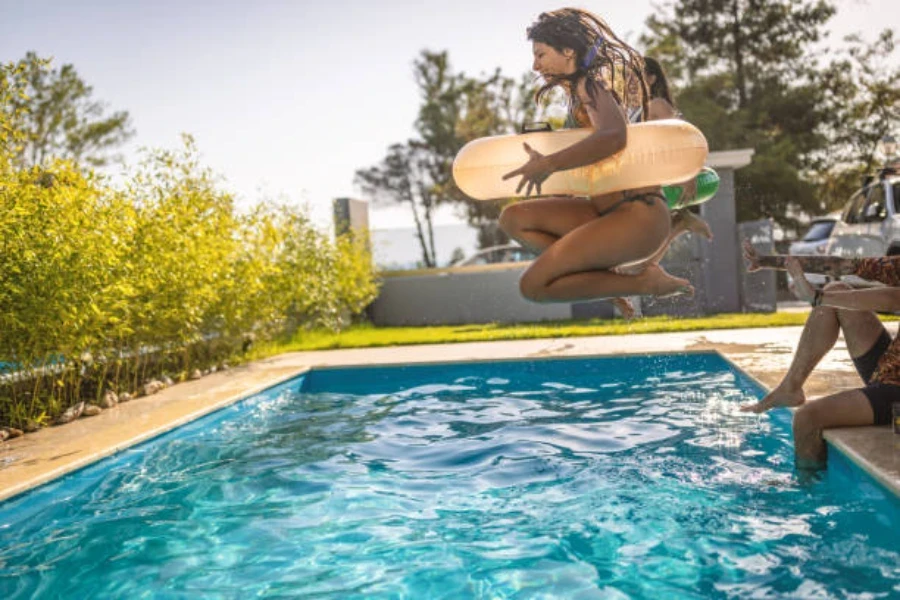 According to Google Ads, "swimming rings" has an average monthly search volume of 14800. Between March and September 2023 there is an increase in average monthly searches of 33%, with 12100 and 18100 searches respectively.
By going into more detail regarding the most popular types and designs of these swimming rings, Google Ads reveals that "flamingo float" is the top search at 5400 followed by "unicorn float" at 5400 searches, "donut floaty" at 1600 searches, "watermelon float" at 880 searches, and "mermaid inflatable" at 720 searches. Multi-person floats are also very popular among adults. Keep reading to learn more about each of these types of swimming rings for adults.
Flamingo float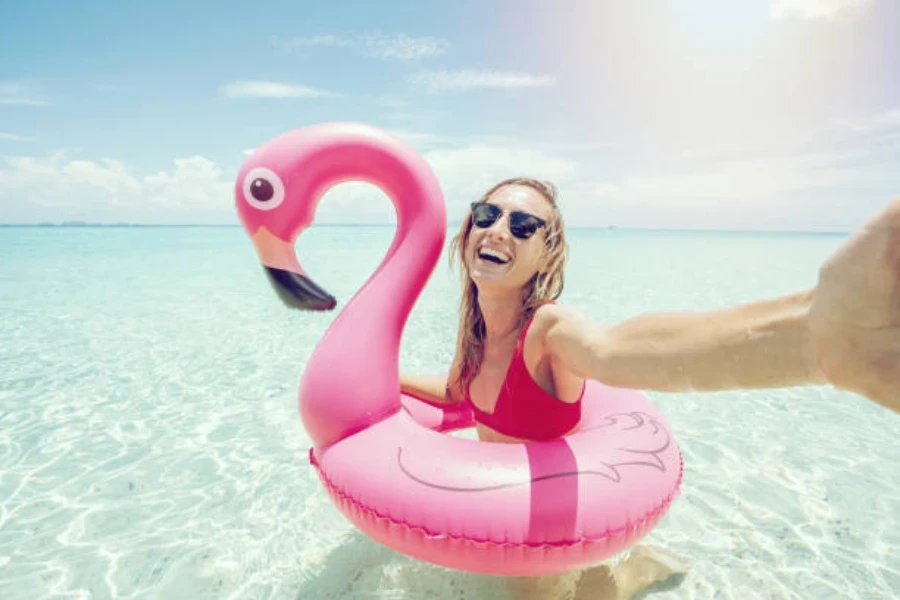 The flamingo float is one of the most popular types of swimming rings for adults available today. It's designed to be large enough to comfortably fit an adult and it's often spacious enough for the person using it to be able to stretch out and relax as well. The flamingo design brings a tropical vibe to the pool or the beach and the bright pink color helps it to stand out among other more basic swimming rings. Like all swimming rings it's designed with durability in mind with a puncture resistant material that means it can withstand a lot of use over time.
There are various versions of the flamingo swimming ring available for consumers. To make it easier to sit on some of these rings will include handles in the design which also helps to add to the stability when a person is sitting on it. In some instances there will also be a cup holder incorporated into it so the consumer can enjoy a drink while relaxing in style. 
Between March and September 2023 there is an increase in average monthly searches for "flamingo float" of 56%, with 2900 and 6600 searches respectively.
Unicorn float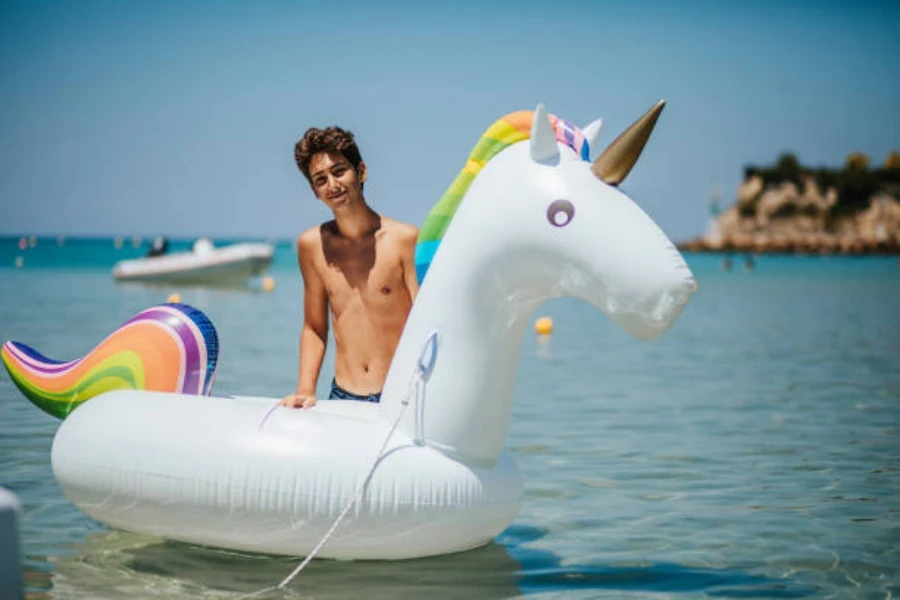 For consumers who want to add a little touch of magic to their pool or beach day the unicorn float is the perfect option and is often preferred over the flamingo. The unicorn float is large by design and will easily fit one if not two adults comfortably. The handles on this inflatable pool ring will either be located along the side or on the neck to make it easier to board the swimming ring or to offer extra security while sitting on it. Since the unicorn float is meant to be enjoyed while relaxing it's also not uncommon for it to feature one or more cup holders (or snack holders).
The most attractive feature of the unicorn float is its vibrancy. These swimming rings for adults will often come in a variety of bright or pastel colors to make it look more attractive and magical. The tail itself is designed to be leaned back on so consumers can relax in a more laid back position. 
Between March and September 2023 there is an increase in average monthly searches for "unicorn float" of 56%, with 2900 and 6600 searches respectively.
Donut floaty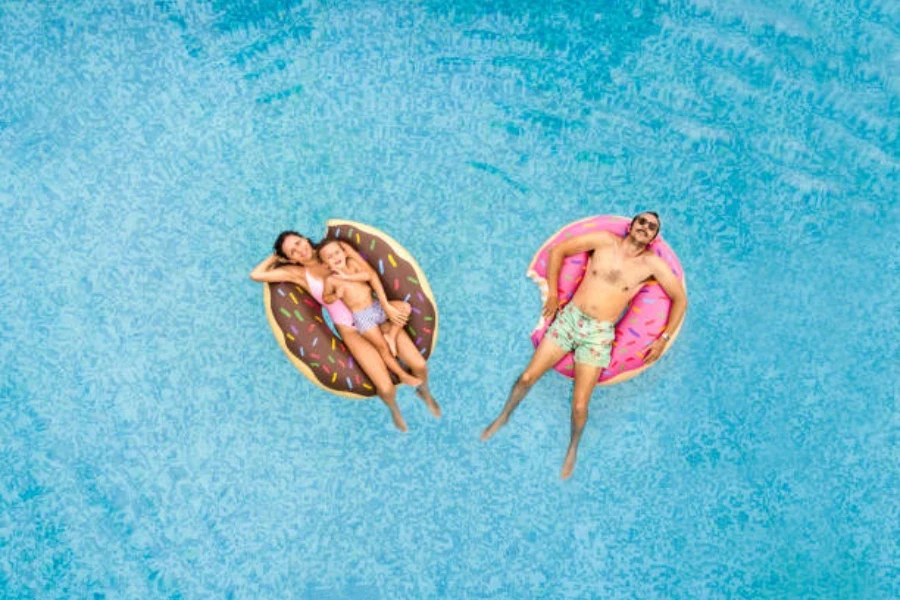 The donut swimming ring, also nicknamed the donut floaty, is a classic type of swimming ring that's always been an attractive option for adults. The donut floaty is round with a hole in the center which enables consumers to either sit directly in the hole with their feet out of the water or use the donut as a floatation assistant so they can paddle with their feet while having their arms resting on the ring. 
Donut floaties come in different sizes and patterns but they are always very attractive and in some cases look like a bite has been taken out of them to add a little fun to the otherwise plain looking swimming ring for adults. 
Between March and September 2023 there is an increase in average monthly searches for "donut floaty" of 47%, with 1000 and 1900 searches respectively.
Watermelon float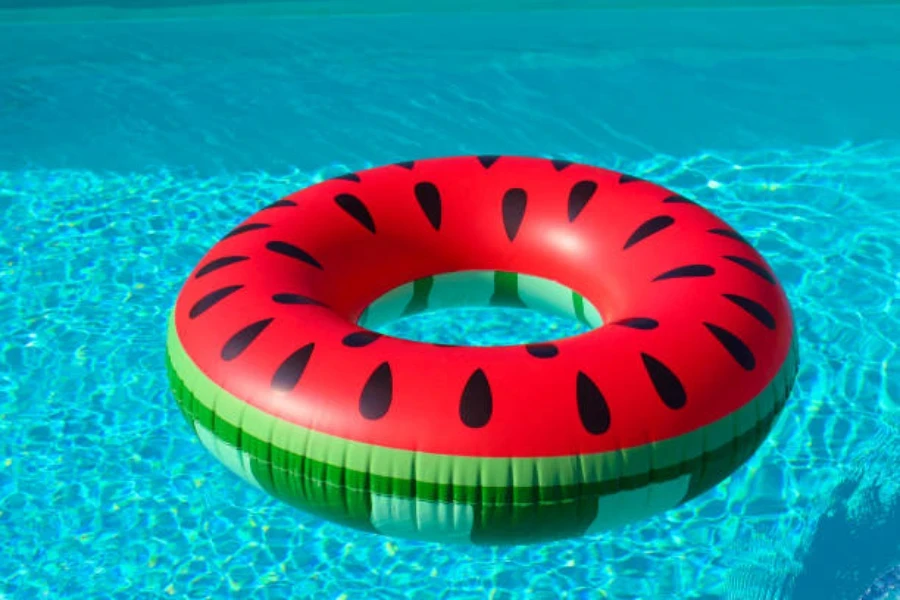 Fruit shaped or patterned inflatable floats are very popular among consumers and they help to add a tropical element to the pool or the beach day that consumers enjoy. The watermelon float is the perfect example of this. The watermelon float is similar in design and function to the donut floaty but the pattern on the ring itself reflects the inside of a watermelon. It comes in various sizes to adapt to the needs of different consumers and the larger ones will often have handles on the outside to help consumers steady themselves as they board it.
As well as the watermelon swimming ring the watermelon slice is also a popular alternative which allows the consumer to lie flat on the surface rather than sit in the hole of the ring which can be uncomfortable or not possible for people with back problems.
Between March and September 2023 there is an increase in average monthly searches for "watermelon float" of 55%, with 390 and 880 searches respectively.
Mermaid inflatable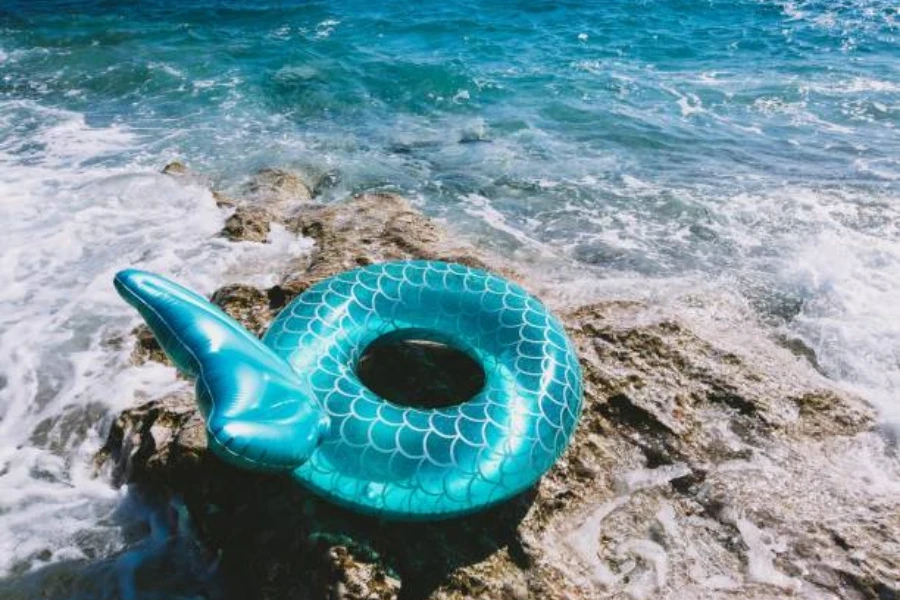 Consumers who enjoy being reminded of the sea or are looking to bring a magical element to their pool or beach vacation love the idea of the mermaid inflatable swimming ring. There are numerous ways in which this swimming ring for adults can be presented but the most common is to have a spacious donut-shaped body that can comfortably fit a full sized adult with the addition of a mermaid tail at the rear.
The tail can either be small if it's meant to be solely visual or it can be large and sturdy to provide a backrest for the user. The mermaid inflatable also has a number of patterns to choose from such as multiple colors or it can be designed in a way that reflects the scales of a mermaid to make it look more realistic and magical.
Between March and September 2023 there is an increase in average monthly searches for "mermaid inflatable" of 33%, with 480 and 720 searches respectively over a 6 month period.
Conclusion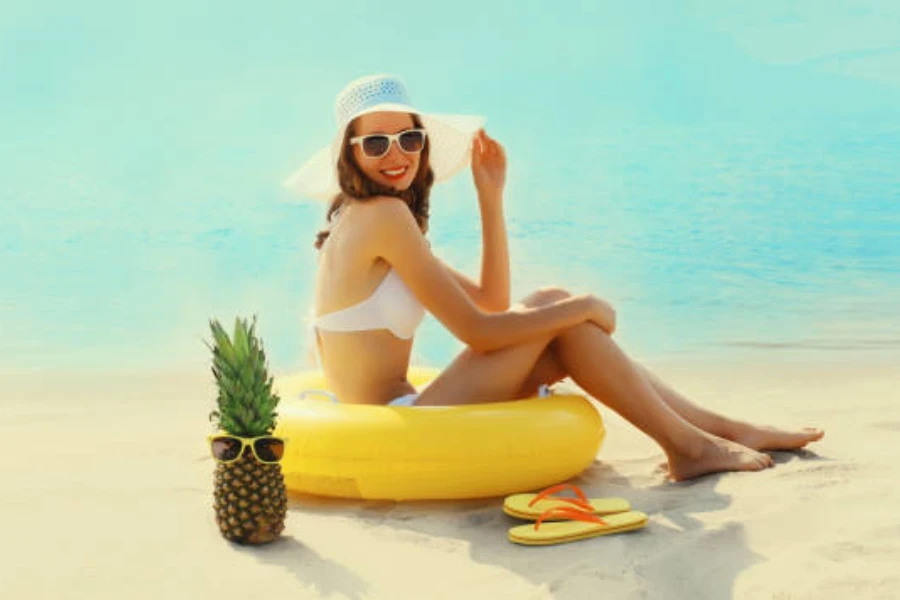 There are many swimming rings for adults that look fun to use for consumers to choose from today thanks to the explosion in popularity of outdoor activities and pool inflatables. Swimming rings were made to help the user keep their head above water but today they're being designed with eye-catching elements that make them fun to use in the pool or at the beach. Swimming rings for adults are now a fun accessory to have in order to relax in the water and they can also be a big talking point depending on the style chosen.
Was this article helpful?