Electric vehicle production has been rampant over the past decade, showing no signs of slowing down. In fact, the production of electric vehicles (EVs) is expected to grow rapidly until all vehicles sold in Canada are zero-emission by 2035.
In addition, Canada's plan to reach net-zero emissions by 2050 will further propel EVs popularity across the country. These climate change goals have continuously encouraged officials to invest in various programs to ensure Canada's infrastructure is ready for the EV takeover.
Private companies intervene
In 2022, the Ontario provincial government, along with the federal government, announced that they will contribute more than $500.0 million towards General Motors' (GM) $2.0 billion investment to increase operations at two Ontario assembly plants.
This investment by GM aims to produce more EVs in the Oshawa, ON, assembly plant and make GM's CAMI plant in Ingersoll, ON, the first full-scale commercial EV production plant in Canada.
These plants will help expand Canada's EV production, while other investments aim to increase the production of batteries.
Although Canada has all the natural resources required for EV battery manufacturing, its production and reserves are far below other countries.
As a result, in March 2022, Stellantis NV and LG Energy Solution (LGES) announced they will invest more than $5.0 billion in a joint venture to create Canada's first large scale lithium-ion battery production plant in Windsor, ON.
Natural resources required for EV battery manufacturing:
In addition to private company's investments, Canada's federal budget for 2022 will include an investment of roughly $3.8 billion over eight years to accelerate the production and processing of critical minerals needed for the EV supply chain.
Cumulatively, these investments will steadily put Canada on the map as a top producer of EVs and encourage more foreign investment in the Battery Manufacturing industry, along with the necessary mining industries.
Consumer incentives
Zero-emission vehicles (ZEVs) and other fuel-efficient vehicles have exploded in popularity between 2016 and 2021. In fact, an estimated 10.5% of all Canadian motor vehicle registrations accounted for either a battery-powered EV, a hybrid EV or a plug-in hybrid EV in 2021, rising from just 1.8% of all motor vehicle registrations in 2016.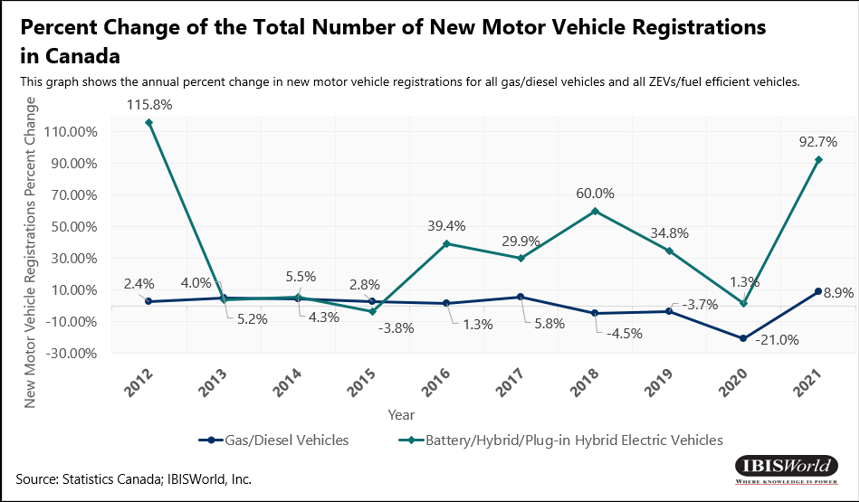 The increasing popularity of ZEVs and other fuel-efficient vehicles can be mainly attributed to improving automotive technologies and expanding incentives for purchasing a ZEV.
In Budget 2022, the government made sure to expand on the existing incentives for zero-emission vehicles (iZEV) and introduce a new purchase incentive program for medium- and heavy-duty vehicles (MHDVs).
The iZEV program offers point-of-sale incentives for customers who buy or lease a ZEV for at least 12 months. This program has been allocated $1.7 billion in new funding to extend the program until March 2025.
Subsequently, the MHDVs program has been allocated $547.5 million over four years to launch a new purchase incentive program.
In addition, $900.0 million in new funding for charging infrastructure was proposed for large-scale urban and commercial ZEV charging and refuelling infrastructure, along with funding for the deployment of ZEV charging infrastructure in suburban and remote communities.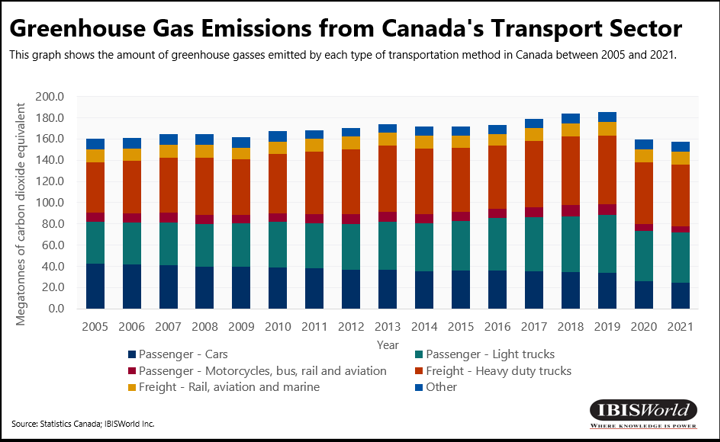 The budget has also allocated $2.2 million over five years for the Greening Government Operations Fleet Program, which will conduct readiness assessments of federal buildings required to facilitate the transition of the federal vehicle fleet to ZEVs.
Since transport accounts for almost 25.0% of total greenhouse gas emissions in Canada, the more vehicles that can be replaced by a ZEV the quicker Canada may reach its goal of net zero, as stated in the Canadian Net-Zero Emissions Accountability Act.
However, as larger freight vehicles and light trucks begin to be replaced with ZEVs, Canada's greenhouse gas emissions should decrease at a quicker rate due to their large share of the transport sector.
Overall, as the domestic economy continues to curtail gas-powered vehicles, the amount of greenhouse gas emissions are forecast to slowly dwindle, with the goal to reduce emissions by 40.0%, reaching 45.0% by 2030 compared with its 2005 levels.
Subsequently, Canadians will also build the necessary infrastructure to become a major player in the EV supply chain, making sure Canada has the proper amount of charging stations when everyone is eventually driving an EV.
Source from Ibisworld
Disclaimer: The information set forth above is provided by Ibisworld independently of Alibaba.com. Alibaba.com makes no representation and warranties as to the quality and reliability of the seller and products.
Was this article helpful?