Dark academia is a distinct retro aesthetic with an intellectual, enigmatic, and mysterious sense of style. Its vintage turtlenecks, tweed blazers, dark coats, and plaid skirts reflect a passion for learning and intellectualism inspired by the Gothic century. However, this style goes beyond books, pencils, and classrooms despite the name's apparent association with those who pursue higher education.
Want to bring this dark academic aesthetic to life? This article contains essential information about this learning-inspired theme, its relevance to mainstream fashion, and five trends that will be a sure-fire hit this year!
Table of Contents
Is dark academia relevant in mainstream fashion?
Five dark academia trends to know in 2023/24
Rounding up
Is dark academia relevant in mainstream fashion?
Dark academia is not a recent phenomenon; it has existed relatively unnoticed on Tumblr since around 2014. At that time, dark academia posts on the platform mainly featured lists of recommended books alongside dark, grainy photos of books, candles, handwritten letters, and old photographs depicting bygone scenes of academic life.
Its acceptance has grown since the summer of 2019. Early in 2020, dark academia's success on TikTok transformed the aesthetic, made it mainstream, and garnered extensive media attention. Social media's influence on fashion trends, like this gothic learning-inspired trend, is a significant driver of the global apparel market, projected to reach about USD 1.74 trillion by 2027, expanding at a compound annual growth rate (CAGR) of 2.76% from 2023 to 2027.
Five dark academia trends to know in 2023/24
Tweed blazers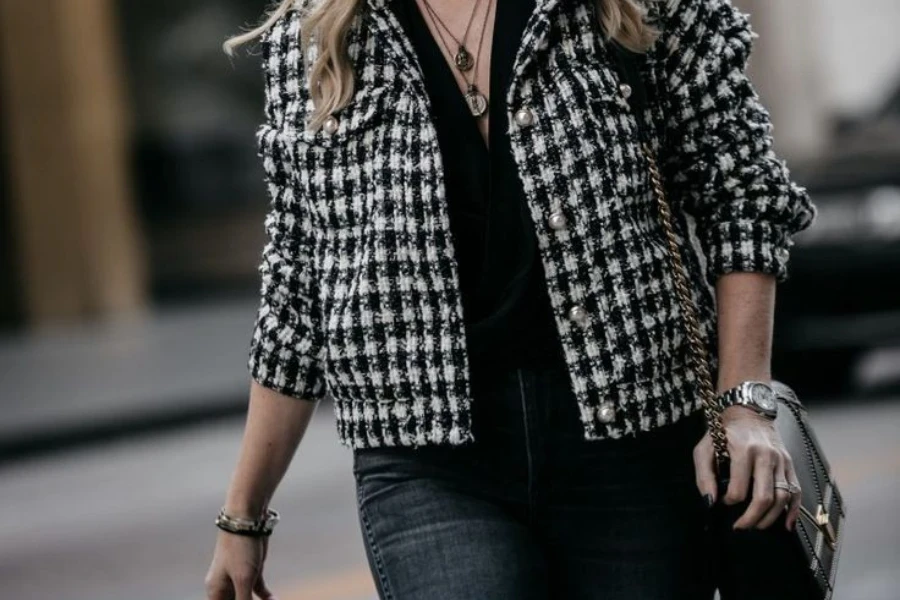 Tweed blazers and other uniform-like allusions are a recurring theme in the dark academia aesthetic. A stylish jacket always reflects the moody preppy theme regardless of personal outerwear preference.
These versatile pieces can be styled oversized, rolled at the cuffs, or perfectly tailored. Typically, they are worn alone, with a cable-knit sweater, or next to a button-down shirt. Other options include a mid-length skirt, a pair of checked pants, or a dark or neutral turtleneck.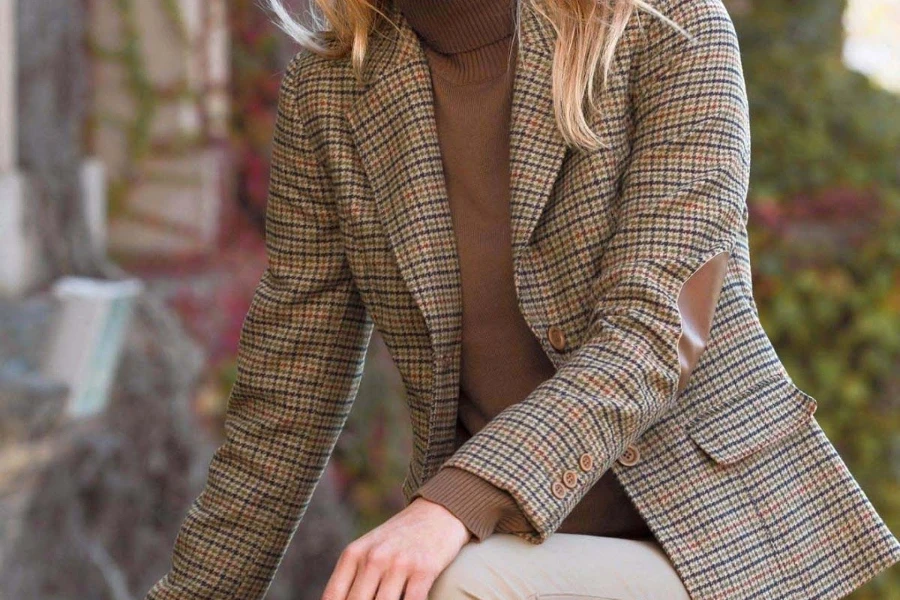 Consumers can emulate hues commonly seen in academic or professional settings for a more authentic look. A Harris or Houndstooth looks excellent in a monochrome ensemble. Still, a herringbone or Prince of Wales can complement many colors.
Suppliers should consider jackets that come in dark neutrals, just like the other clothing items in this aesthetic. Jackets with a few shinier buttons or a maroon stripe are also worth having; these details add depth and purpose to an outfit that should exude both. It's up to the wearer whether or not they choose to button up the jacket.
Turtlenecks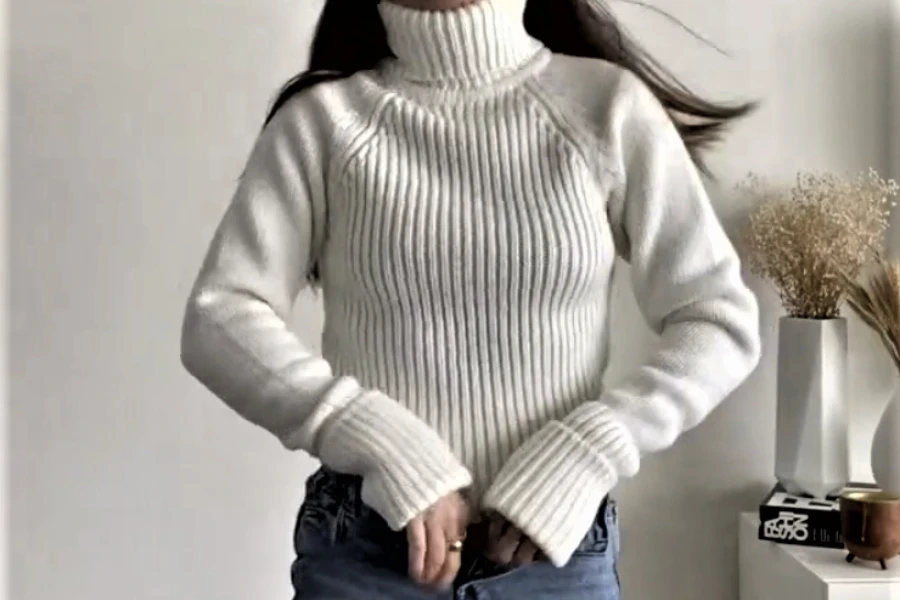 With turtlenecks as an additional layer, the dark academia aesthetic will prepare anyone for the chilly weather. This piece has more color flexibility—consumers could choose a lighter brown or gray, and some even include hints of white in patterns or stripes.
Consumers have a wide range of options when looking for the ideal turtleneck. The cable knit adds some texture to outfits without being too overpowering. On the other hand, the superior fabric and feel of a cashmere jumper will dazzle any onlookers.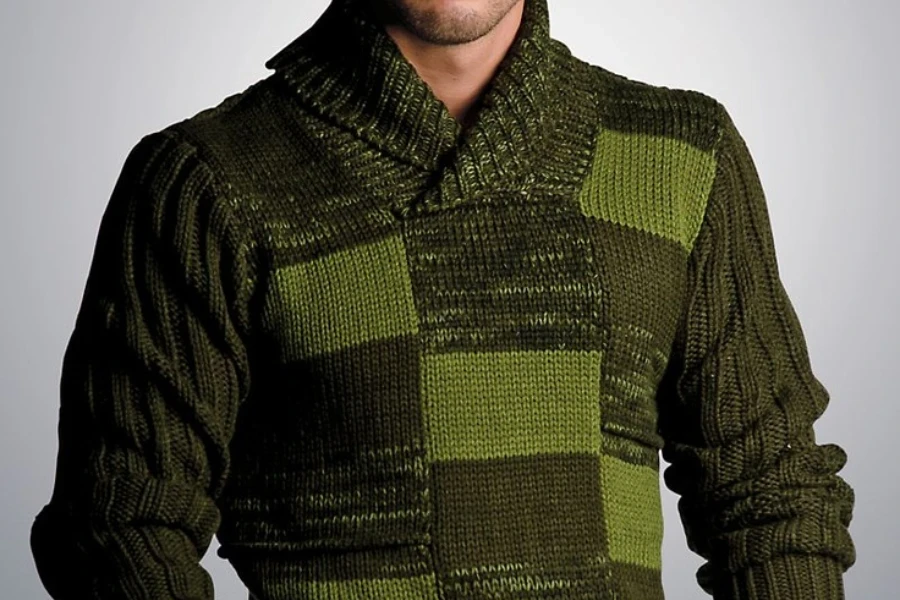 Further still, the foxhole jumper is an additional option for including a tasteful pattern in any outfit. Another option is the traditional varsity sweater, which has an old-school vibe.
When consumers shop for turtlenecks, they usually keep their jacket of choice in mind. Hence, there aren't any clashing patterns or colors. This behavior can inspire suppliers to stock complementary pieces to make various options available to their clientele.
Plaid skirts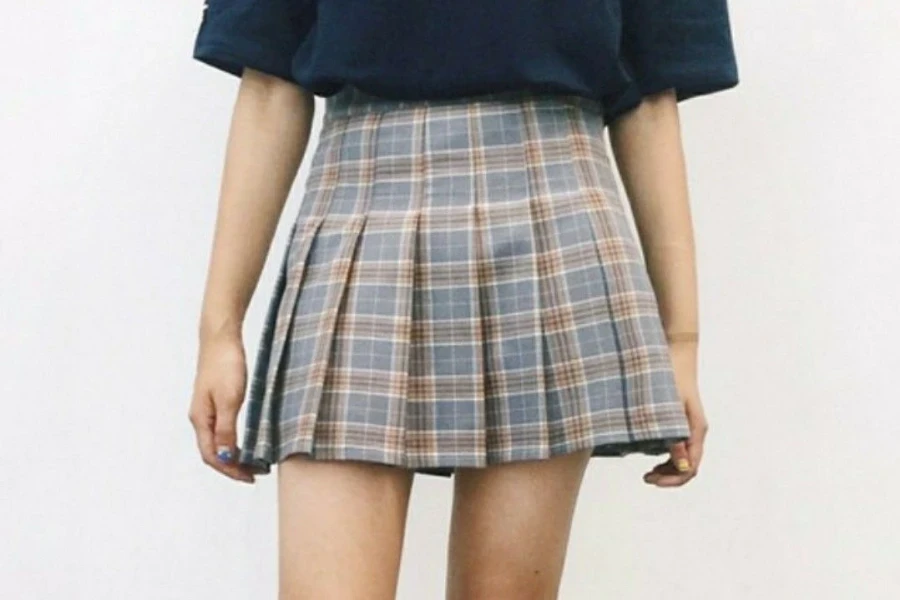 Plaid skirts are unmatched in the fashion world for their versatility. They can make anyone look good, much like a school uniform. They are practical and chic, allowing consumers to wear them in any setting and climate without compromising their style. The basic rule with wearing plaid skirts is maintaining balance.
Academia plaid skirts go well with brown or dark academic-colored sweaters or turtlenecks during the fall. To stay warm and stylish in the winter, pair a white shirt or polo neck with thick wool tights in a dark or neutral color.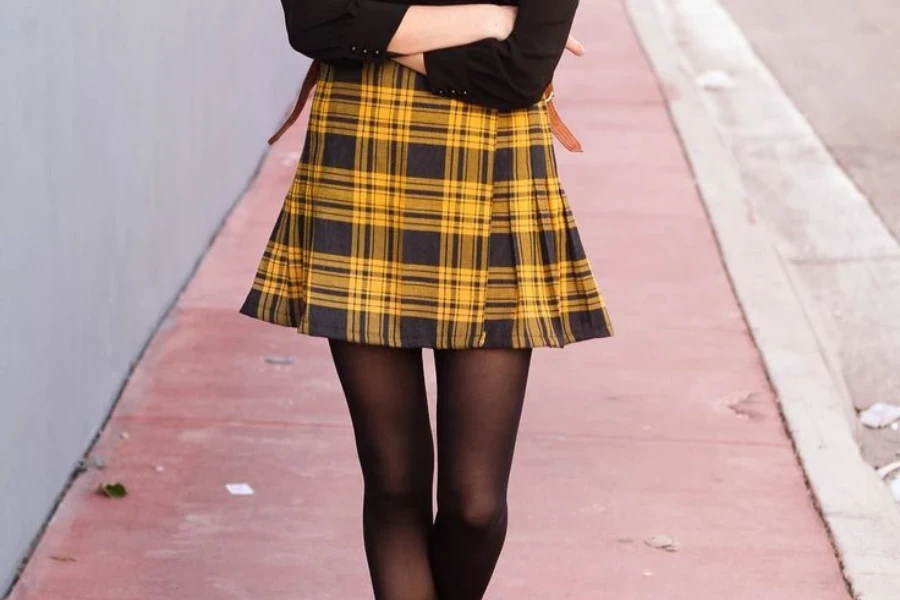 When summer arrives, replace the heavy knits with a lightweight cardigan or a linen shirt. Depending on the subculture of the aesthetic they may want to imitate, they can try lighter hues like taupe or camel.
Every occasion has a plaid pattern, ranging from the conventional pleated style to the more contemporary and casual wrap skirt. This piece is a simple way to add some preppy, vintage appeal to any outfit.
Tailored pants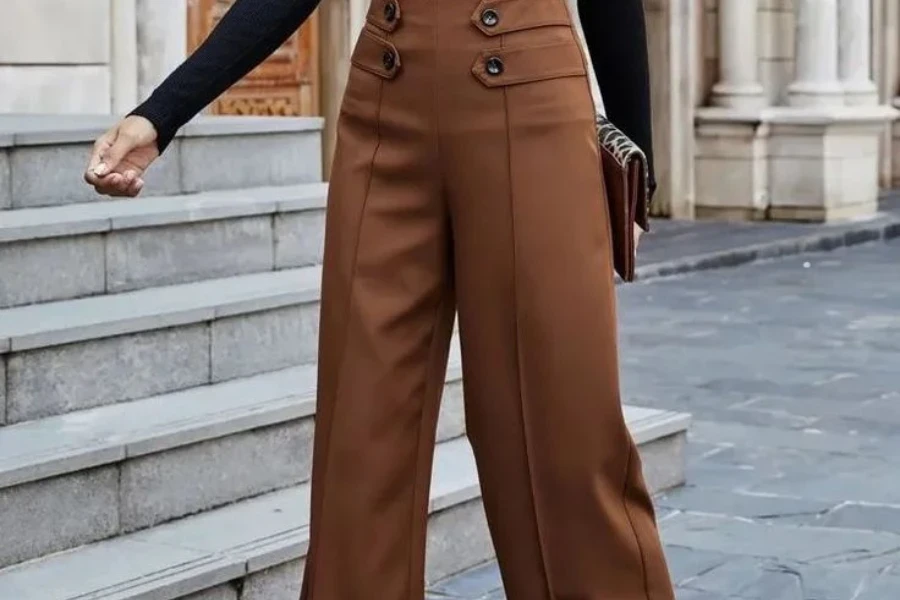 Tailored trousers are essential to everyone's wardrobe, just like in the movies, books, and TV shows that inspire this fashion trend. They are adaptable and ideal for all body types, and they are a fantastic choice for gender nonconformists.
While tailored pants may have once made people think of business attire, it is now casual, approachable, and relaxed. Depending on the intended look and feel, there are countless ways to style a good pair of tailored trousers.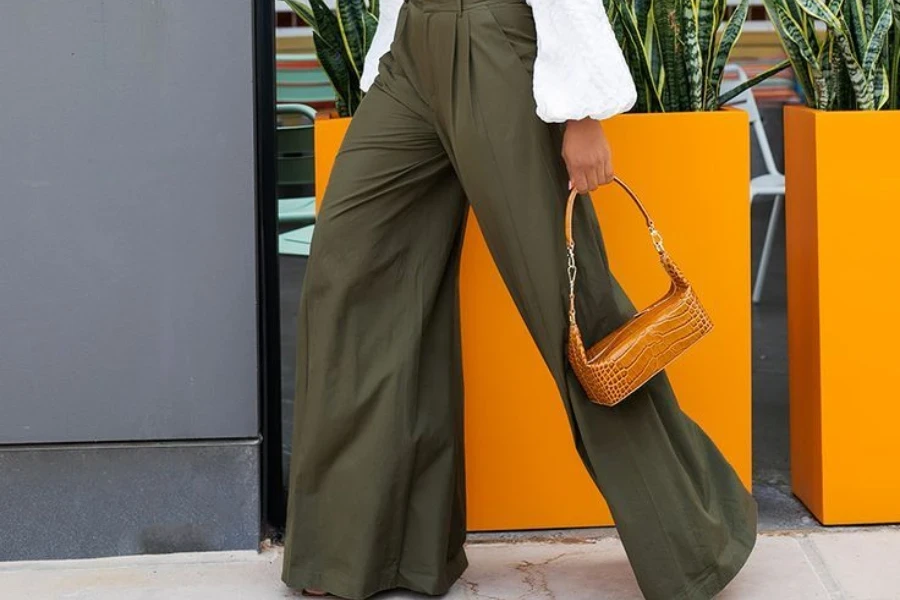 Put tailored pants together with a cardigan, turtleneck, or white or blue button-down. Layering and color scheme selection are essential for giving this outfit a scholarly vibe.
Consumers can keep their lower half in darker hues to accessorize with lighter or darker shirts, coats, and accessories. They're perfect for cold, rainy days in a cafe or by the fire.
Wool coats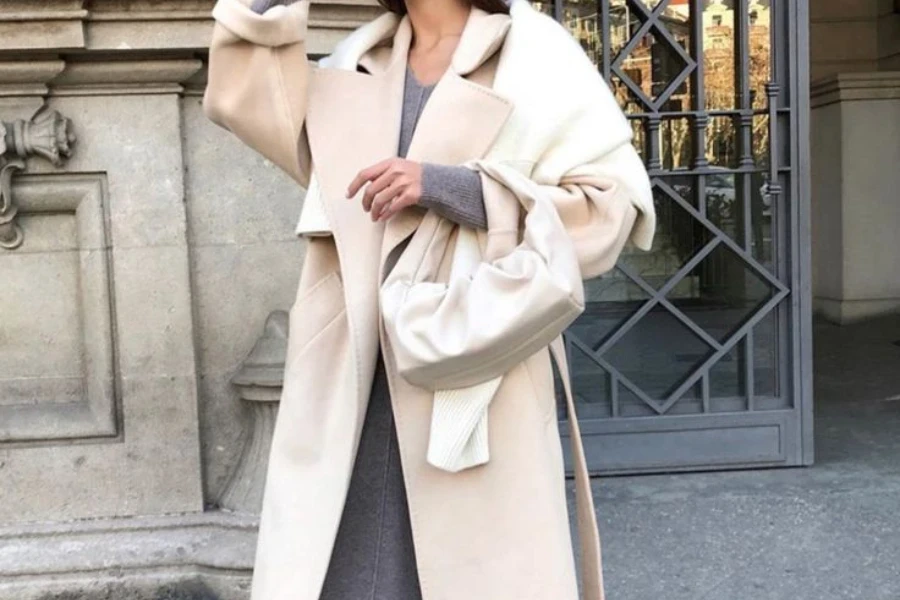 Although layering is not new, it is practically necessary for this aesthetic. Long, dark coats are a must-have for outerwear. Consumers can wear dark wool coats to keep warm and complement the earthy colors they're styling. It depends on the subculture of the aesthetic they are imitating, whether the length of the outerwear matters or not.
The trench coat is a timeless option that adds mystery while maintaining the sophistication of any outfit. The car coat, a slightly shorter, more structured garment, is another popular style. The peacoat, duffle, or Chesterfield styles are additional options. Any of these will help put the final touch on the dark academia look.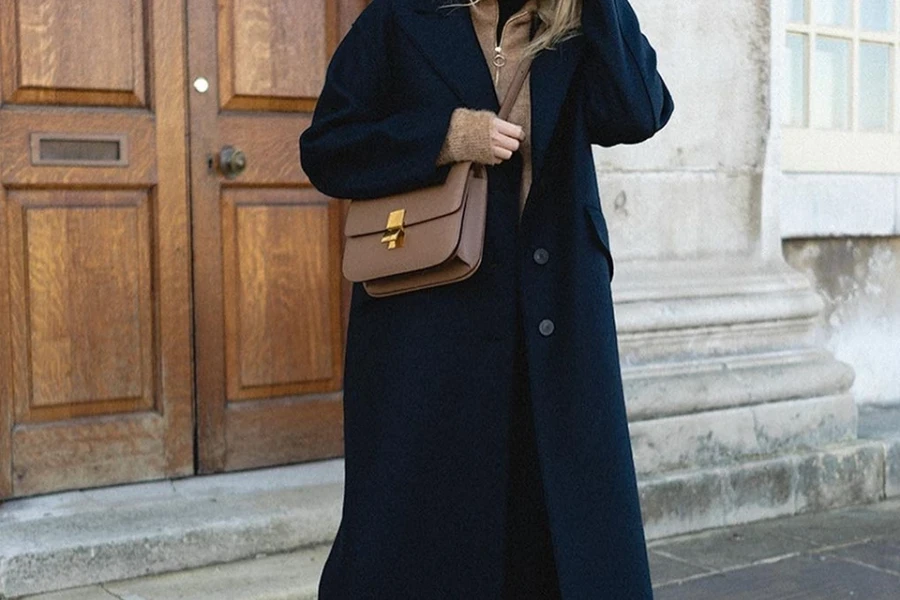 Dark colors are essential when choosing a color and material, especially for outerwear. Excellent options include black, dark gray, or even a rich brown. Refined materials, like wool or even a wool-cashmere blend, are perfect.
Remember to maintain an air of mystery, and avoid offering wool coats with decorations or frills. A discrete row of buttons typically works best, though a concealed zip is also a good option. Consumers can be more confident in flipping up their collars while bundling up.
Rounding up
It is time for brands to delve into the dark academia pieces to meet the needs of shoppers looking to infuse their wardrobe with academic sophistication, whether they are college professors or just enthusiasts of the aesthetic.
This style is characterized by the dark, angsty vibe it conveys. Dark colors, plaid and argyle prints, and high collars are the main design elements of this trend. Still, they've been given a sleek, contemporary update.
Think of a polished preppy look with a more somber color scheme—a classic preppy-cool blazer, tailored pants, plaid skirts, dark wool coats, turtlenecks, or a dapper tweed. These remarkably nostalgic outfits are excellent places to start.
Was this article helpful?