Many industries grow in line with the US economy. However, some industries grow faster, driven by technological advances, changes in public policy and shifting consumer tastes.
Such industries represent an attractive opportunity for investors, job candidates and government agencies. Below is a list of top emerging industries that have significantly outperformed the US economy over the five years to 2022.
Meat alternatives production
Rising health consciousness and environmental concerns among consumers have led major food companies and startups to develop products where protein is not dominated by traditional meat sources.
Major players Beyond Meat Inc. and Impossible Foods Inc. sell products such as burgers, ground meat and sausages while marketing their food as healthier and more sustainable. Over the five years to 2022, revenue for the Meat Alternatives Production industry in the US is estimated to rise an annualized 21.8% to $7.6 billion.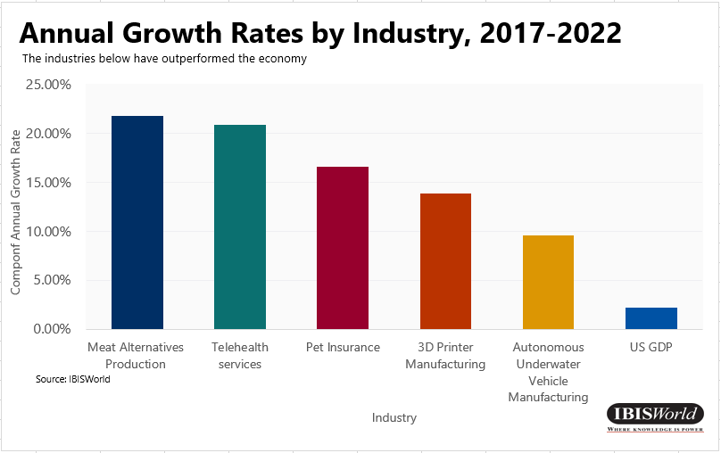 Telehealth services
Demand for telehealth services has been rapidly expanding, driven mainly by technological advances. The emergence of self-monitoring devices, such as smartwatches, and the ability to access patient records online have taken healthcare services from the confines of hospitals into homes.
The COVID-19 (coronavirus) pandemic has also had a positive effect on the industry, nearly doubling its revenue in 2020. Overall, revenue for the Telehealth Services industry in the US is estimated to grow at an annualized rate of 20.9% to $16.6 billion over the five years 2022.
Pet insurance
Over the past two decades, pets have evolved to become an integral part of many US families. In recent years, this trend has accelerated.
Meanwhile, the coronavirus pandemic brought pet humanization to a brand-new level in 2020, as families have since spent more time with their pets than ever before. The Pet Insurance industry in the US has greatly benefited from this trend, with revenue growing an annualized 16.6% to $2.5 billion over the five years to 2022.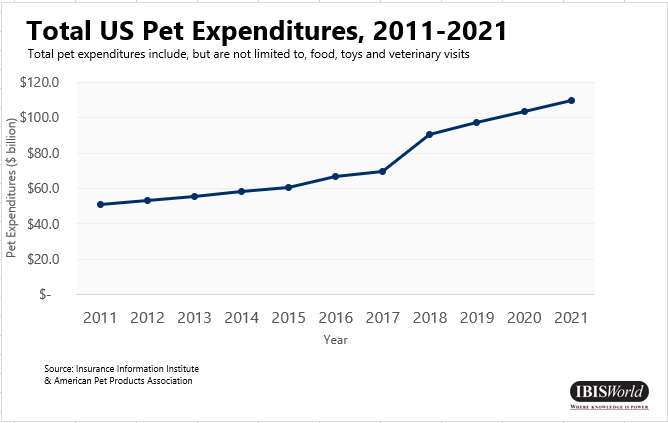 3D printer manufacturing
Due to the evolving technology and expiring industry patents, the price of 3D printers has rapidly declined, boosting demand for the technology and attracting new industry players.
Demand has particularly been driven by healthcare and industrial companies that use the technology to prototype products and produce complex parts. Over the five years to 2022, revenue for the 3D Printer Manufacturing industry in the US is expected to grow at an annualized rate of 13.9% to $6.3 billion.
Autonomous underwater vehicle (AUV) manufacturing
Autonomous underwater vehicles (AUVs) are computer-controlled systems that operate undersea. Demand for AUVs has been largely driven by the US Navy's increased spending on advanced marine systems.
Major industry players, such as the Boeing Company, General Dynamics Corporation and Lockheed Martin Corporation, have invested in extending AUV sailing time, enabling deeper diving and developing higher intelligence and cooperative operations. As a result, revenue for the Autonomous Underwater Vehicle Manufacturing industry in the US is estimated to grow an annualized 9.6% to $0.6 billion over the five years to 2022.
Final thoughts
All industries evolve through three key cycles: growth, maturity and decline. The emerging industries listed are in the active growth stage, which is characterized by the growing number of companies, rapidly expanding demand for industry products and active research.
Further, these top emerging industries may present investment opportunities while also demonstrating competitive strategies to stay on top in a post-pandemic world. Check out IBISWorld's Industry Data Wizard to learn about more than 300 industries in the growth stage.
Source from Ibisworld
Disclaimer: The information set forth above is provided by Ibisworld independently of Alibaba.com. Alibaba.com makes no representation and warranties as to the quality and reliability of the seller and products.
Was this article helpful?