Whether it's being played at an arcade or at home in a gaming room or garage, air hockey is a captivating and fast paced game for people of all ages. It's a fun but competitive game for consumers to take part in and they don't necessarily need to have a lot of skill to enjoy themselves. Miniature versions of this game are produced for smaller spaces such as tabletops, but this article intends to do a deep dive into the top full size air hockey tables that consumers are after in 2023. Read on to find out more!
Table of Contents
Global market value of air hockey tables
Top full size air hockey tables
Conclusion
Global market value of air hockey tables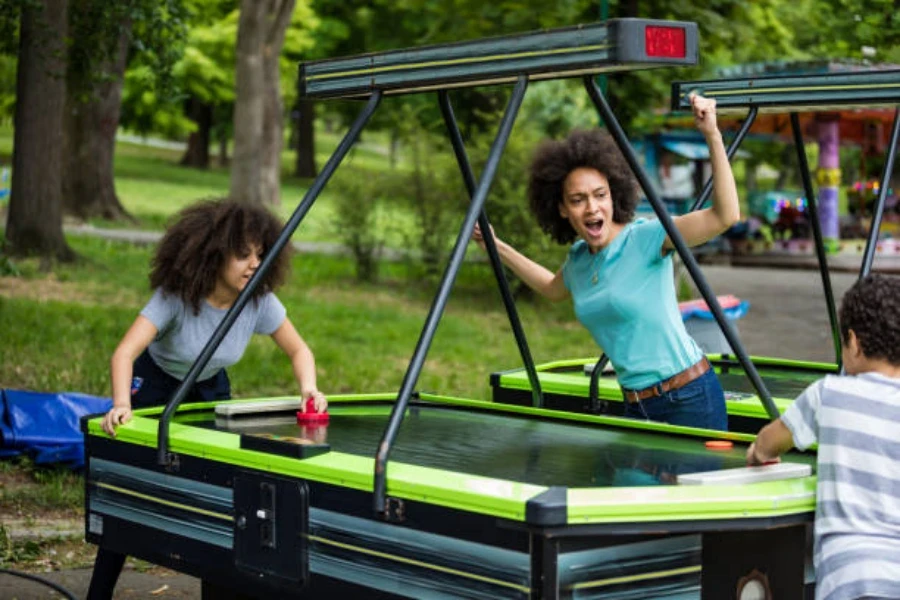 Air hockey has been a popular indoor game for decades and its popularity among consumers of all ages only seems to be growing. Arcades and gaming rooms are increasingly adding more child friendly gaming options to their spaces and larger households in North America and Europe that have the extra room for an air hockey table are beginning to emerge as big buyers of this competitive game. There are now tabletop versions of air hockey being purchased for households that don't have a lot of room or storage space for the full size version as well.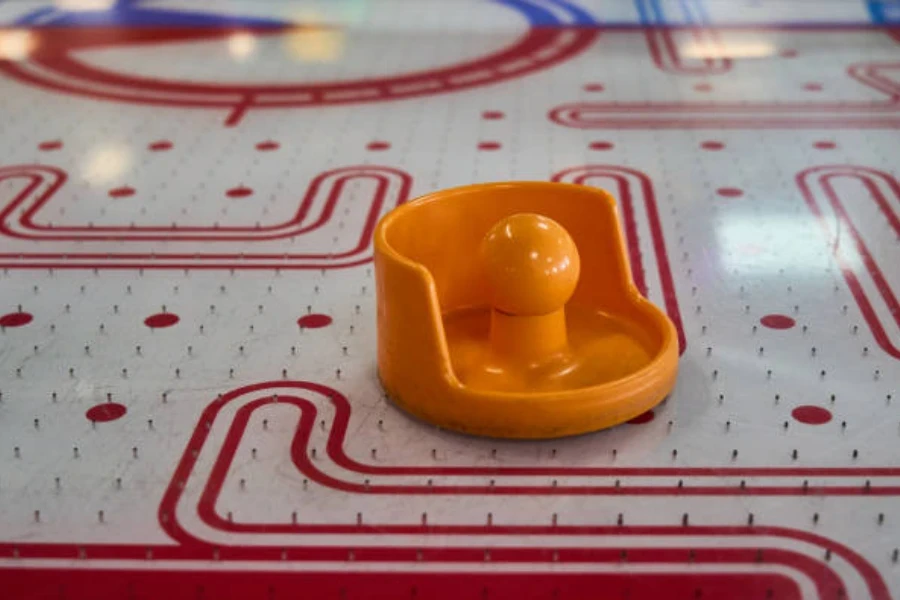 In terms of the global market value of arcade games as a whole, the market is expecting a compound annual growth rate (CAGR) of at least 2.6% between 2023 and 2027. That would bring the value from USD 12.37 billion in 2023 to approximately USD 13.63 billion in 2027. This increase is due to a number of factors such as an increase in physical activities among consumers, for which arcade games, and particularly games such as air hockey, are ideal as they require a significant amount of movement.
Top full size air hockey tables
There are numerous versions of full size air hockey tables for consumers to choose from thanks in part to the high demand of this competitive game. Although they all serve the same function they have distinct features that help them to appeal to different types of consumers.
According to the average monthly searches of Google Ads the air hockey table with the highest interest is the "air hockey table" with 110000 searches, followed by the "multi game table" with 9900 searches, the "arcade air hockey table" at 1000 searches, "home air hockey table" and "foldable air hockey table" at 720 searches, "commercial air hockey table" at 590 searches, and "LED air hockey table" at 210 searches. Read on to learn more about the key features of each of these full size air hockey tables.
Standard air hockey table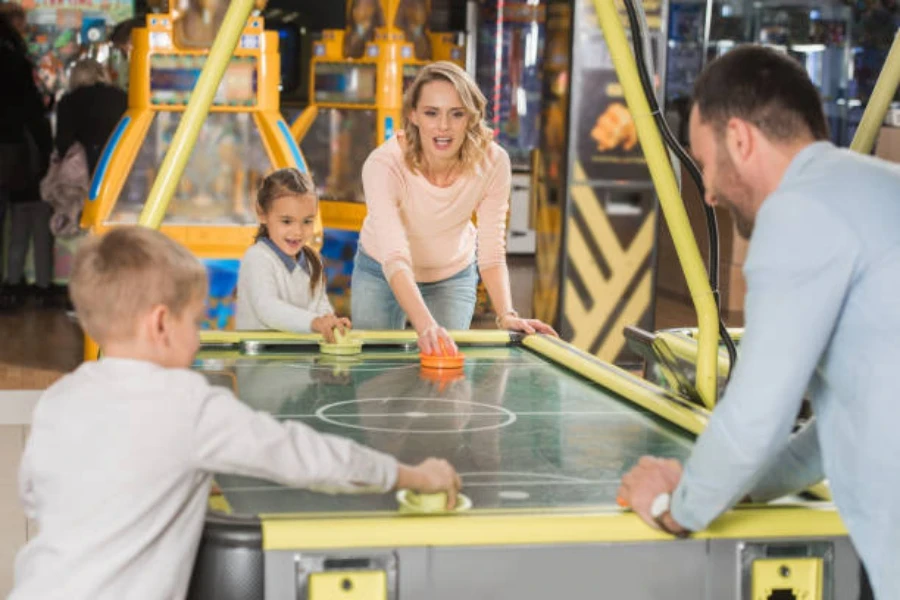 Although many versions of the full size air hockey table have emerged, one of the most popular types still remains the standard air hockey table. It's found in various spaces such as homes, arcades, gaming rooms, and even the office. This air hockey table isn't usually limited to space so it tends to be between 6 to 7 feet long and the more modern tables can also have a built-in scoring system added to them. 
The playing surface is made of a smooth and durable material, such as acrylic, with the holes allowing for the air flow to move the puck around the table with ease. The table will also include at least two paddles, a blower motor to ensure that the air flows through the table, and leg levelers that will allow the consumer to adjust the height of the table and make sure that it's even. The standard air hockey table doesn't carry too many features but it works like a charm. Retails should note the length of the table may not be suitable for home use or confined spaces.
Home air hockey table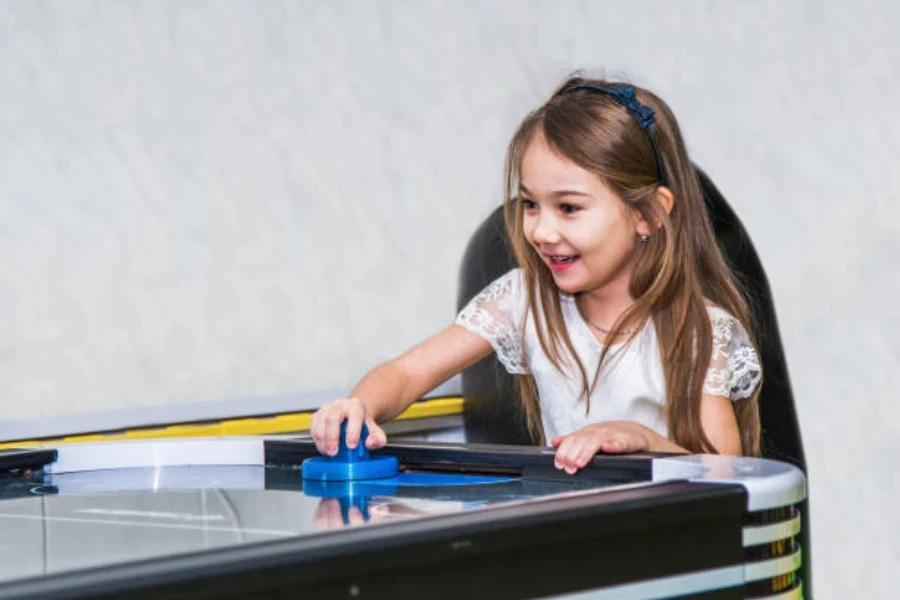 The space in a home is usually much less than an arcade, so these tables are smaller in size and range from 5 to 7 feet, but they're not to be confused with miniature tables that are designed to fit on a countertop and can be carried around easily – they're still considered full size! Since they're less durable than other full size air hockey tables, as well as slightly smaller in length, they're not usually used in commercial spaces.
The air flow of the home air hockey table may not be as good compared to more professional grade ones but it still works perfectly and is ideal for family gatherings or having a fun get together with friends. Depending on the needs of the consumer, home air hockey tables can either be very basic and lightweight in design or they can be made with permanence in mind, with a strong and durable wood or metal look that blends in seamlessly with the design of the interior decor of the home.
Multi game table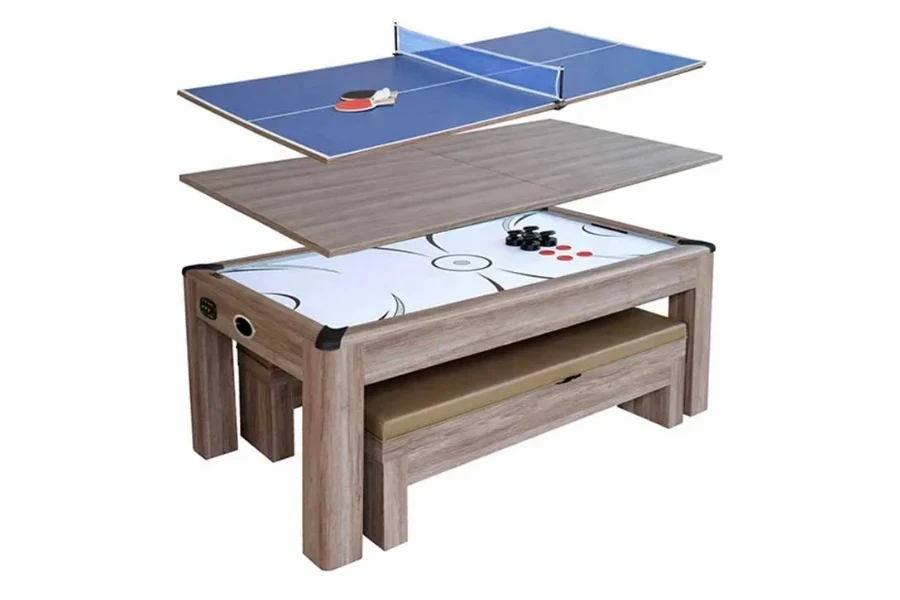 For consumers who have limited space and want to make the most out of their gaming room, the multi game table is the perfect option. They're traditionally designed to fit in residential spaces like a gaming room or a basement but they can equally be used in small public gaming spaces too. The key feature of the multi game table is that the table has interchangeable tops that are very easy to slide in and out so they can be used by children as well as adults with little hassle. This feature also means that more damage can occur than with other air hockey tables though.
The types of games included in this gaming table will vary but in a lot of cases they include games such as billiards or pool, foosball, and table tennis – on top of air hockey, of course. The table will also include all of the accessories for each of these games as well as an area to store them within the table itself. Most of the multi-game tables come with interchangeable tops but some new designs coming out offer the alternative option of having a rotating table top instead.
Commercial air hockey table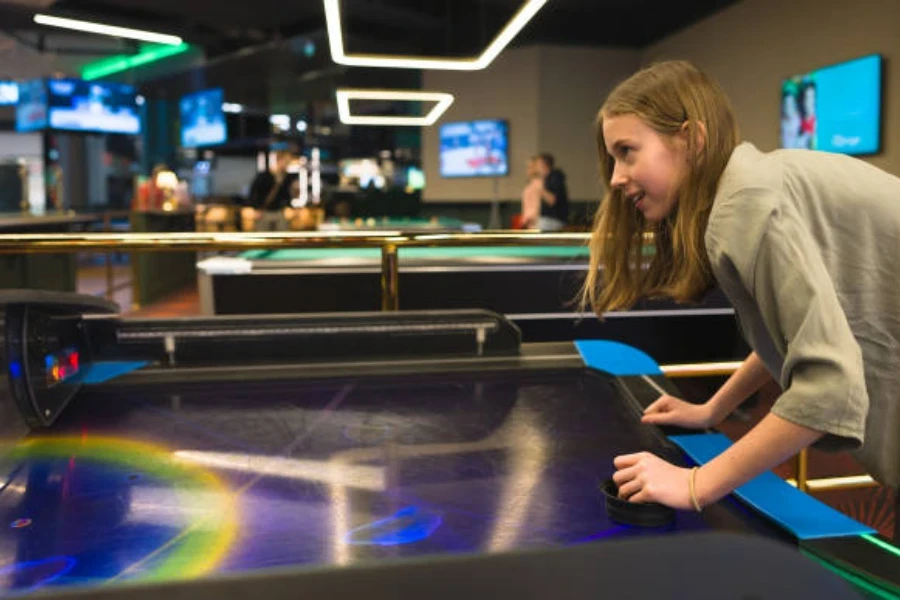 Compared to other types of tables, the commercial air hockey table is built with durability in mind and is usually a bigger size than standard ones. This type of air hockey table is predominantly found in arcades where it will get a lot of use and go through heavy striking motions with the paddle and puck and isn't suitable for home use unless there is a large enough space available. 
Due to the nature of the commercial air hockey table it will have an electronic scoring system built-in so that players are able to concentrate on the game at hand without worrying about the score. They are also built with ease of maintenance in mind with easy to clean surfaces and panels that can be accessed by mechanics in case of an error in the system.
LED air hockey table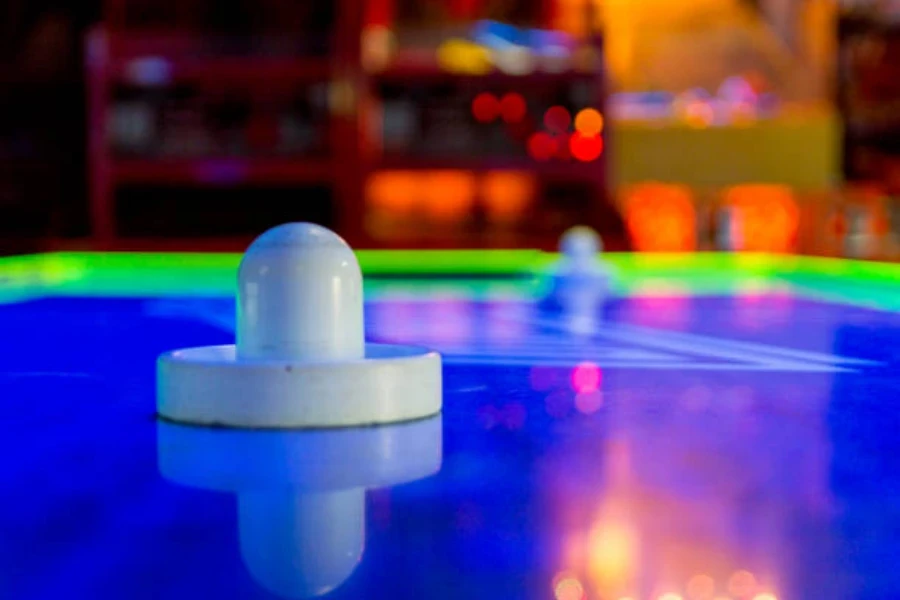 Traditional air hockey tables are still very high in demand but a modern take on this game comes in the form of the LED air hockey table which adds even more fun to the gaming experience. The lighting effect helps to create a more immersive experience for the players with all aspects of the table lighting up including the surface, rails, scoreboard, and goal itself. Some tables will often include glow in the dark paddles! These additional features do increase the overall cost of this full size air hockey table though which is why they are predominantly found in commercial spaces. 
The LED air hockey table is fully customizable too. The frequency of the flashing lights, the brightness, the colors, and even the sound effects can be adjusted to suit the players or the space that the game is in. The LED lights are just as durable as the table itself so not much maintenance is needed for the LED air hockey table which is what a lot of consumers who run arcades are looking for. To add even more features to this unique table, manufacturers have even started to integrate curved surfaces so the puck doesn't get stuck along the sides and players won't need to pause their game to retrieve it.
Foldable air hockey table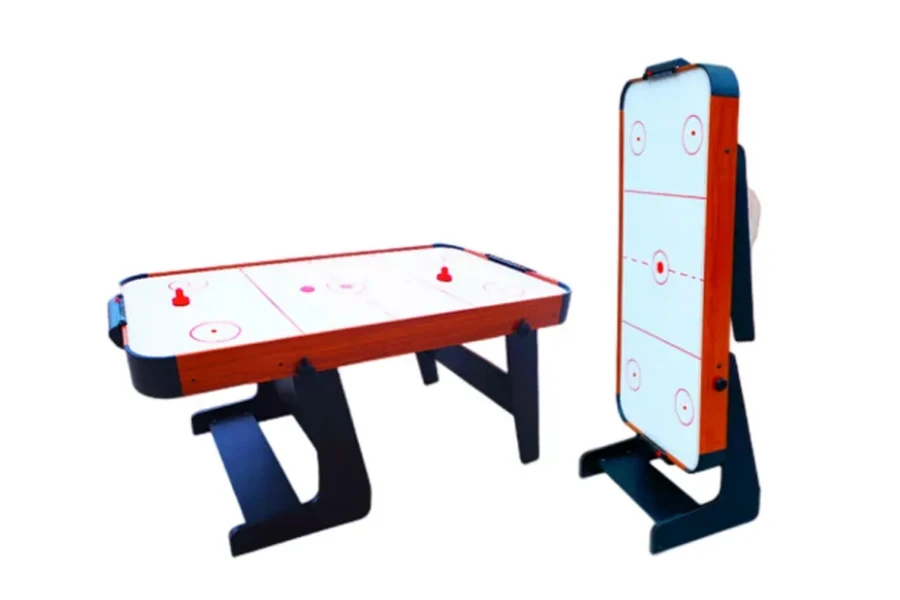 Most air hockey tables are designed with permanence in mind and can't be taken apart easily. However there are a few versions of the tables that have foldable legs as part of their design. The idea behind this design is to not take away from the size or the feel of playing with it but to ensure that people who are regularly on the move or have limited space can still use the table.
The folding air hockey table will have narrower legs on it, making it slightly less sturdy than a commercial or standard air hockey table. Since it's meant more for home use this won't be a problem in terms of its durability. It's portability also makes it more fragile than other tables which is something to note. However since it's both space-saving and portable it makes it a popular choice among consumers with limited space available. 
Arcade air hockey table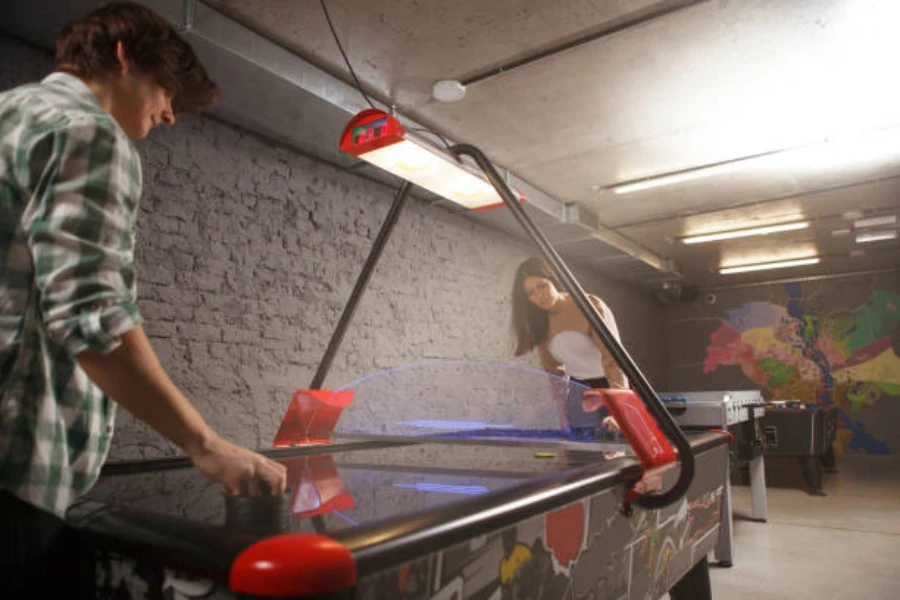 The coin-operated air hockey table is designed for arcades or public gaming spaces where the owner of the building can earn an income from people playing the game. Once the coin is inserted there is either a time limit and countdown for the amount of playing time or the game stops the air flow once a certain number of goals have been scored. 
Like the commercial version, the coin-operated air hockey table is very durable and built to withstand a lot of heavy use on a constant basis. Due to the nature of arcades a lot of these air hockey tables will also have a ticket dispenser on the side so visitors can collect a prize before leaving the venue which also adds to the competitive nature of the game. These tables are very heavy so they should be placed in an area where they won't need to be moved too often. 
Conclusion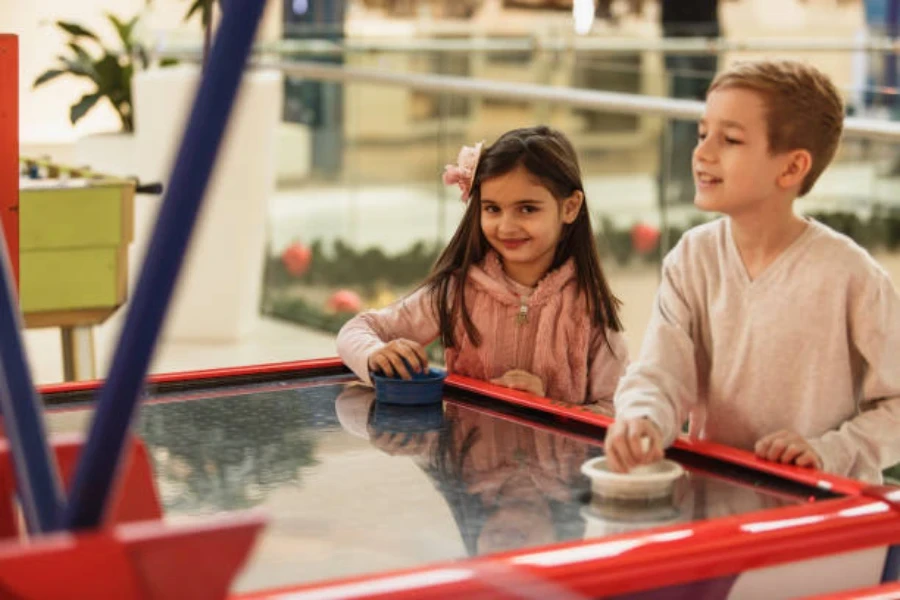 Air hockey is an exciting and competitive game for consumers of all ages to take part in. Full size air hockey tables can be found in a variety of places such as arcades, community centers, homes, offices, and game rooms and the variety of tables on the market today means that they are now more adaptable than ever to smaller spaces. On top of this, new features such as LED lighting and sound systems have helped to create a higher demand for air hockey tables globally.
With newer versions of this traditional game coming out regularly, the market is expecting air hockey tables to continue to grow in value with modern features added to them.
Was this article helpful?