As an aspiring entrepreneur, launching your own Amazon business is a thrilling journey filled with excitement, passion, and the promise of growth. Those early days, when you meticulously prep, pack, and label each product for shipment, carry a unique charm. Every order that sails out the door feels like a victory—a testament to your dedication and hard work.
As your business gains momentum and orders begin streaming in by the dozens, the thrill can gradually transform into a formidable challenge. What was once a labor of love becomes a time-consuming and exhausting task. Endless routine tasks of packing and labeling divert your focus from the heart of your enterprise: innovation and expansion.
Enter the Amazon FBA prep centers. These centers serve as the unsung architects behind the scenes that help entrepreneurs streamline operations, scale faster, and navigate the complexities of order fulfillment. In this comprehensive guide, we discover what Amazon FBA prep centers are and the role they play in growing online businesses.
What is an Amazon Prep Center
At the heart of modern e-commerce operations lies a pivotal solution – the Amazon FBA prep center. A concept as straightforward as it sounds, a prep center is essentially a hub designed to facilitate the preparation of orders for Amazon fulfillment. As a merchant, you send your inventory to the prep center and leave the rest of the process to them.
An Amazon FBA prep center undertakes all the preparatory tasks, like quality checks, wrapping, labeling, and packaging. Often, its role extends further with more comprehensive services that cover other warehousing, logistics, and fulfillment needs.
The Benefits of Using an Amazon Prep Center
As your business grows, you can scale faster if you delegate routine tasks to third-party providers. You'd be surprised at how much time, effort, and space you can save by handing fulfillment prep tasks to these pros.
More time to make your business better
Putting products together, printing FNSKU labels, packaging items, and labeling shipping boxes take a huge chunk of your time–time you could otherwise use to find more great products to sell and improve your business.
By using Amazon prep centers, you can focus your time and efforts on sourcing new products, running marketing campaigns, managing inventory, and monitoring orders. With 59% of all paid units coming from 3P sellers in Q1 2023, you'd want to do everything possible to remain competitive and get a huge chunk of this market share.
Better cost-efficiency
Using third-party services costs money, but it can also help you save a lot in the long run. With Amazon FBA prep services, you actually save on having to invest in equipment and supplies for labeling and packaging. FBA prep providers typically include these in their prep packages.
Using prep centers in certain states or regions also allows you to minimize the taxes you have to pay when catering to buyers from other locations. In the US, five states do not impose statewide sales tax-New Hampshire, Oregon, Montana, Alaska, and Delaware. Availing the services of FBA prep centers in these states can help you avoid sales taxes without breaking the law.
More space for inventory
If, like many Amazon sellers, you run your business from home, your space can get pretty cramped when orders come piling in. As your business gets bigger, you're bound to run out of room for all your products. An FBA prep center can give you the extra space you need for a bigger inventory.
Faster business growth
Amazon FBA prep centers can definitely help you scale your business faster. These centers have processing systems that run like clockwork and quickly prep your products. Equipped with expansive warehouse space and skilled labor, they can handle large shipments for scaling businesses.
With prep centers, you can have your products prepped and ready to be sent to Amazon fulfillment centers in a day or two. With this efficiency and the provided storage space, you can handle more orders without sacrificing product quality and your sanity.
The Cost of Using an Amazon FBA Prep Center
The actual cost of Amazon FBA prep services varies depending on the service provider, the type and level of services required, the size and volume of products, and other factors. Some FBA prep centers require a monthly subscription, while others provide per-unit pricing for a minimum number of units per month.
Generally, you can expect to shell out approximately $1.00 to $2.00 for each item that the center handles. Aside from the base price, there could also be additional charges for warehouse storage, special packaging materials, FNSKU labeling, and other add-on services.
Before signing up for a service, clarify your plan or package. Ask for a detailed list of the services covered under your quoted price. Read the fine print in the contract or agreement form to avoid nasty surprises when billing time comes.
Top 5 Amazon FBA Prep Centers
There are hundreds of FBA prep centers in the United States. With such a long list of choices, finding the right one can be overwhelming. You can narrow down your choices by simply searching the net for "FBA prep center near me" or "FBA prep center in [location]". To make it even easier for you, we've shortlisted the top 5 FBA prep centers today.
MyFBAPrep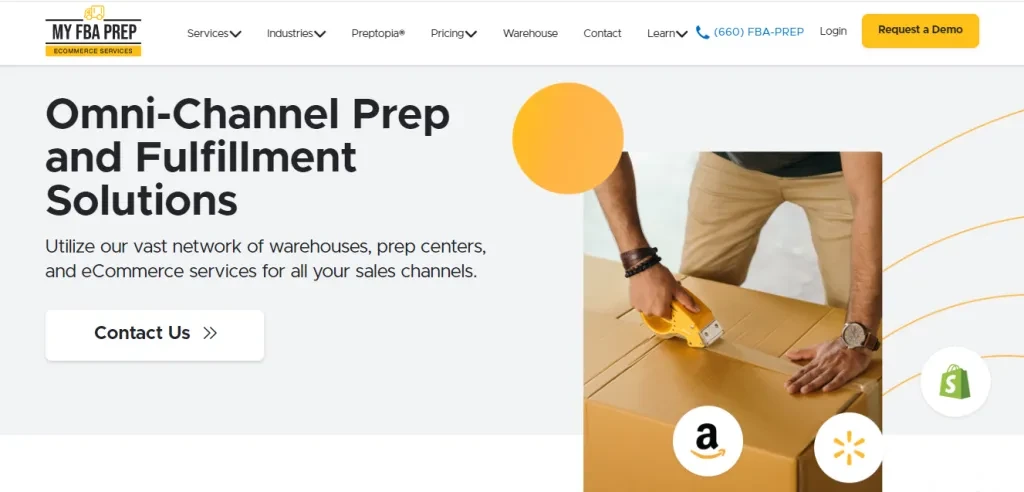 When it comes to Amazon FBA prep, MyFBAPrep has earned its reputation in the industry from decades of delivering exceptional preparation services to businesses of varied sizes. With over a hundred warehouses spread across the US, Europe, the UK, Canada, and Mexico, it makes it easier for Amazon sellers to reach a global market. If you plan on expanding to the Asian market, it is worth noting that MyFBAPrep will soon be opening a prep center in China.
MyFBAPrep ensures compliance with Amazon's stringent standards by setting equally stringent controls in their prep centers. Every product is meticulously examined for quality, quantity, proper labels, packaging, and other aspects crucial to shipping prep.
FBA prep is just one of the many services in the comprehensive suite of omnichannel solutions offered by MyFBAPrep. It also offers direct-to-consumer fulfillment, temperature-controlled logistics, retail replenishment, and reverse logistics, among many others. This makes it a great prep center for businesses selling on multiple channels and serving multiple regions.
Services:
Amazon FBA Prep
Amazon FBA Reimbursements
Amazon FBM
Amazon Seller Fulfilled Prime
Subscription Box Fulfillment
Turnaround time: 24 to 72 hours
Location: Headquarters in Florida, Multiple prep centers (local and international)
Pricing: Standard Plan starts at $0.90 per unit for 50K to 100K units per month
Smart Prep Center

Operating from its Delaware base, Smart Prep Center offers a cost-saving advantage for Amazon sellers. With no sales tax levied within the state, it minimizes the costs involved in online selling. Aside from this, it also streamlines Amazon selling with services encompassing the entire FBA preparation spectrum.
Smart Prep Center can handle everything from product inspection and labeling to packaging and final shipment. Clients are given access to a dashboard where they can manage their personal accounts and monitor the preparation processes. The software also integrates with other e-commerce platforms for more convenient management of inventory across multiple marketplaces.
Smart Prep Center also supports sellers under the FBM model by providing storage and delivery solutions. With no minimum order restrictions and flexible pricing, it is able to accommodate businesses of all sizes, especially start-ups.
Services:
Amazon FBA Prep
Amazon FBM
Warehouse Services
Fulfillment Services
3PL Logistics Services
Turnaround time: Up to 2 business days
Location: Wilmington, Delaware
Pricing: Starts at $1.00 per item for 5,000+ units per month
McKenzie Services

Founded in 2004 as an online retailer specializing in used books, McKenzie Services transitioned to a prep services company that aids Amazon FBA sellers with their warehouse logistics. This family-owned establishment employs a user-centric approach, with each client assigned a dedicated account manager and a client portal.
Headquartered in Oregon, McKenzie Services is able to offer tax-free addresses and import services. It accommodates a wide range of products, including wholesale, online arbitrage, retail arbitrage items, hazmat products, and used books.
The process for FBA prep services is pretty straightforward. Create an account, send your items to McKenzie Services with unique address identifiers, await the issuance of UPS or FBA labels to your Seller Central account, and let the McKenzie team manage the rest of the steps for FBA prep. Access your client portal to monitor your inventory.
Services:
Amazon FBA Prep (Wholesale and Online Arbitrage)
Carton Forwarding
Storage & Disposals
Amazon Removals & Returns
Turnaround time: 1 to 3 business days
Location: Hillsboro, Oregon
Pricing: Starts at $1.58 per item for at least 50 units per SKU
Prep It Pack It Ship It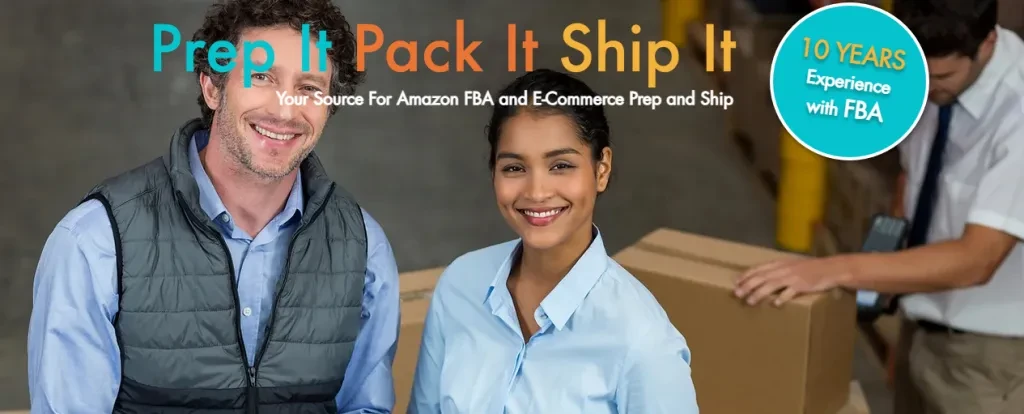 Operating since 2013, this company has established itself as a reliable provider of Amazon FBA prep services on the west coast. Nestled in Los Angeles, its strategic location bears distinct advantages for sellers dealing with overseas inventory. Further bolstering its strategic positioning, the center's proximity to expansive Amazon warehouses ensures efficient warehousing solutions.
Prep It, Pack It, Ship It offers an array of services that cater to the needs of sellers on Amazon, Walmart, Shopify, and other marketplaces. Its Amazon FBA prep services include FNSKU labeling, special packaging, bundling, carton-forwarding, storage, returns, and removals. It also provides an online dashboard where clients can manage shipments and monitor inventory levels from any location at any time.
Services:
Amazon FBA Prep
Carton-Forwarding for FBA
Individual Order Fulfillment (FBM)
Returns and Removals
Turnaround time: 1 to 2 business days
Location: Los Angeles, California and Springfield, Oregon
Pricing: Starts at $0.85 per unit and $2.00 per carton
ZonPrep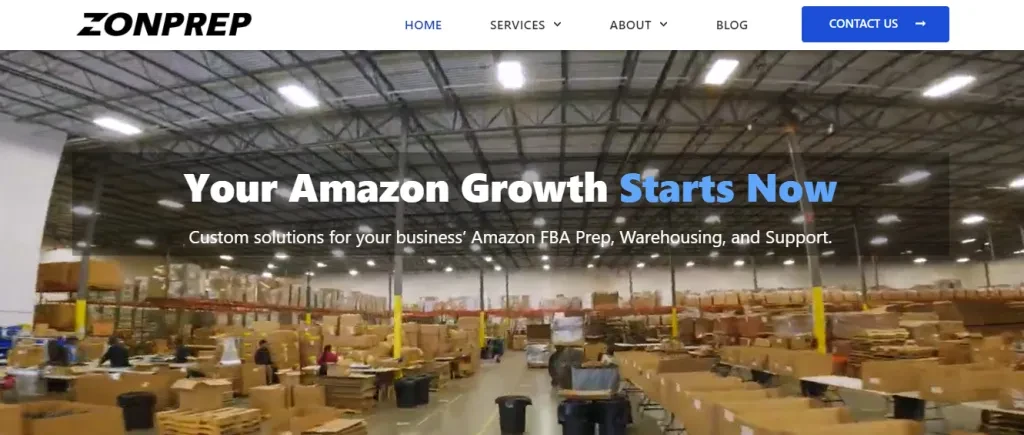 Zon Prep has marked two decades in the Amazon-focused 3PL sector. Its vast 90,000-sqft warehouse space and advanced digital systems accommodate Amazon-bound freight with high efficiency. Its software integrates seamlessly with Amazon accounts to facilitate inventory updates, shipping label generation, and overall business consistency.
Zon Prep's meticulous handling ensures accurate inspection of incoming shipments. Products are labeled and packaged to comply with Amazon policies before they are sent to Amazon fulfillment centers. Beyond Amazon FBA prep services, it also offers FBA removals, online arbitrage, warehousing, and other forms of support. For online sellers, Zon Prep can be a trustworthy partner for businesses while navigating the intricacies of Amazon FBA preparation and optimization.
Services:
Amazon FBA Prep
Amazon Aggregators & Large Brands
Kitting + Value-Added Services
Overflow Warehousing & Distribution
3PL eCommerce Fulfillment
Turnaround time: 48 to 72 hours
Location: McDonough, Georgia
Pricing: Available upon request
How to Choose an Amazon Prep Center
As an Amazon seller, choosing the right prep center is critical to your success. The list above is just five of the top Amazon prep centers today, but there are many others that can be suitable for your specific needs. With dozens of options, making the right choice can be confusing. Here are some of the factors that can help you navigate this daunting decision-making process.
Reliability: A Solid Foundation of Trust and Dependability
You will be entrusting your products to the prep center. So, you must make sure that it is reliable and trustworthy. Some key aspects of reliability are their experience in the industry, understanding of Amazon's intricate rules, and ability to meet client expectations.
While the number of years in service should not be the sole basis, it helps establish a company's reputation. However, more than the industry experience, it is more important to check if it is well-versed in Amazon's guidelines and compliance protocols. You can also seek recommendations from fellow sellers and go through client reviews and feedback to gauge the quality of its services.
Location: A Strategic Advantage
The geographical location of your chosen prep center impacts your shipping costs and logistical efficiency. If your product sourcing or dropshipping involves overseas transactions, choosing a prep center near a shipping port could streamline your supply chain.
The location of the prep center can also influence the amount of taxes you have to pay. For online sellers with customers across different states and jurisdictions, sales taxes can reduce competitive advantage and lead to compliance issues. One way to avoid these is to select a prep center located in sales-tax-free states, such as Delaware, Oregon, Montana, New Hampshire, and Alaska. Doing so can help you avoid unnecessary tax burdens.
Facilities: The Infrastructure for Success
When it comes to Amazon FBA prep, size matters a lot. Prep centers with more than ample space for storage and processing can handle huge inventories, especially during peak seasons. Aside from space, look for centers equipped with advanced warehouse facilities and shipping tools.
Facilities like climate-controlled storage become invaluable if you deal with temperature-sensitive products, such as perishable goods. It ensures their quality remains uncompromised throughout the preparation process.
Technology: Streamlined for Growth
A prep center's technology infrastructure improves your operational efficiency. If you're scaling your Amazon business, this efficiency is critical to your success. In fact, 42% of consumers intend to buy more from retailers that provide efficient deliveries and collection services.
Choose a service provider that offers advanced software solutions capable of integrating with various e-commerce platforms. Look for features that support multichannel fulfillment, so you manage orders across different sales channels. Keep in mind that a streamlined process mitigates errors and ensures a seamless fulfillment journey.
Budget: Balancing Cost and Service
While prep centers offer valuable services, they do come at an additional cost. Striking the right balance between pricing and services is imperative for business sustainability. Begin by establishing a clear budget allocation that aligns with your financial goals. Seek out prep centers that offer competitive pricing or comprehensive packages that fall within your predetermined budget range.
Prepping the Path to Amazon Success
In the journey of entrepreneurship, every step you take is a leap toward growth and success. From the early days of packing and labeling each product with care to the rapid expansion that follows, your business evolves, and your needs change.
As your venture gains momentum, order preparation and fulfillment challenges can become overwhelming. This is where Amazon FBA prep centers step in as your steadfast companions on the road to business success. These centers are architects of efficiency that allow you to redirect your energies toward innovation, marketing, and scaling your business. They provide the extra space you need for your ever-expanding inventory while also helping you navigate the complex world of taxes and compliance.
Source from Threecolts
The information set forth above is provided by Threecolts independently of Alibaba.com. Alibaba.com makes no representation and warranties as to the quality and reliability of the seller and products.
Was this article helpful?