Preppy punk fashion is an exciting and trendy way for consumers to distinguish themselves with flair. It represents a fusion of punk and preppy aesthetics, artfully blending elements from both subcultures.
This style is an excellent choice for individuals seeking to express themselves boldly while maintaining a chic and refined appearance. Explore the top trends in this theme to help consumers achieve the preppy punk look effortlessly.
Table of Contents
Five preppy punk styles set to dominate 2023/24
Closing words
Five preppy punk styles set to dominate 2023/24
Plaid skater dress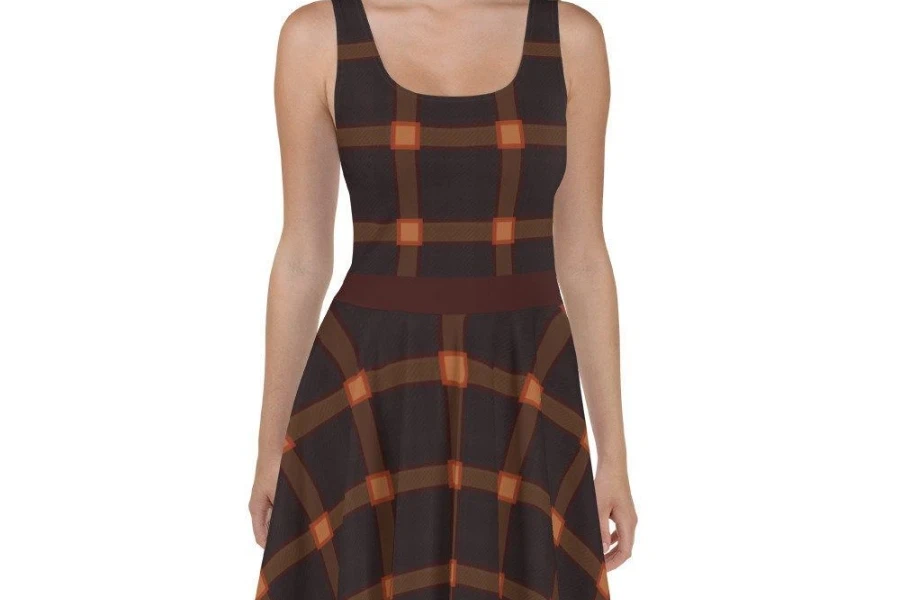 Skater dresses have maintained popularity over the years thanks to their breezy silhouette, enduring charm, and adaptability. But preppy punk sets this dress style apart by adding plaid to its timeless aesthetic.
Off-shoulder plaid skater dresses look stunning with this trend. It features elastic off-the-shoulder necklines, half sleeves, and a fitted bodice. Some styles come elegantly adorned with a belt to accentuate the waistline and a discreet zipper for a seamless look.
Another trendy style is the halter-neck plaid skater dress. They showcase an intricate scalloped hem detailing from the chest to the lower back, creating an eye-catching look. The halter-neck plaid skater dress has a flattering cinched waistline and flowing skirt for added elegance.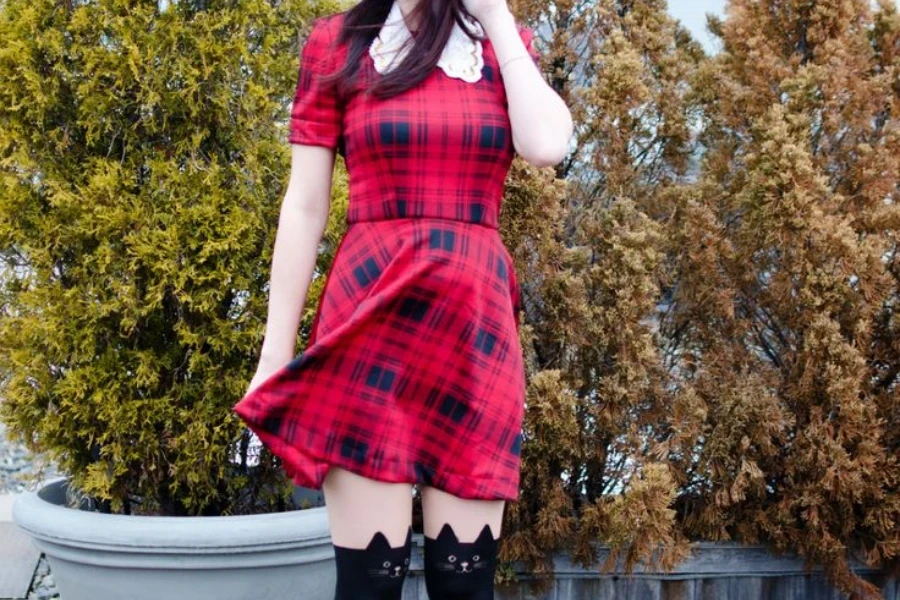 Ladies looking for more sophisticated attire can opt for a strappy plaid skater dress. This outfit boasts delicate lace appliques on the front of the bodice and straps that help boost its allure.
Dresses are big this season, as experts predict their market will hit US$ 113.50 billion in 2027. They also expect a 2.86% compound annual growth rate (CAGR) over this period.
Preppy blazer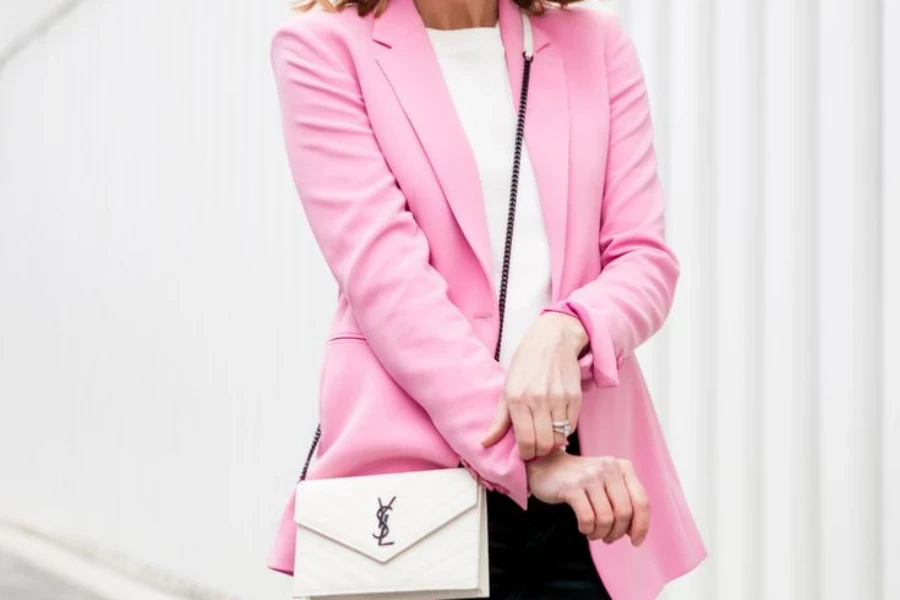 With the blazer segment amounting to US$ 26.17 billion in 2023, there's no doubting their popularity. But like many wardrobe staples swallowed by the preppy punk aesthetic, blazers seen in this theme feature a unique appearance.
Preppy blazers typically have a classic, fitted cut with details like elbow patches, piping, or a contrasting collar. However, punk elements like studs, chains, and leather make preppy blazers feel more edgy.
Tweed blazers are classic preppy pieces that fit naturally into this theme. Plus, studded details on the lapels or body harmoniously blend punk elements with the preppy jacket's collegiate appeal. Pair tweed blazers with jeans and t-shirts for a casual look or a skirt/dress for more formality.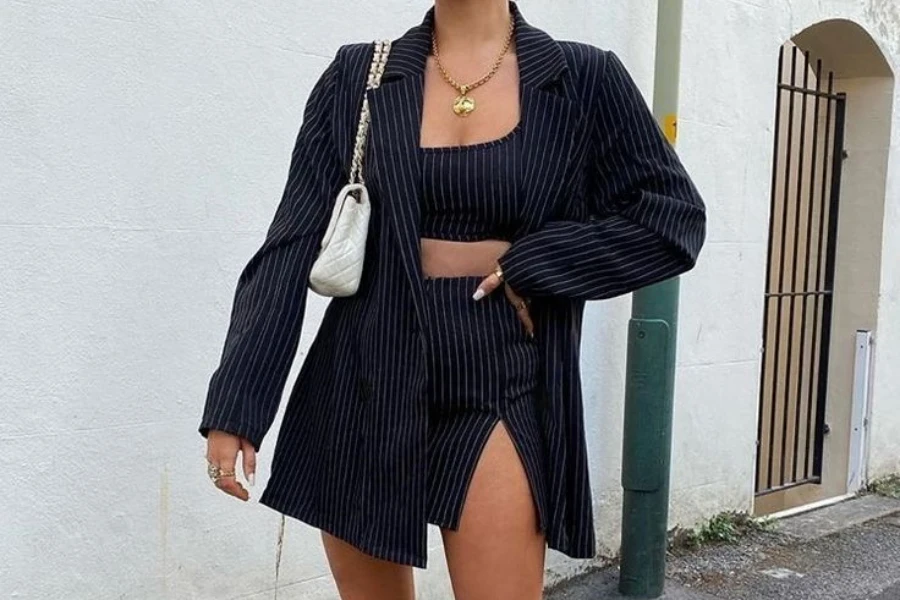 Corduroy blazers are another classic preppy garment that receives an update with a punk edge. Corduroy blazers with a leather collar or patchwork details are trendy this season, and ladies can rock them with matching bottoms. 
Plaid is a popular pattern for preppy and punk styles, so it's a natural choice for this blazer style. Combine it with a button-up shirt and plaid skirt and consumers will have the perfect preppy punk outfit.
However, a preppy punk wardrobe won't be complete without leather. The classic punk leather blazer can also look glam in a preppy setting. Try a leather blazer in neutral colors (like black or brown) and pair it with a button-down shirt and slacks—classic, effortless, and incredibly stylish.
Sweaters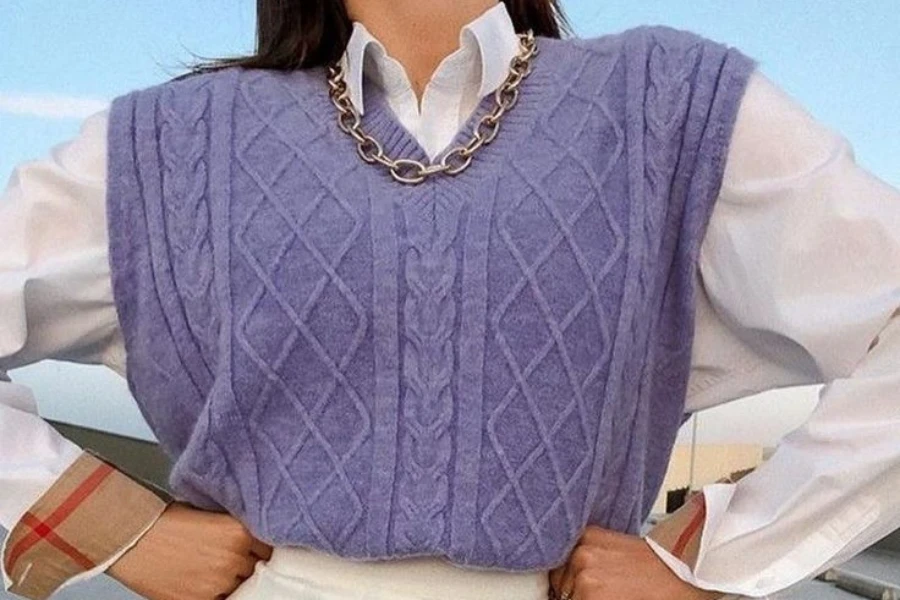 It's tough to beat sweaters' popularity in mainstream fashion. After all, the 2021 global market generated US$ 104.8 billion in retail sales, with experts predicting a 5.5% yearly increase from 2022 to 2030.
With such impressive stats, it's no surprise sweaters are one of the hottest-selling items in 2023. Although consumers wear them across various fashion themes, none is quite like the preppy subculture. Mix it with punk elements, and consumers have a fantastic outfit.
Cable knit sweaters are timeless classics that never lose their appeal. Whether crafted from cotton, wool, or luxurious cashmere, they remain a quintessential component of preppy attire – with or without sleeves.
Consumers who prefer bow ties can opt for a crew neck cable knit weather, while those with a thing for ties will look great with V-neck styles. There's an appealing, relaxed quality to leaving a button-down shirt untucked, especially when consumers pair it with a cozy cable knit sweater,
Although the argyle sweater has deep roots in golf attire, it has become a stylish trend in preppy punk culture. Since golf is a beloved pastime among preppy enthusiasts, the argyle pattern has become a favorite among men and women.
Argyle sweaters are defined by their diamond or lozenge shapes, often overlapping to create a multi-dimensional and textured effect. Ladies can try matching argyle-print skirts for a monotone outfit or rock a solid-colored tennis skirt to dress it down. 
Rugby shirts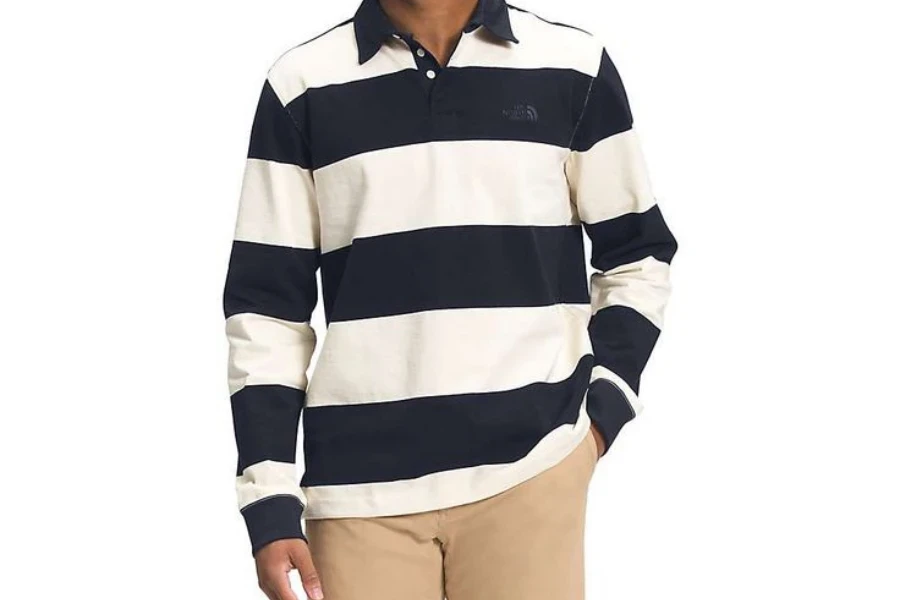 Rugged and versatile, rugby shirts are crashing into 2023 with a preppy punk twist. While this sportswear-inspired preppy essential dates back to the mid-19th century, most designers are exploring rugby shirts as a mainstream fashion item today.
Interestingly, the rugby apparel market was valued at US$ 1.005 billion in 2022, with experts expecting an 11.5% growth to US$ 2.141 billion from 2023 to 2030. 
The oversized rugby shirt has become a widely embraced trend among men and women. This roomy and chic garment offers preppy punk enthusiasts a comfortable and relaxed style. For instance, consumers can pair the item with fitted jeans or leggings for a contemporary spin on the outfit.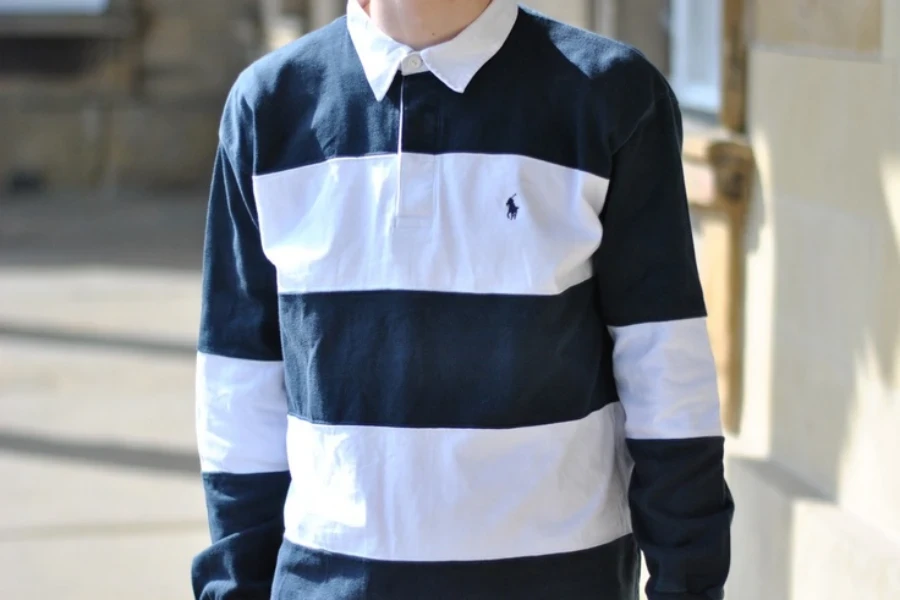 While rugby shirts are traditionally striped, more colorful variants are taking center stage this season. Colorful rugby shirts are on a fast growth streak as they're a great way to add color to outfits (including preppy punk).
Fully embracing the colorful rugby shirt trend involves experimenting with different color combinations and patterns. For example, consumers can pair a brightly colored rugby shirt with neutral bottoms like black for a balanced look.
Distressed jeans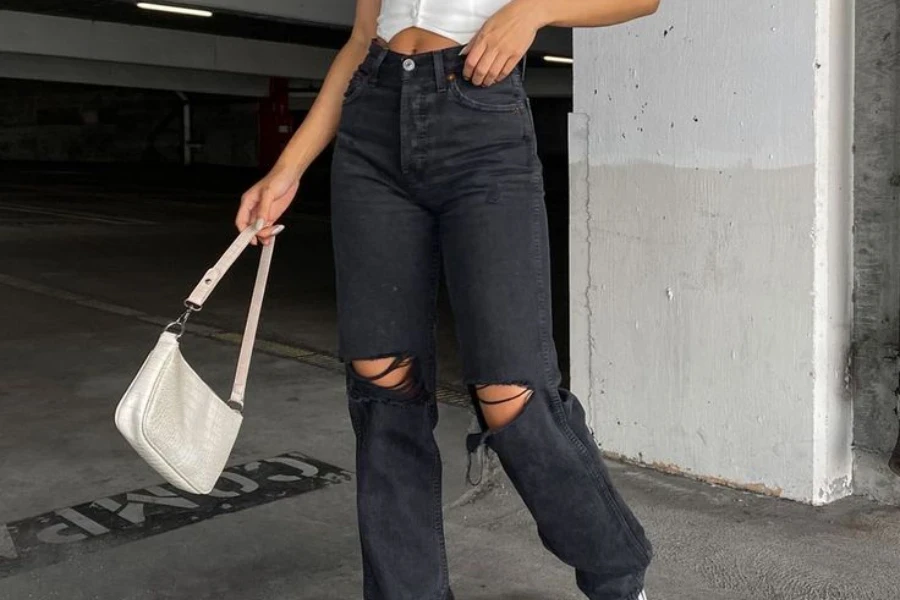 Distressed jeans always look cool, no matter how rugged they may appear. In fact, ripped denim is often a good style choice because it effortlessly combines ease of styling, casual comfort, and a fashionable edge.
The global denim market, valued at a staggering US$ 77.67 billion in 2022, continues to witness the increasing popularity of distressed jeans across diverse fashion themes. Additionally, this trend shows no signs of slowing down in the foreseeable future.
Medium-wash distressed jeans are one of the top trends this season, offering a versatile style that can easily transition between casual activities. Plus, they complement a wider range of body types than their light-wash counterparts.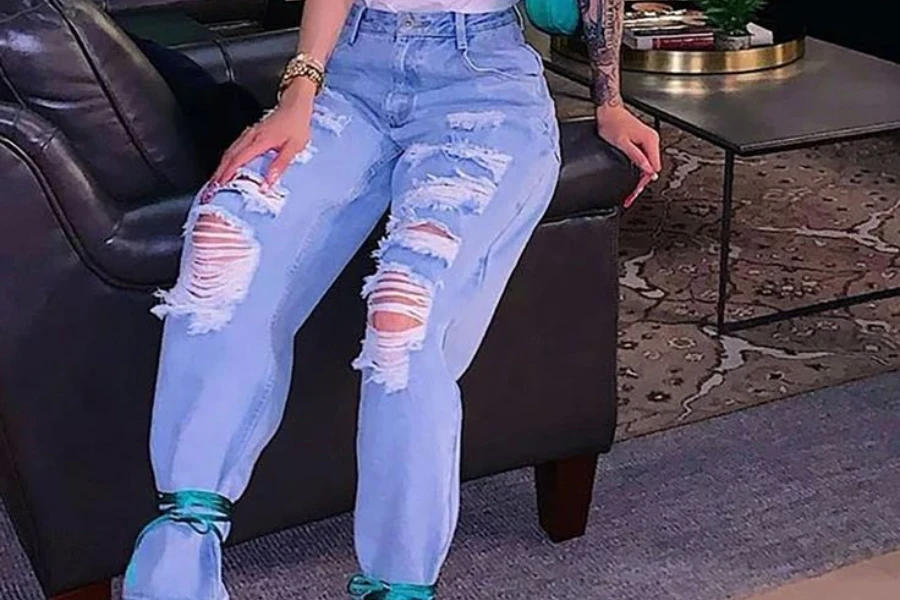 When styling medium-wash distressed jeans, pair them with a crisp white button-down shirt for a complete preppy punk look. Or, consumers can opt for a graphic tee to create a more fashion-forward style.
Some consumers prefer a refined approach to this rugged style, leading to the rising trend of minimalist rips and tears. These distressed jeans offer a more understated and classy option while maintaining a stylish edge. They can work with classic white button-up shirts for sleek, contemporary looks or match fitted blazers for a striking balance between casual and sophisticated.
Closing words
Fashion has experienced multiple unlikely combinations, often resulting in unique styles that attract various consumers. Preppy punk is one such mix that has remained relevant since the early 1980s.
Classic pieces like sweaters and rugby shirts have found a home under preppy punk, while plaid skater dresses use punk-inspired elements to keep the essence of the theme. Preppy blazers offer a lighter take on the trend, while distressed jeans take the rugged route.
These trends are set to dominate the preppy punk fashion landscape in 2023/24—so now's the perfect time to make that investment.
Was this article helpful?