A coffee table is a staple of living room furniture that serves both functional and decorative purposes. The verdict is in about the most popular table designs for 2023. Keep reading to learn more about the coffee table trends customers will be shopping for this year.
Table of Contents
The market for coffee tables
Coffee table trends in 2023
How to compete in the coffee table segment
The market for coffee tables
Globally, revenue in the living room furniture market amounts to USD 215 billion in 2023. The market is expected to grow at a compound annual growth rate (CAGR) of 5.83% between 2023 and 2028.
Market growth can be attributed to the rising demand for coffee table products in countries like the United States and Germany. The coffee, dining, and other tables segment of the market is also expected to register the highest growth with a CAGR of 5.20% over the forecast period.
An interest in eco-friendly furniture and ready-to-assemble luxury furniture will further contribute to the expansion of the segment. Additionally, wooden furniture has been popular among customers for many years due to its sustainable properties and aesthetic appeal.
Coffee table trends in 2023
Marble tables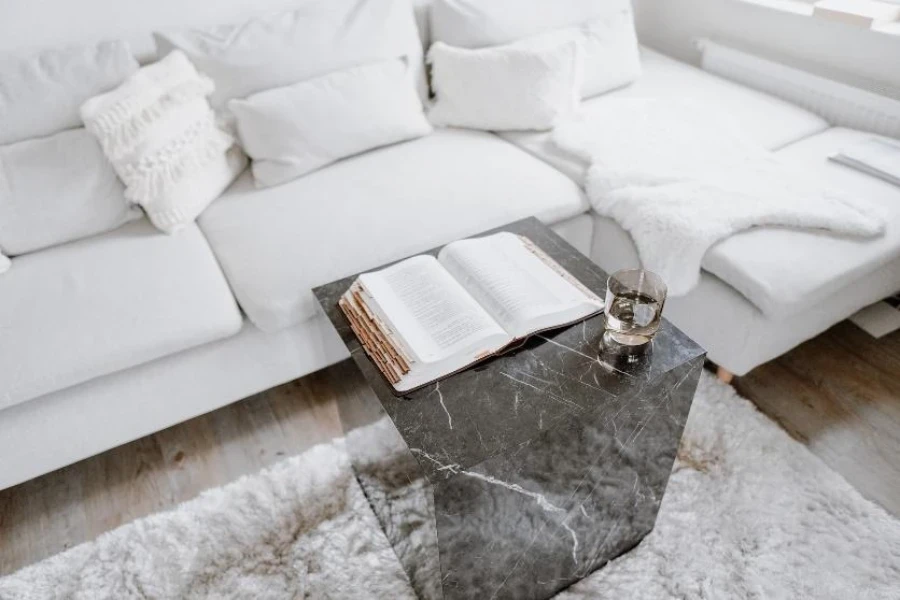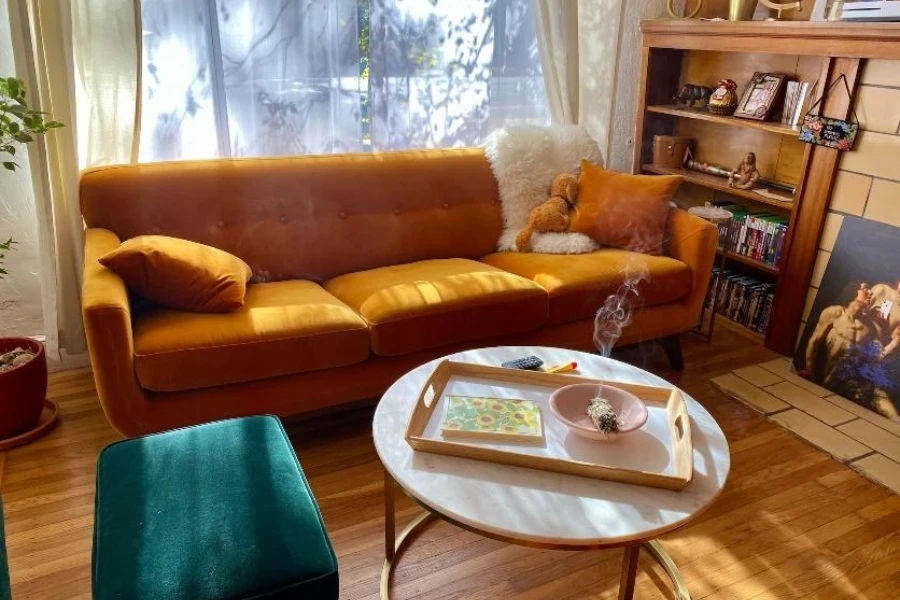 Marble remains a sought-after material for coffee tables in 2023. The natural veining and sleek appearance of marble is often associated with elegance and luxury.
Coffee tables are generally produced from white marble, gray marble, or black marble and may feature gold or silver metallic accents along the veining. The marble veining also helps give a sense of movement and dramatic flourish to larger living rooms that may otherwise feel sparse. To complete the look, marble coffee tables are frequently paired with plush sofas or rugs to harmonize and soften the space.
A square or rectangular plinth block is a modern shape for a marble coffee table because it creates a central point for which to gather around. Alternatively, a marble tabletop can also be produced in square, round, rectangular, or oval shapes with a minimalist wood or metal base.
Architectural designs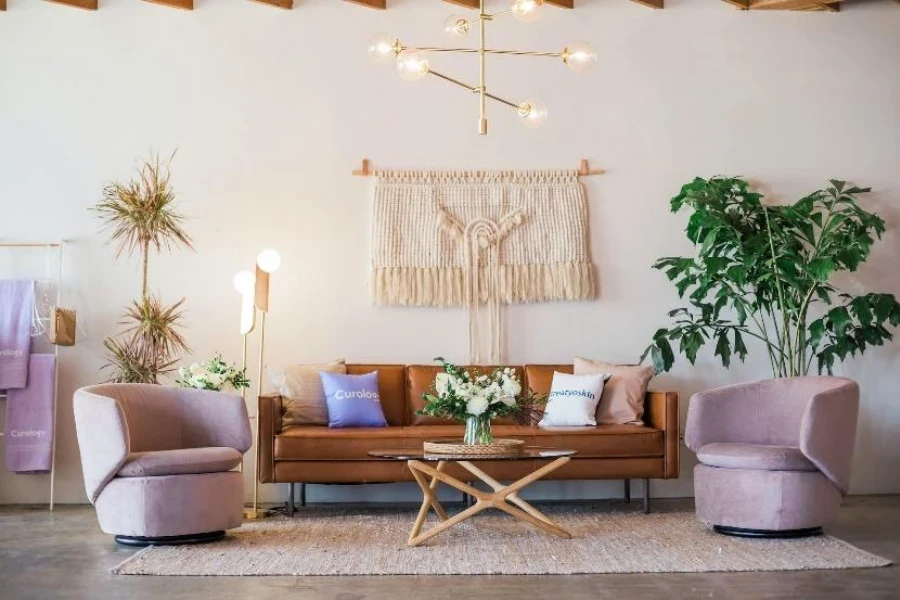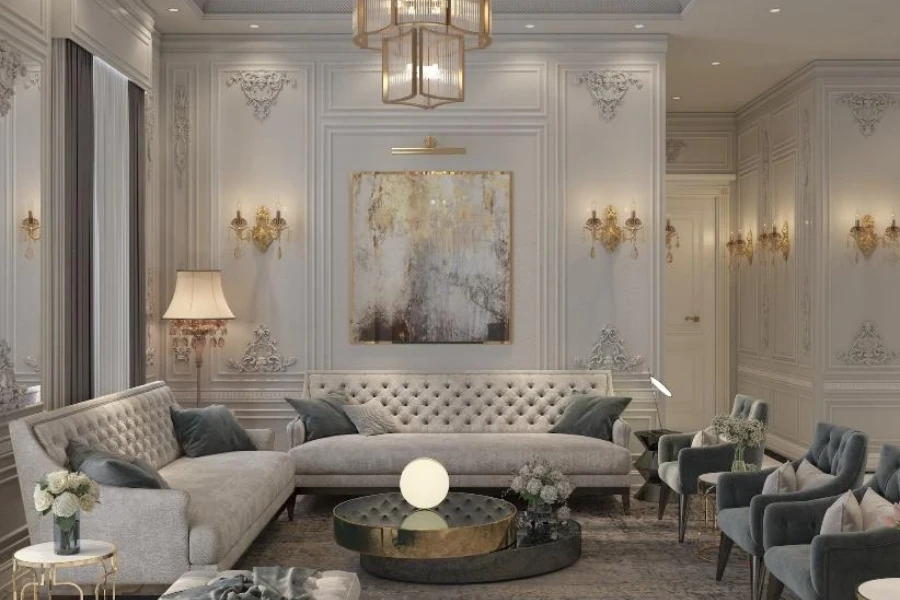 Architectural coffee tables are having their moment this year as unique pieces that serve as works of art in a living room. These types of tables go beyond mere functionality and a four-legged design to allow homeowners to express their personality.
The base of a coffee table is the easiest area of the table to transform into an architectural piece using structures like an abstract metal frame, three-legged design, fluted pedestal, or sculptural wooden base. There is also a trend towards curved tables and rounded architectural details to help soften any sharp corners on the table.
Transparent materials like acrylic or glass can also be used to emphasize unusual shapes and bounce light around the living room in a prismatic way. Some customers may also be interested in reclaimed materials with distressed finishes to emphasize the artistic flair of the table.
Nesting tables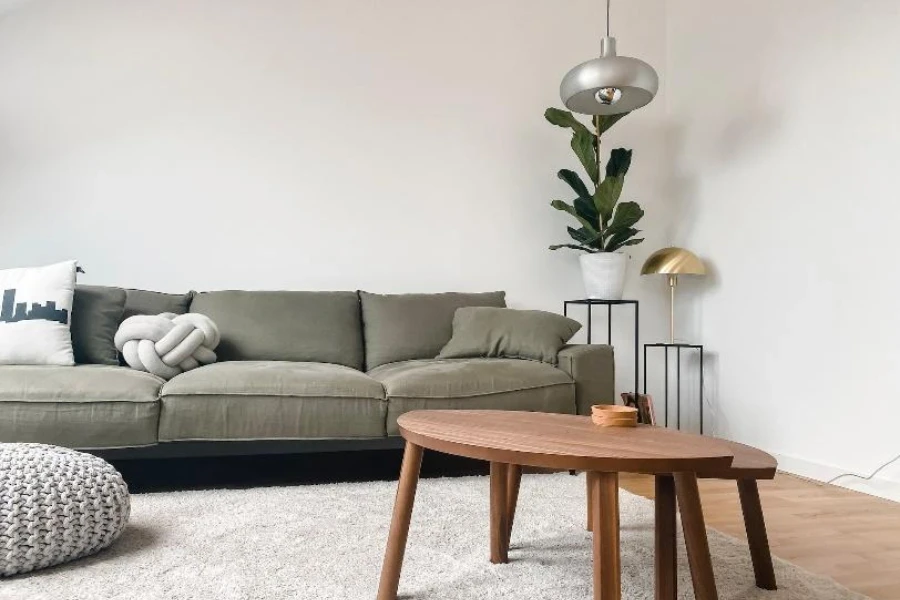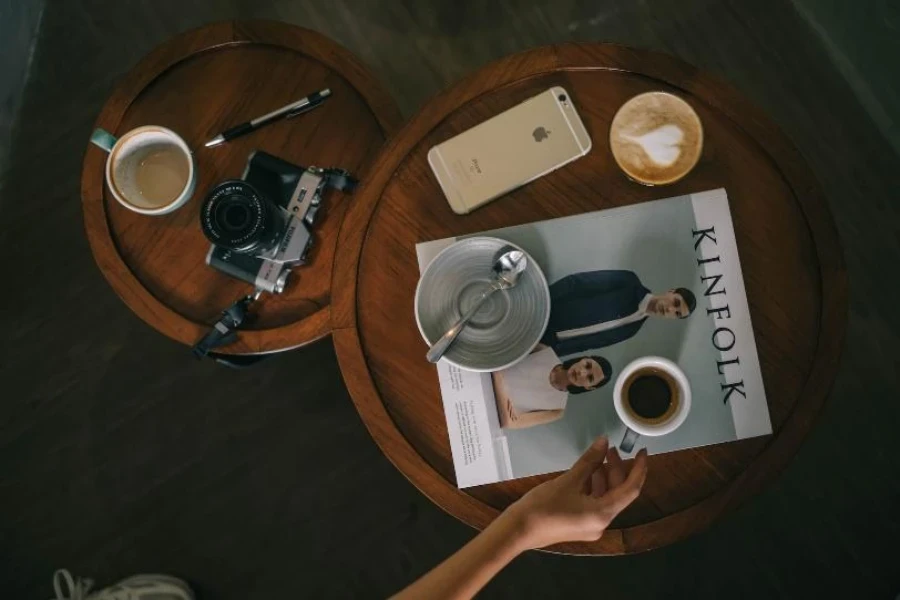 Nesting coffee tables are a practical solution in smaller living spaces like apartments, townhomes, or studios. A set of nesting tables typically consists of at least two tables of varying sizes that can be nested within each other or arranged in multiple configurations. They can also be placed side by side to create a long and continuous surface or used separately as end tables around a home.
A nesting coffee table is popular because it can save space and give homeowners flexibility with how they decorate their space depending on the occasion. For a contemporary approach to interior design, customers may be interested in geometric triangular shapes and sleek black, brass, or silver metal legs. A set of nesting tables can even be made in different colors, materials, or designs as a bold option for eclectic home designers.
Multi-functional pieces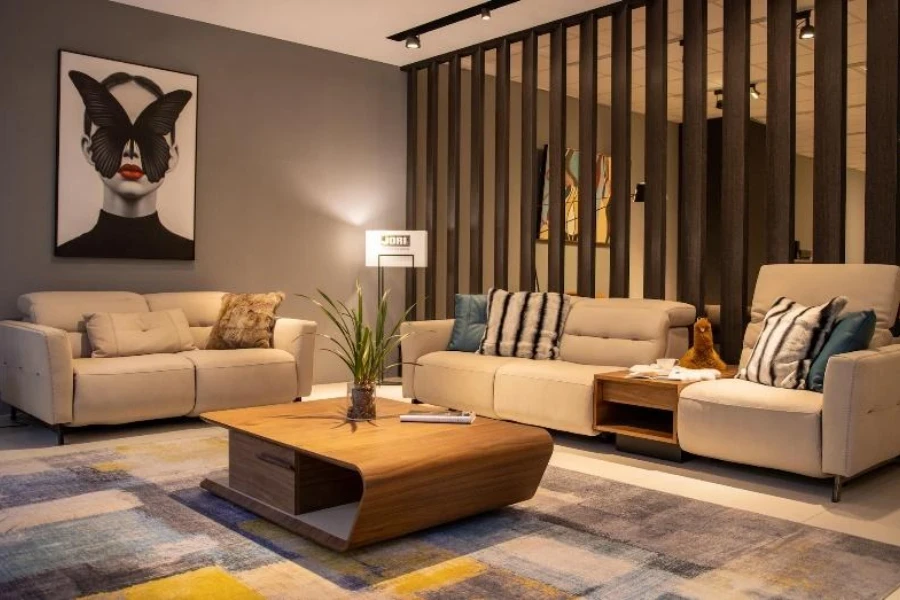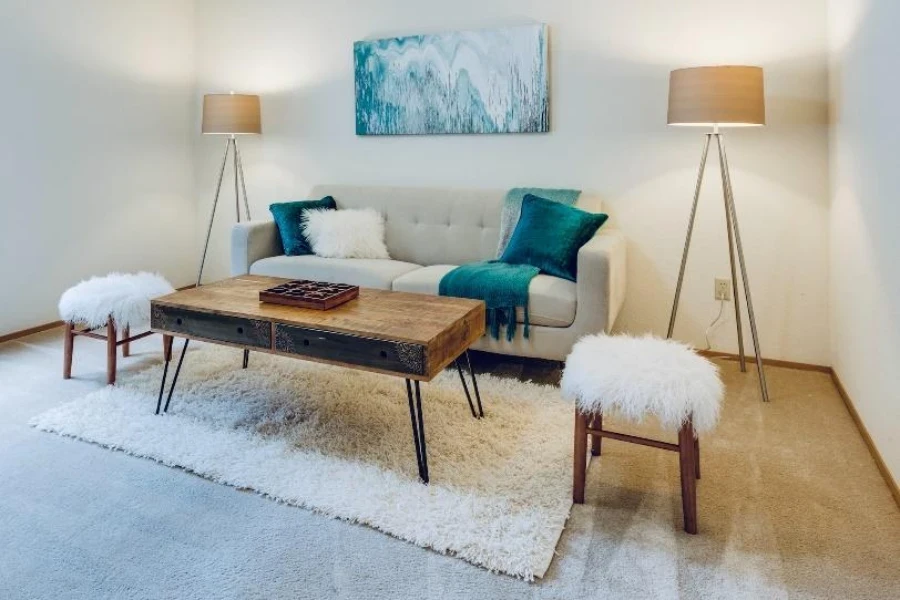 A big trend in 2023 is coffee tables that can fulfill more than their intended purpose. Coffee tables with lift-top, drawer, or shelf storage compartments for remote controls, books, magazines, throw pillows and blankets, or coasters continue to be popular this year.
Houses are also beginning to be made up of spaces that fluctuate according to need. Multi-functional coffee tables that can be converted into a full height dining table or desk allows homeowners to live, eat, or work in the same space. Swivel coffee tables are another trendy and versatile option for modern living spaces because they can be repositioned in different directions or be twisted open to reveal more surface area or storage.
Coffee tables can even come with integrated technology and smart home features like USB or wireless charging capabilities, built-in audio speakers, touch-screen surfaces, or voice assistants.
Wood coffee tables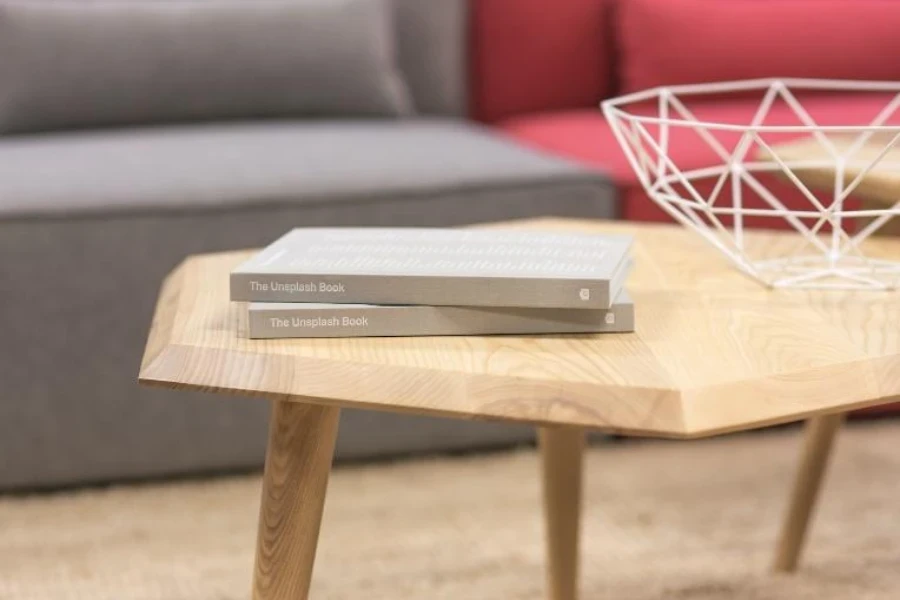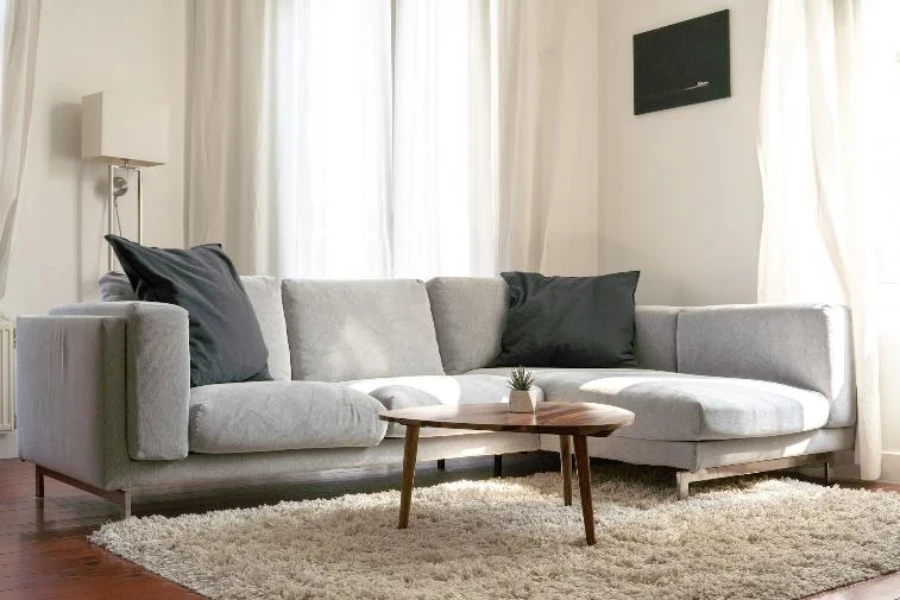 The latest trend in coffee tables involves bringing the beauty of nature indoors with wooden tables in minimalist designs. Wood furniture remains popular among customers because of its durability, versatility, sustainability, and elegance.
Influenced by Scandinavian or Japanese aesthetics, wooden coffee tables with clean lines and natural light wood tones like oak or ash blend simple style with timeless functionality. In line with the current nostalgia for retro designs, the mid-century modern era also has a strong influence, with geometric shapes, tapered legs, or bold colors as core elements of the trend.
Wood coffee tables can come in square, rectangular, round, or oval shapes with a natural or matte finish. For a striking take on the trend, live edge or tree log coffee tables make a more deliberate reference to the outdoors.
How to compete in the coffee table segment
The hottest trends in the coffee table segment present a prime opportunity for furniture businesses to earn profit in 2023. Marble and wood remain key materials for coffee tables, while structural elements like architectural shapes, nesting designs, and multi-functional details add style and function to this staple piece of living room furniture.
Large companies in the coffee table segment generally compete through volume purchasing, varied product offerings, and effective marketing. Alternatively, small companies tend to compete through depth of products and exceptional customer service. Since there are very few major players that currently dominate market share, new businesses are advised to find their place among competitors to capture untapped market potential.
Was this article helpful?