When people think of cheerleading, they envision exciting routines, lots of cheering, and endless enthusiasm, but there's so much more that goes into it. Cheerleading accessories, for example, provide extra pomp and excitement that could mean the difference between a win and a loss at the big game. From high schoolers to professionals, these fun cheerleading accessories can give squads that added edge.
Table of Contents
Global market overview for cheerleading accessories
5 fun cheerleading accessories
Conclusion
Global market overview for cheerleading accessories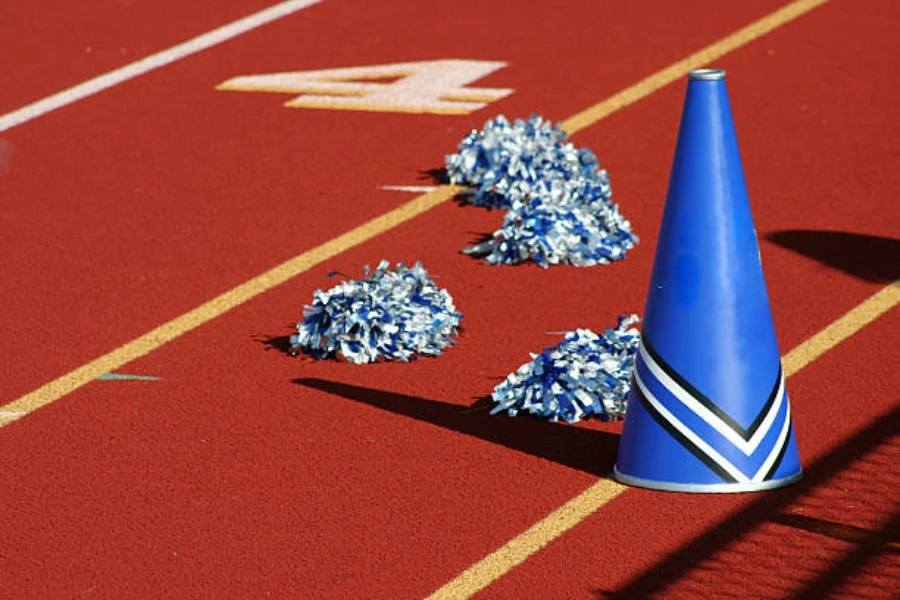 Cheerleading is a growing sport, especially in North America where it's not only a hugely popular form of entertainment at football games but also an event in itself, attracting high school teams as well as professionals. Traditionally, cheerleading is a great way to dial up enthusiasm during a sports competition or event, as well as a great way to work on various athletic and teamwork skills. What was once seen as just a dance routine has now grown in popularity worldwide, and it's participation is only set to rise.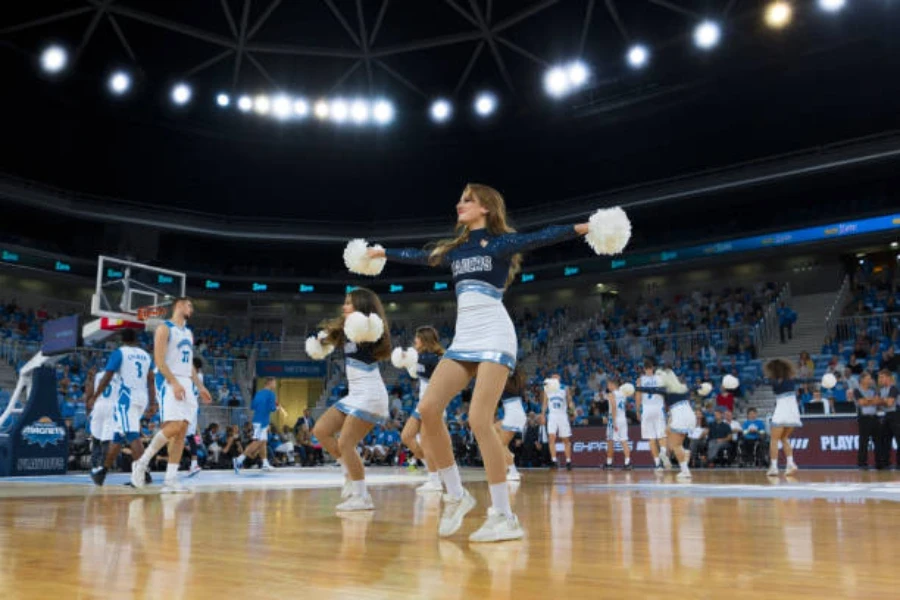 Cheerleading is currently one of the most popular sports activities around the world, with a particularly high participation rate in the US, where there are an estimated 3 million participants in 2023 alone, with adherents learning from as early as 6 years old. While it's not as commonly practiced in Europe, the UK has an estimated 12,000 participants, creating an increasing demand for cheer accessories such as cheer hair bows and matching cheerleading bags.  
5 fun cheerleading accessories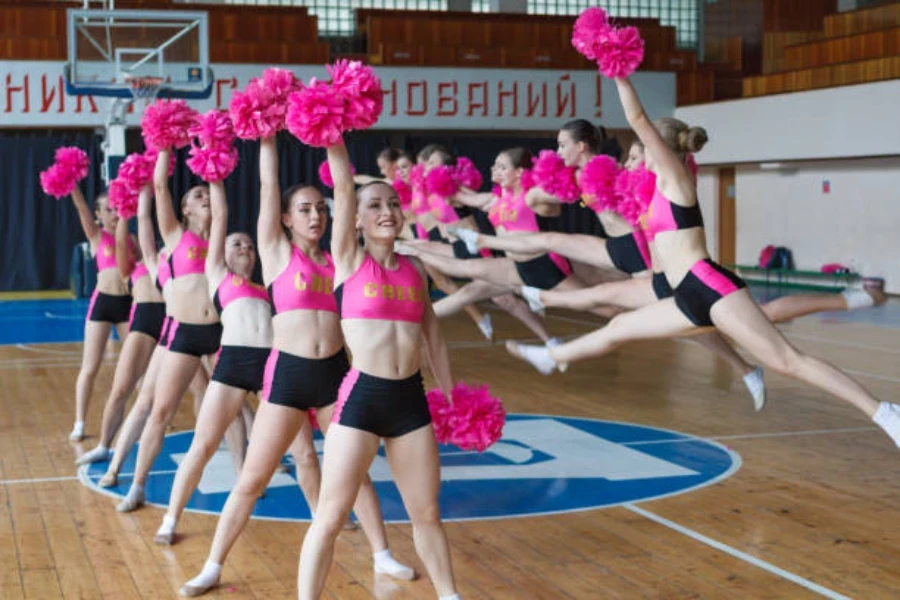 With cheerleading becoming such a popular sport among both females and males over the past decade, it goes without saying that the number of cheerleading accessories has also grown. As well as the more traditional cheerleading accessories, there are now more modern designs as well as unique accessories that not every cheer squad will use but that stand to make an impact among the teams that seek them out.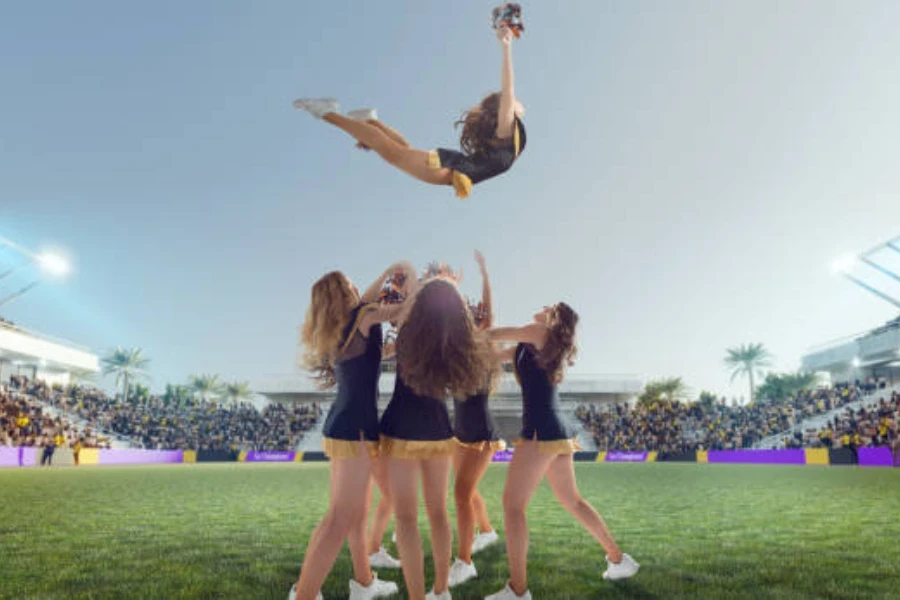 According to Google Ads, "cheerleading accessories" has an average monthly search volume of 1,600 searches, with terms such as "cheerleader pom poms" and "cheer squad" having 33,100 and 9,900 searches each. Between March and September 2023, there was a 32% increase in monthly searches for "cheerleading accessories," with 1,300 and 1,900 searches, respectively.
Looking at specific cheerleading accessories, Google Ads shows that "pom poms" has an average monthly search volume of 90,500 searches, followed by "cheerleading bows" with 14,800 searches, "cheer megaphone" with 8,100 searches, "cheerleading bags" with 6,600 searches, and "cheerleading socks" with 2,900 searches. This demontratess that while traditional cheerleading accessories are still very popular, consumers also seeknuniform-specific accessories to create a more polished look for their squad.
Below we'll take a look at five of the top cheerleading accessories and how they can help a growing team.
Pom poms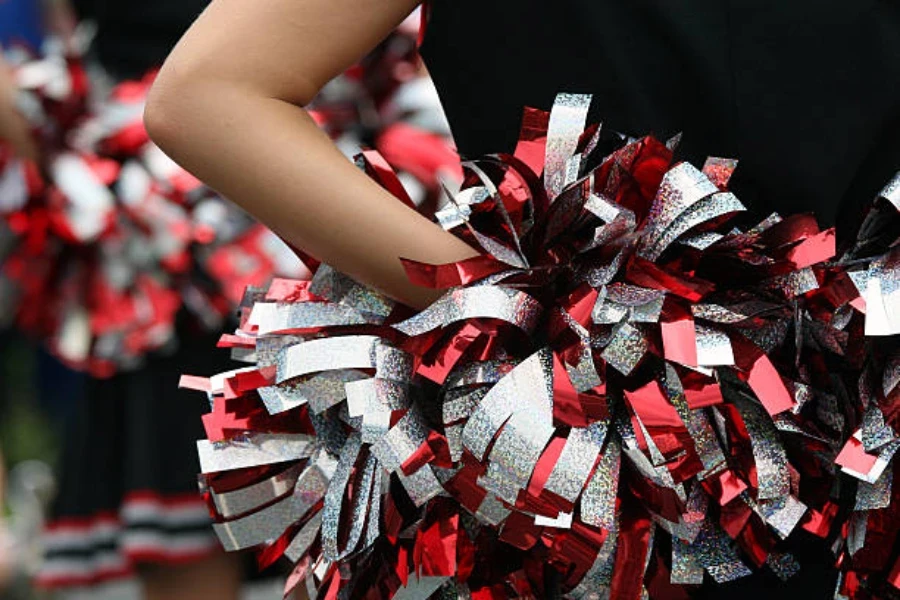 Pom poms are an essential piece of cheerleading equipment that has been a part of routines for many decades. They help to add extra visual appeal to the performance with their colorful appearance, which often matches the cheerleaders' uniform. Most pom poms are made of plastic, shiny strands for a eye-catching effect. 
Depending on the cheerleaders' pom poms requirements, strand counts generally range between 500-1,000 and up – the higher the number, the more voluminous the pom poms. The length of the strands can also vary, which will affect how the pom poms look when they're in motion.
Between March and September 2023, there was actually a 22% decline in searches for "pom poms," from 90,500 to 74,000 searches, respectivelyd. The most searches came between November and January, at 110,000 searches per month.
Cheerleading bows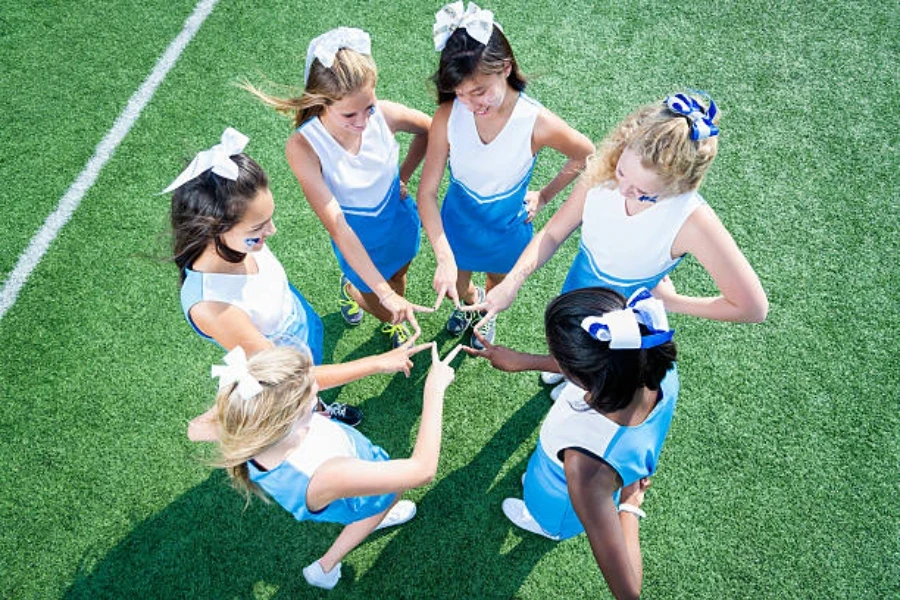 After pom poms, the next most iconic cheerleading accessory is cheerleading bows. These bows aren't just your average hair tie, and do much more than just hold a ponytail in place. Cheerleading bows are known for their oversized style as well as their vibrant colors. Larger-sized bows feature a wider ribbon whereas smaller ones will have a more delicate ribbon that makes them more discreet. 
Cheerleading bows are meant to complete an outfit, so it's common for them to match the team's main colors. They are also made of a durable material, such as grosgrain, to ensure that they hold their shape throughout the season, and have an easy-to-use attachment mechanism that allow comfortable wearing for several hours at a time. A big trend at the moment with cheerleading bows is to add decorations to them such as rhinestones or glitter, making them stand out even more.
Between March and September 2023, there was a 55% increase in monthly searches for "cheerleading bows," from 9,900 to 22,200 searches, respectively.
Cheer megaphones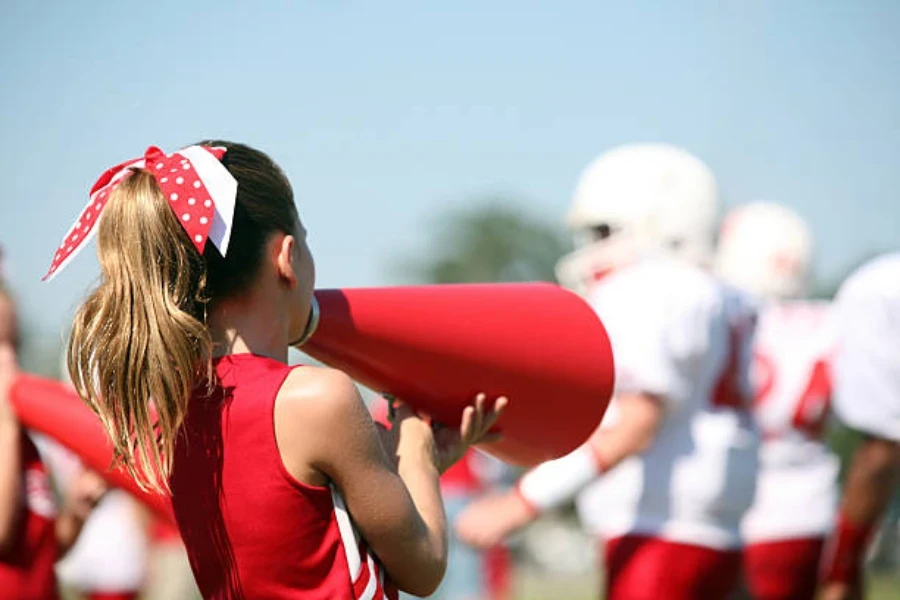 As well as having a big visual appeal, cheerleaders work up the audience to give players even more encouragement during a game or cheerleading competition. Cheerleading is all about creating a positive and uplifting atmosphere, and the cheer megaphone is a great way to do this. These simple megaphones are used to amplify the voices of the cheerleaders and get the crowd more involved in the routine. They come in different sizes, which will affect the projection of the person's voice. For example, with smaller audiences, it's better to use a handheld megaphone that can be easily carried and used throughout a routine. 
Consumers will want a megaphone that has a sturdy handle and a secure grip. Some cheer megaphones also include a carrying strap, while electronic varieties have volume controls. Cheerleaders will often choose a megaphone that's the same color as their uniform so that everything blends in well. They may also want to have their team's logo printed on the outside as well.
Between March and September 2023, there was a 55% increase in monthly searches for "cheer megaphone," from 6,600 to 14,800 searches, respectively=.
Cheerleading bags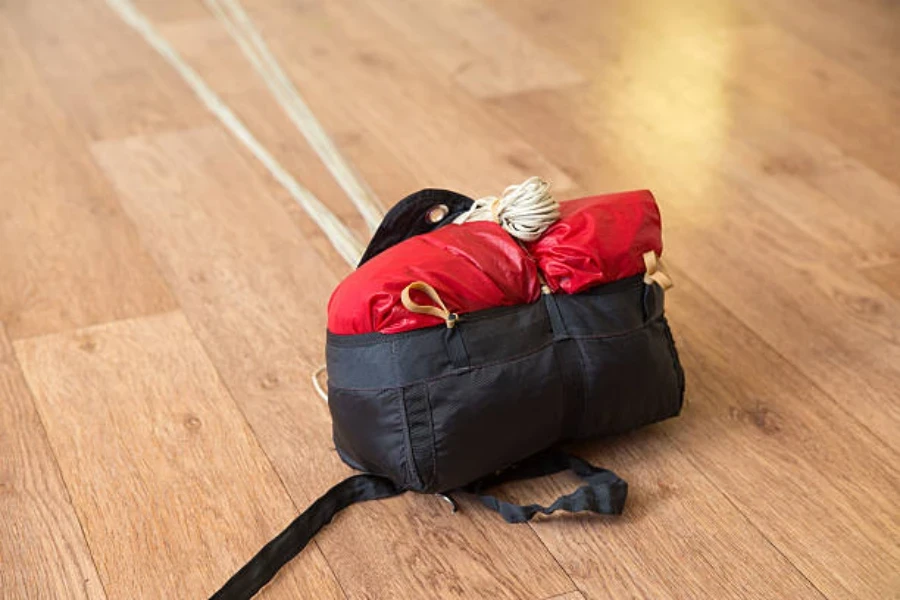 Even when cheerleaders aren't performing, the squad will want to look like a team. One of the best ways to do that is by having matching cheerleading bags. Cheerleaders often carry a lot of gear with them, including clothing and props, so it's important that they are kitted out with bags that are spacious enough to fit all of their equipment in to carry to the game. Cheerleaders may also want a bag that isn't too bulky and is easy to either carry or wheel. 
Bags made from nylon or polyester are preferable as they're more durable, water-resistant, and breathable. Having separate compartments inside the bag will also help users organize their gear more efficiently and keep smaller items safe. Features such as sturdy zippers, secure handles, padding for backpack-style bags, and pockets for water bottles should all be taken into account.
Between March and September 2023, there was a 56% increase in monthly searches for "cheerleading bags," from 4,400 to 9,900 searches, respectively.
Cheerleading socks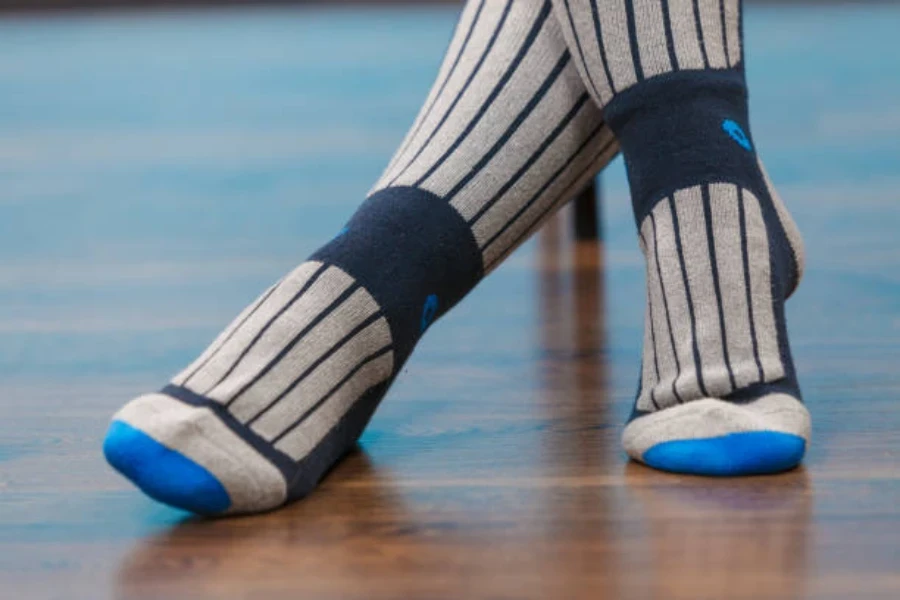 Every part of a cheerleader's outfit, even the cheerleading socks, has a big impact on the visual effect of the squad and the performance. These socks should be made of a comfortable material, such as polyester or cotton, and be breathable so as to keep the wearer's feet dry during long routines. Depending on the style of the cheerleading outfit, some buyers will prefer to have ankle socks, whereas others will go all-out and opt for knee-high socks. Whatever the length, cheerleading socks are almost always colorful so that they stand out and match the color of the team they're supporting. 
There are a number of other features that some cheerleading socks may feature boost performances. Socks with extra cushioning on the ball of the foot or the heel help with high-impact routines, while seamless toes will lessen the chance of blisters. Cheerleading involves a lot of knocks to the feet, so some socks will incorporate arch support as well as compression technology to help with blood circulation. Having the right cheerleading socks can make all the difference to a performance as well as overall comfort.
Between March and September 2023, there was a 65% increase in monthly searches for "cheerleading socks," from 1,900 to 5,400 searches, respectively.
Conclusion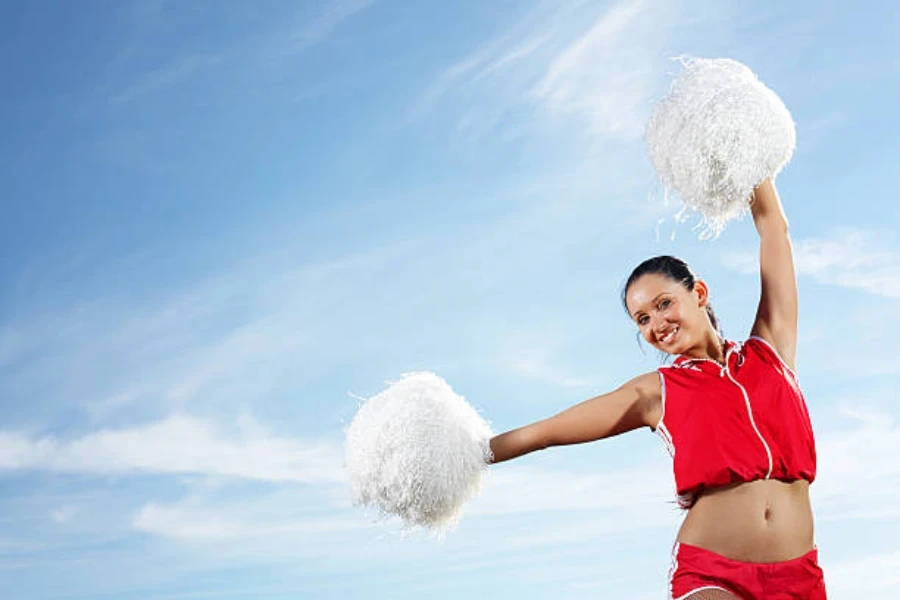 When it comes to fun cheerleading accessories, there are numerous options to choose from. Ideally, they will not only help improve overall performance but also make them more visually appealing to the audience. The more traditional cheerleading accessories, such as pom poms, cheerleading bows, and megaphones, continue to be in high demand, but other, sometimes overlooked accessories, such as bags and socks, are in many ways just as important to making a successful squad.
If you're looking for the latest in cheerleading accessories, browse thousands of items on Alibaba.com.
Was this article helpful?