Leather skirts ruled the spring and summer fashion runways and street trends, making them a popular trend for this upcoming autumn/winter season as well. This is because women's leather skirts are classics that always stay in style.
Recent iterations of leather skirts are chic, comfortable, and easy to style, from the biker-style minis to the preppy pleats, sassy fringe, and flirty ruffles. This means that businesses looking to widen their product category range and customer base can consider adding the following five key trends to their collection for the autumn/winter 2023/24 season.
Table of Contents
The global market for leather skirts
Five women's leather skirts perfect for A/W 2023/24
Rounding up
The global market for leather skirts
The global leather market was valued at US$ 420 billion in 2022. Projections estimate that this market will grow at a compound annual growth rate (CAGR) of 5.76% from 2023 to 2032, hitting a high of US$ 735 billion at the end of the forecasted period.
The use of leather in the apparel industry spiked recently due to rapid urbanization, increasing income levels of consumers, and the developing standard of living of various demographic and geographic groups.
The genuine leather segment held a significant market share at about 53.6% in 2022. Artificial leather derived from PVC, PU, and vegan materials garners public interest because they are less expensive, more sustainable, and appear equally attractive, matching the natural counterparts in design, resistance, durability, and strength. This segment is projected to grow at a CAGR of 7% from 2023 to 2030.
Five women's leather skirts perfect for A/W 2023/24
Pleated leather skirts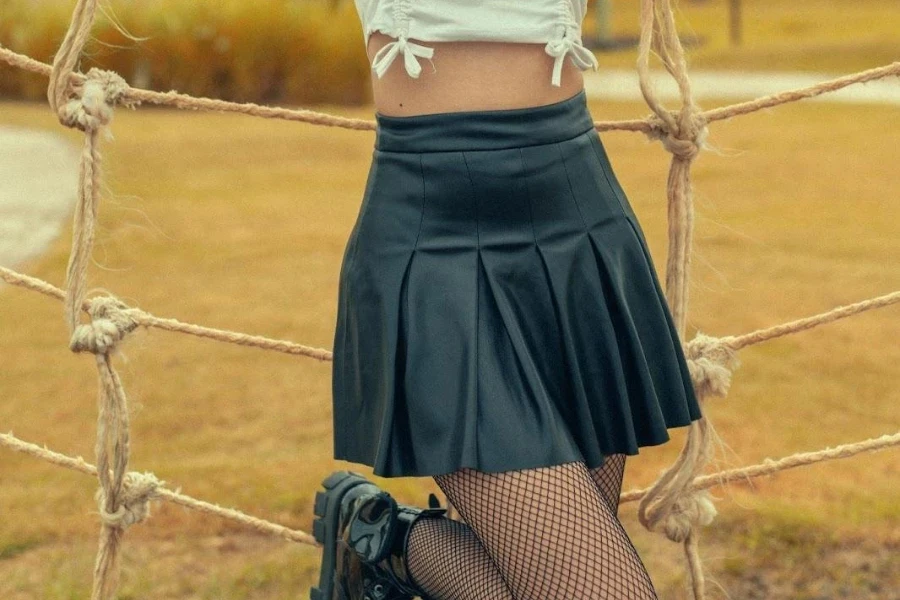 Pleated leather skirts are so next-level. They combine that preppy school girl aesthetic with the rugged street-style look. Consumers who love pleats will also want them in leather.
Their lengths, colors, and patterns are highly varied. Some are midi-length or long, like the famous Korean street fashion, while others are short, like tennis skirts. The pleats sewn at the waistline give a highly chic silhouette that women love when worn with fits that complement the color and design.
For the office or a night out, pleated leather skirts are eye-catching and versatile. Still, keeping the accessories minimum and the colors calm and subdued is best to avoid overdressing. They pair well with sweaters and boots.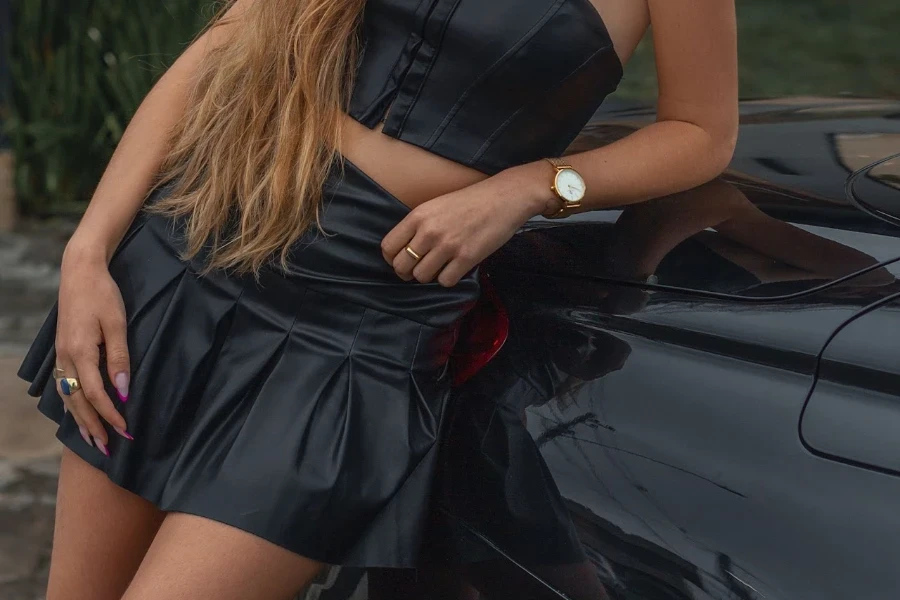 Short pleated skirts look particularly voguish with knee-high boots and a comfy knit. Teaming a pleated leather skirt with contrasting fabrics like print shirts, silk blouses, and block heels softens its tough exterior. In the colder months, adding a coat to the ensemble gives a flattering and trendy look fit for any event.
Leather mini skirts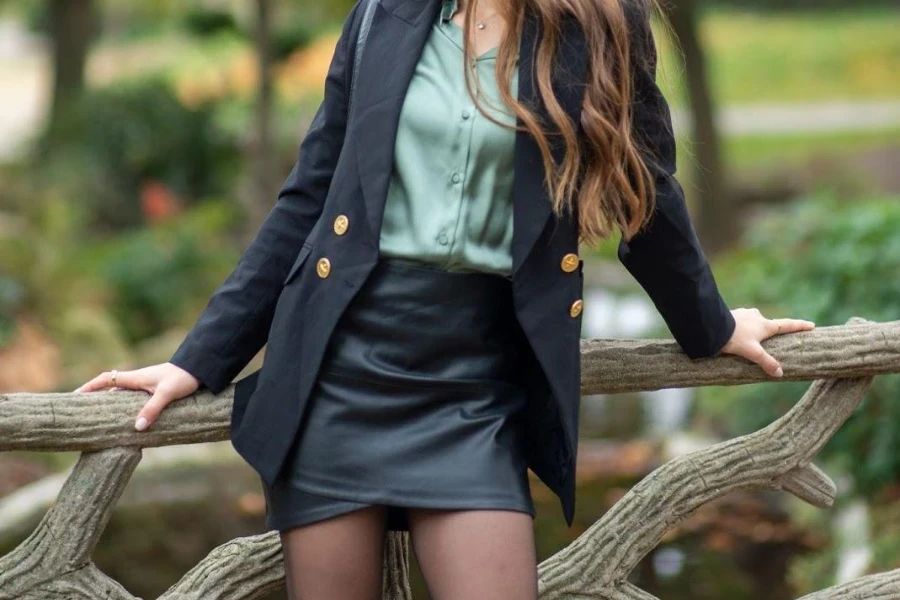 There is no mystery as to why leather miniskirts are currently in style. A leather mini skirt is the ideal layering piece because it instantly gives any outfit an edge and sophistication. Plus, they are not limited to spring or summer alone. Add tights or stockings, and the leather mini is ready for fall and winter.
Not only are they stylish and versatile, but they are also available in various designs and hues to suit any individual preference. From straight, A-line, and wrap to asymmetry skirts, detailed, rock-style, or minimalist, there is a leather mini for everyone.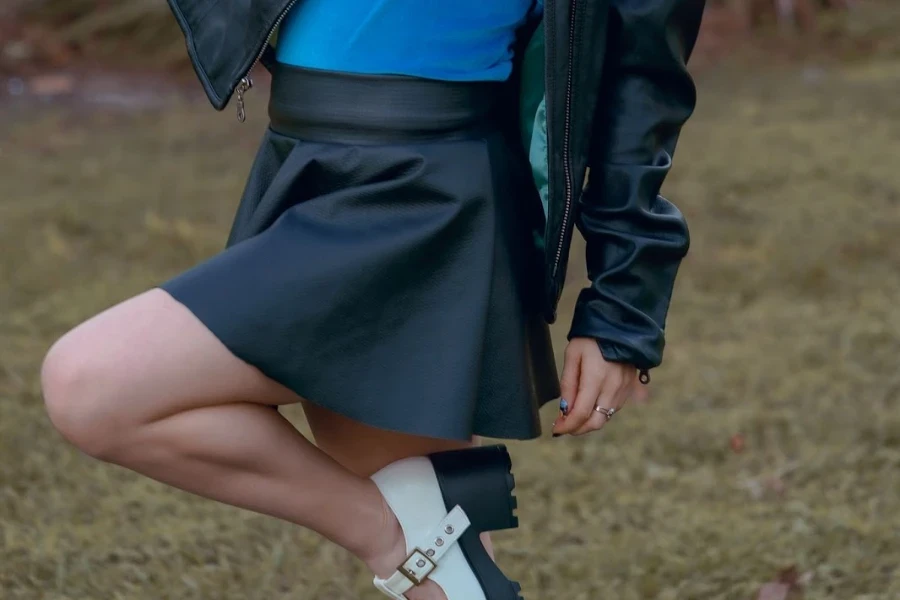 This classic is suitable for a formal event, casual days, or a night out because it can easily be dressed up or down. Knee-high or ankle-length boots, a bodysuit, combat boots, and a cozy knit go great with leather miniskirts. Additionally, they look great with denim and t-shirts, blazers and stilettos, white shirts and sneakers, silk blouses and strappy heels, and various other outfit combinations.
High-waisted leather skirts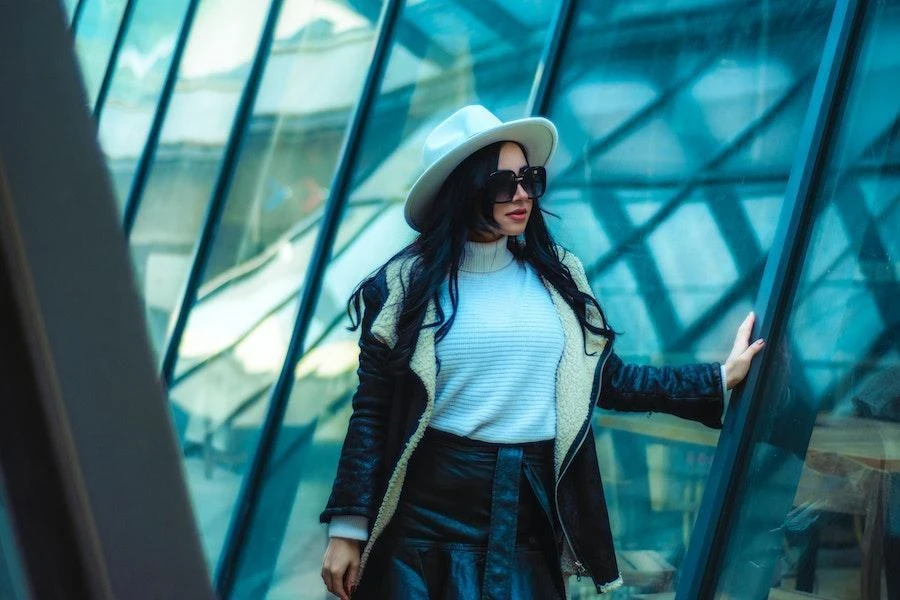 Inspired by the '70s and '80s, high-waisted leather skirts are fall and winter wardrobe essentials. They come in various lengths and designs, from pencil or A-line to skater and wrap. They are form-flattering and the perfect blend of comfort and style. Consumers looking to elevate their autumn and winter wardrobe will readily purchase this piece.
Top choices for this piece include crop tops, soft pastels, crisp button-downs, turtlenecks, print shirts, asymmetrical shoulders, and lots more. High-waisted leather skirts also look great with leather jackets, denim, overcoats, or blazers. With high-waisted leather skirts, there are so many ways for consumers to get inspired.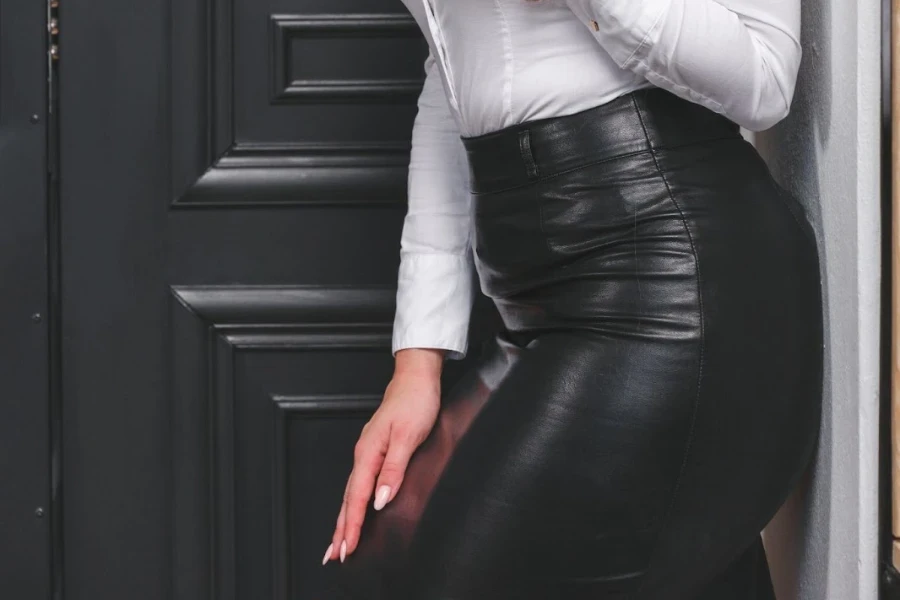 Shoppers who are big minimalists will love classic black high-waisted leather skirts. However, those who want to add a little flair to their winter wardrobe would prefer cream, burgundy, brown, and other neutrals for the upcoming months.
Fringed leather skirts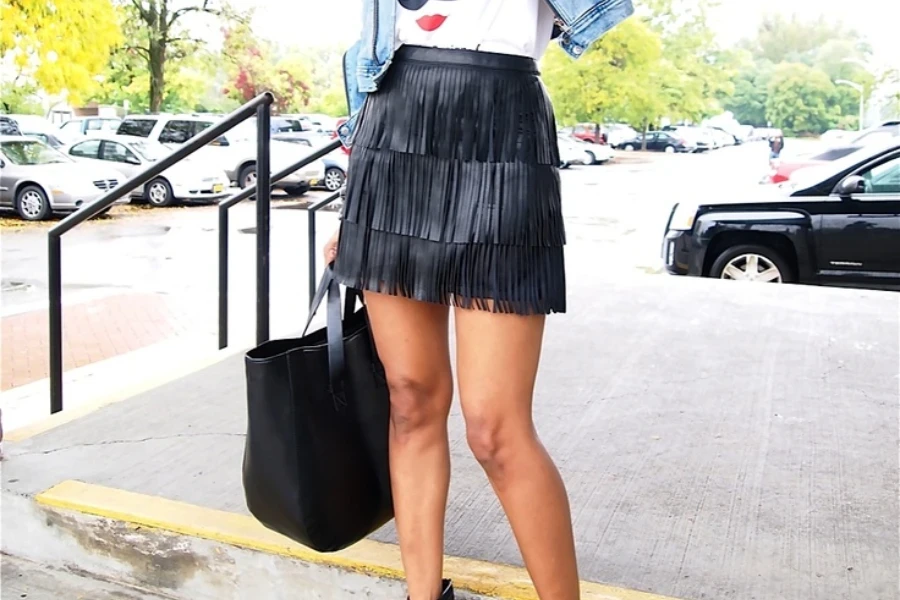 Fringe leather skirts have been popular for a while. Still, there has been a visible rise in popularity on the runways, social media, and the streets, with fresh iterations. Women choose this style item when they want to make a daring statement. They particularly love how the skirt moves and dances as they walk. The fringe leather skirt is edgy, sassy, and fashionable. It gives any outfit a little extra flavor.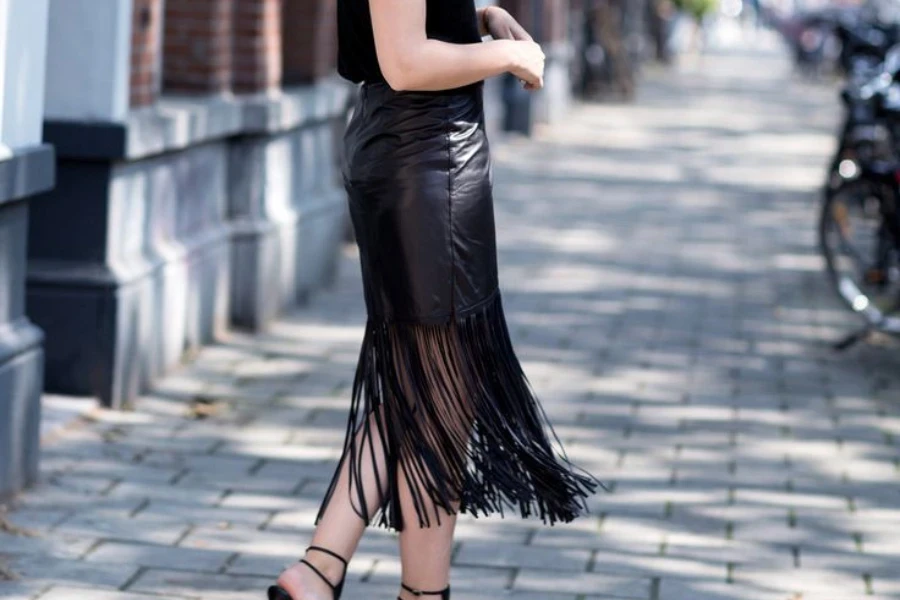 The fringed leather skirt is available in various cuts and lengths and can work in multiple styles. Consumers can wear it with any top, including basic tees and button-downs, baggy sweatshirts and hoodies, sexy blouses, lace, and crop tops. It also looks fantastic with strappy heels, boots, or pumps. The possibilities are endless—cool-safari, fun and flirty, whimsical, all-black, pops of color, laid-back, off-duty, formal, or casual—but with minor changes.
Ruffled leather skirts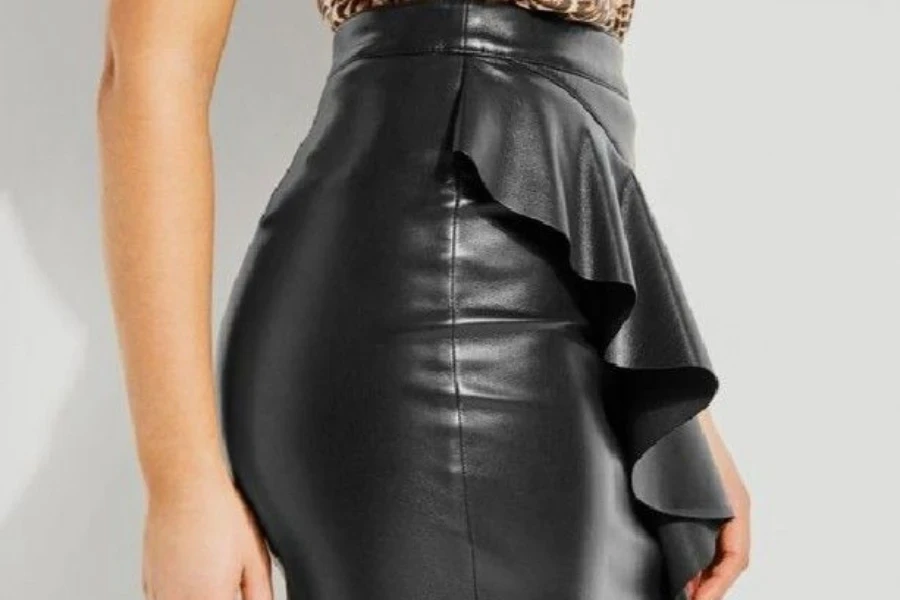 Ruffled leather skirts are certainly top of the list for trends with staying power. It was popular in the spring and summer of 2023 and will continue to be in the autumn and winter. This piece is where the romance, flirty and fun style of ruffles meets the rugged, outdoorsy leather look.
It is super flattering and wearable, even in the year's colder months. It comes in various decorative styles, from cascading tiered skirts to asymmetrical hemlines, single tier to multiple layers, classic black to non-black neutrals, and different lengths.
Shoppers can select the length, color, or style they want and how to match it with other items they already own or are inspired to buy. They can pair this trend with traditional button-down shirts, sultry blouses, blazers inspired by the workplace, sporty jackets, and more.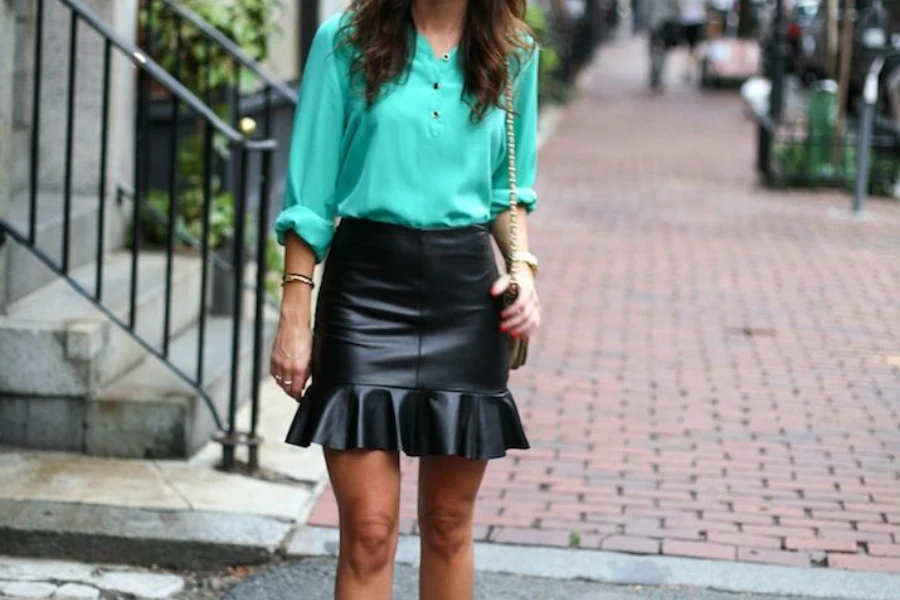 Consumers can make mini-length ruffled leather skirts work for casual outings by pairing them with a chunky knit, puffer coat, tights, and snow boots. Midi or maxi-ruffled leather skirts will work perfectly for cocktails, parties, and similar events.
Rounding up
Leather skirts are all-time cold-weather staples. With them, the styling possibilities are endless. Trends like schoolgirl-inspired pleats, biker-style minis, bold fringes, and high-waisted, or ruffled leather skirts can help women channel their inner diva.
The demand for these items will rise in the upcoming months due to well-known street and social media fashionistas. Brands should consider keeping these timeless pieces in stock for an autumn/winter collection that will appeal to their customers.
Was this article helpful?