Projectors have come a long way since yesteryear's bulky overhead slide decks. Today's models are sleek, high-tech, and designed to integrate into any space seamlessly. In 2023, a number of exciting projector trends are transforming how Americans work, learn, and play.
Ultra-short throw and intelligent projectors are making it easier than ever to create an immersive experience anywhere. Interactive and touch-enabled models are changing how consumers interact with projected content.
And high-resolution 4K projectors are bringing jaw-dropping detail to even the largest displays. These 9 projector trends are shaping the future of projection technology and enhancing lives.
Table of Contents
Overview of the global projector market
9 projector trends in the US
Factors influencing consumer purchasing decisions
Conclusion
Overview of the global projector market
The projector market has been growing steadily over the past several years. According to recent reports, the global projector market size was valued at US $10.81 billion in 2022 and is projected to reach US $14.7 billion by 2027, growing at a compound annual growth rate (CAGR) of 5.4% from 2023 to 2027.
Projector sales have increased due to several factors, such as the declining costs of components like LEDs and LCD panels, making projectors more affordable and accessible. Prices have dropped over 50% in the last 5–7 years.
Adoption has also grown in education and the business sector. Schools and businesses are investing in projectors and interactive whiteboards to make multimedia learning and presentations easier. Home entertainment applications are also becoming more popular. More people are employing projectors in their living rooms to enjoy a cinematic experience while watching movies, TV shows, sports, and gaming.
While the overall numbers seem promising, the projector market faces challenges, like increasing competition from massive screen TVs and direct-view LED video walls. However, manufacturers and resellers can make strategic decisions to maximize their share of this opportunity by understanding key growth areas and trends.
9 projector trends in the US
1. Ultra-high definition (4K) projection
As resolution standards skyrocket, 4K projectors are quickly becoming the norm. 4K or Ultra HD projectors provide a resolution of 3,840 × 2,160 pixels, four times that of regular HD. They make images look stunningly sharp and detailed. The higher resolution can allow viewers to sit closer to larger screens without noticing pixelation.
While 4K projectors used to cost several thousand dollars, prices have dropped dramatically. Decent 4K models now start around US $500, with some highly-rated options costing under $1,500. As more streaming services and Blu-ray players support 4K content, these projectors are becoming prominent for home theaters and media rooms on a budget.
2. Laser projection revolution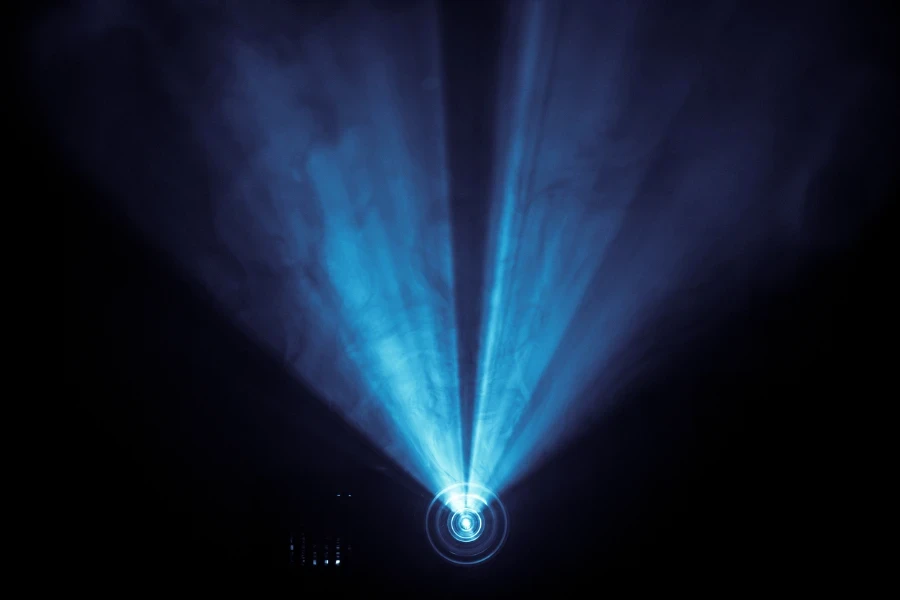 Laser projectors are taking over the home theater space. For instance, laser projector searches increased by 22% in the last three months, meaning laser projectors are trending in the US. These next-generation models offer some significant advantages over traditional lamp-based projectors.
Laser light sources produce a brighter, more intense picture than conventional bulbs. The projectors generate rich, saturated colors and high contrast for a fantastic viewing experience. They also last up to 20 times longer, so users won't have to replace expensive bulbs.
They are compact since they don't require large lamps and fans for cooling. They also operate nearly silently, which is perfect for home use. The lack of noisy fans assures users of a peaceful time while consuming content from their projector.
As laser technology improves, prices have dropped dramatically. Shoppers can now get a high-quality 4K laser projector for under US $3,000, providing them with many years of enjoyment. For movie buffs and gamers craving the ultimate big-screen experience, a laser model is the way to go.
3. Smart and connected projectors
Smart projectors with built-in voice controls transform how people interact with and use projectors. The latest smart projectors can be controlled entirely by voice using voice assistants like Alexa, Google Assistant, or Siri, making projectors more accessible and easily operable. For instance, users can turn the projector on/off, adjust settings, and switch inputs using their voice. 
They can also integrate with other smart home devices and systems. Consumers can control them through smart home hubs like SmartThings and Nest and activate them as part of smart home routines. For example, a routine could automatically dim the lights and turn on the projector during movie time. Integration with smart home security systems even allows projectors to turn on as part of a home intrusion simulation when the owners are away.
4. Portable and Pico projectors for mobility
Big screen experiences are now portable with the rise of mainstream pico projectors, the size of a smartphone. These projectors offer the opportunity to enjoy a big-picture experience wherever consumers go through wireless connections to gaming systems and streaming devices.
Major brands like Samsung, LG, and Anker have made this technology increasingly affordable, offering Pico projector choices below the US $200 price point. Falling within a budget-friendly range, individuals can now purchase pico projectors, making them more accessible to a broader audience.
On-the-go gaming and movie watching can be achieved with 3–4 hours of playback time for pico projectors thanks to their built-in batteries. For an easy plug-and-play experience, certain models feature both tripod mounts and remote controls.
Integrated streaming platforms mean content can be accessed directly through some Pico projectors without needing an additional streaming stick. Some also have built-in YouTube, Netflix, Hulu, and more apps to enjoy online content.
5. Augmented reality projectors (AR)
Augmented reality projectors transform how consumers interact with and experience the world around them. These projectors work by overlaying computer-generated images onto the view of the real world, creating an augmented reality. 
AR projectors are having an impact on a variety of industries in the United States, including education. AR projectors enable interactive learning by projecting diagrams, drawings, and simulations onto real-world situations. To better grasp concepts, students can control and interact with projections.
Surgeons employ AR projectors to project scans and vital signs onto patients during operations. This technology lowers the need to take a look away from the patient to see monitors and aids in guiding accurate surgical techniques.
Theme parks incorporate AR projectors into rides and attractions to create immersive experiences. Visitors can interact with fantasy characters and environments projected onto real-world sets.
In the retail sector, stores are testing AR projectors allowing customers to view products in alternate colors, patterns, and finishes by projecting the variations onto the products. This helps with product selection and customization.
Lastly, factories are adopting AR projectors to project assembly instructions, machine overlays, and quality assurance checkpoints in work environments. This boosts productivity, minimizes errors, and streamlines processes.
6. Enhanced interactive experiences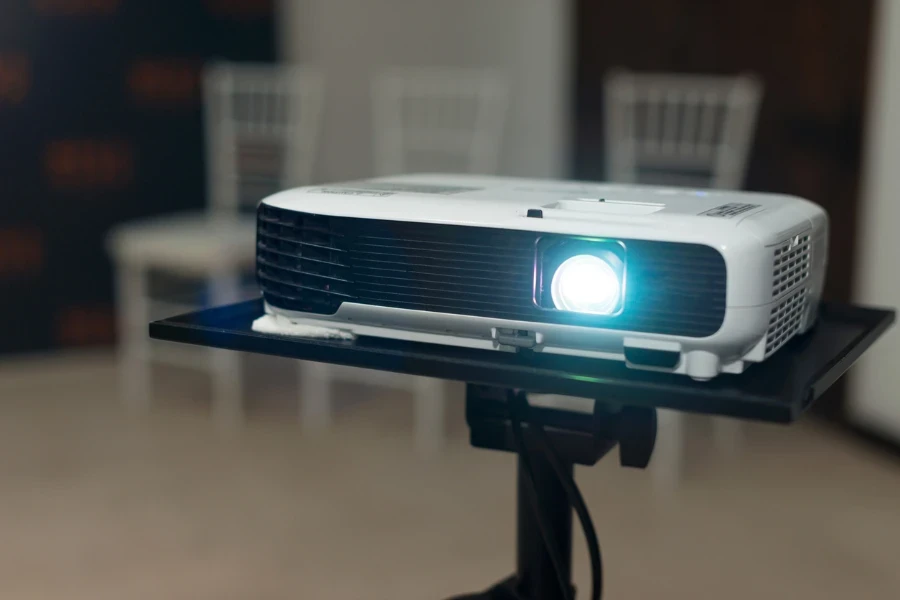 The projector industry is showing no signs of slowing down in its quest to push the boundaries of visual experiences. One way manufacturers are enhancing the interactive experience is through object recognition. Projectors with built-in cameras can detect physical objects placed within the projection area. 
When an object is recognized, the projected image can automatically adjust to interact with it. It allows all sorts of innovative interactive experiences using everyday objects. Applications like museums utilize object recognition to create digital interactives linked to physical artifacts.
Additionally, some projectors now have built-in touch capability, allowing people to draw, write, and manipulate projected images directly with their hands. This makes presentations and activities much more hands-on and collaborative. Educators are using touch projectors for interactive lessons.
7. Projection mapping innovation
Projection mapping is another exciting trend transforming how consumers experience visual media. This innovative technology uses specialized software and high-powered projectors to map animated graphics, images, and videos onto physical surfaces like building facades.
Some of the most dramatic examples involve massive outdoor spaces, like the Sydney Opera House or Toronto's CN Tower. Artists can transform familiar cityscapes into otherworldly environments by projecting dynamic displays across these big canvases. These massive light shows have become popular tourist attractions, with some cities hosting annual projection mapping festivals.
Major brands have embraced projection mapping as an innovative marketing tool for commercial use. They can promote products or build brand awareness through highly engaging visual experiences that bring spaces to life. The possibilities for creative brand storytelling are endless, from animated characters to simulated product demos.
8. Wireless connectivity and streaming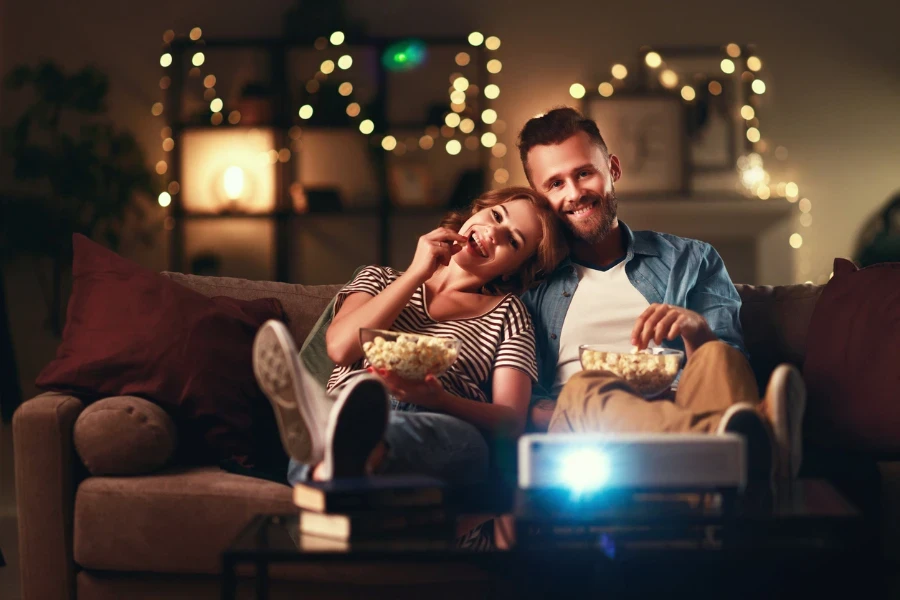 In 2023, most new projectors will offer wireless connectivity, allowing users to stream content directly from their phone, tablet, or laptop without cables. One can simply pair their device with the projector via Bluetooth or Wi-Fi and start streaming. Some projectors can even create their own Wi-Fi network to connect to. Going wireless means less clutter and a more straightforward setup, which is ideal for home and business use.
Streaming projectors also often provide access to popular streaming services like Netflix, Hulu, and YouTube right out of the box. Consumers can connect to the internet, log in to streaming accounts and enjoy their favorite shows, movies, and viral videos on the projector. 
For business use, wireless connectivity enables seamless screen sharing and presentation delivery from any personal device. Employees and guest presenters can easily share slides, spreadsheets, websites, and more without worrying about adapters or HDMI cables.
9. Sustainability driven innovations
Sustainability is also driving projector innovations and trends. Manufacturers are making projectors more eco-friendly and energy efficient to meet consumer demand and regulations.
Projector companies are also reducing the amount of plastic used in production and making more parts recyclable. Newer models have a higher percentage of recycled and recyclable materials. Casings and parts are being made lighter, more compact, and with less excess.
Projector disposal and recyclability is also a sustainability trend evident in the US. It is becoming easier to properly dispose of and recycle projectors at the end of their lifespan. Many brands and retailers now offer free recycling and disposal services for old projectors and their components, like lamps and batteries.
Factors influencing consumer purchasing decisions
Projector features and specifications
When buying a projector, consumers consider several factors to find the right one for their needs. Among them is the lamp life. Most projectors use replaceable lamps that eventually burn out. Buyers should look for a lamp life of at least 3,000–5,000 hours for the best value. Some LED or laser projectors even offer 20,000 hours or more of life.
Buyers should also ensure the projector has the correct inputs, like HDMI for streaming devices and USB and VGA for laptops. Having multiple inputs allows consumers to connect more than one device at a time.
Considering the size of the image and zoom functionality influences a projector buyer's decision. Models with larger sizes and zoom ranges give more flexibility in positioning the projector relative to the screen.
Image quality and performance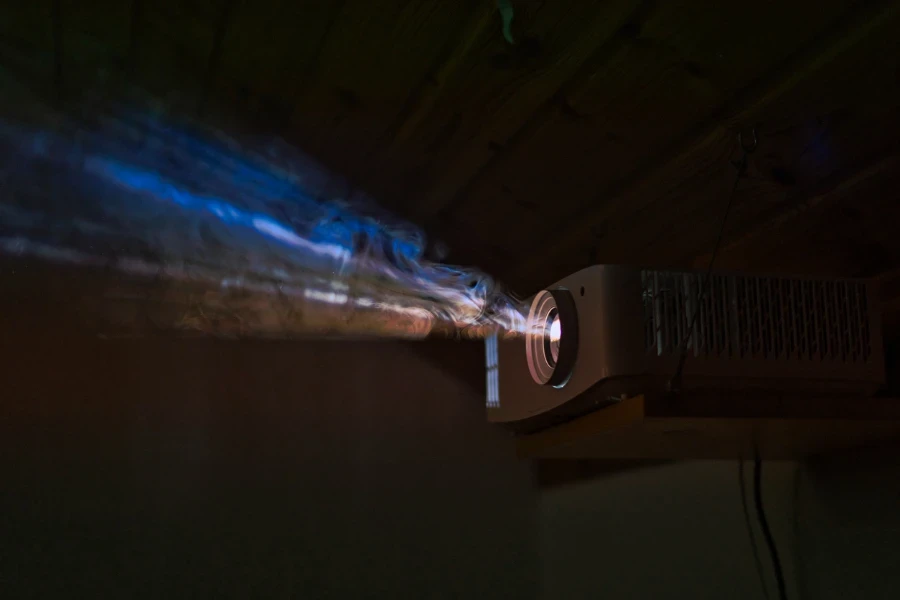 A projector's image quality and performance are significant factors for most buyers. Projectors that display high-resolution, bright, vivid images are naturally more appealing. For the best image quality, buyers can look for a projector with a native resolution of at least 1,920 × 1,080 (1080p Full HD) or higher.
Projector brightness is measured in lumens, with higher lumens indicating a brighter image. For most needs, a projector with at least 2,000 to 3,000 lumens should work well for a small to midsize room. More lumens, like 3,000 to 5,000 or more, are better for larger rooms or if there is a lot of ambient light.
A higher contrast ratio, like 10,000:1 or more, means more profound blacks, brighter whites, and a more comprehensive range of grays. Buyers can opt for these projectors to experience more vivid and true-to-life images.
User experience and ease of setup
Another factor to consider is the user experience and how intuitive a projector is. If a projector requires a complicated installation process or is challenging to operate, it can be frustrating and off-putting for those without technical expertise.
Models that allow for quick connections via HDMI or USB and have automatic configuration of settings based on the input source are appealing for their simplicity.
Intuitive and responsive interfaces also make a projector more enjoyable and user-friendly. Menus and controls that are easy to navigate using either the remote or an optional wireless keyboard/touchpad add to the convenience. Some projectors will even offer features like instant on/off, autofocus, and the ability to save preferred custom settings to streamline use.
Energy efficiency and longevity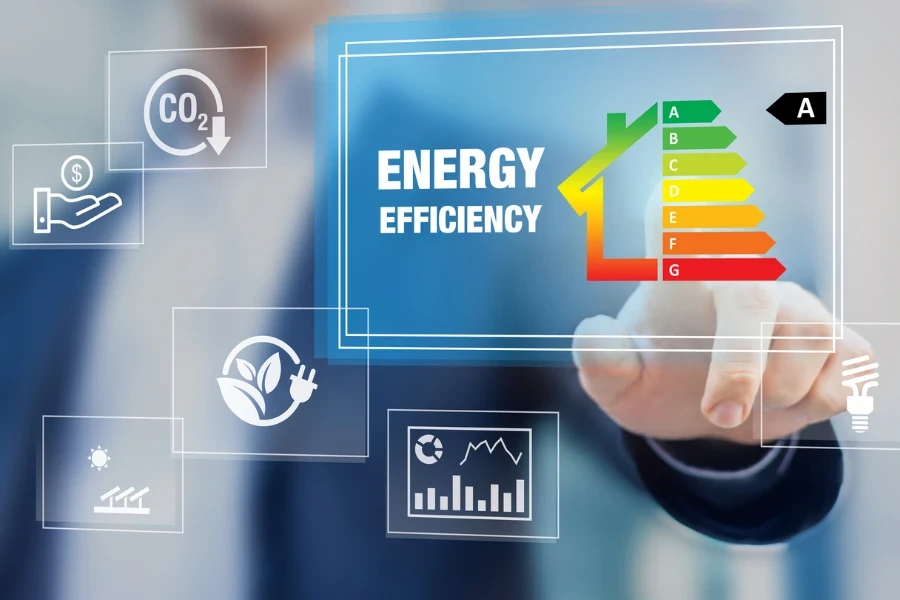 Projector buyers today have several factors influencing their purchasing decisions. One of the most significant considerations is energy efficiency and overall product longevity. Projectors, like other electronics, require electricity to operate. More energy-efficient models consume less power, resulting in lower energy bills and a smaller environmental footprint over the product's lifetime. 
Energy-efficient projectors also tend to run cooler, reducing noise from internal fans and extending components' lifespan like the light source. For budget-conscious consumers and those wanting an eco-friendly option, energy efficiency is an essential factor driving their choice of projector.
In addition to energy efficiency, many shoppers want a projector that will provide years of reliable use. More durable and high-quality components typically last longer. For example, projectors with LED or laser light sources tend to last up to 10 times longer than traditional lamp-based models. 
Conclusion
After all the trends discussed, it is clear that 2023 is shaping up as an exciting year for projectors in America. With the latest advancements in brightness, resolution, laser technology, and intelligent features, projectors will continue transforming how people consume media and information. Find out more about projectors by visiting Alibaba.com.
Was this article helpful?