During colder seasons, consumers will search for more ways to keep their homes warm. One of the most effective ways to achieve this is with a heated towel rail—which can help consumers take showers without shivering near an icy radiator.
Thankfully, sellers can leverage this market by running a heated towel rail business. However, they can't start without having a plan, otherwise, things may get tricky and lead to losses.
This article will guide retailers on how to profit from the heating towel rail industry in 2023.
Table of Contents
Considerations for a heated towel rail business in 2023
Three outstanding heated towel rails to stock up on
How big is the heated towel rail industry?
Last words
Considerations for a heated towel rail business in 2023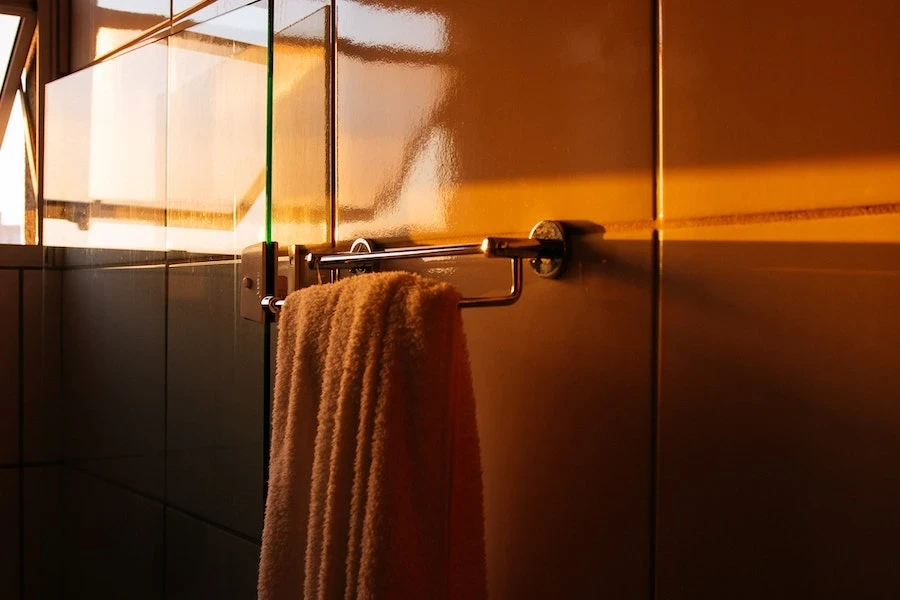 Electric vs hydronic
Heated towel rails can work via electricity or hydronics. Electric towel heaters are self-contained units that can work without assistance from a heating system. Usually, they host low-watt, electric elements (some feature dry elements) that heat wires installed in the tower rails. Alternatively, these types may have "wet" components heating water or oil inside towel tubes.
Hydronic towel warmers often rely on radiant heating or hot-water plumbing systems. Similar to radiators, hot water runs through the bars to provide consistent warmth.
Consumers looking for stand-alone heated towel rails will love electric variants, while hydronic models are ideal for those with cravings for connected systems.
Configuration type
Generally, businesses can consider three configuration types, including floor-mounted, wall-hung, and freestanding styles. Retailers may also stock up on all three plug-in electric or hardwired hydronic versions.
Wall-mounted towel warmers will make appealing offers for consumers with space-constrained bathrooms. Customers with freestanding tubs can't go wrong with floor-mounted heated towel rails.
Note: Sellers can capitalize on all configuration types to satisfy all consumer preferences.
Design type
Another thing to consider is the unit's design. Consumers may demand functionality, aesthetics, or both. Thankfully, there is no shortage of heated towel rail styles for various bathrooms.
One unique style is the ladder-heated towel rail. Most consumers gravitate toward this design because of its classic and sleek look, which fits modern, minimalist, or traditional bathrooms.
Retailers can offer a contemporary twist by opting for curved towel rails. This design strays away from the traditional ladder style and appeals to consumers searching for designer-worthy units to enhance their bathrooms' aesthetics.
In Europe and the UK, where temperatures are usually colder than in North America, towel radiators are preferred to regular electric heated towel rails. In tropical countries with warmer temperatures, the normal heated towel rails are perfect for use.
Installation difficulty
Installation complexity also drives consumer demand for these heating units. The mounting style and heating source are two factors deciding how hard it will be to install them. Some models have simple plug-in mechanisms, while others need professional intervention to connect them to a home's electrical or plumbing system.
Businesses must consider stocking up on easy-to-install variants, as most consumers don't like spending extra cash or going through complicated procedures. Freestanding towel heaters have the highest flexibility in installation and placement.
Construction materials
Durability is another critical factor to consider before purchasing heated towel rails. Always opt for units made with high-quality materials to offer more conductivity and lifespan. Chrome is the most widespread material for these heating units.
Chrome heated towel rails are efficient, clean, durable, and bright. Alternatively, sellers can opt for stainless steel models, which appeal to consumers with more humid bathrooms. Stainless steel towel warmers are immune to rust and corrosion, making them sturdy and aesthetically pleasing.
In addition, sellers can offer heated tower rails made from mild steel. They have impressive quality and will meet the needs of any consumer looking for sturdy tower warmers.
Finishing type
Heated towel rails with polished finishings can look stylish and sleek in any bathroom. However, they're ideal for consumers with smaller bathrooms because of their reflective surfaces. Polished towel warmers can add an elegant touch to otherwise plain bathing spaces.
Colors like white and black also look fantastic as tower rail finishes. Items with white finishes will keep towels warm while brightening the bathing space. They are ideal for consumers with monochrome or minimalist-inspired bathrooms.
On the other hand, black finishes make style statements when added to towel warmers. Businesses can offer items with this finishing to consumers looking to elevate modern bathrooms and add extra coziness.
The benefits of using heated towel rails
Most times, a product's benefits determine its profit potential. Thankfully, heated towel rails offer appealing benefits beyond spa sessions. In addition to draping consumers in warmth after a bath, these items can offer a variety of other advantages.
Heated towel rails can double down as supplemental heaters in consumers' bathrooms by helping to supply ambient warmth—which also counters mold-inducing dampness. In addition, this heating equipment can quicken the drying process for outerwear and delicate clothing.
These products can keep towels fresh by drying them faster and preventing mildew. Businesses can head into the heated towel rail market armed with these benefits to make the most appealing offers.
Three outstanding heated towel rails to stock up on
Central heating towel rails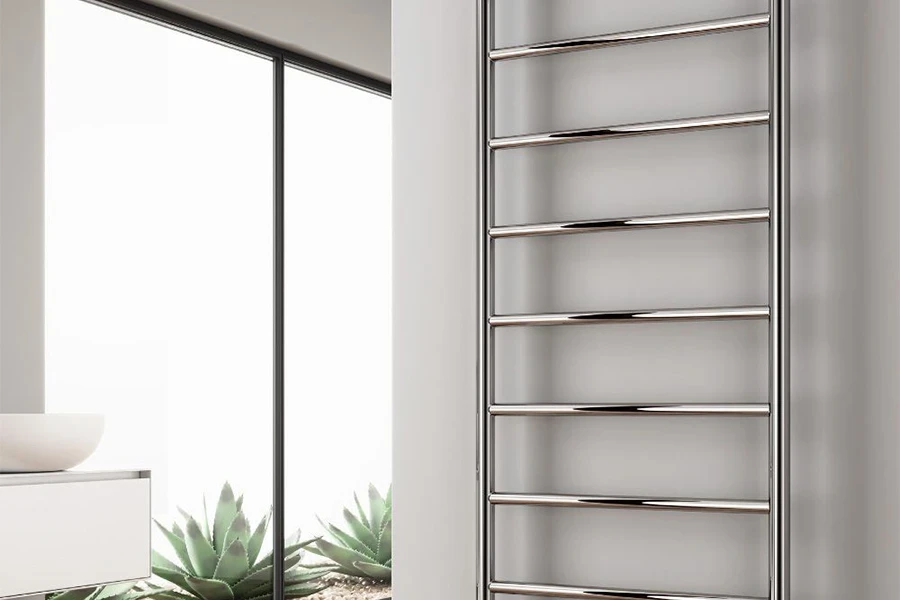 Central heating towel rails rely on the consumer's heating system to function. Interestingly, they will remain on as long as the user's heating system is activated.
Although it's an efficient and effortless way to keep towels warm, central heating towel rails sell more during winter. In addition, they're not ideal for warmer climates as consumers will want warm towels without heating their entire house.
Electrically heated towel rails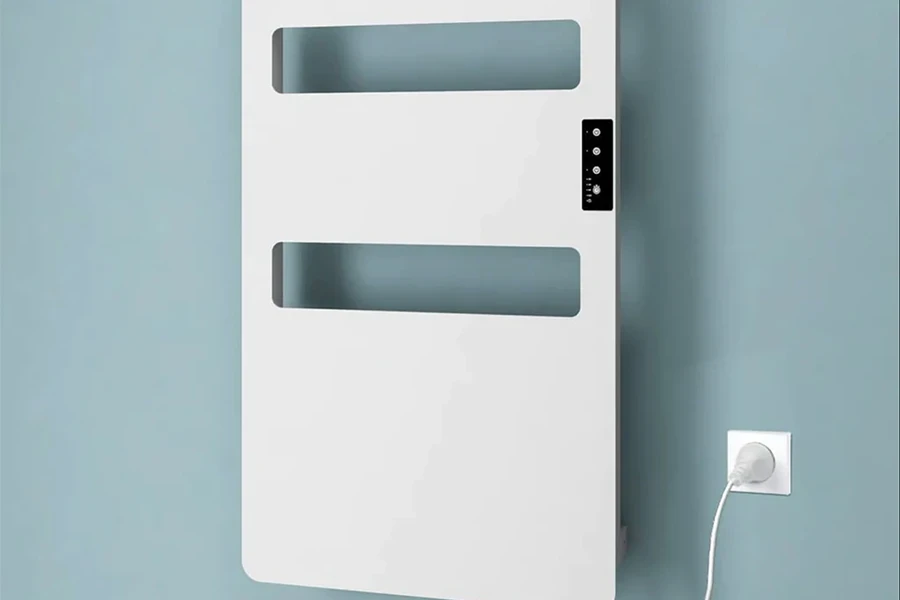 Electric towel warmers draw power from the user's main electricity source. Although they're electrically powered, these heated towel rails feature double insulation that makes them super safe.
In addition, electrically heated towel rails will operate regardless of the consumer's central heating system, making them ideal for summer and spring. Users can easily control them with a switch connected to the radiator.
Dual fuel heated towel rail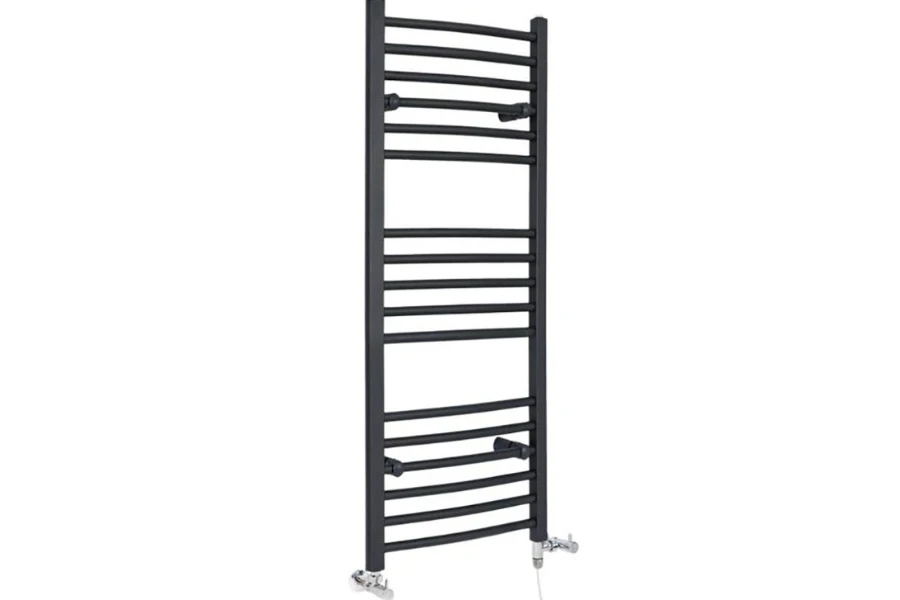 Dual fuel towel rails offer the best of both worlds. Consumers can power them through electricity or via their central heating system.
Therefore, users can warm their towels alongside their homes in colder months or heat their bathrooms independently with these towel rails.
How big is the heated towel rail industry?
The world heated towel rail industry reached a total value of $933.9 million in 2019. Experts predict the marker will experience a compound annual growth rate (CAGR) of 6.9% from 2020 to 2027. The global market owes its growth potential to the increasing technological advancements and innovations in bathroom accessory designs.
In addition, the craving for moist-free and warm bathrooms contributes to the rising popularity of heated towel rails. Consumer preferences are also shifting toward energy-efficient, functional, and stylish options that absorb the latest trends in heating technology.
Electric towel rails dominated the 2019 market by accounting for 71% of the total revenue. Experts predict the segment will hold its dominance due to the product's low energy consumption and ease of installation. Further, they expect hydronic variants to expand at a CAGR of 7.2% over the forecast period.
Last words
The heated towel market is booming and businesses can leverage its growth in 2023. Towel warmers are popular, energy-efficient options for keeping towels & bathrooms warm, and consumers love them.
In addition, heated towel rails can depend on a central heating system, receive power from an electricity source, or both. Retailers can dive into the vast world of towel rail designs, configurations, finishes, and materials for incredibly appealing offers.
Follow this guide to invest in the most profitable areas in the towel rail market and enjoy more sales in 2023.
Was this article helpful?