It's a warm winter evening. You're on your way to the local movie theater to see what's running. There's a big crowd at the entrance, and you're not sure if you want to go through with this.
Suddenly, an attendant appears, guides you into the theater, gives you a tub of your favorite popcorn, and seats you at a screen. The movie begins, and you realize it's from your favorite genre, and the cast contains your all-time favorite actors.
This is what behavioral targeting feels like when executed well *wink.*
Table of Contents
What is behavioral targeting?
Types of behavioral targeting
How does behavioral targeting work?
Behavioral targeting examples
Behavioral targeting tools
Behavioral marketing: Summary
What is behavioral targeting?
Behavioral targeting enables you to group customers into segments based on their interests, preferences, and behavioral data, and display personalized marketing campaigns that resonate with each user's behavioral profile.
In this post, we'll be covering the different types of behavioral targeting, a quick overview of how it works, along with some examples and tools for successful behavioral targeting.
Behavioral targeting leverages data about a user's actions on your app or website, the kind of products they add/remove from their cart, what they add to their wishlists, their browsing history, and purchase behavior. Advanced behavioral data also includes demographic information on the user's age, industry, geographical location, gender identity, income level, and more.
Let's take a look at some ways in which behavioral targeting can be leveraged by businesses.
Types of behavioral targeting
Like any other marketing strategy, there are a number of ways to approach and deploy behavioral targeting, such as retargeting, web personalization, deal customization, email personalization, and app engagement. Here's what each one entails:
Retargeting (also known as remarketing)
How many times have you searched for a product, only to forget about it later? You're not alone. Studies show that cart abandonment rates stand at a whopping 70%, which means that 2 out of 3 shoppers abandon a purchase they were interested in.
Here's where retargeting can help. With retargeting, brands can send out campaigns that remind customers of products they were interested in.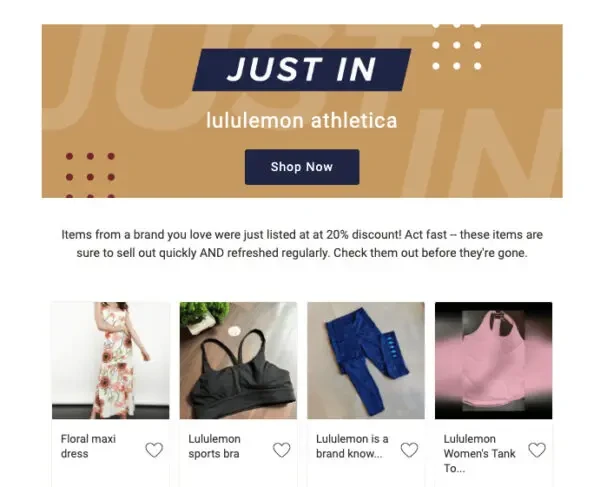 Retargeting enables brands to display personalized marketing campaigns and advertisements over multiple touchpoints such as social media, email marketing, and display ads. Think of an email that says, "Here's a 10% discount on that charger you liked," or an ad that says, "Your hotel booking is almost done!"
For effective retargeting, brands need to map out customer behavior and tie it back to meaningful campaigns that prompt the user to take action.
Web personalization
Isn't it nice when you log in to your Netflix account and click on the first movie in the "Continue Watching" section? This is a classic example of web personalization: creating an online experience that caters to your user's behavior and preferences.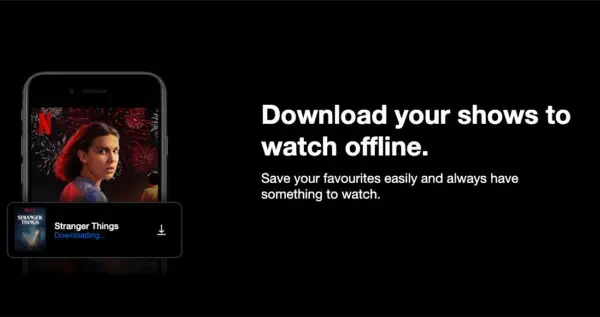 Users are beginning to expect website personalization from every brand they interact with, and businesses need to invest in this right away.
A good web personalization experience relies on user behavior and displays products they like already, products they might be interested in, and the most optimal, personalized way for them to navigate your website at every stage of their buying journey.
Deal customization
Sometimes, users can be interested in a product or deal, but might need a push to close the conversion. Here's where behavioral targeting can help.
Using behavioral targeting, businesses can show personalized communication with incentives that encourage users to close the deal. These incentives can range from discounts, positive customer reviews, nudges to finish the process, or even a simple reminder of the benefits of the product. Take a look at Airbnb's customized deal closure email: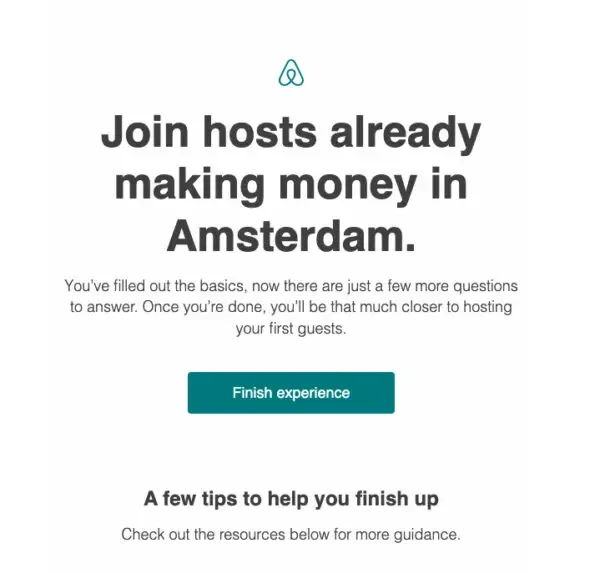 Email personalization
Email is one of the best channels to leverage behavioral targeting. Your business can send out customized, personalized emails that resonate with any user's needs, based on where they are in the customer journey.
For users who are interested in rock music, for example, a music streaming platform could email some suggestions of rock playlists. For others who are interested in buying a guitar or a keyboard, the brand could send an email with discounts on these products.
Here's a typical example of how emails can be personalized based on behavioral targeting: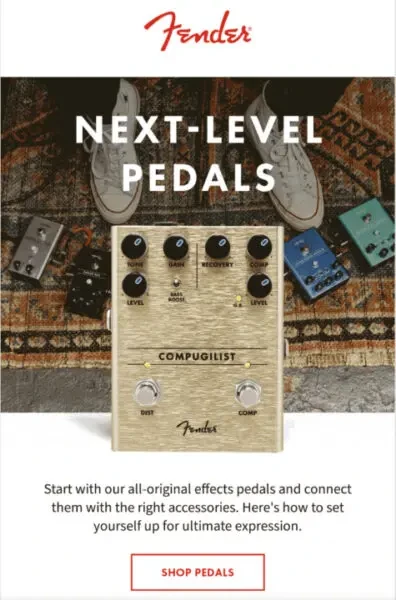 App engagement
Keep an eye on how users navigate your app, whether they move in the ideal customer journey, or whether they drop-off after a particular interaction.
Behavioral targeting can help you optimize the customer's journey with your app, and create experiences that are tailored to their requirements and preferences.
Think of a food delivery app that shows you your favorite restaurants and cuisines right as you open it up.
How does behavioral targeting work?
Here's a quick ELI5 (explain like I'm five) on how behavioral targeting works.
First, a refresher on cookies: cookies help websites store bits of information about every visitor. They enable websites to remember what users did during their visit, their preferences, and consequently, their behavior.
Behavioral targeting leverages cookies to keep a log of a user's activities on your website and create an approximate personality. Based on the personality bucket a user is grouped into, you can send out communications that resonate with them. This is a multi-step process that looks like this:
Data collection
Accuracy analysis
Segmentation
Knowledge application
Step 1: Data collection
This step relies on cookies to collect information about how your users react and behave on your website.
Step 2: Accuracy analysis
In this step, brands need to validate whether the information collected is accurate, and whether there are any discrepancies. Based on the analysis, brands can proceed with the next step.
Step 3: Segmentation
At this stage, businesses can group different personality types and behavioral markers into segments. Make sure to create comprehensive segments that cater to different aspects of a customer's behavior.
Step 4: Application
Once you've identified different segments, you can create different marketing strategies that are in line with the requirements of each behavioral segment. This involves crafting relevant campaigns and deciding which strategy would be most relevant for a particular behavioral profile.
Behavioral targeting examples
Now that you've understood the types of behavioral targeting and how it works, let's take a look at practical examples of brands winning with behavioral targeting.
#1 MVMT: Retargeting ad
As we've seen earlier, retargeting is a strong opportunity to remind users about a product they're interested in, and gives brands a foot in the door to seal the conversion.
If you've got a website where people browse for products and don't always add these to the cart or complete the payment, it's time to leverage retargeting! You can create behavioral profiles and display different themes of social media ads to each segment.
Here's how MVMT Watches, a premium watches, eyewear, and accessories brand, leverages behavior-based retargeting on Facebook, for a customer who has visited the website but not made a purchase: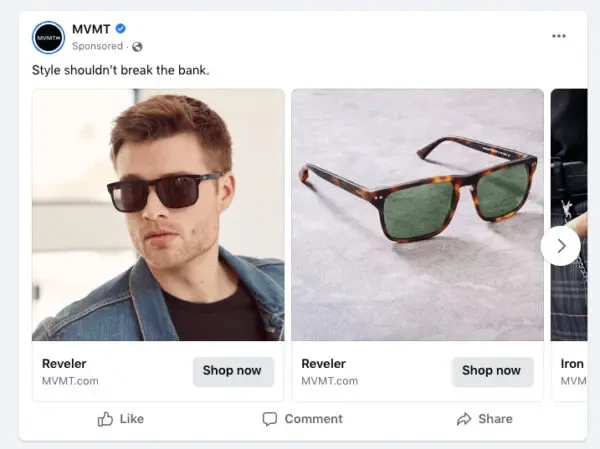 #2 Taylor Stitch: Onsite remarketing
Onsite remarketing is a great way to leverage behavioral targeting. It involves creating a personalized online experience for your customer, suggesting products they might be interested in, and incentivizing a purchase. This tells the customer that you care about their preferences and interests, and increases the overall experience with your brand.
Take a look at how Taylor Stitch, an online apparel brand, displays personalized recommendations based on a user's behavioral profile: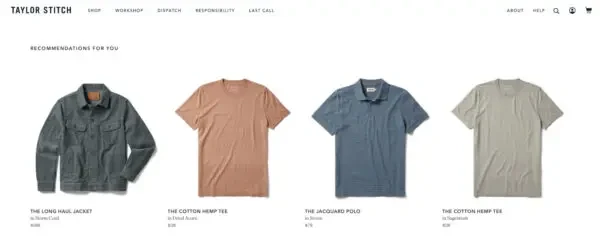 #3 Island Olive Oil Company: Welcome email
In the world of marketing, first impressions can make or break your brand. Customers are not going to pay attention to a brand that doesn't deliver better than their expectations.
This is why welcome emails are so crucial. They are often the first touchpoint of your communication with the customer, and they help create a positive impression of your brand.
Welcome emails are a great place to leverage behavioral targeting and create tailored campaigns that make the customer feel known and loved. If done correctly, welcome emails can create nurtured, engaged customers who convert easily.
Check out this brilliant welcome email from the Island Olive Oil Company: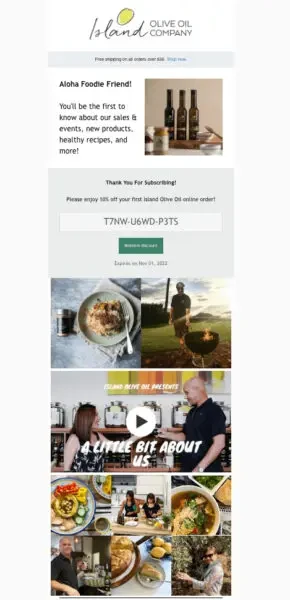 This welcome email helped the Island Olive Oil Company generate:
11% conversion rate
998% greater CTR than promotional emails
RPE (revenue-per-email) lift of 3,274% over promotional campaigns
#4 Pipcorn Heirloom Snacks: Abandoned cart recovery email
Users abandon carts due to many unforeseen reasons, and these users often just need a reminder to complete their transactions. This is because users who abandon carts have already displayed a high purchase intent, and brands need to capitalize on this intent before it fades away.
Studies show that cart abandonment emails have a 41% open rate. The best ones take a leaf out of the behavioral targeting playbook, and send out emails that are personalized to each customer's behavior.
Here's a great abandoned cart recovery email from Pipcorn, an D2C brand that sells heirloom snacks.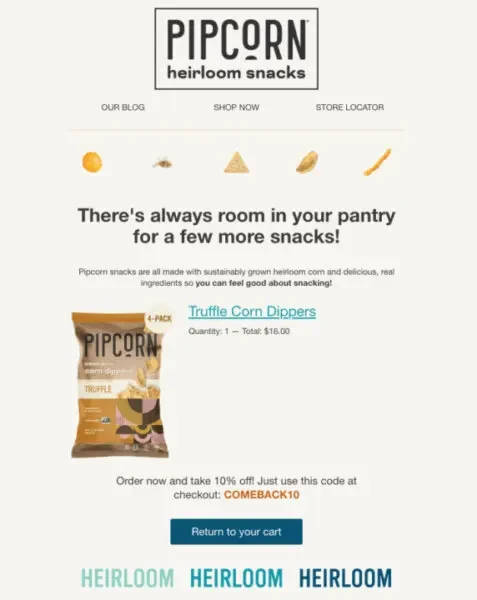 #5 Amazon: Often bought together
For online brands, one of the most important KPIs (key performance indicators) is CLTV — customer lifetime value. LTV is a measure of the average revenue generated by a user to your company throughout their entire association with your brand.
It costs much less to increase an existing customer's LTV than to acquire a new one. Here's where strategies like "Often bought together" help. You can display products that similar customers have bought along with a particular product. This subtly encourages users to increase their cart value, and consequently, their LTV.
The best example comes from Amazon, which always urges users to buy a bundle of products for a slightly discounted rate:

Behavioral targeting tools
A good behavioral targeting strategy is directly dependent on the capabilities of the tool used to implement it. A great behavioral targeting tool can make the process easier and introduce trustworthy automation potential that makes behavioral targeting seem less daunting to marketers and business owners.
Here are a few examples of behavioral targeting tools:
Used for: All-in-one email and SMS marketing tool for ecommerce
Pricing: Starts from $0/month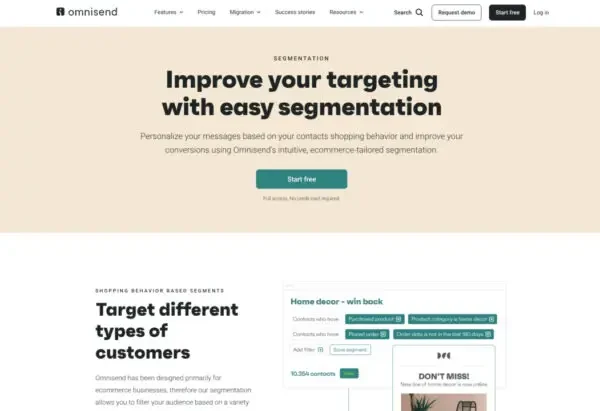 Omnisend enables you to segment your users based on their engagement, interests and activities. With Omnisend, you can monitor whether users have performed certain actions (such as clicks or likes) with your promotional campaigns, opened any emails or messages, and implement web tracking on your website.
You can segment your contacts based on their shopping behavior too, such as what they've purchased from you, and whether they've bought specific products or a number of products.
You can also segment users based on their web activity, i.e., how they behave on your website, whether they've just viewed it or navigated to a specific page or product.
Omnisend also helps you segment contacts based on custom events you create or upload. These events are specific to your setup and can cover anything, such as shoe size, car model, etc.
Check out the following links:
👉 See success stories of businesses using Omnisend
Used for: CRM and inbound marketing platform
Pricing: Starts at $0/month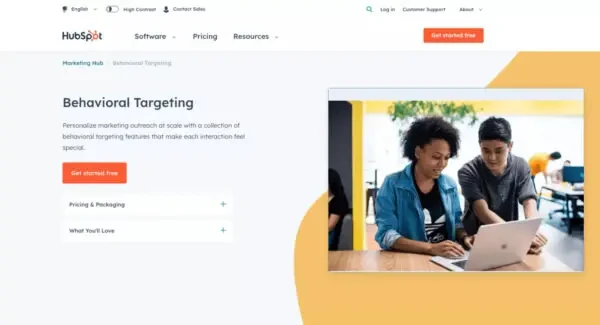 Hubspot helps marketers use behavioral targeting to personalize marketing outreach at scale. You can create behavioral segments and customize your messaging to provide the best offers to each segment.
Used for: Marketing automation and email marketing services 
Pricing: Starts at $0/month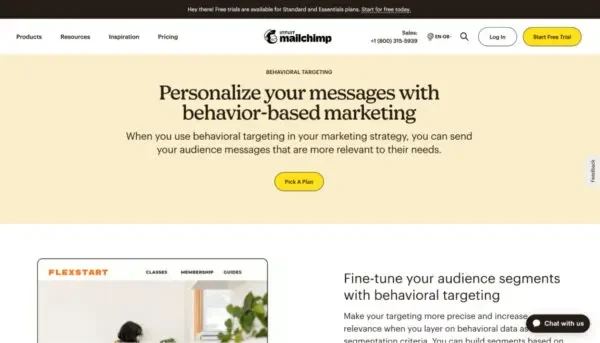 Mailchimp helps you use behavioral targeting to send out personalized campaigns and automate targeted messages in response to specific actions. You can also get a complete view of how users engage with you.
Behavioral marketing: Summary
Wrapping up, behavioral targeting is a great way to maximize your marketing campaigns and make customers feel known and loved. This strategy involves segmenting your customers based on their behavioral characteristics and sending them relevant campaigns based on their profile.
Behavioral targeting uses cookies to keep track of a user's actions and preferences on your website, and tools like Omnisend help you tie these behavioral segments into meaningful campaigns that users resonate with.
If you've not done so already, take a look at Omnisend now!
Source from Omnisend
Disclaimer: The information set forth above is provided by Omnisend independently of Alibaba.com. Alibaba.com makes no representation and warranties as to the quality and reliability of the seller and products.
Was this article helpful?