Every professional nail technician understands that a high-quality manicure table makes all the difference. You want a nail table that is efficient, functional, visually appealing, and comfortable for your clients.
The guide offers a quick overview of nail tables and tips you can follow to select the best manicure table to meet your customer needs.
Table of Contents
Nail tables global market overview
Factors to consider when choosing nail tables
Types of nail tables
Conclusion
Nail tables global market overview
The nail care market is currently valued at US $10.9 billion. It is expected to grow at a compound annual growth rate (CAGR) of 10.40% in the next seven years.
Nail tables are just one of many nail related accessories on the market that is forecast to grow. A growing level of disposable income around the world has meant that people have more money to spend on product care and cosmetic products overall.
Factors to consider when choosing nail tables
Size and shape
It is important to consider the size and shape of the nail table as this will affect the comfort and efficiency of the nail technician and their customer. You should also consider the size of the space available in your salon or studio and choose a table that fits comfortably within that space.
Meanwhile, certain shapes are better suited to specific services or types of clients.
Storage
Nail tables with ample storage are essential for keeping your workspace clean and organized. Look for tables with drawers, shelves, and compartments for holding your supplies and tools, such as nail polish, files, and clippers.
Material
The material of the nail table impacts its appearance, ease of cleaning, and durability. Common materials include wood, metal, and plastic.
Wood is a popular choice for its classic look and durability, while metal is a more modern option that is often lightweight and easy to clean. Plastic tables are usually more affordable and lightweight but may not be as sturdy as other materials.
Ergonomics
Nail tables designed with ergonomics in mind can help reduce fatigue and prevent injuries. Look for tables with adjustable height and angle settings that accommodate different working positions, and ensure that the table is comfortable to work at for long periods.
Lighting
Good lighting is essential for ensuring you can see your work clearly and accurately. Look for nail tables with built-in lighting, or consider adding a task light to your workspace.
Budget
The price of a nail table is important, as you want to ensure that you are getting value for your money. While you may be tempted to go for the cheapest option, it's important to consider factors such as durability and functionality, as well as your budget, to ensure that you select a table that will serve you well in the long term.
The best nail tables range from US $150-300.
Types of nail tables
Basic nail tables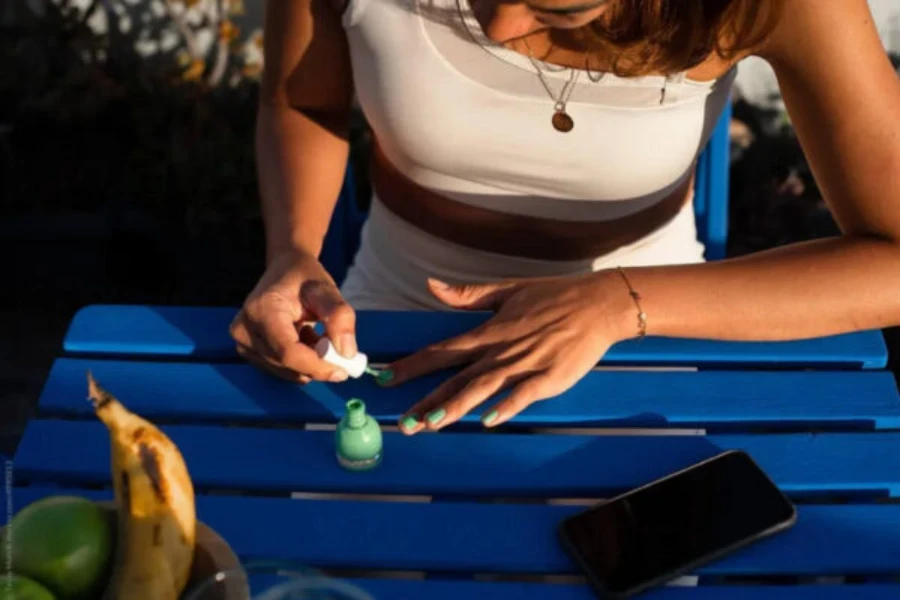 These simple, no-frills tables are often made of plastic or laminate. They usually have a flat work surface, one or two drawers for storage, and a wrist pad for client comfort.
Basic nail tables are suitable for home use due to their limited drawers and size. For professional nail technicians, other options may be more suitable.
Portable nail tables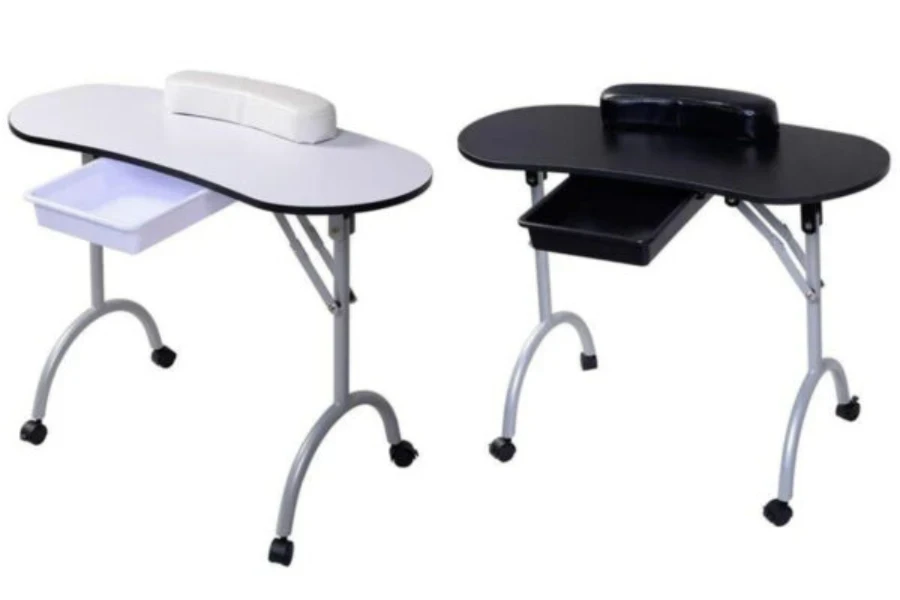 Portable tables are designed to be lightweight and easy to move around. They are usually foldable and may come with a carrying case for easy transport.
Portable nail tables are great for mobile nail technicians who need to set up in different locations. They also help nail technicians assert their professionalism and knowledge in the trade, helping to market their services.
Ventilated nail tables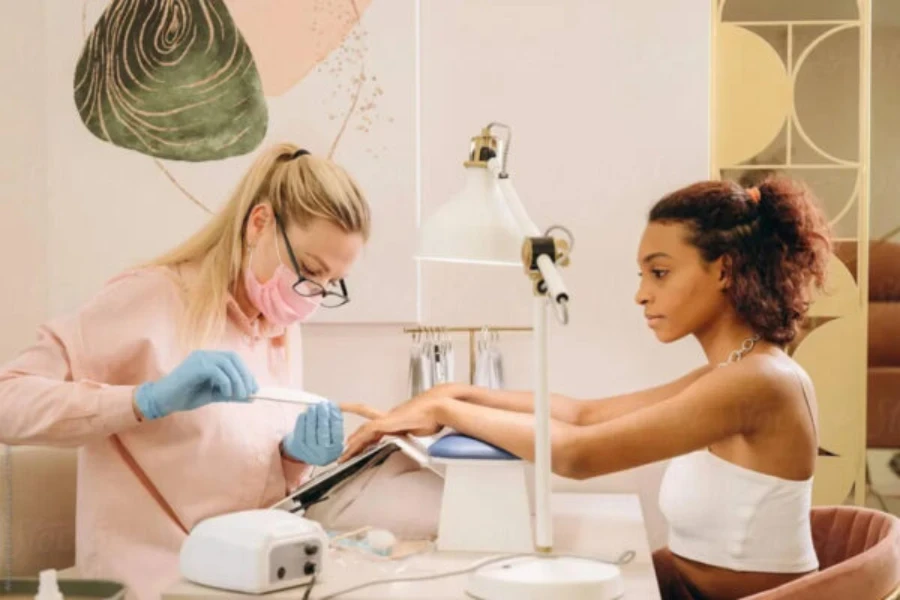 These tables are designed to improve air quality and reduce the amount of dust and fumes in the air. They usually have a built-in fan or ventilation system to draw dust and fumes away from the technician and client.
Ventilated nail tables are visually appealing and comfortable for clients.
Electric nail tables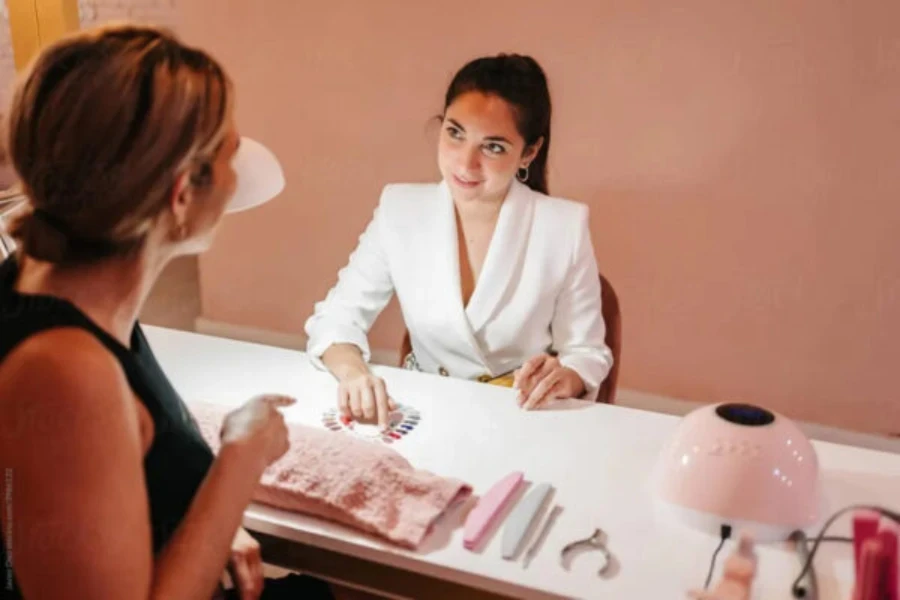 These tables have an electric-powered motor that allows for height and angle adjustments at the touch of a button.
They can be very convenient for technicians who frequently adjust the table height to accommodate different clients or working positions. Since clients come in all shapes and sizes different sizes, they can help enhance their comfort during extended manicure sessions.
Manicure and pedicure combo tables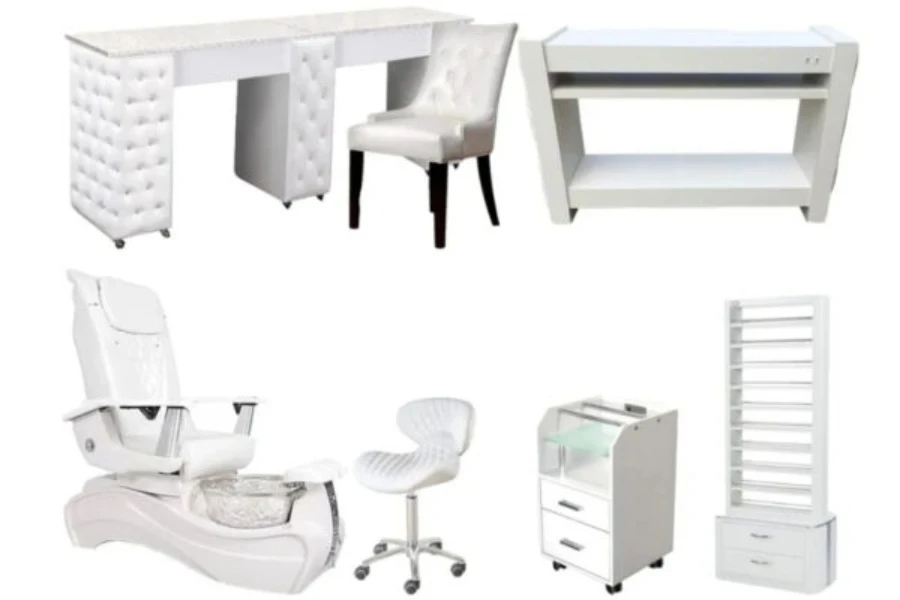 These tables are designed to accommodate both manicure and pedicure services. They usually have a flat surface for manicures and a built-in footrest and padded cushion for pedicures,  as well as a work surface with a built-in nail dryer, a manicure lamp, and storage drawers for tools and supplies.
Luxury nail tables
These tables are designed with premium materials and features in mind, such as marble or quartz surfaces, LED lighting, and multiple drawers and compartments for storage. They are often designed with a high-end, modern aesthetic and can be a great choice for high-end salons or spas.
Conclusion
Investing in a good nail table helps enhance your customer's comfort, contributing to customer satisfaction and retention.
Overall, it's important to choose a nail table that fits the specific needs and style of the salon or business. Consider the factors listed above, and take the time to research and compare different options before making a decision. Visit Alibaba.com for quality nail tables to meet your customer needs.
Was this article helpful?