When you think of loyalty, what comes to mind? Most of us think of someone who's there for us when we need them and always has our best interests at heart.
Customer loyalty to businesses isn't that much different. People are naturally drawn to brands that consistently deliver value and show that they're in tune with their audience's needs.
There are plenty of places where you can build brand loyalty, but today, the focus is on email. Specifically, we want to show you how sending well-timed messages and investing in an email loyalty program can help you build rapport and keep customers engaged long after their first purchase.
Before we look at five specific loyalty email examples, let's go over a few things you should know about the connection between customer loyalty and email marketing. 
Table of Contents
How can email marketing impact customer loyalty?
5 customer loyalty email examples
Final thoughts
How can email marketing impact customer loyalty?
To understand how email can affect loyalty, you need to know how it impacts the average retention rate. Retention signifies how many people continue opening your emails and clicking messages after they've placed an order. 
A vast majority of marketers say using email to do things like send appreciation emails to customers resulted in a noticeably higher retention rate. When you think about it, it makes sense. People are more likely to continue opening emails because they are often more personal than other types of digital communication.
On-site popups, forms, and social media are all great ways to engage with your audience, but they often miss that one-on-one factor that attracts so many people to specific businesses. These unique interactions are perfect for segmenting your audience and ensuring each subscriber receives emails personalized to their needs.
And if you're wondering how personalization can build loyalty, consider this: 4 out of 5 consumers say they want to interact with brands that send relevant content and offers through email. Furthermore, 83% of shoppers say they'd happily share their data if it meant they could get personalized experiences in the future.
Another benefit worth mentioning is you can use your email loyalty program to bridge the gap between orders.
For instance, you could send a reminder letting users know they have loyalty points to spend so they can save big on their next purchase. This simple interaction can result in that person placing a new order.
Now that you better understand the connection between email and brand loyalty, it's time to look at five excellent examples of customer loyalty emails that work.
5 customer loyalty email examples
1. The welcome email
The welcome email is for new users who subscribe to your newsletter or otherwise join your email list. 
Welcome emails are vital for building loyalty because they are the most frequently opened email you'll ever send. Research shows that 82% of all welcome emails are received and read. In other words, this is your best chance to introduce yourself and build trust with everyone who joins your email list. 
When creating this type of email for your business, it's important to include several key elements:
Who you are
A sincere "Thank you."
A list of benefits and advantages readers can expect
A way to get in touch if there are any questions or concerns.
Options to personalize settings and email preferences. 
Including these factors will help subscribers completely customize how they interact with your brand, which could lead to long-term engagement and sales.
Here's a sample of a great welcome email from YouTube. This email is for new users when they sign up for their YouTube Premium program. The crisp branding, list of benefits, and helpful resources make this a prime example of an effective welcome email.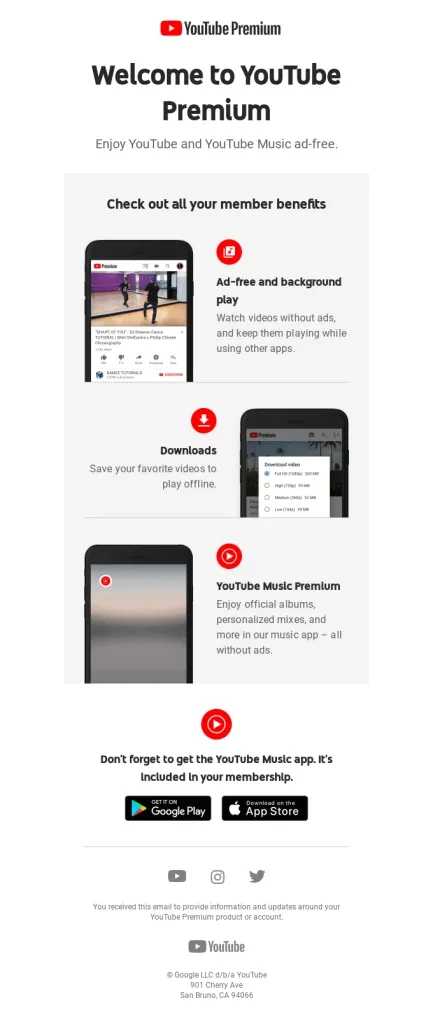 2. The loyalty email
Many businesses now understand the point of creating an email loyalty program. If a user continuously buys from your site, they will generate a form of currency or reward that they can use on future orders. As this process repeats, the shopper continues to get discounts while you improve your retention rate and sales. 
You have a ton of options when it comes to actually rewarding customers for their loyalty. Some businesses prefer a points-based system where users get cash back every time they place an order. In this instance, your email reminders should let users know they've racked up a specific amount of credit.
It's also common for marketers to invite people to join their loyalty email list for exclusive discounts. The example below from the clothing store Simply Be uses this style. Notice how this email says, "Remember how we said if you shopped in April, we'd treat you in May?" This is a terrific loyalty strategy because it results in the user placing two orders – one to get the discount and another to redeem their coupon the following month.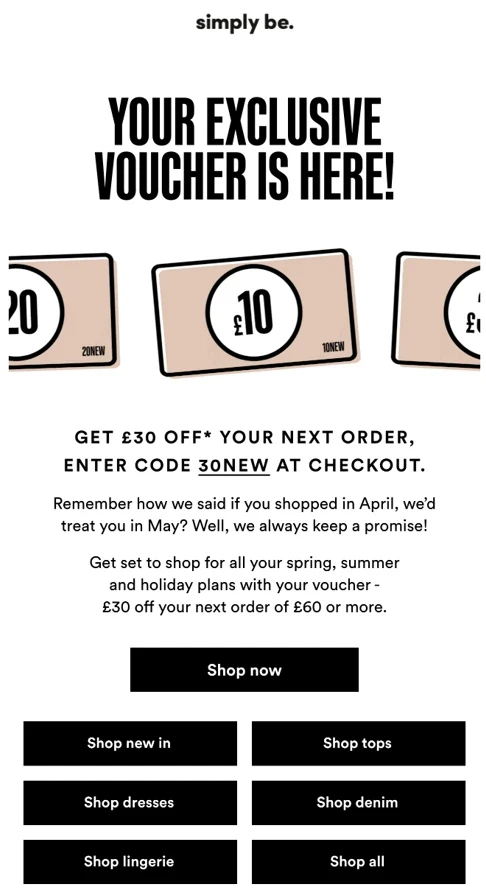 There's a good chance you could benefit from making both of these options a part of your email loyalty program. We suggest experimenting and talking to your customers so you can find out what kind of rewards most closely match their interests.
3. The celebratory email
If you want a fun way to build loyalty with your audience, try the celebratory email! These marketing emails are a great way to personalize messages and celebrate special milestones and holidays with subscribers.
One of the most effective examples is the birthday email. The example below from Jetson illustrates how easy it is to treat your customers on their special day.
If you want to try this for yourself, ask subscribers to give you their birthday for a once-a-year promotion. Schedule the birthday emails each week to the people with a birthday within range.
Adding their name to these emails can also help. We found that personalized calls-to-action (CTAs), like "Claim Your Birthday Coupon, Tommy," resulted in 42% more clicks when compared to generic CTAs.
I suggest creating regional holiday emails for your audience so you can further build loyalty by bringing people together. For example, an Earth Day marketing email where you promise to give back half of the proceeds to growing trees can significantly boost clicks and conversions.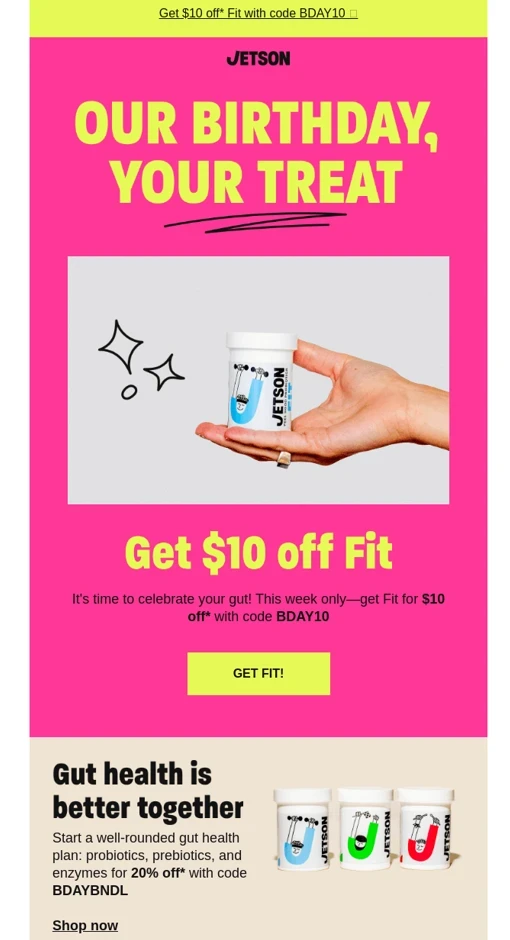 4. The reminder email
Reminder emails are a great way to keep your customers engaged and remind them about upcoming events or deadlines. You can also use them to promote special offers or discounts, as shown in our example below.
When writing a reminder email, it's important to keep it short and to the point. Be sure to include relevant information, such as the deadline or a notice like "last chance," as well as any relevant links or instructions.
Much like the other strategies mentioned today, it's best to personalize these emails by including the customer's name and information relevant to their interests or order history.
For instance, you could create a reminder email for a flash sale that only includes products from categories the customer has bought from in the past. This type of loyalty email is a surefire way to get your subscribers' attention and turn them into repeat customers.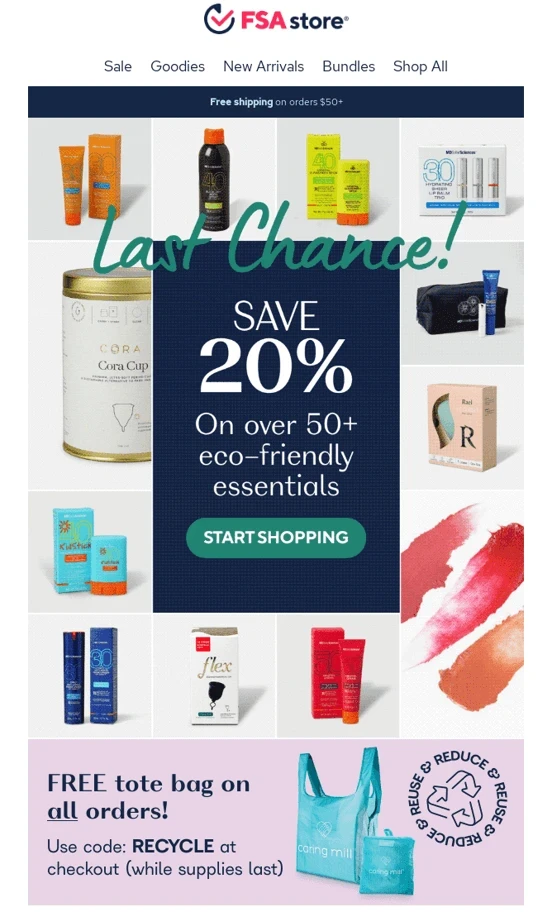 5. The social proof email
Social proof emails are a great way to build loyalty by showing customers that others love your product or brand. These messages should include things like user reviews, testimonials, or key numbers, like monthly customers. These figures and real reviews will help to convince potential customers that your product is worth buying.
Here's a startling statistic that shows why social proof emails are so vital to your success: Around 97% of all shoppers say they will refuse to buy a product until they read feedback from real customers.
Instead of hoping users will check out your product landing page or seek out reviews elsewhere, why not take the social proof to them?
You can even tie promotions into your social proof emails. For example, we sometimes send messages saying, "See what everyone is talking about with 40% off your first order!" Once the user opens the email, they'll see reviews from high-profile clients and a discount that they can use on your website.
If you convince people to take action, and they are happy with their order, you can bet they will tell other people, which will only help you build trust and loyalty around your brand.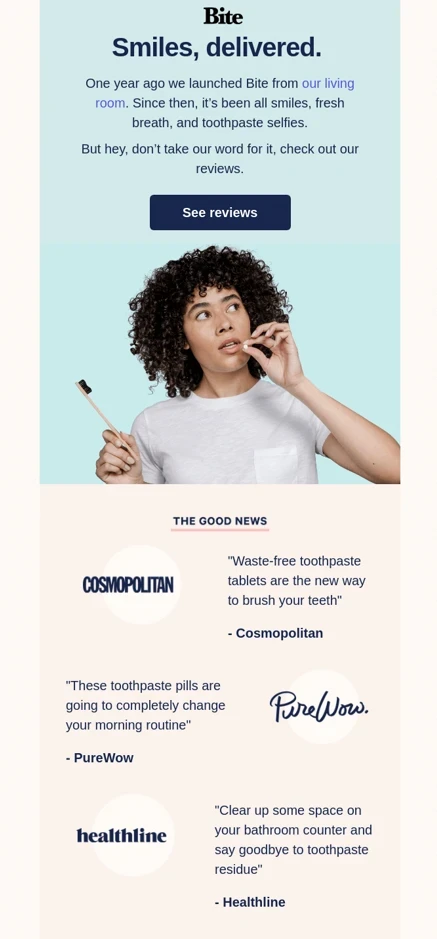 Final thoughts
As you can tell by this point, there are plenty of exciting ways to build loyalty with your customers through email. If you use the strategies mentioned in this article, you can create emails that are relevant, personalized, and engaging. When people are loyal to your brand, you can expect a significant boost in clicks, conversions, and customer satisfaction.
Source from Omnisend
Disclaimer: The information set forth above is provided by Omnisend independently of Alibaba.com. Alibaba.com makes no representation and warranties as to the quality and reliability of the seller and products.
Was this article helpful?