The market for aromatic car accessories is booming, and experts predict even greater profitability in the years to come. From perfume fragrances to fruity delights and natural essential oils, there is a scent to suit every driver's preference.
This article will explore four notable fragrance trends making waves in the car air freshener industry, as well as break down the car air freshener market. 
Table of Contents
How profitable is the market for car air fresheners?
Four car air freshener fragrances that make sense in 2023
Conclusion
How profitable is the market for car air fresheners?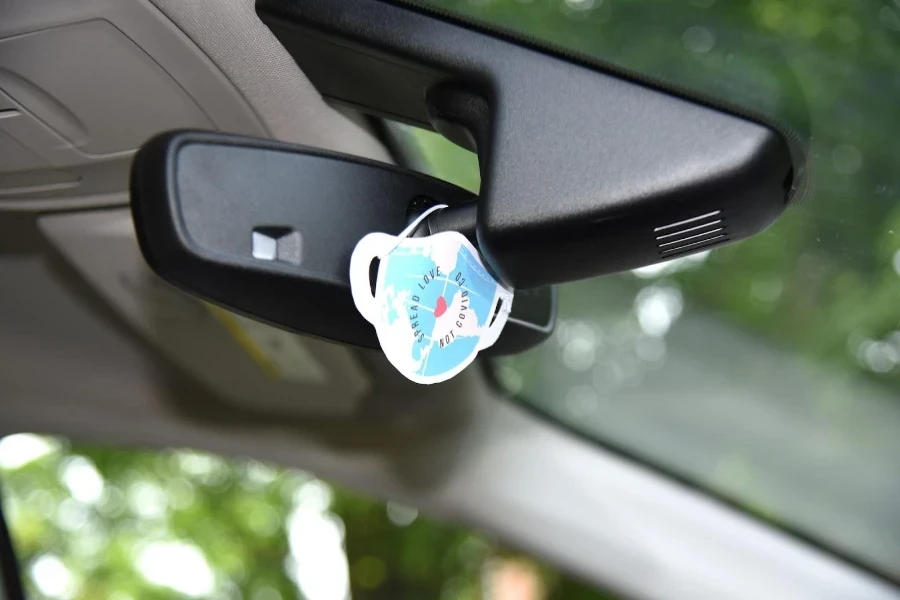 Car air fresheners have recently shown high profitability, with the market generating $2.1 billion in 2020. Marketing experts predict the global industry will reach $2.6 billion by 2026 at a 3.6% CAGR.
Several factors drive this market's profitability, including the growing need for quality indoor air and changing consumer lifestyles. However, experts expect rising pollution levels to boost demand for vehicle air care products.
In addition, increased demand for sustainable air products with eco-friendly aromatic compounds and odor eliminators is set to boost the global market's growth.
Experts categorize the car air freshener market into gels, cans, paper, sprays or aerosols, and vents or clips. The gels and cans segment currently dominates the market, with increasing demand and appealing designs driving its growth. Gels and cans also last longer than other car air fresheners, helping the segment generate a significant market share in 2020.
North America has emerged as the top region in the market, with experts predicting it will grow at an impressive CAGR over the forecast period. This growth has also been attributed to the region's potential to change consumer preferences and lifestyles.
Four car air freshener fragrances trending big in 2023
Perfume fragrances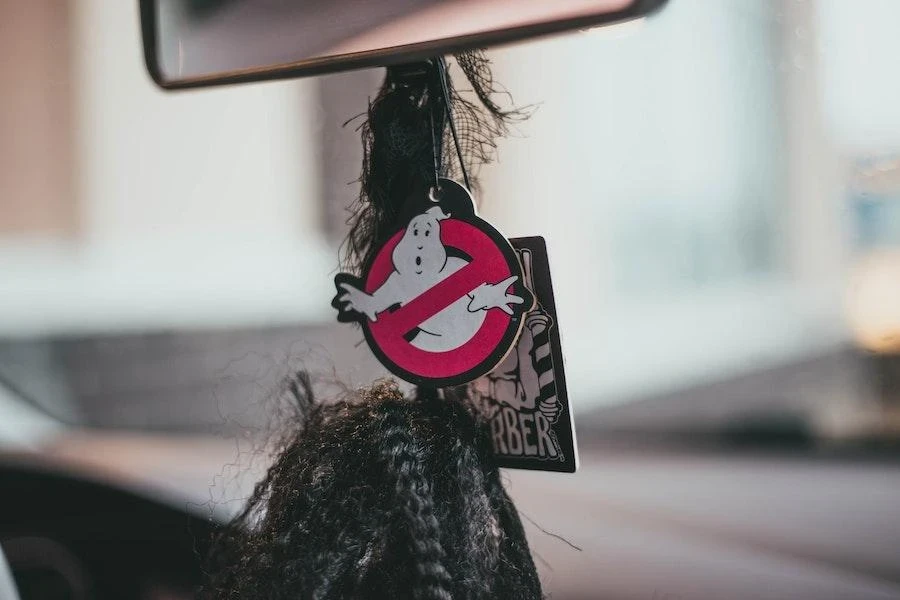 Body perfume's popularity has soared in recent years, becoming akin to a fashionable accessory that enhances people's lives. But with the demand for personal fragrances rising significantly, several brands have ventured into applying perfume concepts to in-car air freshness.
Interestingly, this unique approach has effectively extended the allure of captivating scents beyond personal grooming, allowing car owners to use their favorite fragrances in their vehicles.
In the Eastern market, fragrances like "breeze musk" enjoy widespread acclaim thanks to their timeless appeal. Among these scents, musk continues to gain popularity in the Japanese perfumed car air freshener market, enjoying consistently high sales figures.
Part of its appeal is its long-lasting aroma, which exudes elegance and sophistication, making it an irresistible choice for consumers seeking a luxurious scent for their vehicles.
Meanwhile, the Western market has embraced a different set of preferences regarding in-car fragrances. New car scents and "black ice" fragrances have emerged as the region's most popular perfumed car scents. Because their names often don't evoke their actual aroma, customers commonly rely on experiencing these scents firsthand before purchasing so that they know what to expect.
Aromatic fragrances are an exciting way to add a fragranced-driven sensory component to the driving experience. As such, various scents are starting to gain traction by catering to particular customer preferences.
Fruity fragrances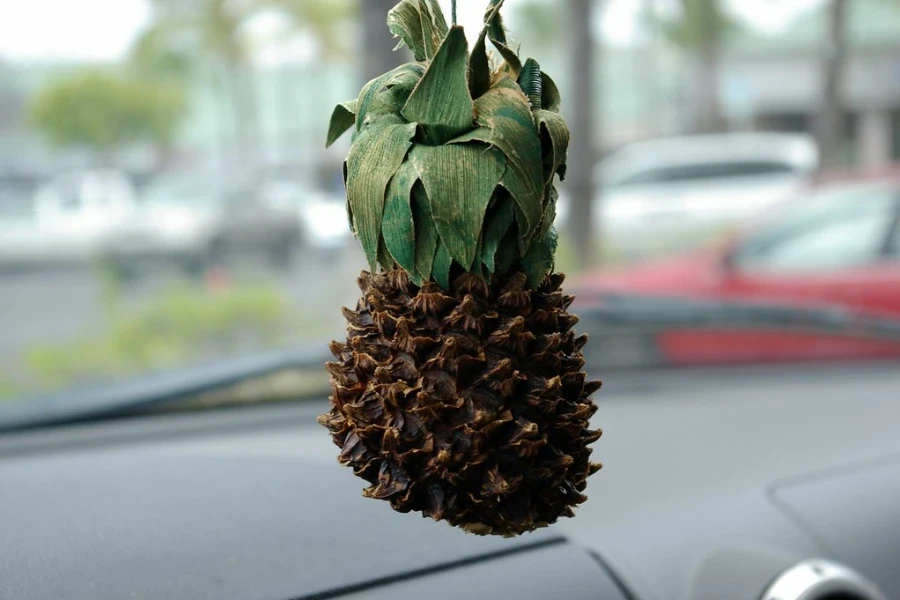 Although fruity aromas have been around for a while, they exude an undeniable charm and are widespread for their playful and familiar nature. Fragrances like lemon, strawberry, and cherry evoke a sense of nostalgia and are instantly recognizable by their names.
More importantly, fruits are sought out for their sweet aroma, making them a buyer favorite across the world. However, each regional market has its trending fruity scent.
For example, cherry has emerged as the most trending fruity air freshener scent in the United States, captivating drivers with its luscious and inviting fragrance. Meanwhile, Asian markets prefer the sharper notes of lemon, evoking a sense of cleanliness and vitality.
Squash is another noteworthy fragrance trend in the region, which intriguingly captures the lemon soda essence. This unique scent combines zesty lemon freshness with a hint of effervescence, creating a delightful, refreshing, and nostalgic olfactory experience.
Moreover, the diversity of fruity fragrances ensures every driver can find a scent that matches their taste. These captivating scents mask unpleasant odors, help uplift mood, and create a pleasant atmosphere, transforming daily commutes or road trips into a sweet-smelling experience.
Natural essential oils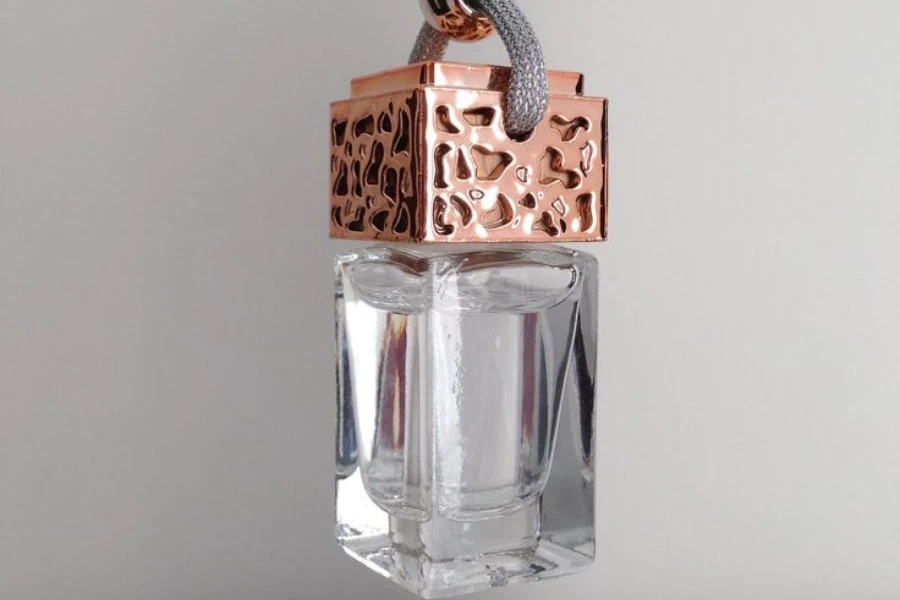 Essential oils are a fresh and rising trend in the car air freshener market. They come in a wide variety, including woody, herbal, and floral. Natural essential oils uniquely appeal to some individuals as they offer a holistic and comprehensive experience, enveloping them in relaxation and tranquility.
However, their bid to replace trending chemical fragrances has proven challenging, despite essential oils creating a soothing and therapeutic ambiance. In part, this is because essential oils are significantly more expensive than their synthetic counterparts.
This higher price point is reflective of the intricate and time-consuming process of extracting and producing pure essential oil from plants. Additionally, while natural essential oils possess unique strengths, they may not match the same intensity and longevity of chemical fragrances.
Nonetheless, disregarding natural essential oils' steady growth and increasing popularity would be remiss. After all, individuals are becoming more conscious of their well-being and now seek natural and sustainable alternatives to various products, helping to boost demand for essential oils.
Natural essential oils are also trending because of their associated benefits. Some consumers love their potential therapeutic properties and their ability to strike a closer connection to nature.
As technology and innovation progress, manufacturers are likely to develop new techniques to make natural essential oils more accessible and cost-effective. Additionally, scent diffusion methods and packaging advancements may enhance natural essential oils' performance and longevity, bridging the gap between their chemical counterparts.
Premier fragrances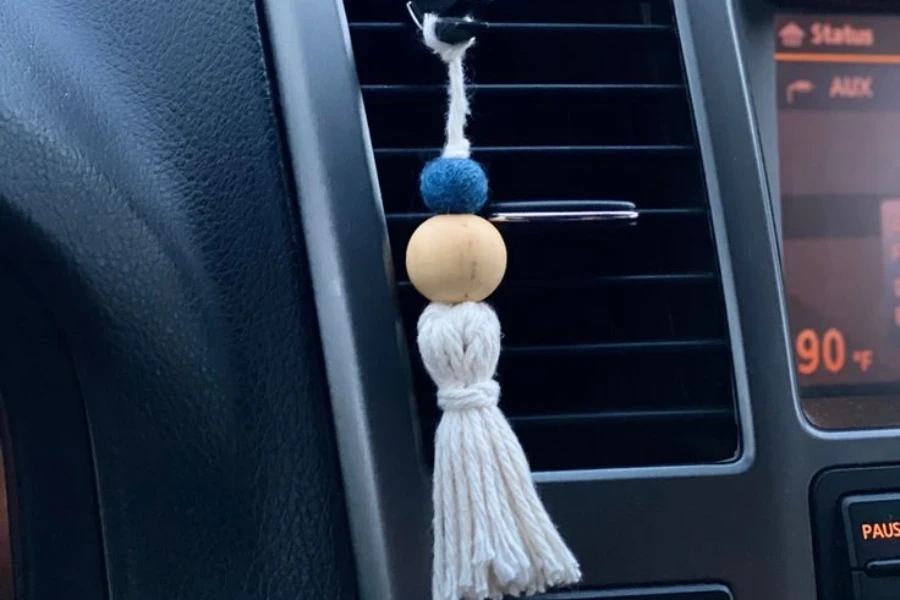 Over the past decade, the fragrance market has witnessed a significant surge in the availability of premier fragrances. One notable body perfume brand that has played a pivotal role in setting new benchmarks for quality and pricing standards is Jo Malone. The brand's exquisite offerings have captivated fragrance enthusiasts and elevated the industry's standards.
Following the success of Jo Malone fragrances, other brands followed suit by incorporating similar scent profiles into their home and car air freshener products. Fragrances like Freesia, Wild Bluebell, Wood Sage, and Sea Salt have gone on to become widespread and beloved choices for creating and alluring and luxurious vehicle scent.
Premier fragrances became an instant hit in the car air freshener market and continue to trend today. They inject a sense of wonder and delight into the segment, destroying mundane or ordinary scents' limitations.
Furthermore, the availability of premier fragrances in the form of car air fresheners has expanded the possibilities of personalization and self-expression. The trend enriches the driving experience and highlights the growing demand for high-quality fragrances beyond traditional boundaries.
Conclusion
The car air freshener market is continually expanding, making it necessary for businesses to stay ahead of the trends. Although individual preferences for fragrances vary greatly, the most essential aspect is to offer scents that resonate with consumers.
By leveraging perfume fragrances, fruity delights, natural essential oils, and premier scents, businesses can attract more consumers and enjoy sales boosts in 2023.
Was this article helpful?